Marketing technologists ensure technology and marketing work smoothly together. They bridge the gap between the world of IT and marketing, helping both departments achieve unified goals and generate revenue. Unfortunately, although in high demand, there aren't many talented marketing technologists out there. What are the reasons that make only a few experienced in all areas of digital marketing?
The role of a Chief Marketing Technologist
Let's start with a definition. According to the July 2014 edition of Harvard Business Review: CMTs "are part strategist, part creative director, part technology leader, and part teacher."
In short, a CMT is the central reference point for marketing, technology, and strategy operations within an organization. They blend art, technology, marketing and business acumen seamlessly. They bridge the gap between "soft" and "hard" skills. Or at least they should.
In reality, and what is especially visible among companies hiring CMTs, their exact role and scope of experience are indefinite and vary greatly from one marketing technologist to another.
A 2015 SapientNitro study revealed that marketing technologists are essentially divided into 6 archetypes, each specializing in different marketing or technology roles, but rarely being well versed in all.
The 6 archetypes of marketing technologists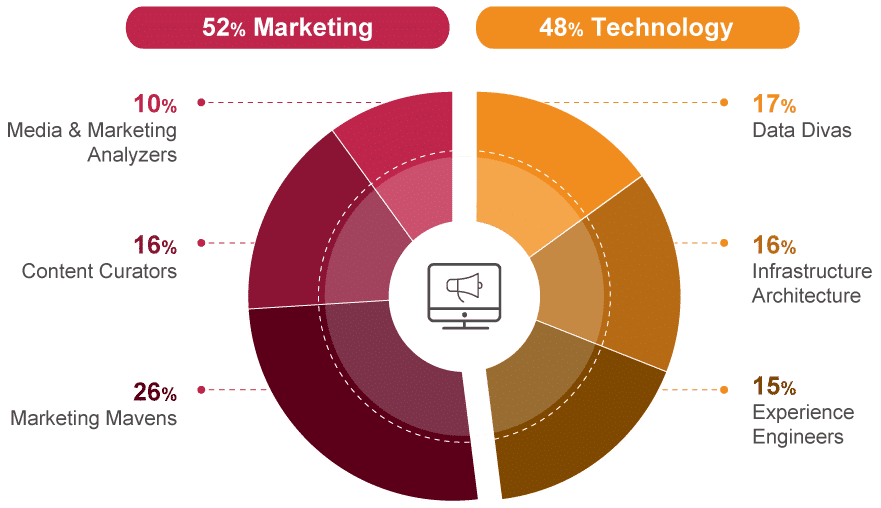 Source: SapientNitro
As many as 4 out of 5 companies claim to have a marketing technologist on board. But if most marketing technologists admit their skills aren't equally distributed (they generally do) among marketing and technology, do companies have anything to boast about? After all, such skill gaps make it difficult to streamline operations with marketing, technology, and business, which is essentially the role of a CMT.
Pinning down the skill gaps
In the same Sapient Nitro study mentioned above, a great chunk of respondents (74%) admitted to not having a STEM degree (science, technology, engineering or math. Having an academic background in one of these STEM area's best prepares an individual for understanding technology in regard to marketing at a deep level.
The study further revealed that marketers usually acquire their technical skills on the job, which is worrisome because understanding complicated technological matters such as statistics or data analysis is a difficult endeavor without a thorough STEM foundation. The lack of technical knowledge can lead to uneven development, inevitable missing links, and often forces business owners to outsource Martech operations.
Another key finding of the above survey tells us that 48 percent of marketing technologist self-identify on the science side — with expertise in data, or infrastructure, or CX platforms. Meanwhile a slightly bigger share (52 percent) identify on the more artsy end of the spectrum — specializing in marketing, or content, or media analytics. The number of CMTs who truly cross this expertise divide are few and far between.
Why is this the case? Well, one primary reason is a simple lack of educational & training programs that gear professionals in this multi-dimensional way. It's obvious a convergence is taking place and the need for professionals fully adapted to the new marketing technology paradigm is critical. The first bachelors program in Digital Marketing Technology started at the University of Wisconsin in 2015. Many others will undoubtedly follow, so at least things are beginning to change.
Cloud-based marketing tools
Due to the shortage of true marketing technologists, many CMOs rely on cloud-based marketing services as a workaround. They outsource their marketing technology completely, and while this is a somewhat effective solution (due to the possibilities these tools offer), without technical marketers at the wheel, it cannot be expected that full advantage is being taken.
Setting up cloud-based marketing tools, tracking users, bringing together various platforms for a unified conversion funnel all requires a cohesion of technical knowledge and experience. Without CMTs companies are probably stunting their growth because they can never bring together all elements of their marketing strategy and tailor them specifically to their business' needs.
What exactly should CMTs do?
As we said at the top, marketing technologists need to be equipped with skills that will allow them to work effectively across marketing, technology, and business. As the division between IT and marketing departments collapses CMTs must be utility players that can work well across the board.
They need to know how to lead marketing and technology teams, understanding limitations and possibilities of both. A CMT must be able to integrate martech systems specifically for the needs of an individual company and a target audience. A CMT needs to know how to sell an idea, how to ship it forward to the board, but also how to find and fix a faulty code. They need to be leaders, and craftsmen — whose skills congregate around the middle of the three circles below.
Most Important Future Job Skills by Domain
Marketing Technologists Must Span Marketing, Technology and Business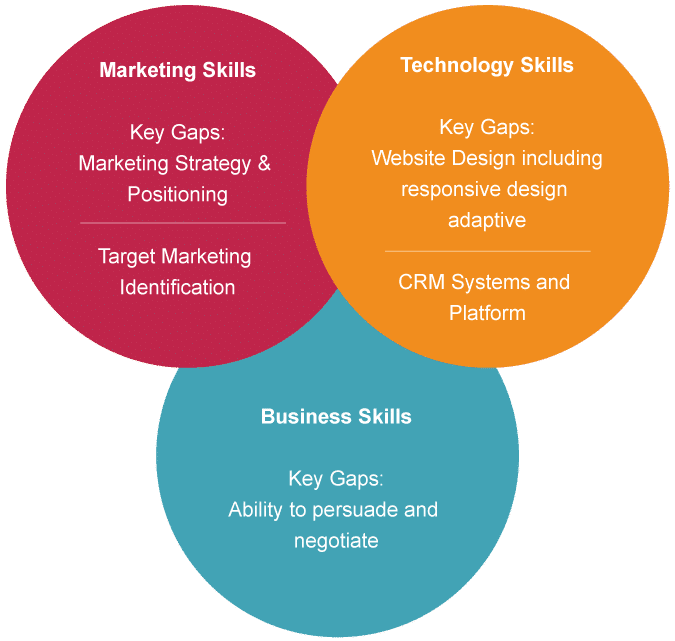 Source: SapientNitro
Conclusion
Marketing Technologists are a newly emerging type of hybrid professional that are in high demand, yet remain relatively scarce. You can now likely see why this scarcity exists, and why it takes a lot of time, money, and effort to find or train a marketing technologist. However, companies should stop perceiving this as an expenditure, and instead begin to think of marketing technologists as revenue generators, or, at the very least, profitable investments.
Only those who possess this rare blend of skills can grasp the intricate connection and mutual importance of technology, marketing, and business and implement strategies designed to truly maximize profits. Don't kid yourself, a good CMT is worth his or her weight in gold.