Many businesses haven't even got around to adapting their product or service for the Internet of Things (IoT), and already the world is talking about the IoT 2.0.
If you've never heard the phrase 'Internet of Things,' here's a quick definition:
"The Internet of Things (IoT) is a system of interrelated computing devices, mechanical and digital machines, objects, animals or people that are provided with unique identifiers and the ability to transfer data over a network without requiring human-to-human or human-to-computer interaction." – Source.
In layman's terms, the IoT is the way humans, devices, and objects transfer information automatically. For example, the Internet refrigerator (referred to as the smart fridge) automatically tracks which items are being stored inside the fridge through the use of barcode or RFID scanning.
When an item is low, the smart fridge reminds you that it needs re-ordering. The latest models allow you to sync it up with your TV so you don't miss your favorite TV shows or sports game when you change rooms.
Next, you have the Amazon Dash Button, which allows you to order everyday items before they are low or run out by tapping a button.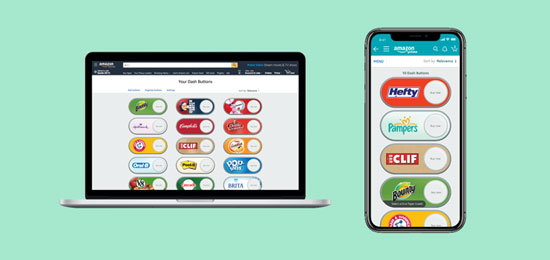 (Source)
A Dash Button is synced to your Amazon account and places an order on your behalf if you're a Prime member.
Does your mobile device automatically connect to Wi-Fi spots in public places or your car's Bluetooth? These are another two examples of the IoT in the modern day.
Internet of Things is not like other technology
There are only so many things you can do on an Apple device; for example, you can't go ahead and insert a handmade battery that lasts twice as long, nor can you download apps that only work on Android devices.
There is where the IoT separates itself from the rest of technology. Without breaking the bank or spending months on product design and code, you can set up your own IoT applications with very little experience.
An article on Your Story shows how you can make an IoT application within 30 minutes.
Building a bespoke Apple battery will set you back tens of thousands of dollars and months if not years of building time with no guarantee of success (and voiding the warranty in the process). Using open-source technology, such as Arduino or Raspberry Pi, you can build a gesture-controlled robotic arm or detect landmines using spinach.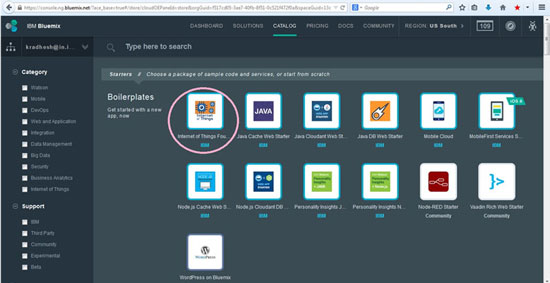 Unlike most other forms of technology, IoT can work with anything and be used by anyone.
Digital and product ownership are no longer important
The Internet of Things is already resulting in people buying fewer things for themselves.
When was the last time you went on a long-distance drive and thought to yourself:
"Maybe I need to pack more rations in case I starve to death?"
Unless you spend days at a time in the wild, chances are wherever you travel to, you're expecting to come across restaurants or convenience stores along the way, so the thought never crosses your mind.
To give you a more digital-related example, 10 or so years ago you probably had a mobile device and CD/MP3 player to listen to music, and a DVD player to watch movies.
Today people aren't buying CDs or DVDs (cue the death of Blockbuster); rather, they are signing up to Spotify and Netflix.
When you bought a CD of your favorite band, you would cherish the item and it would pain you to lend it to a friend for the fear that you may never see it again.
Does anybody with a Spotify or Netflix account truly care if they have the latest season of Game of Thrones or Maroon 5's latest album? Nope.
Scratched or lost DVDs, insurance, and product upkeep have been removed from the user, providing them with a smoother and better user experience.
The idea of product ownership is slowly becoming obsolete as customers buy products for their use, rather than for the product itself. As a result, the product life cycle will drastically change in the years to come, and the way businesses offer insurance, upgrades, and warranty will all need to be remapped.
Businesses are losing control
As all kinds of technology make its way into the consumer world one piece of kit at a time, it is taking the control away from your business and putting it in the power of the consumer, cutting your business out of the data and value stream.
The customer is king again, with research showing that US retailers estimate to spend around $477 million on the IoT by 2017 to regain some of the control.
In the years to come, to gain a competitive advantage over competitors you'll need to think about creating partnerships with organizations who serve a similar target market to you but aren't your direct competitor.
Nike and Apple have been in the news over recent years about creating a partnership to sell wearable technology. Both sell products at the top end of their market, have a strong overlapping customer base, and can help each other grow in their respective markets.
In this situation, customers would purchase wearable clothing from Nike and use an Apple device to measure their workout performance. While partnerships like this seem like a win-win at the surface level, they are complicated to set up and the ownership of data can sometimes complicate things further.
The future is the IoT – where does your business stand?
Product design and usage will be the center of attention going forward. However, it's already apparent that most businesses are either not ready or unprepared to compete in this way.
Brands such as Netflix, Zipcar, Airbnb, and DropBox are all examples of businesses that have a superior product design (thanks to the IoT) and are advancing in their market.
Apple's 2016 annual reports all reveal that ownership is becoming obsolete, with their tablet, smartphone, and laptop sales declining. However, their revenue from services increased by 24% hitting $6.35 billion in Q4.
Services they offer include Apple Music and Apple Pay, which are heavily influenced by the IoT.
This is a telling sign from the world's biggest brand which shows that, arguably, with so many brand advocates, the need for ownership is not that important, but the need for product design (Apple Music/Apple Pay both offer several advantages) is what the consumer is seeking.
Continuing with data relating to the IoT, a PWC Study states that around 45% of US consumers own a fitness band and 27% own a smartwatch.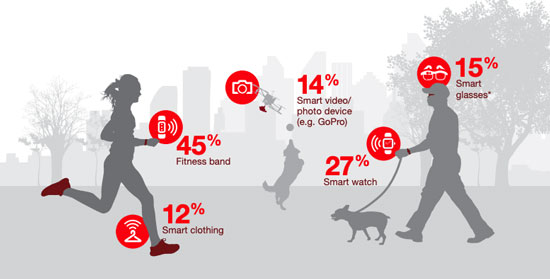 (Source)
General Electric estimated that the industrial Internet market could add as much as $15 trillion to the global gross domestic product in the next 20 years, and if this type of technology could improve the efficiency of oil and gas development by just 1%, they would set to save $90 billion.
Summary
There's a good chance that several of your devices or objects in your home or office are already connected within the IoT. If you own a smart TV or an Amazon Kindle or Fire, your devices will be connected to the Internet, passing data without the need for human interaction.
Do you own an Apple product? Chances are each picture you take and every application you download is being backed up in the Apple Cloud without you having to do a single thing. Even withdrawing money from an ATM or paying for your groceries using a debit or credit card is within the scope of the IoT.
Reality and digital are slowing meshing into a single universe where humans and devices can talk and exchange data with one another but has your business?
If you have not yet started to refine your product design or confront the impact digital will have or perhaps already has had on your business, then you will be in for a bumpy ride ahead.
It might seem like ignoring the elephant in the room (digital transformation) is the easier option at this moment in time, but the longer you ignore it, the worse it will become. Yes, it's not going to be easy and it will take time, but the sooner you take action, the better it will be for your business.