The marketplace has changed.
With so many mediums to find, research and buy products, consumers today are expecting a seamless experience from start to finish. Consumers are spoiled for choice when deciding where to shop, and as a result power has shifted away from the retailer towards the consumer.
In the past retailers just had to open their doors at 8am and that would be enough. Today if they don't have a website, active Facebook page and a number of payment methods, consumers go to someone who does.
The way businesses sell and the convenience they offer consumers has never been bigger.
Currently, there are two main types of selling going on in the retail world: multichannel and omnichannel.
Multichannel is the traditional way of retail that involves businesses selling their products through various channels, including:
in-store
online
catalogues
kiosks
telesales
Each channel is managed independently, typically offering customers their own custom made promotions, forecasts and sometimes even prices.
Multichannel retailing isn't flexible, and often the products being sold can run out of stock. Customers can also get angry if that they weren't told about a promotion or that they paid more for an item through a catalog (while the online price was much cheaper).
Multichannel selling is unable to follow a customer across channels. For example, an in-store sales rep has no idea whether a customer has saved an online cart and is coming in later to pick up their items. Marketing teams for each sales channel think customers are only seeing their media messages a few times per week. But are totally oblivious that customers are receiving letters, calls, and emails too.
This can turn into a huge problem as 20% of Americans said they would stop using a company's products if they received too many ad messages.
Omnichannel integrates every selling channel together, giving its consumers a seamless experience from start to finish. Omnichannel ensures the business is working towards a single goal, with prices, promotions, stock levels, purchasing, and allocation all matching up together.
Regardless of the avenue taken by the consumer, they will end up receiving the same level of experience.
This type of selling practice reduces costs, increases sales and manages to increase a business's revenue.
An example of omnichannel retail in action
I travel long-distance quite often and I always need my gadgets with me (I'm the type of person whose life would fall apart if I left without my smartphone).
Once I had a flight to catch the following day and my laptop went kaput. I didn't have time to order one online as it would not arrive in time, nor did I want to drive from store to store finding something to meet my needs.
I like to start my shopping online as I can view and research products at the same time.
So, I jumped online to visit a large ecommerce store that also had several stores nearby. After doing a bit of research I found the laptop I wanted and my research showed me it was a great deal.
I then used the store's online stock-checking system to see if I could go and pick one up in-store.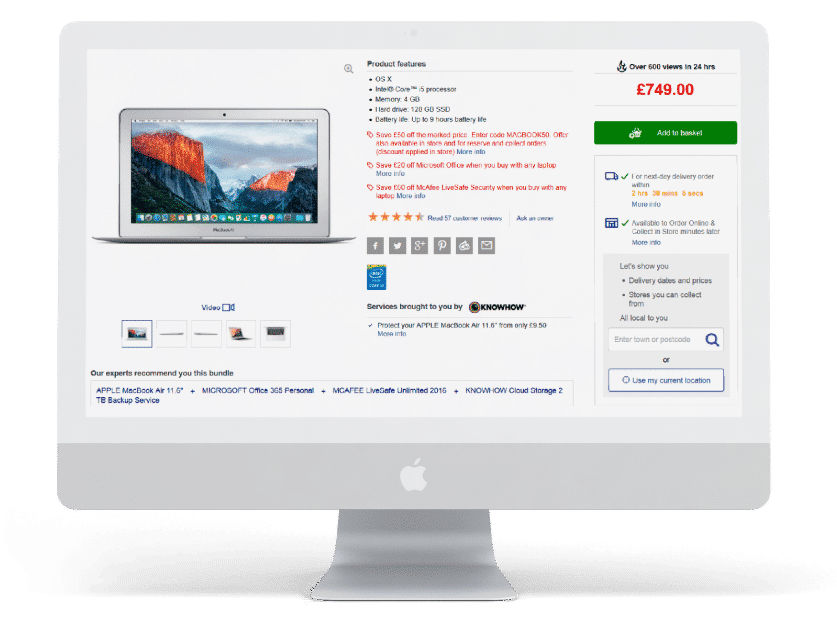 Luck was on my side that day as there were three stores nearby that all had it in stock: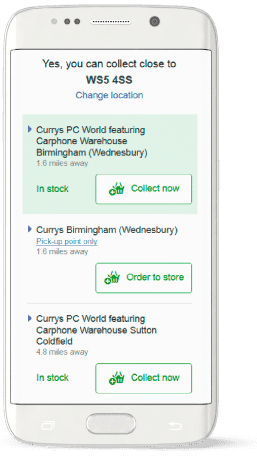 I reserved the laptop and had 24 hours to collect and make a payment (they did not ask me to make a payment online).
After spending 30 minutes looking for my car keys (they were on the sofa), I jumped into my car and headed to the store. As I entered the shop I figured I'd do a little bit of walking about to see if there was anything else I could buy to make my long-haul flight more pleasant.
As I can't yet afford the luxury of flying business class, having gadgets takes my mind off the flight and helps me a great deal. In the space of 45 minutes, I ended up buying noise-cancelling headphones and a new laptop bag.
I then went up to the counter, gave the assistant my online reference number and they brought out my laptop. It was a seamless and easy shopping experience for me, and the retail brand generated extra sales because of their omnichannel model.
This type of experience is happening all the time and I'd be extremely annoyed at any retail brand that wouldn't let me order online to pick up in-store.
I don't mind having gadgets shipped to me, but when it comes to personalized items such as clothing or high-ticket items like a laptop, many people would like to see and inspect what they are buying. Not only that, consumers want to know the store they are visiting will have their item in stock before they make the trip.
This is just one example of omnichannel shopping that saw the consumer (me) spend more time and more money than I initially intended. If the business didn't offer the omnichannel method of shopping, I'd have used their competitor, and never have gone to their site again because I expect more.
Remember this: consumers expect this from all retail brands.
Key facts of omnichannel shopping
One of the world's largest retail chains, Macy's, revealed that omnichannel customers were 8x as valuable as single-channel shoppers. Macy's Chief Omnichannel Officer once stated that:
"Our goal is to provide our shoppers with the best experience in whatever way she chooses to interact with us: mobile, desktop, store, or all of them together."
Retail brands that are continually engaging with their customers through a number of mediums are able to develop relationships, trust, loyalty and awareness more effectively than those that focus on segregating each channel.
FleishmanHillard found that in 2012, 89% of consumers used online search engines to research for purchase decisions. Not only that, but 31% of in-store shoppers visited a retail shop's website to see if there were any promotions going on before they proceeded to checkout.
All the data is pointing towards a merged shopping experience which brings online and offline shopping together.
So, the question is how do you provide a better customer experience (CX) for your customers?
Create a consistent experience through all touch points
A touch point is every step in the consumer's journey where they must make an action or decision.
For example, when I reserved my laptop, I was asked to provide my name and telephone number. As soon as I hit 'order' I received a highly-personalized SMS message with my name and reference number. The SMS message stated that I only needed to show this message in-store to get my laptop.
This is much better than asking me to write down the long reference number on a piece of paper — who has time for that? Whether the touch point is online or in-store, data should be collected at every step to personalize the experience and aid the consumer through the sales funnel.
I managed to pick up my laptop within the 24-hour period, but if the time period had expired, I know certain retailers would call up the customer asking if everything was okay and whether they would still want the reserved item. This is another great touch that saves the customer having to ring up the business or replace their order again.
CX should not be limited to a single device
The ideal CX should be accessible on all devices. If a customer wants to see the progress of their order, then they should be able to do so by logging into their online account, by calling up the support line or by using the brand's mobile app.
Some retailers can only tell their customers the progress of their order by calling up their hotline. Most consumers work 10 hours per day (including commute time) and the last thing they want to do is spend 40 minutes in a queue to find out the status of their order.
Click and collect
My experience when buying my laptop was click-and-collect.
Brick and mortar stores must start offering this service. In a world where people value their time more than ever before, they'd rather spend two minutes browsing your products online (with another tab open looking for reviews) than spending an hour driving to your store only to find you don't have their item in stock.
In-store purchase and delivery
When it comes to selling larger items (furniture, wide screen TVs, etc.), consumers will visit in-store and expect the retailer to deliver the item to their home. Larger or expensive items are typically bought in-store as the consumer wants to physically see what they are spending their money on.
Imagine if you bought a $15,000 kitchen and the retailer said you would have to find your own way to transport it home. I have a feeling that business wouldn't last too long.
Consistency in branding
The underlying success to a great CX is making the whole process consistent to the customer. The same logos, colors, fonts and messages must be echoed at every touch point to reinforce the customer they are on the right track.
If the experience drastically changes at any action point, they may feel lost, confused or uneasy – emotions that generally stop customers from using your business.
Customer support channels are merged
Whether a customer bought in-store, via telephone or online, everyone should be directed to the same customer support channels for support, sales, delivery and complaints.
They shouldn't be offered a single point of contact either.
Four out of five millennials would rather use social media as a customer service channel over the web, phone or online. Twenty-six percent of people interviewed said they would rather go to the DMV than having to make a call. One employee can manage several customer queries at once online, but only a single employee can handle one call. Not only is this more effective for your business, but customers value it too.
This may not always be the case, however. For example: if your core group of customers is seniors, they may prefer calling up as opposed to contacting you via online chat or Twitter.
For retail brands, there's typically a number of customer profiles each with different needs. Just like you have a number of ways for consumers to buy your products, you should also offer a number of support channels they can use.
Understand your customer
How can you offer customers a great CX if you don't know your customers? Your systems should be interconnected and every interaction, email, telephone call, order or query from a customer should be logged.
Here's what Interactive Intelligence, a SaaS company focusing on communication solutions, said on the matter:
"We have a platform – along with CRM, Salesforce and similar tools – that tracks every interaction with a customer, offline or online so that every time they interact with us we're able to identify what media type or what channel they've come in on. As a result, we can build routing strategies associated with that to enable them to talk to the most appropriate person within that channel." (Source)
Instead of waiting for your consumers to make the next move, anticipate their next action and you'll be able to provide them with solutions much faster.
The future of retail is omnichannel
With technology and SaaS systems already out there, omnichannel CX is offering retail brands the chance to improve customer satisfaction, sales and loyalty like never before.
Not facing some of these factors can be highly detrimental to moving a business forward, yet so many retailers fail to adjust, change or even bother to attempt the omnichannel model.
Solid communication between departments and systems, correct data management and technology are the foundations to offering a smooth CX that meets the demands of the consumer.
Brands that fail to address these changes are setting themselves up for uncertainty in a retail world of unlimited choice. Brands that do decide to take the reins and address these issues should expect long-term growth.