');mask-image:url('data:image/svg+xml;utf8,');mask-mode:alpha;-webkit-mask-repeat:no-repeat;mask-repeat:no-repeat;-webkit-mask-size:contain;mask-size:contain;-webkit-mask-position:center;mask-position:center;border-radius:0}}.wp-block-latest-comments__comment{font-size:15px;line-height:1.1;list-style:none;margin-bottom:1em}.has-avatars .wp-block-latest-comments__comment{min-height:36px;list-style:none}.has-avatars .wp-block-latest-comments__comment .wp-block-latest-comments__comment-excerpt,.has-avatars .wp-block-latest-comments__comment .wp-block-latest-comments__comment-meta{margin-left:52px}.has-dates .wp-block-latest-comments__comment,.has-excerpts .wp-block-latest-comments__comment{line-height:1.5}.wp-block-latest-comments__comment-excerpt p{font-size:14px;line-height:1.8;margin:5px 0 20px}.wp-block-latest-comments__comment-date{color:#8f98a1;display:block;font-size:12px}.wp-block-latest-comments .avatar,.wp-block-latest-comments__comment-avatar{border-radius:24px;display:block;float:left;height:40px;margin-right:12px;width:40px}.wp-block-latest-posts.alignleft{margin-right:2em}.wp-block-latest-posts.alignright{margin-left:2em}.wp-block-latest-posts.wp-block-latest-posts__list{list-style:none}.wp-block-latest-posts.wp-block-latest-posts__list li{clear:both}.wp-block-latest-posts.is-grid{display:flex;flex-wrap:wrap;padding:0}.wp-block-latest-posts.is-grid li{margin:0 16px 16px 0;width:100%}@media (min-width:600px){.wp-block-latest-posts.columns-2 li{width:calc(50% - 16px)}.wp-block-latest-posts.columns-3 li{width:calc(33.33333% - 16px)}.wp-block-latest-posts.columns-4 li{width:calc(25% - 16px)}.wp-block-latest-posts.columns-5 li{width:calc(20% - 16px)}.wp-block-latest-posts.columns-6 li{width:calc(16.66667% - 16px)}}.wp-block-latest-posts__post-date{display:block;color:#6c7781;font-size:13px}.wp-block-latest-posts__post-excerpt{margin-top:8px;margin-bottom:16px}.wp-block-latest-posts__featured-image img{height:auto;width:auto}.wp-block-latest-posts__featured-image.alignleft{margin-right:1em}.wp-block-latest-posts__featured-image.alignright{margin-left:1em}.wp-block-latest-posts__featured-image.aligncenter{margin-bottom:1em;text-align:center}.wp-block-media-text{ /*!rtl:begin:ignore*/direction:ltr; /*!rtl:end:ignore*/display:-ms-grid;display:grid;-ms-grid-columns:50% 1fr;grid-template-columns:50% 1fr;-ms-grid-rows:auto;grid-template-rows:auto}.wp-block-media-text.has-media-on-the-right{-ms-grid-columns:1fr 50%;grid-template-columns:1fr 50%}.wp-block-media-text.is-vertically-aligned-top .wp-block-media-text__content,.wp-block-media-text.is-vertically-aligned-top .wp-block-media-text__media{-ms-grid-row-align:start;align-self:start}.wp-block-media-text.is-vertically-aligned-center .wp-block-media-text__content,.wp-block-media-text.is-vertically-aligned-center .wp-block-media-text__media,.wp-block-media-text .wp-block-media-text__content,.wp-block-media-text .wp-block-media-text__media{-ms-grid-row-align:center;align-self:center}.wp-block-media-text.is-vertically-aligned-bottom .wp-block-media-text__content,.wp-block-media-text.is-vertically-aligned-bottom .wp-block-media-text__media{-ms-grid-row-align:end;align-self:end}.wp-block-media-text .wp-block-media-text__media{ /*!rtl:begin:ignore*/-ms-grid-column:1;grid-column:1;-ms-grid-row:1;grid-row:1; /*!rtl:end:ignore*/margin:0}.wp-block-media-text .wp-block-media-text__content{direction:ltr; /*!rtl:begin:ignore*/-ms-grid-column:2;grid-column:2;-ms-grid-row:1;grid-row:1; /*!rtl:end:ignore*/padding:0 8%;word-break:break-word}.wp-block-media-text.has-media-on-the-right .wp-block-media-text__media{ /*!rtl:begin:ignore*/-ms-grid-column:2;grid-column:2;-ms-grid-row:1;grid-row:1 /*!rtl:end:ignore*/}.wp-block-media-text.has-media-on-the-right .wp-block-media-text__content{ /*!rtl:begin:ignore*/-ms-grid-column:1;grid-column:1;-ms-grid-row:1;grid-row:1 /*!rtl:end:ignore*/}.wp-block-media-text>figure>img,.wp-block-media-text>figure>video{max-width:unset;width:100%;vertical-align:middle}.wp-block-media-text.is-image-fill figure.wp-block-media-text__media{height:100%;min-height:250px;background-size:cover}.wp-block-media-text.is-image-fill figure.wp-block-media-text__media>img{position:absolute;width:1px;height:1px;padding:0;margin:-1px;overflow:hidden;clip:rect(0,0,0,0);border:0}@media (max-width:600px){.wp-block-media-text.is-stacked-on-mobile{-ms-grid-columns:100%!important;grid-template-columns:100%!important}.wp-block-media-text.is-stacked-on-mobile .wp-block-media-text__media{-ms-grid-column:1;grid-column:1;-ms-grid-row:1;grid-row:1}.wp-block-media-text.is-stacked-on-mobile.has-media-on-the-right .wp-block-media-text__media,.wp-block-media-text.is-stacked-on-mobile .wp-block-media-text__content{-ms-grid-column:1;grid-column:1;-ms-grid-row:2;grid-row:2}.wp-block-media-text.is-stacked-on-mobile.has-media-on-the-right .wp-block-media-text__content{-ms-grid-column:1;grid-column:1;-ms-grid-row:1;grid-row:1}}.wp-block-navigation>ul{display:block;list-style:none;margin:0;padding-left:0}@media (min-width:600px){.wp-block-navigation>ul{display:flex;flex-wrap:wrap}}.wp-block-navigation>ul ul{list-style:none;padding-left:0;margin-top:0;margin-left:0}.wp-block-navigation>ul ul li{margin:0}.wp-block-navigation>ul li{z-index:1}.wp-block-navigation>ul li:focus-within,.wp-block-navigation>ul li:hover{cursor:pointer;z-index:99999}.wp-block-navigation>ul li:focus-within>ul,.wp-block-navigation>ul li:hover>ul,.wp-block-navigation>ul li ul:focus,.wp-block-navigation>ul li ul:hover{visibility:visible;opacity:1;display:flex;flex-direction:column}.wp-block-navigation>ul>li ul{position:absolute;left:0;top:100%;min-width:200px;max-width:200px;opacity:0;transition:opacity .1s linear;visibility:hidden}.wp-block-navigation,.wp-block-navigation .block-editor-block-list__layout{display:flex;flex-wrap:wrap}.wp-block-navigation .block-editor-block-list__layout .block-editor-block-list__layout{width:200px}.wp-block-navigation .block-editor-inner-blocks>.block-editor-block-list__layout>.wp-block{margin:0;width:auto}.wp-block-navigation,.wp-block-navigation>.wp-block-navigation__container{align-items:center;width:100%}.wp-block-navigation>.wp-block-navigation-link,.wp-block-navigation>.wp-block-navigation__container>.wp-block-navigation-link{display:flex;margin-top:0;margin-bottom:0}.wp-block-navigation .wp-block-navigation-link{position:relative;margin:0;min-height:56px;display:flex;line-height:1.4}.wp-block-navigation .wp-block-navigation-link .wp-block,.wp-block-navigation .wp-block-navigation-link .wp-block-navigation-link{min-height:auto;padding:0}.wp-block-navigation .wp-block-navigation-link .wp-block .wp-block-navigation-link{margin:0}.wp-block-navigation .wp-block-navigation-link>.block-editor-inner-blocks{display:none}.wp-block-navigation .wp-block-navigation-link.has-child>.wp-block-navigation__container,.wp-block-navigation .wp-block-navigation-link.is-editing.has-child>.block-editor-inner-blocks{display:flex;border:1px solid rgba(0,0,0,.15);position:absolute;z-index:1;top:100%;left:0}.wp-block-navigation .wp-block-navigation-link.has-child>.wp-block-navigation__container .block-editor-inner-blocks,.wp-block-navigation .wp-block-navigation-link.has-child>.wp-block-navigation__container .wp-block-navigation__container,.wp-block-navigation .wp-block-navigation-link.is-editing.has-child>.block-editor-inner-blocks .block-editor-inner-blocks,.wp-block-navigation .wp-block-navigation-link.is-editing.has-child>.block-editor-inner-blocks .wp-block-navigation__container{left:100%;top:-1px}.wp-block-navigation .wp-block-navigation-link .block-editor-inner-blocks,.wp-block-navigation .wp-block-navigation-link .wp-block-navigation__container{background-color:inherit;color:inherit}.wp-block-navigation .wp-block-navigation-link .wp-block-navigation-link__content{display:flex;align-items:center;width:max-content;padding:6px 16px}.wp-block-navigation .wp-block-navigation-link .wp-block-navigation-link:first-child:not(:only-child) .wp-block-navigation-link__content{padding-top:8px}.wp-block-navigation .wp-block-navigation-link .wp-block-navigation-link:last-child .wp-block-navigation-link__content{padding-bottom:8px}.wp-block-navigation .wp-block-navigation-link.has-child .wp-block-navigation-link__content{min-width:100%;padding-right:32px;position:relative}.wp-block-navigation .wp-block-navigation-link .wp-block-navigation-link__submenu-icon{position:absolute;right:16px}.wp-block-navigation .wp-block-navigation-link .wp-block-navigation-link__submenu-icon svg{fill:currentColor}.wp-block-navigation .wp-block-navigation-link .wp-block-navigation-link svg{transform:rotate(0)}.wp-block-navigation .wp-block-navigation-link.has-text-color .wp-block-navigation-link__content{color:inherit}.wp-block-navigation.is-style-light .wp-block-navigation-link:not(.has-text-color)>.block-editor-inner-blocks,.wp-block-navigation.is-style-light .wp-block-navigation-link:not(.has-text-color)>.wp-block-navigation__container,.wp-block-navigation .wp-block-navigation-link:not(.has-text-color)>.block-editor-inner-blocks,.wp-block-navigation .wp-block-navigation-link:not(.has-text-color)>.wp-block-navigation__container{color:#111}.wp-block-navigation.is-style-light .wp-block-navigation-link:not(.has-background)>.block-editor-inner-blocks,.wp-block-navigation.is-style-light .wp-block-navigation-link:not(.has-background)>.wp-block-navigation__container,.wp-block-navigation .wp-block-navigation-link:not(.has-background)>.block-editor-inner-blocks,.wp-block-navigation .wp-block-navigation-link:not(.has-background)>.wp-block-navigation__container{background-color:#fff}.wp-block-navigation.is-style-dark .wp-block-navigation-link:not(.has-text-color)>.block-editor-inner-blocks,.wp-block-navigation.is-style-dark .wp-block-navigation-link:not(.has-text-color)>.wp-block-navigation__container{color:#fff}.wp-block-navigation.is-style-dark .wp-block-navigation-link:not(.has-background)>.block-editor-inner-blocks,.wp-block-navigation.is-style-dark .wp-block-navigation-link:not(.has-background)>.wp-block-navigation__container{background-color:#333}.wp-block-navigation .wp-block-navigation-link.has-child>.wp-block-navigation__container{display:flex;flex-direction:column;padding:0}.wp-block-navigation>ul>li>a{display:flex;align-items:center}.wp-block-navigation>ul>li:first-of-type>a{padding-left:0}.wp-block-navigation>ul>li:last-of-type>a{padding-right:0}.wp-block-navigation.items-justified-left>ul{justify-content:flex-start}.wp-block-navigation.items-justified-center>ul{justify-content:center}.wp-block-navigation.items-justified-right>ul{justify-content:flex-end}.is-small-text{font-size:14px}.is-regular-text{font-size:16px}.is-large-text{font-size:36px}.is-larger-text{font-size:48px}.has-drop-cap:not(:focus):first-letter{float:left;font-size:8.4em;line-height:.68;font-weight:100;margin:.05em .1em 0 0;text-transform:uppercase;font-style:normal}p.has-background{padding:20px 30px}p.has-text-color a{color:inherit}.wp-block-pullquote{padding:3em 0;margin-left:0;margin-right:0;text-align:center}.wp-block-pullquote.alignleft,.wp-block-pullquote.alignright{max-width:290px}.wp-block-pullquote.alignleft p,.wp-block-pullquote.alignright p{font-size:20px}.wp-block-pullquote p{font-size:28px;line-height:1.6}.wp-block-pullquote cite,.wp-block-pullquote footer{position:relative}.wp-block-pullquote .has-text-color a{color:inherit}.wp-block-pullquote:not(.is-style-solid-color){background:none}.wp-block-pullquote.is-style-solid-color{border:none}.wp-block-pullquote.is-style-solid-color blockquote{margin-left:auto;margin-right:auto;text-align:left;max-width:60%}.wp-block-pullquote.is-style-solid-color blockquote p{margin-top:0;margin-bottom:0;font-size:32px}.wp-block-pullquote.is-style-solid-color blockquote cite{text-transform:none;font-style:normal}.wp-block-pullquote cite{color:inherit}.wp-block-quote.is-large,.wp-block-quote.is-style-large{margin:0 0 16px;padding:0 1em}.wp-block-quote.is-large p,.wp-block-quote.is-style-large p{font-size:24px;font-style:italic;line-height:1.6}.wp-block-quote.is-large cite,.wp-block-quote.is-large footer,.wp-block-quote.is-style-large cite,.wp-block-quote.is-style-large footer{font-size:18px;text-align:right}.wp-block-rss.alignleft{margin-right:2em}.wp-block-rss.alignright{margin-left:2em}.wp-block-rss.is-grid{display:flex;flex-wrap:wrap;padding:0;list-style:none}.wp-block-rss.is-grid li{margin:0 16px 16px 0;width:100%}@media (min-width:600px){.wp-block-rss.columns-2 li{width:calc(50% - 16px)}.wp-block-rss.columns-3 li{width:calc(33.33333% - 16px)}.wp-block-rss.columns-4 li{width:calc(25% - 16px)}.wp-block-rss.columns-5 li{width:calc(20% - 16px)}.wp-block-rss.columns-6 li{width:calc(16.66667% - 16px)}}.wp-block-rss__item-author,.wp-block-rss__item-publish-date{display:block;color:#6c7781;font-size:13px}.wp-block-search{display:flex;flex-wrap:wrap}.wp-block-search .wp-block-search__label{width:100%}.wp-block-search .wp-block-search__input{flex-grow:1;max-width:360px}.wp-block-search .wp-block-search__button{margin-left:10px}.wp-block-separator.is-style-wide{border-bottom-width:1px}.wp-block-separator.is-style-dots{background:none!important;border:none;text-align:center;max-width:none;line-height:1;height:auto}.wp-block-separator.is-style-dots:before{content:"\00b7 \00b7 \00b7";color:currentColor;font-size:20px;letter-spacing:2em;padding-left:2em;font-family:serif}.wp-block-social-links{display:flex;justify-content:flex-start;padding-left:0;padding-right:0;margin-left:0}.wp-block-social-links .wp-social-link a,.wp-block-social-links .wp-social-link a:hover{text-decoration:none;border-bottom:0;box-shadow:none}.wp-social-link{display:block;width:36px;height:36px;border-radius:36px;margin-right:8px;transition:transform .1s ease}@media (prefers-reduced-motion:reduce){.wp-social-link{transition-duration:0s}}.wp-social-link a{padding:6px;display:block;line-height:0;transition:transform .1s ease}.wp-social-link a,.wp-social-link a:active,.wp-social-link a:hover,.wp-social-link a:visited,.wp-social-link svg{color:currentColor;fill:currentColor}.wp-social-link:hover{transform:scale(1.1)}.wp-block-social-links.aligncenter{justify-content:center;display:flex}.wp-block-social-links:not(.is-style-logos-only) .wp-social-link{background-color:#f0f0f0;color:#444}.wp-block-social-links:not(.is-style-logos-only) .wp-social-link-amazon{background-color:#f90;color:#fff}.wp-block-social-links:not(.is-style-logos-only) .wp-social-link-bandcamp{background-color:#1ea0c3;color:#fff}.wp-block-social-links:not(.is-style-logos-only) .wp-social-link-behance{background-color:#0757fe;color:#fff}.wp-block-social-links:not(.is-style-logos-only) .wp-social-link-codepen{background-color:#1e1f26;color:#fff}.wp-block-social-links:not(.is-style-logos-only) .wp-social-link-deviantart{background-color:#02e49b;color:#fff}.wp-block-social-links:not(.is-style-logos-only) .wp-social-link-dribbble{background-color:#e94c89;color:#fff}.wp-block-social-links:not(.is-style-logos-only) .wp-social-link-dropbox{background-color:#4280ff;color:#fff}.wp-block-social-links:not(.is-style-logos-only) .wp-social-link-etsy{background-color:#f45800;color:#fff}.wp-block-social-links:not(.is-style-logos-only) .wp-social-link-facebook{background-color:#1977f2;color:#fff}.wp-block-social-links:not(.is-style-logos-only) .wp-social-link-fivehundredpx{background-color:#000;color:#fff}.wp-block-social-links:not(.is-style-logos-only) .wp-social-link-flickr{background-color:#0461dd;color:#fff}.wp-block-social-links:not(.is-style-logos-only) .wp-social-link-foursquare{background-color:#e65678;color:#fff}.wp-block-social-links:not(.is-style-logos-only) .wp-social-link-github{background-color:#24292d;color:#fff}.wp-block-social-links:not(.is-style-logos-only) .wp-social-link-goodreads{background-color:#eceadd;color:#382110}.wp-block-social-links:not(.is-style-logos-only) .wp-social-link-google{background-color:#ea4434;color:#fff}.wp-block-social-links:not(.is-style-logos-only) .wp-social-link-instagram{background-color:#f00075;color:#fff}.wp-block-social-links:not(.is-style-logos-only) .wp-social-link-lastfm{background-color:#e21b24;color:#fff}.wp-block-social-links:not(.is-style-logos-only) .wp-social-link-linkedin{background-color:#0577b5;color:#fff}.wp-block-social-links:not(.is-style-logos-only) .wp-social-link-mastodon{background-color:#3288d4;color:#fff}.wp-block-social-links:not(.is-style-logos-only) .wp-social-link-medium{background-color:#02ab6c;color:#fff}.wp-block-social-links:not(.is-style-logos-only) .wp-social-link-meetup{background-color:#f6405f;color:#fff}.wp-block-social-links:not(.is-style-logos-only) .wp-social-link-pinterest{background-color:#e60122;color:#fff}.wp-block-social-links:not(.is-style-logos-only) .wp-social-link-pocket{background-color:#ef4155;color:#fff}.wp-block-social-links:not(.is-style-logos-only) .wp-social-link-reddit{background-color:#fe4500;color:#fff}.wp-block-social-links:not(.is-style-logos-only) .wp-social-link-skype{background-color:#0478d7;color:#fff}.wp-block-social-links:not(.is-style-logos-only) .wp-social-link-snapchat{background-color:#fefc00;color:#fff;stroke:#000}.wp-block-social-links:not(.is-style-logos-only) .wp-social-link-soundcloud{background-color:#ff5600;color:#fff}.wp-block-social-links:not(.is-style-logos-only) .wp-social-link-spotify{background-color:#1bd760;color:#fff}.wp-block-social-links:not(.is-style-logos-only) .wp-social-link-tumblr{background-color:#011835;color:#fff}.wp-block-social-links:not(.is-style-logos-only) .wp-social-link-twitch{background-color:#6440a4;color:#fff}.wp-block-social-links:not(.is-style-logos-only) .wp-social-link-twitter{background-color:#21a1f3;color:#fff}.wp-block-social-links:not(.is-style-logos-only) .wp-social-link-vimeo{background-color:#1eb7ea;color:#fff}.wp-block-social-links:not(.is-style-logos-only) .wp-social-link-vk{background-color:#4680c2;color:#fff}.wp-block-social-links:not(.is-style-logos-only) .wp-social-link-wordpress{background-color:#3499cd;color:#fff}.wp-block-social-links:not(.is-style-logos-only) .wp-social-link-yelp{background-color:#d32422;color:#fff}.wp-block-social-links:not(.is-style-logos-only) .wp-social-link-youtube{background-color:#ff0100;color:#fff}.wp-block-social-links.is-style-logos-only .wp-social-link{background:none;padding:4px}.wp-block-social-links.is-style-logos-only .wp-social-link svg{width:28px;height:28px}.wp-block-social-links.is-style-logos-only .wp-social-link-amazon{color:#f90}.wp-block-social-links.is-style-logos-only .wp-social-link-bandcamp{color:#1ea0c3}.wp-block-social-links.is-style-logos-only .wp-social-link-behance{color:#0757fe}.wp-block-social-links.is-style-logos-only .wp-social-link-codepen{color:#1e1f26}.wp-block-social-links.is-style-logos-only .wp-social-link-deviantart{color:#02e49b}.wp-block-social-links.is-style-logos-only .wp-social-link-dribbble{color:#e94c89}.wp-block-social-links.is-style-logos-only .wp-social-link-dropbox{color:#4280ff}.wp-block-social-links.is-style-logos-only .wp-social-link-etsy{color:#f45800}.wp-block-social-links.is-style-logos-only .wp-social-link-facebook{color:#1977f2}.wp-block-social-links.is-style-logos-only .wp-social-link-fivehundredpx{color:#000}.wp-block-social-links.is-style-logos-only .wp-social-link-flickr{color:#0461dd}.wp-block-social-links.is-style-logos-only .wp-social-link-foursquare{color:#e65678}.wp-block-social-links.is-style-logos-only .wp-social-link-github{color:#24292d}.wp-block-social-links.is-style-logos-only .wp-social-link-goodreads{color:#382110}.wp-block-social-links.is-style-logos-only .wp-social-link-google{color:#ea4434}.wp-block-social-links.is-style-logos-only .wp-social-link-instagram{color:#f00075}.wp-block-social-links.is-style-logos-only .wp-social-link-lastfm{color:#e21b24}.wp-block-social-links.is-style-logos-only .wp-social-link-linkedin{color:#0577b5}.wp-block-social-links.is-style-logos-only .wp-social-link-mastodon{color:#3288d4}.wp-block-social-links.is-style-logos-only .wp-social-link-medium{color:#02ab6c}.wp-block-social-links.is-style-logos-only .wp-social-link-meetup{color:#f6405f}.wp-block-social-links.is-style-logos-only .wp-social-link-pinterest{color:#e60122}.wp-block-social-links.is-style-logos-only .wp-social-link-pocket{color:#ef4155}.wp-block-social-links.is-style-logos-only .wp-social-link-reddit{color:#fe4500}.wp-block-social-links.is-style-logos-only .wp-social-link-skype{color:#0478d7}.wp-block-social-links.is-style-logos-only .wp-social-link-snapchat{color:#fff;stroke:#000}.wp-block-social-links.is-style-logos-only .wp-social-link-soundcloud{color:#ff5600}.wp-block-social-links.is-style-logos-only .wp-social-link-spotify{color:#1bd760}.wp-block-social-links.is-style-logos-only .wp-social-link-tumblr{color:#011835}.wp-block-social-links.is-style-logos-only .wp-social-link-twitch{color:#6440a4}.wp-block-social-links.is-style-logos-only .wp-social-link-twitter{color:#21a1f3}.wp-block-social-links.is-style-logos-only .wp-social-link-vimeo{color:#1eb7ea}.wp-block-social-links.is-style-logos-only .wp-social-link-vk{color:#4680c2}.wp-block-social-links.is-style-logos-only .wp-social-link-wordpress{color:#3499cd}.wp-block-social-links.is-style-logos-only .wp-social-link-yelp{background-color:#d32422;color:#fff}.wp-block-social-links.is-style-logos-only .wp-social-link-youtube{color:#ff0100}.wp-block-social-links.is-style-pill-shape .wp-social-link{width:auto}.wp-block-social-links.is-style-pill-shape .wp-social-link a{padding-left:16px;padding-right:16px}.wp-block-spacer{clear:both}p.wp-block-subhead{font-size:1.1em;font-style:italic;opacity:.75}.wp-block-table{overflow-x:auto}.wp-block-table table{width:100%}.wp-block-table .has-fixed-layout{table-layout:fixed;width:100%}.wp-block-table .has-fixed-layout td,.wp-block-table .has-fixed-layout th{word-break:break-word}.wp-block-table.aligncenter,.wp-block-table.alignleft,.wp-block-table.alignright{display:table;width:auto}.wp-block-table.aligncenter td,.wp-block-table.aligncenter th,.wp-block-table.alignleft td,.wp-block-table.alignleft th,.wp-block-table.alignright td,.wp-block-table.alignright th{word-break:break-word}.wp-block-table .has-subtle-light-gray-background-color{background-color:#f3f4f5}.wp-block-table .has-subtle-pale-green-background-color{background-color:#e9fbe5}.wp-block-table .has-subtle-pale-blue-background-color{background-color:#e7f5fe}.wp-block-table .has-subtle-pale-pink-background-color{background-color:#fcf0ef}.wp-block-table.is-style-stripes{border-spacing:0;border-collapse:inherit;background-color:transparent;border-bottom:1px solid #f3f4f5}.wp-block-table.is-style-stripes tbody tr:nth-child(odd){background-color:#f3f4f5}.wp-block-table.is-style-stripes.has-subtle-light-gray-background-color tbody tr:nth-child(odd){background-color:#f3f4f5}.wp-block-table.is-style-stripes.has-subtle-pale-green-background-color tbody tr:nth-child(odd){background-color:#e9fbe5}.wp-block-table.is-style-stripes.has-subtle-pale-blue-background-color tbody tr:nth-child(odd){background-color:#e7f5fe}.wp-block-table.is-style-stripes.has-subtle-pale-pink-background-color tbody tr:nth-child(odd){background-color:#fcf0ef}.wp-block-table.is-style-stripes td,.wp-block-table.is-style-stripes th{border-color:transparent}.wp-block-text-columns,.wp-block-text-columns.aligncenter{display:flex}.wp-block-text-columns .wp-block-column{margin:0 16px;padding:0}.wp-block-text-columns .wp-block-column:first-child{margin-left:0}.wp-block-text-columns .wp-block-column:last-child{margin-right:0}.wp-block-text-columns.columns-2 .wp-block-column{width:50%}.wp-block-text-columns.columns-3 .wp-block-column{width:33.33333%}.wp-block-text-columns.columns-4 .wp-block-column{width:25%}.wp-block-video{margin-left:0;margin-right:0}.wp-block-video video{max-width:100%}@supports ((position:-webkit-sticky) or (position:sticky)){.wp-block-video [poster]{object-fit:cover}}.wp-block-video.aligncenter{text-align:center}.wp-block-video figcaption{margin-top:.5em;margin-bottom:1em}:root .has-pale-pink-background-color{background-color:#f78da7}:root .has-vivid-red-background-color{background-color:#cf2e2e}:root .has-luminous-vivid-orange-background-color{background-color:#ff6900}:root .has-luminous-vivid-amber-background-color{background-color:#fcb900}:root .has-light-green-cyan-background-color{background-color:#7bdcb5}:root .has-vivid-green-cyan-background-color{background-color:#00d084}:root .has-pale-cyan-blue-background-color{background-color:#8ed1fc}:root .has-vivid-cyan-blue-background-color{background-color:#0693e3}:root .has-vivid-purple-background-color{background-color:#9b51e0}:root .has-very-light-gray-background-color{background-color:#eee}:root .has-cyan-bluish-gray-background-color{background-color:#abb8c3}:root .has-very-dark-gray-background-color{background-color:#313131}:root .has-pale-pink-color{color:#f78da7}:root .has-vivid-red-color{color:#cf2e2e}:root .has-luminous-vivid-orange-color{color:#ff6900}:root .has-luminous-vivid-amber-color{color:#fcb900}:root .has-light-green-cyan-color{color:#7bdcb5}:root .has-vivid-green-cyan-color{color:#00d084}:root .has-pale-cyan-blue-color{color:#8ed1fc}:root .has-vivid-cyan-blue-color{color:#0693e3}:root .has-vivid-purple-color{color:#9b51e0}:root .has-very-light-gray-color{color:#eee}:root .has-cyan-bluish-gray-color{color:#abb8c3}:root .has-very-dark-gray-color{color:#313131}:root .has-vivid-cyan-blue-to-vivid-purple-gradient-background{background:linear-gradient(135deg,#0693e3,#9b51e0)}:root .has-vivid-green-cyan-to-vivid-cyan-blue-gradient-background{background:linear-gradient(135deg,#00d084,#0693e3)}:root .has-light-green-cyan-to-vivid-green-cyan-gradient-background{background:linear-gradient(135deg,#7adcb4,#00d082)}:root .has-luminous-vivid-amber-to-luminous-vivid-orange-gradient-background{background:linear-gradient(135deg,#fcb900,#ff6900)}:root .has-luminous-vivid-orange-to-vivid-red-gradient-background{background:linear-gradient(135deg,#ff6900,#cf2e2e)}:root .has-very-light-gray-to-cyan-bluish-gray-gradient-background{background:linear-gradient(135deg,#eee,#a9b8c3)}:root .has-cool-to-warm-spectrum-gradient-background{background:linear-gradient(135deg,#4aeadc,#9778d1 20%,#cf2aba 40%,#ee2c82 60%,#fb6962 80%,#fef84c)}:root .has-blush-light-purple-gradient-background{background:linear-gradient(135deg,#ffceec,#9896f0)}:root .has-blush-bordeaux-gradient-background{background:linear-gradient(135deg,#fecda5,#fe2d2d 50%,#6b003e)}:root .has-purple-crush-gradient-background{background:linear-gradient(135deg,#34e2e4,#4721fb 50%,#ab1dfe)}:root .has-luminous-dusk-gradient-background{background:linear-gradient(135deg,#ffcb70,#c751c0 50%,#4158d0)}:root .has-hazy-dawn-gradient-background{background:linear-gradient(135deg,#faaca8,#dad0ec)}:root .has-pale-ocean-gradient-background{background:linear-gradient(135deg,#fff5cb,#b6e3d4 50%,#33a7b5)}:root .has-electric-grass-gradient-background{background:linear-gradient(135deg,#caf880,#71ce7e)}:root .has-subdued-olive-gradient-background{background:linear-gradient(135deg,#fafae1,#67a671)}:root .has-atomic-cream-gradient-background{background:linear-gradient(135deg,#fdd79a,#004a59)}:root .has-nightshade-gradient-background{background:linear-gradient(135deg,#330968,#31cdcf)}:root .has-midnight-gradient-background{background:linear-gradient(135deg,#020381,#2874fc)}.has-small-font-size{font-size:13px}.has-normal-font-size,.has-regular-font-size{font-size:16px}.has-medium-font-size{font-size:20px}.has-large-font-size{font-size:36px}.has-huge-font-size,.has-larger-font-size{font-size:42px}.has-text-align-center{text-align:center}.has-text-align-left{text-align:left}.has-text-align-right{text-align:right} .wp-block-audio figcaption{color:#555d66;font-size:13px;text-align:center}.wp-block-code{font-family:Menlo,Consolas,monaco,monospace;font-size:14px;color:#23282d;padding:.8em 1em;border:1px solid #e2e4e7;border-radius:4px}.blocks-gallery-caption,.wp-block-embed figcaption,.wp-block-image figcaption{color:#555d66;font-size:13px;text-align:center}.wp-block-pullquote{border-top:4px solid #555d66;border-bottom:4px solid #555d66;margin-bottom:28px;color:#40464d}.wp-block-pullquote__citation,.wp-block-pullquote cite,.wp-block-pullquote footer{color:#40464d;text-transform:uppercase;font-size:13px;font-style:normal}.wp-block-navigation ul,.wp-block-navigation ul li{list-style:none}.wp-block-quote{border-left:4px solid #000;margin:0 0 28px;padding-left:1em}.wp-block-quote__citation,.wp-block-quote cite,.wp-block-quote footer{color:#6c7781;font-size:13px;margin-top:1em;position:relative;font-style:normal}.wp-block-quote.has-text-align-right{border-left:none;border-right:4px solid #000;padding-left:0;padding-right:1em}.wp-block-quote.has-text-align-center{border:none;padding-left:0}.wp-block-quote.is-large,.wp-block-quote.is-style-large{border:none}.wp-block-search .wp-block-search__label{font-weight:700}.wp-block-group.has-background{padding:20px 30px;margin-top:0;margin-bottom:0}.wp-block-separator{border:none;border-bottom:2px solid #8f98a1;margin-left:auto;margin-right:auto}.wp-block-separator:not(.is-style-wide):not(.is-style-dots){max-width:100px}.wp-block-separator.has-background:not(.is-style-dots){border-bottom:none;height:1px}.wp-block-separator.has-background:not(.is-style-wide):not(.is-style-dots){height:2px}.wp-block-table{border-collapse:collapse}.wp-block-table thead{border-bottom:3px solid}.wp-block-table tfoot{border-top:3px solid}.wp-block-table td,.wp-block-table th{padding:.5em;border:1px solid;word-break:normal}.wp-block-table figcaption,.wp-block-video figcaption{color:#555d66;font-size:13px;text-align:center} article,aside,details,figcaption,figure,footer,header,hgroup,main,menu,nav,section,summary{display:block}audio,canvas,progress,video{display:inline-block;vertical-align:baseline}audio:not([controls]){display:none;height:0}html{-webkit-text-size-adjust:100%;-ms-text-size-adjust:100%}sub,sup{position:relative;font-size:75%;line-height:0;vertical-align:baseline}sup{top:-.5em}sub{bottom:-.25em}img{max-width:100%;height:auto;vertical-align:middle;border:0;-ms-interpolation-mode:bicubic}#map_canvas img{max-width:none}button,input,select,textarea{margin:0;font-size:100%;vertical-align:middle}button,input[type=button],input[type=reset],input[type=submit]{cursor:pointer;-webkit-appearance:button}input[type=search]{-webkit-appearance:textfield}input[type=search]::-webkit-search-decoration,input[type=search]::-webkit-search-cancel-button{-webkit-appearance:none}textarea{overflow:auto;vertical-align:top}iframe{border:0}*,*:before,*:after{box-sizing:border-box}html{overflow-x:hidden}body{margin:0;overflow-x:hidden}a{text-decoration:none}a:hover,a:active{outline:0 !important}[tabindex="-1"]{outline:0 !important}.site:before,.site:after,.x-site:before,.x-site:after{content:" ";display:table;width:0}.site:after,.x-site:after{clear:both}.x-boxed-layout-active .site,.x-boxed-layout-active .x-site{margin:0 auto;border:1px solid rgba(0,0,0,.275);border-top:0;border-bottom:0;background-color:#fff;box-shadow:0 0 5px rgba(0,0,0,.125);box-sizing:content-box}body{line-height:1.7}.x-container.offset{margin:40px auto}.x-root{display:flex}.x-root .site,.x-root .x-site{flex:1 1 auto;position:relative;width:100%;min-width:1px}.x-masthead{position:relative}.x-colophon{position:relative}.x-acc-item{display:flex;flex-flow:column nowrap;justify-content:flex-start;align-items:stretch;position:relative;z-index:1;transform:translate3d(0,0,0)}.x-acc-header{display:block;position:relative;z-index:2;transition-duration:.3s;transition-property:color,border-color,background-color,text-shadow,box-shadow;transition-timing-function:cubic-bezier(.4,0,.2,1);transform:translate3d(0,0,0)}.x-acc-header span{pointer-events:none}.x-acc-header-content{display:flex;flex-flow:row nowrap;justify-content:flex-start;align-items:center}.x-acc-header-indicator{display:flex;flex-flow:row nowrap;justify-content:center;align-items:center;line-height:1;text-align:center;transition-duration:.3s;transition-property:color,transform;transition-timing-function:cubic-bezier(.4,0,.2,1)}.x-acc-header-text{flex:1 0 0%}.x-acc-content{position:relative;z-index:1}.x-acc-content>p:last-child,.x-acc-content>ul:last-child,.x-acc-content>ol:last-child{margin-bottom:0}.x-crumbs-list{display:flex;flex-flow:row wrap;justify-content:flex-start;align-items:center;align-content:center;margin:0 !important;padding:0;list-style:none}.x-crumbs-list-item{display:inherit;flex-direction:inherit;flex-wrap:nowrap;justify-content:inherit;align-items:inherit;align-content:inherit}.x-crumbs-list-item:last-child:after{content:".";display:inline;visibility:hidden;width:0;opacity:0;pointer-events:none;speak:none}.x-crumbs-link{overflow:hidden;text-overflow:ellipsis;white-space:nowrap;transition-duration:.3s;transition-property:color,border-color,background-color,text-shadow,box-shadow;transition-timing-function:cubic-bezier(.4,0,.2,1)}.x-card{display:flex;flex-flow:row nowrap;justify-content:center;align-items:stretch}.x-card.is-flip-left .x-card-face.is-back,.x-card.is-flip-right .x-card-face.is-back{transform:rotate3d(0,1,0,180deg)}.x-card.is-flip-up .x-card-face.is-back,.x-card.is-flip-down .x-card-face.is-back{transform:rotate3d(1,0,0,180deg)}.x-card.is-active.is-flip-left .x-card-faces{transform:rotate3d(0,1,0,-180deg)}.x-card.is-active.is-flip-right .x-card-faces{transform:rotate3d(0,1,0,180deg)}.x-card.is-active.is-flip-up .x-card-faces{transform:rotate3d(1,0,0,180deg)}.x-card.is-active.is-flip-down .x-card-faces{transform:rotate3d(1,0,0,-180deg)}.x-card.cannot-preserve-3d .x-card-faces{transform-style:initial}.x-card.cannot-preserve-3d .x-card-face{-webkit-backface-visibility:initial;backface-visibility:initial}.x-card.cannot-preserve-3d .x-card-face.is-front{visibility:visible}.x-card.cannot-preserve-3d .x-card-face.is-back{visibility:hidden}.x-card.cannot-preserve-3d .x-text{max-width:100%}.x-card.cannot-preserve-3d[class*=is-flip] .x-card-faces,.x-card.cannot-preserve-3d[class*=is-flip] .x-card-face{transform:none}.x-card.cannot-preserve-3d.is-active .x-card-face.is-front{visibility:hidden}.x-card.cannot-preserve-3d.is-active .x-card-face.is-back{visibility:visible}.x-card.has-not-flipped .x-card-face.is-back *{box-shadow:none !important;transform:none !important;filter:none !important}.x-card-faces{display:-ms-grid;display:grid;-ms-grid-columns:1fr;-ms-grid-rows:1fr;grid-gap:0px;grid-auto-columns:0px;grid-auto-rows:0px;grid-template-columns:1fr;grid-template-rows:1fr;justify-items:stretch;align-items:stretch;flex:1 1 auto;position:relative;transform-style:preserve-3d;transition-property:transform;transition-timing-function:cubic-bezier(.23,1,.32,1);will-change:transform}.x-card-face{display:flex;flex-flow:column nowrap;justify-content:center;align-items:center;-ms-grid-column:1;-ms-grid-column-span:1;-ms-grid-row:1;-ms-grid-row-span:1;grid-column:1/-1;grid-row:1/-1;position:relative;z-index:1;min-width:0;max-width:100%;min-height:0px;-webkit-user-select:none;-moz-user-select:none;-ms-user-select:none;user-select:none;-webkit-backface-visibility:hidden;backface-visibility:hidden}.x-card-face [class^=x-bg][class*=lower],.x-card-face [class^=x-bg][class*=upper]{transform:translate3d(0,0,0)}.x-countdown{display:block}.x-countdown.has-compact-labels .x-countdown-unit-content{flex-flow:row nowrap;justify-content:center;align-items:baseline}.x-countdown.has-top-labels .x-countdown-unit-content,.x-countdown.has-bottom-labels .x-countdown-unit-content{flex-flow:column nowrap;justify-content:center;align-items:center}.x-countdown.has-top-labels .x-countdown-number{order:2}.x-countdown.has-top-labels .x-countdown-label{order:1}.x-countdown.has-bottom-labels .x-countdown-number{order:1}.x-countdown.has-bottom-labels .x-countdown-label{order:2}.x-countdown-units{display:flex;flex-flow:row wrap;justify-content:center;align-items:center}.x-countdown-unit{display:flex;flex-flow:row nowrap;justify-content:center;align-items:center}.x-countdown-unit:not(:last-child):after{display:inline;font-style:normal;line-height:1}.x-countdown-unit-content{display:flex;flex:0 0 auto}.x-countdown-number{display:flex;flex-flow:row nowrap;justify-content:center;align-items:center;width:100%}.x-countdown-digit{display:inline}.x-countdown-label{display:block}.x-statbar,.x-statbar-bar,.x-statbar-label{display:flex;position:relative}.x-statbar-bar,.x-statbar-label{transition-duration:.75s;transition-property:width,height,transform,opacity;transition-timing-function:cubic-bezier(.23,1,.32,1)}.x-statbar{flex-direction:row;justify-content:flex-start;align-items:stretch}.x-statbar-bar{flex-direction:inherit;align-items:center}.x-statbar-label{justify-content:center;align-items:center;opacity:0;pointer-events:none}.x-statbar-label.x-active{opacity:1;pointer-events:auto}.x-tabs-list{display:flex;flex-flow:row nowrap;justify-content:space-between;align-items:stretch;position:relative;z-index:2;overflow-x:auto;overflow-y:hidden;-webkit-overflow-scrolling:touch;-ms-overflow-style:none}.x-tabs-list:before,.x-tabs-list:after{content:"";display:block;width:0;height:0;visibility:hidden}.x-tabs-list ul{display:flex;flex-flow:inherit;justify-content:flex-start;align-items:stretch;flex:1 0 0%;margin:0;padding:0;list-style:none}.x-tabs-list li{display:flex;justify-content:flex-start;align-items:stretch}.x-tabs-list a,.x-tabs-list button{flex:1 0 0%;display:block;white-space:nowrap}.x-tabs-list li:first-child,.x-tabs-list li:first-child a,.x-tabs-list li:first-child button{margin-left:0 !important}.x-tabs-list li:last-child,.x-tabs-list li:last-child a,.x-tabs-list li:last-child button{margin-right:0 !important}.x-tabs-panels{display:flex;flex-flow:row nowrap;align-items:stretch;position:relative;z-index:1}.x-tabs-panel{flex:1 1 0%}.x-tabs-panel:not(.x-active){display:none}.x-tabs-panel :first-child{margin-top:0}.x-tabs-panel :last-child{margin-bottom:0}.x-quote{display:flex}.x-quote-content{display:flex;flex-direction:column;flex:1 1 0%}.x-quote-text :first-child{margin-top:0}.x-quote-text :last-child{margin-bottom:0}.x-quote-cite{display:flex}.x-global-block{position:relative}[data-x-single-anim]{animation-duration:.3s;animation-fill-mode:forwards;animation-timing-function:cubic-bezier(.4,0,.2,1)}[data-x-single-anim][class*=secondary]{animation-duration:.45s}@keyframes x-slide-top{33%{opacity:0;transform:none}34%{opacity:0;transform:translate3d(0,-100%,0)}100%{opacity:1;transform:translate3d(0,0,0)}}@keyframes x-slide-left{33%{opacity:0;transform:none}34%{opacity:0;transform:translate3d(-50%,0,0)}100%{opacity:1;transform:translate3d(0,0,0)}}@keyframes x-slide-right{33%{opacity:0;transform:none}34%{opacity:0;transform:translate3d(50%,0,0)}100%{opacity:1;transform:translate3d(0,0,0)}}@keyframes x-slide-bottom{33%{opacity:0;transform:none}34%{opacity:0;transform:translate3d(0,100%,0)}100%{opacity:1;transform:translate3d(0,0,0)}}@keyframes x-scale-up{33%{opacity:0;transform:none}34%{opacity:0;transform:scale3d(0,0,1)}100%{opacity:1;transform:scale3d(1,1,1)}}@keyframes x-scale-down{33%{opacity:0;transform:none}34%{opacity:0;transform:scale3d(1.5,1.5,1)}100%{opacity:1;transform:scale3d(1,1,1)}}@keyframes x-flip-x{33%{opacity:0;transform:none}34%{opacity:0;transform:perspective(125px) rotate3d(1,0,0,-180deg)}100%{opacity:1;transform:perspective(125px) rotate3d(1,0,0,0deg)}}@keyframes x-flip-y{33%{opacity:0;transform:none}34%{opacity:0;transform:perspective(125px) rotate3d(0,1,0,-180deg)}100%{opacity:1;transform:perspective(125px) rotate3d(0,1,0,0deg)}}.x-testimonial{display:flex;flex-wrap:nowrap;min-width:1px}.x-testimonial-content{display:flex;flex-flow:column nowrap;flex:1 1 auto;min-width:1px}.x-testimonial-text :first-child{margin-top:0}.x-testimonial-text :last-child{margin-bottom:0}.x-testimonial-cite{display:flex;flex-wrap:nowrap;min-width:1px}.x-testimonial-cite-content{flex:1 1 auto;min-width:1px}.x-testimonial-cite-text{display:block}.x-row{display:flex;position:relative;flex-flow:row nowrap;justify-content:center;align-items:stretch}.x-row-inner{display:flex;flex-wrap:wrap;flex-grow:1;flex-shrink:1;flex-basis:auto;min-width:0;min-height:0px}.x-col{flex-grow:0;flex-shrink:1;flex-basis:auto;display:block;position:relative;min-width:0;max-width:100%;min-height:0px}.no-preserve3d .x-col{padding-left:0 !important;padding-right:0 !important}.x-grid{display:grid;grid-auto-columns:auto;grid-auto-rows:auto;position:relative;min-width:0;min-height:0px}.x-cell{display:block;position:relative;min-width:0;max-width:100%;min-height:0px}.x-icon{display:inline-flex !important;flex-flow:row nowrap !important;justify-content:center !important;align-items:center !important;width:auto;height:auto;line-height:inherit;text-align:center}.x-icon:before{display:block !important;position:static !important;top:auto !important;left:auto !important;right:auto !important;bottom:auto !important;width:inherit !important;height:inherit !important;margin:0 !important;line-height:inherit !important;text-align:inherit !important}.x-anchor{overflow:hidden;display:inline-flex;flex-direction:column;position:relative;min-width:1px;border-radius:0;cursor:pointer;transition-property:border-color,background-color,box-shadow,opacity,transform}.x-anchor-content{overflow:hidden;display:flex;flex:1 0 auto;position:relative;z-index:2;border-radius:inherit;transform:translate3d(0,0,0)}.x-anchor,.x-anchor-text-primary,.x-anchor-text-secondary,.x-anchor-sub-indicator{transition-duration:.3s;transition-timing-function:cubic-bezier(.4,0,.2,1)}.x-nat,.x-nat a,.x-nat i,.x-nat ul,.x-nat ol,.x-nat img,.x-nat div,.x-nat span,.x-nat button{animation-delay:0s !important;transition-delay:0s !important;animation-duration:0s !important;transition-duration:0s !important}.x-anchor-text{flex-shrink:1;min-width:1px;max-width:100%}.x-anchor-text-primary,.x-anchor-text-secondary{position:relative;display:block;transition-property:color,text-shadow;z-index:3}div.x-anchor-text-primary *,div.x-anchor-text-secondary *{display:block !important;margin:0 !important;border:0 !important;padding:0 !important;font-family:inherit !important;font-size:1em !important;font-style:inherit !important;font-weight:inherit !important;letter-spacing:inherit !important;line-height:inherit !important;text-align:inherit !important;text-decoration:none !important;text-shadow:none !important;text-transform:inherit !important;color:inherit !important;background-color:transparent !important;box-shadow:none !important}.x-anchor-sub-indicator{position:relative;display:block;width:auto;height:auto;letter-spacing:0;line-height:1;text-align:center;transition-property:color,text-shadow;z-index:2}.x-anchor-sub-indicator:before{display:inherit;width:inherit;height:inherit;line-height:inherit;text-align:inherit}li:not(.menu-item-has-children)>a .x-anchor-sub-indicator{display:none;visibility:hidden;speak:none}.x-anchor.has-int-content{overflow:hidden}.x-anchor.has-int-content .x-anchor-content{transition-duration:.3s;transition-property:opacity,transform;transition-timing-function:cubic-bezier(.4,0,.2,1)}.x-anchor-content.is-int{position:absolute;top:0;left:0;right:0;bottom:0;pointer-events:none}.x-anchor.has-int-content .x-anchor-content[class*=in-scale-up].is-int{opacity:0;transform:scale(0)}.x-anchor.has-int-content.x-interactive .x-anchor-content[class*=in-scale-up].is-int{opacity:1;transform:scale(1)}.x-anchor.has-int-content.x-interactive .x-anchor-content.x-anchor-content-out-slide-top-in-scale-up:not(.is-int){transform:translate3d(0,-100%,0)}.x-anchor.has-int-content.x-interactive .x-anchor-content.x-anchor-content-out-slide-left-in-scale-up:not(.is-int){transform:translate3d(-100%,0,0)}.x-anchor.has-int-content.x-interactive .x-anchor-content.x-anchor-content-out-slide-right-in-scale-up:not(.is-int){transform:translate3d(100%,0,0)}.x-anchor.has-int-content.x-interactive .x-anchor-content.x-anchor-content-out-slide-bottom-in-scale-up:not(.is-int){transform:translate3d(0,100%,0)}.x-bar{position:relative}.x-bar,.x-bar-scroll,.x-bar-scroll-outer,.x-bar-scroll-inner,.x-bar-content{display:flex}.x-bar,.x-bar-scroll,.x-bar-scroll-outer,.x-bar-scroll-inner{justify-content:space-between}.x-bar-h,.x-bar-h .x-bar-scroll,.x-bar-h .x-bar-scroll-outer,.x-bar-h .x-bar-scroll-inner{flex-direction:row}.x-bar-v,.x-bar-v .x-bar-scroll,.x-bar-v .x-bar-scroll-outer,.x-bar-v .x-bar-scroll-inner{flex-direction:column}.x-bar-scroll,.x-bar-scroll-outer,.x-bar-scroll-inner,.x-bar-content{flex:1 0 auto}.x-bar-content{z-index:5}.x-bar,.x-bar-scroll,.x-bar-scroll-outer,.x-bar-scroll-inner,.x-bar-content,.x-bar-container{min-width:1px}.x-bar-space{flex-shrink:0}.x-bar-space-right{-webkit-order:9999;order:9999}.x-bar-outer-spacers:before,.x-bar-outer-spacers:after{content:"";flex-grow:0;flex-shrink:0;display:block;pointer-events:none;visibility:hidden}.x-bar-scroll{position:relative;width:100% !important;height:100% !important}.x-bar-scroll .ps__rail-x,.x-bar-scroll .ps__rail-y{z-index:10}.x-bar-scroll-outer,.x-bar-scroll-inner{width:100% !important;height:100% !important}.x-bar-scroll-outer{overflow:hidden !important}.x-bar-scroll-inner{box-sizing:content-box !important;-webkit-overflow-scrolling:touch !important;-ms-overflow-style:-ms-autohiding-scrollbar !important}.x-bar-h .x-bar-scroll-inner{overflow-x:scroll !important;overflow-y:hidden !important;padding:0 0 50px !important}.x-bar-v .x-bar-scroll-inner{overflow-x:hidden !important;overflow-y:scroll !important;padding:0 50px 0 0 !important}.x-bar-absolute{position:absolute}.x-bar-fixed{position:fixed}.x-bar-bottom{bottom:0}.x-bar-left{top:0;left:0;bottom:0}.x-bar-right{top:0;right:0;bottom:0}@media screen and (min-width:783px){.admin-bar .x-bar-left,.admin-bar .x-bar-right{top:32px}}@media screen and (min-width:601px) and (max-width:782px){.admin-bar .x-bar-left,.admin-bar .x-bar-right{top:46px}}.x-bar-h .x-bar-container,.x-bar-h .x-mod-container{height:inherit}.x-bar-v .x-bar-container,.x-bar-v .x-mod-container{width:inherit}.x-bar-container{display:flex;position:relative;z-index:1}.x-mod-container{display:flex;flex-direction:inherit;align-items:inherit;position:relative}.x-bar-is-sticky,.x-bar-is-sticky .x-bar-content{transition-duration:.3s;transition-timing-function:cubic-bezier(.4,0,.2,1);transition-property:height,opacity}.x-bar-is-initially-hidden{opacity:0;pointer-events:none}.x-bar-is-initially-hidden:not(.x-bar-is-visible){visibility:hidden}.x-bar-is-visible{transition-property:height,opacity,transform}[class^=x-bg]{overflow:hidden;position:absolute;top:0;left:0;width:100%;height:100%;border-radius:inherit;pointer-events:none;speak:none}[class^=x-bg][data-x-params*=parallax]{opacity:0;transition-duration:.3s,0s;transition-property:opacity,transform;transition-timing-function:cubic-bezier(.4,0,.2,1),linear}.x-bg{z-index:-1}[class*=x-bg-layer-lower]{z-index:1}[class*=x-bg-layer-upper]{z-index:2}[data-x-toggle-collapse]{transition:height .3s cubic-bezier(.4,0,.2,1)}.x-collapsed{display:none}.x-collapsing{overflow:hidden !important;height:0}.x-mini-cart ul{margin:0 !important;padding:0 !important;list-style:none !important}.x-mini-cart li,.x-mini-cart a:not(.x-anchor){transition-duration:.3s;transition-property:color,text-shadow,border-color,background-color,box-shadow;transition-timing-function:cubic-bezier(.4,0,.2,1)}.x-mini-cart li:before,.x-mini-cart li:after{content:" ";display:table;width:0}.x-mini-cart li:after{clear:both}.x-mini-cart a:not(.x-anchor){display:block}.x-mini-cart a:not(.x-anchor):focus{outline:0}.x-mini-cart img{float:left;display:block;margin:0}.x-mini-cart .remove{float:right;text-align:center !important}.x-mini-cart .quantity{display:block;margin:0 !important}.x-mini-cart .total{margin:0}.x-mini-cart .total strong{font-weight:inherit}.x-mini-cart .buttons{display:flex;flex-wrap:wrap;flex-direction:row;margin:0}.x-mini-cart .widget_shopping_cart_content{display:flex;flex-direction:column}.rtl .x-mini-cart img{float:right}.rtl .x-mini-cart .remove{float:left}.x-dropdown{visibility:hidden;position:absolute;margin:0;padding:0;opacity:0;transform:translate3d(0,5%,0);transition-delay:0s,0s,.5s;transition-duration:.5s,.5s,0s;transition-property:opacity,transform,visibility;transition-timing-function:cubic-bezier(.4,0,.2,1);pointer-events:none;z-index:9999}.x-dropdown[data-x-stem*="u"]{transform:translate3d(0,-5%,0)}.x-dropdown.x-active{visibility:visible;opacity:1;transform:none;transition-duration:.5s;transition-property:opacity,transform;pointer-events:auto}ul.x-dropdown,ol.x-dropdown{list-style:none}.menu-item-has-children{position:relative}.x-frame{width:100%}.x-frame-inner{position:relative;z-index:1;padding-bottom:56.25%;height:0;overflow:hidden}.x-frame-inner video,.x-frame-inner>div,.x-frame-inner>embed,.x-frame-inner>iframe,.x-frame-inner>img,.x-frame-inner>object,.x-frame-inner>.x-map iframe,.x-frame-inner>.x-video iframe,.x-frame-inner>.x-video .mejs-poster img{display:block !important;position:absolute !important;top:0 !important;left:0 !important;width:100% !important;height:100% !important;margin:0 !important}.x-graphic-icon,.x-graphic-image,.x-graphic-toggle{transition-duration:.3s;transition-timing-function:cubic-bezier(.4,0,.2,1)}.x-graphic{flex-shrink:0;position:relative;letter-spacing:0;line-height:1;z-index:2}.x-graphic-icon,.x-graphic-image,.x-graphic-toggle{position:relative;transition-property:opacity,transform,color,background-color,text-shadow,box-shadow}.x-graphic-icon,.x-graphic-icon.x-icon,.x-graphic-image,.x-graphic-image.x-image{display:block}.x-graphic-primary:not(:only-child),.x-graphic-secondary{-webkit-backface-visibility:hidden;backface-visibility:hidden}.x-graphic-primary:not(:only-child){opacity:1;z-index:2}.x-graphic-secondary{position:absolute;top:0;left:0;opacity:0;z-index:1}[class*=active].x-graphic-primary:not(:only-child){opacity:0}[class*=active].x-graphic-secondary{opacity:1}.x-scale-up.x-graphic-primary:not(:only-child){transform:scale(1)}.x-scale-up.x-graphic-secondary{transform:scale(.35)}.x-scale-up[class*=active].x-graphic-primary:not(:only-child){transform:scale(1.5)}.x-scale-up[class*=active].x-graphic-secondary{transform:scale(1)}.x-scale-down.x-graphic-primary:not(:only-child){transform:scale(1)}.x-scale-down.x-graphic-secondary{transform:scale(1.5)}.x-scale-down[class*=active].x-graphic-primary:not(:only-child){transform:scale(.35)}.x-scale-down[class*=active].x-graphic-secondary{transform:scale(1)}.x-flip-x.x-graphic-primary:not(:only-child){transform:perspective(100px) rotateX(0deg)}.x-flip-x.x-graphic-secondary{transform:perspective(100px) rotateX(-180deg)}.x-flip-x[class*=active].x-graphic-primary:not(:only-child){transform:perspective(100px) rotateX(180deg)}.x-flip-x[class*=active].x-graphic-secondary{transform:perspective(100px) rotateX(0deg)}.x-flip-y.x-graphic-primary:not(:only-child){transform:perspective(100px) rotateY(0deg)}.x-flip-y.x-graphic-secondary{transform:perspective(100px) rotateY(-180deg)}.x-flip-y[class*=active].x-graphic-primary:not(:only-child){transform:perspective(100px) rotateY(180deg)}.x-flip-y[class*=active].x-graphic-secondary{transform:perspective(100px) rotateY(0deg)}.x-image{display:inline-block;line-height:1;vertical-align:middle}@media all and (-ms-high-contrast:none),(-ms-high-contrast:active){.x-image{min-height:0%}}.x-image img{display:block;max-width:100%;height:auto;vertical-align:bottom;border:0;-ms-interpolation-mode:bicubic}a.x-image{cursor:pointer}a.x-image:focus{outline:0}.x-image-preserve-ratio img{width:auto;height:auto;max-width:100%;max-height:100%}.x-image-preserve-ratio img[src*=".svg"]{height:100%}.x-line{display:block;width:0;height:0;margin:0;border:0;padding:0}.x-menu,.x-menu .sub-menu{margin:0;padding:0;list-style:none}.x-menu,.x-menu li{min-width:1px}.x-has-sub{position:relative}.x-menu-modal .x-anchor,.x-menu-layered .x-anchor,.x-menu-dropdown .x-anchor,.x-menu-collapsed .x-anchor,.x-menu-inline .x-dropdown .x-anchor{display:flex}.x-menu-modal li:before,.x-menu-modal li:after,.x-menu-layered li:before,.x-menu-layered li:after,.x-menu-collapsed li:before,.x-menu-collapsed li:after{content:"";display:table}.x-menu-modal li:after,.x-menu-layered li:after,.x-menu-collapsed li:after{clear:both}.x-bar-v .x-menu-collapsed,.x-bar-v .x-menu-collapsed>li{width:inherit}.x-menu-inline{display:flex}.x-menu-inline>li{display:flex;flex-direction:inherit;justify-content:inherit;align-items:inherit}.x-menu-layered{overflow:hidden;position:relative;transition-duration:.3s;transition-property:height;transition-timing-function:cubic-bezier(.4,0,.2,1)}.x-menu-layered .menu-item-has-children{position:static}.x-menu-layered ul{position:absolute;top:0;left:0;right:0;pointer-events:none}.x-menu-layered li{pointer-events:none}.x-menu-layered a{opacity:0;transform:translate(25px,0);pointer-events:none}.x-prev-layer>li>a{transform:translate(-25px,0)}.x-current-layer>li>a{opacity:1;transform:translate(0,0);pointer-events:auto}.x-modal{visibility:hidden;position:fixed;top:0;left:0;right:0;bottom:0;opacity:0;transition:visibility 0s linear .525s,opacity .5s cubic-bezier(.4,0,.2,1) 0s;pointer-events:none;z-index:99999999}.x-modal.x-active{visibility:visible;opacity:1;transition:opacity .5s cubic-bezier(.4,0,.2,1) 0s;pointer-events:auto}.x-modal-bg{display:block;position:fixed;top:0;left:0;right:0;bottom:0;z-index:1}.x-modal-close{display:block;position:fixed;width:1em;height:1em;margin:0;border:0;padding:0;line-height:1em;text-align:center;background-color:transparent;opacity:0;transform:scale(0);transition-duration:.5s;transition-property:color,opacity,transform;transition-timing-function:cubic-bezier(.4,0,.2,1);z-index:3}.x-modal-close span{display:block}.x-modal.x-active .x-modal-close{opacity:1;transform:scale(1)}.x-modal-close-top{top:0}.x-modal-close-left{left:0}.x-modal-close-right{right:0}.x-modal-close-bottom{bottom:0}.admin-bar .x-modal-close-top{top:32px}@media screen and (max-width:782px){.admin-bar .x-modal-close-top{top:46px}}.x-modal-content-outer{position:relative;display:table;width:100%;height:100%;z-index:2}.x-modal-content-inner{display:table-cell;vertical-align:middle}.x-modal-content{width:100%;margin:0 auto;transform:translate3d(0,-15px,0);transition:transform .5s cubic-bezier(.4,0,.2,1)}.x-modal.x-active .x-modal-content{transform:translate3d(0,0,0)}.admin-bar .x-modal,.admin-bar .x-modal-bg{top:32px}@media screen and (max-width:782px){.admin-bar .x-modal,.admin-bar .x-modal-bg{top:46px}}.x-off-canvas{overflow-x:hidden;overflow-y:auto;visibility:hidden;position:fixed;top:0;left:0;right:0;bottom:0;transition:visibility 0s linear .525s;pointer-events:none;z-index:99999998}.x-off-canvas.x-active{visibility:visible;transition-delay:0s;pointer-events:auto}.x-off-canvas-bg{display:block;position:absolute;top:0;left:0;right:0;bottom:0;opacity:0;z-index:1;transform:translate3d(0,0,0);transition:opacity .5s cubic-bezier(.4,0,.2,1)}.x-off-canvas.x-active .x-off-canvas-bg{opacity:1}.x-off-canvas-close{display:block;position:absolute;top:0;margin:0;border:0;padding:0;line-height:1;text-align:center;background-color:transparent;opacity:0;transform:scale(0);transition-duration:.3s,.5s,.5s;transition-property:color,opacity,transform;transition-timing-function:cubic-bezier(.4,0,.2,1);z-index:3}.x-off-canvas-close span{display:block}.x-off-canvas.x-active .x-off-canvas-close{opacity:1;transform:scale(1)}.x-off-canvas-content{position:absolute;top:0;bottom:0;width:100%;transition:transform .5s cubic-bezier(.4,0,.2,1);z-index:2}.x-off-canvas.x-active .x-off-canvas-content{transform:translate3d(0,0,0)}.x-off-canvas-close-left{left:0}.x-off-canvas-close-right{right:0}.x-off-canvas-content-left{left:0;transform:translate3d(-115%,0,0)}.x-off-canvas-content-right{right:0;transform:translate3d(115%,0,0)}.admin-bar .x-off-canvas{top:32px}@media screen and (max-width:782px){.admin-bar .x-off-canvas{top:46px}}[data-x-particle]{display:block;position:absolute;opacity:0;transition-delay:0s;transition-duration:.3s;transition-property:opacity,transform;transition-timing-function:cubic-bezier(.4,0,.2,1);pointer-events:none;speak:none;z-index:1}[data-x-particle] span{display:block;position:absolute;top:0;left:0;right:0;bottom:0;border-radius:inherit;background-color:currentColor}[data-x-particle*=inside][data-x-particle*=t_]{top:0}[data-x-particle*=inside][data-x-particle*=_l]{left:0}[data-x-particle*=inside][data-x-particle*=_r]{right:0}[data-x-particle*=inside][data-x-particle*=b_]{bottom:0}[data-x-particle*=inside][data-x-particle*=c_]:not([data-x-particle*=c_c]){top:0;bottom:0;margin-top:auto;margin-bottom:auto}[data-x-particle*=inside][data-x-particle*=_c]:not([data-x-particle*=c_c]){left:0;right:0;margin-left:auto;margin-right:auto}[data-x-particle*=inside][data-x-particle*=c_c]{top:50%;left:50%}[data-x-particle*=overlap][data-x-particle*=t_]{top:0}[data-x-particle*=overlap][data-x-particle*=c_]{top:50%}[data-x-particle*=overlap][data-x-particle*=b_]{top:100%}[data-x-particle*=overlap][data-x-particle*=_l]{left:0}[data-x-particle*=overlap][data-x-particle*=_c]{left:50%}[data-x-particle*=overlap][data-x-particle*=_r]{left:100%}[data-x-particle~=scale-x_y]{transform:scale3d(0,0,1)}[data-x-particle~=scale-x]{transform:scale3d(0,1,1)}[data-x-particle~=scale-y]{transform:scale3d(1,0,1)}[data-x-particle*=overlap],[data-x-particle*=inside][data-x-particle*=c_c]{transform:translate3d(-50%,-50%,0)}[data-x-particle*=overlap][data-x-particle~=scale-x_y],[data-x-particle*=inside][data-x-particle*=c_c][data-x-particle~=scale-x_y]{transform:translate3d(-50%,-50%,0) scale3d(0,0,1)}[data-x-particle*=overlap][data-x-particle~=scale-x],[data-x-particle*=inside][data-x-particle*=c_c][data-x-particle~=scale-x]{transform:translate3d(-50%,-50%,0) scale3d(0,1,1)}[data-x-particle*=overlap][data-x-particle~=scale-y],[data-x-particle*=inside][data-x-particle*=c_c][data-x-particle~=scale-y]{transform:translate3d(-50%,-50%,0) scale3d(1,0,1)}[data-x-particle][class*=active]{opacity:1;transition-delay:0s;transition-duration:.3s}[data-x-particle][class*=active][data-x-particle*=scale]{transition-delay:0s;transition-duration:0s,.3s;transform:scale3d(1,1,1)}[data-x-particle][class*=active][data-x-particle*=scale][data-x-particle*=overlap],[data-x-particle][class*=active][data-x-particle*=scale][data-x-particle*=inside][data-x-particle*=c_c]{transform:translate3d(-50%,-50%,0) scale3d(1,1,1)}.ps{overflow:hidden !important;overflow-anchor:none;touch-action:auto;-ms-overflow-style:none;-ms-touch-action:auto}.ps__rail-x,.ps__rail-y{display:none;position:absolute;opacity:0;transition:background-color .2s ease,opacity .2s ease}.ps__rail-x{bottom:0;height:15px}.ps__rail-y{right:0;width:15px}.ps--active-x>.ps__rail-x,.ps--active-y>.ps__rail-y{display:block;background-color:rgba(0,0,0,0)}.ps:hover>.ps__rail-x,.ps:hover>.ps__rail-y,.ps--focus>.ps__rail-x,.ps--focus>.ps__rail-y,.ps--scrolling-x>.ps__rail-x,.ps--scrolling-y>.ps__rail-y{opacity:.6}.ps .ps__rail-x:hover,.ps .ps__rail-y:hover,.ps .ps__rail-x:focus,.ps .ps__rail-y:focus,.ps .ps__rail-x.ps--clicking,.ps .ps__rail-y.ps--clicking{background-color:#eee;opacity:.9}.ps__thumb-x,.ps__thumb-y{position:absolute;border-radius:100px;background-color:#aaa;transition-duration:.2s;transition-timing-function:ease}.ps__thumb-x{bottom:2px;height:6px;transition-property:background-color,height}.ps__thumb-y{right:2px;width:6px;transition-property:background-color,width}.ps__rail-x:hover>.ps__thumb-x,.ps__rail-x:focus>.ps__thumb-x,.ps__rail-x.ps--clicking .ps__thumb-x{height:11px;background-color:#999}.ps__rail-y:hover>.ps__thumb-y,.ps__rail-y:focus>.ps__thumb-y,.ps__rail-y.ps--clicking .ps__thumb-y{width:11px;background-color:#999}@supports (-ms-overflow-style:none){.ps{overflow:auto !important}}@media screen and (-ms-high-contrast:active),(-ms-high-contrast:none){.ps{overflow:auto !important}}.x-rating{display:inline-flex;min-width:1px}.x-rating-graphic{display:flex;flex-flow:row nowrap;justify-content:space-between;align-items:center;min-width:1px;letter-spacing:0 !important;line-height:1 !important}.x-rating-text{min-width:1px}.x-search{display:flex;align-items:center;margin:0;border:0;padding:0;transition-duration:.3s;transition-property:border-color,background-color,box-shadow;transition-timing-function:cubic-bezier(.4,0,.2,1);cursor:text}.x-search:focus{outline:0}.x-search-btn{display:block;flex-shrink:0;margin:0;border:0;padding:0;line-height:1;transition-duration:.3s;transition-property:color,border-color,background-color,box-shadow;transition-timing-function:cubic-bezier(.4,0,.2,1);cursor:pointer}.x-search-btn:focus{outline:0}.x-search-btn svg{display:block;width:1em;height:1em;margin:0 auto;line-height:inherit;stroke:currentColor}.x-search-btn-submit{order:1}.x-search-btn-clear{order:3;visibility:hidden;pointer-events:none}.x-search-has-content .x-search-btn-clear{visibility:visible;pointer-events:auto}.x-search-input{flex-grow:1;order:2;width:100%;min-width:1px;height:auto !important;border:0 !important;padding:0 !important;background-color:transparent !important;box-shadow:none !important;transition-duration:.3s;transition-property:color;transition-timing-function:cubic-bezier(.4,0,.2,1);-webkit-appearance:none;-moz-appearance:none;appearance:none}.x-search-input::-ms-clear{display:none}.x-search-input::-webkit-input-placeholder{color:currentColor;opacity:1}.x-search-input::-moz-placeholder{color:currentColor;opacity:1}.x-search-input:-ms-input-placeholder{color:currentColor;opacity:1}[class*=x-separator]{display:block;position:absolute;z-index:-1;left:0;right:0;margin:0 auto}[class*=x-separator][class*=top]{top:0;transform:translate(0,-100%)}[class*=x-separator][class*=bottom]{bottom:0;transform:translate(0,100%)}[class*=x-separator] svg{display:block;width:100%;height:100%;margin:0}[data-x-stem]{top:auto;left:auto;right:auto;bottom:auto}[data-x-stem*="d"]{top:100%}[data-x-stem*="l"]{right:0}[data-x-stem*="r"]{left:0}[data-x-stem*="u"]{bottom:100%}[data-x-stem*="d"][data-x-stem-top*="h"]{top:0}[data-x-stem*="l"][data-x-stem-top*="h"]{right:100%}[data-x-stem*="r"][data-x-stem-top*="h"]{left:100%}[data-x-stem*="u"][data-x-stem-top*="h"]{bottom:0}[data-x-stem] [data-x-stem*="d"]{top:0}[data-x-stem] [data-x-stem*="l"]{right:100%}[data-x-stem] [data-x-stem*="r"]{left:100%}[data-x-stem] [data-x-stem*="u"]{bottom:0}.x-text{min-width:1px}.x-text-headline{position:relative}.x-text-content{display:-webkit-flex;display:flex}.x-text-content-text{-webkit-flex-grow:1;flex-grow:1;min-width:1px;max-width:100%}.x-text-content-text,.x-text-content-text-primary,.x-text-content-text-subheadline{display:block}.x-text-content-text>p:last-child,.x-text-content-text>ul:last-child,.x-text-content-text>ol:last-child,.x-text-content-text-primary>p:last-child,.x-text-content-text-primary>ul:last-child,.x-text-content-text-primary>ol:last-child,.x-text-content-text-subheadline>p:last-child,.x-text-content-text-subheadline>ul:last-child,.x-text-content-text-subheadline>ol:last-child{margin-bottom:0}.x-toggle{display:block;position:relative;transform:translate3d(0,0,0);pointer-events:none;speak:none}.x-toggle>span{display:block;position:absolute;top:0;left:0;width:100%;height:100%;margin:0 auto;border-radius:inherit;background-color:currentColor}.x-toggle-burger,.x-toggle-grid,.x-toggle-more-h,.x-toggle-more-v{height:1em}.x-toggle-grid,.x-toggle-more-h,.x-toggle-more-v{width:1em}.x-toggle-more-h,.x-toggle-more-v{border-radius:100em}.x-toggle-more-v{transform:translate3d(0,0,0) rotate(90deg)}[data-x-toggle-anim]{animation:none .5s cubic-bezier(.86,0,.07,1) 0s infinite alternate forwards paused}[data-x-toggle-anim].x-paused{animation-play-state:paused}[data-x-toggle-anim].x-running{animation-play-state:running}@keyframes x-bun-t-1{50%{transform:translate3d(0,0,0)}100%{transform:translate3d(0,0,0) rotate(45deg)}}@keyframes x-patty-1{49%{opacity:1}50%{opacity:0}100%{opacity:0}}@keyframes x-bun-b-1{50%{transform:translate3d(0,0,0)}100%{transform:translate3d(0,0,0) rotate(-45deg)}}@keyframes x-grid-1{50%{box-shadow:0 0,0 0,0 0,0 0,0 0,0 0,0 0,0 0;transform:rotate3d(0,0,1,0deg)}100%{box-shadow:-1em 0,-2em 0,0 -1em,0 2em,0 -2em,0 1em,2em 0,1em 0;transform:rotate3d(0,0,1,-45deg)}}@keyframes x-more-1-1{50%{transform:translate3d(0,0,0)}75%{border-radius:0}100%{border-radius:0;transform:translate3d(0,0,0) rotate(45deg) scale3d(4,.5,1)}}@keyframes x-more-2-1{49%{opacity:1}50%{opacity:0}100%{opacity:0}}@keyframes x-more-3-1{50%{transform:translate3d(0,0,0) rotate(-45deg)}75%{border-radius:0}100%{border-radius:0;transform:translate3d(0,0,0) rotate(-45deg) scale3d(4,.5,1)}}p{margin:0 0 1.313em}small{font-size:smaller}b,strong{font-weight:700}em{font-style:italic}cite{font-style:normal}h1,h2,h3,h4,h5,h6,.h1,.h2,.h3,.h4,.h5,.h6{margin:1.25em 0 .2em;text-rendering:optimizelegibility}h1,.h1{margin-top:1em;font-size:400%;line-height:1.1}h2,.h2{font-size:285.7%;line-height:1.2}h3,.h3{font-size:228.5%;line-height:1.3}h4,h5,h6,.h4,.h5,.h6{margin-top:1.75em;margin-bottom:.5em;line-height:1.4}h4,.h4{font-size:171.4%}h5,.h5{font-size:150%}h6,.h6{font-size:100%;text-transform:uppercase}ul,ol{padding:0;margin:0 0 1.313em 1.655em}ul ul,ul ol,ol ol,ol ul{margin-bottom:0}ul.unstyled,ol.unstyled{margin-left:0;list-style:none}ul.inline,ol.inline{margin-left:0;list-style:none}ul.inline>li,ol.inline>li{display:inline-block;padding-left:1em;padding-right:1em}dl{margin-bottom:1.313em}dt{font-weight:bolder}dd{margin-left:1.313em}q:before,q:after,blockquote:before,blockquote:after{content:""}address{margin-bottom:1.313em;font-style:normal}hr{height:0;margin:1.313em 0;border:0;border-top:1px solid #f2f2f2}blockquote{margin:1.313em 0;border:1px solid #f2f2f2;border-left:0;border-right:0;padding:1em 0;font-size:171.4%;font-weight:400;line-height:1.3;color:#272727}code,pre{font-family:Consolas,"Andale Mono WT","Andale Mono","Lucida Console","Lucida Sans Typewriter","DejaVu Sans Mono","Bitstream Vera Sans Mono","Liberation Mono","Nimbus Mono L",Monaco,"Courier New",Courier,monospace;color:#555;background-color:#f7f7f9;border:1px solid #e1e1e8}code{padding:.143em .286em;font-size:.85em;border-radius:3px}pre{display:block;padding:.786em 1.071em;margin:0 0 1.313em;font-size:1.15em;line-height:1.7;word-break:break-all;word-wrap:break-word;white-space:pre;white-space:pre-wrap;border-radius:4px}pre code{padding:0;background-color:transparent;border:0}.pre-scrollable{max-height:360px;overflow-y:scroll}form{margin:0 0 1.313em}fieldset{padding:0;margin:0;border:0}legend{display:block;width:100%;padding:0;margin:0;line-height:1.4;border:0;border-bottom:1px solid #ddd}label,input,button,select,textarea{font-size:100%;line-height:1.7}input,button,select,textarea{font-family:"Lato","Helvetica Neue",Helvetica,Arial,sans-serif}label{display:block;margin-bottom:2px}input::-webkit-input-placeholder,textarea::-webkit-input-placeholder{color:#c5c5c5}input::-moz-placeholder,textarea::-moz-placeholder{color:#c5c5c5}input:-ms-input-placeholder,textarea:-ms-input-placeholder{color:#c5c5c5}.radio,.checkbox{min-height:18px;padding-left:18px}.radio input[type=radio],.checkbox input[type=checkbox]{position:relative;float:left;margin-left:-18px}.controls>.radio:first-child,.controls>.checkbox:first-child{padding-top:5px}.radio.inline,.checkbox.inline{display:inline-block;padding-top:5px;margin-bottom:0;vertical-align:middle}.radio.inline+.radio.inline,.checkbox.inline+.checkbox.inline{margin-left:10px}input[disabled],select[disabled],textarea[disabled],input[readonly],select[readonly],textarea[readonly]{cursor:not-allowed}input[disabled]:not(input[type=submit]),select[disabled],textarea[disabled],input[readonly]:not(input[type=submit]),select[readonly],textarea[readonly]{background-color:#eee}input[type=radio][disabled],input[type=checkbox][disabled],input[type=radio][readonly],input[type=checkbox][readonly]{background-color:transparent}.wpcf7 p{margin-bottom:.32825em}.wpcf7 select,.wpcf7 textarea,.wpcf7 input[type=text],.wpcf7 input[type=password],.wpcf7 input[type=datetime],.wpcf7 input[type=datetime-local],.wpcf7 input[type=date],.wpcf7 input[type=month],.wpcf7 input[type=time],.wpcf7 input[type=week],.wpcf7 input[type=number],.wpcf7 input[type=email],.wpcf7 input[type=url],.wpcf7 input[type=search],.wpcf7 input[type=tel],.wpcf7 input[type=color]{width:100%}.wpcf7 select:not(:last-child),.wpcf7 textarea:not(:last-child),.wpcf7 input[type=text]:not(:last-child),.wpcf7 input[type=password]:not(:last-child),.wpcf7 input[type=datetime]:not(:last-child),.wpcf7 input[type=datetime-local]:not(:last-child),.wpcf7 input[type=date]:not(:last-child),.wpcf7 input[type=month]:not(:last-child),.wpcf7 input[type=time]:not(:last-child),.wpcf7 input[type=week]:not(:last-child),.wpcf7 input[type=number]:not(:last-child),.wpcf7 input[type=email]:not(:last-child),.wpcf7 input[type=url]:not(:last-child),.wpcf7 input[type=search]:not(:last-child),.wpcf7 input[type=tel]:not(:last-child),.wpcf7 input[type=color]:not(:last-child){margin-bottom:0}.wpcf7-display-none{display:none}.wpcf7-not-valid-tip{display:block;margin:1px 0 0;font-size:.75em}.wpcf7 .ajax-loader{visibility:hidden;display:inline-block;position:relative;width:1em;height:1em;padding:0;border:0;margin:0 0 0 1em;font-size:16px;vertical-align:middle}.wpcf7 .ajax-loader:before{content:"";display:block;position:absolute;top:0;left:0;width:1em;height:1em;border-width:2px;border-style:solid;border-color:transparent currentColor currentColor;border-radius:1em;animation:xCF7Spin 1.25s infinite linear}.wpcf7 .ajax-loader.is-active{visibility:visible}.wpcf7-list-item{margin:0 0 0 1em}.wpcf7-list-item-label{margin:0 .5em 0 0}@keyframes xCF7Spin{from{transform:rotate(0deg)}to{transform:rotate(360deg)}}select,textarea,input[type=text],input[type=password],input[type=datetime],input[type=datetime-local],input[type=date],input[type=month],input[type=time],input[type=week],input[type=number],input[type=email],input[type=url],input[type=search],input[type=tel],input[type=color],.uneditable-input{display:inline-block;height:2.65em;margin-bottom:9px;border:1px solid #ddd;padding:0 .65em;font-size:13px;line-height:normal;color:#555;background-color:#fff;border-radius:4px;box-shadow:inset 0 1px 1px rgba(0,0,0,.075)}input,textarea{width:auto}textarea{height:auto;line-height:1.3}textarea,input[type=text],input[type=password],input[type=datetime],input[type=datetime-local],input[type=date],input[type=month],input[type=time],input[type=week],input[type=number],input[type=email],input[type=url],input[type=search],input[type=tel],input[type=color],.uneditable-input{-webkit-transition:border linear .2s,box-shadow linear .2s;transition:border linear .2s,box-shadow linear .2s}textarea:focus,input[type=text]:focus,input[type=password]:focus,input[type=datetime]:focus,input[type=datetime-local]:focus,input[type=date]:focus,input[type=month]:focus,input[type=time]:focus,input[type=week]:focus,input[type=number]:focus,input[type=email]:focus,input[type=url]:focus,input[type=search]:focus,input[type=tel]:focus,input[type=color]:focus,.uneditable-input:focus{border-color:rgba(0,0,0,.3);box-shadow:inset 0 1px 1px rgba(0,0,0,.075),0 0 8px rgba(0,0,0,.2);outline:0}input[type=radio],input[type=checkbox]{margin:.425em 0;line-height:normal;cursor:pointer}@media (max-width:480px){input[type=radio],input[type=checkbox]{border:1px solid #ccc}}input[type=file],input[type=image],input[type=submit],input[type=reset],input[type=button],input[type=radio],input[type=checkbox]{width:auto}select,input[type=file]{height:2.65em;padding-top:.5em;padding-bottom:.5em}select{width:auto}select[multiple],select[size]{height:auto;border:1px solid #ddd}.form-search,.widget_product_search form{position:relative;margin-bottom:0;line-height:1}.form-search:before,.widget_product_search form:before{content:"\f002";position:absolute;left:12px;bottom:50%;display:block;margin-bottom:-6px;font-size:12px;line-height:1;text-decoration:inherit;text-shadow:none;color:#272727;font-family:"FontAwesome" !important;font-style:normal !important;font-weight:400 !important;text-decoration:inherit;text-rendering:auto;-webkit-font-smoothing:antialiased;-moz-osx-font-smoothing:grayscale}.form-search .search-query,.form-search input[type=search],.widget_product_search form .search-query,.widget_product_search form input[type=search]{width:100%;margin-bottom:0;padding-left:30px}textarea{padding-top:6px;padding-bottom:6px}input[type=color]{padding:1px 3px}input[type=file]{margin-top:2px}.checkbox input[type=checkbox]{top:2px}.radio input[type=radio]{top:1px}#recaptcha_table #recaptcha_response_field{height:16px;border-width:1px;font-size:10px;line-height:16px;border-radius:0}table{width:100%;margin-bottom:1.313em;border-spacing:0;background-color:rgba(0,0,0,0)}table th,table td{padding:.5em .625em;line-height:1.3;text-align:left;vertical-align:middle}table th{font-weight:700}table td{line-height:1.4}table thead th{vertical-align:bottom}table caption+thead tr:first-child th,table caption+thead tr:first-child td,table colgroup+thead tr:first-child th,table colgroup+thead tr:first-child td,table thead:first-child tr:first-child th,table thead:first-child tr:first-child td{border-top:0}table p:last-child,table ul:last-child,table ol:last-child{margin-bottom:0}table{border-collapse:collapse}table th,table td{border-top:1px solid #ddd}table tbody+tbody{border-top:2px solid #ddd}.x-btn,.button,[type=submit]{display:inline-block;position:relative;border:1px solid #ac1100;border-radius:0;padding:.563em 1.125em .813em;cursor:pointer;font-size:16px;font-weight:inherit;line-height:1.3;text-align:center;vertical-align:middle;color:#fff;background-color:#ff2a13;transition:all .15s linear}.x-btn:hover,.button:hover,[type=submit]:hover{text-decoration:none;color:#fff;border-color:#600900;background-color:#df1600}.x-btn:hover,.x-btn:active,.button:hover,.button:active,[type=submit]:hover,[type=submit]:active{outline:0 !important}.x-btn[disabled],.x-btn.disabled,.button[disabled],.button.disabled,[type=submit][disabled],[type=submit].disabled{opacity:.25;cursor:not-allowed}.x-btn.x-btn-jumbo{padding:.643em 1.429em .786em;font-size:28px}.x-btn.x-btn-x-large{padding:.714em 1.286em .857em;font-size:21px}.x-btn.x-btn-large{padding:.579em 1.105em .842em;font-size:19px}.x-btn.x-btn-regular{padding:.563em 1.125em .813em;font-size:16px}.x-btn.x-btn-small{padding:.429em 1.143em .643em;font-size:14px}.x-btn.x-btn-mini{padding:.385em .923em .538em;font-size:13px}.x-btn.x-btn-square{border-radius:0}.x-btn.x-btn-rounded{border-radius:.225em}.x-btn.x-btn-pill{border-radius:100em}.x-btn-block{display:block;width:100%}.x-btn-block+.x-btn-block{margin-top:1em}.x-btn [class*=x-icon-]{display:inline;width:auto;height:auto;margin:0 .5em 0 0}.x-btn [class*=x-icon-]:before{display:inline !important;position:static !important;transform:none !important}.x-btn.x-btn-icon-only [class*=x-icon-]{margin:0}.x-btn-circle-wrap{display:inline-block;position:relative}.x-btn-circle-wrap.x-btn-jumbo,.x-btn-circle-wrap.x-btn-x-large,.x-btn-circle-wrap.x-btn-large{margin:0 0 21px;padding:0}.x-btn-circle-wrap:before,.x-btn-circle-wrap:after{content:"";position:relative;display:block;margin:0 auto;background-repeat:no-repeat;background-position:center center;z-index:1}.x-btn-circle-wrap:before{top:2px;width:172px;height:43px;background-image:url(https://cdn.mercury.one/wp-content/themes/pro/framework/dist/css/site/stacks/../../../../img/global/btn-circle-top-small.png);background-size:172px 43px}.x-btn-circle-wrap:after{bottom:2px;width:190px;height:43px;background-image:url(https://cdn.mercury.one/wp-content/themes/pro/framework/dist/css/site/stacks/../../../../img/global/btn-circle-bottom-small.png);background-size:190px 43px}.x-btn-circle-wrap .x-btn{position:relative;z-index:2}@media (max-width:767px){.x-btn-circle-wrap:before{top:2px;width:112px;height:28px;background-image:url(https://cdn.mercury.one/wp-content/themes/pro/framework/dist/css/site/stacks/../../../../img/global/btn-circle-top-small.png);background-size:112px 28px}.x-btn-circle-wrap:after{bottom:2px;width:127px;height:29px;background-image:url(https://cdn.mercury.one/wp-content/themes/pro/framework/dist/css/site/stacks/../../../../img/global/btn-circle-bottom-small.png);background-size:127px 29px}}.fade{opacity:0;transition:opacity .3s ease}.fade.in{opacity:1}.collapse{display:none}.collapse.in{display:block}.collapsing{position:relative;height:0;overflow:hidden;transition:height .3s ease}.x-searchform-overlay{display:none;position:fixed;top:0;left:0;width:100%;height:100%;z-index:2030;background-color:rgba(255,255,255,.925);transition:top .3s ease}.x-searchform-overlay.in{display:table}.x-searchform-overlay .form-search{padding-bottom:2em;font-size:10px}.x-searchform-overlay .form-search:before{display:none}.x-searchform-overlay .form-search label{margin-bottom:.85em;font-size:2.1em;line-height:1.4;color:#272727}.x-searchform-overlay .form-search .search-query{border:0;padding:0;height:auto;font-size:9.4em;letter-spacing:-.05em;line-height:1;color:#272727;background-color:transparent;border-radius:0;box-shadow:none}.x-searchform-overlay .form-search .search-query:focus,.x-searchform-overlay .form-search .search-query:active{outline:0}@media (max-width:767px){.x-searchform-overlay .form-search{font-size:8px}}@media (max-width:480px){.x-searchform-overlay .form-search{font-size:6px}}.x-searchform-overlay-inner{display:table-cell;vertical-align:middle}.x-nav{margin-left:0;margin-bottom:1.313em;list-style:none}.x-nav>li>a{display:block;cursor:pointer}.x-nav>li>a:hover{text-decoration:none;background-color:transparent}.x-nav>.right{float:right}.x-nav-tabs{position:relative;margin-bottom:0;border:1px solid #ddd;border:1px solid rgba(0,0,0,.15);border-bottom:0;box-shadow:0 .125em .275em 0 rgba(0,0,0,.125)}.x-nav-tabs:before,.x-nav-tabs:after{content:" ";display:table;width:0}.x-nav-tabs:after{clear:both}.x-nav-tabs>li{float:left;margin-bottom:0;border-right:1px solid #ddd;border-right:1px solid rgba(0,0,0,.15);border-bottom:1px solid #ddd;border-bottom:1px solid rgba(0,0,0,.15);text-align:center}@media (max-width:979px){.x-nav-tabs>li{border-right:0}}.x-nav-tabs>li>a{padding:.75em;font-size:14px;line-height:1.3;color:#bfbfbf;background-color:#f7f7f7;box-shadow:inset 0 1px 0 0 rgba(255,255,255,.85)}.x-nav-tabs>li>a:hover{color:gray;background-color:#f7f7f7}.x-nav-tabs.left,.x-nav-tabs.right{width:24%;max-width:200px}@media (max-width:979px){.x-nav-tabs.left,.x-nav-tabs.right{float:none;width:100%;max-width:none}}.x-nav-tabs.left>.x-nav-tabs-item,.x-nav-tabs.right>.x-nav-tabs-item{float:none;width:100%;border-left:0;border-right:0;border-bottom:1px solid #ddd;border-bottom:1px solid rgba(0,0,0,.15)}.x-nav-tabs.left{border-right:0}@media (max-width:979px){.x-nav-tabs.left{border-right:1px solid #ddd;border-right:1px solid rgba(0,0,0,.15)}}.x-nav-tabs.right{border-left:0}@media (max-width:979px){.x-nav-tabs.right{border-left:1px solid #ddd;border-left:1px solid rgba(0,0,0,.15)}}.x-nav-tabs>.active>a,.x-nav-tabs>.active>a:hover{color:#272727;background-color:#fff;cursor:default;box-shadow:inset 0 3px 0 0 #ff2a13}.x-nav-tabs.one-up>li{width:100%}.x-nav-tabs.one-up>li:nth-child(1n){border-right:0}.x-nav-tabs.two-up>li{width:50%}.x-nav-tabs.two-up>li:nth-child(2n){border-right:0}.x-nav-tabs.three-up>li{width:33.33333%}.x-nav-tabs.three-up>li:nth-child(3n){border-right:0}.x-nav-tabs.four-up>li{width:25%}.x-nav-tabs.four-up>li:nth-child(4n){border-right:0}.x-nav-tabs.five-up>li{width:20%}.x-nav-tabs.five-up>li:nth-child(5n){border-right:0}@media (max-width:979px){.x-nav-tabs.two-up>li,.x-nav-tabs.three-up>li,.x-nav-tabs.four-up>li,.x-nav-tabs.five-up>li{float:none;width:100%}}.tabbable:before,.tabbable:after{content:" ";display:table;width:0}.tabbable:after{clear:both}.x-tab-content{overflow:auto;position:relative;margin-bottom:1.313em;border:1px solid #ddd;border:1px solid rgba(0,0,0,.15);border-top:0;background-color:#fff;box-shadow:0 .125em .275em 0 rgba(0,0,0,.125)}.x-tab-content img,.x-tab-content .x-btn{-webkit-transform:translate3d(0,0,0);transform:translate3d(0,0,0)}.x-tab-content .x-tab-pane{padding:4%}.x-nav-tabs.left+.x-tab-content,.x-nav-tabs.right+.x-tab-content{border-top:1px solid #ddd;border-top:1px solid rgba(0,0,0,.15)}@media (max-width:979px){.x-nav-tabs.left+.x-tab-content,.x-nav-tabs.right+.x-tab-content{border-top:0}}.x-tab-content>.x-tab-pane{display:none}.x-tab-content>.active{display:block}.x-nav-articles{float:right;width:10%;text-align:right}@media (max-width:767px){.x-nav-articles{float:none;width:100%;margin-top:.65em;text-align:center}}.x-nav-articles .next{margin-left:.5em}.x-breadcrumb-wrap{margin:0;border-bottom:1px solid rgba(0,0,0,.1);padding:1.05em 0;font-size:10px;font-weight:400;letter-spacing:1px;line-height:1.4;text-shadow:0 1px 0 rgba(255,255,255,.55);text-transform:uppercase;background-color:rgba(0,0,0,.0225);box-shadow:0 1px 0 0 rgba(255,255,255,.715)}.x-breadcrumb-wrap a{color:#bababa}.x-breadcrumb-wrap a:hover{color:#ff2a13}.x-breadcrumbs{float:left;width:85%}@media (max-width:767px){.x-breadcrumbs{float:none;width:100%;text-align:center}}.x-breadcrumbs a,.x-breadcrumbs span{display:inline-block}.x-breadcrumbs .delimiter{margin:0 .25em 0 .45em;color:#bababa}.x-breadcrumbs .current{color:#272727}.x-pagination{margin:40px 0 0;height:32px;text-align:center}.x-pagination ul{display:inline-block;margin:0}.x-pagination li{display:inline}.x-pagination a,.x-pagination span{float:left;margin:0 .35em;width:32px;height:32px;font-size:13px;font-weight:400;line-height:32px;text-decoration:none;text-shadow:0 1px 1px rgba(255,255,255,.85);color:#bababa;background-color:#fff;border-radius:4px;box-shadow:inset 0 0 0 rgba(0,0,0,0),0 .1em .45em 0 rgba(0,0,0,.25)}.x-pagination a:hover{color:#7a7a7a}@media (max-width:767px){.x-pagination a.prev,.x-pagination a.next,.x-pagination a.prev-next{display:none}}.x-pagination span.current{text-shadow:0 1px 2px rgba(0,0,0,.65);color:#fff;background-color:#ff2a13;box-shadow:inset 0 .1em .35em rgba(0,0,0,.65),0 1px 0 0 rgba(255,255,255,.95)}.x-pagination span.pages{display:none}.x-pagination span.dots,.x-pagination span.expand{margin:0;width:20px;color:#272727;background-color:transparent;box-shadow:none}.tooltip{position:absolute;z-index:1020;display:block;visibility:visible;padding:.455em;font-size:11px;font-weight:400;line-height:1.2;text-shadow:none;opacity:0;-webkit-transform:translate3d(0,0,0);transform:translate3d(0,0,0);-webkit-transition:opacity .3s ease;transition:opacity .3s ease}.tooltip.top{margin-top:-.273em}.tooltip.right{margin-left:.273em}.tooltip.bottom{margin-top:.273em}.tooltip.left{margin-left:-.273em}.tooltip-inner{max-width:200px;padding:.727em .818em;color:#fff;text-align:center;text-decoration:none;background-color:#272727;border-radius:4px}.tooltip-arrow{position:absolute;width:0;height:0;border-color:transparent;border-style:solid}.tooltip.top .tooltip-arrow{bottom:0;left:50%;margin-left:-5px;border-width:5px 5px 0;border-top-color:#272727}.tooltip.right .tooltip-arrow{top:50%;left:0;margin-top:-5px;border-width:5px 5px 5px 0;border-right-color:#272727}.tooltip.left .tooltip-arrow{top:50%;right:0;margin-top:-5px;border-width:5px 0 5px 5px;border-left-color:#272727}.tooltip.bottom .tooltip-arrow{top:0;left:50%;margin-left:-5px;border-width:0 5px 5px;border-bottom-color:#272727}.popover{position:absolute;top:0;left:0;z-index:1010;display:none;width:236px;padding:1px;background-color:#fff;border:1px solid #ccc;border:1px solid rgba(0,0,0,.2);border-radius:6px;box-shadow:0 5px 10px rgba(0,0,0,.2);-webkit-transform:translate3d(0,0,0);transform:translate3d(0,0,0);-webkit-background-clip:padding-box;background-clip:padding-box;-webkit-transition:opacity .3s ease;transition:opacity .3s ease}.popover.top{margin-top:-.825em}.popover.right{margin-left:.825em}.popover.bottom{margin-top:.825em}.popover.left{margin-left:-.825em}.popover-title{margin:0;padding:.571em .75em;font-size:15px;font-weight:400;line-height:1.3;background-color:#f7f7f7;border-bottom:1px solid #ebebeb;border-radius:5px 5px 0 0}.popover-content{padding:.563em .875em;font-size:13px;font-weight:400;line-height:1.5}.popover-content p,.popover-content ul,.popover-content ol{margin-bottom:0}.popover-content ul,.popover-content ol{margin-left:1.286em}.popover .arrow,.popover .arrow:after{position:absolute;display:inline-block;width:0;height:0;border-color:transparent;border-style:solid}.popover .arrow:after{content:"";z-index:-1}.popover.top .arrow{bottom:-10px;left:50%;margin-left:-10px;border-width:10px 10px 0;border-top-color:#fff}.popover.top .arrow:after{border-width:11px 11px 0;border-top-color:rgba(0,0,0,.25);bottom:-1px;left:-11px}.popover.right .arrow{top:50%;left:-10px;margin-top:-10px;border-width:10px 10px 10px 0;border-right-color:#fff}.popover.right .arrow:after{border-width:11px 11px 11px 0;border-right-color:rgba(0,0,0,.25);bottom:-11px;left:-1px}.popover.bottom .arrow{top:-10px;left:50%;margin-left:-10px;border-width:0 10px 10px;border-bottom-color:#f7f7f7}.popover.bottom .arrow:after{border-width:0 11px 11px;border-bottom-color:rgba(0,0,0,.25);top:-1px;left:-11px}.popover.left .arrow{top:50%;right:-10px;margin-top:-10px;border-width:10px 0 10px 10px;border-left-color:#fff}.popover.left .arrow:after{border-width:11px 0 11px 11px;border-left-color:rgba(0,0,0,.25);bottom:-11px;right:-1px}.flex-container a:active,.x-flexslider a:active{outline:none}.x-slides,.flex-control-nav,.flex-direction-nav{margin:0;padding:0;list-style:none}.x-flexslider{margin:0;padding:0}.x-flexslider .x-slides .x-slide{display:none;position:relative}.x-flexslider .x-slides img{width:100%;display:block}.flex-pauseplay span{text-transform:capitalize}.x-slides:before,.x-slides:after{content:" ";display:table;width:0}.x-slides:after{clear:both}.no-js .x-slides>li:first-child{display:block}.x-flexslider{width:100%;margin:0 0 1.313em;position:relative;overflow:hidden}.x-flexslider-featured-gallery{background:#fff}.flex-viewport{max-height:2000px;transition:all 1s ease}.loading .flex-viewport{max-height:300px}.flex-direction-nav a{display:block;cursor:pointer;position:absolute;top:14px;height:30px;width:30px;font-size:14px;line-height:30px;text-align:center;text-shadow:none;color:#fff;background-color:#ff2a13;border-radius:4px;opacity:.5;transition:opacity .3s ease;z-index:10}.flex-direction-nav a [class*=x-icon-]{width:auto}.flex-direction-nav a:hover{text-decoration:none;color:#fff;opacity:1}.flex-direction-nav a.flex-prev{left:14px}.flex-direction-nav a.flex-next{left:50px}.flex-control-nav{position:absolute;line-height:1;text-align:center;z-index:10}.flex-control-nav:not(.flex-control-thumbs){top:14px;right:14px;border-radius:4px;padding:0 4px;background-color:#fff}.flex-control-nav:not(.flex-control-thumbs) li{margin:7px 4px 6px;text-indent:-9999px}.flex-control-nav.flex-control-thumbs{top:0;right:0;padding:1em}.flex-control-nav.flex-control-thumbs li{background-color:#000;box-shadow:0 .15em .625em rgba(0,0,0,.215)}.flex-control-nav.flex-control-thumbs li:not(:first-child){margin-left:.5em}.flex-control-nav.flex-control-thumbs img{width:auto;height:1.5em;vertical-align:top;transition:opacity .3s ease;cursor:pointer}.flex-control-nav.flex-control-thumbs img:not(:hover):not(.flex-active){opacity:.65}.flex-control-nav li{display:inline-block}.flex-control-nav a{display:block;width:14px;height:14px;background-color:#272727;border-radius:3px}.flex-control-nav a:hover{cursor:pointer;background-color:#ff2a13}.flex-control-nav a.flex-active{background-color:#ff2a13}.x-slider-container{position:relative}.x-slider-container.below{border-bottom:5px solid #ff2a13}.x-slider-container.bg-video{background-color:#000}.x-slider-container .rev_slider_wrapper{padding:0 !important}.page-template-template-blank-3-php .x-slider-container.above,.page-template-template-blank-6-php .x-slider-container.above{border-bottom:5px solid #ff2a13}.rev_slider_wrapper .x-btn{padding:.563em 1.125em .813em !important;font-size:16px !important;font-size:1.6rem !important}@media (max-width:979px){.rev_slider_wrapper .x-btn{font-size:13px !important;font-size:1.3rem !important}}@media (max-width:767px){.rev_slider_wrapper .x-btn{font-size:11px !important;font-size:1.1rem !important}}@media (max-width:480px){.rev_slider_wrapper .x-btn{font-size:8px !important;font-size:.8rem !important}}.x-slider-scroll-bottom{position:absolute;display:block;border:3px solid;width:60px;height:60px;font-size:41px;line-height:53px;text-align:center;color:#fff;border-radius:100em;z-index:1020;-webkit-transition:all .3s ease;transition:all .3s ease}.x-slider-scroll-bottom.top{top:20px}.x-slider-scroll-bottom.left{left:20px}.x-slider-scroll-bottom.right{right:20px}.x-slider-scroll-bottom.bottom{bottom:20px}.x-slider-scroll-bottom.center{left:50%;margin-left:-30px}.x-slider-scroll-bottom:hover{color:#ff2a13}@media (min-width:768px) and (max-width:979px){.x-slider-scroll-bottom{width:50px;height:50px;font-size:38px;line-height:43px}.x-slider-scroll-bottom.center{margin-left:-25px}}@media (max-width:767px){.x-slider-scroll-bottom{border-width:2px;width:46px;height:46px;font-size:31px;line-height:40px}.x-slider-scroll-bottom.center{margin-left:-23px}}@media (max-width:480px){.x-slider-scroll-bottom{width:40px;height:40px;font-size:25px;line-height:34px}.x-slider-scroll-bottom.center{margin-left:-20px}}.x-loading,.x-loading:before,.x-loading:after{display:block;width:2.5em;height:2.5em;border-radius:100em;animation-fill-mode:both;animation:xLoader 2s infinite ease-in-out}.x-loading{position:relative;margin:0 auto;font-size:8px;text-indent:-9999em;color:currentColor;transform:translateZ(0);animation-delay:-.16s}.x-loading:before,.x-loading:after{content:"";position:absolute;top:0}.x-loading:before{left:-4em;animation-delay:-.32s}.x-loading:after{left:4em}@keyframes xLoader{0%,80%,100%{box-shadow:0 2.5em 0 -1.3em}40%{box-shadow:0 2.5em 0 0}}.isotope-item{z-index:2}.isotope-hidden.isotope-item{pointer-events:none;z-index:1}.isotope,.isotope .isotope-item{transition-duration:.8s}.isotope{transition-property:height,width}.isotope .isotope-item{transition-property:transform}.isotope.no-transition,.isotope.no-transition .isotope-item,.isotope .isotope-item.no-transition{transition-duration:0s}.x-iso-container{box-sizing:content-box}.x-iso-container.cols-1>.hentry{width:100%}.x-iso-container.cols-2>.hentry{width:49.95%}.x-iso-container.cols-3>.hentry{width:33.28%}@media (min-width:768px) and (max-width:979px){.x-iso-container.cols-3>.hentry{width:49.95%}}.x-iso-container.cols-4>.hentry{width:33.28%}@media (min-width:1200px){.x-iso-container.cols-4>.hentry{width:24.95%}}@media (min-width:768px) and (max-width:979px){.x-iso-container.cols-4>.hentry{width:49.95%}}@media (max-width:767px){.x-iso-container[class*=cols-]>.hentry{width:100%}}#x-isotope-loading{position:absolute;top:100px;left:0;right:0}.x-iso-container{margin:0 -1em}.x-iso-container>.hentry{margin:0;padding:0 1em 2em;opacity:0}.x-iso-container+.pagination{margin-top:5px}.option-set{margin-top:.87533em;margin-bottom:0}.x-portfolio-filters,.x-portfolio-filter{display:inline-block;float:none;position:relative;margin:.45em .375em;border:1px solid #ddd;border:1px solid rgba(0,0,0,.125);padding:.692em 1.154em .769em;cursor:pointer;font-size:13px;line-height:1.3;text-align:center;text-transform:uppercase;vertical-align:middle;color:#c5c5c5;color:rgba(0,0,0,.375);background-color:transparent;border-radius:.35em;box-shadow:inset 0 0 0 rgba(0,0,0,0),0 1px 1px rgba(255,255,255,.95);-webkit-transition:color .3s ease,border-color .3s ease,background-color .3s ease,box-shadow .3s ease;transition:color .3s ease,border-color .3s ease,background-color .3s ease,box-shadow .3s ease}@media (max-width:767px){.x-portfolio-filters,.x-portfolio-filter{font-size:11px}}@media (max-width:480px){.x-portfolio-filters,.x-portfolio-filter{font-size:10px}}.x-portfolio-filters:hover,.x-portfolio-filter:hover{color:#777;color:rgba(0,0,0,.75);border-color:#cfcfcf;border-color:rgba(0,0,0,.25);background-color:#fff;background-color:#fff}.x-portfolio-filters:active,.x-portfolio-filter:active{color:#777;color:rgba(0,0,0,.75);border-color:#bbb;border-color:rgba(0,0,0,.25);background-color:#ebebeb;background-color:rgba(0,0,0,.075);box-shadow:inset 0 1px 2px rgba(0,0,0,.225),0 1px 1px rgba(255,255,255,.95)}.x-portfolio-filters{margin:0}.x-portfolio-filters-menu{margin-top:1.313em;text-align:center}.x-portfolio-filters-menu li{display:inline-block}.x-portfolio-filters-menu .selected{color:#777;color:rgba(0,0,0,.75);border-color:#bbb;border-color:rgba(0,0,0,.25);background-color:#ebebeb;background-color:rgba(0,0,0,.075);box-shadow:inset 0 1px 2px rgba(0,0,0,.225),0 1px 1px rgba(255,255,255,.95)}.x-portfolio-filter{display:inline-block}.ilightbox-overlay.light{background:#fff}.ilightbox-loader.light{-webkit-box-shadow:0px 0px 85px #dacffc,0px 0px 85px #dacffc;box-shadow:0px 0px 85px #dacffc,0px 0px 85px #dacffc}.ilightbox-loader.light div{background:#fff url(https://cdn.mercury.one/wp-content/themes/pro/framework/dist/css/site/stacks/../../../../img/global/ilightbox-preloader-light.gif) no-repeat center}.ilightbox-holder.light{padding:1%;background:#fff;border-radius:2px;-webkit-box-shadow:0 0 15px rgba(0,0,0,.25);box-shadow:0 0 15px rgba(0,0,0,.25)}.ilightbox-holder.light .ilightbox-container .ilightbox-caption{background-color:#fff}.ilightbox-holder.light .ilightbox-container .ilightbox-social{border-radius:2px}.ilightbox-holder.light .ilightbox-alert{color:#89949b}.ilightbox-toolbar.light{top:8px;left:8px;height:23px;background-color:#fff;border-radius:3px;-webkit-box-shadow:0 0 7px rgba(0,0,0,.2);box-shadow:0 0 7px rgba(0,0,0,.2)}.ilightbox-toolbar.light a{width:25px;height:23px;text-align:center}.ilightbox-toolbar.light a.ilightbox-close{border-radius:3px 0 0 3px}.ilightbox-toolbar.light a.ilightbox-fullscreen{border-radius:0 3px 3px 0}.ilightbox-toolbar.light a:before{display:inline-block;font-family:"FontAwesome" !important;font-style:normal !important;font-weight:400 !important;text-decoration:inherit;text-rendering:auto;-webkit-font-smoothing:antialiased;-moz-osx-font-smoothing:grayscale}.ilightbox-toolbar.light a.ilightbox-close:before{content:"\f00d";font-size:15px;line-height:22px}.ilightbox-toolbar.light a.ilightbox-fullscreen:before{content:"\f0c8";font-size:11px;line-height:23px}.ilightbox-toolbar.light a.ilightbox-prev-button,.ilightbox-toolbar.light a.ilightbox-next-button{display:none}.ilightbox-thumbnails.light .ilightbox-thumbnails-grid .ilightbox-thumbnail img{border-radius:2px}.ilightbox-thumbnails.light .ilightbox-thumbnails-grid .ilightbox-thumbnail .ilightbox-thumbnail-video{background:url(data:image/png;base64,iVBORw0KGgoAAAANSUhEUgAAACIAAAAiCAYAAAA6RwvCAAAAGXRFWHRTb2Z0d2FyZQBBZG9iZSBJbWFnZVJlYWR5ccllPAAAAyBpVFh0WE1MOmNvbS5hZG9iZS54bXAAAAAAADw/eHBhY2tldCBiZWdpbj0i77u/IiBpZD0iVzVNME1wQ2VoaUh6cmVTek5UY3prYzlkIj8+IDx4OnhtcG1ldGEgeG1sbnM6eD0iYWRvYmU6bnM6bWV0YS8iIHg6eG1wdGs9IkFkb2JlIFhNUCBDb3JlIDUuMC1jMDYwIDYxLjEzNDc3NywgMjAxMC8wMi8xMi0xNzozMjowMCAgICAgICAgIj4gPHJkZjpSREYgeG1sbnM6cmRmPSJodHRwOi8vd3d3LnczLm9yZy8xOTk5LzAyLzIyLXJkZi1zeW50YXgtbnMjIj4gPHJkZjpEZXNjcmlwdGlvbiByZGY6YWJvdXQ9IiIgeG1sbnM6eG1wPSJodHRwOi8vbnMuYWRvYmUuY29tL3hhcC8xLjAvIiB4bWxuczp4bXBNTT0iaHR0cDovL25zLmFkb2JlLmNvbS94YXAvMS4wL21tLyIgeG1sbnM6c3RSZWY9Imh0dHA6Ly9ucy5hZG9iZS5jb20veGFwLzEuMC9zVHlwZS9SZXNvdXJjZVJlZiMiIHhtcDpDcmVhdG9yVG9vbD0iQWRvYmUgUGhvdG9zaG9wIENTNSBXaW5kb3dzIiB4bXBNTTpJbnN0YW5jZUlEPSJ4bXAuaWlkOjlGODMyN0ZBNEVEMTExRTJBQ0RFRUJFRTcwRUM5ODcyIiB4bXBNTTpEb2N1bWVudElEPSJ4bXAuZGlkOjlGODMyN0ZCNEVEMTExRTJBQ0RFRUJFRTcwRUM5ODcyIj4gPHhtcE1NOkRlcml2ZWRGcm9tIHN0UmVmOmluc3RhbmNlSUQ9InhtcC5paWQ6OUY4MzI3Rjg0RUQxMTFFMkFDREVFQkVFNzBFQzk4NzIiIHN0UmVmOmRvY3VtZW50SUQ9InhtcC5kaWQ6OUY4MzI3Rjk0RUQxMTFFMkFDREVFQkVFNzBFQzk4NzIiLz4gPC9yZGY6RGVzY3JpcHRpb24+IDwvcmRmOlJERj4gPC94OnhtcG1ldGE+IDw/eHBhY2tldCBlbmQ9InIiPz42WmhcAAACd0lEQVRYw82Yv2taURTH89LEaAbJnxAIDgF/4ODgjym8WUUogotTnDMEB3HTxT8hleBYsYUOT6y4pSBOFpollG6d0j+gdGzuB84Nzxd/vSYN98F38N57vuf7zjn33Pvc2fH/WB7sCrzj/+VxO30j2BPsC/RvPb/7kqK8AnAYUAgqhBQOPQjJXEDWvoggr4ADhbDCiUJKwVYoKpQFRRlLyZqw2HgF/ZOIPSE7UohGIpG39Xr9Wj23juP8GY/Hf91gjDnWsBYbsT0QLl9i3CII87HCWafT+TQcDn/jsNvtfm82mzfVatVxgzHmWMNabLAVjqAfMV4Rp4VC4WIwGPyEvN1uz9LpdC8Wi13F4/GrRCKxAMaYYw1rscE2m82ew7WtmCci8vn8JW/W7/fvS6XSx2XOV4G12GALB1zbirGkqKj441wudy4ifmUymZ4fEW4x2MIBF5ySpoD4slZFgwo/sizrjJDyNhD5FeCFiLmHE24p4P1lUdHRoLqjFBn5JbTPFaEBF5xSwFHx9SQqOhphth1hpNjWpUOF+dpvmuCEW7Z22BWVhbSQtxN6AMqp/HXE0+n0rtFoOH7EwAk3PqTpBdzp0WmhmlM0JHoB23Ad6Xw+/wFGo9HXSqXyfhshcMKND+nAQXd6LNlOnBM23ZHGtGmXaCEaivyLbdu9TemBGx9yHITE94IQDq0ioaNLbno7rxAwm83uWq3W52Qy+W6VHdz4kLPp0C1EFyqD5ecI0ZhMJt9qtdqHDULK4vOxYI0RYkxqjCpWY7avEQ3NmBZv1KFnzDXAmIuRUVfFpWK4+L725dmozwmjPrCM+uQ06iPcqL8lXu2Pmge75OkhrGftHgAAAABJRU5ErkJggg==) no-repeat center}.ilightbox-holder.light .ilightbox-inner-toolbar .ilightbox-title{padding:10px 8px;padding-right:60px;font-size:18px}.ilightbox-holder.light .ilightbox-inner-toolbar .ilightbox-toolbar{top:5px;left:auto;right:5px}.ilightbox-holder.light .ilightbox-inner-toolbar .ilightbox-toolbar a{float:right}.ilightbox-holder.light .ilightbox-inner-toolbar .ilightbox-toolbar a:first-of-type{border-radius:0 3px 3px 0}.ilightbox-holder.light .ilightbox-inner-toolbar .ilightbox-toolbar a:last-of-type{border-radius:3px 0 0 3px}.ilightbox-overlay,.ilightbox-loader,.ilightbox-loader *,.ilightbox-holder,.ilightbox-holder .ilightbox-container,.ilightbox-holder .ilightbox-container img.ilightbox-image,.ilightbox-holder .ilightbox-container .ilightbox-caption,.ilightbox-toolbar,.ilightbox-toolbar *,.ilightbox-thumbnails,.ilightbox-thumbnails *,.ilightbox-holder .ilightbox-container .ilightbox-social,.ilightbox-holder .ilightbox-container .ilightbox-social *{float:none;margin:0;padding:0;border:0;outline:0;font-size:100%;line-height:100%;vertical-align:baseline;background:0 0;-webkit-touch-callout:none;-webkit-user-select:none;-khtml-user-select:none;-moz-user-select:-moz-none;-o-user-select:none;user-select:none}.ilightbox-overlay{display:none;position:fixed;top:0;left:0;width:100%;height:100%;z-index:100000}.ilightbox-loader{position:fixed;top:45%;left:-192px;padding-left:30px;opacity:.9;border-radius:0 100px 100px 0;z-index:100005}.ilightbox-loader div{width:72px;height:72px;border-radius:0 100px 100px 0}.ilightbox-loader.horizontal{top:-192px;left:45%;padding:0;padding-top:30px;border-radius:0 0 100px 100px}.ilightbox-loader.horizontal div{border-radius:0 0 100px 100px}.ilightbox-toolbar{display:none;position:fixed;z-index:100010}.ilightbox-toolbar a{float:left;cursor:pointer}.ilightbox-thumbnails{display:block;position:fixed;z-index:100009}.ilightbox-thumbnails.ilightbox-horizontal{left:0;bottom:0;width:100%;height:100px}.ilightbox-thumbnails.ilightbox-vertical{top:0;right:0;width:140px;height:100%;overflow:hidden}.ilightbox-thumbnails .ilightbox-thumbnails-container{display:block;position:relative}.ilightbox-thumbnails.ilightbox-horizontal .ilightbox-thumbnails-container{width:100%;height:100px}.ilightbox-thumbnails.ilightbox-vertical .ilightbox-thumbnails-container{width:140px;height:100%}.ilightbox-thumbnails .ilightbox-thumbnails-grid{display:block;position:absolute}.ilightbox-thumbnails .ilightbox-thumbnails-grid .ilightbox-thumbnail{display:block;position:relative;padding:10px;cursor:pointer}.ilightbox-thumbnails .ilightbox-thumbnails-grid .ilightbox-thumbnail img{width:100%;height:100%;border-radius:2px}.ilightbox-thumbnails .ilightbox-thumbnails-grid .ilightbox-thumbnail .ilightbox-thumbnail-icon{width:100%;height:100%;position:absolute;top:0;left:0;opacity:.7}.ilightbox-thumbnails .ilightbox-thumbnails-grid .ilightbox-thumbnail .ilightbox-thumbnail-icon:hover{opacity:1}.ilightbox-holder{display:none;position:fixed;z-index:100003}.ilightbox-holder.ilightbox-next,.ilightbox-holder.ilightbox-prev{cursor:pointer}.ilightbox-holder div.ilightbox-container{position:relative;width:100%;height:100%}.ilightbox-holder img.ilightbox-image{width:100%;height:100%}.ilightbox-holder .ilightbox-container .ilightbox-caption{display:none;position:absolute;left:5%;right:5%;bottom:0;max-width:100%;margin:0 auto;padding:5px 10px;font-size:12px;line-height:150%;word-wrap:break-word;text-align:center;border-radius:3px 3px 0 0;-webkit-box-sizing:border-box;-moz-box-sizing:border-box;box-sizing:border-box;z-index:20003}@media (max-width:979px){.ilightbox-holder .ilightbox-container .ilightbox-caption{font-size:10px}}@media (max-width:480px){.ilightbox-holder .ilightbox-container .ilightbox-caption{font-size:8px}}.ilightbox-holder .ilightbox-alert{display:block;position:absolute;top:0;left:0;right:0;bottom:0;width:300px;height:50px;margin:auto;padding-top:100px;text-align:center}.ilightbox-holder .ilightbox-wrapper{width:100%;height:100%;overflow:auto}.ilightbox-holder .ilightbox-inner-toolbar{position:relative}.ilightbox-holder .ilightbox-inner-toolbar .ilightbox-toolbar{position:absolute}.x-social-global{font-weight:400;line-height:1}.x-social-global a{display:inline-block;text-align:center}.x-social-global a i{display:block}.twitter-tweet{width:100% !important;max-width:100% !important;margin:0 0 1.313em !important}.x-scroll-top{position:fixed;z-index:10000;bottom:10px;width:35px;height:35px;margin-bottom:-75px;border:2px solid #272727;font-size:25px;line-height:27px;text-align:center;color:#272727;border-radius:100%;-webkit-transition:margin-bottom .6s ease,opacity .3s ease;transition:margin-bottom .6s ease,opacity .3s ease}.x-scroll-top.in{margin-bottom:0;opacity:.375}.x-scroll-top.in:hover{opacity:.825}.x-scroll-top.left{left:10px}.x-scroll-top.right{right:10px}.x-scroll-top:hover{color:#272727}.x-container{margin:0 auto}.x-container.max{max-width:1200px}.x-container.width{width:88%}.x-container:not(.x-row):not(.x-grid):before,.x-container:not(.x-row):not(.x-grid):after{content:" ";display:table;width:0}.x-container:not(.x-row):not(.x-grid):after{clear:both}.x-gap{margin:0 0 1.313em;border-color:transparent}.x-clear{margin:0;border:0;clear:both}.x-map{margin-bottom:1.313em}.x-map .x-map-inner{overflow:hidden;position:relative;padding-bottom:56.25%;height:0}.x-map .x-map-inner iframe{position:absolute;top:0;left:0;width:100%;height:100%}.x-map .gm-style img{max-width:none}.x-code{line-height:1}.x-block-grid{display:block;overflow:hidden;margin:0 0 1.313em}.x-block-grid>li{display:block;float:left;height:auto;margin:5% 5% 0 0;padding:0}.x-block-grid.two-up>li{width:47.5%}.x-block-grid.two-up>li:nth-child(-n+2){margin-top:0}.x-block-grid.two-up>li:nth-child(2n){margin-right:0}.x-block-grid.two-up>li:nth-child(2n+1){clear:both}@media (max-width:480px){.x-block-grid.two-up>li{width:100%;margin-right:0}.x-block-grid.two-up>li:nth-child(2){margin-top:5%}}.x-block-grid.three-up>li{width:30%}.x-block-grid.three-up>li:nth-child(-n+3){margin-top:0}.x-block-grid.three-up>li:nth-child(3n){margin-right:0}.x-block-grid.three-up>li:nth-child(3n+1){clear:both}@media (max-width:979px){.x-block-grid.three-up>li{width:47.5%}.x-block-grid.three-up>li:nth-child(3){margin-top:5%}.x-block-grid.three-up>li:nth-child(3n){margin-right:5%}.x-block-grid.three-up>li:nth-child(3n+1){clear:none}.x-block-grid.three-up>li:nth-child(2n){margin-right:0}.x-block-grid.three-up>li:nth-child(2n+1){clear:both}}@media (max-width:480px){.x-block-grid.three-up>li{width:100%;margin-right:0}.x-block-grid.three-up>li:nth-child(2){margin-top:5%}.x-block-grid.three-up>li:nth-child(3n){margin-right:0}}.x-block-grid.four-up>li{width:21.25%}.x-block-grid.four-up>li:nth-child(-n+4){margin-top:0}.x-block-grid.four-up>li:nth-child(4n){margin-right:0}.x-block-grid.four-up>li:nth-child(4n+1){clear:both}@media (max-width:979px){.x-block-grid.four-up>li{width:47.5%}.x-block-grid.four-up>li:nth-child(3),.x-block-grid.four-up>li:nth-child(4){margin-top:5%}.x-block-grid.four-up>li:nth-child(4n){margin-right:5%}.x-block-grid.four-up>li:nth-child(4n+1){clear:none}.x-block-grid.four-up>li:nth-child(2n){margin-right:0}.x-block-grid.four-up>li:nth-child(2n+1){clear:both}}@media (max-width:480px){.x-block-grid.four-up>li{width:100%;margin-right:0}.x-block-grid.four-up>li:nth-child(2){margin-top:5%}.x-block-grid.four-up>li:nth-child(4n){margin-right:0}}.x-ul-icons{margin-left:1.5em;list-style:none}.x-ul-icons li [class*=x-icon-]{text-indent:-1.5em}.x-video{margin-bottom:1.313em}.x-video .x-video-inner{position:relative;padding-bottom:56.25%;height:0;overflow:hidden}.x-video .x-video-inner.five-by-three{padding-bottom:60%}.x-video .x-video-inner.five-by-four{padding-bottom:80%}.x-video .x-video-inner.four-by-three{padding-bottom:75%}.x-video .x-video-inner.three-by-two{padding-bottom:66.67%}.x-video .x-video-inner embed,.x-video .x-video-inner iframe,.x-video .x-video-inner img,.x-video .x-video-inner object,.x-video .x-video-inner video{display:block !important;position:absolute !important;top:0 !important;left:0 !important;width:100%;height:100%;margin:0 !important}.x-video.bg,.x-video.x-video-bg{margin:0}.x-video.bg,.x-video.bg .x-video-inner,.x-video.x-video-bg,.x-video.x-video-bg .x-video-inner{position:absolute;transition:opacity 1s ease;top:0;left:0;width:100%;height:100%;margin:0;padding:0;overflow:hidden}.x-video.bg.poster,.x-video.x-video-bg.poster{background-size:cover;background-position:50% 50%;background-repeat:no-repeat}.x-flexslider-shortcode-container{margin-bottom:1.313em}.x-flexslider-shortcode-container .x-flexslider-shortcode{margin:0}.x-audio{margin-bottom:1.313em}.x-audio.player{height:30px}.x-search-shortcode{margin-bottom:1.313em}.x-counter{text-align:center}.x-counter .number-wrap{font-size:3.25em;line-height:1}.x-counter .text-above,.x-counter .text-below{display:block;letter-spacing:.125em;line-height:1.5;text-transform:uppercase}.x-counter .text-above{margin-bottom:.5em}.x-counter .text-below{margin-top:.5em}.x-counter .x-counter-number-wrap:first-child{margin-top:0 !important}.x-counter .x-counter-number-wrap:last-child{margin-bottom:0 !important}.typed-cursor{-webkit-animation:x-blink 1s infinite;animation:x-blink 1s infinite}@-webkit-keyframes x-blink{0%{opacity:1}50%{opacity:0}100%{opacity:1}}@keyframes x-blink{0%{opacity:1}50%{opacity:0}100%{opacity:1}}.x-card-outer{margin:0 auto 1.313em;text-align:center;cursor:pointer}.x-card-outer .x-card-inner{position:relative}.x-card-outer .x-face-outer{display:block;position:absolute;top:0;left:0;width:100%;height:100%}.x-card-outer .x-face-outer.front{z-index:2}.x-card-outer .x-face-outer.back{z-index:1}.x-card-outer .x-face-inner{height:100%}.x-card-outer .x-face-graphic{margin:0 0 10px;line-height:1}.x-card-outer .x-face-title,.x-card-outer .x-face-text{color:inherit}.x-card-outer .x-face-title{margin:0;padding:0;font-size:1.75em}.x-card-outer .x-face-text{margin:8px 0 0}.x-card-outer .x-face-button{display:inline-block;margin:15px 0 0;border:0;padding:.825em 1em;line-height:1;text-decoration:none;border-radius:.35em;box-shadow:none}.x-card-outer.flipped .x-face-outer.front{z-index:1}.x-card-outer.flipped .x-face-outer.back{z-index:2}.x-card-outer.center-vertically .x-face-inner:before{content:"";display:inline-block;width:0;height:100%;margin:0;padding:0;vertical-align:middle}.x-card-outer.center-vertically .x-face-content{display:inline-block;vertical-align:middle}.x-card-outer.flip-3d{-webkit-perspective:1200px;-ms-perspective:1200px;perspective:1200px}.x-card-outer.flip-3d .x-card-inner{-webkit-transition:-webkit-transform 1.25s cubic-bezier(.23,1,.32,1);transition:transform 1.25s cubic-bezier(.23,1,.32,1);-webkit-transform-style:preserve-3d;transform-style:preserve-3d}.x-card-outer.flip-3d .x-face-outer{-webkit-backface-visibility:hidden;backface-visibility:hidden}.x-card-outer.flip-3d .x-face-outer.front,.x-card-outer.flip-3d .x-face-outer.back,.x-card-outer.flip-3d.flipped .x-face-outer.front,.x-card-outer.flip-3d.flipped .x-face-outer.back{z-index:1}.x-card-outer.flip-3d.flip-from-left .back,.x-card-outer.flip-3d.flip-from-right .back{transform:rotateY(180deg)}.x-card-outer.flip-3d.flip-from-left.flipped .x-card-inner{transform:rotateY(180deg)}.x-card-outer.flip-3d.flip-from-right.flipped .x-card-inner{transform:rotateY(-180deg)}.x-card-outer.flip-3d.flip-from-top .back,.x-card-outer.flip-3d.flip-from-bottom .back{transform:rotateX(180deg)}.x-card-outer.flip-3d.flip-from-top.flipped .x-card-inner{transform:rotateX(-180deg)}.x-card-outer.flip-3d.flip-from-bottom.flipped .x-card-inner{transform:rotateX(180deg)}.x-creative-cta{display:block;overflow:hidden;position:relative;border:0;text-align:center;text-decoration:none;box-shadow:none;transition:background-color .3s ease}.x-creative-cta>span{display:block;transition:all .65s cubic-bezier(.23,1,.32,1)}.x-creative-cta>span.text{line-height:1.2;opacity:1}.x-creative-cta>span.graphic{position:absolute;top:50%;left:50%;line-height:1;opacity:0}.x-creative-cta>span.graphic>i,.x-creative-cta>span.graphic>img{transition:all .65s cubic-bezier(.23,1,.32,1)}.x-creative-cta:hover>span.text{opacity:0}.x-creative-cta:hover>span.graphic{opacity:1}.x-creative-cta.slide-top:hover>span.text{transform:translate(0,-150%)}.x-creative-cta.slide-left:hover>span.text{transform:translate(-80%,0)}.x-creative-cta.slide-right:hover>span.text{transform:translate(80%,0)}.x-creative-cta.slide-bottom:hover>span.text{transform:translate(0,150%)}.x-feature-box{position:relative;margin:0 auto 1.313em}.x-feature-box.left-text,.x-feature-box.right-text{display:flex}.x-feature-box.left-text .x-feature-box-content,.x-feature-box.right-text .x-feature-box-content{flex:1 0 0%}.x-feature-box-graphic{display:inline-block;margin:0 0 10px}.x-feature-box.left-text .x-feature-box-graphic,.x-feature-box.right-text .x-feature-box-graphic{margin-bottom:0}.x-feature-box-graphic i.rounded,.x-feature-box-graphic img.rounded{border-radius:.15em}.x-feature-box-graphic i.circle,.x-feature-box-graphic img.circle{border-radius:100em}.x-feature-box-graphic i{display:block;position:relative;width:1em;height:1em;text-align:center}.x-feature-box-graphic i:before{display:block;position:absolute;top:50%;left:0;right:0;height:1em;margin-top:-.5em;font-size:.395em;line-height:1}.x-feature-box-graphic img{display:block}.x-feature-box-graphic-outer,.x-feature-box-graphic-inner{position:relative;z-index:2}.x-feature-box-graphic-inner{width:1em}.x-feature-box-graphic-inner.hexagon:before,.x-feature-box-graphic-inner.hexagon:after{content:"";display:block;border:0 solid transparent;border-left-width:.5em;border-right-width:.5em}.x-feature-box-graphic-inner.hexagon:before{border-bottom-width:.285em;border-bottom-color:inherit}.x-feature-box-graphic-inner.hexagon:after{border-top-width:.285em;border-top-color:inherit}.x-feature-box-graphic-inner.hexagon i{height:.6em}.x-feature-box-graphic-inner.badge{transform:scale(.725) rotate(15deg)}.x-feature-box-graphic-inner.badge:before,.x-feature-box-graphic-inner.badge:after{content:"";display:block;position:absolute;top:0;left:0;border:.5em solid;border-color:inherit;z-index:1}.x-feature-box-graphic-inner.badge:before{transform:rotate(30deg)}.x-feature-box-graphic-inner.badge:after{transform:rotate(60deg)}.x-feature-box-graphic-inner.badge i{position:relative;z-index:2}.x-feature-box-graphic-inner.badge i:before{transform:scale(1.275) rotate(-15deg)}.x-feature-box-connector{display:block;position:absolute;width:0;margin:0 auto;z-index:1}.x-feature-box-connector.full{height:100%;top:.5em}.x-feature-box-connector.upper{height:50%;top:0}.x-feature-box-connector.lower{height:50%;top:50%}.x-feature-box-title{margin:0;font-size:1.5em;line-height:1.2}.x-feature-box-text{margin:8px 0 0}.x-feature-box-text a{border:0;box-shadow:none}.x-feature-box-align-v-middle{display:flex;flex-flow:column nowrap;justify-content:center;align-self:stretch}.x-feature-list{margin:0 0 1.313em;padding:1px 0;list-style:none;counter-reset:xFeatureListNum}.x-feature-list .x-feature-box{margin-bottom:0;counter-increment:xFeatureListNum}.x-feature-list .x-feature-box.top-text>div{padding:0 0 1.313em}.x-feature-list .x-feature-box.top-text:last-child>div{padding-bottom:0}.x-feature-list .x-feature-box.top-text:last-child .full{display:none}.x-feature-list .x-feature-box.middle-text>div{padding:.6565em 0}.x-feature-list .x-feature-box.middle-text:first-child{margin-top:-.6565em}.x-feature-list .x-feature-box.middle-text:last-child{margin-bottom:-.6565em}.x-feature-list .x-feature-box.middle-text:first-child .upper,.x-feature-list .x-feature-box.middle-text:last-child .lower{display:none}.x-feature-list .x-feature-box-graphic i.number:before{content:counter(xFeatureListNum);font-style:normal}.x-dropcap{float:left;display:block;margin:.175em .215em 0 0;padding:.105em .2em .135em;font-size:3.3em;font-weight:700;line-height:1;text-shadow:0 1px 3px rgba(0,0,0,.45);color:#fff;background-color:#ff2a13;border-radius:4px}.x-highlight{padding:.188em .375em;text-shadow:0 1px 1px rgba(0,0,0,.65);color:#fff;background-color:#ff2a13;border-radius:4px}.x-highlight.dark{text-shadow:0 -1px 1px #000;color:#fff;background-color:#484848}.x-pullquote{width:40%;margin:.45em 1.1em .55em 0;font-size:1.313em}.x-pullquote.right{margin-right:0;margin-left:1.1em}@media (max-width:767px){.x-pullquote.left,.x-pullquote.right{float:none;width:100%;margin:1.313em 0}}.x-cite{display:block;margin-top:.75em;font-size:.725em;font-weight:300;color:#7a7a7a}.x-cite:before{content:"\2013\00A0"}.close{float:right;font-size:18px;font-weight:700;line-height:1.7;color:#000;text-shadow:0 1px 0 rgba(255,255,255,.9);opacity:.4;transition:opacity .3s ease}.close:hover{color:#000;text-decoration:none;cursor:pointer;opacity:.6}button.close{padding:0;cursor:pointer;background-color:transparent;border:0;-webkit-appearance:none}.x-alert,.wpcf7-response-output,.buddypress #message,.bbp-template-notice{position:relative;margin-bottom:1.313em;border:1px solid #f6dca7;padding:.786em 2.25em 1em 1.15em;font-size:14px;line-height:1.5;text-shadow:0 1px 0 rgba(255,255,255,.9);color:#c09853;background-color:#fcf8e3;border-radius:4px;box-shadow:inset 0 1px 0 rgba(255,255,255,.8),0 2px 3px rgba(0,0,0,.065)}.x-alert .h-alert,.wpcf7-response-output .h-alert,.buddypress #message .h-alert,.bbp-template-notice .h-alert{margin:.05em 0 .25em;font-size:18px;letter-spacing:-1px;line-height:1.3;text-transform:none;color:inherit}.x-alert .close,.wpcf7-response-output .close,.buddypress #message .close,.bbp-template-notice .close{position:relative;top:-10px;right:-26px;line-height:1;color:#c09853}.x-alert>p,.x-alert .x-alert-content>p,.wpcf7-response-output>p,.wpcf7-response-output .x-alert-content>p,.buddypress #message>p,.buddypress #message .x-alert-content>p,.bbp-template-notice>p,.bbp-template-notice .x-alert-content>p{margin-bottom:0}.x-alert>p+p,.x-alert .x-alert-content>p+p,.wpcf7-response-output>p+p,.wpcf7-response-output .x-alert-content>p+p,.buddypress #message>p+p,.buddypress #message .x-alert-content>p+p,.bbp-template-notice>p+p,.bbp-template-notice .x-alert-content>p+p{margin-top:6px}.x-alert-muted{background-color:#eee;border-color:#cfcfcf;color:#999}.x-alert-muted .close{color:#999}.x-alert-info,.buddypress #message.info,.bbp-template-notice.info{background-color:#d9edf7;border-color:#b3d1ef;color:#3a87ad}.x-alert-info .close,.buddypress #message.info .close,.bbp-template-notice.info .close{color:#3a87ad}.x-alert-success,.wpcf7-mail-sent-ok,.buddypress #message.updated,.bbp-template-notice.updated{background-color:#dff0d8;border-color:#c1dea8;color:#468847}.x-alert-success .close,.wpcf7-mail-sent-ok .close,.buddypress #message.updated .close,.bbp-template-notice.updated .close{color:#468847}.x-alert-danger,.buddypress #message.error,.bbp-template-notice.error{background-color:#f2dede;border-color:#e5bdc4;color:#b94a48}.x-alert-danger .close,.buddypress #message.error .close,.bbp-template-notice.error .close{color:#b94a48}.x-alert-block{padding:.786em 1.15em 1em}.wpcf7-response-output{border-width:1px !important;margin:1.313em 0 0 !important;padding:.786em 1.15em 1em !important}.h-skill-bar{margin-top:0;font-size:11px;font-weight:700;letter-spacing:1px;line-height:1;text-transform:uppercase}.x-skill-bar{height:25px;margin-bottom:1.313em;background-color:#f2f2f2;box-shadow:inset 0 1px 2px rgba(0,0,0,.15);border-radius:4px}.x-skill-bar .bar{overflow:hidden;position:relative;width:0;height:100%;float:left;background-color:#ff2a13;border-radius:4px;box-shadow:inset 0 1px 5px rgba(0,0,0,.45)}.x-skill-bar .bar .percent{position:absolute;right:4px;bottom:4px;height:17px;padding:0 5px;font-size:11px;line-height:17px;text-shadow:0 1px 0 rgba(0,0,0,.75);color:#fff;background-color:#272727;background-color:rgba(0,0,0,.35);border-radius:3px}.x-img{margin-bottom:1.313em}.x-img.left{margin:.35em 1.313em .35em 0}.x-img.right{margin:.35em 0 .35em 1.313em}a.x-img{display:block}a.x-img>img{display:block;margin-left:auto;margin-right:auto}a.x-img:not(.x-img-thumbnail){transform:translate3d(0,0,0);transition:opacity .3s ease}a.x-img:not(.x-img-thumbnail):hover{opacity:.75}.x-img-rounded,.x-img-rounded img{border-radius:6px}.x-img-circle,.x-img-circle img{border-radius:100em}.x-img-thumbnail{padding:5px;line-height:1.7;border:1px solid #ddd;border:1px solid rgba(0,0,0,.15);background-color:#fff;border-radius:2px;box-shadow:0 1px 3px rgba(0,0,0,.1);-webkit-transition:border .3s ease,box-shadow .3s ease;transition:border .3s ease,box-shadow .3s ease}a.x-img-thumbnail:hover{border-color:#ff2a13;box-shadow:0 1px 4px rgba(0,0,0,.25)}.x-columnize{-webkit-column-count:2;-moz-column-count:2;column-count:2;-webkit-column-gap:3em;-moz-column-gap:3em;column-gap:3em;-webkit-column-rule:1px solid #e5e5e5;-moz-column-rule:1px solid #e5e5e5;column-rule:1px solid #e5e5e5;margin:0 0 1.313em}.x-columnize p:last-child,.x-columnize ul:last-child,.x-columnize ol:last-child{margin-bottom:0}@media (max-width:480px){.x-columnize{-webkit-column-count:1;-moz-column-count:1;column-count:1;-webkit-column-gap:0;-moz-column-gap:0;column-gap:0;-webkit-column-rule:0;-moz-column-rule:0;column-rule:0}}.x-accordion{margin-bottom:1.313em}.x-accordion-group{margin:0 0 8px;border:1px solid #ddd;border:1px solid rgba(0,0,0,.15);box-shadow:0 .125em .275em 0 rgba(0,0,0,.125)}.x-accordion-group:last-child{margin-bottom:0}.x-accordion-heading{overflow:hidden;border-bottom:0}.x-accordion-heading .x-accordion-toggle{display:block;padding:10px 15px;font-family:"Lato","Helvetica Neue",Helvetica,Arial,sans-serif;font-weight:400;font-size:114.2%;color:#272727;background-color:#fff;cursor:pointer}.x-accordion-heading .x-accordion-toggle.collapsed{background-color:#fff}.x-accordion-heading .x-accordion-toggle.collapsed:before{color:#ccc;transform:rotate(0deg)}.x-accordion-heading .x-accordion-toggle:hover{color:#ff2a13}.x-accordion-heading .x-accordion-toggle:hover:before{color:#ccc}.x-accordion-heading .x-accordion-toggle:before{content:"\f067";position:relative;display:inline-block;bottom:.1em;margin-right:10px;font-size:74%;color:#ccc;transform:rotate(45deg);transition:all .3s ease;font-family:"FontAwesome" !important;font-style:normal !important;font-weight:400 !important;text-decoration:inherit;text-rendering:auto;-webkit-font-smoothing:antialiased;-moz-osx-font-smoothing:grayscale}.x-accordion-inner{padding:10px 15px;border-top:1px solid #ddd;border-top:1px solid rgba(0,0,0,.15);background-color:#fff;box-shadow:none}.x-accordion-inner p:last-child,.x-accordion-inner ul:last-child,.x-accordion-inner ol:last-child{margin-bottom:0}.x-column{position:relative;z-index:1;float:left;margin-right:4%}.x-column.x-1-1{width:100%}.x-column.x-1-2{width:48%}.x-column.x-1-3{width:30.66666%}.x-column.x-2-3{width:65.33332%}.x-column.x-1-4{width:22%}.x-column.x-3-4{width:74%}.x-column.x-1-5{width:16.8%}.x-column.x-2-5{width:37.6%}.x-column.x-3-5{width:58.4%}.x-column.x-4-5{width:79.2%}.x-column.x-1-6{width:13.33332%}.x-column.x-5-6{width:82.66666%}.x-column.last,.x-column:last-of-type{margin-right:0}@media (max-width:480px){.x-column.x-xs{float:none;width:100%;margin-right:0}}@media (max-width:767px){.x-column.x-sm{float:none;width:100%;margin-right:0}}@media (max-width:979px){.x-column.x-md{float:none;width:100%;margin-right:0}}.x-column[data-fade="1"],.x-column[data-fade=true]{transition:opacity cubic-bezier(.23,1,.32,1),transform cubic-bezier(.23,1,.32,1)}.x-protect{padding:7% 18%;text-align:center;background-color:#f2f2f2;border-radius:.65em}.x-protect label{margin:.75em 0 0;font-size:16px}.x-protect input[type=text],.x-protect input[type=password]{width:100%;max-width:380px;text-align:center}.h-protect{font-size:24px;line-height:1.2;color:#272727}.x-btn-protect{margin-top:.75em}.x-recent-posts{margin:0 0 1.313em}.x-recent-posts+.x-recent-posts{margin-top:4%}.x-recent-posts a{overflow:hidden;float:left;display:block;margin:0 4% 0 0;border:1px solid #ddd;border:1px solid rgba(0,0,0,.15);padding:5px 5px 0;background-color:#fff;border-radius:3px;box-shadow:0 .125em .275em 0 rgba(0,0,0,.075);transform:translate3d(0,0,0)}.x-recent-posts a:last-child{margin-right:0}.x-recent-posts a:hover .no-post-thumbnail .x-recent-posts-img:before{opacity:1}.x-recent-posts a:hover .no-post-thumbnail .x-recent-posts-img:after{opacity:1}.x-recent-posts a:hover .has-post-thumbnail .x-recent-posts-img:before{opacity:1}.x-recent-posts a:hover .has-post-thumbnail .x-recent-posts-img:after{opacity:.85}.x-recent-posts a.no-image{padding:0 5px}.x-recent-posts a.x-recent-post1{width:100%}.x-recent-posts a.x-recent-post2{width:48%}@media (max-width:767px){.x-recent-posts a.x-recent-post2{width:100%;float:none;margin-right:0;margin-bottom:4%}.x-recent-posts a.x-recent-post2:last-child{margin-bottom:0}}.x-recent-posts a.x-recent-post3{width:30.6666%}@media (max-width:767px){.x-recent-posts a.x-recent-post3{width:100%;float:none;margin-right:0;margin-bottom:4%}.x-recent-posts a.x-recent-post3:last-child{margin-bottom:0}}.x-recent-posts a[class^=x-recent-post]:not([class*="1"]):not([class*="2"]):not([class*="3"]){width:22%;margin-right:4%}.x-recent-posts a[class^=x-recent-post]:not([class*="1"]):not([class*="2"]):not([class*="3"]):nth-child(4n){margin-right:0;margin-bottom:4%}@media (max-width:979px){.x-recent-posts a[class^=x-recent-post]:not([class*="1"]):not([class*="2"]):not([class*="3"]){width:48%}.x-recent-posts a[class^=x-recent-post]:not([class*="1"]):not([class*="2"]):not([class*="3"]):first-child{margin-bottom:4%}.x-recent-posts a[class^=x-recent-post]:not([class*="1"]):not([class*="2"]):not([class*="3"]):nth-child(2n){margin-right:0;margin-bottom:4%}}@media (max-width:767px){.x-recent-posts a[class^=x-recent-post]:not([class*="1"]):not([class*="2"]):not([class*="3"]){width:100%;float:none;margin-right:0;margin-bottom:4%}.x-recent-posts a[class^=x-recent-post]:not([class*="1"]):not([class*="2"]):not([class*="3"]):last-child{margin-bottom:0}}.x-recent-posts article.hentry>.entry-wrap{margin:0;border:0;padding:0;background-color:transparent;border-radius:0;box-shadow:none}.x-recent-posts .x-recent-posts-img{position:relative;padding-bottom:56.25%;background:center center/cover no-repeat;border-radius:2px}.x-recent-posts .x-recent-posts-img:before,.x-recent-posts .x-recent-posts-img:after{display:block;position:absolute;opacity:0;transition:opacity .3s ease}.x-recent-posts .x-recent-posts-img:before{margin:-30px 0 0 -30px;top:50%;left:50%;width:60px;height:60px;font-size:32px;line-height:60px;text-align:center;color:#fff;z-index:2;font-family:"FontAwesome" !important;font-style:normal !important;font-weight:400 !important;text-decoration:inherit;text-rendering:auto;-webkit-font-smoothing:antialiased;-moz-osx-font-smoothing:grayscale}.x-recent-posts .x-recent-posts-img:after{content:"";top:0;left:0;right:0;bottom:0;background-color:#ff2a13;border-radius:2px;z-index:1}.x-recent-posts .no-post-thumbnail .x-recent-posts-img:before{opacity:.35}.x-recent-posts .no-post-thumbnail .x-recent-posts-img:after{opacity:1}.x-recent-posts .format-standard .x-recent-posts-img:before{content:"\f15c"}.x-recent-posts .format-video .x-recent-posts-img:before{content:"\f008"}.x-recent-posts .format-audio .x-recent-posts-img:before{content:"\f001"}.x-recent-posts .format-image .x-recent-posts-img:before{content:"\f083"}.x-recent-posts .format-gallery .x-recent-posts-img:before{content:"\f03e"}.x-recent-posts .format-link .x-recent-posts-img:before{content:"\f0c1"}.x-recent-posts .format-quote .x-recent-posts-img:before{content:"\f10d"}.x-recent-posts .x-portfolio .x-recent-posts-img:before{content:"\f067"}.x-recent-posts .x-recent-posts-content{padding:10px 5px}.x-recent-posts .h-recent-posts,.x-recent-posts .x-recent-posts-date{display:block;overflow:hidden;text-overflow:ellipsis;white-space:nowrap}.x-recent-posts .h-recent-posts{margin:-1px 0 5px;font-size:17px;line-height:1.2;transition:color .3s ease}.x-recent-posts .x-recent-posts-date{margin:0;font-size:10px;line-height:1;text-transform:uppercase;color:rgba(0,0,0,.65)}.x-recent-posts.vertical a[class^=x-recent-post]{float:none;margin-right:0;width:100% !important;margin-bottom:4%}.x-recent-posts.vertical a[class^=x-recent-post]:last-child{margin-bottom:0}.js .x-recent-posts[data-fade=true] a{opacity:0}.x-pricing-table{width:100%;margin:1.313em 0}.x-pricing-table.one-column .x-pricing-column{width:100%}.x-pricing-table.two-columns .x-pricing-column{width:50%}.x-pricing-table.three-columns .x-pricing-column{width:33.33333%}.x-pricing-table.four-columns .x-pricing-column{width:25%}.x-pricing-table.five-columns .x-pricing-column{width:20%}@media (max-width:979px){.x-pricing-table[class*=-column] .x-pricing-column{width:50%}.x-pricing-table.three-columns .x-pricing-column:last-child,.x-pricing-table.five-columns .x-pricing-column:last-child{width:99.9%}}@media (max-width:767px){.x-pricing-table[class*=-column] .x-pricing-column{width:100%}}.x-pricing-column{float:left;margin:0 0 -1px -1px;text-align:center}@media (max-width:767px){.x-pricing-column{float:none;margin-left:0}}.x-pricing-column h2{border:1px solid #ebebeb;padding:20px 20px 25px;letter-spacing:0;line-height:1.1;font-size:32px;color:#7a7a7a;background-color:#fbfbfb}.x-pricing-column h2 span{display:block;margin-top:5px;font-size:13px;letter-spacing:2px;text-transform:uppercase;color:#000;opacity:.5}.x-pricing-column.featured{position:relative;margin-top:-20px;box-shadow:0 0 10px rgba(0,0,0,.125)}@media (max-width:979px){.x-pricing-column.featured{margin-top:0}}.x-pricing-column.featured h2{border:0;padding-bottom:28px;color:#fff;background-color:#ff2a13;box-shadow:inset 0 0 0 5px rgba(0,0,0,.15)}.x-pricing-column.featured .x-pricing-column-info{padding-bottom:50px}.x-pricing-column.featured .x-pricing-column-info ul{margin-bottom:40px}.x-pricing-column-info{border:1px solid #ebebeb;border-top:0;padding:10px 0 32px}.x-pricing-column-info .x-price{margin:0;font-size:54px;letter-spacing:-3px}.x-pricing-column-info span{display:block;margin-top:-4px;font-size:12px;color:#bababa}.x-pricing-column-info p{margin:0}.x-pricing-column-info ul{margin:15px 0 25px}.x-pricing-column-info ul>li{border-bottom:1px solid #ebebeb;padding:10px 40px 11px;font-size:16px;line-height:1.4}.x-pricing-column-info ul>li [class*=x-icon-]{margin-left:.85em}.x-pricing-column-info ul>li:first-child{border-top:1px solid #ebebeb}.x-pricing-column-info ul>li:nth-child(2n+1){background-color:#fbfbfb}.x-pricing-column-info .x-btn{margin-left:20px;margin-right:20px}.x-callout{position:relative;margin:1.313em 0;border:1px solid #ebebeb;padding:2.35em;font-size:21px;background-color:#f7f7f7;border-radius:.5em;box-shadow:inset 0 1px 0 0 rgba(255,255,255,.95),0 1px 3px rgba(0,0,0,.05)}@media (max-width:979px){.x-callout{font-size:18px}}@media (max-width:480px){.x-callout{font-size:16px}}.x-callout:before{content:"";display:block;position:absolute;top:14px;left:14px;right:14px;bottom:14px;border:1px solid #ebebeb;background-color:#fff;border-radius:.275em;z-index:0;box-shadow:inset 0 1px 3px rgba(0,0,0,.05),0 1px 0 0 rgba(255,255,255,.95)}.x-callout .x-btn{font-size:1em}.h-callout{position:relative;margin-top:0;margin-bottom:.35em;font-size:2.15em;line-height:1.1}.p-callout{position:relative;line-height:1.4}.x-promo{overflow:hidden;margin-bottom:1.313em;border:1px solid #ddd;border:1px solid rgba(0,0,0,.15);border-radius:4px;box-shadow:0 .125em .275em 0 rgba(0,0,0,.125)}.x-promo-image-wrap img{min-width:100%}.x-promo-content{padding:1.5em;background-color:#fff;box-shadow:none}.x-author-box{margin:0 0 1.313em}.x-author-box .h-about-the-author{margin:0 0 .925em;border-bottom:1px solid #f2f2f2;padding-bottom:.45em;font-size:12px;font-weight:300;letter-spacing:1px;text-transform:uppercase;color:#d3d3d3}.x-author-box .avatar{float:left;width:90px;border-radius:.35em}@media (max-width:480px){.x-author-box .avatar{display:none}}.x-author-box .x-author-info{margin-left:110px}@media (max-width:480px){.x-author-box .x-author-info{margin-left:0}}.x-author-box .h-author{margin-bottom:.35em;line-height:1}.x-author-box .x-author-social{display:inline-block;margin-right:1em;font-size:13px;white-space:nowrap}.x-author-box .x-author-social [class*=x-social]{position:relative;top:2px}.x-author-box .p-author{margin-top:.5em}.x-prompt{margin:0 0 1.313em;border:1px solid #ddd;border:1px solid rgba(0,0,0,.15);padding:1.75em;background-color:#fff;border-radius:4px;box-shadow:0 .125em .275em 0 rgba(0,0,0,.075)}.x-prompt.message-left .x-prompt-section.x-prompt-section-message{padding-right:2.25em;text-align:left}.x-prompt.message-right .x-prompt-section.x-prompt-section-message{padding-left:2.25em;text-align:right}.x-prompt-section{position:relative;display:table-cell;vertical-align:middle}.x-prompt-section p:last-child{margin-bottom:0}.x-prompt-section.x-prompt-section-message{width:46%;font-size:16px;line-height:1.4}.x-prompt-section.x-prompt-section-button{width:30%}.h-prompt{margin-top:0;font-size:28px;line-height:1.1}@media (max-width:767px){.x-prompt{display:block}.x-prompt.message-left .x-prompt-section.x-prompt-section-message{padding:0 0 1.25em}.x-prompt.message-right .x-prompt-section.x-prompt-section-message{padding:1.25em 0 0;text-align:left}.x-prompt-section{display:block}.x-prompt-section.x-prompt-section-message,.x-prompt-section.x-prompt-section-button{width:100%}}.x-content-band{margin:0 0 1.313em;padding:40px 0}.x-content-band:before,.x-content-band:after{content:" ";display:table;width:0}.x-content-band:after{clear:both}.x-content-band.bg-image,.x-content-band.bg-pattern{background-position:50% 50%}.x-content-band.bg-image.parallax,.x-content-band.bg-pattern.parallax{background-attachment:fixed}.x-content-band.bg-image{background-size:cover;background-repeat:no-repeat}.x-content-band.bg-pattern{background-repeat:repeat}.x-content-band.bg-video{position:relative;overflow:hidden}.x-content-band.border-top{border-top:1px solid rgba(0,0,0,.075)}.x-content-band.border-left{border-left:1px solid rgba(0,0,0,.075)}.x-content-band.border-right{border-right:1px solid rgba(0,0,0,.075)}.x-content-band.border-bottom{border-bottom:1px solid rgba(0,0,0,.075)}.x-content-band.marginless-columns .x-container{display:table;table-layout:fixed;width:100%}.x-content-band.marginless-columns .x-container:before,.x-content-band.marginless-columns .x-container:after{display:none}.x-content-band.marginless-columns .x-container>.x-column{display:table-cell;margin-right:0;float:none;vertical-align:top}.x-content-band.marginless-columns .x-container>.x-column.x-1-1{width:100%}.x-content-band.marginless-columns .x-container>.x-column.x-1-2{width:50%}.x-content-band.marginless-columns .x-container>.x-column.x-1-3{width:33.33333%}.x-content-band.marginless-columns .x-container>.x-column.x-2-3{width:66.66666%}.x-content-band.marginless-columns .x-container>.x-column.x-1-4{width:25%}.x-content-band.marginless-columns .x-container>.x-column.x-3-4{width:75%}.x-content-band.marginless-columns .x-container>.x-column.x-1-5{width:20%}.x-content-band.marginless-columns .x-container>.x-column.x-2-5{width:40%}.x-content-band.marginless-columns .x-container>.x-column.x-3-5{width:60%}.x-content-band.marginless-columns .x-container>.x-column.x-4-5{width:80%}.x-content-band.marginless-columns .x-container>.x-column.x-1-6{width:16.66666%}.x-content-band.marginless-columns .x-container>.x-column.x-5-6{width:83.33333%}@media (max-width:767px){.x-content-band.marginless-columns .x-container{display:block}.x-content-band.marginless-columns .x-container:before,.x-content-band.marginless-columns .x-container:after{display:table}.x-content-band.marginless-columns .x-container>.x-column[class*=x-]{display:block;width:100%;vertical-align:inherit}}.x-content-band.vc .wpb_row,.x-content-band.vc .wpb_content_element{margin-bottom:0}.x-content-band .x-container{position:relative}.x-entry-share{margin:0 0 1.313em;border:1px solid #f2f2f2;border-left:0;border-right:0;padding:10px 0;line-height:1;text-align:center}.x-entry-share p{margin:8px 0 10px;font-size:12px;font-weight:400;text-transform:uppercase}.x-entry-share .x-share{display:inline-block;margin:0 .05em;width:45px;height:45px;font-size:24px;line-height:45px;border-radius:2px}.x-entry-share .x-share:hover{color:#fff;background-color:#ff2a13}.x-toc{width:210px;margin:.55em 0;border:1px solid #ddd;border:1px solid rgba(0,0,0,.15);padding:15px;font-size:11px;background-color:#fff;border-radius:3px;box-shadow:0 .125em .275em 0 rgba(0,0,0,.075)}.x-toc.left{margin-right:1.75em}.x-toc.right{margin-left:1.75em}@media (max-width:480px){.x-toc.left,.x-toc.right{width:auto;float:none;margin:0 0 1.313em}}.x-toc.block{width:auto;margin:0 0 1.313em}.x-toc ul{margin-bottom:-10px !important}.h-toc{margin:0 0 10px;font-size:14px;letter-spacing:1px;text-transform:uppercase}.x-toc.block.two-columns .x-toc-item{float:left;width:48%;margin-right:4%}.x-toc.block.two-columns .x-toc-item:nth-child(2n){margin-right:0}.x-toc.block.three-columns .x-toc-item{float:left;width:30.66667%;margin-right:4%}.x-toc.block.three-columns .x-toc-item:nth-child(3n){margin-right:0}@media (max-width:979px){.x-toc.block.three-columns .x-toc-item{width:48%}.x-toc.block.three-columns .x-toc-item:nth-child(3n){margin-right:4%}.x-toc.block.three-columns .x-toc-item:nth-child(2n){margin-right:0}}@media (max-width:480px){.x-toc.block.two-columns .x-toc-item,.x-toc.block.three-columns .x-toc-item{width:100%;margin-right:0}}.x-toc-item{margin-bottom:10px;font-size:14px;line-height:1.3}.x-toc-item a{display:block;border-bottom:1px solid #ddd;border-bottom:1px solid rgba(0,0,0,.15);overflow:hidden;text-overflow:ellipsis;white-space:nowrap}.h-custom-headline{letter-spacing:-1px;line-height:1.1}.h-custom-headline.accent{overflow:hidden}.h-custom-headline.accent span{padding-bottom:2px;display:inline-block;position:relative}.h-custom-headline.accent span:before,.h-custom-headline.accent span:after{content:"";position:absolute;top:50%;height:3px;width:9999px;display:block;margin-top:-2px;border-top:1px solid #f0f0f0;border-bottom:1px solid #f0f0f0}.h-custom-headline.accent span:before{right:100%;margin-right:.5em}.h-custom-headline.accent span:after{left:100%;margin-left:.5em}.h-feature-headline{line-height:1.1}.h-feature-headline span{display:inline-block;position:relative;padding-left:1.5em}.h-feature-headline span i{position:absolute;top:50%;left:0;width:2em;height:2em;margin-top:-1em;font-size:.65em;letter-spacing:0;line-height:2em;text-align:center;color:#fff;background-color:#272727;border-radius:100em}.x-section{position:relative;margin:0 0 1.313em;padding:45px 0}.x-section:before,.x-section:after{content:" ";display:table;width:0}.x-section:after{clear:both}.x-section.bg-image,.x-section.bg-pattern{background-position:50% 50%}.x-section.bg-image.parallax,.x-section.bg-pattern.parallax{background-attachment:fixed}@media (max-width:979px){.x-section.bg-image.parallax,.x-section.bg-pattern.parallax{background-size:auto !important}}.x-section.bg-image{background-size:cover;background-repeat:no-repeat}.x-section.bg-pattern{background-repeat:repeat}.x-section.bg-video{position:relative;overflow:hidden}.x-section .x-container{position:relative;z-index:1}.x-section .x-container.marginless-columns{display:table;table-layout:fixed}.x-section .x-container.marginless-columns:not(.width){width:100%}.x-section .x-container.marginless-columns:before,.x-section .x-container.marginless-columns:after{display:none}.x-section .x-container.marginless-columns>.x-column{display:table-cell;margin-right:0;float:none;vertical-align:top}.x-section .x-container.marginless-columns>.x-column.x-1-1{width:100%}.x-section .x-container.marginless-columns>.x-column.x-1-2{width:50%}.x-section .x-container.marginless-columns>.x-column.x-1-3{width:33.33333%}.x-section .x-container.marginless-columns>.x-column.x-2-3{width:66.66666%}.x-section .x-container.marginless-columns>.x-column.x-1-4{width:25%}.x-section .x-container.marginless-columns>.x-column.x-3-4{width:75%}.x-section .x-container.marginless-columns>.x-column.x-1-5{width:20%}.x-section .x-container.marginless-columns>.x-column.x-2-5{width:40%}.x-section .x-container.marginless-columns>.x-column.x-3-5{width:60%}.x-section .x-container.marginless-columns>.x-column.x-4-5{width:80%}.x-section .x-container.marginless-columns>.x-column.x-1-6{width:16.66666%}.x-section .x-container.marginless-columns>.x-column.x-5-6{width:83.33333%}@media (max-width:767px){.x-section .x-container.marginless-columns{display:block}.x-section .x-container.marginless-columns:before,.x-section .x-container.marginless-columns:after{display:table}.x-section .x-container.marginless-columns>.x-column[class*=x-]{display:block;width:100%;vertical-align:inherit}}.x-section-separator{position:absolute;left:0;right:0;margin:0 auto;z-index:10}.x-section-separator svg{display:block;width:100%;height:100%;margin:0}.x-section-separator-top{top:0;transform:translate(0,-100%)}.x-section-separator-bottom{bottom:0;transform:translate(0,100%)}.with-container{border:1px solid #ddd;border:1px solid rgba(0,0,0,.15);padding:2.5%;background-color:#fff;border-radius:2px;box-shadow:0 1px 3px rgba(0,0,0,.1)}.mejs-container:focus,.mejs-container:active{outline:0}.mejs-container.mejs-container-fullscreen{background-color:#000}.mejs-controls{display:flex;justify-content:space-between;align-items:center;background-color:#000}.mejs-controls>div{display:flex;justify-content:center;align-items:center;position:relative;width:30px;height:30px;line-height:1}.mejs-video .mejs-controls{width:auto;position:absolute;left:0;right:0;bottom:0;margin:0 20px 20px}.mejs-button button{margin:0;border:0;padding:0;width:30px;height:30px;font-size:14px;line-height:inherit;text-align:center;vertical-align:top;background:0 0;color:rgba(255,255,255,.5);transition-duration:.3s;transition-timing-function:ease;transition-property:color,background-color,text-shadow}.mejs-button button:hover,.mejs-button button:focus{color:#fff}.mejs-button button:focus,.mejs-button button:active{outline:0}.mejs-button button:before{content:"\f065";display:block;margin:0 auto;font-family:"FontAwesome" !important;font-style:normal !important;font-weight:400 !important;text-decoration:inherit;text-rendering:auto;-webkit-font-smoothing:antialiased;-moz-osx-font-smoothing:grayscale}.mejs-button.mejs-play button:before{content:"\f04b"}.mejs-button.mejs-replay button:before{content:"\f01e"}.mejs-button.mejs-pause button:before{content:"\f04c"}.mejs-button.mejs-mute button:before{content:"\f028"}.mejs-button.mejs-unmute button:before{content:"\f026"}.mejs-button.mejs-fullscreen button:before{content:"\f065"}.mejs-button.mejs-unfullscreen button:before{content:"\f066"}.mejs-time{width:46px !important;font-size:10px;letter-spacing:.025em;text-align:center;color:rgba(255,255,255,.5)}@media (max-width:767px){.mejs-time{display:none !important}}.mejs-time-rail{flex:1 1 0%;padding:0 10px}.mejs-time-total{display:block;margin:0;overflow:hidden;position:relative;z-index:1;width:100% !important;height:10px;cursor:pointer;background-color:rgba(255,255,255,.25)}.mejs-time-total:focus,.mejs-time-total:active{outline:0}.mejs-time-loaded,.mejs-time-current{display:block;position:absolute;top:0;left:0;width:100%;height:100%;transform-origin:0% 0%}.mejs-time-loaded{background-color:rgba(255,255,255,.25)}.mejs-time-current{background-color:rgba(255,255,255,.5);transform:scaleX(0)}.advanced-controls .mejs-time-rail{padding-left:0;padding-right:0}@media (max-width:767px){.advanced-controls .mejs-time-rail{padding-left:10px;padding-right:10px}}.mejs-video .mejs-poster{background-size:contain;background-repeat:no-repeat;background-position:50% 50%}.mejs-video .mejs-poster img{object-fit:contain}.mejs-video .mejs-overlay-play{cursor:pointer}.mejs-fullscreen{overflow:hidden !important}.mejs-container-fullscreen{top:0;left:0;right:0;bottom:0;position:fixed;z-index:1000;overflow:hidden}.mejs-container-fullscreen video,.mejs-container-fullscreen .mejs-mediaelement{width:100% !important;height:100% !important}.mejs-fullscreen-button>button{background-position:-80px 0}.mejs-unfullscreen>button{background-position:-100px 0}.bg .mejs-mediaelement{overflow:hidden}.me-plugin,.me-cannotplay,.bg .mejs-mediaelement,.mejs-video .mejs-layer,.hide-controls.autoplay .mejs-video .mejs-layers{position:absolute;top:0;left:0;width:100%;height:100%}.mejs-clear,.mejs-offscreen,.mejs-time-float,.mejs-time-handle,.mejs-time-hovered,.mejs-volume-slider,.mejs-time-buffering,.mejs-audio .mejs-layers,.mejs-poster .mejs-poster-img,.mejs-video .mejs-overlay-error,.vimeo .mejs-video .mejs-controls,.vimeo .mejs-mediaelement video,.mejs-video .mejs-overlay-loading,.hide-controls .mejs-video .mejs-controls,.mejs-video .mejs-overlay-play .mejs-overlay-button{display:none !important}.x-mejs-no-source{display:flex;justify-content:center;align-items:center;width:100%;height:100%}.has-stack-styles .mejs-controls{border:1px solid #000;background-color:#414141;background-image:-webkit-linear-gradient(180deg,#5a5a5a,#272727);background-image:linear-gradient(180deg,#5a5a5a,#272727);background-repeat:repeat-x;border-radius:3px;box-shadow:inset 0 1px 0 0 rgba(255,255,255,.15),0 0 3px 1px rgba(0,0,0,.35)}.has-stack-styles .mejs-button.mejs-playpause-button{border-right:1px solid #272727;box-shadow:1px 0 0 0 rgba(255,255,255,.1)}.has-stack-styles .mejs-button.mejs-volume-button,.has-stack-styles .mejs-button.mejs-fullscreen-button{border-left:1px solid #272727;box-shadow:inset 1px 0 0 0 rgba(255,255,255,.1)}.has-stack-styles .mejs-button button{color:#000;text-shadow:0 1px 1px rgba(255,255,255,.15)}.has-stack-styles .mejs-button button:hover,.has-stack-styles .mejs-button button:focus{color:#bababa;text-shadow:0 1px 1px rgba(0,0,0,.5)}.has-stack-styles .mejs-time{color:#7a7a7a;text-shadow:0 1px 0 #000}.has-stack-styles .mejs-time-total{height:10px;border:1px solid #000;background-color:#000;border-radius:5px;box-shadow:0 1px 0 0 rgba(255,255,255,.1)}.has-stack-styles .mejs-time-loaded{height:8px;background-color:#545454;box-shadow:inset 0 1px 0 0 rgba(255,255,255,.15)}.has-stack-styles .mejs-time-current{height:8px;background-color:#ff2a13;box-shadow:inset 0 1px 0 0 rgba(255,255,255,.25)}@media (max-width:979px){.x-sidebar{margin-top:4em}}.x-sidebar .widget{margin-top:2.75em}.x-sidebar .widget:first-child{margin-top:0}.x-main{position:relative}.x-main .widget{margin-top:3em}.x-main .widget:first-child{margin-top:0}.hentry{margin-top:4em}.hentry:first-child{margin-top:0}.entry-featured{position:relative;box-shadow:4px 2px 4px -4px rgba(0,0,0,.135),-4px 2px 4px -4px rgba(0,0,0,.135);-webkit-transform:translate3d(0,0,0);transform:translate3d(0,0,0)}.has-post-thumbnail .entry-featured{border-bottom:1px solid #ddd}.x-boxed-layout-active .has-post-thumbnail .entry-featured{border:1px solid #ddd}.entry-wrap{display:block;padding:60px;background-color:#fff;border-radius:4px;box-shadow:0 .15em .35em 0 rgba(0,0,0,.135)}@media (max-width:767px){.entry-wrap{padding:36px}}@media (max-width:480px){.entry-wrap{padding:25px}}.x-boxed-layout-active .entry-wrap{margin-top:-1px;border:1px solid #ddd}.x-boxed-layout-active .entry-wrap:first-child{margin-top:0}.has-post-thumbnail .entry-wrap{border-radius:0 0 4px 4px}.entry-thumb{display:block;position:relative;background-color:#000}.entry-thumb img{min-width:100%;-webkit-transition:opacity .75s ease;transition:opacity .75s ease}.entry-thumb:before{content:"\f0c1";display:block;position:absolute;margin:-36px 0 0 -35px;top:50%;left:50%;width:70px;height:70px;font-size:42px;line-height:72px;text-align:center;text-shadow:0 .035em 0 rgba(0,0,0,.35);vertical-align:middle;color:#fff;border-radius:100em;opacity:0;-webkit-transition:opacity .75s ease;transition:opacity .75s ease;font-family:"FontAwesome" !important;font-style:normal !important;font-weight:400 !important;text-decoration:inherit;text-rendering:auto;-webkit-font-smoothing:antialiased;-moz-osx-font-smoothing:grayscale}a.entry-thumb:hover img{opacity:.15}a.entry-thumb:hover:before{opacity:1}.entry-title{margin:0;font-size:250%;line-height:1.05}@media (max-width:480px){.entry-title{font-size:200%}}.entry-title-sub{display:block;margin:.75em 0 0;font-size:128.5%;line-height:1.05}.p-meta{margin:8px 0 0;font-family:"Lato","Helvetica Neue",Helvetica,Arial,sans-serif;font-size:85.7%;line-height:1.5;text-transform:uppercase}.p-meta>span{display:inline-block}.p-meta>span>a{white-space:nowrap}.p-meta>span:after{content:"/";padding:0 .5em 0 .45em}.p-meta>span:last-child:after{display:none}.entry-content{margin-top:1.25em}.entry-content:before,.entry-content:after{content:" ";display:table;width:0}.entry-content:after{clear:both}.entry-content embed,.entry-content iframe,.entry-content object{width:100%;max-width:100%}.entry-content>p:last-child,.entry-content>ul:last-child,.entry-content>ol:last-child{margin-bottom:0}.more-link{display:inline-block;margin:0;font-weight:700;font-size:128.5%;line-height:1.4}.entry-footer{margin-top:.325em}.entry-footer a{display:inline-block;float:left;position:relative;margin:.615em .615em 0 0;border:1px solid #ddd;border:1px solid rgba(0,0,0,.125);padding:.692em 1.154em .769em;cursor:pointer;font-size:13px;line-height:1.3;text-align:center;text-transform:uppercase;vertical-align:middle;color:#c5c5c5;color:rgba(0,0,0,.375);background-color:transparent;border-radius:.35em;box-shadow:inset 0 0 0 rgba(0,0,0,0),0 1px 1px rgba(255,255,255,.95);-webkit-transition:color .3s ease,border-color .3s ease,background-color .3s ease,box-shadow .3s ease;transition:color .3s ease,border-color .3s ease,background-color .3s ease,box-shadow .3s ease}@media (max-width:767px){.entry-footer a{font-size:11px}}@media (max-width:480px){.entry-footer a{font-size:10px}}.entry-footer a:hover{color:#777;color:rgba(0,0,0,.75);border-color:#cfcfcf;border-color:rgba(0,0,0,.25);background-color:#fff;background-color:#fff}.entry-footer a:active{color:#777;color:rgba(0,0,0,.75);border-color:#bbb;border-color:rgba(0,0,0,.25);background-color:#ebebeb;background-color:rgba(0,0,0,.075);box-shadow:inset 0 1px 2px rgba(0,0,0,.225),0 1px 1px rgba(255,255,255,.95)}.x-page-title-disabled .entry-content{margin-top:0}.x-iso-container-posts.cols-2 .entry-title{font-size:200%}.x-iso-container-posts.cols-2 .p-meta{font-size:79%}@media (max-width:767px){.x-iso-container-posts.cols-2 .p-meta{font-size:85.7%}}@media (max-width:480px){.x-iso-container-posts.cols-2 .p-meta{font-size:85.7%}}.x-iso-container-posts.cols-2 .entry-wrap{padding:6.75% 7.25%}.x-iso-container-posts.cols-2 .more-link{font-size:110%}@media (max-width:767px){.x-iso-container-posts.cols-2 .more-link{font-size:128.5%}}.x-iso-container-posts.cols-3 .entry-title{font-size:165%}@media (max-width:979px){.x-iso-container-posts.cols-3 .entry-title{font-size:200%}}.x-iso-container-posts.cols-3 .p-meta{font-size:70%}@media (max-width:979px){.x-iso-container-posts.cols-3 .p-meta{font-size:85.7%}}.x-iso-container-posts.cols-3 .entry-wrap{padding:7.75% 8.25%}@media (max-width:979px){.x-iso-container-posts.cols-3 .entry-wrap{padding:6.75% 7.25%}}@media (max-width:480px){.x-iso-container-posts.cols-3 .entry-wrap{padding:7.75% 8.25%}}.x-iso-container-posts.cols-3 .more-link{font-size:105%}@media (max-width:979px){.x-iso-container-posts.cols-3 .more-link{font-size:128.5%}}.format-audio.no-post-thumbnail .entry-featured{margin-bottom:1.5em;box-shadow:none}.format-audio.has-post-thumbnail .entry-featured .x-audio{position:absolute;left:20px;right:20px;bottom:20px;margin:0 auto}.format-audio.has-post-thumbnail .entry-featured .x-audio iframe{position:absolute;bottom:0}.blog .format-image .entry-featured,.search .format-image .entry-featured,.archive .format-image .entry-featured{box-shadow:none}.blog.x-blog-standard-active .format-image h2.entry-title,.search.x-blog-standard-active .format-image h2.entry-title,.archive.x-blog-standard-active .format-image h2.entry-title{margin-top:-9px}.blog.x-blog-masonry-active .format-image h2.entry-title,.search.x-blog-masonry-active .format-image h2.entry-title,.archive.x-blog-masonry-active .format-image h2.entry-title{margin-top:-6px}@media (max-width:767px){.blog.x-blog-standard-active .format-image h2.entry-title,.search.x-blog-standard-active .format-image h2.entry-title,.archive.x-blog-standard-active .format-image h2.entry-title{margin-top:-6px}}@media (max-width:480px){.blog.x-blog-standard-active .format-image h2.entry-title,.search.x-blog-standard-active .format-image h2.entry-title,.archive.x-blog-standard-active .format-image h2.entry-title{margin-top:-5px}}.format-link .x-hgroup{margin-bottom:1.5em;border-bottom:1px solid #f2f2f2;padding:0 0 1.5em}.format-link .entry-title-sub a{border-bottom:1px dotted;word-break:break-all}.format-link .p-meta{text-align:center}.x-iso-container-posts.cols-2 .format-link .entry-title-sub,.x-iso-container-posts.cols-3 .format-link .entry-title-sub{font-size:110%}.blog.x-post-meta-disabled .format-link .x-hgroup,.search.x-post-meta-disabled .format-link .x-hgroup,.archive.x-post-meta-disabled .format-link .x-hgroup{margin-bottom:0;border-bottom:0;padding-bottom:0}.format-quote .x-hgroup{margin-bottom:1.5em;border-bottom:1px solid #f2f2f2;padding:0 0 1.5em;text-align:center}.format-quote .entry-title:before,.format-quote .entry-title:after{font-weight:300}.format-quote .entry-title:before{content:"\201C";margin-right:.115em}.format-quote .entry-title:after{content:"\201D";margin-left:.115em}.format-quote .entry-title-sub:before{content:"\2013\00A0"}.format-quote .p-meta{text-align:center}.x-iso-container-posts.cols-2 .format-quote .entry-title-sub,.x-iso-container-posts.cols-3 .format-quote .entry-title-sub{font-size:110%}.blog.x-post-meta-disabled .format-quote .x-hgroup,.search.x-post-meta-disabled .format-quote .x-hgroup,.archive.x-post-meta-disabled .format-quote .x-hgroup{margin-bottom:0;border-bottom:0;padding-bottom:0}.x-iso-container-portfolio .entry-wrap{padding:29px 6.5% 35px}.x-iso-container-portfolio .x-entry-share{margin:15px 0 -10px !important;border-color:#f0f0f0;padding:5px 0}.x-iso-container-portfolio .x-entry-share p{display:none}.x-portfolio .entry-info{float:left;width:64%}.x-portfolio .entry-extra{float:right;width:28%;font-size:114.2%}@media (max-width:767px){.x-portfolio .entry-extra{margin-top:1.663em}}.x-portfolio .entry-extra .x-ul-icons{margin-bottom:1.5em}.x-portfolio .entry-extra .x-btn{margin-bottom:2.5em}@media (max-width:767px){.x-portfolio .entry-info,.x-portfolio .entry-extra{float:none;width:100%}}.x-portfolio .h-extra{margin-top:.5em;font-size:150%}.x-portfolio .h-extra.skills{margin:0 0 .3em}.x-portfolio .h-extra.launch{margin:0 0 .4em}h1.entry-title.entry-title-portfolio{margin:0;font-size:285.7%;line-height:1.05}@media (max-width:480px){h1.entry-title.entry-title-portfolio{font-size:32px}}h2.entry-title.entry-title-portfolio{margin:0;padding:0 7%;font-size:150%;font-weight:400;line-height:1.05;text-align:center}[class*=page-template-template-blank] .entry-content{margin-top:0}.page-template-template-blank-3-php.x-navbar-fixed-left-active,.page-template-template-blank-3-php.x-navbar-fixed-right-active,.page-template-template-blank-6-php.x-navbar-fixed-left-active,.page-template-template-blank-6-php.x-navbar-fixed-right-active,.page-template-template-blank-7-php.x-navbar-fixed-left-active,.page-template-template-blank-7-php.x-navbar-fixed-right-active,.page-template-template-blank-8-php.x-navbar-fixed-left-active,.page-template-template-blank-8-php.x-navbar-fixed-right-active{padding:0}[class*=page-template-template-blank] .x-main,.page-template-template-layout-full-width-php .x-main{float:none;display:block;width:auto}.error404 .entry-404 p{max-width:750px;margin:0 auto 1.313em;font-size:1.5em}@media (max-width:767px){.error404 .entry-404 p{font-size:1.25em}}@media (max-width:480px){.error404 .entry-404 p{font-size:1em}}.error404 .entry-404 .form-search{max-width:500px;margin:0 auto}.x-header-landmark{margin:34px auto 0;text-align:center}.h-landmark{overflow:hidden;margin:0;padding-bottom:8px;letter-spacing:-3px;line-height:1}@media (max-width:767px){.h-landmark{font-size:48px}}@media (max-width:480px){.h-landmark{font-size:42px}}.h-landmark span{display:inline-block;position:relative}.h-landmark span:before,.h-landmark span:after{content:"";position:absolute;top:50%;height:1px;width:275%;display:block;background-color:#e1e1e1;background-color:rgba(0,0,0,.1);box-shadow:0 1px 0 0 rgba(255,255,255,.795)}.h-landmark span:before{right:100%;margin-right:.5em}.h-landmark span:after{left:100%;margin-left:.5em}.p-landmark-sub{margin:5px 0 0;padding:0 5%;font-size:24px;font-family:"Lato","Helvetica Neue",Helvetica,Arial,sans-serif;letter-spacing:-1px;line-height:1.3}@media (max-width:480px){.p-landmark-sub{font-size:18px}}.p-landmark-sub strong{color:#272727}.x-comments-area{margin:4em 0 0}.h-comments-title{margin:0 0 .5em;font-size:285.7%;line-height:1.05}.h-comments-title span{position:relative}.h-comments-title small{position:absolute;top:-4px;right:-40px;display:inline-block;width:35px;height:35px;font-size:16px;font-weight:300;letter-spacing:0;line-height:34px;text-align:center;text-shadow:0 1px 1px rgba(0,0,0,.6);color:#fff;background-color:#ff2a13;border-radius:100em;box-shadow:inset 0 2px 3px rgba(0,0,0,.3),0 2px 1px #fff}.x-comments-list{margin:0;list-style:none}.x-comments-list .children{margin:0 0 0 89px;list-style:none}@media (max-width:979px){.x-comments-list .children{margin-left:0}}li.comment{margin:0;padding:0}article.comment{position:relative;margin:0 0 30px 89px;padding:30px;background-color:#fff;border-radius:4px;box-shadow:0 .15em .35em 0 rgba(0,0,0,.135)}@media (max-width:480px){article.comment{padding:7%}}.x-boxed-layout-active article.comment{border:1px solid #ddd}.x-comment-header{margin-bottom:1.313em}.x-comment-content{position:relative}.x-comment-author{font-family:"Lato","Helvetica Neue",Helvetica,Arial,sans-serif;letter-spacing:-1px;line-height:1;color:#272727;font-size:171.4%}.x-comment-author a{color:#272727}.x-comment-author a:hover{color:#ff2a13}.x-comment-time{display:inline-block;position:relative;margin-top:2px;font-family:"Lato","Helvetica Neue",Helvetica,Arial,sans-serif;font-size:85.7%;font-weight:400;line-height:1.3;text-transform:uppercase;color:#7a7a7a}.x-comment-time:hover{color:#ff2a13}.x-comment-awaiting-moderation{padding:.5em .5em .75em;line-height:1.2;text-align:center;color:#ff2a13;background-color:#f5f5f5;border-radius:3px;box-shadow:inset 0 2px 3px rgba(0,0,0,.1)}.comment-edit-link{display:block;position:absolute;right:10px;top:10px;font-size:10px;font-weight:700;line-height:1;text-transform:uppercase;white-space:nowrap}.comment-reply-link{position:relative;font-size:128.5%;font-weight:700;line-height:1.4}.comment-reply-link-after{position:relative;bottom:1px;font-size:.722em;line-height:1}.x-comment-img{float:left}.x-comment-img .avatar-wrap{display:block;position:relative}.x-comment-img .avatar-wrap:before{content:"";display:block;position:absolute;width:100%;height:100%;border-radius:4px;box-shadow:inset 0 1px 3px rgba(0,0,0,.45),0 1px 0 0 rgba(255,255,255,.85)}.x-comment-img .avatar-wrap .avatar{width:60px;border-radius:4px}.x-comment-img .bypostauthor{display:block;bottom:0;width:100%;clear:left;margin-top:3px;padding:3px 0 4px;font-size:13px;line-height:1.2;text-align:center;text-transform:lowercase;text-shadow:0 1px 0 #fff;color:#999}#respond .required{font-weight:300;color:#ff2a13}#reply-title{margin:1em 0 0;font-size:285.7%;line-height:1.05}#reply-title small{margin:.55em 0 .3em;display:block;font-size:40%;text-transform:uppercase}#reply-title small a{color:#ff2a13}#reply-title small a:hover,#reply-title small a:focus{color:#c61300}#commentform{margin-bottom:0}.comment-notes{margin-bottom:1em;font-size:114.2%}.logged-in-as{margin-bottom:1em;font-size:114.2%}.comment-form-author,.comment-form-email,.comment-form-url,.comment-form-rating,.comment-form-comment{margin:0}.comment-form-author label,.comment-form-email label,.comment-form-url label,.comment-form-rating label,.comment-form-comment label{font-family:"Lato","Helvetica Neue",Helvetica,Arial,sans-serif;font-size:171.4%;color:#272727}.comment-form-author label .required,.comment-form-email label .required,.comment-form-url label .required,.comment-form-rating label .required,.comment-form-comment label .required{position:relative;right:.175em}.comment-form-author input,.comment-form-email input,.comment-form-url input{width:100%;margin-bottom:.85em;font-size:18px}.comment-form-comment textarea{width:100%;resize:none;margin-bottom:.85em;padding-top:11px;padding-bottom:11px;font-size:18px}.comment-form-cookies-consent{display:flex;flex-flow:row nowrap;justify-content:flex-start;align-items:baseline}.comment-form-cookies-consent input{margin:0}.comment-form-cookies-consent label{margin:0 0 0 .65em;line-height:inherit;cursor:pointer}.form-submit{margin:0}.widget{text-shadow:0 1px 0 rgba(255,255,255,.95)}.widget .h-widget:before,.widget .h-widget:after{opacity:.35}.widget a:before,.widget a:after{line-height:1;text-decoration:inherit;opacity:.35;font-family:"FontAwesome" !important;font-style:normal !important;font-weight:400 !important;text-decoration:inherit;text-rendering:auto;-webkit-font-smoothing:antialiased;-moz-osx-font-smoothing:grayscale}.widget p:last-child,.widget ul:last-child,.widget ol:last-child{margin-bottom:0}.widget ul,.widget ol{overflow:hidden;margin-left:0;border:1px solid #ddd;border:1px solid rgba(0,0,0,.1);list-style:none;border-radius:6px;background-color:rgba(0,0,0,0);box-shadow:0 1px 1px rgba(255,255,255,.95)}.widget ul li,.widget ol li{border-bottom:1px solid #ddd;border-bottom:1px solid rgba(0,0,0,.1);padding:.65em .85em;line-height:1.5;box-shadow:0 1px 1px rgba(255,255,255,.95);-webkit-transition:background-color .3s ease;transition:background-color .3s ease}.widget ul li:hover,.widget ol li:hover{background-color:#fff}.widget ul li a,.widget ol li a{border-bottom:1px dotted;color:#7a7a7a}.widget ul li a:hover,.widget ol li a:hover{color:#ff2a13}.widget ul li:last-child,.widget ol li:last-child{border-bottom:0}.widget select{width:100%}#lang_sel ul{overflow:visible;border:0;box-shadow:none}#lang_sel li{box-shadow:none}.h-widget{margin:0 0 .5em;font-size:150%;line-height:1}.widget_calendar #wp-calendar{font-size:87.5%;background-color:transparent}.widget_calendar #wp-calendar caption{font-family:"Lato","Helvetica Neue",Helvetica,Arial,sans-serif;font-size:128.5%;font-weight:400;letter-spacing:-1px;text-transform:uppercase}.widget_calendar #wp-calendar th,.widget_calendar #wp-calendar td{line-height:1;text-align:center}.widget_calendar #wp-calendar th{border-bottom:2px solid #272727;padding:3% 0;font-family:"Lato","Helvetica Neue",Helvetica,Arial,sans-serif;font-weight:700;color:#272727}.widget_calendar #wp-calendar td{padding:4.75% 0}.widget_calendar #wp-calendar tbody td{border:1px solid #e6e6e6;background-color:#fff;box-shadow:inset 0 1px 2px rgba(0,0,0,.045)}.widget_calendar #wp-calendar tbody td.pad{background-color:transparent;box-shadow:none}.widget_calendar #wp-calendar tbody td.pad:first-child{border-left:0}.widget_calendar #wp-calendar tbody td.pad:last-child{border-right:0}.widget_calendar #wp-calendar #prev,.widget_calendar #wp-calendar #next{padding:4.5% 0;font-size:87.5%;font-family:"Lato","Helvetica Neue",Helvetica,Arial,sans-serif;font-weight:300;line-height:1;text-shadow:none;text-transform:uppercase}.widget.widget_categories li ul,.widget.widget_product_categories li ul{margin:.65em -.85em -.65em;border-left:0;border-right:0;border-bottom:0;border-radius:0;background-color:transparent;box-shadow:inset 0 1px 1px rgba(255,255,255,.95)}.widget.widget_categories li ul li,.widget.widget_product_categories li ul li{box-shadow:0 1px 1px rgba(255,255,255,.95)}.widget.widget_categories li li a,.widget.widget_product_categories li li a{margin-left:1.25em}.widget.widget_categories li li li a,.widget.widget_product_categories li li li a{margin-left:2.5em}.widget_categories select,.widget_product_categories select{margin-bottom:0}.widget_nav_menu .menu>li:last-child{margin-bottom:-1px}.widget_nav_menu .current-menu-item>a{background-color:#fff}.widget.widget_meta ul{border-bottom:0}.widget.widget_meta li abbr[title]{border-bottom:0}.widget.widget_pages ul{border-bottom:0}.widget.widget_recent_comments li{padding:1.4em 1.4em 1.5em;font-size:81.25%;line-height:1.3}.widget_recent_comments li>a:last-child{display:block;margin-top:.5em;border-bottom:0;font-family:"Lato","Helvetica Neue",Helvetica,Arial,sans-serif;font-size:135.7%;font-weight:400;line-height:1.2}.widget_recent_comments .url{border-bottom:0}.widget_recent_comments .url:before{content:"\f35d";padding-right:.4em}.widget.widget_recent_entries li{padding:1.4em;font-size:81.25%}.widget.widget_recent_entries li a{display:block;border-bottom:0 !important;font-family:"Lato","Helvetica Neue",Helvetica,Arial,sans-serif;font-size:135.7%;font-weight:400;line-height:1.2}.widget.widget_recent_entries li .post-date{display:block;margin-top:.5em;text-transform:uppercase;opacity:.575}.widget_rss .rsswidget img{display:none}.widget.widget_rss li{padding:1.4em;font-size:81.25%}.widget.widget_rss li .rsswidget{display:block;border-bottom:0 !important;font-family:"Lato","Helvetica Neue",Helvetica,Arial,sans-serif;font-size:135.7%;font-weight:400;line-height:1.2}.widget.widget_rss li .rsswidget:before{content:"\f35d";padding-right:.4em}.widget_rss .rss-date{display:block;margin-top:.5em;text-transform:uppercase;opacity:.575}.widget_rss .rssSummary{margin:.75em 0;font-size:84.6%}.widget_rss cite{display:block;text-transform:uppercase;opacity:.575}.widget_rss cite:before{content:"By: "}.widget_tag_cloud,.widget_product_tag_cloud{text-shadow:none}.widget_tag_cloud .tagcloud,.widget_product_tag_cloud .tagcloud{margin-bottom:-.615em}.widget_tag_cloud .tagcloud:before,.widget_tag_cloud .tagcloud:after,.widget_product_tag_cloud .tagcloud:before,.widget_product_tag_cloud .tagcloud:after{content:" ";display:table;width:0}.widget_tag_cloud .tagcloud:after,.widget_product_tag_cloud .tagcloud:after{clear:both}.widget_tag_cloud .tagcloud a,.widget_product_tag_cloud .tagcloud a{display:inline-block;float:left;position:relative;margin:.615em .615em 0 0;border:1px solid #ddd;border:1px solid rgba(0,0,0,.125);padding:.692em 1.154em .769em;cursor:pointer;font-size:13px;line-height:1.3;text-align:center;text-transform:uppercase;vertical-align:middle;color:#c5c5c5;color:rgba(0,0,0,.375);background-color:transparent;border-radius:.35em;box-shadow:inset 0 0 0 rgba(0,0,0,0),0 1px 1px rgba(255,255,255,.95);-webkit-transition:color .3s ease,border-color .3s ease,background-color .3s ease,box-shadow .3s ease;transition:color .3s ease,border-color .3s ease,background-color .3s ease,box-shadow .3s ease}@media (max-width:767px){.widget_tag_cloud .tagcloud a,.widget_product_tag_cloud .tagcloud a{font-size:11px}}@media (max-width:480px){.widget_tag_cloud .tagcloud a,.widget_product_tag_cloud .tagcloud a{font-size:10px}}.widget_tag_cloud .tagcloud a:hover,.widget_product_tag_cloud .tagcloud a:hover{color:#777;color:rgba(0,0,0,.75);border-color:#cfcfcf;border-color:rgba(0,0,0,.25);background-color:#fff;background-color:#fff}.widget_tag_cloud .tagcloud a:active,.widget_product_tag_cloud .tagcloud a:active{color:#777;color:rgba(0,0,0,.75);border-color:#bbb;border-color:rgba(0,0,0,.25);background-color:#ebebeb;background-color:rgba(0,0,0,.075);box-shadow:inset 0 1px 2px rgba(0,0,0,.225),0 1px 1px rgba(255,255,255,.95)}.widget_text ol,.widget_text ul{overflow:visible;margin:0 0 1.313em 1.655em;border:0;list-style:disc;background-color:transparent;border-radius:0;box-shadow:none}.widget_text ol li,.widget_text ul li{border:0;padding:0;background-color:transparent;box-shadow:none}.widget_text ol li:hover,.widget_text ul li:hover{background-color:transparent}.widget_text ol li a,.widget_text ul li a{border-bottom:0}.widget_text ol.x-ul-icons,.widget_text ul.x-ul-icons{list-style:none}.widget_nav_menu ul li,.widget_meta ul li,.widget_pages ul li{border:0;padding:0;box-shadow:none}.widget_nav_menu ul li:hover,.widget_meta ul li:hover,.widget_pages ul li:hover{background-color:transparent}.widget_nav_menu ul li a,.widget_meta ul li a,.widget_pages ul li a{display:block;border-bottom:1px solid #ddd;border-bottom:1px solid rgba(0,0,0,.1);padding:.65em .85em;box-shadow:0 1px 1px rgba(255,255,255,.95)}.widget_nav_menu ul li a:before,.widget_meta ul li a:before,.widget_pages ul li a:before{content:"\f0da";padding-right:.4em}.widget_nav_menu ul li a:hover,.widget_meta ul li a:hover,.widget_pages ul li a:hover{background-color:#fff}.widget_nav_menu ul li ul,.widget_nav_menu ul li .sub-menu,.widget_meta ul li ul,.widget_meta ul li .sub-menu,.widget_pages ul li ul,.widget_pages ul li .sub-menu{border:0;background-color:transparent;border-radius:0;box-shadow:0 1px 1px rgba(255,255,255,.95)}.widget_nav_menu ul li ul li a,.widget_nav_menu ul li .sub-menu li a,.widget_meta ul li ul li a,.widget_meta ul li .sub-menu li a,.widget_pages ul li ul li a,.widget_pages ul li .sub-menu li a{padding-left:2.55em}.widget_nav_menu ul li ul li:first-child a,.widget_nav_menu ul li .sub-menu li:first-child a,.widget_meta ul li ul li:first-child a,.widget_meta ul li .sub-menu li:first-child a,.widget_pages ul li ul li:first-child a,.widget_pages ul li .sub-menu li:first-child a{border-radius:0}.widget_nav_menu ul li ul ul li a,.widget_nav_menu ul li .sub-menu ul li a,.widget_meta ul li ul ul li a,.widget_meta ul li .sub-menu ul li a,.widget_pages ul li ul ul li a,.widget_pages ul li .sub-menu ul li a{padding-left:4.25em}.sticky{margin:0}.alignright{float:right;margin:.35em 0 .35em 1.313em}.alignleft{float:left;margin:.35em 1.313em .35em 0}.alignnone{float:none;margin:0 0 1.313em}.aligncenter{display:block;margin:0 auto 1.313em}.wp-caption,.gallery-item{max-width:100%;border:1px solid #ddd;border:1px solid rgba(0,0,0,.15);padding:5px;text-align:center;background-color:#fff;border-radius:3px;box-shadow:0 .125em .275em 0 rgba(0,0,0,.075)}.wp-caption img,.gallery-item img{border-radius:2px}.wp-caption>.gallery-caption,.wp-caption>.wp-caption-text,.wp-caption>.wp-caption-text:last-child,.gallery-item>.gallery-caption,.gallery-item>.wp-caption-text,.gallery-item>.wp-caption-text:last-child{display:block;margin:9px 0 5px;padding:0 5%;font-size:10px;line-height:1.2;text-transform:uppercase}.gallery{clear:both;margin:-4% 0 1.313em}.gallery:before,.gallery:after{content:" ";display:table;width:0}.gallery:after{clear:both}.gallery .gallery-item{float:left;margin:4% 4% 0 0}.gallery-columns-0 .gallery-item,.gallery-columns-1 .gallery-item{width:100%}.gallery-columns-2 .gallery-item{width:48%}.gallery-columns-2 .gallery-item:nth-child(2n){margin-right:0}.gallery-columns-3 .gallery-item{width:30.6666%}.gallery-columns-3 .gallery-item:nth-child(3n){margin-right:0}.gallery-columns-4 .gallery-item{width:22%}.gallery-columns-4 .gallery-item:nth-child(4n){margin-right:0}@media (max-width:979px){.gallery-columns-4 .gallery-item{width:48%}.gallery-columns-4 .gallery-item:nth-child(2n){margin-right:0}}@media (max-width:767px){.gallery-columns-0 .gallery-item,.gallery-columns-1 .gallery-item,.gallery-columns-2 .gallery-item,.gallery-columns-3 .gallery-item,.gallery-columns-4 .gallery-item{width:100%;float:none;margin-right:0}}.alignwide,.alignfull{width:auto;max-width:none}.alignwide img,.alignfull img{display:block;margin:0 auto}.alignwide{margin-left:-30px;margin-right:-30px}@media (max-width:767px){.alignwide{margin-left:-18px;margin-right:-18px}}@media (max-width:480px){.alignwide{margin-left:-10px;margin-right:-10px}}.alignfull{margin-left:-60px;margin-right:-60px}@media (max-width:767px){.alignfull{margin-left:-36px;margin-right:-36px}}@media (max-width:480px){.alignfull{margin-left:-25px;margin-right:-25px}}.page-template-template-blank-4-php .alignwide,.page-template-template-blank-4-php .alignfull,.page-template-template-blank-5-php .alignwide,.page-template-template-blank-5-php .alignfull,.page-template-template-blank-6-php .alignwide,.page-template-template-blank-6-php .alignfull,.page-template-template-blank-8-php .alignwide,.page-template-template-blank-8-php .alignfull{margin-left:0;margin-right:0}.x-resp-embed,.is-type-video{position:relative;padding-bottom:56.25%;height:0;overflow:hidden}.wp-embed-aspect-5-3 .x-resp-embed{padding-bottom:60%}.wp-embed-aspect-4-4 .x-resp-embed{padding-bottom:80%}.wp-embed-aspect-4-3 .x-resp-embed{padding-bottom:75%}.wp-embed-aspect-3-2 .x-resp-embed{padding-bottom:66.67%}.x-resp-embed iframe,.is-type-video iframe{display:block !important;position:absolute !important;top:0 !important;left:0 !important;width:100%;height:100%;margin:0 !important}@media print{*{background:0 0 !important;color:#000 !important;box-shadow:none !important;text-shadow:none !important}a,a:visited{text-decoration:underline}a[href]:after{content:" (" attr(href) ")"}abbr[title]:after{content:" (" attr(title) ")"}.ir a:after,a[href^="javascript:"]:after,a[href^="#"]:after{content:""}pre,blockquote{border:1px solid #999;page-break-inside:avoid}thead{display:table-header-group}tr,img{page-break-inside:avoid}img{max-width:100% !important}@page{margin:.5cm}p,h2,h3{orphans:3;widows:3}h2,h3{page-break-after:avoid}.x-root{display:initial}}.animated{-webkit-animation-duration:1s;animation-duration:1s;-webkit-animation-fill-mode:both;animation-fill-mode:both}.animated.infinite{-webkit-animation-iteration-count:infinite;animation-iteration-count:infinite}.animated.hinge{-webkit-animation-duration:2s;animation-duration:2s}.animated.bounceIn,.animated.bounceOut{-webkit-animation-duration:.75s;animation-duration:.75s}.animated.flipOutX,.animated.flipOutY{-webkit-animation-duration:.75s;animation-duration:.75s}.x-anim-hide,.animated-hide{opacity:0}@-webkit-keyframes jello{11.1%{-webkit-transform:none;transform:none}22.2%{-webkit-transform:skewX(-12.5deg) skewY(-12.5deg);transform:skewX(-12.5deg) skewY(-12.5deg)}33.3%{-webkit-transform:skewX(6.25deg) skewY(6.25deg);transform:skewX(6.25deg) skewY(6.25deg)}44.4%{-webkit-transform:skewX(-3.125deg) skewY(-3.125deg);transform:skewX(-3.125deg) skewY(-3.125deg)}55.5%{-webkit-transform:skewX(1.5625deg) skewY(1.5625deg);transform:skewX(1.5625deg) skewY(1.5625deg)}66.6%{-webkit-transform:skewX(-.78125deg) skewY(-.78125deg);transform:skewX(-.78125deg) skewY(-.78125deg)}77.7%{-webkit-transform:skewX(.39062deg) skewY(.39062deg);transform:skewX(.39062deg) skewY(.39062deg)}88.8%{-webkit-transform:skewX(-.19531deg) skewY(-.19531deg);transform:skewX(-.19531deg) skewY(-.19531deg)}100%{-webkit-transform:none;transform:none}}@keyframes jello{11.1%{-webkit-transform:none;transform:none}22.2%{-webkit-transform:skewX(-12.5deg) skewY(-12.5deg);transform:skewX(-12.5deg) skewY(-12.5deg)}33.3%{-webkit-transform:skewX(6.25deg) skewY(6.25deg);transform:skewX(6.25deg) skewY(6.25deg)}44.4%{-webkit-transform:skewX(-3.125deg) skewY(-3.125deg);transform:skewX(-3.125deg) skewY(-3.125deg)}55.5%{-webkit-transform:skewX(1.5625deg) skewY(1.5625deg);transform:skewX(1.5625deg) skewY(1.5625deg)}66.6%{-webkit-transform:skewX(-.78125deg) skewY(-.78125deg);transform:skewX(-.78125deg) skewY(-.78125deg)}77.7%{-webkit-transform:skewX(.39062deg) skewY(.39062deg);transform:skewX(.39062deg) skewY(.39062deg)}88.8%{-webkit-transform:skewX(-.19531deg) skewY(-.19531deg);transform:skewX(-.19531deg) skewY(-.19531deg)}100%{-webkit-transform:none;transform:none}}.jello{-webkit-animation-name:jello;animation-name:jello;-webkit-transform-origin:center;transform-origin:center}@-webkit-keyframes pulse{0%{-webkit-transform:scale3d(1,1,1);transform:scale3d(1,1,1)}50%{-webkit-transform:scale3d(1.05,1.05,1.05);transform:scale3d(1.05,1.05,1.05)}100%{-webkit-transform:scale3d(1,1,1);transform:scale3d(1,1,1)}}@keyframes pulse{0%{-webkit-transform:scale3d(1,1,1);transform:scale3d(1,1,1)}50%{-webkit-transform:scale3d(1.05,1.05,1.05);transform:scale3d(1.05,1.05,1.05)}100%{-webkit-transform:scale3d(1,1,1);transform:scale3d(1,1,1)}}.pulse{-webkit-animation-name:pulse;animation-name:pulse}@-webkit-keyframes rubberBand{0%{-webkit-transform:scale3d(1,1,1);transform:scale3d(1,1,1)}30%{-webkit-transform:scale3d(1.25,.75,1);transform:scale3d(1.25,.75,1)}40%{-webkit-transform:scale3d(.75,1.25,1);transform:scale3d(.75,1.25,1)}50%{-webkit-transform:scale3d(1.15,.85,1);transform:scale3d(1.15,.85,1)}65%{-webkit-transform:scale3d(.95,1.05,1);transform:scale3d(.95,1.05,1)}75%{-webkit-transform:scale3d(1.05,.95,1);transform:scale3d(1.05,.95,1)}100%{-webkit-transform:scale3d(1,1,1);transform:scale3d(1,1,1)}}@keyframes rubberBand{0%{-webkit-transform:scale3d(1,1,1);transform:scale3d(1,1,1)}30%{-webkit-transform:scale3d(1.25,.75,1);transform:scale3d(1.25,.75,1)}40%{-webkit-transform:scale3d(.75,1.25,1);transform:scale3d(.75,1.25,1)}50%{-webkit-transform:scale3d(1.15,.85,1);transform:scale3d(1.15,.85,1)}65%{-webkit-transform:scale3d(.95,1.05,1);transform:scale3d(.95,1.05,1)}75%{-webkit-transform:scale3d(1.05,.95,1);transform:scale3d(1.05,.95,1)}100%{-webkit-transform:scale3d(1,1,1);transform:scale3d(1,1,1)}}.rubberBand{-webkit-animation-name:rubberBand;animation-name:rubberBand}@-webkit-keyframes swing{20%{-webkit-transform:rotate3d(0,0,1,15deg);transform:rotate3d(0,0,1,15deg)}40%{-webkit-transform:rotate3d(0,0,1,-10deg);transform:rotate3d(0,0,1,-10deg)}60%{-webkit-transform:rotate3d(0,0,1,5deg);transform:rotate3d(0,0,1,5deg)}80%{-webkit-transform:rotate3d(0,0,1,-5deg);transform:rotate3d(0,0,1,-5deg)}100%{-webkit-transform:rotate3d(0,0,1,0deg);transform:rotate3d(0,0,1,0deg)}}@keyframes swing{20%{-webkit-transform:rotate3d(0,0,1,15deg);transform:rotate3d(0,0,1,15deg)}40%{-webkit-transform:rotate3d(0,0,1,-10deg);transform:rotate3d(0,0,1,-10deg)}60%{-webkit-transform:rotate3d(0,0,1,5deg);transform:rotate3d(0,0,1,5deg)}80%{-webkit-transform:rotate3d(0,0,1,-5deg);transform:rotate3d(0,0,1,-5deg)}100%{-webkit-transform:rotate3d(0,0,1,0deg);transform:rotate3d(0,0,1,0deg)}}.swing{-webkit-transform-origin:top center;transform-origin:top center;-webkit-animation-name:swing;animation-name:swing}@-webkit-keyframes tada{0%{-webkit-transform:scale3d(1,1,1);transform:scale3d(1,1,1)}10%,20%{-webkit-transform:scale3d(.9,.9,.9) rotate3d(0,0,1,-3deg);transform:scale3d(.9,.9,.9) rotate3d(0,0,1,-3deg)}30%,50%,70%,90%{-webkit-transform:scale3d(1.1,1.1,1.1) rotate3d(0,0,1,3deg);transform:scale3d(1.1,1.1,1.1) rotate3d(0,0,1,3deg)}40%,60%,80%{-webkit-transform:scale3d(1.1,1.1,1.1) rotate3d(0,0,1,-3deg);transform:scale3d(1.1,1.1,1.1) rotate3d(0,0,1,-3deg)}100%{-webkit-transform:scale3d(1,1,1);transform:scale3d(1,1,1)}}@keyframes tada{0%{-webkit-transform:scale3d(1,1,1);transform:scale3d(1,1,1)}10%,20%{-webkit-transform:scale3d(.9,.9,.9) rotate3d(0,0,1,-3deg);transform:scale3d(.9,.9,.9) rotate3d(0,0,1,-3deg)}30%,50%,70%,90%{-webkit-transform:scale3d(1.1,1.1,1.1) rotate3d(0,0,1,3deg);transform:scale3d(1.1,1.1,1.1) rotate3d(0,0,1,3deg)}40%,60%,80%{-webkit-transform:scale3d(1.1,1.1,1.1) rotate3d(0,0,1,-3deg);transform:scale3d(1.1,1.1,1.1) rotate3d(0,0,1,-3deg)}100%{-webkit-transform:scale3d(1,1,1);transform:scale3d(1,1,1)}}.tada{-webkit-animation-name:tada;animation-name:tada}@-webkit-keyframes wobble{0%{-webkit-transform:none;transform:none}15%{-webkit-transform:translate3d(-25%,0,0) rotate3d(0,0,1,-5deg);transform:translate3d(-25%,0,0) rotate3d(0,0,1,-5deg)}30%{-webkit-transform:translate3d(20%,0,0) rotate3d(0,0,1,3deg);transform:translate3d(20%,0,0) rotate3d(0,0,1,3deg)}45%{-webkit-transform:translate3d(-15%,0,0) rotate3d(0,0,1,-3deg);transform:translate3d(-15%,0,0) rotate3d(0,0,1,-3deg)}60%{-webkit-transform:translate3d(10%,0,0) rotate3d(0,0,1,2deg);transform:translate3d(10%,0,0) rotate3d(0,0,1,2deg)}75%{-webkit-transform:translate3d(-5%,0,0) rotate3d(0,0,1,-1deg);transform:translate3d(-5%,0,0) rotate3d(0,0,1,-1deg)}100%{-webkit-transform:none;transform:none}}@keyframes wobble{0%{-webkit-transform:none;transform:none}15%{-webkit-transform:translate3d(-25%,0,0) rotate3d(0,0,1,-5deg);transform:translate3d(-25%,0,0) rotate3d(0,0,1,-5deg)}30%{-webkit-transform:translate3d(20%,0,0) rotate3d(0,0,1,3deg);transform:translate3d(20%,0,0) rotate3d(0,0,1,3deg)}45%{-webkit-transform:translate3d(-15%,0,0) rotate3d(0,0,1,-3deg);transform:translate3d(-15%,0,0) rotate3d(0,0,1,-3deg)}60%{-webkit-transform:translate3d(10%,0,0) rotate3d(0,0,1,2deg);transform:translate3d(10%,0,0) rotate3d(0,0,1,2deg)}75%{-webkit-transform:translate3d(-5%,0,0) rotate3d(0,0,1,-1deg);transform:translate3d(-5%,0,0) rotate3d(0,0,1,-1deg)}100%{-webkit-transform:none;transform:none}}.wobble{-webkit-animation-name:wobble;animation-name:wobble}@-webkit-keyframes bounceIn{0%,20%,40%,60%,80%,100%{-webkit-animation-timing-function:cubic-bezier(.215,.61,.355,1);animation-timing-function:cubic-bezier(.215,.61,.355,1)}0%{opacity:0;-webkit-transform:scale3d(.3,.3,.3);transform:scale3d(.3,.3,.3)}20%{-webkit-transform:scale3d(1.1,1.1,1.1);transform:scale3d(1.1,1.1,1.1)}40%{-webkit-transform:scale3d(.9,.9,.9);transform:scale3d(.9,.9,.9)}60%{opacity:1;-webkit-transform:scale3d(1.03,1.03,1.03);transform:scale3d(1.03,1.03,1.03)}80%{-webkit-transform:scale3d(.97,.97,.97);transform:scale3d(.97,.97,.97)}100%{opacity:1;-webkit-transform:scale3d(1,1,1);transform:scale3d(1,1,1)}}@keyframes bounceIn{0%,20%,40%,60%,80%,100%{-webkit-animation-timing-function:cubic-bezier(.215,.61,.355,1);animation-timing-function:cubic-bezier(.215,.61,.355,1)}0%{opacity:0;-webkit-transform:scale3d(.3,.3,.3);transform:scale3d(.3,.3,.3)}20%{-webkit-transform:scale3d(1.1,1.1,1.1);transform:scale3d(1.1,1.1,1.1)}40%{-webkit-transform:scale3d(.9,.9,.9);transform:scale3d(.9,.9,.9)}60%{opacity:1;-webkit-transform:scale3d(1.03,1.03,1.03);transform:scale3d(1.03,1.03,1.03)}80%{-webkit-transform:scale3d(.97,.97,.97);transform:scale3d(.97,.97,.97)}100%{opacity:1;-webkit-transform:scale3d(1,1,1);transform:scale3d(1,1,1)}}.bounceIn{-webkit-animation-name:bounceIn;animation-name:bounceIn}@-webkit-keyframes bounceInDown{0%,60%,75%,90%,100%{-webkit-animation-timing-function:cubic-bezier(.215,.61,.355,1);animation-timing-function:cubic-bezier(.215,.61,.355,1)}0%{opacity:0;-webkit-transform:translate3d(0,-3000px,0);transform:translate3d(0,-3000px,0)}60%{opacity:1;-webkit-transform:translate3d(0,25px,0);transform:translate3d(0,25px,0)}75%{-webkit-transform:translate3d(0,-10px,0);transform:translate3d(0,-10px,0)}90%{-webkit-transform:translate3d(0,5px,0);transform:translate3d(0,5px,0)}100%{-webkit-transform:none;transform:none}}@keyframes bounceInDown{0%,60%,75%,90%,100%{-webkit-animation-timing-function:cubic-bezier(.215,.61,.355,1);animation-timing-function:cubic-bezier(.215,.61,.355,1)}0%{opacity:0;-webkit-transform:translate3d(0,-3000px,0);transform:translate3d(0,-3000px,0)}60%{opacity:1;-webkit-transform:translate3d(0,25px,0);transform:translate3d(0,25px,0)}75%{-webkit-transform:translate3d(0,-10px,0);transform:translate3d(0,-10px,0)}90%{-webkit-transform:translate3d(0,5px,0);transform:translate3d(0,5px,0)}100%{-webkit-transform:none;transform:none}}.bounceInDown{-webkit-animation-name:bounceInDown;animation-name:bounceInDown}@-webkit-keyframes bounceInLeft{0%,60%,75%,90%,100%{-webkit-animation-timing-function:cubic-bezier(.215,.61,.355,1);animation-timing-function:cubic-bezier(.215,.61,.355,1)}0%{opacity:0;-webkit-transform:translate3d(-3000px,0,0);transform:translate3d(-3000px,0,0)}60%{opacity:1;-webkit-transform:translate3d(25px,0,0);transform:translate3d(25px,0,0)}75%{-webkit-transform:translate3d(-10px,0,0);transform:translate3d(-10px,0,0)}90%{-webkit-transform:translate3d(5px,0,0);transform:translate3d(5px,0,0)}100%{-webkit-transform:none;transform:none}}@keyframes bounceInLeft{0%,60%,75%,90%,100%{-webkit-animation-timing-function:cubic-bezier(.215,.61,.355,1);animation-timing-function:cubic-bezier(.215,.61,.355,1)}0%{opacity:0;-webkit-transform:translate3d(-3000px,0,0);transform:translate3d(-3000px,0,0)}60%{opacity:1;-webkit-transform:translate3d(25px,0,0);transform:translate3d(25px,0,0)}75%{-webkit-transform:translate3d(-10px,0,0);transform:translate3d(-10px,0,0)}90%{-webkit-transform:translate3d(5px,0,0);transform:translate3d(5px,0,0)}100%{-webkit-transform:none;transform:none}}.bounceInLeft{-webkit-animation-name:bounceInLeft;animation-name:bounceInLeft}@-webkit-keyframes bounceInRight{0%,60%,75%,90%,100%{-webkit-animation-timing-function:cubic-bezier(.215,.61,.355,1);animation-timing-function:cubic-bezier(.215,.61,.355,1)}0%{opacity:0;-webkit-transform:translate3d(3000px,0,0);transform:translate3d(3000px,0,0)}60%{opacity:1;-webkit-transform:translate3d(-25px,0,0);transform:translate3d(-25px,0,0)}75%{-webkit-transform:translate3d(10px,0,0);transform:translate3d(10px,0,0)}90%{-webkit-transform:translate3d(-5px,0,0);transform:translate3d(-5px,0,0)}100%{-webkit-transform:none;transform:none}}@keyframes bounceInRight{0%,60%,75%,90%,100%{-webkit-animation-timing-function:cubic-bezier(.215,.61,.355,1);animation-timing-function:cubic-bezier(.215,.61,.355,1)}0%{opacity:0;-webkit-transform:translate3d(3000px,0,0);transform:translate3d(3000px,0,0)}60%{opacity:1;-webkit-transform:translate3d(-25px,0,0);transform:translate3d(-25px,0,0)}75%{-webkit-transform:translate3d(10px,0,0);transform:translate3d(10px,0,0)}90%{-webkit-transform:translate3d(-5px,0,0);transform:translate3d(-5px,0,0)}100%{-webkit-transform:none;transform:none}}.bounceInRight{-webkit-animation-name:bounceInRight;animation-name:bounceInRight}@-webkit-keyframes bounceInUp{0%,60%,75%,90%,100%{-webkit-animation-timing-function:cubic-bezier(.215,.61,.355,1);animation-timing-function:cubic-bezier(.215,.61,.355,1)}0%{opacity:0;-webkit-transform:translate3d(0,3000px,0);transform:translate3d(0,3000px,0)}60%{opacity:1;-webkit-transform:translate3d(0,-20px,0);transform:translate3d(0,-20px,0)}75%{-webkit-transform:translate3d(0,10px,0);transform:translate3d(0,10px,0)}90%{-webkit-transform:translate3d(0,-5px,0);transform:translate3d(0,-5px,0)}100%{-webkit-transform:translate3d(0,0,0);transform:translate3d(0,0,0)}}@keyframes bounceInUp{0%,60%,75%,90%,100%{-webkit-animation-timing-function:cubic-bezier(.215,.61,.355,1);animation-timing-function:cubic-bezier(.215,.61,.355,1)}0%{opacity:0;-webkit-transform:translate3d(0,3000px,0);transform:translate3d(0,3000px,0)}60%{opacity:1;-webkit-transform:translate3d(0,-20px,0);transform:translate3d(0,-20px,0)}75%{-webkit-transform:translate3d(0,10px,0);transform:translate3d(0,10px,0)}90%{-webkit-transform:translate3d(0,-5px,0);transform:translate3d(0,-5px,0)}100%{-webkit-transform:translate3d(0,0,0);transform:translate3d(0,0,0)}}.bounceInUp{-webkit-animation-name:bounceInUp;animation-name:bounceInUp}@-webkit-keyframes fadeIn{0%{opacity:0}100%{opacity:1}}@keyframes fadeIn{0%{opacity:0}100%{opacity:1}}.fadeIn{-webkit-animation-name:fadeIn;animation-name:fadeIn}@-webkit-keyframes fadeInDown{0%{opacity:0;-webkit-transform:translate3d(0,-100%,0);transform:translate3d(0,-100%,0)}100%{opacity:1;-webkit-transform:none;transform:none}}@keyframes fadeInDown{0%{opacity:0;-webkit-transform:translate3d(0,-100%,0);transform:translate3d(0,-100%,0)}100%{opacity:1;-webkit-transform:none;transform:none}}.fadeInDown{-webkit-animation-name:fadeInDown;animation-name:fadeInDown}@-webkit-keyframes fadeInLeft{0%{opacity:0;-webkit-transform:translate3d(-100%,0,0);transform:translate3d(-100%,0,0)}100%{opacity:1;-webkit-transform:none;transform:none}}@keyframes fadeInLeft{0%{opacity:0;-webkit-transform:translate3d(-100%,0,0);transform:translate3d(-100%,0,0)}100%{opacity:1;-webkit-transform:none;transform:none}}.fadeInLeft{-webkit-animation-name:fadeInLeft;animation-name:fadeInLeft}@-webkit-keyframes fadeInRight{0%{opacity:0;-webkit-transform:translate3d(100%,0,0);transform:translate3d(100%,0,0)}100%{opacity:1;-webkit-transform:none;transform:none}}@keyframes fadeInRight{0%{opacity:0;-webkit-transform:translate3d(100%,0,0);transform:translate3d(100%,0,0)}100%{opacity:1;-webkit-transform:none;transform:none}}.fadeInRight{-webkit-animation-name:fadeInRight;animation-name:fadeInRight}@-webkit-keyframes fadeInUp{0%{opacity:0;-webkit-transform:translate3d(0,100%,0);transform:translate3d(0,100%,0)}100%{opacity:1;-webkit-transform:none;transform:none}}@keyframes fadeInUp{0%{opacity:0;-webkit-transform:translate3d(0,100%,0);transform:translate3d(0,100%,0)}100%{opacity:1;-webkit-transform:none;transform:none}}.fadeInUp{-webkit-animation-name:fadeInUp;animation-name:fadeInUp}@-webkit-keyframes flip{0%{-webkit-transform:perspective(400px) rotate3d(0,1,0,-360deg);transform:perspective(400px) rotate3d(0,1,0,-360deg);-webkit-animation-timing-function:ease-out;animation-timing-function:ease-out}40%{-webkit-transform:perspective(400px) translate3d(0,0,150px) rotate3d(0,1,0,-190deg);transform:perspective(400px) translate3d(0,0,150px) rotate3d(0,1,0,-190deg);-webkit-animation-timing-function:ease-out;animation-timing-function:ease-out}50%{-webkit-transform:perspective(400px) translate3d(0,0,150px) rotate3d(0,1,0,-170deg);transform:perspective(400px) translate3d(0,0,150px) rotate3d(0,1,0,-170deg);-webkit-animation-timing-function:ease-in;animation-timing-function:ease-in}80%{-webkit-transform:perspective(400px) scale3d(.95,.95,.95);transform:perspective(400px) scale3d(.95,.95,.95);-webkit-animation-timing-function:ease-in;animation-timing-function:ease-in}100%{-webkit-transform:perspective(400px);transform:perspective(400px);-webkit-animation-timing-function:ease-in;animation-timing-function:ease-in}}@keyframes flip{0%{-webkit-transform:perspective(400px) rotate3d(0,1,0,-360deg);transform:perspective(400px) rotate3d(0,1,0,-360deg);-webkit-animation-timing-function:ease-out;animation-timing-function:ease-out}40%{-webkit-transform:perspective(400px) translate3d(0,0,150px) rotate3d(0,1,0,-190deg);transform:perspective(400px) translate3d(0,0,150px) rotate3d(0,1,0,-190deg);-webkit-animation-timing-function:ease-out;animation-timing-function:ease-out}50%{-webkit-transform:perspective(400px) translate3d(0,0,150px) rotate3d(0,1,0,-170deg);transform:perspective(400px) translate3d(0,0,150px) rotate3d(0,1,0,-170deg);-webkit-animation-timing-function:ease-in;animation-timing-function:ease-in}80%{-webkit-transform:perspective(400px) scale3d(.95,.95,.95);transform:perspective(400px) scale3d(.95,.95,.95);-webkit-animation-timing-function:ease-in;animation-timing-function:ease-in}100%{-webkit-transform:perspective(400px);transform:perspective(400px);-webkit-animation-timing-function:ease-in;animation-timing-function:ease-in}}.animated.flip{-webkit-backface-visibility:visible;backface-visibility:visible;-webkit-animation-name:flip;animation-name:flip}@-webkit-keyframes flipInX{0%{-webkit-transform:perspective(400px) rotate3d(1,0,0,90deg);transform:perspective(400px) rotate3d(1,0,0,90deg);-webkit-animation-timing-function:ease-in;animation-timing-function:ease-in;opacity:0}40%{-webkit-transform:perspective(400px) rotate3d(1,0,0,-20deg);transform:perspective(400px) rotate3d(1,0,0,-20deg);-webkit-animation-timing-function:ease-in;animation-timing-function:ease-in}60%{-webkit-transform:perspective(400px) rotate3d(1,0,0,10deg);transform:perspective(400px) rotate3d(1,0,0,10deg);opacity:1}80%{-webkit-transform:perspective(400px) rotate3d(1,0,0,-5deg);transform:perspective(400px) rotate3d(1,0,0,-5deg)}100%{-webkit-transform:perspective(400px);transform:perspective(400px)}}@keyframes flipInX{0%{-webkit-transform:perspective(400px) rotate3d(1,0,0,90deg);transform:perspective(400px) rotate3d(1,0,0,90deg);-webkit-animation-timing-function:ease-in;animation-timing-function:ease-in;opacity:0}40%{-webkit-transform:perspective(400px) rotate3d(1,0,0,-20deg);transform:perspective(400px) rotate3d(1,0,0,-20deg);-webkit-animation-timing-function:ease-in;animation-timing-function:ease-in}60%{-webkit-transform:perspective(400px) rotate3d(1,0,0,10deg);transform:perspective(400px) rotate3d(1,0,0,10deg);opacity:1}80%{-webkit-transform:perspective(400px) rotate3d(1,0,0,-5deg);transform:perspective(400px) rotate3d(1,0,0,-5deg)}100%{-webkit-transform:perspective(400px);transform:perspective(400px)}}.flipInX{-webkit-backface-visibility:visible !important;backface-visibility:visible !important;-webkit-animation-name:flipInX;animation-name:flipInX}@-webkit-keyframes flipInY{0%{-webkit-transform:perspective(400px) rotate3d(0,1,0,90deg);transform:perspective(400px) rotate3d(0,1,0,90deg);-webkit-animation-timing-function:ease-in;animation-timing-function:ease-in;opacity:0}40%{-webkit-transform:perspective(400px) rotate3d(0,1,0,-20deg);transform:perspective(400px) rotate3d(0,1,0,-20deg);-webkit-animation-timing-function:ease-in;animation-timing-function:ease-in}60%{-webkit-transform:perspective(400px) rotate3d(0,1,0,10deg);transform:perspective(400px) rotate3d(0,1,0,10deg);opacity:1}80%{-webkit-transform:perspective(400px) rotate3d(0,1,0,-5deg);transform:perspective(400px) rotate3d(0,1,0,-5deg)}100%{-webkit-transform:perspective(400px);transform:perspective(400px)}}@keyframes flipInY{0%{-webkit-transform:perspective(400px) rotate3d(0,1,0,90deg);transform:perspective(400px) rotate3d(0,1,0,90deg);-webkit-animation-timing-function:ease-in;animation-timing-function:ease-in;opacity:0}40%{-webkit-transform:perspective(400px) rotate3d(0,1,0,-20deg);transform:perspective(400px) rotate3d(0,1,0,-20deg);-webkit-animation-timing-function:ease-in;animation-timing-function:ease-in}60%{-webkit-transform:perspective(400px) rotate3d(0,1,0,10deg);transform:perspective(400px) rotate3d(0,1,0,10deg);opacity:1}80%{-webkit-transform:perspective(400px) rotate3d(0,1,0,-5deg);transform:perspective(400px) rotate3d(0,1,0,-5deg)}100%{-webkit-transform:perspective(400px);transform:perspective(400px)}}.flipInY{-webkit-backface-visibility:visible !important;backface-visibility:visible !important;-webkit-animation-name:flipInY;animation-name:flipInY}@-webkit-keyframes rotateIn{0%{-webkit-transform-origin:center;transform-origin:center;-webkit-transform:rotate3d(0,0,1,-200deg);transform:rotate3d(0,0,1,-200deg);opacity:0}100%{-webkit-transform-origin:center;transform-origin:center;-webkit-transform:none;transform:none;opacity:1}}@keyframes rotateIn{0%{-webkit-transform-origin:center;transform-origin:center;-webkit-transform:rotate3d(0,0,1,-200deg);transform:rotate3d(0,0,1,-200deg);opacity:0}100%{-webkit-transform-origin:center;transform-origin:center;-webkit-transform:none;transform:none;opacity:1}}.rotateIn{-webkit-animation-name:rotateIn;animation-name:rotateIn}@-webkit-keyframes rotateInDownLeft{0%{-webkit-transform-origin:left bottom;transform-origin:left bottom;-webkit-transform:rotate3d(0,0,1,-45deg);transform:rotate3d(0,0,1,-45deg);opacity:0}100%{-webkit-transform-origin:left bottom;transform-origin:left bottom;-webkit-transform:none;transform:none;opacity:1}}@keyframes rotateInDownLeft{0%{-webkit-transform-origin:left bottom;transform-origin:left bottom;-webkit-transform:rotate3d(0,0,1,-45deg);transform:rotate3d(0,0,1,-45deg);opacity:0}100%{-webkit-transform-origin:left bottom;transform-origin:left bottom;-webkit-transform:none;transform:none;opacity:1}}.rotateInDownLeft{-webkit-animation-name:rotateInDownLeft;animation-name:rotateInDownLeft}@-webkit-keyframes rotateInDownRight{0%{-webkit-transform-origin:right bottom;transform-origin:right bottom;-webkit-transform:rotate3d(0,0,1,45deg);transform:rotate3d(0,0,1,45deg);opacity:0}100%{-webkit-transform-origin:right bottom;transform-origin:right bottom;-webkit-transform:none;transform:none;opacity:1}}@keyframes rotateInDownRight{0%{-webkit-transform-origin:right bottom;transform-origin:right bottom;-webkit-transform:rotate3d(0,0,1,45deg);transform:rotate3d(0,0,1,45deg);opacity:0}100%{-webkit-transform-origin:right bottom;transform-origin:right bottom;-webkit-transform:none;transform:none;opacity:1}}.rotateInDownRight{-webkit-animation-name:rotateInDownRight;animation-name:rotateInDownRight}@-webkit-keyframes rotateInUpLeft{0%{-webkit-transform-origin:left bottom;transform-origin:left bottom;-webkit-transform:rotate3d(0,0,1,45deg);transform:rotate3d(0,0,1,45deg);opacity:0}100%{-webkit-transform-origin:left bottom;transform-origin:left bottom;-webkit-transform:none;transform:none;opacity:1}}@keyframes rotateInUpLeft{0%{-webkit-transform-origin:left bottom;transform-origin:left bottom;-webkit-transform:rotate3d(0,0,1,45deg);transform:rotate3d(0,0,1,45deg);opacity:0}100%{-webkit-transform-origin:left bottom;transform-origin:left bottom;-webkit-transform:none;transform:none;opacity:1}}.rotateInUpLeft{-webkit-animation-name:rotateInUpLeft;animation-name:rotateInUpLeft}@-webkit-keyframes rotateInUpRight{0%{-webkit-transform-origin:right bottom;transform-origin:right bottom;-webkit-transform:rotate3d(0,0,1,-90deg);transform:rotate3d(0,0,1,-90deg);opacity:0}100%{-webkit-transform-origin:right bottom;transform-origin:right bottom;-webkit-transform:none;transform:none;opacity:1}}@keyframes rotateInUpRight{0%{-webkit-transform-origin:right bottom;transform-origin:right bottom;-webkit-transform:rotate3d(0,0,1,-90deg);transform:rotate3d(0,0,1,-90deg);opacity:0}100%{-webkit-transform-origin:right bottom;transform-origin:right bottom;-webkit-transform:none;transform:none;opacity:1}}.rotateInUpRight{-webkit-animation-name:rotateInUpRight;animation-name:rotateInUpRight}@-webkit-keyframes zoomIn{0%{opacity:0;-webkit-transform:scale3d(.3,.3,.3);transform:scale3d(.3,.3,.3)}50%{opacity:1}}@keyframes zoomIn{0%{opacity:0;-webkit-transform:scale3d(.3,.3,.3);transform:scale3d(.3,.3,.3)}50%{opacity:1}}.zoomIn{-webkit-animation-name:zoomIn;animation-name:zoomIn}@-webkit-keyframes zoomInDown{0%{opacity:0;-webkit-transform:scale3d(.1,.1,.1) translate3d(0,-1000px,0);transform:scale3d(.1,.1,.1) translate3d(0,-1000px,0);-webkit-animation-timing-function:cubic-bezier(.55,.055,.675,.19);animation-timing-function:cubic-bezier(.55,.055,.675,.19)}60%{opacity:1;-webkit-transform:scale3d(.475,.475,.475) translate3d(0,60px,0);transform:scale3d(.475,.475,.475) translate3d(0,60px,0);-webkit-animation-timing-function:cubic-bezier(.175,.885,.32,1);animation-timing-function:cubic-bezier(.175,.885,.32,1)}}@keyframes zoomInDown{0%{opacity:0;-webkit-transform:scale3d(.1,.1,.1) translate3d(0,-1000px,0);transform:scale3d(.1,.1,.1) translate3d(0,-1000px,0);-webkit-animation-timing-function:cubic-bezier(.55,.055,.675,.19);animation-timing-function:cubic-bezier(.55,.055,.675,.19)}60%{opacity:1;-webkit-transform:scale3d(.475,.475,.475) translate3d(0,60px,0);transform:scale3d(.475,.475,.475) translate3d(0,60px,0);-webkit-animation-timing-function:cubic-bezier(.175,.885,.32,1);animation-timing-function:cubic-bezier(.175,.885,.32,1)}}.zoomInDown{-webkit-animation-name:zoomInDown;animation-name:zoomInDown}@-webkit-keyframes zoomInLeft{0%{opacity:0;-webkit-transform:scale3d(.1,.1,.1) translate3d(-1000px,0,0);transform:scale3d(.1,.1,.1) translate3d(-1000px,0,0);-webkit-animation-timing-function:cubic-bezier(.55,.055,.675,.19);animation-timing-function:cubic-bezier(.55,.055,.675,.19)}60%{opacity:1;-webkit-transform:scale3d(.475,.475,.475) translate3d(10px,0,0);transform:scale3d(.475,.475,.475) translate3d(10px,0,0);-webkit-animation-timing-function:cubic-bezier(.175,.885,.32,1);animation-timing-function:cubic-bezier(.175,.885,.32,1)}}@keyframes zoomInLeft{0%{opacity:0;-webkit-transform:scale3d(.1,.1,.1) translate3d(-1000px,0,0);transform:scale3d(.1,.1,.1) translate3d(-1000px,0,0);-webkit-animation-timing-function:cubic-bezier(.55,.055,.675,.19);animation-timing-function:cubic-bezier(.55,.055,.675,.19)}60%{opacity:1;-webkit-transform:scale3d(.475,.475,.475) translate3d(10px,0,0);transform:scale3d(.475,.475,.475) translate3d(10px,0,0);-webkit-animation-timing-function:cubic-bezier(.175,.885,.32,1);animation-timing-function:cubic-bezier(.175,.885,.32,1)}}.zoomInLeft{-webkit-animation-name:zoomInLeft;animation-name:zoomInLeft}@-webkit-keyframes zoomInRight{0%{opacity:0;-webkit-transform:scale3d(.1,.1,.1) translate3d(1000px,0,0);transform:scale3d(.1,.1,.1) translate3d(1000px,0,0);-webkit-animation-timing-function:cubic-bezier(.55,.055,.675,.19);animation-timing-function:cubic-bezier(.55,.055,.675,.19)}60%{opacity:1;-webkit-transform:scale3d(.475,.475,.475) translate3d(-10px,0,0);transform:scale3d(.475,.475,.475) translate3d(-10px,0,0);-webkit-animation-timing-function:cubic-bezier(.175,.885,.32,1);animation-timing-function:cubic-bezier(.175,.885,.32,1)}}@keyframes zoomInRight{0%{opacity:0;-webkit-transform:scale3d(.1,.1,.1) translate3d(1000px,0,0);transform:scale3d(.1,.1,.1) translate3d(1000px,0,0);-webkit-animation-timing-function:cubic-bezier(.55,.055,.675,.19);animation-timing-function:cubic-bezier(.55,.055,.675,.19)}60%{opacity:1;-webkit-transform:scale3d(.475,.475,.475) translate3d(-10px,0,0);transform:scale3d(.475,.475,.475) translate3d(-10px,0,0);-webkit-animation-timing-function:cubic-bezier(.175,.885,.32,1);animation-timing-function:cubic-bezier(.175,.885,.32,1)}}.zoomInRight{-webkit-animation-name:zoomInRight;animation-name:zoomInRight}@-webkit-keyframes zoomInUp{0%{opacity:0;-webkit-transform:scale3d(.1,.1,.1) translate3d(0,1000px,0);transform:scale3d(.1,.1,.1) translate3d(0,1000px,0);-webkit-animation-timing-function:cubic-bezier(.55,.055,.675,.19);animation-timing-function:cubic-bezier(.55,.055,.675,.19)}60%{opacity:1;-webkit-transform:scale3d(.475,.475,.475) translate3d(0,-60px,0);transform:scale3d(.475,.475,.475) translate3d(0,-60px,0);-webkit-animation-timing-function:cubic-bezier(.175,.885,.32,1);animation-timing-function:cubic-bezier(.175,.885,.32,1)}}@keyframes zoomInUp{0%{opacity:0;-webkit-transform:scale3d(.1,.1,.1) translate3d(0,1000px,0);transform:scale3d(.1,.1,.1) translate3d(0,1000px,0);-webkit-animation-timing-function:cubic-bezier(.55,.055,.675,.19);animation-timing-function:cubic-bezier(.55,.055,.675,.19)}60%{opacity:1;-webkit-transform:scale3d(.475,.475,.475) translate3d(0,-60px,0);transform:scale3d(.475,.475,.475) translate3d(0,-60px,0);-webkit-animation-timing-function:cubic-bezier(.175,.885,.32,1);animation-timing-function:cubic-bezier(.175,.885,.32,1)}}.zoomInUp{-webkit-animation-name:zoomInUp;animation-name:zoomInUp}.cf:before,.cf:after{content:" ";display:table;width:0}.cf:after{clear:both}.right{float:right}.left{float:left}.center-block{margin-left:auto;margin-right:auto}.center-list{display:table;margin-left:auto;margin-right:auto}.hide{display:none}.show{display:block}.invisible{visibility:hidden}.visually-hidden,.screen-reader-text,.screen-reader-response,.bp-screen-reader-text{overflow:hidden;position:absolute;width:1px;height:1px;margin:-1px;border:0;padding:0;clip:rect(0 0 0 0)}.visually-hidden.focusable:active,.visually-hidden.focusable:focus{clip:auto;height:auto;margin:0;overflow:visible;position:static;width:auto}.transparent{opacity:0}.opaque{opacity:1}.w-900{font-weight:900}.w-800{font-weight:800}.w-700{font-weight:700}.w-600{font-weight:600}.w-500{font-weight:500}.w-400{font-weight:400}.w-300{font-weight:300}.w-200{font-weight:200}.w-100{font-weight:100}.tt-upper{text-transform:uppercase}.tt-lower{text-transform:lowercase}.tt-none{text-transform:none}.center-text{text-align:center}.right-text{text-align:right}.left-text{text-align:left}.justify-text{text-align:justify}@media (min-width:1200px){.x-hide-xl{display:none !important}}@media (min-width:980px) and (max-width:1199px){.x-hide-lg{display:none !important}}@media (min-width:768px) and (max-width:979px){.x-hide-md{display:none !important}}@media (min-width:481px) and (max-width:767px){.x-hide-sm{display:none !important}}@media (max-width:480px){.x-hide-xs{display:none !important}}.x-visible-phone{display:none !important}.x-visible-tablet{display:none !important}.x-visible-desktop{display:inherit !important}span.x-visible-desktop{display:inline !important}.x-hidden-desktop{display:none !important}@media (min-width:768px) and (max-width:979px){.x-visible-tablet{display:inherit !important}span.x-visible-tablet{display:inline !important}.x-hidden-tablet{display:none !important}.x-hidden-desktop{display:inherit !important}span.x-hidden-desktop{display:inline !important}.x-visible-desktop{display:none !important}}@media (max-width:767px){.x-visible-phone{display:inherit !important}span.x-visible-phone{display:inline !important}.x-hidden-phone{display:none !important}.x-hidden-desktop{display:inherit !important}span.x-hidden-desktop{display:inline !important}.x-visible-desktop{display:none !important}}.ptn,.pvn,.pan{padding-top:0 !important}.pts,.pvs,.pas{padding-top:.5em !important}.ptm,.pvm,.pam{padding-top:1em !important}.ptl,.pvl,.pal{padding-top:2em !important}.prn,.phn,.pan{padding-right:0 !important}.prs,.phs,.pas{padding-right:.5em !important}.prm,.phm,.pam{padding-right:1em !important}.prl,.phl,.pal{padding-right:2em !important}.pbn,.pvn,.pan{padding-bottom:0 !important}.pbs,.pvs,.pas{padding-bottom:.5em !important}.pbm,.pvm,.pam{padding-bottom:1em !important}.pbl,.pvl,.pal{padding-bottom:2em !important}.pln,.phn,.pan{padding-left:0 !important}.pls,.phs,.pas{padding-left:.5em !important}.plm,.phm,.pam{padding-left:1em !important}.pll,.phl,.pal{padding-left:2em !important}.mtn,.mvn,.man{margin-top:0 !important}.mts,.mvs,.mas{margin-top:.5em !important}.mtm,.mvm,.mam{margin-top:1em !important}.mtl,.mvl,.mal{margin-top:2em !important}.mrn,.mhn,.man{margin-right:0 !important}.mrs,.mhs,.mas{margin-right:.5em !important}.mrm,.mhm,.mam{margin-right:1em !important}.mrl,.mhl,.mal{margin-right:2em !important}.mbn,.mvn,.man{margin-bottom:0 !important}.mbs,.mvs,.mas{margin-bottom:.5em !important}.mbm,.mvm,.mam{margin-bottom:1em !important}.mbl,.mvl,.mal{margin-bottom:2em !important}.mln,.mhn,.man{margin-left:0 !important}.mls,.mhs,.mas{margin-left:.5em !important}.mlm,.mhm,.mam{margin-left:1em !important}.mll,.mhl,.mal{margin-left:2em !important}.cs-cf:before,.cs-cf:after,.cs-clearfix:before,.cs-clearfix:after{content:" ";display:table;width:0}.cs-cf:after,.cs-clearfix:after{clear:both}.cs-f-n{float:none}.cs-f-l{float:left}.cs-f-r{float:right}.cs-hide{display:none !important}.cs-visually-hidden{overflow:hidden !important;position:absolute !important;width:1px !important;height:1px !important;margin:-1px !important;border:0 !important;padding:0 !important;clip:rect(0 0 0 0) !important}.cs-o-1{opacity:0 !important}.cs-o-0{opacity:1 !important}.cs-pos-r{position:relative !important}.cs-pos-a{position:absolute !important}.cs-pos-f{position:fixed !important}.cs-fw-900{font-weight:900 !important}.cs-fw-800{font-weight:800 !important}.cs-fw-700{font-weight:700 !important}.cs-fw-600{font-weight:600 !important}.cs-fw-500{font-weight:500 !important}.cs-fw-400{font-weight:400 !important}.cs-fw-300{font-weight:300 !important}.cs-fw-200{font-weight:200 !important}.cs-fw-100{font-weight:100 !important}.cs-ta-left{text-align:left !important}.cs-ta-right{text-align:right !important}.cs-ta-center{text-align:center !important}.cs-ta-justify{text-align:justify !important}.cs-tt-none{text-transform:none !important}.cs-tt-uppercase{text-transform:uppercase !important}.cs-tt-lowercase{text-transform:lowercase !important}.cs-tt-capitalize{text-transform:capitalize !important}@media (min-width:1200px){.cs-hide-xl{display:none !important}}@media (min-width:980px) and (max-width:1199px){.cs-hide-lg{display:none !important}}@media (min-width:768px) and (max-width:979px){.cs-hide-md{display:none !important}}@media (min-width:481px) and (max-width:767px){.cs-hide-sm{display:none !important}}@media (max-width:480px){.cs-hide-xs{display:none !important}}.cs-ptn,.cs-pvn,.cs-pan{padding-top:0 !important}.cs-pts,.cs-pvs,.cs-pas{padding-top:.5em !important}.cs-ptm,.cs-pvm,.cs-pam{padding-top:1em !important}.cs-ptl,.cs-pvl,.cs-pal{padding-top:2em !important}.cs-prn,.cs-phn,.cs-pan{padding-right:0 !important}.cs-prs,.cs-phs,.cs-pas{padding-right:.5em !important}.cs-prm,.cs-phm,.cs-pam{padding-right:1em !important}.cs-prl,.cs-phl,.cs-pal{padding-right:2em !important}.cs-pbn,.cs-pvn,.cs-pan{padding-bottom:0 !important}.cs-pbs,.cs-pvs,.cs-pas{padding-bottom:.5em !important}.cs-pbm,.cs-pvm,.cs-pam{padding-bottom:1em !important}.cs-pbl,.cs-pvl,.cs-pal{padding-bottom:2em !important}.cs-pln,.cs-phn,.cs-pan{padding-left:0 !important}.cs-pls,.cs-phs,.cs-pas{padding-left:.5em !important}.cs-plm,.cs-phm,.cs-pam{padding-left:1em !important}.cs-pll,.cs-phl,.cs-pal{padding-left:2em !important}.cs-mtn,.cs-mvn,.cs-man{margin-top:0 !important}.cs-mts,.cs-mvs,.cs-mas{margin-top:.5em !important}.cs-mtm,.cs-mvm,.cs-mam{margin-top:1em !important}.cs-mtl,.cs-mvl,.cs-mal{margin-top:2em !important}.cs-mrn,.cs-mhn,.cs-man{margin-right:0 !important}.cs-mrs,.cs-mhs,.cs-mas{margin-right:.5em !important}.cs-mrm,.cs-mhm,.cs-mam{margin-right:1em !important}.cs-mrl,.cs-mhl,.cs-mal{margin-right:2em !important}.cs-mbn,.cs-mvn,.cs-man{margin-bottom:0 !important}.cs-mbs,.cs-mvs,.cs-mas{margin-bottom:.5em !important}.cs-mbm,.cs-mvm,.cs-mam{margin-bottom:1em !important}.cs-mbl,.cs-mvl,.cs-mal{margin-bottom:2em !important}.cs-mln,.cs-mhn,.cs-man{margin-left:0 !important}.cs-mls,.cs-mhs,.cs-mas{margin-left:.5em !important}.cs-mlm,.cs-mhm,.cs-mam{margin-left:1em !important}.cs-mll,.cs-mhl,.cs-mal{margin-left:2em !important} /* Theme Name: Pro – Child Theme Theme URI: http://theme.co/pro/ Author: Themeco Author URI: http://theme.co/ Description: Make all of your modifications to Pro in this child theme. Version: 1.0.0 Template: pro */ .animated{visibility:hidden}@media screen and (max-width:991px){.animated{visibility:visible !important}.fadeInLeft,.fadeInRight,.fadeInUp,.fadeIn,.rotateIn,.bounceIn,.growIn,.bounce2In,.popIn{-webkit-animation:none !important;animation:none !important}}.fadeInLeft,.fadeInRight,.fadeInUp,.fadeIn,.rotateIn,.bounceIn,.growIn,.bounce2In,.popIn{visibility:visible}.cs-editor-active .animated{visibility:visible}.animated{-webkit-animation-duration:1s;animation-duration:1s;-webkit-animation-fill-mode:both;animation-fill-mode:both}.animated.infinite{-webkit-animation-iteration-count:infinite;animation-iteration-count:infinite}.animated.hinge{-webkit-animation-duration:2s;animation-duration:2s}@-webkit-keyframes fadeIn{from{opacity:0}to{opacity:1}}@keyframes fadeIn{from{opacity:0}to{opacity:1}}.fadeIn{-webkit-animation-name:fadeIn;animation-name:fadeIn}@-webkit-keyframes fadeInDown{from{opacity:0;-webkit-transform:translate3d(0,-100%,0);transform:translate3d(0,-100%,0)}to{opacity:1;-webkit-transform:none;transform:none}}@keyframes fadeInDown{from{opacity:0;-webkit-transform:translate3d(0,-100%,0);transform:translate3d(0,-100%,0)}to{opacity:1;-webkit-transform:none;transform:none}}.fadeInDown{-webkit-animation-name:fadeInDown;animation-name:fadeInDown}@-webkit-keyframes fadeInLeft{from{opacity:0;-webkit-transform:translate3d(-100%,0,0);transform:translate3d(-100%,0,0)}to{opacity:1;-webkit-transform:none;transform:none}}@keyframes fadeInLeft{from{opacity:0;-webkit-transform:translate3d(-100%,0,0);transform:translate3d(-100%,0,0)}to{opacity:1;-webkit-transform:none;transform:none}}.fadeInLeft{-webkit-animation-name:fadeInLeft;animation-name:fadeInLeft}@-webkit-keyframes fadeInRight{from{opacity:0;-webkit-transform:translate3d(100%,0,0);transform:translate3d(100%,0,0)}to{opacity:1;-webkit-transform:none;transform:none}}@keyframes fadeInRight{from{opacity:0;-webkit-transform:translate3d(100%,0,0);transform:translate3d(100%,0,0)}to{opacity:1;-webkit-transform:none;transform:none}}.fadeInRight{-webkit-animation-name:fadeInRight;animation-name:fadeInRight}@-webkit-keyframes fadeInUp{from{opacity:0;-webkit-transform:translate3d(0,100%,0);transform:translate3d(0,100%,0)}to{opacity:1;-webkit-transform:none;transform:none}}@keyframes fadeInUp{from{opacity:0;-webkit-transform:translate3d(0,100%,0);transform:translate3d(0,100%,0)}to{opacity:1;-webkit-transform:none;transform:none}}.fadeInUp{-webkit-animation-name:fadeInUp;animation-name:fadeInUp}@-webkit-keyframes rotateIn{from{-webkit-transform-origin:center;transform-origin:center;-webkit-transform:rotate3d(0,0,1,-200deg);transform:rotate3d(0,0,1,-200deg);opacity:0}to{-webkit-transform-origin:center;transform-origin:center;-webkit-transform:none;transform:none;opacity:1}}@keyframes rotateIn{from{-webkit-transform-origin:center;transform-origin:center;-webkit-transform:rotate3d(0,0,1,-200deg);transform:rotate3d(0,0,1,-200deg);opacity:0}to{-webkit-transform-origin:center;transform-origin:center;-webkit-transform:none;transform:none;opacity:1}}.rotateIn{-webkit-animation-name:rotateIn;animation-name:rotateIn}@-webkit-keyframes bounceIn{from,20%,53%,80%,to{-webkit-animation-timing-function:cubic-bezier(.215,.61,.355,1);animation-timing-function:cubic-bezier(.215,.61,.355,1);-webkit-transform:translate3d(0,0,0);transform:translate3d(0,0,0)}40%,43%{-webkit-animation-timing-function:cubic-bezier(.755,.05,.855,.06);animation-timing-function:cubic-bezier(.755,.05,.855,.06);-webkit-transform:translate3d(0,-30px,0);transform:translate3d(0,-30px,0)}70%{-webkit-animation-timing-function:cubic-bezier(.755,.05,.855,.06);animation-timing-function:cubic-bezier(.755,.05,.855,.06);-webkit-transform:translate3d(0,-15px,0);transform:translate3d(0,-15px,0)}90%{-webkit-transform:translate3d(0,-4px,0);transform:translate3d(0,-4px,0)}}@keyframes bounceIn{from,20%,53%,80%,to{-webkit-animation-timing-function:cubic-bezier(.215,.61,.355,1);animation-timing-function:cubic-bezier(.215,.61,.355,1);-webkit-transform:translate3d(0,0,0);transform:translate3d(0,0,0)}40%,43%{-webkit-animation-timing-function:cubic-bezier(.755,.05,.855,.06);animation-timing-function:cubic-bezier(.755,.05,.855,.06);-webkit-transform:translate3d(0,-30px,0);transform:translate3d(0,-30px,0)}70%{-webkit-animation-timing-function:cubic-bezier(.755,.05,.855,.06);animation-timing-function:cubic-bezier(.755,.05,.855,.06);-webkit-transform:translate3d(0,-15px,0);transform:translate3d(0,-15px,0)}90%{-webkit-transform:translate3d(0,-4px,0);transform:translate3d(0,-4px,0)}}.bounceIn{-webkit-animation-name:bounceIn;animation-name:bounceIn;-webkit-transform-origin:center bottom;transform-origin:center bottom}@-webkit-keyframes growIn{0%{-webkit-transform:scale(.2);opacity:0}50%{-webkit-transform:scale(1.2)}100%{-webkit-transform:scale(1);opacity:1}}@keyframes growIn{0%{transform:scale(.2);opacity:0}50%{transform:scale(1.2)}100%{transform:scale(1);opacity:1}}.animated-growIn{-webkit-transform:scale(.2);transform:scale(.2);opacity:0}.animated-growIn.growIn{-webkit-animation-name:growIn;animation-name:growIn}@-webkit-keyframes bounce2In{0%,20%,50%,80%,100%{-webkit-transform:translateY(0)}40%{-webkit-transform:translateY(-30px)}60%{-webkit-transform:translateY(-15px)}}@-moz-keyframes bounce2In{0%,20%,50%,80%,100%{-moz-transform:translateY(0)}40%{-moz-transform:translateY(-30px)}60%{-moz-transform:translateY(-15px)}}@keyframes bounce2In{0%,20%,50%,80%,100%{-webkit-transform:translateY(0);-moz-transform:translateY(0);-ms-transform:translateY(0);-o-transform:translateY(0);transform:translateY(0)}40%{-webkit-transform:translateY(-30px);-moz-transform:translateY(-30px);-ms-transform:translateY(-30px);-o-transform:translateY(-30px);transform:translateY(-30px)}60%{-webkit-transform:translateY(-15px);-moz-transform:translateY(-15px);-ms-transform:translateY(-15px);-o-transform:translateY(-15px);transform:translateY(-15px)}}.bounce2In{-webkit-animation:bounce2In 2s;animation:bounce2In 2s}@-webkit-keyframes popIn{50%{-webkit-transform:scale(1.1);transform:scale(1.1)}}@keyframes popIn{50%{-webkit-transform:scale(1.1);transform:scale(1.1)}}.animated-popIn{-webkit-transform:perspective(1px) translateZ(0);transform:perspective(1px) translateZ(0)}.animated-popIn.popIn{-webkit-animation-name:popIn;animation-name:popIn;-webkit-animation-duration:.5s;animation-duration:.5s;-webkit-animation-timing-function:linear;animation-timing-function:linear;-webkit-animation-iteration-count:1;animation-iteration-count:1} .owl-carousel,.owl-carousel .owl-item{-webkit-tap-highlight-color:transparent;position:relative}.owl-carousel{display:none;width:100%;z-index:1}.owl-carousel .owl-stage{position:relative;-ms-touch-action:pan-Y;touch-action:manipulation;-moz-backface-visibility:hidden}.owl-carousel .owl-stage:after{content:".";display:block;clear:both;visibility:hidden;line-height:0;height:0}.owl-carousel .owl-stage-outer{position:relative;overflow:hidden;-webkit-transform:translate3d(0,0,0)}.owl-carousel .owl-item,.owl-carousel .owl-wrapper{-webkit-backface-visibility:hidden;-moz-backface-visibility:hidden;-ms-backface-visibility:hidden;-webkit-transform:translate3d(0,0,0);-moz-transform:translate3d(0,0,0);-ms-transform:translate3d(0,0,0)}.owl-carousel .owl-item{min-height:1px;float:left;-webkit-backface-visibility:hidden;-webkit-touch-callout:none}.owl-carousel .owl-item img{display:block;width:100%}.owl-carousel .owl-dots.disabled,.owl-carousel .owl-nav.disabled{display:none}.no-js .owl-carousel,.owl-carousel.owl-loaded{display:block}.owl-carousel .owl-dot,.owl-carousel .owl-nav .owl-next,.owl-carousel .owl-nav .owl-prev{cursor:pointer;-webkit-user-select:none;-khtml-user-select:none;-moz-user-select:none;-ms-user-select:none;user-select:none}.owl-carousel .owl-nav button.owl-next,.owl-carousel .owl-nav button.owl-prev,.owl-carousel button.owl-dot{background:0 0;color:inherit;border:none;padding:0!important;font:inherit}.owl-carousel.owl-loading{opacity:0;display:block}.owl-carousel.owl-hidden{opacity:0}.owl-carousel.owl-refresh .owl-item{visibility:hidden}.owl-carousel.owl-drag .owl-item{-ms-touch-action:pan-y;touch-action:pan-y;-webkit-user-select:none;-moz-user-select:none;-ms-user-select:none;user-select:none}.owl-carousel.owl-grab{cursor:move;cursor:grab}.owl-carousel.owl-rtl{direction:rtl}.owl-carousel.owl-rtl .owl-item{float:right}.owl-carousel .animated{animation-duration:1s;animation-fill-mode:both}.owl-carousel .owl-animated-in{z-index:0}.owl-carousel .owl-animated-out{z-index:1}.owl-carousel .fadeOut{animation-name:fadeOut}@keyframes fadeOut{0%{opacity:1}100%{opacity:0}}.owl-height{transition:height .5s ease-in-out}.owl-carousel .owl-item .owl-lazy{opacity:0;transition:opacity .4s ease}.owl-carousel .owl-item .owl-lazy:not([src]),.owl-carousel .owl-item .owl-lazy[src^=""]{max-height:0}.owl-carousel .owl-item img.owl-lazy{transform-style:preserve-3d}.owl-carousel .owl-video-wrapper{position:relative;height:100%;background:#000}.owl-carousel .owl-video-play-icon{position:absolute;height:80px;width:80px;left:50%;top:50%;margin-left:-40px;margin-top:-40px;background:url(https://cdn.mercury.one/wp-content/themes/pro-child/custom/css/owl.video.play.png) no-repeat;cursor:pointer;z-index:1;-webkit-backface-visibility:hidden;transition:transform .1s ease}.owl-carousel .owl-video-play-icon:hover{-ms-transform:scale(1.3,1.3);transform:scale(1.3,1.3)}.owl-carousel .owl-video-playing .owl-video-play-icon,.owl-carousel .owl-video-playing .owl-video-tn{display:none}.owl-carousel .owl-video-tn{opacity:0;height:100%;background-position:center center;background-repeat:no-repeat;background-size:contain;transition:opacity .4s ease}.owl-carousel .owl-video-frame{position:relative;z-index:1;height:100%;width:100%} @font-face{font-family:'simple-line-icons';src:url(//mercury.one/wp-content/themes/pro-child/custom/css/../fonts/Simple-Line-Icons.eot?v=2.4.0);src:url(//mercury.one/wp-content/themes/pro-child/custom/css/../fonts/Simple-Line-Icons.eot?v=2.4.0#iefix) format('embedded-opentype'),url(//mercury.one/wp-content/themes/pro-child/custom/css/../fonts/Simple-Line-Icons.woff2?v=2.4.0) format('woff2'),url(//mercury.one/wp-content/themes/pro-child/custom/css/../fonts/Simple-Line-Icons.ttf?v=2.4.0) format('truetype'),url(//mercury.one/wp-content/themes/pro-child/custom/css/../fonts/Simple-Line-Icons.woff?v=2.4.0) format('woff'),url(//mercury.one/wp-content/themes/pro-child/custom/css/../fonts/Simple-Line-Icons.svg?v=2.4.0#simple-line-icons) format('svg');font-weight:400;font-style:normal}.icon-user,.icon-people,.icon-user-female,.icon-user-follow,.icon-user-following,.icon-user-unfollow,.icon-login,.icon-logout,.icon-emotsmile,.icon-phone,.icon-call-end,.icon-call-in,.icon-call-out,.icon-map,.icon-location-pin,.icon-direction,.icon-directions,.icon-compass,.icon-layers,.icon-menu,.icon-list,.icon-options-vertical,.icon-options,.icon-arrow-down,.icon-arrow-left,.icon-arrow-right,.icon-arrow-up,.icon-arrow-up-circle,.icon-arrow-left-circle,.icon-arrow-right-circle,.icon-arrow-down-circle,.icon-check,.icon-clock,.icon-plus,.icon-minus,.icon-close,.icon-event,.icon-exclamation,.icon-organization,.icon-trophy,.icon-screen-smartphone,.icon-screen-desktop,.icon-plane,.icon-notebook,.icon-mustache,.icon-mouse,.icon-magnet,.icon-energy,.icon-disc,.icon-cursor,.icon-cursor-move,.icon-crop,.icon-chemistry,.icon-speedometer,.icon-shield,.icon-screen-tablet,.icon-magic-wand,.icon-hourglass,.icon-graduation,.icon-ghost,.icon-game-controller,.icon-fire,.icon-eyeglass,.icon-envelope-open,.icon-envelope-letter,.icon-bell,.icon-badge,.icon-anchor,.icon-wallet,.icon-vector,.icon-speech,.icon-puzzle,.icon-printer,.icon-present,.icon-playlist,.icon-pin,.icon-picture,.icon-handbag,.icon-globe-alt,.icon-globe,.icon-folder-alt,.icon-folder,.icon-film,.icon-feed,.icon-drop,.icon-drawer,.icon-docs,.icon-doc,.icon-diamond,.icon-cup,.icon-calculator,.icon-bubbles,.icon-briefcase,.icon-book-open,.icon-basket-loaded,.icon-basket,.icon-bag,.icon-action-undo,.icon-action-redo,.icon-wrench,.icon-umbrella,.icon-trash,.icon-tag,.icon-support,.icon-frame,.icon-size-fullscreen,.icon-size-actual,.icon-shuffle,.icon-share-alt,.icon-share,.icon-rocket,.icon-question,.icon-pie-chart,.icon-pencil,.icon-note,.icon-loop,.icon-home,.icon-grid,.icon-graph,.icon-microphone,.icon-music-tone-alt,.icon-music-tone,.icon-earphones-alt,.icon-earphones,.icon-equalizer,.icon-like,.icon-dislike,.icon-control-start,.icon-control-rewind,.icon-control-play,.icon-control-pause,.icon-control-forward,.icon-control-end,.icon-volume-1,.icon-volume-2,.icon-volume-off,.icon-calendar,.icon-bulb,.icon-chart,.icon-ban,.icon-bubble,.icon-camrecorder,.icon-camera,.icon-cloud-download,.icon-cloud-upload,.icon-envelope,.icon-eye,.icon-flag,.icon-heart,.icon-info,.icon-key,.icon-link,.icon-lock,.icon-lock-open,.icon-magnifier,.icon-magnifier-add,.icon-magnifier-remove,.icon-paper-clip,.icon-paper-plane,.icon-power,.icon-refresh,.icon-reload,.icon-settings,.icon-star,.icon-symbol-female,.icon-symbol-male,.icon-target,.icon-credit-card,.icon-paypal,.icon-social-tumblr,.icon-social-twitter,.icon-social-facebook,.icon-social-instagram,.icon-social-linkedin,.icon-social-pinterest,.icon-social-github,.icon-social-google,.icon-social-reddit,.icon-social-skype,.icon-social-dribbble,.icon-social-behance,.icon-social-foursqare,.icon-social-soundcloud,.icon-social-spotify,.icon-social-stumbleupon,.icon-social-youtube,.icon-social-dropbox,.icon-social-vkontakte,.icon-social-steam{font-family:'simple-line-icons';speak:none;font-style:normal;font-weight:400;font-variant:normal;text-transform:none;line-height:1;-webkit-font-smoothing:antialiased;-moz-osx-font-smoothing:grayscale}.icon-user:before{content:"\e005"}.icon-people:before{content:"\e001"}.icon-user-female:before{content:"\e000"}.icon-user-follow:before{content:"\e002"}.icon-user-following:before{content:"\e003"}.icon-user-unfollow:before{content:"\e004"}.icon-login:before{content:"\e066"}.icon-logout:before{content:"\e065"}.icon-emotsmile:before{content:"\e021"}.icon-phone:before{content:"\e600"}.icon-call-end:before{content:"\e048"}.icon-call-in:before{content:"\e047"}.icon-call-out:before{content:"\e046"}.icon-map:before{content:"\e033"}.icon-location-pin:before{content:"\e096"}.icon-direction:before{content:"\e042"}.icon-directions:before{content:"\e041"}.icon-compass:before{content:"\e045"}.icon-layers:before{content:"\e034"}.icon-menu:before{content:"\e601"}.icon-list:before{content:"\e067"}.icon-options-vertical:before{content:"\e602"}.icon-options:before{content:"\e603"}.icon-arrow-down:before{content:"\e604"}.icon-arrow-left:before{content:"\e605"}.icon-arrow-right:before{content:"\e606"}.icon-arrow-up:before{content:"\e607"}.icon-arrow-up-circle:before{content:"\e078"}.icon-arrow-left-circle:before{content:"\e07a"}.icon-arrow-right-circle:before{content:"\e079"}.icon-arrow-down-circle:before{content:"\e07b"}.icon-check:before{content:"\e080"}.icon-clock:before{content:"\e081"}.icon-plus:before{content:"\e095"}.icon-minus:before{content:"\e615"}.icon-close:before{content:"\e082"}.icon-event:before{content:"\e619"}.icon-exclamation:before{content:"\e617"}.icon-organization:before{content:"\e616"}.icon-trophy:before{content:"\e006"}.icon-screen-smartphone:before{content:"\e010"}.icon-screen-desktop:before{content:"\e011"}.icon-plane:before{content:"\e012"}.icon-notebook:before{content:"\e013"}.icon-mustache:before{content:"\e014"}.icon-mouse:before{content:"\e015"}.icon-magnet:before{content:"\e016"}.icon-energy:before{content:"\e020"}.icon-disc:before{content:"\e022"}.icon-cursor:before{content:"\e06e"}.icon-cursor-move:before{content:"\e023"}.icon-crop:before{content:"\e024"}.icon-chemistry:before{content:"\e026"}.icon-speedometer:before{content:"\e007"}.icon-shield:before{content:"\e00e"}.icon-screen-tablet:before{content:"\e00f"}.icon-magic-wand:before{content:"\e017"}.icon-hourglass:before{content:"\e018"}.icon-graduation:before{content:"\e019"}.icon-ghost:before{content:"\e01a"}.icon-game-controller:before{content:"\e01b"}.icon-fire:before{content:"\e01c"}.icon-eyeglass:before{content:"\e01d"}.icon-envelope-open:before{content:"\e01e"}.icon-envelope-letter:before{content:"\e01f"}.icon-bell:before{content:"\e027"}.icon-badge:before{content:"\e028"}.icon-anchor:before{content:"\e029"}.icon-wallet:before{content:"\e02a"}.icon-vector:before{content:"\e02b"}.icon-speech:before{content:"\e02c"}.icon-puzzle:before{content:"\e02d"}.icon-printer:before{content:"\e02e"}.icon-present:before{content:"\e02f"}.icon-playlist:before{content:"\e030"}.icon-pin:before{content:"\e031"}.icon-picture:before{content:"\e032"}.icon-handbag:before{content:"\e035"}.icon-globe-alt:before{content:"\e036"}.icon-globe:before{content:"\e037"}.icon-folder-alt:before{content:"\e039"}.icon-folder:before{content:"\e089"}.icon-film:before{content:"\e03a"}.icon-feed:before{content:"\e03b"}.icon-drop:before{content:"\e03e"}.icon-drawer:before{content:"\e03f"}.icon-docs:before{content:"\e040"}.icon-doc:before{content:"\e085"}.icon-diamond:before{content:"\e043"}.icon-cup:before{content:"\e044"}.icon-calculator:before{content:"\e049"}.icon-bubbles:before{content:"\e04a"}.icon-briefcase:before{content:"\e04b"}.icon-book-open:before{content:"\e04c"}.icon-basket-loaded:before{content:"\e04d"}.icon-basket:before{content:"\e04e"}.icon-bag:before{content:"\e04f"}.icon-action-undo:before{content:"\e050"}.icon-action-redo:before{content:"\e051"}.icon-wrench:before{content:"\e052"}.icon-umbrella:before{content:"\e053"}.icon-trash:before{content:"\e054"}.icon-tag:before{content:"\e055"}.icon-support:before{content:"\e056"}.icon-frame:before{content:"\e038"}.icon-size-fullscreen:before{content:"\e057"}.icon-size-actual:before{content:"\e058"}.icon-shuffle:before{content:"\e059"}.icon-share-alt:before{content:"\e05a"}.icon-share:before{content:"\e05b"}.icon-rocket:before{content:"\e05c"}.icon-question:before{content:"\e05d"}.icon-pie-chart:before{content:"\e05e"}.icon-pencil:before{content:"\e05f"}.icon-note:before{content:"\e060"}.icon-loop:before{content:"\e064"}.icon-home:before{content:"\e069"}.icon-grid:before{content:"\e06a"}.icon-graph:before{content:"\e06b"}.icon-microphone:before{content:"\e063"}.icon-music-tone-alt:before{content:"\e061"}.icon-music-tone:before{content:"\e062"}.icon-earphones-alt:before{content:"\e03c"}.icon-earphones:before{content:"\e03d"}.icon-equalizer:before{content:"\e06c"}.icon-like:before{content:"\e068"}.icon-dislike:before{content:"\e06d"}.icon-control-start:before{content:"\e06f"}.icon-control-rewind:before{content:"\e070"}.icon-control-play:before{content:"\e071"}.icon-control-pause:before{content:"\e072"}.icon-control-forward:before{content:"\e073"}.icon-control-end:before{content:"\e074"}.icon-volume-1:before{content:"\e09f"}.icon-volume-2:before{content:"\e0a0"}.icon-volume-off:before{content:"\e0a1"}.icon-calendar:before{content:"\e075"}.icon-bulb:before{content:"\e076"}.icon-chart:before{content:"\e077"}.icon-ban:before{content:"\e07c"}.icon-bubble:before{content:"\e07d"}.icon-camrecorder:before{content:"\e07e"}.icon-camera:before{content:"\e07f"}.icon-cloud-download:before{content:"\e083"}.icon-cloud-upload:before{content:"\e084"}.icon-envelope:before{content:"\e086"}.icon-eye:before{content:"\e087"}.icon-flag:before{content:"\e088"}.icon-heart:before{content:"\e08a"}.icon-info:before{content:"\e08b"}.icon-key:before{content:"\e08c"}.icon-link:before{content:"\e08d"}.icon-lock:before{content:"\e08e"}.icon-lock-open:before{content:"\e08f"}.icon-magnifier:before{content:"\e090"}.icon-magnifier-add:before{content:"\e091"}.icon-magnifier-remove:before{content:"\e092"}.icon-paper-clip:before{content:"\e093"}.icon-paper-plane:before{content:"\e094"}.icon-power:before{content:"\e097"}.icon-refresh:before{content:"\e098"}.icon-reload:before{content:"\e099"}.icon-settings:before{content:"\e09a"}.icon-star:before{content:"\e09b"}.icon-symbol-female:before{content:"\e09c"}.icon-symbol-male:before{content:"\e09d"}.icon-target:before{content:"\e09e"}.icon-credit-card:before{content:"\e025"}.icon-paypal:before{content:"\e608"}.icon-social-tumblr:before{content:"\e00a"}.icon-social-twitter:before{content:"\e009"}.icon-social-facebook:before{content:"\e00b"}.icon-social-instagram:before{content:"\e609"}.icon-social-linkedin:before{content:"\e60a"}.icon-social-pinterest:before{content:"\e60b"}.icon-social-github:before{content:"\e60c"}.icon-social-google:before{content:"\e60d"}.icon-social-reddit:before{content:"\e60e"}.icon-social-skype:before{content:"\e60f"}.icon-social-dribbble:before{content:"\e00d"}.icon-social-behance:before{content:"\e610"}.icon-social-foursqare:before{content:"\e611"}.icon-social-soundcloud:before{content:"\e612"}.icon-social-spotify:before{content:"\e613"}.icon-social-stumbleupon:before{content:"\e614"}.icon-social-youtube:before{content:"\e008"}.icon-social-dropbox:before{content:"\e00c"}.icon-social-vkontakte:before{content:"\e618"}.icon-social-steam:before{content:"\e620"} .bx-wrapper{position:relative;margin-bottom:60px;padding:0;*zoom:1;-ms-touch-action:pan-y;touch-action:pan-y}.bx-wrapper img{max-width:100%;display:block}.bxslider{margin:0;padding:0}ul.bxslider{list-style:none}.bx-viewport{-webkit-transform:translatez(0)}.bx-wrapper{-moz-box-shadow:0 0 5px #ccc;-webkit-box-shadow:0 0 5px #ccc;box-shadow:0 0 5px #ccc;border:5px solid #fff;background:#fff}.bx-wrapper .bx-pager,.bx-wrapper .bx-controls-auto{position:absolute;bottom:-30px;width:100%}.bx-wrapper .bx-loading{min-height:50px;background:url(https://cdn.mercury.one/wp-content/themes/pro-child/custom/css/../images/bx_loader.gif) center center no-repeat #fff;height:100%;width:100%;position:absolute;top:0;left:0;z-index:2000}.bx-wrapper .bx-pager{text-align:center;font-size:.85em;font-family:Arial;font-weight:700;color:#666;padding-top:20px}.bx-wrapper .bx-pager.bx-default-pager a{background:#666;text-indent:-9999px;display:block;width:10px;height:10px;margin:0 5px;outline:0;-moz-border-radius:5px;-webkit-border-radius:5px;border-radius:5px}.bx-wrapper .bx-pager.bx-default-pager a:hover,.bx-wrapper .bx-pager.bx-default-pager a.active,.bx-wrapper .bx-pager.bx-default-pager a:focus{background:#000}.bx-wrapper .bx-pager-item,.bx-wrapper .bx-controls-auto .bx-controls-auto-item{display:inline-block;vertical-align:bottom;*zoom:1;*display:inline;}.bx-wrapper .bx-pager-item{font-size:0;line-height:0}.bx-wrapper .bx-prev{left:10px;background:url(data:image/png;base64,iVBORw0KGgoAAAANSUhEUgAAAGAAAAA/CAYAAAAfQM0aAAAAGXRFWHRTb2Z0d2FyZQBBZG9iZSBJbWFnZVJlYWR5ccllPAAAAyRpVFh0WE1MOmNvbS5hZG9iZS54bXAAAAAAADw/eHBhY2tldCBiZWdpbj0i77u/IiBpZD0iVzVNME1wQ2VoaUh6cmVTek5UY3prYzlkIj8+IDx4OnhtcG1ldGEgeG1sbnM6eD0iYWRvYmU6bnM6bWV0YS8iIHg6eG1wdGs9IkFkb2JlIFhNUCBDb3JlIDUuMy1jMDExIDY2LjE0NTY2MSwgMjAxMi8wMi8wNi0xNDo1NjoyNyAgICAgICAgIj4gPHJkZjpSREYgeG1sbnM6cmRmPSJodHRwOi8vd3d3LnczLm9yZy8xOTk5LzAyLzIyLXJkZi1zeW50YXgtbnMjIj4gPHJkZjpEZXNjcmlwdGlvbiByZGY6YWJvdXQ9IiIgeG1sbnM6eG1wPSJodHRwOi8vbnMuYWRvYmUuY29tL3hhcC8xLjAvIiB4bWxuczp4bXBNTT0iaHR0cDovL25zLmFkb2JlLmNvbS94YXAvMS4wL21tLyIgeG1sbnM6c3RSZWY9Imh0dHA6Ly9ucy5hZG9iZS5jb20veGFwLzEuMC9zVHlwZS9SZXNvdXJjZVJlZiMiIHhtcDpDcmVhdG9yVG9vbD0iQWRvYmUgUGhvdG9zaG9wIENTNiAoTWFjaW50b3NoKSIgeG1wTU06SW5zdGFuY2VJRD0ieG1wLmlpZDpCRjQ5NEM3RDI5QTkxMUUyOTc1NENCMzI4N0QwNDNCOSIgeG1wTU06RG9jdW1lbnRJRD0ieG1wLmRpZDpCRjQ5NEM3RTI5QTkxMUUyOTc1NENCMzI4N0QwNDNCOSI+IDx4bXBNTTpEZXJpdmVkRnJvbSBzdFJlZjppbnN0YW5jZUlEPSJ4bXAuaWlkOkJGNDk0QzdCMjlBOTExRTI5NzU0Q0IzMjg3RDA0M0I5IiBzdFJlZjpkb2N1bWVudElEPSJ4bXAuZGlkOkJGNDk0QzdDMjlBOTExRTI5NzU0Q0IzMjg3RDA0M0I5Ii8+IDwvcmRmOkRlc2NyaXB0aW9uPiA8L3JkZjpSREY+IDwveDp4bXBtZXRhPiA8P3hwYWNrZXQgZW5kPSJyIj8+WeGRxAAAB2hJREFUeNrUXFtslUUQ3hJCoQVEKy0k1qQgrRg0vaAJaq1tvJSgaLy8mKDF2IvxBY2Bgm8+iIoxvhB72tTUmKgPigbFKCEtxeKD9hZjAi3GJrYJtqRai7TQB+pMz/zwU/5zzsxe2u4kXwiwZ+bb/Xb/s7v/zEmrra1VTFsFeBRQCtgEuBWwkv5vHPAn4DdAB+B7wBjXcUNDQ8o2dXV1SmDzyhUtLS3tBPyxC9CdrN1ihi/swKuA7YD0BG1uJhQDngdcAnwDeJ86Ole2kLii+J2AFsA+wF9RjRalmEUHaZY8m6RDUYZtn6HPHiRfLm2hck0D7AScAdRH8UokwD2AnwA7UoiUyhaRD/S12dHg+8B1OWA/4BTgqVQCPEJL8haLBNDXEfJt03ziipYH+BJwHFAYJcAWwCeAZQ6CLyPfWyz584nrbCuj74eHwgKsddih2R1ba+jHJ65R1k6PuWNhAd4DZM/BTiWbdhwm5hPXsA0AngY8COgNP4JwSTyu4zE/P18VFhZKP7aNYuouXxFX5Ic8Nc2Ea2D/AfYCNgIORZ0DdusOfnFxcXDwUD09PZKP76alKDUR16KiIlVQUHDl7/39/Uozpg7Xac45YB0dGrQHHw07KVwJpRRbYiKuyCc8+MhXcyXocP2RnvMvJhr8QIBK08EPbGJiQuqq0mX7KD4GIohi4xVPTU0N6/BRamPwu7u7dZb3/RozkW3IB3lZEkGHayeI8FFVVdWaZAIUcD2Wl5fbHHy024XtC6QBkomA/XHIFb8X0Xamp6efASHqt27dGnkVkcNxVlFRoXJycmwOvuLGNmifVATsD/bLZezgKgKE2J+bm3sKHk3XXUWs4Mz87Oxs24OvOLEN26cUAfvFXAkrlKGBCDNXEbAajldXV1+5ijjP+KCrg855x+3nk2uy8SwDdIIIM1cRI6k+0NraqkZGRmzuKAIbFrYf0Q2UaPOA/Wpra3PBNfHhYHq6HbC5qanpGB7ETgPWc0TApTr7eyDolOaj6LRG+/W2Bn94eJg7+DpcowZ+AGb+642NjYfC3wEdXAdI1uK2Du2ksH2HrcHHfggGX4frNVcRMPh7BwcHN8ZiseuuIr4DvKXib29YX2bhmW+wEqYptsREXC2eWXS44oyfuYqYmpra19LSEnkaRgEG6Nj8gGRHESVCRkaG9Kg+IOyTiGtmZqatnZsOV/zMLnjcsF7KH5AIECVCX1+f6u3tlbg4oLmc2VyDy8HgPshg2yzmCo8aFsdAALzpw9dw23REwJkvHPwjSu92UcwVRcAnAd4LaQ6+CVe2AGivAe5WwhcdGp0aoVgmJuIqnBy2uSa18Buxs4AXAJMO401SjLOGfnziyhYg2GrtcNSxSfJ90pI/n7iyBUA7quKv/IYsxhmiZ/ZRy/x94soWAO1nwL0qnhVw2cD/ZfKBvjod9cEnrmwB0DBh9RUVfxHxhYrnUHLtEn2mlHyMOe6HT1wT7oISGSas4ntNzJmsVFczjnMBN1CbfwGD1BYPID8A/lFzbz5xZQsQnmWfExa6ecNVIsBKWuIlgA0qnjG2PLhsou0aZgF3qfil2fg89ssbrhwBNtB+GN/dLUnQ5kbCHYAnAFMAvGpsoY7OlS0krmOhxx7WLHwAeBLwVahN2uIUswgrPB5T8rRv7DxWqDwM+JaCjzue8b5wZe2C7gJ8quKVJqY599vJ1yZHffCJK0uA+wAfAtZYjIO+Gsi3TfOJK0sAfFP/jpKV+HBtKfkutOTPJ64sAVYD3qXgrmwpxVht6McnrmwBMAP4pjlYdRij3tCHT1xZAuDdermOA836gDKKqWNirob1ASZc2eeAl3QH36A+AGP+ohFWxNVSfYAuV9YKyKUTo/bgo2nUB5RQbImJuFqsD9DhyhbAuDgjMI36gFKX7S3XB5S6egSV2Bh8zYyDYjr4SGYi2yzmMIm5YnFGkFOLSQGNjY3X/BtaLBabWQF5XKcO6gOkZT950gAW6wPWuXoEZXEaOqoPyHLcPqkIwvqALFcCZHJmvqP6gEzH7VOKIKgPyHQlwIVUjRzWB1xw3H4+ubIFGE3VyGF9wKjj9ik3D4L6gFFXArCSTlEEzKe3LMIfwvYDNgcf+4P9csSVLUAXt7GD+oBuYfsuW4OvUR/Q7UoA/G2zaRvbOqEI0xRbYiKulusDTrgSYEg6sxKJIKwP6FLyjDYRV4v1ATpc2QKgNZtu6zTqA5o1ObM/h5eDyMvCtrlZObLgNhRv+jAHvkwqQjDzhYPfrvRvF0VcLdQHaHGNxWKrZv0d//hahcqr8Ccww1kRbwPuVMIXHRqd+ptimZiIq0F9gA2urEcQ2jkVf/tz0WG8ixTjnKEfn7iyBQi2WnuULLlV0qE9FrdzPnFlC4CGRQkvqyQ/MqRh6KtO2S948IkrWwC0XwHPAQ4r85z7w+TL1U8Y+8Q14S4oyjA9703AZ4AqFX8RvoTpN8i3/Bi/p+egHz5xZQsQGCasvqGuZhzj76DdpuIZx8FPuOAviWDG8e8qXl0yXxnHPnGdsf8FGAByGwC02iMZswAAAABJRU5ErkJggg==) no-repeat 0 -32px}.bx-wrapper .bx-prev:hover,.bx-wrapper .bx-prev:focus{background-position:0 0}.bx-wrapper .bx-next{right:10px;background:url(data:image/png;base64,iVBORw0KGgoAAAANSUhEUgAAAGAAAAA/CAYAAAAfQM0aAAAAGXRFWHRTb2Z0d2FyZQBBZG9iZSBJbWFnZVJlYWR5ccllPAAAAyRpVFh0WE1MOmNvbS5hZG9iZS54bXAAAAAAADw/eHBhY2tldCBiZWdpbj0i77u/IiBpZD0iVzVNME1wQ2VoaUh6cmVTek5UY3prYzlkIj8+IDx4OnhtcG1ldGEgeG1sbnM6eD0iYWRvYmU6bnM6bWV0YS8iIHg6eG1wdGs9IkFkb2JlIFhNUCBDb3JlIDUuMy1jMDExIDY2LjE0NTY2MSwgMjAxMi8wMi8wNi0xNDo1NjoyNyAgICAgICAgIj4gPHJkZjpSREYgeG1sbnM6cmRmPSJodHRwOi8vd3d3LnczLm9yZy8xOTk5LzAyLzIyLXJkZi1zeW50YXgtbnMjIj4gPHJkZjpEZXNjcmlwdGlvbiByZGY6YWJvdXQ9IiIgeG1sbnM6eG1wPSJodHRwOi8vbnMuYWRvYmUuY29tL3hhcC8xLjAvIiB4bWxuczp4bXBNTT0iaHR0cDovL25zLmFkb2JlLmNvbS94YXAvMS4wL21tLyIgeG1sbnM6c3RSZWY9Imh0dHA6Ly9ucy5hZG9iZS5jb20veGFwLzEuMC9zVHlwZS9SZXNvdXJjZVJlZiMiIHhtcDpDcmVhdG9yVG9vbD0iQWRvYmUgUGhvdG9zaG9wIENTNiAoTWFjaW50b3NoKSIgeG1wTU06SW5zdGFuY2VJRD0ieG1wLmlpZDpCRjQ5NEM3RDI5QTkxMUUyOTc1NENCMzI4N0QwNDNCOSIgeG1wTU06RG9jdW1lbnRJRD0ieG1wLmRpZDpCRjQ5NEM3RTI5QTkxMUUyOTc1NENCMzI4N0QwNDNCOSI+IDx4bXBNTTpEZXJpdmVkRnJvbSBzdFJlZjppbnN0YW5jZUlEPSJ4bXAuaWlkOkJGNDk0QzdCMjlBOTExRTI5NzU0Q0IzMjg3RDA0M0I5IiBzdFJlZjpkb2N1bWVudElEPSJ4bXAuZGlkOkJGNDk0QzdDMjlBOTExRTI5NzU0Q0IzMjg3RDA0M0I5Ii8+IDwvcmRmOkRlc2NyaXB0aW9uPiA8L3JkZjpSREY+IDwveDp4bXBtZXRhPiA8P3hwYWNrZXQgZW5kPSJyIj8+WeGRxAAAB2hJREFUeNrUXFtslUUQ3hJCoQVEKy0k1qQgrRg0vaAJaq1tvJSgaLy8mKDF2IvxBY2Bgm8+iIoxvhB72tTUmKgPigbFKCEtxeKD9hZjAi3GJrYJtqRai7TQB+pMz/zwU/5zzsxe2u4kXwiwZ+bb/Xb/s7v/zEmrra1VTFsFeBRQCtgEuBWwkv5vHPAn4DdAB+B7wBjXcUNDQ8o2dXV1SmDzyhUtLS3tBPyxC9CdrN1ihi/swKuA7YD0BG1uJhQDngdcAnwDeJ86Ole2kLii+J2AFsA+wF9RjRalmEUHaZY8m6RDUYZtn6HPHiRfLm2hck0D7AScAdRH8UokwD2AnwA7UoiUyhaRD/S12dHg+8B1OWA/4BTgqVQCPEJL8haLBNDXEfJt03ziipYH+BJwHFAYJcAWwCeAZQ6CLyPfWyz584nrbCuj74eHwgKsddih2R1ba+jHJ65R1k6PuWNhAd4DZM/BTiWbdhwm5hPXsA0AngY8COgNP4JwSTyu4zE/P18VFhZKP7aNYuouXxFX5Ic8Nc2Ea2D/AfYCNgIORZ0DdusOfnFxcXDwUD09PZKP76alKDUR16KiIlVQUHDl7/39/Uozpg7Xac45YB0dGrQHHw07KVwJpRRbYiKuyCc8+MhXcyXocP2RnvMvJhr8QIBK08EPbGJiQuqq0mX7KD4GIohi4xVPTU0N6/BRamPwu7u7dZb3/RozkW3IB3lZEkGHayeI8FFVVdWaZAIUcD2Wl5fbHHy024XtC6QBkomA/XHIFb8X0Xamp6efASHqt27dGnkVkcNxVlFRoXJycmwOvuLGNmifVATsD/bLZezgKgKE2J+bm3sKHk3XXUWs4Mz87Oxs24OvOLEN26cUAfvFXAkrlKGBCDNXEbAajldXV1+5ijjP+KCrg855x+3nk2uy8SwDdIIIM1cRI6k+0NraqkZGRmzuKAIbFrYf0Q2UaPOA/Wpra3PBNfHhYHq6HbC5qanpGB7ETgPWc0TApTr7eyDolOaj6LRG+/W2Bn94eJg7+DpcowZ+AGb+642NjYfC3wEdXAdI1uK2Du2ksH2HrcHHfggGX4frNVcRMPh7BwcHN8ZiseuuIr4DvKXib29YX2bhmW+wEqYptsREXC2eWXS44oyfuYqYmpra19LSEnkaRgEG6Nj8gGRHESVCRkaG9Kg+IOyTiGtmZqatnZsOV/zMLnjcsF7KH5AIECVCX1+f6u3tlbg4oLmc2VyDy8HgPshg2yzmCo8aFsdAALzpw9dw23REwJkvHPwjSu92UcwVRcAnAd4LaQ6+CVe2AGivAe5WwhcdGp0aoVgmJuIqnBy2uSa18Buxs4AXAJMO401SjLOGfnziyhYg2GrtcNSxSfJ90pI/n7iyBUA7quKv/IYsxhmiZ/ZRy/x94soWAO1nwL0qnhVw2cD/ZfKBvjod9cEnrmwB0DBh9RUVfxHxhYrnUHLtEn2mlHyMOe6HT1wT7oISGSas4ntNzJmsVFczjnMBN1CbfwGD1BYPID8A/lFzbz5xZQsQnmWfExa6ecNVIsBKWuIlgA0qnjG2PLhsou0aZgF3qfil2fg89ssbrhwBNtB+GN/dLUnQ5kbCHYAnAFMAvGpsoY7OlS0krmOhxx7WLHwAeBLwVahN2uIUswgrPB5T8rRv7DxWqDwM+JaCjzue8b5wZe2C7gJ8quKVJqY599vJ1yZHffCJK0uA+wAfAtZYjIO+Gsi3TfOJK0sAfFP/jpKV+HBtKfkutOTPJ64sAVYD3qXgrmwpxVht6McnrmwBMAP4pjlYdRij3tCHT1xZAuDdermOA836gDKKqWNirob1ASZc2eeAl3QH36A+AGP+ohFWxNVSfYAuV9YKyKUTo/bgo2nUB5RQbImJuFqsD9DhyhbAuDgjMI36gFKX7S3XB5S6egSV2Bh8zYyDYjr4SGYi2yzmMIm5YnFGkFOLSQGNjY3X/BtaLBabWQF5XKcO6gOkZT950gAW6wPWuXoEZXEaOqoPyHLcPqkIwvqALFcCZHJmvqP6gEzH7VOKIKgPyHQlwIVUjRzWB1xw3H4+ubIFGE3VyGF9wKjj9ik3D4L6gFFXArCSTlEEzKe3LMIfwvYDNgcf+4P9csSVLUAXt7GD+oBuYfsuW4OvUR/Q7UoA/G2zaRvbOqEI0xRbYiKulusDTrgSYEg6sxKJIKwP6FLyjDYRV4v1ATpc2QKgNZtu6zTqA5o1ObM/h5eDyMvCtrlZObLgNhRv+jAHvkwqQjDzhYPfrvRvF0VcLdQHaHGNxWKrZv0d//hahcqr8Ccww1kRbwPuVMIXHRqd+ptimZiIq0F9gA2urEcQ2jkVf/tz0WG8ixTjnKEfn7iyBQi2WnuULLlV0qE9FrdzPnFlC4CGRQkvqyQ/MqRh6KtO2S948IkrWwC0XwHPAQ4r85z7w+TL1U8Y+8Q14S4oyjA9703AZ4AqFX8RvoTpN8i3/Bi/p+egHz5xZQsQGCasvqGuZhzj76DdpuIZx8FPuOAviWDG8e8qXl0yXxnHPnGdsf8FGAByGwC02iMZswAAAABJRU5ErkJggg==) no-repeat -43px -32px}.bx-wrapper .bx-next:hover,.bx-wrapper .bx-next:focus{background-position:-43px 0}.bx-wrapper .bx-controls-direction a{position:absolute;top:50%;margin-top:-16px;outline:0;width:32px;height:32px;text-indent:-9999px;z-index:9999}.bx-wrapper .bx-controls-direction a.disabled{display:none}.bx-wrapper .bx-controls-auto{text-align:center}.bx-wrapper .bx-controls-auto .bx-start{display:block;text-indent:-9999px;width:10px;height:11px;outline:0;background:url(data:image/png;base64,iVBORw0KGgoAAAANSUhEUgAAAGAAAAA/CAYAAAAfQM0aAAAAGXRFWHRTb2Z0d2FyZQBBZG9iZSBJbWFnZVJlYWR5ccllPAAAAyRpVFh0WE1MOmNvbS5hZG9iZS54bXAAAAAAADw/eHBhY2tldCBiZWdpbj0i77u/IiBpZD0iVzVNME1wQ2VoaUh6cmVTek5UY3prYzlkIj8+IDx4OnhtcG1ldGEgeG1sbnM6eD0iYWRvYmU6bnM6bWV0YS8iIHg6eG1wdGs9IkFkb2JlIFhNUCBDb3JlIDUuMy1jMDExIDY2LjE0NTY2MSwgMjAxMi8wMi8wNi0xNDo1NjoyNyAgICAgICAgIj4gPHJkZjpSREYgeG1sbnM6cmRmPSJodHRwOi8vd3d3LnczLm9yZy8xOTk5LzAyLzIyLXJkZi1zeW50YXgtbnMjIj4gPHJkZjpEZXNjcmlwdGlvbiByZGY6YWJvdXQ9IiIgeG1sbnM6eG1wPSJodHRwOi8vbnMuYWRvYmUuY29tL3hhcC8xLjAvIiB4bWxuczp4bXBNTT0iaHR0cDovL25zLmFkb2JlLmNvbS94YXAvMS4wL21tLyIgeG1sbnM6c3RSZWY9Imh0dHA6Ly9ucy5hZG9iZS5jb20veGFwLzEuMC9zVHlwZS9SZXNvdXJjZVJlZiMiIHhtcDpDcmVhdG9yVG9vbD0iQWRvYmUgUGhvdG9zaG9wIENTNiAoTWFjaW50b3NoKSIgeG1wTU06SW5zdGFuY2VJRD0ieG1wLmlpZDpCRjQ5NEM3RDI5QTkxMUUyOTc1NENCMzI4N0QwNDNCOSIgeG1wTU06RG9jdW1lbnRJRD0ieG1wLmRpZDpCRjQ5NEM3RTI5QTkxMUUyOTc1NENCMzI4N0QwNDNCOSI+IDx4bXBNTTpEZXJpdmVkRnJvbSBzdFJlZjppbnN0YW5jZUlEPSJ4bXAuaWlkOkJGNDk0QzdCMjlBOTExRTI5NzU0Q0IzMjg3RDA0M0I5IiBzdFJlZjpkb2N1bWVudElEPSJ4bXAuZGlkOkJGNDk0QzdDMjlBOTExRTI5NzU0Q0IzMjg3RDA0M0I5Ii8+IDwvcmRmOkRlc2NyaXB0aW9uPiA8L3JkZjpSREY+IDwveDp4bXBtZXRhPiA8P3hwYWNrZXQgZW5kPSJyIj8+WeGRxAAAB2hJREFUeNrUXFtslUUQ3hJCoQVEKy0k1qQgrRg0vaAJaq1tvJSgaLy8mKDF2IvxBY2Bgm8+iIoxvhB72tTUmKgPigbFKCEtxeKD9hZjAi3GJrYJtqRai7TQB+pMz/zwU/5zzsxe2u4kXwiwZ+bb/Xb/s7v/zEmrra1VTFsFeBRQCtgEuBWwkv5vHPAn4DdAB+B7wBjXcUNDQ8o2dXV1SmDzyhUtLS3tBPyxC9CdrN1ihi/swKuA7YD0BG1uJhQDngdcAnwDeJ86Ole2kLii+J2AFsA+wF9RjRalmEUHaZY8m6RDUYZtn6HPHiRfLm2hck0D7AScAdRH8UokwD2AnwA7UoiUyhaRD/S12dHg+8B1OWA/4BTgqVQCPEJL8haLBNDXEfJt03ziipYH+BJwHFAYJcAWwCeAZQ6CLyPfWyz584nrbCuj74eHwgKsddih2R1ba+jHJ65R1k6PuWNhAd4DZM/BTiWbdhwm5hPXsA0AngY8COgNP4JwSTyu4zE/P18VFhZKP7aNYuouXxFX5Ic8Nc2Ea2D/AfYCNgIORZ0DdusOfnFxcXDwUD09PZKP76alKDUR16KiIlVQUHDl7/39/Uozpg7Xac45YB0dGrQHHw07KVwJpRRbYiKuyCc8+MhXcyXocP2RnvMvJhr8QIBK08EPbGJiQuqq0mX7KD4GIohi4xVPTU0N6/BRamPwu7u7dZb3/RozkW3IB3lZEkGHayeI8FFVVdWaZAIUcD2Wl5fbHHy024XtC6QBkomA/XHIFb8X0Xamp6efASHqt27dGnkVkcNxVlFRoXJycmwOvuLGNmifVATsD/bLZezgKgKE2J+bm3sKHk3XXUWs4Mz87Oxs24OvOLEN26cUAfvFXAkrlKGBCDNXEbAajldXV1+5ijjP+KCrg855x+3nk2uy8SwDdIIIM1cRI6k+0NraqkZGRmzuKAIbFrYf0Q2UaPOA/Wpra3PBNfHhYHq6HbC5qanpGB7ETgPWc0TApTr7eyDolOaj6LRG+/W2Bn94eJg7+DpcowZ+AGb+642NjYfC3wEdXAdI1uK2Du2ksH2HrcHHfggGX4frNVcRMPh7BwcHN8ZiseuuIr4DvKXib29YX2bhmW+wEqYptsREXC2eWXS44oyfuYqYmpra19LSEnkaRgEG6Nj8gGRHESVCRkaG9Kg+IOyTiGtmZqatnZsOV/zMLnjcsF7KH5AIECVCX1+f6u3tlbg4oLmc2VyDy8HgPshg2yzmCo8aFsdAALzpw9dw23REwJkvHPwjSu92UcwVRcAnAd4LaQ6+CVe2AGivAe5WwhcdGp0aoVgmJuIqnBy2uSa18Buxs4AXAJMO401SjLOGfnziyhYg2GrtcNSxSfJ90pI/n7iyBUA7quKv/IYsxhmiZ/ZRy/x94soWAO1nwL0qnhVw2cD/ZfKBvjod9cEnrmwB0DBh9RUVfxHxhYrnUHLtEn2mlHyMOe6HT1wT7oISGSas4ntNzJmsVFczjnMBN1CbfwGD1BYPID8A/lFzbz5xZQsQnmWfExa6ecNVIsBKWuIlgA0qnjG2PLhsou0aZgF3qfil2fg89ssbrhwBNtB+GN/dLUnQ5kbCHYAnAFMAvGpsoY7OlS0krmOhxx7WLHwAeBLwVahN2uIUswgrPB5T8rRv7DxWqDwM+JaCjzue8b5wZe2C7gJ8quKVJqY599vJ1yZHffCJK0uA+wAfAtZYjIO+Gsi3TfOJK0sAfFP/jpKV+HBtKfkutOTPJ64sAVYD3qXgrmwpxVht6McnrmwBMAP4pjlYdRij3tCHT1xZAuDdermOA836gDKKqWNirob1ASZc2eeAl3QH36A+AGP+ohFWxNVSfYAuV9YKyKUTo/bgo2nUB5RQbImJuFqsD9DhyhbAuDgjMI36gFKX7S3XB5S6egSV2Bh8zYyDYjr4SGYi2yzmMIm5YnFGkFOLSQGNjY3X/BtaLBabWQF5XKcO6gOkZT950gAW6wPWuXoEZXEaOqoPyHLcPqkIwvqALFcCZHJmvqP6gEzH7VOKIKgPyHQlwIVUjRzWB1xw3H4+ubIFGE3VyGF9wKjj9ik3D4L6gFFXArCSTlEEzKe3LMIfwvYDNgcf+4P9csSVLUAXt7GD+oBuYfsuW4OvUR/Q7UoA/G2zaRvbOqEI0xRbYiKulusDTrgSYEg6sxKJIKwP6FLyjDYRV4v1ATpc2QKgNZtu6zTqA5o1ObM/h5eDyMvCtrlZObLgNhRv+jAHvkwqQjDzhYPfrvRvF0VcLdQHaHGNxWKrZv0d//hahcqr8Ccww1kRbwPuVMIXHRqd+ptimZiIq0F9gA2urEcQ2jkVf/tz0WG8ixTjnKEfn7iyBQi2WnuULLlV0qE9FrdzPnFlC4CGRQkvqyQ/MqRh6KtO2S948IkrWwC0XwHPAQ4r85z7w+TL1U8Y+8Q14S4oyjA9703AZ4AqFX8RvoTpN8i3/Bi/p+egHz5xZQsQGCasvqGuZhzj76DdpuIZx8FPuOAviWDG8e8qXl0yXxnHPnGdsf8FGAByGwC02iMZswAAAABJRU5ErkJggg==) -86px -11px no-repeat;margin:0 3px}.bx-wrapper .bx-controls-auto .bx-start:hover,.bx-wrapper .bx-controls-auto .bx-start.active,.bx-wrapper .bx-controls-auto .bx-start:focus{background-position:-86px 0}.bx-wrapper .bx-controls-auto .bx-stop{display:block;text-indent:-9999px;width:9px;height:11px;outline:0;background:url(data:image/png;base64,iVBORw0KGgoAAAANSUhEUgAAAGAAAAA/CAYAAAAfQM0aAAAAGXRFWHRTb2Z0d2FyZQBBZG9iZSBJbWFnZVJlYWR5ccllPAAAAyRpVFh0WE1MOmNvbS5hZG9iZS54bXAAAAAAADw/eHBhY2tldCBiZWdpbj0i77u/IiBpZD0iVzVNME1wQ2VoaUh6cmVTek5UY3prYzlkIj8+IDx4OnhtcG1ldGEgeG1sbnM6eD0iYWRvYmU6bnM6bWV0YS8iIHg6eG1wdGs9IkFkb2JlIFhNUCBDb3JlIDUuMy1jMDExIDY2LjE0NTY2MSwgMjAxMi8wMi8wNi0xNDo1NjoyNyAgICAgICAgIj4gPHJkZjpSREYgeG1sbnM6cmRmPSJodHRwOi8vd3d3LnczLm9yZy8xOTk5LzAyLzIyLXJkZi1zeW50YXgtbnMjIj4gPHJkZjpEZXNjcmlwdGlvbiByZGY6YWJvdXQ9IiIgeG1sbnM6eG1wPSJodHRwOi8vbnMuYWRvYmUuY29tL3hhcC8xLjAvIiB4bWxuczp4bXBNTT0iaHR0cDovL25zLmFkb2JlLmNvbS94YXAvMS4wL21tLyIgeG1sbnM6c3RSZWY9Imh0dHA6Ly9ucy5hZG9iZS5jb20veGFwLzEuMC9zVHlwZS9SZXNvdXJjZVJlZiMiIHhtcDpDcmVhdG9yVG9vbD0iQWRvYmUgUGhvdG9zaG9wIENTNiAoTWFjaW50b3NoKSIgeG1wTU06SW5zdGFuY2VJRD0ieG1wLmlpZDpCRjQ5NEM3RDI5QTkxMUUyOTc1NENCMzI4N0QwNDNCOSIgeG1wTU06RG9jdW1lbnRJRD0ieG1wLmRpZDpCRjQ5NEM3RTI5QTkxMUUyOTc1NENCMzI4N0QwNDNCOSI+IDx4bXBNTTpEZXJpdmVkRnJvbSBzdFJlZjppbnN0YW5jZUlEPSJ4bXAuaWlkOkJGNDk0QzdCMjlBOTExRTI5NzU0Q0IzMjg3RDA0M0I5IiBzdFJlZjpkb2N1bWVudElEPSJ4bXAuZGlkOkJGNDk0QzdDMjlBOTExRTI5NzU0Q0IzMjg3RDA0M0I5Ii8+IDwvcmRmOkRlc2NyaXB0aW9uPiA8L3JkZjpSREY+IDwveDp4bXBtZXRhPiA8P3hwYWNrZXQgZW5kPSJyIj8+WeGRxAAAB2hJREFUeNrUXFtslUUQ3hJCoQVEKy0k1qQgrRg0vaAJaq1tvJSgaLy8mKDF2IvxBY2Bgm8+iIoxvhB72tTUmKgPigbFKCEtxeKD9hZjAi3GJrYJtqRai7TQB+pMz/zwU/5zzsxe2u4kXwiwZ+bb/Xb/s7v/zEmrra1VTFsFeBRQCtgEuBWwkv5vHPAn4DdAB+B7wBjXcUNDQ8o2dXV1SmDzyhUtLS3tBPyxC9CdrN1ihi/swKuA7YD0BG1uJhQDngdcAnwDeJ86Ole2kLii+J2AFsA+wF9RjRalmEUHaZY8m6RDUYZtn6HPHiRfLm2hck0D7AScAdRH8UokwD2AnwA7UoiUyhaRD/S12dHg+8B1OWA/4BTgqVQCPEJL8haLBNDXEfJt03ziipYH+BJwHFAYJcAWwCeAZQ6CLyPfWyz584nrbCuj74eHwgKsddih2R1ba+jHJ65R1k6PuWNhAd4DZM/BTiWbdhwm5hPXsA0AngY8COgNP4JwSTyu4zE/P18VFhZKP7aNYuouXxFX5Ic8Nc2Ea2D/AfYCNgIORZ0DdusOfnFxcXDwUD09PZKP76alKDUR16KiIlVQUHDl7/39/Uozpg7Xac45YB0dGrQHHw07KVwJpRRbYiKuyCc8+MhXcyXocP2RnvMvJhr8QIBK08EPbGJiQuqq0mX7KD4GIohi4xVPTU0N6/BRamPwu7u7dZb3/RozkW3IB3lZEkGHayeI8FFVVdWaZAIUcD2Wl5fbHHy024XtC6QBkomA/XHIFb8X0Xamp6efASHqt27dGnkVkcNxVlFRoXJycmwOvuLGNmifVATsD/bLZezgKgKE2J+bm3sKHk3XXUWs4Mz87Oxs24OvOLEN26cUAfvFXAkrlKGBCDNXEbAajldXV1+5ijjP+KCrg855x+3nk2uy8SwDdIIIM1cRI6k+0NraqkZGRmzuKAIbFrYf0Q2UaPOA/Wpra3PBNfHhYHq6HbC5qanpGB7ETgPWc0TApTr7eyDolOaj6LRG+/W2Bn94eJg7+DpcowZ+AGb+642NjYfC3wEdXAdI1uK2Du2ksH2HrcHHfggGX4frNVcRMPh7BwcHN8ZiseuuIr4DvKXib29YX2bhmW+wEqYptsREXC2eWXS44oyfuYqYmpra19LSEnkaRgEG6Nj8gGRHESVCRkaG9Kg+IOyTiGtmZqatnZsOV/zMLnjcsF7KH5AIECVCX1+f6u3tlbg4oLmc2VyDy8HgPshg2yzmCo8aFsdAALzpw9dw23REwJkvHPwjSu92UcwVRcAnAd4LaQ6+CVe2AGivAe5WwhcdGp0aoVgmJuIqnBy2uSa18Buxs4AXAJMO401SjLOGfnziyhYg2GrtcNSxSfJ90pI/n7iyBUA7quKv/IYsxhmiZ/ZRy/x94soWAO1nwL0qnhVw2cD/ZfKBvjod9cEnrmwB0DBh9RUVfxHxhYrnUHLtEn2mlHyMOe6HT1wT7oISGSas4ntNzJmsVFczjnMBN1CbfwGD1BYPID8A/lFzbz5xZQsQnmWfExa6ecNVIsBKWuIlgA0qnjG2PLhsou0aZgF3qfil2fg89ssbrhwBNtB+GN/dLUnQ5kbCHYAnAFMAvGpsoY7OlS0krmOhxx7WLHwAeBLwVahN2uIUswgrPB5T8rRv7DxWqDwM+JaCjzue8b5wZe2C7gJ8quKVJqY599vJ1yZHffCJK0uA+wAfAtZYjIO+Gsi3TfOJK0sAfFP/jpKV+HBtKfkutOTPJ64sAVYD3qXgrmwpxVht6McnrmwBMAP4pjlYdRij3tCHT1xZAuDdermOA836gDKKqWNirob1ASZc2eeAl3QH36A+AGP+ohFWxNVSfYAuV9YKyKUTo/bgo2nUB5RQbImJuFqsD9DhyhbAuDgjMI36gFKX7S3XB5S6egSV2Bh8zYyDYjr4SGYi2yzmMIm5YnFGkFOLSQGNjY3X/BtaLBabWQF5XKcO6gOkZT950gAW6wPWuXoEZXEaOqoPyHLcPqkIwvqALFcCZHJmvqP6gEzH7VOKIKgPyHQlwIVUjRzWB1xw3H4+ubIFGE3VyGF9wKjj9ik3D4L6gFFXArCSTlEEzKe3LMIfwvYDNgcf+4P9csSVLUAXt7GD+oBuYfsuW4OvUR/Q7UoA/G2zaRvbOqEI0xRbYiKulusDTrgSYEg6sxKJIKwP6FLyjDYRV4v1ATpc2QKgNZtu6zTqA5o1ObM/h5eDyMvCtrlZObLgNhRv+jAHvkwqQjDzhYPfrvRvF0VcLdQHaHGNxWKrZv0d//hahcqr8Ccww1kRbwPuVMIXHRqd+ptimZiIq0F9gA2urEcQ2jkVf/tz0WG8ixTjnKEfn7iyBQi2WnuULLlV0qE9FrdzPnFlC4CGRQkvqyQ/MqRh6KtO2S948IkrWwC0XwHPAQ4r85z7w+TL1U8Y+8Q14S4oyjA9703AZ4AqFX8RvoTpN8i3/Bi/p+egHz5xZQsQGCasvqGuZhzj76DdpuIZx8FPuOAviWDG8e8qXl0yXxnHPnGdsf8FGAByGwC02iMZswAAAABJRU5ErkJggg==) -86px -44px no-repeat;margin:0 3px}.bx-wrapper .bx-controls-auto .bx-stop:hover,.bx-wrapper .bx-controls-auto .bx-stop.active,.bx-wrapper .bx-controls-auto .bx-stop:focus{background-position:-86px -33px}.bx-wrapper .bx-controls.bx-has-controls-auto.bx-has-pager .bx-pager{text-align:left;width:80%}.bx-wrapper .bx-controls.bx-has-controls-auto.bx-has-pager .bx-controls-auto{right:0;width:35px}.bx-wrapper .bx-caption{position:absolute;bottom:0;left:0;background:#666;background:rgba(80,80,80,.75);width:100%}.bx-wrapper .bx-caption span{color:#fff;font-family:Arial;display:block;font-size:.85em;padding:10px} body.compensate-for-scrollbar{overflow:hidden}.fancybox-active{height:auto}.fancybox-is-hidden{left:-9999px;margin:0;position:absolute!important;top:-9999px;visibility:hidden}.fancybox-container{-webkit-backface-visibility:hidden;height:100%;left:0;outline:none;position:fixed;-webkit-tap-highlight-color:transparent;top:0;-ms-touch-action:manipulation;touch-action:manipulation;transform:translateZ(0);width:100%;z-index:99992}.fancybox-container *{box-sizing:border-box}.fancybox-bg,.fancybox-inner,.fancybox-outer,.fancybox-stage{bottom:0;left:0;position:absolute;right:0;top:0}.fancybox-outer{-webkit-overflow-scrolling:touch;overflow-y:auto}.fancybox-bg{background:#1e1e1e;opacity:0;transition-duration:inherit;transition-property:opacity;transition-timing-function:cubic-bezier(.47,0,.74,.71)}.fancybox-is-open .fancybox-bg{opacity:.9;transition-timing-function:cubic-bezier(.22,.61,.36,1)}.fancybox-caption,.fancybox-infobar,.fancybox-navigation .fancybox-button,.fancybox-toolbar{direction:ltr;opacity:0;position:absolute;transition:opacity .25s ease,visibility 0s ease .25s;visibility:hidden;z-index:99997}.fancybox-show-caption .fancybox-caption,.fancybox-show-infobar .fancybox-infobar,.fancybox-show-nav .fancybox-navigation .fancybox-button,.fancybox-show-toolbar .fancybox-toolbar{opacity:1;transition:opacity .25s ease 0s,visibility 0s ease 0s;visibility:visible}.fancybox-infobar{color:#ccc;font-size:13px;-webkit-font-smoothing:subpixel-antialiased;height:44px;left:0;line-height:44px;min-width:44px;mix-blend-mode:difference;padding:0 10px;pointer-events:none;top:0;-webkit-touch-callout:none;-webkit-user-select:none;-moz-user-select:none;-ms-user-select:none;user-select:none}.fancybox-toolbar{right:0;top:0}.fancybox-stage{direction:ltr;overflow:visible;transform:translateZ(0);z-index:99994}.fancybox-is-open .fancybox-stage{overflow:hidden}.fancybox-slide{-webkit-backface-visibility:hidden;display:none;height:100%;left:0;outline:none;overflow:auto;-webkit-overflow-scrolling:touch;padding:44px;position:absolute;text-align:center;top:0;transition-property:transform,opacity;white-space:normal;width:100%;z-index:99994}.fancybox-slide:before{content:"";display:inline-block;font-size:0;height:100%;vertical-align:middle;width:0}.fancybox-is-sliding .fancybox-slide,.fancybox-slide--current,.fancybox-slide--next,.fancybox-slide--previous{display:block}.fancybox-slide--image{overflow:hidden;padding:44px 0}.fancybox-slide--image:before{display:none}.fancybox-slide--html{padding:6px}.fancybox-content{background:#fff;display:inline-block;margin:0;max-width:100%;overflow:auto;-webkit-overflow-scrolling:touch;padding:44px;position:relative;text-align:left;vertical-align:middle}.fancybox-slide--image .fancybox-content{animation-timing-function:cubic-bezier(.5,0,.14,1);-webkit-backface-visibility:hidden;background:transparent;background-repeat:no-repeat;background-size:100% 100%;left:0;max-width:none;overflow:visible;padding:0;position:absolute;top:0;transform-origin:top left;transition-property:transform,opacity;-webkit-user-select:none;-moz-user-select:none;-ms-user-select:none;user-select:none;z-index:99995}.fancybox-can-zoomOut .fancybox-content{cursor:zoom-out}.fancybox-can-zoomIn .fancybox-content{cursor:zoom-in}.fancybox-can-pan .fancybox-content,.fancybox-can-swipe .fancybox-content{cursor:grab}.fancybox-is-grabbing .fancybox-content{cursor:grabbing}.fancybox-container [data-selectable=true]{cursor:text}.fancybox-image,.fancybox-spaceball{background:transparent;border:0;height:100%;left:0;margin:0;max-height:none;max-width:none;padding:0;position:absolute;top:0;-webkit-user-select:none;-moz-user-select:none;-ms-user-select:none;user-select:none;width:100%}.fancybox-spaceball{z-index:1}.fancybox-slide--iframe .fancybox-content,.fancybox-slide--map .fancybox-content,.fancybox-slide--pdf .fancybox-content,.fancybox-slide--video .fancybox-content{height:100%;overflow:visible;padding:0;width:100%}.fancybox-slide--video .fancybox-content{background:#000}.fancybox-slide--map .fancybox-content{background:#e5e3df}.fancybox-slide--iframe .fancybox-content{background:#fff}.fancybox-iframe,.fancybox-video{background:transparent;border:0;display:block;height:100%;margin:0;overflow:hidden;padding:0;width:100%}.fancybox-iframe{left:0;position:absolute;top:0}.fancybox-error{background:#fff;cursor:default;max-width:400px;padding:40px;width:100%}.fancybox-error p{color:#444;font-size:16px;line-height:20px;margin:0;padding:0}.fancybox-button{background:rgba(30,30,30,.6);border:0;border-radius:0;box-shadow:none;cursor:pointer;display:inline-block;height:44px;margin:0;padding:10px;position:relative;transition:color .2s;vertical-align:top;visibility:inherit;width:44px}.fancybox-button,.fancybox-button:link,.fancybox-button:visited{color:#ccc}.fancybox-button:hover{color:#fff}.fancybox-button:focus{outline:none}.fancybox-button.fancybox-focus{outline:1px dotted}.fancybox-button[disabled],.fancybox-button[disabled]:hover{color:#888;cursor:default;outline:none}.fancybox-button div{height:100%}.fancybox-button svg{display:block;height:100%;overflow:visible;position:relative;width:100%}.fancybox-button svg path{fill:currentColor;stroke-width:0}.fancybox-button--fsenter svg:nth-child(2),.fancybox-button--fsexit svg:first-child,.fancybox-button--pause svg:first-child,.fancybox-button--play svg:nth-child(2){display:none}.fancybox-progress{background:#ff5268;height:2px;left:0;position:absolute;right:0;top:0;transform:scaleX(0);transform-origin:0;transition-property:transform;transition-timing-function:linear;z-index:99998}.fancybox-close-small{background:transparent;border:0;border-radius:0;color:#ccc;cursor:pointer;opacity:.8;padding:8px;position:absolute;right:-12px;top:-44px;z-index:401}.fancybox-close-small:hover{color:#fff;opacity:1}.fancybox-slide--html .fancybox-close-small{color:currentColor;padding:10px;right:0;top:0}.fancybox-slide--image.fancybox-is-scaling .fancybox-content{overflow:hidden}.fancybox-is-scaling .fancybox-close-small,.fancybox-is-zoomable.fancybox-can-pan .fancybox-close-small{display:none}.fancybox-navigation .fancybox-button{background-clip:content-box;height:100px;opacity:0;position:absolute;top:calc(50% - 50px);width:70px}.fancybox-navigation .fancybox-button div{padding:7px}.fancybox-navigation .fancybox-button--arrow_left{left:0;left:env(safe-area-inset-left);padding:31px 26px 31px 6px}.fancybox-navigation .fancybox-button--arrow_right{padding:31px 6px 31px 26px;right:0;right:env(safe-area-inset-right)}.fancybox-caption{background:linear-gradient(0deg,rgba(0,0,0,.85) 0,rgba(0,0,0,.3) 50%,rgba(0,0,0,.15) 65%,rgba(0,0,0,.075) 75.5%,rgba(0,0,0,.037) 82.85%,rgba(0,0,0,.019) 88%,transparent);bottom:0;color:#eee;font-size:14px;font-weight:400;left:0;line-height:1.5;padding:75px 44px 25px;pointer-events:none;right:0;text-align:center;z-index:99996}@supports (padding:max(0px)){.fancybox-caption{padding:75px max(44px,env(safe-area-inset-right)) max(25px,env(safe-area-inset-bottom)) max(44px,env(safe-area-inset-left))}}.fancybox-caption--separate{margin-top:-50px}.fancybox-caption__body{max-height:50vh;overflow:auto;pointer-events:all}.fancybox-caption a,.fancybox-caption a:link,.fancybox-caption a:visited{color:#ccc;text-decoration:none}.fancybox-caption a:hover{color:#fff;text-decoration:underline}.fancybox-loading{animation:a 1s linear infinite;background:transparent;border:4px solid #888;border-bottom-color:#fff;border-radius:50%;height:50px;left:50%;margin:-25px 0 0 -25px;opacity:.7;padding:0;position:absolute;top:50%;width:50px;z-index:99999}@keyframes a{to{transform:rotate(1turn)}}.fancybox-animated{transition-timing-function:cubic-bezier(0,0,.25,1)}.fancybox-fx-slide.fancybox-slide--previous{opacity:0;transform:translate3d(-100%,0,0)}.fancybox-fx-slide.fancybox-slide--next{opacity:0;transform:translate3d(100%,0,0)}.fancybox-fx-slide.fancybox-slide--current{opacity:1;transform:translateZ(0)}.fancybox-fx-fade.fancybox-slide--next,.fancybox-fx-fade.fancybox-slide--previous{opacity:0;transition-timing-function:cubic-bezier(.19,1,.22,1)}.fancybox-fx-fade.fancybox-slide--current{opacity:1}.fancybox-fx-zoom-in-out.fancybox-slide--previous{opacity:0;transform:scale3d(1.5,1.5,1.5)}.fancybox-fx-zoom-in-out.fancybox-slide--next{opacity:0;transform:scale3d(.5,.5,.5)}.fancybox-fx-zoom-in-out.fancybox-slide--current{opacity:1;transform:scaleX(1)}.fancybox-fx-rotate.fancybox-slide--previous{opacity:0;transform:rotate(-1turn)}.fancybox-fx-rotate.fancybox-slide--next{opacity:0;transform:rotate(1turn)}.fancybox-fx-rotate.fancybox-slide--current{opacity:1;transform:rotate(0deg)}.fancybox-fx-circular.fancybox-slide--previous{opacity:0;transform:scale3d(0,0,0) translate3d(-100%,0,0)}.fancybox-fx-circular.fancybox-slide--next{opacity:0;transform:scale3d(0,0,0) translate3d(100%,0,0)}.fancybox-fx-circular.fancybox-slide--current{opacity:1;transform:scaleX(1) translateZ(0)}.fancybox-fx-tube.fancybox-slide--previous{transform:translate3d(-100%,0,0) scale(.1) skew(-10deg)}.fancybox-fx-tube.fancybox-slide--next{transform:translate3d(100%,0,0) scale(.1) skew(10deg)}.fancybox-fx-tube.fancybox-slide--current{transform:translateZ(0) scale(1)}@media (max-height:576px){.fancybox-slide{padding-left:6px;padding-right:6px}.fancybox-slide--image{padding:6px 0}.fancybox-close-small{right:-6px}.fancybox-slide--image .fancybox-close-small{background:#4e4e4e;color:#f2f4f6;height:36px;opacity:1;padding:6px;right:0;top:0;width:36px}.fancybox-caption{padding-left:12px;padding-right:12px}@supports (padding:max(0px)){.fancybox-caption{padding-left:max(12px,env(safe-area-inset-left));padding-right:max(12px,env(safe-area-inset-right))}}}.fancybox-share{background:#f4f4f4;border-radius:3px;max-width:90%;padding:30px;text-align:center}.fancybox-share h1{color:#222;font-size:35px;font-weight:700;margin:0 0 20px}.fancybox-share p{margin:0;padding:0}.fancybox-share__button{border:0;border-radius:3px;display:inline-block;font-size:14px;font-weight:700;line-height:40px;margin:0 5px 10px;min-width:130px;padding:0 15px;text-decoration:none;transition:all .2s;-webkit-user-select:none;-moz-user-select:none;-ms-user-select:none;user-select:none;white-space:nowrap}.fancybox-share__button:link,.fancybox-share__button:visited{color:#fff}.fancybox-share__button:hover{text-decoration:none}.fancybox-share__button--fb{background:#3b5998}.fancybox-share__button--fb:hover{background:#344e86}.fancybox-share__button--pt{background:#bd081d}.fancybox-share__button--pt:hover{background:#aa0719}.fancybox-share__button--tw{background:#1da1f2}.fancybox-share__button--tw:hover{background:#0d95e8}.fancybox-share__button svg{height:25px;margin-right:7px;position:relative;top:-1px;vertical-align:middle;width:25px}.fancybox-share__button svg path{fill:#fff}.fancybox-share__input{background:transparent;border:0;border-bottom:1px solid #d7d7d7;border-radius:0;color:#5d5b5b;font-size:14px;margin:10px 0 0;outline:none;padding:10px 15px;width:100%}.fancybox-thumbs{background:#ddd;bottom:0;display:none;margin:0;-webkit-overflow-scrolling:touch;-ms-overflow-style:-ms-autohiding-scrollbar;padding:2px 2px 4px;position:absolute;right:0;-webkit-tap-highlight-color:rgba(0,0,0,0);top:0;width:212px;z-index:99995}.fancybox-thumbs-x{overflow-x:auto;overflow-y:hidden}.fancybox-show-thumbs .fancybox-thumbs{display:block}.fancybox-show-thumbs .fancybox-inner{right:212px}.fancybox-thumbs__list{font-size:0;height:100%;list-style:none;margin:0;overflow-x:hidden;overflow-y:auto;padding:0;position:absolute;position:relative;white-space:nowrap;width:100%}.fancybox-thumbs-x .fancybox-thumbs__list{overflow:hidden}.fancybox-thumbs-y .fancybox-thumbs__list::-webkit-scrollbar{width:7px}.fancybox-thumbs-y .fancybox-thumbs__list::-webkit-scrollbar-track{background:#fff;border-radius:10px;box-shadow:inset 0 0 6px rgba(0,0,0,.3)}.fancybox-thumbs-y .fancybox-thumbs__list::-webkit-scrollbar-thumb{background:#2a2a2a;border-radius:10px}.fancybox-thumbs__list a{-webkit-backface-visibility:hidden;backface-visibility:hidden;background-color:rgba(0,0,0,.1);background-position:50%;background-repeat:no-repeat;background-size:cover;cursor:pointer;float:left;height:75px;margin:2px;max-height:calc(100% - 8px);max-width:calc(50% - 4px);outline:none;overflow:hidden;padding:0;position:relative;-webkit-tap-highlight-color:transparent;width:100px}.fancybox-thumbs__list a:before{border:6px solid #ff5268;bottom:0;content:"";left:0;opacity:0;position:absolute;right:0;top:0;transition:all .2s cubic-bezier(.25,.46,.45,.94);z-index:99991}.fancybox-thumbs__list a:focus:before{opacity:.5}.fancybox-thumbs__list a.fancybox-thumbs-active:before{opacity:1}@media (max-width:576px){.fancybox-thumbs{width:110px}.fancybox-show-thumbs .fancybox-inner{right:110px}.fancybox-thumbs__list a{max-width:calc(100% - 10px)}} [data-aos][data-aos][data-aos-duration="50"],body[data-aos-duration="50"] [data-aos]{transition-duration:50ms}[data-aos][data-aos][data-aos-delay="50"],body[data-aos-delay="50"] [data-aos]{transition-delay:0}[data-aos][data-aos][data-aos-delay="50"].aos-animate,body[data-aos-delay="50"] [data-aos].aos-animate{transition-delay:50ms}[data-aos][data-aos][data-aos-duration="100"],body[data-aos-duration="100"] [data-aos]{transition-duration:.1s}[data-aos][data-aos][data-aos-delay="100"],body[data-aos-delay="100"] [data-aos]{transition-delay:0}[data-aos][data-aos][data-aos-delay="100"].aos-animate,body[data-aos-delay="100"] [data-aos].aos-animate{transition-delay:.1s}[data-aos][data-aos][data-aos-duration="150"],body[data-aos-duration="150"] [data-aos]{transition-duration:.15s}[data-aos][data-aos][data-aos-delay="150"],body[data-aos-delay="150"] [data-aos]{transition-delay:0}[data-aos][data-aos][data-aos-delay="150"].aos-animate,body[data-aos-delay="150"] [data-aos].aos-animate{transition-delay:.15s}[data-aos][data-aos][data-aos-duration="200"],body[data-aos-duration="200"] [data-aos]{transition-duration:.2s}[data-aos][data-aos][data-aos-delay="200"],body[data-aos-delay="200"] [data-aos]{transition-delay:0}[data-aos][data-aos][data-aos-delay="200"].aos-animate,body[data-aos-delay="200"] [data-aos].aos-animate{transition-delay:.2s}[data-aos][data-aos][data-aos-duration="250"],body[data-aos-duration="250"] [data-aos]{transition-duration:.25s}[data-aos][data-aos][data-aos-delay="250"],body[data-aos-delay="250"] [data-aos]{transition-delay:0}[data-aos][data-aos][data-aos-delay="250"].aos-animate,body[data-aos-delay="250"] [data-aos].aos-animate{transition-delay:.25s}[data-aos][data-aos][data-aos-duration="300"],body[data-aos-duration="300"] [data-aos]{transition-duration:.3s}[data-aos][data-aos][data-aos-delay="300"],body[data-aos-delay="300"] [data-aos]{transition-delay:0}[data-aos][data-aos][data-aos-delay="300"].aos-animate,body[data-aos-delay="300"] [data-aos].aos-animate{transition-delay:.3s}[data-aos][data-aos][data-aos-duration="350"],body[data-aos-duration="350"] [data-aos]{transition-duration:.35s}[data-aos][data-aos][data-aos-delay="350"],body[data-aos-delay="350"] [data-aos]{transition-delay:0}[data-aos][data-aos][data-aos-delay="350"].aos-animate,body[data-aos-delay="350"] [data-aos].aos-animate{transition-delay:.35s}[data-aos][data-aos][data-aos-duration="400"],body[data-aos-duration="400"] [data-aos]{transition-duration:.4s}[data-aos][data-aos][data-aos-delay="400"],body[data-aos-delay="400"] [data-aos]{transition-delay:0}[data-aos][data-aos][data-aos-delay="400"].aos-animate,body[data-aos-delay="400"] [data-aos].aos-animate{transition-delay:.4s}[data-aos][data-aos][data-aos-duration="450"],body[data-aos-duration="450"] [data-aos]{transition-duration:.45s}[data-aos][data-aos][data-aos-delay="450"],body[data-aos-delay="450"] [data-aos]{transition-delay:0}[data-aos][data-aos][data-aos-delay="450"].aos-animate,body[data-aos-delay="450"] [data-aos].aos-animate{transition-delay:.45s}[data-aos][data-aos][data-aos-duration="500"],body[data-aos-duration="500"] [data-aos]{transition-duration:.5s}[data-aos][data-aos][data-aos-delay="500"],body[data-aos-delay="500"] [data-aos]{transition-delay:0}[data-aos][data-aos][data-aos-delay="500"].aos-animate,body[data-aos-delay="500"] [data-aos].aos-animate{transition-delay:.5s}[data-aos][data-aos][data-aos-duration="550"],body[data-aos-duration="550"] [data-aos]{transition-duration:.55s}[data-aos][data-aos][data-aos-delay="550"],body[data-aos-delay="550"] [data-aos]{transition-delay:0}[data-aos][data-aos][data-aos-delay="550"].aos-animate,body[data-aos-delay="550"] [data-aos].aos-animate{transition-delay:.55s}[data-aos][data-aos][data-aos-duration="600"],body[data-aos-duration="600"] [data-aos]{transition-duration:.6s}[data-aos][data-aos][data-aos-delay="600"],body[data-aos-delay="600"] [data-aos]{transition-delay:0}[data-aos][data-aos][data-aos-delay="600"].aos-animate,body[data-aos-delay="600"] [data-aos].aos-animate{transition-delay:.6s}[data-aos][data-aos][data-aos-duration="650"],body[data-aos-duration="650"] [data-aos]{transition-duration:.65s}[data-aos][data-aos][data-aos-delay="650"],body[data-aos-delay="650"] [data-aos]{transition-delay:0}[data-aos][data-aos][data-aos-delay="650"].aos-animate,body[data-aos-delay="650"] [data-aos].aos-animate{transition-delay:.65s}[data-aos][data-aos][data-aos-duration="700"],body[data-aos-duration="700"] [data-aos]{transition-duration:.7s}[data-aos][data-aos][data-aos-delay="700"],body[data-aos-delay="700"] [data-aos]{transition-delay:0}[data-aos][data-aos][data-aos-delay="700"].aos-animate,body[data-aos-delay="700"] [data-aos].aos-animate{transition-delay:.7s}[data-aos][data-aos][data-aos-duration="750"],body[data-aos-duration="750"] [data-aos]{transition-duration:.75s}[data-aos][data-aos][data-aos-delay="750"],body[data-aos-delay="750"] [data-aos]{transition-delay:0}[data-aos][data-aos][data-aos-delay="750"].aos-animate,body[data-aos-delay="750"] [data-aos].aos-animate{transition-delay:.75s}[data-aos][data-aos][data-aos-duration="800"],body[data-aos-duration="800"] [data-aos]{transition-duration:.8s}[data-aos][data-aos][data-aos-delay="800"],body[data-aos-delay="800"] [data-aos]{transition-delay:0}[data-aos][data-aos][data-aos-delay="800"].aos-animate,body[data-aos-delay="800"] [data-aos].aos-animate{transition-delay:.8s}[data-aos][data-aos][data-aos-duration="850"],body[data-aos-duration="850"] [data-aos]{transition-duration:.85s}[data-aos][data-aos][data-aos-delay="850"],body[data-aos-delay="850"] [data-aos]{transition-delay:0}[data-aos][data-aos][data-aos-delay="850"].aos-animate,body[data-aos-delay="850"] [data-aos].aos-animate{transition-delay:.85s}[data-aos][data-aos][data-aos-duration="900"],body[data-aos-duration="900"] [data-aos]{transition-duration:.9s}[data-aos][data-aos][data-aos-delay="900"],body[data-aos-delay="900"] [data-aos]{transition-delay:0}[data-aos][data-aos][data-aos-delay="900"].aos-animate,body[data-aos-delay="900"] [data-aos].aos-animate{transition-delay:.9s}[data-aos][data-aos][data-aos-duration="950"],body[data-aos-duration="950"] [data-aos]{transition-duration:.95s}[data-aos][data-aos][data-aos-delay="950"],body[data-aos-delay="950"] [data-aos]{transition-delay:0}[data-aos][data-aos][data-aos-delay="950"].aos-animate,body[data-aos-delay="950"] [data-aos].aos-animate{transition-delay:.95s}[data-aos][data-aos][data-aos-duration="1000"],body[data-aos-duration="1000"] [data-aos]{transition-duration:1s}[data-aos][data-aos][data-aos-delay="1000"],body[data-aos-delay="1000"] [data-aos]{transition-delay:0}[data-aos][data-aos][data-aos-delay="1000"].aos-animate,body[data-aos-delay="1000"] [data-aos].aos-animate{transition-delay:1s}[data-aos][data-aos][data-aos-duration="1050"],body[data-aos-duration="1050"] [data-aos]{transition-duration:1.05s}[data-aos][data-aos][data-aos-delay="1050"],body[data-aos-delay="1050"] [data-aos]{transition-delay:0}[data-aos][data-aos][data-aos-delay="1050"].aos-animate,body[data-aos-delay="1050"] [data-aos].aos-animate{transition-delay:1.05s}[data-aos][data-aos][data-aos-duration="1100"],body[data-aos-duration="1100"] [data-aos]{transition-duration:1.1s}[data-aos][data-aos][data-aos-delay="1100"],body[data-aos-delay="1100"] [data-aos]{transition-delay:0}[data-aos][data-aos][data-aos-delay="1100"].aos-animate,body[data-aos-delay="1100"] [data-aos].aos-animate{transition-delay:1.1s}[data-aos][data-aos][data-aos-duration="1150"],body[data-aos-duration="1150"] [data-aos]{transition-duration:1.15s}[data-aos][data-aos][data-aos-delay="1150"],body[data-aos-delay="1150"] [data-aos]{transition-delay:0}[data-aos][data-aos][data-aos-delay="1150"].aos-animate,body[data-aos-delay="1150"] [data-aos].aos-animate{transition-delay:1.15s}[data-aos][data-aos][data-aos-duration="1200"],body[data-aos-duration="1200"] [data-aos]{transition-duration:1.2s}[data-aos][data-aos][data-aos-delay="1200"],body[data-aos-delay="1200"] [data-aos]{transition-delay:0}[data-aos][data-aos][data-aos-delay="1200"].aos-animate,body[data-aos-delay="1200"] [data-aos].aos-animate{transition-delay:1.2s}[data-aos][data-aos][data-aos-duration="1250"],body[data-aos-duration="1250"] [data-aos]{transition-duration:1.25s}[data-aos][data-aos][data-aos-delay="1250"],body[data-aos-delay="1250"] [data-aos]{transition-delay:0}[data-aos][data-aos][data-aos-delay="1250"].aos-animate,body[data-aos-delay="1250"] [data-aos].aos-animate{transition-delay:1.25s}[data-aos][data-aos][data-aos-duration="1300"],body[data-aos-duration="1300"] [data-aos]{transition-duration:1.3s}[data-aos][data-aos][data-aos-delay="1300"],body[data-aos-delay="1300"] [data-aos]{transition-delay:0}[data-aos][data-aos][data-aos-delay="1300"].aos-animate,body[data-aos-delay="1300"] [data-aos].aos-animate{transition-delay:1.3s}[data-aos][data-aos][data-aos-duration="1350"],body[data-aos-duration="1350"] [data-aos]{transition-duration:1.35s}[data-aos][data-aos][data-aos-delay="1350"],body[data-aos-delay="1350"] [data-aos]{transition-delay:0}[data-aos][data-aos][data-aos-delay="1350"].aos-animate,body[data-aos-delay="1350"] [data-aos].aos-animate{transition-delay:1.35s}[data-aos][data-aos][data-aos-duration="1400"],body[data-aos-duration="1400"] [data-aos]{transition-duration:1.4s}[data-aos][data-aos][data-aos-delay="1400"],body[data-aos-delay="1400"] [data-aos]{transition-delay:0}[data-aos][data-aos][data-aos-delay="1400"].aos-animate,body[data-aos-delay="1400"] [data-aos].aos-animate{transition-delay:1.4s}[data-aos][data-aos][data-aos-duration="1450"],body[data-aos-duration="1450"] [data-aos]{transition-duration:1.45s}[data-aos][data-aos][data-aos-delay="1450"],body[data-aos-delay="1450"] [data-aos]{transition-delay:0}[data-aos][data-aos][data-aos-delay="1450"].aos-animate,body[data-aos-delay="1450"] [data-aos].aos-animate{transition-delay:1.45s}[data-aos][data-aos][data-aos-duration="1500"],body[data-aos-duration="1500"] [data-aos]{transition-duration:1.5s}[data-aos][data-aos][data-aos-delay="1500"],body[data-aos-delay="1500"] [data-aos]{transition-delay:0}[data-aos][data-aos][data-aos-delay="1500"].aos-animate,body[data-aos-delay="1500"] [data-aos].aos-animate{transition-delay:1.5s}[data-aos][data-aos][data-aos-duration="1550"],body[data-aos-duration="1550"] [data-aos]{transition-duration:1.55s}[data-aos][data-aos][data-aos-delay="1550"],body[data-aos-delay="1550"] [data-aos]{transition-delay:0}[data-aos][data-aos][data-aos-delay="1550"].aos-animate,body[data-aos-delay="1550"] [data-aos].aos-animate{transition-delay:1.55s}[data-aos][data-aos][data-aos-duration="1600"],body[data-aos-duration="1600"] [data-aos]{transition-duration:1.6s}[data-aos][data-aos][data-aos-delay="1600"],body[data-aos-delay="1600"] [data-aos]{transition-delay:0}[data-aos][data-aos][data-aos-delay="1600"].aos-animate,body[data-aos-delay="1600"] [data-aos].aos-animate{transition-delay:1.6s}[data-aos][data-aos][data-aos-duration="1650"],body[data-aos-duration="1650"] [data-aos]{transition-duration:1.65s}[data-aos][data-aos][data-aos-delay="1650"],body[data-aos-delay="1650"] [data-aos]{transition-delay:0}[data-aos][data-aos][data-aos-delay="1650"].aos-animate,body[data-aos-delay="1650"] [data-aos].aos-animate{transition-delay:1.65s}[data-aos][data-aos][data-aos-duration="1700"],body[data-aos-duration="1700"] [data-aos]{transition-duration:1.7s}[data-aos][data-aos][data-aos-delay="1700"],body[data-aos-delay="1700"] [data-aos]{transition-delay:0}[data-aos][data-aos][data-aos-delay="1700"].aos-animate,body[data-aos-delay="1700"] [data-aos].aos-animate{transition-delay:1.7s}[data-aos][data-aos][data-aos-duration="1750"],body[data-aos-duration="1750"] [data-aos]{transition-duration:1.75s}[data-aos][data-aos][data-aos-delay="1750"],body[data-aos-delay="1750"] [data-aos]{transition-delay:0}[data-aos][data-aos][data-aos-delay="1750"].aos-animate,body[data-aos-delay="1750"] [data-aos].aos-animate{transition-delay:1.75s}[data-aos][data-aos][data-aos-duration="1800"],body[data-aos-duration="1800"] [data-aos]{transition-duration:1.8s}[data-aos][data-aos][data-aos-delay="1800"],body[data-aos-delay="1800"] [data-aos]{transition-delay:0}[data-aos][data-aos][data-aos-delay="1800"].aos-animate,body[data-aos-delay="1800"] [data-aos].aos-animate{transition-delay:1.8s}[data-aos][data-aos][data-aos-duration="1850"],body[data-aos-duration="1850"] [data-aos]{transition-duration:1.85s}[data-aos][data-aos][data-aos-delay="1850"],body[data-aos-delay="1850"] [data-aos]{transition-delay:0}[data-aos][data-aos][data-aos-delay="1850"].aos-animate,body[data-aos-delay="1850"] [data-aos].aos-animate{transition-delay:1.85s}[data-aos][data-aos][data-aos-duration="1900"],body[data-aos-duration="1900"] [data-aos]{transition-duration:1.9s}[data-aos][data-aos][data-aos-delay="1900"],body[data-aos-delay="1900"] [data-aos]{transition-delay:0}[data-aos][data-aos][data-aos-delay="1900"].aos-animate,body[data-aos-delay="1900"] [data-aos].aos-animate{transition-delay:1.9s}[data-aos][data-aos][data-aos-duration="1950"],body[data-aos-duration="1950"] [data-aos]{transition-duration:1.95s}[data-aos][data-aos][data-aos-delay="1950"],body[data-aos-delay="1950"] [data-aos]{transition-delay:0}[data-aos][data-aos][data-aos-delay="1950"].aos-animate,body[data-aos-delay="1950"] [data-aos].aos-animate{transition-delay:1.95s}[data-aos][data-aos][data-aos-duration="2000"],body[data-aos-duration="2000"] [data-aos]{transition-duration:2s}[data-aos][data-aos][data-aos-delay="2000"],body[data-aos-delay="2000"] [data-aos]{transition-delay:0}[data-aos][data-aos][data-aos-delay="2000"].aos-animate,body[data-aos-delay="2000"] [data-aos].aos-animate{transition-delay:2s}[data-aos][data-aos][data-aos-duration="2050"],body[data-aos-duration="2050"] [data-aos]{transition-duration:2.05s}[data-aos][data-aos][data-aos-delay="2050"],body[data-aos-delay="2050"] [data-aos]{transition-delay:0}[data-aos][data-aos][data-aos-delay="2050"].aos-animate,body[data-aos-delay="2050"] [data-aos].aos-animate{transition-delay:2.05s}[data-aos][data-aos][data-aos-duration="2100"],body[data-aos-duration="2100"] [data-aos]{transition-duration:2.1s}[data-aos][data-aos][data-aos-delay="2100"],body[data-aos-delay="2100"] [data-aos]{transition-delay:0}[data-aos][data-aos][data-aos-delay="2100"].aos-animate,body[data-aos-delay="2100"] [data-aos].aos-animate{transition-delay:2.1s}[data-aos][data-aos][data-aos-duration="2150"],body[data-aos-duration="2150"] [data-aos]{transition-duration:2.15s}[data-aos][data-aos][data-aos-delay="2150"],body[data-aos-delay="2150"] [data-aos]{transition-delay:0}[data-aos][data-aos][data-aos-delay="2150"].aos-animate,body[data-aos-delay="2150"] [data-aos].aos-animate{transition-delay:2.15s}[data-aos][data-aos][data-aos-duration="2200"],body[data-aos-duration="2200"] [data-aos]{transition-duration:2.2s}[data-aos][data-aos][data-aos-delay="2200"],body[data-aos-delay="2200"] [data-aos]{transition-delay:0}[data-aos][data-aos][data-aos-delay="2200"].aos-animate,body[data-aos-delay="2200"] [data-aos].aos-animate{transition-delay:2.2s}[data-aos][data-aos][data-aos-duration="2250"],body[data-aos-duration="2250"] [data-aos]{transition-duration:2.25s}[data-aos][data-aos][data-aos-delay="2250"],body[data-aos-delay="2250"] [data-aos]{transition-delay:0}[data-aos][data-aos][data-aos-delay="2250"].aos-animate,body[data-aos-delay="2250"] [data-aos].aos-animate{transition-delay:2.25s}[data-aos][data-aos][data-aos-duration="2300"],body[data-aos-duration="2300"] [data-aos]{transition-duration:2.3s}[data-aos][data-aos][data-aos-delay="2300"],body[data-aos-delay="2300"] [data-aos]{transition-delay:0}[data-aos][data-aos][data-aos-delay="2300"].aos-animate,body[data-aos-delay="2300"] [data-aos].aos-animate{transition-delay:2.3s}[data-aos][data-aos][data-aos-duration="2350"],body[data-aos-duration="2350"] [data-aos]{transition-duration:2.35s}[data-aos][data-aos][data-aos-delay="2350"],body[data-aos-delay="2350"] [data-aos]{transition-delay:0}[data-aos][data-aos][data-aos-delay="2350"].aos-animate,body[data-aos-delay="2350"] [data-aos].aos-animate{transition-delay:2.35s}[data-aos][data-aos][data-aos-duration="2400"],body[data-aos-duration="2400"] [data-aos]{transition-duration:2.4s}[data-aos][data-aos][data-aos-delay="2400"],body[data-aos-delay="2400"] [data-aos]{transition-delay:0}[data-aos][data-aos][data-aos-delay="2400"].aos-animate,body[data-aos-delay="2400"] [data-aos].aos-animate{transition-delay:2.4s}[data-aos][data-aos][data-aos-duration="2450"],body[data-aos-duration="2450"] [data-aos]{transition-duration:2.45s}[data-aos][data-aos][data-aos-delay="2450"],body[data-aos-delay="2450"] [data-aos]{transition-delay:0}[data-aos][data-aos][data-aos-delay="2450"].aos-animate,body[data-aos-delay="2450"] [data-aos].aos-animate{transition-delay:2.45s}[data-aos][data-aos][data-aos-duration="2500"],body[data-aos-duration="2500"] [data-aos]{transition-duration:2.5s}[data-aos][data-aos][data-aos-delay="2500"],body[data-aos-delay="2500"] [data-aos]{transition-delay:0}[data-aos][data-aos][data-aos-delay="2500"].aos-animate,body[data-aos-delay="2500"] [data-aos].aos-animate{transition-delay:2.5s}[data-aos][data-aos][data-aos-duration="2550"],body[data-aos-duration="2550"] [data-aos]{transition-duration:2.55s}[data-aos][data-aos][data-aos-delay="2550"],body[data-aos-delay="2550"] [data-aos]{transition-delay:0}[data-aos][data-aos][data-aos-delay="2550"].aos-animate,body[data-aos-delay="2550"] [data-aos].aos-animate{transition-delay:2.55s}[data-aos][data-aos][data-aos-duration="2600"],body[data-aos-duration="2600"] [data-aos]{transition-duration:2.6s}[data-aos][data-aos][data-aos-delay="2600"],body[data-aos-delay="2600"] [data-aos]{transition-delay:0}[data-aos][data-aos][data-aos-delay="2600"].aos-animate,body[data-aos-delay="2600"] [data-aos].aos-animate{transition-delay:2.6s}[data-aos][data-aos][data-aos-duration="2650"],body[data-aos-duration="2650"] [data-aos]{transition-duration:2.65s}[data-aos][data-aos][data-aos-delay="2650"],body[data-aos-delay="2650"] [data-aos]{transition-delay:0}[data-aos][data-aos][data-aos-delay="2650"].aos-animate,body[data-aos-delay="2650"] [data-aos].aos-animate{transition-delay:2.65s}[data-aos][data-aos][data-aos-duration="2700"],body[data-aos-duration="2700"] [data-aos]{transition-duration:2.7s}[data-aos][data-aos][data-aos-delay="2700"],body[data-aos-delay="2700"] [data-aos]{transition-delay:0}[data-aos][data-aos][data-aos-delay="2700"].aos-animate,body[data-aos-delay="2700"] [data-aos].aos-animate{transition-delay:2.7s}[data-aos][data-aos][data-aos-duration="2750"],body[data-aos-duration="2750"] [data-aos]{transition-duration:2.75s}[data-aos][data-aos][data-aos-delay="2750"],body[data-aos-delay="2750"] [data-aos]{transition-delay:0}[data-aos][data-aos][data-aos-delay="2750"].aos-animate,body[data-aos-delay="2750"] [data-aos].aos-animate{transition-delay:2.75s}[data-aos][data-aos][data-aos-duration="2800"],body[data-aos-duration="2800"] [data-aos]{transition-duration:2.8s}[data-aos][data-aos][data-aos-delay="2800"],body[data-aos-delay="2800"] [data-aos]{transition-delay:0}[data-aos][data-aos][data-aos-delay="2800"].aos-animate,body[data-aos-delay="2800"] [data-aos].aos-animate{transition-delay:2.8s}[data-aos][data-aos][data-aos-duration="2850"],body[data-aos-duration="2850"] [data-aos]{transition-duration:2.85s}[data-aos][data-aos][data-aos-delay="2850"],body[data-aos-delay="2850"] [data-aos]{transition-delay:0}[data-aos][data-aos][data-aos-delay="2850"].aos-animate,body[data-aos-delay="2850"] [data-aos].aos-animate{transition-delay:2.85s}[data-aos][data-aos][data-aos-duration="2900"],body[data-aos-duration="2900"] [data-aos]{transition-duration:2.9s}[data-aos][data-aos][data-aos-delay="2900"],body[data-aos-delay="2900"] [data-aos]{transition-delay:0}[data-aos][data-aos][data-aos-delay="2900"].aos-animate,body[data-aos-delay="2900"] [data-aos].aos-animate{transition-delay:2.9s}[data-aos][data-aos][data-aos-duration="2950"],body[data-aos-duration="2950"] [data-aos]{transition-duration:2.95s}[data-aos][data-aos][data-aos-delay="2950"],body[data-aos-delay="2950"] [data-aos]{transition-delay:0}[data-aos][data-aos][data-aos-delay="2950"].aos-animate,body[data-aos-delay="2950"] [data-aos].aos-animate{transition-delay:2.95s}[data-aos][data-aos][data-aos-duration="3000"],body[data-aos-duration="3000"] [data-aos]{transition-duration:3s}[data-aos][data-aos][data-aos-delay="3000"],body[data-aos-delay="3000"] [data-aos]{transition-delay:0}[data-aos][data-aos][data-aos-delay="3000"].aos-animate,body[data-aos-delay="3000"] [data-aos].aos-animate{transition-delay:3s}[data-aos][data-aos][data-aos-easing=linear],body[data-aos-easing=linear] [data-aos]{transition-timing-function:cubic-bezier(.25,.25,.75,.75)}[data-aos][data-aos][data-aos-easing=ease],body[data-aos-easing=ease] [data-aos]{transition-timing-function:ease}[data-aos][data-aos][data-aos-easing=ease-in],body[data-aos-easing=ease-in] [data-aos]{transition-timing-function:ease-in}[data-aos][data-aos][data-aos-easing=ease-out],body[data-aos-easing=ease-out] [data-aos]{transition-timing-function:ease-out}[data-aos][data-aos][data-aos-easing=ease-in-out],body[data-aos-easing=ease-in-out] [data-aos]{transition-timing-function:ease-in-out}[data-aos][data-aos][data-aos-easing=ease-in-back],body[data-aos-easing=ease-in-back] [data-aos]{transition-timing-function:cubic-bezier(.6,-.28,.735,.045)}[data-aos][data-aos][data-aos-easing=ease-out-back],body[data-aos-easing=ease-out-back] [data-aos]{transition-timing-function:cubic-bezier(.175,.885,.32,1.275)}[data-aos][data-aos][data-aos-easing=ease-in-out-back],body[data-aos-easing=ease-in-out-back] [data-aos]{transition-timing-function:cubic-bezier(.68,-.55,.265,1.55)}[data-aos][data-aos][data-aos-easing=ease-in-sine],body[data-aos-easing=ease-in-sine] [data-aos]{transition-timing-function:cubic-bezier(.47,0,.745,.715)}[data-aos][data-aos][data-aos-easing=ease-out-sine],body[data-aos-easing=ease-out-sine] [data-aos]{transition-timing-function:cubic-bezier(.39,.575,.565,1)}[data-aos][data-aos][data-aos-easing=ease-in-out-sine],body[data-aos-easing=ease-in-out-sine] [data-aos]{transition-timing-function:cubic-bezier(.445,.05,.55,.95)}[data-aos][data-aos][data-aos-easing=ease-in-quad],body[data-aos-easing=ease-in-quad] [data-aos]{transition-timing-function:cubic-bezier(.55,.085,.68,.53)}[data-aos][data-aos][data-aos-easing=ease-out-quad],body[data-aos-easing=ease-out-quad] [data-aos]{transition-timing-function:cubic-bezier(.25,.46,.45,.94)}[data-aos][data-aos][data-aos-easing=ease-in-out-quad],body[data-aos-easing=ease-in-out-quad] [data-aos]{transition-timing-function:cubic-bezier(.455,.03,.515,.955)}[data-aos][data-aos][data-aos-easing=ease-in-cubic],body[data-aos-easing=ease-in-cubic] [data-aos]{transition-timing-function:cubic-bezier(.55,.085,.68,.53)}[data-aos][data-aos][data-aos-easing=ease-out-cubic],body[data-aos-easing=ease-out-cubic] [data-aos]{transition-timing-function:cubic-bezier(.25,.46,.45,.94)}[data-aos][data-aos][data-aos-easing=ease-in-out-cubic],body[data-aos-easing=ease-in-out-cubic] [data-aos]{transition-timing-function:cubic-bezier(.455,.03,.515,.955)}[data-aos][data-aos][data-aos-easing=ease-in-quart],body[data-aos-easing=ease-in-quart] [data-aos]{transition-timing-function:cubic-bezier(.55,.085,.68,.53)}[data-aos][data-aos][data-aos-easing=ease-out-quart],body[data-aos-easing=ease-out-quart] [data-aos]{transition-timing-function:cubic-bezier(.25,.46,.45,.94)}[data-aos][data-aos][data-aos-easing=ease-in-out-quart],body[data-aos-easing=ease-in-out-quart] [data-aos]{transition-timing-function:cubic-bezier(.455,.03,.515,.955)}[data-aos^=fade][data-aos^=fade]{opacity:0;transition-property:opacity,transform}[data-aos^=fade][data-aos^=fade].aos-animate{opacity:1;transform:translateZ(0)}[data-aos=fade-up]{transform:translate3d(0,100px,0)}[data-aos=fade-down]{transform:translate3d(0,-100px,0)}[data-aos=fade-right]{transform:translate3d(-100px,0,0)}[data-aos=fade-left]{transform:translate3d(100px,0,0)}[data-aos=fade-up-right]{transform:translate3d(-100px,100px,0)}[data-aos=fade-up-left]{transform:translate3d(100px,100px,0)}[data-aos=fade-down-right]{transform:translate3d(-100px,-100px,0)}[data-aos=fade-down-left]{transform:translate3d(100px,-100px,0)}[data-aos^=zoom][data-aos^=zoom]{opacity:0;transition-property:opacity,transform}[data-aos^=zoom][data-aos^=zoom].aos-animate{opacity:1;transform:translateZ(0) scale(1)}[data-aos=zoom-in]{transform:scale(.6)}[data-aos=zoom-in-up]{transform:translate3d(0,100px,0) scale(.6)}[data-aos=zoom-in-down]{transform:translate3d(0,-100px,0) scale(.6)}[data-aos=zoom-in-right]{transform:translate3d(-100px,0,0) scale(.6)}[data-aos=zoom-in-left]{transform:translate3d(100px,0,0) scale(.6)}[data-aos=zoom-out]{transform:scale(1.2)}[data-aos=zoom-out-up]{transform:translate3d(0,100px,0) scale(1.2)}[data-aos=zoom-out-down]{transform:translate3d(0,-100px,0) scale(1.2)}[data-aos=zoom-out-right]{transform:translate3d(-100px,0,0) scale(1.2)}[data-aos=zoom-out-left]{transform:translate3d(100px,0,0) scale(1.2)}[data-aos^=slide][data-aos^=slide]{transition-property:transform}[data-aos^=slide][data-aos^=slide].aos-animate{transform:translateZ(0)}[data-aos=slide-up]{transform:translate3d(0,100%,0)}[data-aos=slide-down]{transform:translate3d(0,-100%,0)}[data-aos=slide-right]{transform:translate3d(-100%,0,0)}[data-aos=slide-left]{transform:translate3d(100%,0,0)}[data-aos^=flip][data-aos^=flip]{backface-visibility:hidden;transition-property:transform}[data-aos=flip-left]{transform:perspective(2500px) rotateY(-100deg)}[data-aos=flip-left].aos-animate{transform:perspective(2500px) rotateY(0)}[data-aos=flip-right]{transform:perspective(2500px) rotateY(100deg)}[data-aos=flip-right].aos-animate{transform:perspective(2500px) rotateY(0)}[data-aos=flip-up]{transform:perspective(2500px) rotateX(-100deg)}[data-aos=flip-up].aos-animate{transform:perspective(2500px) rotateX(0)}[data-aos=flip-down]{transform:perspective(2500px) rotateX(100deg)}[data-aos=flip-down].aos-animate{transform:perspective(2500px) rotateX(0)} div.drum-wrapper{position:relative;-webkit-touch-callout:none;-webkit-user-select:none;-moz-user-select:none;-ms-user-select:none;user-select:none;width:30px}div.drum-wrapper .inner{position:relative;overflow:hidden}div.drum-wrapper div.container{position:absolute;width:100%;top:48px;left:0;-webkit-perspective:1100px;-moz-perspective:1100px;-o-perspective:1100px;perspective:1100px}div.drum-wrapper,div.drum-wrapper .inner{height:120px}.outside div.drum-wrapper{height:140px}.outside div.drum-wrapper .inner{top:12px}.outside div.drum-wrapper .container{top:46px}div.drum-wrapper .dial{position:absolute;width:100%;left:0;height:48px;background-color:rgba(255,255,255,.7);display:none}.outside div.drum-wrapper .dial{height:58px}div.drum-wrapper .dial div{width:20px;height:10px;margin:0 auto}div.drum-wrapper .dial svg{position:absolute}div.drum-wrapper .up{top:0}div.drum-wrapper .up svg{top:2px}div.drum-wrapper .down{bottom:0}div.drum-wrapper .down svg{bottom:2px}div.drum{width:100%;height:100%;position:absolute;top:0;left:0;-webkit-transform-style:preserve-3d;-moz-transform-style:preserve-3d;-o-transform-style:preserve-3d;transform-style:preserve-3d}div.drum figure{-webkit-box-sizing:border-box;-moz-box-sizing:border-box;box-sizing:border-box;-webkit-backface-visibility:hidden;-moz-backface-visibility:hidden;-o-backface-visibility:hidden;backface-visibility:hidden;display:block;position:absolute;left:0;top:0;line-height:20px;color:#000;margin:0;padding:0 3px;text-overflow:ellipsis;white-space:nowrap;overflow:hidden;width:100%;text-align:left}div.drum-wrapper div.container,div.drum-wrapper figure{height:25px;line-height:25px} body{font-size:16px}.p-header{min-height:625px}.pull-right{float:right !important}#mc_page_header_wrap h1.font-color-textWhite,#mc_page_header_wrap .h1.font-color-textWhite{text-shadow:2px 2px rgba(51,51,51,.56)}body.single-case_study,body.single-portfolio{color:#333}body.single-case_study table th,body.single-case_study table td,body.single-portfolio table th,body.single-portfolio table td{border-top:none}.service_list{max-width:300px;float:right;margin-top:15% !important}@media screen and (max-width:992px){.service_list{max-width:100%;float:none}}.service_list h3{font-size:24px;font-weight:800}.service_list ul{margin:20px 0}.service_list ul li{list-style:none;font-size:18px;display:block}.service_list ul li a{display:block;padding:8px 25px;margin:10px 0;color:#272727;font-weight:600}.service_list ul li a:after{content:'+';margin-left:20px}.service_list ul li a:hover{color:#b9244a;box-shadow:3px 6px 21px -5px rgba(0,0,0,.75)}.single-case_study #mc_page_header_wrap,.single-case_study #mc_page_header_wrap{min-height:625px;background-size:cover;padding:0 !important}.tr-dent-logo{position:absolute;top:245px;left:50%;-webkit-transform:translateX(-50%);-moz-transform:translateX(-50%);transform:translateX(-50%)}.lan-desa .container.content{padding-top:2em;padding-bottom:4em}.post-title h1{font-size:50px;font-weight:700;margin-bottom:30px}.custom-proj .post-title,.custom-proj .container.content{display:none}.lan-desa .mc_page_header_content,.po-sh .mc_page_header_content,.tmf-ev #mc_page_header_wrap,.tmf-ev #breadcrumbs,.tmf-ev .container.content{display:none}.animated{visibility:hidden}.position-rv{position:relative}.fadeInUp,.fadeInLeft,.fadeInRight,.rotateIn,.fadeIn,.slideInUp,.fadeInDown,.rotateInDownLeft,.flipInY,.zoomIn{visibility:visible !important}.you-veda #mc_page_header_wrap{background-position:bottom center}body.you-veda,.you-veda #main_page_wrapp,.you-veda .main_page_wrapp,.you-veda{background:#fafafa}.custom-proj #content-static img{max-width:9999px}.yv-logo{position:absolute;top:180px;left:50%;-webkit-transform:translateX(-50%);-moz-transform:translateX(-50%);-ms-transform:translateX(-50%);transform:translateX(-50%)}.yv-main{padding-top:50px}.yv-site{margin-top:-5% !important}.yv-title{font-weight:300;color:gray}.yv-site img{margin-top:-8% !important;min-width:600px !important}.yv-images-center img{margin-left:-130px !important}.yv-images-center{position:relative}.yv-images-center img{margin-top:-10% !important}.yv-images-cols{margin-top:-15% !important}.yv-image-ipad{margin-top:53% !important}.yv-image-page{position:realative;z-index:10}.yv-image-cards{margin-top:11% !important;margin-left:44% !important}.yv-images-boxes{text-align:center}.yv-images-boxes img{margin-top:-17% !important;margin-left:4% !important;display:inline-block}.yv-images-sertificate img{margin-top:-8% !important;margin-left:6% !important}.tr-dent #breadcrumbs{display:none}.tr-dent-notebook{position:absolute;top:-315px;right:-135px}.tr-dent-top{background:#fbf8f6}.tr-dent-top{background:#fbf8f6}.tr-dent-bottom{background:#f6f5f3}#cs-content .x-container.max.tr-dent-mac-wrap{padding-bottom:52% !important}.tr-dent-title{position:absolute;top:38%;left:15%;font-size:60px;line-height:1.1;font-weight:800;color:#d19b45}.tr-dent-ipad img{margin-left:-15% !important}.tr-dent-yellow-circle-lg{position:absolute;top:-26.5%;left:-360px}.tr-dent-blue-circle-lg{position:absolute;bottom:14%;right:-220px}.tr-dent-mockup img{margin-left:-21% !important;margin-top:-8% !important}.tr-dent-bottom{background:#f6f5f3;position:relative;padding:115px 0}.tr-dent-pg-right{position:relative;margin-left:-11% !important;padding-top:36% !important}.tr-dent-pg-right img,.tr-dent-pg-left img{-ms-box-shadow:-3px 3px 7px rgba(0,0,0,.4);-moz-box-shadow:-3px 3px 7px rgba(0,0,0,.4);-webkit-box-shadow:-3px 3px 7px rgba(0,0,0,.4);box-shadow:-3px 3px 7px rgba(0,0,0,.4)}.tr-dent-blue-circle{position:absolute;top:4%;right:-53%}.tr-dent-yellow-circle{position:absolute;top:16%;right:-24%;z-index:5}.tr-dent-logo{position:absolute;top:245px;left:50%;-webkit-transform:translateX(-50%);-moz-transform:translateX(-50%);transform:translateX(-50%)}.tr-dent-logo+p{display:none}.landesa-first{background:#33404c;position:relative;color:#fff;padding:25px 0}.landesa-macbook{position:absolute;left:0;max-width:71% !important;margin-top:10px !important;bottom:-9%;margin-left:-10% !important}@media (min-width:993px){.landesa-first__text{max-width:450px}}@media (max-width:992px){.landesa-first__text{padding:0 10% !important}}.landesa-first__text h2{color:#fff;font-size:50px;font-weight:700;line-height:1;margin-bottom:30px}.landesa-first__text p{color:#fff;margin-bottom:30px;line-height:1.6}.landesa-second{padding-top:140px}.landesa-second .row:first-of-type{margin-bottom:50px}.landesa-second .text-red,.landesa-second .text-red p{color:#9a1805}.landesa-second .text-green,.landesa-second .text-green p{color:#4b671b}.landesa-second .time{font-size:160px;font-weight:800;line-height:.8;margin-bottom:0;letter-spacing:-5px}.landesa-second .time-sec{font-size:100px;line-height:.8}.landesa-second .time-text{font-size:50px;font-weight:600}.landesa-second h2{margin-top:0;font-size:50px;font-weight:700;line-height:1;margin-bottom:30px}.landesa-last-wrap{max-width:550px;margin:auto;padding-top:20px;padding-bottom:40px}.landesa-last-wrap h2{color:#e7ae0c;text-align:center;font-size:50px;font-weight:700;margin-bottom:20px}.landesa-last-wrap li{margin-bottom:20px !important}.lan-desa-logo{position:absolute;top:265px}.single-work.po-sh .container.content .left:after{display:none}.po-sh-top-text-wrap img{position:absolute;bottom:-100%;left:103%}.po-sh-top-text h3{font-size:26px;font-weight:800;margin-top:0;margin-bottom:30px}.po-sh-top-text-wrap{position:relative}.po-sh-top-text h3+h2{margin-top:-20px}.po-sh-top-text h2{font-weight:300;font-size:40px;margin-top:0;color:#333;margin-bottom:30px}.po-sh-top-text h3{color:#333}.single-work.po-sh .container.content .right:before,.single-work.po-sh .container.content article .article-wrapper>p{display:none}.po-sh-first .container{position:relative}.po-sh-first>img+p{display:none}.po-sh-brown-cover{position:absolute;right:15px;width:550px;color:#fff;background:#be9171;min-height:330px;bottom:-105px;padding:35px}.po-sh-blue-cover{position:relative;z-index:10;margin-top:-30px;margin-bottom:-30px;color:#fff;background:#3b2962;padding:35px}.po-sh-brown-cover h2,.po-sh-blue-cover h2{color:#fff;font-size:46px;font-weight:800;margin-top:0;margin-bottom:35px}.po-sh-blue-cover p,.po-sh-blue-cover h2{max-width:500px}.po-sh-brown-cover p,.po-sh-blue-cover p{color:#fff;line-height:1.7;margin-bottom:0}.po-sh-fourth,.po-sh-fourth .container{position:relative}.po-sh-fourth .pull-left{max-width:85%}img.po-sh-man{position:absolute;left:15px;max-width:52% !important;bottom:0;margin-bottom:-44% !important}.po-sh-fifth{margin-top:8%}.po-sh-fifth .pull-right,.po-sh-sixth .pull-left{max-width:69%}.po-sh-sixth,.po-sh-sixth .pull-left{position:relative}.po-sh-ipad{position:absolute;z-index:50;bottom:-15px;left:93%}.po-sh-second img,.po-sh-first img{width:100%}.po-sh-sixth+p{display:none}.po-sh div#main_page_wrapp{background:#f7f7f7}.po-sh.single-work .request-proposal{margin-bottom:0}.po-sh.single-work .request-proposal+section{padding-top:80px;background:#fff}.po-sh-logo{position:absolute;top:390px}.po-sh-top-text{padding-right:50px}.po-sh .aside-wrapper .info{max-width:265px;padding-top:20px}.lan-desa .aside-wrapper .info{max-width:240px}.lan-desa .aside-wrapper .info{float:right}.po-sh .aside-wrapper .info p,.po-sh .aside-wrapper .info a{color:#9f9f9f !important}.lan-desa .aside-wrapper .info p,.lan-desa .aside-wrapper .info a{color:#9f9f9f !important;font-weight:400;margin-top:0}.po-sh .aside-wrapper .info li,.lan-desa .aside-wrapper .info li{line-height:1.3}.lami #mc_page_header_wrap{background-color:#fafafa;height:0 !important;min-height:1px !important;padding-bottom:35% !important;overflow:hidden}#mc_page_header_wrap{margin-bottom:0 !important}.lami #mc_page_header_wrap+container{position:relative;z-index:20}.lami-head{max-width:1920px;position:absolute;left:50%;width:100%;padding-bottom:38%;overflow:hidden;-webkit-transform:translateX(-50%);-moz-transform:translateX(-50%);-ms-transform:translateX(-50%);transform:translateX(-50%)}@media screen and (max-width:767px){.lami-head{top:83px}}.lami-head-left{position:absolute;left:0;top:0;width:38%}.lami-head-left img{-webkit-animation-delay:.6s;animation-delay:.6s}.lami .content{visibility:hidden;-webkit-animation-delay:1.8s;animation-delay:1.8s}.lami-head-center img{-webkit-animation-delay:1.2s;animation-delay:1.2s}.lami-head-center{position:absolute;left:35.8%;width:38%;top:7%;z-index:5}.lami-head-right{position:absolute;right:0;width:27%;top:0;z-index:10}.lami .content .title,.lami #content-static h2{font-size:50px;font-weight:700;line-height:1;color:#333;margin-top:0}.lami #content-static h2{padding:27% 0}.lami-cake img{width:80%}.lami .article-wrapper>p:first-of-type{display:none}.lami .content aside p{margin-top:0;color:#cccacb;font-size:41px !important;text-transform:uppercase}.lami-md{overflow:hidden;position:relative;max-width:1920px;margin:-40px auto 0;padding-bottom:52.5% !important}.lami-md-left{position:absolute;top:6%;left:9.5%;width:11.5%}.lami-md-left img{-webkit-animation-delay:.6s;animation-delay:.6s}.lami-md-l-center{position:absolute;z-index:5;left:23%;width:19.5%;top:22.5%}.lami-md-l-center img{-webkit-animation-delay:.6s;animation-delay:.6s}.lami-md-center{position:absolute;left:37.1%;width:39.3%;top:0}.lami-md-center img{-webkit-animation-delay:1.2s;animation-delay:1.2s}.lami-md-right{position:absolute;right:-9%;width:32%;top:14%}.lami-bt{position:relative;margin-top:5%;margin-bottom:300px}.lami-bt-container{position:absolute;right:9%;bottom:-200px}.lami .content,.lami-md+.container{position:relative;max-width:1500px;width:100%}.lami .content .article-wrapper .col-md-12.col-lg-8{padding-left:40px;padding-right:30px}.lami.single-work .services-list ul li{border-bottom:none}.lami.single-work .services-list ul li a{color:#909090}.lami .content .relative.right{max-width:340px}.single-work.lami .content article .article-wrapper{padding-right:0}.tmf-ev-title{margin-top:0;font-size:60px;font-weight:300;max-width:385px;color:gray}.tmf-ev-title b{font-weight:800}.tmf-ev-spacing{letter-spacing:3px}.tmf-ev-title .text-right{display:block;padding-right:10px}.tmf-ev-head-bt{padding-top:255px !important;background:#f2f2f2;position:relative}.tmf-ev-head-img{position:absolute;top:41.9%;right:0;max-width:80%}.tmf-ev-tablet-left{position:absolute;max-width:40.7%;left:10%;top:51%;z-index:10}.tmf-ev-tablet-right{max-width:50.3%;right:6.6%;position:absolute;top:61%;z-index:10}.tmf-ev-head .container{position:absolute;top:150px;z-index:20;left:50%;-webkit-transform:translateX(-50%);-moz-transform:translateX(-50%);-ms-transform:translateX(-50%);transform:translateX(-50%)}.tmf-ev-md{background:#f2f2f2;position:relative;padding-bottom:50% !important}.tmf-ev-md:before{content:'';display:block !important;position:absolute;top:100%;left:-2000px;right:-2000px;height:43%;background:#fff;transform:rotate(20deg);margin-top:-18%;z-index:60;-webkit-box-shadow:0px 4px 16px #f2f2f2 inset;box-shadow:0px 4px 16px #f2f2f2 inset}.tmf-ev-md-content{max-width:636px;padding-top:10%;margin-left:10%}.tmf-ev-logo-l.col-xs-6,.tmf-ev-logo-r.col-xs-6{padding:0;margin-bottom:30px}.tmf-ev-md .container{position:relative;z-index:20}.tmf-ev-screens-r{position:absolute;max-width:53.2%;right:0;top:5%}.tmf-ev-md-content p:last-of-type{padding-right:29%}.tmf-ev-bt{position:relative;z-index:70;background:#fff}.tmf-ev-l-layer{position:absolute;max-width:55.6%;left:4%;transform:translateY(-82%)}.tmf-ev-b-bg img{width:100%}.tmf-ev-b-bg{margin-top:3% !important;position:relative;z-index:50}.tmf-ev-r-layer{position:absolute;width:79%;left:68%;transform:translateY(-14%)}.tmf-ev-logo-r.col-xs-6 img{-webkit-animation-delay:.6s;animation-delay:.6s}.chouetv2 .second-section{background-attachment:fixed}@media screen and (min-width:1400px){.tmf-ev-md{padding-bottom:55% !important}}@media screen and (min-width:1550px){.tmf-ev-md{padding-bottom:900px !important}.tmf-ev-md:before{height:630px}}@media screen and (min-width:1600px){.tmf-ev-b-bg{margin-top:3%}}@media screen and (min-width:1720px){.tmf-ev-l-layer{transform:translateY(-91%)}.tmf-ev-r-layer{left:58%;transform:translateY(-22%)}.tmf-ev-b-bg{margin-top:-4%}}@media screen and (min-width:1890px){.tmf-ev-l-layer{transform:translateY(-95%)}.tmf-ev-md{padding-bottom:850px !important}.tmf-ev-md:before{height:630px}.tmf-ev-r-layer{transform:translateY(-26%)}}@media screen and (min-width:1920px){.lami #mc_page_header_wrap{padding-bottom:0;height:666px}.lami-head{padding-bottom:0;height:730px}.lami-head-center{top:50px}}@media screen and (max-width:1700px){.lami .content,.lami-md+.container{max-width:1300px;left:65px}.lami-bt-container{right:3%}.lami .content .title,.lami #content-static h2{font-size:53px}.lami .content aside p{font-size:38px !important}}@media screen and (max-width:1500px){.po-sh-ipad{left:77%}img.po-sh-man{max-width:48% !important}}@media screen and (max-width:1440px){.lami-head-left{left:-5%}.lami-head-center{left:29.8%;width:41.2%;top:0}.lami .content,.lami-md+.container{left:20px}.lami-md-left{left:.5%;width:12.5%}.lami-md-l-center{left:15%;width:21.5%}.lami-md-center{left:32.1%;width:44.3%}.lami-md{padding-bottom:58.5% !important}}@media screen and (max-width:1350px){.lami .content,.lami-md+.container{left:0}}@media screen and (max-width:1199px){.lami .content h1.title br{display:none}.lan-desa #mc_page_header_wrap{min-height:400px}.tmf-ev-md-content{margin-left:0;max-width:550px}.tmf-ev-b-bg{margin-top:6% !important}.lami .content aside p{font-size:30px !important}.lami .content .article-wrapper .col-md-12.col-lg-8{padding-left:15px;padding-right:15px}.lami .content aside .aside-wrapper{padding-left:15px}.lami .content .title,.lami #content-static h2{font-size:45px}.lami-md-left{left:0;width:13.5%}.lami-md{padding-bottom:60% !important}.lami-md-l-center{left:14%;width:22.5%}.lami-bt-container{bottom:-24%;width:17%}.lami-md-center{left:30.1%;width:45.3%}.lami .content h1.title{text-align:left;margin-bottom:40px}.tr-dent img{max-width:100%}.po-sh-brown-cover{width:450px;min-height:1px}.po-sh-ipad{max-width:450px !important;left:82% !important}.tr-dent-notebook{max-width:990px}.landesa-macbook{margin-left:-20% !important}.tr-dent-title{top:44%;left:16%;font-size:38px}.tr-dent-ipad img{margin-left:-3% !important}.tr-dent-yellow-circle-lg{top:-24.5%;left:-200px;max-width:400px}.tr-dent-blue-circle-lg{bottom:14%;max-width:300px !important;right:-55px}.tr-dent-mockup img{margin-left:-20% !important;max-width:140% !important}.tr-dent-blue-circle{top:0;right:-61%}}@media screen and (max-width:1120px){.you-veda img{max-width:100% !important}.yv-images-center img{margin-top:-3% !important;margin-left:0 !important}}@media screen and (max-width:1024px){.po-sh-fourth .pull-left,.po-sh-fifth .pull-right,.po-sh-sixth .pull-left{max-width:100%}img.po-sh-man{position:static;display:block;margin:-10% auto -20% !important;max-width:60% !important}.po-sh-ipad{position:static;margin:-10% auto 0 !important;display:block;max-width:70% !important}}@media screen and (max-width:991px){.yv-images-center img{margin-top:8% !important}.tmf-ev-md-content{max-width:100%;padding-top:12%}.tmf-ev-b-bg{margin-top:4% !important}.tmf-ev-head .container{top:95px}.tmf-ev-screens-r{top:31%}.tmf-ev-md{padding-bottom:75% !important}.tmf-ev-md:before{height:29%}.lami-md+.container .col-md-4.col-lg-3{padding-left:15px !important}.lami #content-static h2 br{display:none}.lami-cake img{width:auto}.lami-cake{max-width:650px;margin:auto}.lami #content-static h2{padding:0 0 30px;text-align:left}.po-sh-top-text{padding-right:0}.po-sh-brown-cover{position:static;margin:-30px auto;width:100%}.po-sh-top-text h2{font-size:32px}.landesa-macbook{max-width:100% !important;margin-left:-17% !important;position:static !important;-webkit-transform:none;-ms-transform:none;-moz-transform:none;transform:none}#cs-content .x-container.max.tr-dent-mac-wrap{padding-bottom:59% !important}.tr-dent-blue-circle{max-width:200px}.tr-dent-title{left:0}.tr-dent-yellow-circle-lg{top:-5.5%;left:-77px;max-width:200px}.tr-dent-blue-circle-lg{max-width:150px !important;right:-10px}.tr-dent-notebook{z-index:6;top:-275px}.single-work.landesa.lan-desa #mc_page_header_wrap{background-position:center}}@media screen and (max-width:767px){.yv-images-center img{margin-top:0 !important}.tmf-ev-head-bt>img{margin-top:-70px !important;margin-bottom:70px !important}.tmf-ev-screens-r{bottom:10%;top:auto}.tmf-ev-head .container{width:100%}.tmf-ev-title{font-size:45px;max-width:300px}.tmf-ev-md{padding-bottom:87% !important}.tmf-ev-md-content p:last-of-type{padding-right:0}.tmf-ev-b-bg{margin-top:10% !important}.lami .content aside .aside-wrapper{padding-left:0}.lami #mc_page_header_wrap{padding-bottom:27%}.lami-md-left{display:none}.lami-md{margin:-10px auto 0;padding-bottom:67.5% !important}.lami-md-center{left:20.1%;width:53.3%}.lami-md-l-center{left:0;width:25.5%}.lami-md-right{width:37%}.po-sh .aside-wrapper .info{max-width:767px}.lan-desa .aside-wrapper .info{max-width:767px}.lami .content .relative.right{max-width:100%}.lami-bt{margin-bottom:150px}.lan-desa .aside-wrapper .info{float:none}.tr-dent-blue-circle,.tr-dent-yellow-circle{display:none}.po-sh-top-text-wrap img{display:none}.landesa-macbook{margin-left:-7% !important}.yv-site img{margin-top:0 !important;min-width:1px !important}.single-work.lan-desa .optimized-site .countries .country{background:0 0 !important}.yv-site{margin-top:8% !important}.yv-images-cols{margin-top:0 !important;text-align:center}.yv-image-ipad,.yv-image-cards{margin-top:0 !important;margin-left:0 !important}#cs-content .x-container.max.tr-dent-mac-wrap{padding-bottom:65% !important}.tr-dent-notebook{top:-160px;max-width:615px;right:0}.tr-dent #mc_page_header_wrap{min-height:300px}.tr-dent-title{left:10%}.tr-dent-pg-left img,.tr-dent-pg-right img{display:block;margin:0 auto}.tr-dent-yellow-circle,tr-dent-blue-circle{display:none}.tr-dent-pg-right{margin-top:70px !important;margin-left:0 !important;padding-top:0 !important}.tr-dent-logo{max-width:90% !important}}@media screen and (max-width:640px){.you-veda #mc_page_header_wrap{min-height:450px}.tmf-ev-l-layer{transform:translateY(-71%)}.tmf-ev-b-bg{margin-top:78px !important}.tmf-ev-r-layer{width:54%;left:60%;transform:translateY(-13%)}.tr-dent-logo{top:115px;max-width:300px}.yv-logo{top:0;position:relative;margin:20% 0 !important;display:table;width:200px}body:not(.single-team):not(.home):not(.responsive-show-header):not(.connect).tr-dent #mc_page_header_wrap{min-height:350px;background-image:url(https://cdn.mercury.one/wp-content/uploads/2016/10/TR3DENT_head-bg.jpg) !important}body:not(.single-team):not(.home):not(.responsive-show-header):not(.connect).lan-desa #mc_page_header_wrap{min-height:400px;background-image:url(https://cdn.mercury.one/wp-content/uploads/2016/10/landesa-heder.jpg) !important;background-position:right center}.po-sh #mc_page_header_wrap{min-height:400px !important;background-image:url(https://cdn.mercury.one/wp-content/uploads/2016/10/img_poshheader.jpg) !important;background-position:center}.po-sh-logo{top:0;max-width:90% !important;position:relative;width:200px;margin:20% auto;display:table}.lan-desa-logo{position:absolute;top:150px}#cs-content .x-container.max.tr-dent-mac-wrap{padding-bottom:70% !important}.tr-dent-title{top:51%}}@media screen and (max-width:520px){.tr-dent-notebook{top:-115px}.tmf-ev-head .container{top:85px}.tmf-ev-title{font-size:37px;max-width:251px;line-height:1}.tmf-ev-md:before{height:25%}.tmf-ev-b-bg{margin-top:62px !important}.po-sh-brown-cover h2,.po-sh-blue-cover h2{font-size:30px;margin-bottom:20px}.po-sh-brown-cover,.po-sh-blue-cover{padding:20px;margin:-10px 0}.tr-dent-title{font-size:33px}.landesa-first__text h2{font-size:50px}.landesa-second .time{font-size:90px}.landesa-second .time-sec{font-size:60px}.landesa-second .time-text{font-size:40px;margin-bottom:10px}.po-sh-top-text h2{font-size:28px}}@media screen and (max-width:480px){.lami .content .title,.lami #content-static h2{font-size:30px}.lami .content aside p{font-size:25px !important}.lami-bt{margin-bottom:0}.lami-bt-container{position:static;max-width:150px;width:100%;margin:20px auto 30px}}@media screen and (max-width:450px){.you-veda #mc_page_header_wrap{min-height:350px}body:not(.single-team):not(.home):not(.responsive-show-header):not(.connect).tr-dent #mc_page_header_wrap{min-height:260px}.tmf-ev-b-bg{margin-top:75px !important}.tmf-ev-title{font-size:30px;max-width:212px}.tmf-ev-screens-r{bottom:auto}.po-sh-brown-cover p,.po-sh-blue-cover p{font-size:14px}.po-sh-brown-cover h2,.po-sh-blue-cover h2{font-size:24px;margin-bottom:15px}.tr-dent-logo{top:108px}.tr-dent-yellow-circle-lg,.tr-dent-blue-circle-lg{display:none}.tr-dent-title{font-size:26px}.tr-dent-bottom{padding:45px 0}}@media screen and (max-width:380px){.tr-dent-notebook{top:-85px}.tmf-ev-md:before{height:22%}}.loader-wrapper{position:fixed;top:0;left:0;width:100%;height:100%;z-index:999999999999;background:#fff;opacity:1;visibility:visible;-webkit-transition:opacity .3s,visibility .3s;transition:opacity .3s,visibility .3s}.matx-preloader{position:absolute;top:50%;left:50%;width:60px;height:60px;margin:-30px 0 0 -30px}.matx-preloader:before,.matx-preloader:after{position:absolute;display:inline-block;content:"";width:60px;height:60px;border-radius:50%;background:#000;-webkit-animation:matx-preloader 1.6s linear infinite;animation:matx-preloader 1.6s linear infinite}.matx-preloader:after{-webkit-animation-delay:-.8s;animation-delay:-.8s}@keyframes matx-preloader{0%{transform:scale(0,0);-webkit-transform:scale(0,0);opacity:.5}100%{transform:scale(1,1);-webkit-transform:scale(1,1);opacity:0}}.loader-wrapper--hidden{opacity:0;visibility:hidden}.single-case_study #mc_page_header_wrap h2{position:relative;margin-top:0;display:inline-block;margin-right:10px}.single-case_study #mc_page_header_wrap h2:after{position:relative;content:','}.single-case_study #mc_page_header_wrap h2:last-child:after{content:none}.single-case_study .container.content .left:after{display:none;content:"";width:1px;height:100%;position:absolute;top:0;right:0;background-color:#d9d9d9}.single-case_study .container.content .right:before{display:none;content:"";width:1px;height:100%;position:absolute;background-color:#d9d9d9;top:0;left:-1px}.single-case_study .container.content article .article-wrapper{padding-right:30px}.single-case_study .container.content aside .aside-wrapper .case_item_logo{margin-bottom:20px;width:250px}.single-case_study .container.content aside:before{position:absolute;content:"";top:0;left:-17%;width:2px;height:100%;background:#fff}.single-case_study .container.content aside h4{font-size:20px;font-weight:700;color:#4d4d4d}.single-case_study .container.content aside a.btn_pink_dark{padding:8px 25px}.single-case_study .container.content aside p{margin:25px 0;color:#646464;margin-top:0;font-size:20px}.single-case_study .container.content aside p a{position:relative;color:#4d4d4d}.single-case_study .container.content aside p a:after{content:','}.single-case_study .container.content aside p a:hover{color:#bf254b}.single-case_study .container.content aside p a:last-child:after{content:none}.single-case_study section#content-static .content-module{position:relative}.single-case_study section#content-static .content-module img{margin-bottom:40px}.single-case_study section#content-static .content-module.center-content{display:inline-block;width:100%;text-align:center}.single-case_study section#content-static .content-module.center-content>*{display:inline-block}.single-case_study .services-list .reset-ul{padding-left:0;width:100%;position:relative;list-style-type:none;margin:0}.single-case_study .services-list .reset-ul li{line-height:36px;border-bottom:1px solid #d9d9d9;position:relative}.single-case_study .services-list .reset-ul li a{display:block;transition:all .15s cubic-bezier(0,0,.2,1) 0s;padding-bottom:10px}.single-case_study .services-list .reset-ul li a:after{background-color:#646464;content:"";display:block;position:absolute;bottom:-1px;left:0;width:0;height:2px;transition:all .2s cubic-bezier(.4,0,.2,1) 0s}.single-case_study .services-list .reset-ul li a:link,.single-case_study .services-list .reset-ul li a:visited{color:#333}.single-case_study .services-list .reset-ul li a:hover,.single-case_study .services-list .reset-ul li a:active{color:#d6791d}.single-case_study .services-list .reset-ul li a:hover:after,.single-case_study .services-list .reset-ul li a:active:after{width:100%}@media screen and (max-width:991px){.single-case_study #main_page_wrapp .container{padding-left:15px}}@media screen and (max-width:768px){.single-case_study .services-list ul{display:block}.single-case_study #main_page_wrapp .container{padding:0 15px}.single-case_study .container.content aside p{margin:10px 0}}@media screen and (max-width:640px){.single-case_study #breadcrumbs>span>span>.bcrumb-sep:first-of-type,.single-case_study #breadcrumbs>span>span>a:link:nth-child(1){display:none}.single-case_study #breadcrumbs>span>span>.bcrumb-sep:first-of-type span:first-of-type,.single-case_study #breadcrumbs>span>span>a:link:nth-child(1) span:first-of-type{display:none}}@media screen and (max-width:400px){.single-case_study .mb100{margin-bottom:50px}}.single-case_study #mc_page_header_wrap,.single-case_study #mc_page_header_wrap{min-height:625px;background-size:cover;padding:0 !important}.single-case_study #mc_page_header_wrap .mc_page_header_content,.single-case_study #mc_page_header_wrap .mc_page_header_content{padding-top:50px}.single-case_study #mc_page_container_wrapp,.single-case_study #mc_page_container_wrapp{padding:100px 0 0}.bluetooth .solution.first,.bluetooth .solution.first{background-color:#f2f2f2;margin-top:100px;padding-bottom:80px}.bluetooth .solution.first .main-image,.bluetooth .solution.first .main-image{text-align:center;margin-bottom:80px}.bluetooth .solution.first .main-image img,.bluetooth .solution.first .main-image img{margin-top:-80px}.bluetooth .solution.first .left .image,.bluetooth .solution.first .left .image{padding-top:60px}.bluetooth .solution.second,.bluetooth .solution.second{padding-top:150px;padding-bottom:20px;background-color:#fff}.bluetooth .solution.second .container,.bluetooth .solution.second .container{position:relative}.bluetooth .solution.second .right,.bluetooth .solution.second .right{padding-top:60px}.bluetooth .pilosophy,.bluetooth .pilosophy{background-color:#0162a5;padding-top:180px;padding-bottom:100px}.bluetooth .pilosophy p,.bluetooth .pilosophy p{color:#fff}.bluetooth .recommendations,.bluetooth .recommendations{position:relative;background-color:#252525;padding-top:550px;padding-bottom:100px}.bluetooth .recommendations .container,.bluetooth .recommendations .container{position:relative}.bluetooth .recommendations .container p,.bluetooth .recommendations .container p{color:#fff}.bluetooth .recommendations .main-image,.bluetooth .recommendations .main-image{position:absolute;top:-680px}.bluetooth .recommendations:after,.bluetooth .recommendations:after{content:'';display:block;width:60px;height:60px;background:#252525;-ms-transform:rotate(90deg);-webkit-transform:rotate(90deg);transform:rotate(45deg);position:absolute;bottom:-30px;left:50%;margin-left:-42px}.bluetooth .statistics,.bluetooth .statistics{text-align:left;padding:30px 0}.bluetooth .statistics .main-image,.bluetooth .statistics .main-image{margin-bottom:50px}.bluetooth .statistics h4,.bluetooth .statistics h4{margin-bottom:40px}.bluetooth .related-work,.bluetooth .related-work{text-align:center;background-color:#252525;padding:100px 40px}.bluetooth .related-work h3,.bluetooth .related-work h3{margin-bottom:60px !important}.bluetooth .related-work .work-item,.bluetooth .related-work .work-item{width:100%;height:290px;background-size:cover;background-position:center center;position:relative}.bluetooth .related-work .work-item .link,.bluetooth .related-work .work-item .link{position:absolute;width:100%;height:100%;left:0;top:0}.bluetooth .related-work .work-item .text-content,.bluetooth .related-work .work-item .text-content{position:relative;z-index:1;color:#fff;text-align:left;padding:40px 30px;opacity:0}.bluetooth .related-work .work-item .overlay,.bluetooth .related-work .work-item .overlay{background-color:#bf254b;opacity:.8;position:absolute;width:100%;height:100%;left:0;top:0;opacity:0;-webkit-transition:all .3s;-o-transition:all .3s;transition:all .3s;overflow:hidden}.bluetooth .related-work .work-item .overlay:after,.bluetooth .related-work .work-item .overlay:after{content:"+";font-size:28px;position:absolute;bottom:-20px;right:20px;color:#fff;-webkit-transition:all .3s;-o-transition:all .3s;transition:all .3s}.bluetooth .related-work .work-item:hover,.bluetooth .related-work .work-item:hover{cursor:pointer}.bluetooth .related-work .work-item:hover .text-content,.bluetooth .related-work .work-item:hover .text-content{opacity:1}.bluetooth .related-work .work-item:hover .overlay,.bluetooth .related-work .work-item:hover .overlay{opacity:.8}.bluetooth .related-work .work-item:hover .overlay:after,.bluetooth .related-work .work-item:hover .overlay:after{bottom:5px}.single-case_study .grey-background,.single-case_study .grey-background{background-color:#f2f2f2}.single-case_study .blue-background,.single-case_study .blue-background{background-color:#0162a5}.single-case_study h3.blue-title,.single-case_study h3.blue-title{font-weight:700;font-size:50px;color:#0162a5;line-height:1;padding-bottom:10px}.single-case_study h3.white-title,.single-case_study h3.white-title{font-weight:700;font-size:50px;color:#fff;line-height:1;padding-bottom:10px}.single-case_study h1,.single-case_study h1{font-family:'Gotham',Helvetica,Arial,sans-serif;font-weight:700}.castle-rock .section-first{height:560px;background-image:url(https://cdn.mercury.one/wp-content/uploads/2016/05/bg-castle-rock-city.png);background-color:#fafafa;background-repeat:no-repeat;background-position:right -220px bottom}.castle-rock .section-second img{margin-top:0 !important;margin-bottom:0 !important}.castle-rock .section-second+p{display:none}.castle-rock .section-third .first-row,.castle-rock .section-third .first-row{margin-top:100px}.castle-rock .section-third .iphone,.castle-rock .section-third .iphone{z-index:1}.castle-rock .section-fourth,.castle-rock .section-fourth{position:relative;top:-200px}.castle-rock .section-fifth .first-row,.castle-rock .section-fifth .first-row{border-bottom:3px solid #f2f2f2;padding-bottom:50px}.castle-rock .section-fifth .first-row div:first-child,.castle-rock .section-fifth .first-row div:first-child{border-right:3px solid #f2f2f2}.castle-rock .section-fifth .second-row,.castle-rock .section-fifth .second-row{padding-top:50px;border-bottom:3px solid #f2f2f2;padding-bottom:50px}.castle-rock .section-sixth,.castle-rock .section-sixth{margin-top:300px}.castle-rock .section-sixth .first-row,.castle-rock .section-sixth .first-row{background-image:url(https://cdn.mercury.one/wp-content/uploads/2016/09/city_background.jpg);background-size:cover}.castle-rock .section-sixth .castlerock-brochure,.castle-rock .section-sixth .castlerock-brochure{position:relative;top:-200px}.castle-rock .section-seventh .left,.castle-rock .section-seventh .left{background-color:#6ba8a0}.castle-rock .section-seventh .right,.castle-rock .section-seventh .right{background-color:#dcdcdc}.frenchtruly .content-module,.frenchtruly .content-module{padding-top:30px;padding-bottom:30px}.frenchtruly .logo-woman .row,.frenchtruly .logo-woman .row{border-bottom:1px solid #ccc}.frenchtruly .logo-woman .left,.frenchtruly .logo-woman .left{padding-top:160px;text-align:center}.frenchtruly .logo-woman .left img,.frenchtruly .logo-woman .left img{display:inline}.frenchtruly .logo-woman div.right figure img,.frenchtruly .logo-woman div.right figure img{margin-bottom:0 !important}.frenchtruly #rebranding .item-module,.frenchtruly #rebranding .item-module{padding:75px 0}.frenchtruly #rebranding .logo p,.frenchtruly #rebranding .logo p{color:#9e9e9e}.frenchtruly #mockup,.frenchtruly #mockup{background-color:#c4c3c8;padding:75px 0 180px}.frenchtruly #website-design,.frenchtruly #website-design{background-color:#e26a6c;color:#fff}.frenchtruly #website-design .col-lg-8 figure,.frenchtruly #website-design .col-lg-8 figure{position:relative;display:block;top:-70px}.frenchtruly #website-design h3,.frenchtruly #website-design p,.frenchtruly #website-design h3,.frenchtruly #website-design p{color:#fff}.frenchtruly #french-trully-courses,.frenchtruly #french-trully-courses{position:relative;margin:80px 0 -230px;z-index:999}.frenchtruly #upcoming-events,.frenchtruly #upcoming-events{background-color:#ededed}.frenchtruly #upcoming-events figure,.frenchtruly #upcoming-events figure{margin:280px 0 50px}.frenchtruly #cultural-events,.frenchtruly #cultural-events{background-color:#ededed}.frenchtruly #status.content-module,.frenchtruly #status.content-module{background-color:#d5d5d5;padding-bottom:0}.frenchtruly #status.content-module figure,.frenchtruly #status.content-module figure{margin-top:-160px}.frenchtruly #status.content-module figure img,.frenchtruly #status.content-module figure img{margin-bottom:0}.frenchtruly #status.content-module p,.frenchtruly #status.content-module p{margin:30px auto}.frenchtruly #status.content-module .right,.frenchtruly #status.content-module .right{padding-top:150px}.frenchtruly #status.content-module .numbers,.frenchtruly #status.content-module .numbers{color:#4d4d4d;margin-bottom:30px}.frenchtruly #status.content-module .numbers .bigger,.frenchtruly #status.content-module .numbers .bigger{display:block;font-size:80px}.landesa article.h100vh,.landesa article.h100vh{height:100vh}.landesa #green_pattern,.landesa #green_pattern{position:absolute;height:50vh;width:100%;left:0;top:0;z-index:-1;background-image:url(https://cdn.mercury.one/wp-content/uploads/2016/05/green_pattern.jpg);background-size:cover}.landesa article#Landesa_2 figure.lf,.landesa article#Landesa_2 figure.rg,.landesa article#Landesa_5 figure.lf,.landesa article#Landesa_5 figure.rg,.landesa article#Landesa_2 figure.lf,.landesa article#Landesa_2 figure.rg,.landesa article#Landesa_5 figure.lf,.landesa article#Landesa_5 figure.rg{display:inline-block;text-align:center}.landesa article#Landesa_2 figure.lf:before,.landesa article#Landesa_2 figure.rg:before,.landesa article#Landesa_5 figure.lf:before,.landesa article#Landesa_5 figure.rg:before,.landesa article#Landesa_2 figure.lf:before,.landesa article#Landesa_2 figure.rg:before,.landesa article#Landesa_5 figure.lf:before,.landesa article#Landesa_5 figure.rg:before{position:absolute;content:"";top:0;left:0;width:100%;height:100%}.landesa article#Landesa_2 figure.lf img,.landesa article#Landesa_2 figure.rg img,.landesa article#Landesa_5 figure.lf img,.landesa article#Landesa_5 figure.rg img,.landesa article#Landesa_2 figure.lf img,.landesa article#Landesa_2 figure.rg img,.landesa article#Landesa_5 figure.lf img,.landesa article#Landesa_5 figure.rg img{display:inline-block;vertical-aling:bottom}.landesa article#Landesa_2 figure.lf,.landesa article#Landesa_5 figure.lf,.landesa article#Landesa_2 figure.lf,.landesa article#Landesa_5 figure.lf{background:#b9566f}.landesa article#Landesa_2 figure.lf:before,.landesa article#Landesa_5 figure.lf:before,.landesa article#Landesa_2 figure.lf:before,.landesa article#Landesa_5 figure.lf:before{left:-100%;background:inherit}.landesa article#Landesa_2 figure.rg,.landesa article#Landesa_5 figure.rg,.landesa article#Landesa_2 figure.rg,.landesa article#Landesa_5 figure.rg{background:#98a97c}.landesa article#Landesa_2 figure.rg:before,.landesa article#Landesa_5 figure.rg:before,.landesa article#Landesa_2 figure.rg:before,.landesa article#Landesa_5 figure.rg:before{left:initial;right:-100%;background:inherit}.landesa article#Landesa_5,.landesa article#Landesa_5{position:relative;margin-top:-224px;z-index:-1}.landesa article#Landesa_5 figure,.landesa article#Landesa_5 figure{padding-top:280px}.landesa article#Landesa_5 figure.lf,.landesa article#Landesa_5 figure.lf{background:#6d7b91}.landesa article#Landesa_5 figure.lf:before,.landesa article#Landesa_5 figure.lf:before{background:inherit}.landesa article#Landesa_5 figure.rg,.landesa article#Landesa_5 figure.rg{background:#e3cfbf}.landesa article#Landesa_5 figure.rg:before,.landesa article#Landesa_5 figure.rg:before{background:inherit}.landesa article#Landesa_3,.landesa article#Landesa_3{background:#e3cfbf}.landesa article#Landesa_3 figure img,.landesa article#Landesa_3 figure img{width:100%}.landesa .the-challenge.first,.landesa .the-challenge.first{background-color:#33404c;padding:80px 0 60px}.landesa .the-challenge.first .left p,.landesa .the-challenge.first .left p{color:#fff}.landesa .the-challenge.second,.landesa .the-challenge.second{background-color:#f1f1f1;padding:60px 0 10px}.landesa .recommendations,.landesa .recommendations{padding:100px 0 60px;background-color:#fff}.landesa .solution,.landesa .solution{padding:160px 0 100px;position:relative}.landesa .solution .decorative-belt,.landesa .solution .decorative-belt{background-image:url(https://cdn.mercury.one/wp-content/uploads/2016/05/landesa_header_pattern.svg);height:170px;position:absolute;top:40px;width:100%;height:170px;top:80px}.landesa .solution .right,.landesa .solution .right{padding-top:160px}.landesa .optimized-site.first,.landesa .optimized-site.first{background-color:#e0d3cf;padding:100px 0 40px}.landesa .optimized-site.second,.landesa .optimized-site.second{background-color:#fff;padding:80px 0 40px}.landesa .optimized-site.third .left,.landesa .optimized-site.third .left{text-align:right;padding-right:0;background-image:url(https://cdn.mercury.one/wp-content/uploads/2016/06/securing-rights-square-left-patch.png);background-size:contain}.landesa .optimized-site.third .right,.landesa .optimized-site.third .right{text-align:left;padding-left:0;background-color:#a90d30}.landesa .performance,.landesa .performance{background-image:url(https://cdn.mercury.one/wp-content/uploads/2016/06/numbers-boxes.png);background-position:left 10px top;background-size:200%;background-repeat:no-repeat;height:138px;margin-bottom:30px;text-align:center}.landesa .performance .title,.landesa .performance .title{font-size:24px;margin-bottom:0;padding-top:15px;margin-bottom:20px;color:#fff}.landesa .performance .number,.landesa .performance .number{font-size:34px;margin-bottom:0}.landesa .performance.green,.landesa .performance.green{background-position:left 10px top}.landesa .performance.mustard,.landesa .performance.mustard{background-position:right 4px top}.landesa .performance.bluegrey,.landesa .performance.bluegrey{background-position:left 10px bottom}.landesa .performance.brown,.landesa .performance.brown{background-position:right 4px bottom}.landesa .optimized-site .countries,.landesa .optimized-site .countries{margin-bottom:20px}.optimized-site .countries .country .title,.optimized-site .countries .country .title{margin-bottom:20px;font-size:22px;line-height:1.3em}.optimized-site .countries .country .first-row .map img{height:100px !important}.optimized-site .countries .country .first-row .optimized .time{font-size:46px}.optimized-site .countries .country .first-row .optimized img{float:left;padding-top:7px}.optimized-site .countries .country .first-row .optimized:before{content:"Optimized";display:block;font-weight:700}.optimized-site .countries .country .first-row hr,.optimized-site .countries .country .first-row hr{clear:both;border-top:0;border:60px;height:20px;border-bottom:1px solid #000;width:85%;margin-left:auto;margin-right:auto}.optimized-site .countries .country .second-row .time,.optimized-site .countries .country .second-row .time{font-size:28px;position:relative;top:5px}.optimized-site .countries .country .second-row .previous,.optimized-site .countries .country .second-row .previous{text-align:right;line-height:50px}.optimized-site .countries .country .second-row .previous-icon,.optimized-site .countries .country .second-row .previous-icon{text-align:left}.optimized-site .countries .country .second-row .not-optimized,.optimized-site .countries .country .second-row .not-optimized{padding-top:25px}.optimized-site .countries .country .second-row .not-optimized:before,.optimized-site .countries .country .second-row .not-optimized:before{display:block}.pcs .solution,.pcs .solution{padding-top:100px;background-color:#009ed8}.pcs .solution .right,.pcs .solution .right{bottom:-60px;z-index:2}.pcs .consistent-design-first,.pcs .consistent-design-first{padding:160px 0 80px}.pcs .consistent-design-first .first,.pcs .consistent-design-first .first{margin-bottom:70px}.pcs .consistent-design-first .left h4,.pcs .consistent-design-first .left h4{letter-spacing:-.001em}.pcs .consistent-design-first .right,.pcs .consistent-design-first .right{border-left:1px solid #d9d9d9}.pcs .consistent-design-second,.pcs .consistent-design-second{background-color:#ededed;padding:50px 0}.pcs .consistent-design-third,.pcs .consistent-design-third{background-color:#009ed8;background-image:url(https://cdn.mercury.one/wp-content/uploads/2016/05/img-pcs-booth.png);background-repeat:no-repeat;padding-top:200px;padding-bottom:200px;background-position:center right -200px}.pcs .consistent-design-fourth .left,.pcs .consistent-design-fourth .right,.pcs .consistent-design-fourth .left,.pcs .consistent-design-fourth .right{background-position:center center;background-size:cover;height:50vw}.pcs .consistent-design-fourth .left,.pcs .consistent-design-fourth .left{background-image:url(https://cdn.mercury.one/wp-content/uploads/2016/05/img-pcs-booth-panel.png);background-color:#013154;background-size:initial;background-repeat:no-repeat;background-position:center center}.pcs .consistent-design-fourth .right,.pcs .consistent-design-fourth .right{background-image:url(https://cdn.mercury.one/wp-content/uploads/2016/05/img-pcs-booth-render.jpg)}.pcs .final-conclusions-first,.pcs .final-conclusions-first{background-color:#e9e9e9;background-image:url(https://cdn.mercury.one/wp-content/uploads/2016/05/img-pcs-final-conclusions.png);background-repeat:no-repeat;background-position:-270px 50px;background-size:initial;padding:240px 0}.pcs .final-conclusions-second,.pcs .final-conclusions-second{background-color:#009ed8;background-image:url(https://cdn.mercury.one/wp-content/uploads/2016/05/background-pcs-city.png);background-repeat:no-repeat;background-position:-180px bottom;text-align:center}.pcs .final-conclusions-second .image-1,.pcs .final-conclusions-second .image-1{position:relative;right:-20px;margin-left:-60px}.pcs .final-conclusions-second .image-2,.pcs .final-conclusions-second .image-2{position:relative;top:-80px}.pcs .final-conclusions-second .image-3,.pcs .final-conclusions-second .image-3{position:relative}.pcs .final-conclusions-second .illustration,.pcs .final-conclusions-second .illustration{height:470px;background-image:url(https://cdn.mercury.one/wp-content/uploads/2016/05/background-pcs-city-truck.png);background-repeat:no-repeat;background-position:left -280px bottom;position:relative;z-index:2;bottom:-25px;padding-top:30px}.pcs .final-conclusions-second .illustration .left,.pcs .final-conclusions-second .illustration .left{padding-right:40px}.pcs .final-conclusions-second .illustration .right,.pcs .final-conclusions-second .illustration .right{padding-left:120px}.pcs .final-conclusions-second .illustration .numbers,.pcs .final-conclusions-second .illustration .numbers{font-size:30px;font-weight:500;line-height:1.2em}.pcs .final-conclusions-second .illustration .numbers .bigger,.pcs .final-conclusions-second .illustration .numbers .bigger{font-size:80px;display:block;color:#82d2ff;font-weight:300;margin-bottom:30px}.pcs .quote,.pcs .quote{padding:110px 0}.posh .branding-challenge,.posh .branding-challenge{background-color:#fafafa;padding-bottom:80px}.posh .branding-challenge .container,.posh .branding-challenge .container{padding-top:50px}.posh .branding-challenge .right,.posh .branding-challenge .right{padding-top:70px}.posh .consistent-branding-elements .container,.posh .consistent-branding-elements .container{padding:100px 0}.posh .consistent-branding-elements .main-image,.posh .consistent-branding-elements .main-image{padding:50px 0;text-align:center;background-color:#ededed}.posh .james-posh,.posh .james-posh{background-color:#141414}.posh .james-posh .left,.posh .james-posh .left{padding-top:150px}.posh .james-posh .left h3,.posh .james-posh .left h3{color:#fff}.posh .james-posh .left p,.posh .james-posh .left p{color:#fff !important}.posh .james-posh .main-image,.posh .james-posh .main-image{background-color:#fafafa;text-align:center;padding:80px 0}.posh .web-development,.posh .web-development{background-color:#fafafa;padding-bottom:100px}.posh .web-development .left,.posh .web-development .left{padding-right:50px;padding-top:100px}.posh .final-conclusions,.posh .final-conclusions{padding-bottom:80px}.posh .final-conclusions .main-image,.posh .final-conclusions .main-image{padding-bottom:80px}.posh .final-conclusions .left .big,.posh .final-conclusions .left .big{font-size:80px;color:#969696;letter-spacing:-.05em}.posh .final-conclusions .left h4,.posh .final-conclusions .left h4{margin-top:0}.posh .final-conclusions .right,.posh .final-conclusions .right{padding-top:30px}.tmf .intro-bg,.tmf .intro-bg{text-align:center}.tmf .our-solution-first,.tmf .our-solution-first{background-color:#0064a3;background-image:url(https://cdn.mercury.one/wp-content/uploads/2016/05/img-tmf-our-solution.png);height:930px;background-position:center right;background-repeat:no-repeat}.tmf .our-solution-first .left,.tmf .our-solution-first .left{padding-top:160px}.tmf .our-solution-second,.tmf .our-solution-second{background-color:#ebebeb;background-image:url(https://cdn.mercury.one/wp-content/uploads/2016/05/img-tmf-web-image.png);background-repeat:no-repeat;background-position:right -60px bottom -80px;height:790px}.tmf .brand-system,.tmf .brand-system{padding-top:160px;padding-bottom:40px;background-image:url(https://cdn.mercury.one/wp-content/uploads/2016/05/img-tmf-brand-system-1.png);background-repeat:no-repeat;background-position:right 110px bottom}.tmf .brand-system-2,.tmf .brand-system-2{background-image:url(https://cdn.mercury.one/wp-content/uploads/2016/05/img-tmf-brand-system-2.jpg);background-repeat:no-repeat;background-position:center center;height:890px;background-size:cover}.tmf .final-conclusions,.tmf .final-conclusions{padding-top:140px;padding-bottom:290px;background-image:url(https://cdn.mercury.one/wp-content/uploads/2016/05/final-conclusions.png);background-position:top 120px right -560px;background-repeat:no-repeat}.tmf .final-conclusions .numbers,.tmf .final-conclusions .numbers{font-weight:700;padding:30px 0}.tmf .final-conclusions .numbers .bigger,.tmf .final-conclusions .numbers .bigger{font-size:60px}.trident section#content-static #tr3Dent_1 figure img,.trident section#content-static #tr3Dent_1 figure img{margin-bottom:0}.trident #tr3Dent_2,.trident #tr3Dent_2{background:#fcf8f7 !important}.trident #tr3Dent_4,.trident #tr3Dent_4{background:#f6f5f3 !important}.youveda .intro,.youveda .intro{height:640px;background-image:url(https://cdn.mercury.one/wp-content/uploads/2016/05/img-youveda-intro.jpg);background-size:cover;background-position:center center}.youveda .product-packaging,.youveda .product-packaging{height:720px;background-image:url(https://cdn.mercury.one/wp-content/uploads/2016/05/youveda-packaging-food.png);background-color:#51b1b8;background-repeat:no-repeat;background-position:center right -140px}.youveda .product-packaging .left,.youveda .product-packaging .left{padding-top:130px}.youveda .product-packaging .right img,.youveda .product-packaging .right img{position:relative;top:-70px}.youveda .boxes,.youveda .boxes{background-color:#dadada;padding:80px 0}.youveda .tea-bags,.youveda .tea-bags{height:680px}.youveda .tea-bags .left,.youveda .tea-bags .right,.youveda .tea-bags .left,.youveda .tea-bags .right{height:680px;background-repeat:no-repeat}.youveda .tea-bags .left,.youveda .tea-bags .left{background-color:#e75b55;background-image:url(https://cdn.mercury.one/wp-content/uploads/2016/05/img-envelope_healthyheart.png);background-position:center 140px}.youveda .tea-bags .right,.youveda .tea-bags .right{background-color:#ea7854;background-image:url(https://cdn.mercury.one/wp-content/uploads/2016/05/img-envelopes-group.png);background-position:right -100px center}.youveda .app-development,.youveda .app-development{background-color:#3d99bb;height:660px}.youveda .app-development .left .main-image,.youveda .app-development .left .main-image{position:relative;z-index:2;top:60px}.youveda .app-development .right,.youveda .app-development .right{padding-top:220px}.youveda .customized-programs,.youveda .awesome-statics,.youveda .customized-programs,.youveda .awesome-statics{background-color:#f1f1f1}.youveda .customized-programs,.youveda .customized-programs{padding-top:170px}.youveda .customized-programs .left,.youveda .customized-programs .left{padding-top:220px}.youveda .customized-programs .right,.youveda .customized-programs .right{padding-left:70px;padding-top:70px}.youveda .awesome-statics,.youveda .awesome-statics{overflow:hidden;padding-top:100px}.youveda .awesome-statics .left,.youveda .awesome-statics .left{bottom:-30px}.youveda .awesome-statics .right,.youveda .awesome-statics .right{padding-left:70px;padding-top:100px}.youveda .computer,.youveda .computer{padding-top:160px}.youveda .computer img,.youveda .computer img{margin-bottom:-15px}.youveda .webpages,.youveda .webpages{text-align:center}.youveda .webpages .left,.youveda .webpages .left{padding:170px 0;background-color:#f4f4f4}.youveda .webpages .right,.youveda .webpages .right{padding:170px 0;background-color:#40b0a5}.youveda .brand-inspiration,.youveda .brand-inspiration{padding-top:150px}.youveda .brand-inspiration .right .persephone,.youveda .brand-inspiration .right .persephone{text-align:center;width:240px;padding-top:50px}.youveda .brand-inspiration .right .persephone p,.youveda .brand-inspiration .right .persephone p{margin-top:20px;font-weight:700;color:#333}.youveda .brand-born,.youveda .brand-born{padding:80px 0}.youveda .brand-born .right,.youveda .brand-born .right{padding-top:90px}.youveda .branding-assets,.youveda .branding-assets{padding-bottom:80px}.youveda .branding-assets .left,.youveda .branding-assets .left{padding-top:80px}.youveda .branding-assets .right,.youveda .branding-assets .right{text-align:right}.youveda .icons .first-row,.youveda .icons .first-row{border-bottom:1px solid #e6e6e6;text-align:center;margin-bottom:80px}.youveda .icons .first-row img,.youveda .icons .first-row img{margin-bottom:40px}.youveda .icons .left,.youveda .icons .left{border-right:1px solid #e6e6e6}.youveda .color-palette li,.youveda .color-palette li{display:inline-block;width:13.9%;text-align:center}.youveda .quote,.youveda .quote{padding:80px 0 40px}.dvb .rainforest img,.dvb .rainforest img{width:100%}.dvb .burbavj-poster,.dvb .burbavj-poster{position:relative}.dvb .burbavj-poster img,.dvb .burbavj-poster img{position:absolute;top:-300px;right:60px}.dvb .map-section,.dvb .map-section{background-image:url(https://cdn.mercury.one/wp-content/uploads/2016/06/myanmar-map.png);background-size:cover;background-position:center center;height:480px}.dvb .camera-section,.dvb .camera-section{position:relative}.dvb .camera-section img.camera,.dvb .camera-section img.camera{position:absolute;top:-270px;left:-4%;width:610px}.dvb .camera-section .right,.dvb .camera-section .right{padding-top:100px;padding-bottom:100px}.dvb .the-challenge,.dvb .the-challenge{text-align:center;padding:70px 0 200px;background-color:#4ba38e;background-image:url(https://cdn.mercury.one/wp-content/uploads/2016/06/logo-white.png);background-position:-210px -80px;background-repeat:no-repeat;margin-bottom:600px}.dvb .webpages,.dvb .webpages{padding-top:20px;position:absolute;width:1170px}.dvb .webpages .center,.dvb .webpages .center{position:relative}.dvb .webpages .center .arrow-right,.dvb .webpages .center .arrow-right{position:absolute;width:390px;left:-140px;top:380px}.dvb .webpages .center .arrow-left,.dvb .webpages .center .arrow-left{position:absolute;width:390px;left:220px;top:220px;z-index:2}.dvb .webpages .right img,.dvb .webpages .right img{position:relative;left:-50px}.dvb .webpages .left,.dvb .webpages .right,.dvb .webpages .left,.dvb .webpages .right{padding-top:50px}.dvb .webpages .left img,.dvb .webpages .right img,.dvb .webpages .left img,.dvb .webpages .right img{width:320px;max-width:320px}.dvb .solution,.dvb .solution{background-color:#f7f7f7}.dvb .solution .laptop,.dvb .solution .laptop{margin-top:-330px;text-align:center}.dvb .solution .right img,.dvb .solution .right img{margin-bottom:-100px}.dvb .visits,.dvb .visits{text-align:center;padding-top:120px;padding-bottom:30px}.dvb .visits .graphic,.dvb .visits .graphic{margin-bottom:50px}.dvb .visits .title,.dvb .visits .title{margin-bottom:0;font-weight:100}.dvb .visits .title,.dvb .visits .subtitle,.dvb .visits .title,.dvb .visits .subtitle{color:#4ba38e}.posh2 .rebranding-challenge,.posh2 .rebranding-challenge{background-color:#2e0a22;background-image:url(https://cdn.mercury.one/wp-content/uploads/2016/06/img_poshprevious-brand.png);background-repeat:no-repeat;background-position:left -140px center;padding:200px 0}.posh2 .fancy-dark,.posh2 .fancy-dark{padding:250px 0;background-image:url(https://cdn.mercury.one/wp-content/uploads/2016/06/img-poshlifestyle.png);background-repeat:no-repeat;background-position:center right -40px;background-size:contain}.posh2 .branding-elements,.posh2 .branding-elements{background-color:#ddd;padding:200px 0}.posh2 .website-redesign,.posh2 .website-redesign{background-color:#be9171;padding:130px 0 200px}.posh2 .website-redesign .left,.posh2 .website-redesign .left{padding-top:60px}.posh2 .profiles,.posh2 .profiles{padding-bottom:200px}.posh2 .profiles .left,.posh2 .profiles .left{margin-top:-70px}.posh2 .profiles .right,.posh2 .profiles .right{padding-top:300px}.posh2 .advanced-features,.posh2 .advanced-features{background-image:url(https://cdn.mercury.one/wp-content/uploads/2016/06/img_poshwebproducts.png);background-repeat:no-repeat;background-position:top right -90px;padding:240px 0}.posh2 .advanced-features-2,.posh2 .advanced-features-2{background-color:#333;text-align:center}.posh2 .advanced-features-2 .left,.posh2 .advanced-features-2 .left{background-color:#be9171;padding:70px 0}.posh2 .advanced-features-2 .right,.posh2 .advanced-features-2 .right{padding:70px 0}.posh2 .sales,.posh2 .sales{padding-top:200px}.posh2 .sales .number-big,.posh2 .sales .number-big{font-size:80px;color:gray;margin-bottom:0}.posh2 .sales .title,.posh2 .sales .title{color:#333}.guia-epicureo #mc_page_header_wrap,.guia-epicureo #mc_page_header_wrap{background-size:auto;background-position:right -280px top 20px}.guia-epicureo .first-section,.guia-epicureo .first-section{background-image:url(https://cdn.mercury.one/wp-content/uploads/2016/06/ads.jpg);background-position:right -580px center;background-size:cover;background-repeat:no-repeat;padding:200px 0 180px}.guia-epicureo .computer,.guia-epicureo .computer{background-image:url(https://cdn.mercury.one/wp-content/uploads/2016/06/pattern.svg);background-repeat:repeat-x;padding-top:70px;padding-bottom:50px;background-size:360px}.guia-epicureo .laptops,.guia-epicureo .laptops{text-align:center}.guia-epicureo .laptops .left,.guia-epicureo .laptops .left{background-color:#1f3e53}.guia-epicureo .laptops .right,.guia-epicureo .laptops .right{background-color:#843a3d}.guia-epicureo .laptops .left,.guia-epicureo .laptops .right,.guia-epicureo .laptops .left,.guia-epicureo .laptops .right{padding:30px 0 40px}.guia-epicureo .ubermap,.guia-epicureo .ubermap{position:relative;margin-bottom:30px}.guia-epicureo .ubermap:after,.guia-epicureo .ubermap:after{content:"";display:block;width:100%;height:600px;position:absolute;left:0;top:0;background-image:url(https://cdn.mercury.one/wp-content/uploads/2016/06/map.png);background-repeat:no-repeat;background-position:center center;background-size:cover;opacity:.3;z-index:1}.guia-epicureo .ubermap .left img,.guia-epicureo .ubermap .left img{padding-top:40px}.guia-epicureo .ubermap .right img,.guia-epicureo .ubermap .right img{width:250px;text-align:center;padding-top:60px;margin-bottom:20px}.guia-epicureo .ubermap .left,.guia-epicureo .ubermap .right,.guia-epicureo .ubermap .left,.guia-epicureo .ubermap .right{position:relative;z-index:5}.guia-epicureo .facebook,.guia-epicureo .facebook{margin-bottom:200px}.guia-epicureo .facebook .chart,.guia-epicureo .facebook .chart{margin-bottom:100px}.guia-epicureo .facebook .chart .box,.guia-epicureo .facebook .chart .box{padding:25px 0 35px}.guia-epicureo .facebook .chart .box .number,.guia-epicureo .facebook .chart .box .number{display:block;font-size:46px;color:#3b5997;font-weight:100}.guia-epicureo .facebook .chart .box .description,.guia-epicureo .facebook .chart .box .description{color:#333}.guia-epicureo .facebook .chart hr,.guia-epicureo .facebook .chart hr{width:320px;margin:0 auto}.guia-epicureo .facebook .rates,.guia-epicureo .facebook .rates{text-align:center;margin-bottom:50px}.guia-epicureo .facebook .rates span,.guia-epicureo .facebook .rates span{display:block}.guia-epicureo .facebook .rates .rate img,.guia-epicureo .facebook .rates .rate img{margin-bottom:20px}.guia-epicureo .facebook .rates .rate .number,.guia-epicureo .facebook .rates .rate .number{font-size:60px;color:#843a3d}.guia-epicureo .facebook .rates .rate .description,.guia-epicureo .facebook .rates .rate .description{color:#333}.guia-epicureo .facebook .rates .rate:nth-child(2),.guia-epicureo .facebook .rates .rate:nth-child(2){border-right:1px solid #cacaca;border-left:1px solid #cacaca}.guia-epicureo .facebook .rates .rate:nth-child(3) .number,.guia-epicureo .facebook .rates .rate:nth-child(3) .number{padding-top:80px}.guia-epicureo .app-development,.guia-epicureo .app-development{background-image:url(https://cdn.mercury.one/wp-content/uploads/2016/06/fork-knife-tie.png);background-position:top right -190px;background-repeat:no-repeat;background-size:460px}.guia-epicureo .app-development .left,.guia-epicureo .app-development .left{padding-top:80px;padding-bottom:110px}.guia-epicureo .app-development .right img,.guia-epicureo .app-development .right img{position:absolute;max-width:400px;top:-320px;z-index:10}.guia-epicureo .statics,.guia-epicureo .statics{background-image:url(https://cdn.mercury.one/wp-content/uploads/2016/08/ads-street_1920px.jpg);background-size:cover;background-repeat:no-repeat;background-position:center center;padding:200px 0}.guia-epicureo .statics .static .big-number,.guia-epicureo .statics .static .description,.guia-epicureo .statics .static .big-number,.guia-epicureo .statics .static .description{color:#fff}.guia-epicureo .statics .static .big-number,.guia-epicureo .statics .static .big-number{font-size:100px;display:block;line-height:1em}.guia-epicureo .statics .static .description,.guia-epicureo .statics .static .description{font-size:20px}.guia-epicureo .statics .static:first-child,.guia-epicureo .statics .static:first-child{margin-bottom:70px}.tmf-forum-registration .challenge,.tmf-forum-registration .challenge{font-size:20px;color:gray;display:block;text-transform:uppercase}.tmf-forum-registration .big-number,.tmf-forum-registration .big-number{font-size:60px;color:#969696;line-height:1em;display:block}.tmf-forum-registration .big-number-captions,.tmf-forum-registration .big-number-captions{font-size:20px;color:#3a3a3a;font-weight:700}.tmf-forum-registration .pink-bullets.blue li:before,.tmf-forum-registration .pink-bullets.blue li:before{color:#1680ce !important}.tmf-forum-registration h4,.tmf-forum-registration h5,.tmf-forum-registration h4,.tmf-forum-registration h5{color:#333}.tmf-forum-registration .challenge-1.section-1,.tmf-forum-registration .challenge-1.section-1{padding:50px 0}.tmf-forum-registration .challenge-1.section-1 .right,.tmf-forum-registration .challenge-1.section-1 .right{padding-top:30px}.tmf-forum-registration .challenge-1.section-2,.tmf-forum-registration .challenge-1.section-2{background-color:#f2f2f2;padding:130px 0 70px}.tmf-forum-registration .challenge-1.section-2 .left,.tmf-forum-registration .challenge-1.section-2 .left{padding-top:50px}.tmf-forum-registration .challenge-2.section-1,.tmf-forum-registration .challenge-2.section-1{padding:120px 0 220px}.tmf-forum-registration .challenge-2.section-2,.tmf-forum-registration .challenge-2.section-2{background-color:#e8e8e8}.tmf-forum-registration .challenge-2.section-2 .image-tablet img,.tmf-forum-registration .challenge-2.section-2 .image-tablet img{margin-top:-110px}.tmf-forum-registration .challenge-2.section-2 .solution,.tmf-forum-registration .challenge-2.section-2 .solution{padding:50px 0}.tmf-forum-registration .challenge-2.section-2 .solution .left,.tmf-forum-registration .challenge-2.section-2 .solution .left{padding-top:60px}.tmf-forum-registration .challenge-2.section-2 .recommendation,.tmf-forum-registration .challenge-2.section-2 .recommendation{padding:100px 0 200px}.tmf-forum-registration .challenge-2.section-2 .recommendation .right,.tmf-forum-registration .challenge-2.section-2 .recommendation .right{padding-top:140px}.tmf-forum-registration .challenge-2.section-3,.tmf-forum-registration .challenge-2.section-3{padding:100px 0}.tmf-forum-registration .challenge-2.section-3 .left,.tmf-forum-registration .challenge-2.section-3 .left{padding-top:20px}.tmf-forum-registration .challenge-2.section-3 .conversions,.tmf-forum-registration .challenge-2.section-3 .conversions{padding-top:50px}.tmfregistrationv2 .post-title,.tmf-publications .post-title,.digital-transformation #mc_page_header_wrap .post-title,.tmfregistrationv2 .post-title,.tmf-publications .post-title,.digital-transformation #mc_page_header_wrap .post-title{position:relative}.tmfregistrationv2 .post-title div.postypeTitle.font-color-textWhite,.tmf-publications .post-title div.postypeTitle.font-color-textWhite,.digital-transformation #mc_page_header_wrap .post-title div.postypeTitle.font-color-textWhite,.tmfregistrationv2 .post-title div.postypeTitle.font-color-textWhite,.tmf-publications .post-title div.postypeTitle.font-color-textWhite,.digital-transformation #mc_page_header_wrap .post-title div.postypeTitle.font-color-textWhite{display:none}.pcs-posh-event-booths,.pcs-posh-event-booths{background-repeat:no-repeat;background-size:cover;background-position:center center}.pcs-posh-event-booths .aside-wrapper .logo img,.pcs-posh-event-booths .aside-wrapper .logo img{width:270px}.pcs-posh-event-booths .section-1,.pcs-posh-event-booths .section-1{background-image:url(https://cdn.mercury.one/wp-content/uploads/2016/07/stand-posh.jpg)}.pcs-posh-event-booths .section-2,.pcs-posh-event-booths .section-2{background-image:url(https://cdn.mercury.one/wp-content/uploads/2016/07/stand3.png)}.pcs-posh-event-booths .section-3,.pcs-posh-event-booths .section-3{background-image:url(https://cdn.mercury.one/wp-content/uploads/2016/07/posh-stands.jpg)}.pcs-posh-event-booths .section-4,.pcs-posh-event-booths .section-4{background-image:url(https://cdn.mercury.one/wp-content/uploads/2016/07/stand-with-plan-tablet.png)}.pcs-posh-event-booths .section-5,.pcs-posh-event-booths .section-5{background-image:url(https://cdn.mercury.one/wp-content/uploads/2016/07/posh-pcs-stands.jpg)}.pcs-posh-event-booths .section-6,.pcs-posh-event-booths .section-6{background-image:url(https://cdn.mercury.one/wp-content/uploads/2016/07/img-pcs_booth-stand.png);background-size:1200px;background-position:right}.live-discounts .section1,.live-discounts .section1{background-color:#efefef;padding:50px 0}.live-discounts .section2,.live-discounts .section2{padding:190px 0 60px}.live-discounts .section2 .second img,.live-discounts .section2 .second img{position:relative;top:-70px}.live-discounts .section4,.live-discounts .section4{position:relative}.live-discounts .section4 img,.live-discounts .section4 img{z-index:1;position:relative}.live-discounts .section4 .red-belt,.live-discounts .section4 .red-belt{height:230px;background-color:#c85650;position:absolute;width:100%;bottom:0;z-index:0}.sharkkv2 #mc_page_header_wrap,.sharkkv2 #mc_page_header_wrap{min-height:730px}.sharkk .title-box>img+p{display:none}.sharkkv2 .post-title,.sharkkv2 .post-title{display:none}.single-case_study section.three-columns-hp-alternative,.single-case_study section.three-columns-hp-alternative{padding-bottom:40px}.single-case_study section.three-columns-hp-alternative>.container:after,.single-case_study section.three-columns-hp-alternative>.container:after{display:none}.woody-argall .wooden-background,.woody-argall .wooden-background{background-image:url(https://cdn.mercury.one/wp-content/uploads/2016/08/woody_argall_ipads_background.jpg)}@media screen and (max-width:991px){.single-case_study .mb-lines-2,.single-case_study .mb-lines-3,.single-case_study .mb-lines-2,.single-case_study .mb-lines-3{margin-bottom:1rem}}.engagement-plans .with-mercury .title{font-size:24px;font-weight:300}.engagement-plans .master-title{font-size:46px;margin-top:100px;margin-bottom:70px;color:#e8bd71}.engagement-plans .master-title .smaller{font-size:24px;color:#999;font-weight:300;display:block}.engagement-plans .master-title .smaller:after{content:"";display:block;width:50px;height:4px;background-color:#e8bd71;margin:0 auto;margin-top:30px}.engagement-plans .engagement-plans-section{background-size:560px;background-image:url(https://cdn.mercury.one/wp-content/uploads/2016/06/darts_2.png);background-repeat:no-repeat;background-position:top right;margin-bottom:100px}.engagement-plans .engagement-plans-section .rates .title{color:#333;margin-bottom:20px;font-weight:300;margin-bottom:40px}.engagement-plans .engagement-plans-section .rates .rate{line-height:1em;font-size:46px;color:#eab36a;margin-bottom:0}.engagement-plans .engagement-plans-section .rates .rate .stronger{font-weight:700}.engagement-plans .engagement-plans-section .rates .small{font-size:24px;color:#666;margin-bottom:0}.engagement-plans .engagement-plans-section .rates .ultra-small{color:#898989}.engagement-plans .strategist-teams .title{font-weight:300}.engagement-plans .strategist-teams hr{margin-top:60px;margin-bottom:120px}.engagement-plans .wont-do{padding-bottom:40px}.engagement-plans .wont-do .title{color:#333;margin-bottom:40px}.engagement-plans .wont-do .title span{color:#f18d1e}.engagement-plans .form{border-top:1px solid #c9c9c9;padding:80px 0}.engagement-plans .form .title{font-size:40px;color:#333}.conferences-events .main-section-title{font-size:46px;color:#e8be73}.conferences-events .main-section-title .subtitle{font-size:24px;color:#aaa;font-weight:300;display:block;margin-bottom:20px}.conferences-events .main-section-title:after{content:"";display:block;width:50px;height:5px;margin:0 auto;background-color:#e8be73}.conferences-events .steps-1-2 .home-row,.conferences-events .steps-1-2 section.home:not(:last-child),.conferences-events .steps-3-4 .home-row,.conferences-events .steps-3-4 section.home:not(:last-child){padding-bottom:0}.web-mobile #mc_page_header_wrap{margin-bottom:50px}.web-mobile .intro-section .home-row{padding-bottom:30px}.web-mobile .main-section-title{font-size:46px;color:#e8be73}.web-mobile .main-section-title:after{content:"";display:block;width:50px;height:5px;margin:0 auto;background-color:#e8be73}.web-mobile .main-section-title.brands{color:#333}.web-mobile .main-section-title.brands:after{background:#333}.web-mobile .home-col p:not(:last-child){margin-bottom:60px}.web-mobile .home-col h4{margin-bottom:20px}.web-mobile .home-col img{margin-bottom:0}.web-mobile .logos{height:auto;border-top:1px solid #e3e3e3;padding:10px 0}.web-mobile .logos .logo{width:19%;display:inline-block;text-align:center}.web-mobile .logos .logo img{width:100%}.strategy-planning .testimonial{margin-bottom:100px}.strategy-planning .testimonial .main-section-title{font-size:46px;color:#333}.strategy-planning .testimonial .main-section-title:after{content:"";display:block;height:5px;width:50px;background-color:#333;margin-top:20px}.strategy-planning .testimonial .header{border-bottom:1px solid #a0a0a0;padding-bottom:20px;margin-bottom:30px}.strategy-planning .testimonial .header .name{font-size:24px;font-weight:700;margin-top:15px}.strategy-planning .testimonial .header .logo{margin-top:15px}.strategy-planning .home-row img{margin-bottom:0}.landing #breadcrumbs{display:none}.landing .header-footer{display:table;height:15vh}.landing .header-footer .logo{display:table-cell;text-align:center;vertical-align:middle;padding:10px 0}.landing .header-footer .logo img{width:80%;opacity:.6;filter:contrast(160%) brightness(5);-webkit-filter:contrast(160%) brightness(5);-moz-filter:contrast(160%) brightness(5);-o-filter:contrast(160%) brightness(5);-ms-filter:contrast(160%) brightness(5)}.landing .three-columns-hp-alternative .content{margin-bottom:40px}.landing .three-columns-hp-alternative.blogs{padding-bottom:100px}.landing .three-columns-hp-alternative.blogs>.container:after{display:none}.staff .circle{width:40px;height:40px;background-color:#f18d1e;border-radius:100%;text-align:center;padding-top:8px;display:inline-block;margin-top:10px}.staff .circle i:before{font-size:18px;color:#fff}.staff .social-link{display:inline-block}.staff .social-link:first-child{margin-left:10px}.staff .social-link:hover .circle{background-color:#d6791d}body.connect .mc_page_header_content h1{display:none}body.connect .first-section{background-image:url(https://cdn.mercury.one/wp-content/uploads/2016/10/contact_map_no_pins_ligther.svg);background-repeat:no-repeat;background-size:1060px;background-position:top 0 left 49vw;margin-bottom:120px}body.connect .first-section h1{font-family:'Gotham',Helvetica,Arial,sans-serif;color:#bfbfbf;font-weight:100;text-transform:uppercase;line-height:1em;margin-bottom:40px;font-size:60px;margin-top:60px}body.connect .first-section .left-col{text-align:right}body.connect .first-section .right-col{float:right}body.connect .first-section ul{list-style-type:none}body.connect .first-section ul li{font-style:italic;color:#a9a8a8}body.connect .first-section ul li a{color:#737373}body.connect .first-section ul li a:hover{color:#f18d1e}body.connect .first-section .contact-section p{margin-bottom:20px;font-family:'Gotham',Helvetica,Arial,sans-serif;color:#f18d1e;text-transform:uppercase;font-size:22px;font-weight:100}body.connect .first-section .contact-section p span{color:#a9a8a8;font-size:14px;text-transform:lowercase}body.connect .first-section form.get-in-touch{width:450px;float:right}body.connect .first-section form.get-in-touch ul.gform_fields{padding-left:0;margin-bottom:20px !important}body.connect .first-section form.get-in-touch input,body.connect .first-section form.get-in-touch textarea{font-style:normal}body.connect .first-section form.get-in-touch input:not(.button),body.connect .first-section form.get-in-touch textarea{background-color:rgba(255,255,255,.8);border:1px solid #ccc}body.connect .first-section form.get-in-touch .gform_button{float:right}body.connect .first-section .gforms_confirmation_message{background-color:#ff0;padding:10px;text-align:center;position:absolute;left:30%;top:270px;background-color:rgba(255,255,255,.8)}.page-conference-and-event-marketing-strategy article:nth-child(2) h1{margin-bottom:100px}.page-conference-and-event-marketing-strategy .purpleBack{background:#3e3e4f}.page-conference-and-event-marketing-strategy .purpleBack h1.h4{padding-left:10%;padding-right:10%;color:#fff}.page-conference-and-event-marketing-strategy h2.subLine+p{margin-top:40px}.page-conference-and-event-marketing-strategy #conference-event-grafics section:first-child{border-right:solid #cacaca;text-align:right}.page-conference-and-event-marketing-strategy #conference-event-grafics section{vertical-align:middle;color:#cacaca;font-size:28px;font-weight:400;line-height:60px;box-sizing:border-box}.page-conference-and-event-marketing-strategy #conference-event-grafics section:last-child p{font-size:24px;font-weight:100;color:#fff}.page-conference-and-event-marketing-strategy #conference-event-grafics section:last-child p,.page-conference-and-event-marketing-strategy #conference-event-grafics .bar-grafic{display:inline-block;vertical-align:middle}.page-conference-and-event-marketing-strategy #conference-event-grafics ul{padding-left:40px;padding-right:40px}.page-conference-and-event-marketing-strategy #conference-event-grafics ul li{list-style:none;color:#999}.page-conference-and-event-marketing-strategy #conference-event-grafics ul li p{display:inline-block;margin-bottom:0;color:#fff;font-weight:300;font-size:22px}.page-conference-and-event-marketing-strategy #conference-event-grafics #bar-remark{color:#fff}.page-conference-and-event-marketing-strategy #conference-event-grafics .bar-grafic{height:31px;background:#605f6d;border-radius:4px;margin-right:15px}.page-conference-and-event-marketing-strategy #conference-event-grafics #bargrafic1{max-width:420px;width:72%}.page-conference-and-event-marketing-strategy #conference-event-grafics #bargrafic2{max-width:302.4px;width:51.84%}.page-conference-and-event-marketing-strategy #conference-event-grafics #bargrafic3{max-width:268.8px;width:46.08%;background:#a50055}.page-conference-and-event-marketing-strategy #conference-event-grafics #bargrafic4{max-width:201.6px;width:34.56%}.page-conference-and-event-marketing-strategy #conference-event-grafics #bargrafic5{max-width:84px;width:14.4%}.page-conference-and-event-marketing-strategy #conference-event-grafics #grafic-bar-arrow{width:0;height:0;border-top:solid 15px transparent;border-bottom:solid 15px transparent;border-left:solid 15px #a50055;display:inline-block;vertical-align:middle;margin-right:15px}.dvb .container.content .aside-wrapper .info p{font-size:24px}.dvb #mc_page_header_wrap{background-position:left;background-size:1920px}.dvb #mc_page_header_wrap .post-title{display:none}.dvb .article-wrapper .title,.dvb .article-wrapper .subtitle{color:#000;font-family:'Gotham',Helvetica,Arial,sans-serif}.dvb .article-wrapper .title{text-transform:uppercase;font-size:28px;font-weight:800}.dvb .article-wrapper .subtitle{letter-spacing:-.03em;margin-bottom:20px}.dvb .container.content{padding-bottom:20px;padding-top:10px}.dvb .container.content .left:after,.dvb .container.content .right:before{display:none}.dvb .container.content aside p{color:silver;font-family:Helvetica,Arial,sans-serif;font-size:20px;font-weight:600}.dvb .container.content aside .info{padding-top:210px}.dvb .container.content aside .aside-wrapper .services-list li:before{filter:grayscale(100%) brightness(80%);-webkit-filter:grayscale(100%) brightness(120%)}.dvb .container.content aside .aside-wrapper .services-list .reset-ul li a:link{color:silver}.dvb .landscape{height:535px;background-image:url(https://cdn.mercury.one/wp-content/uploads/2016/09/cs-posh-dvb-paradise.jpg);background-size:1920px;background-position:center top}.dvb .grayscale_map{background-image:url(https://cdn.mercury.one/wp-content/uploads/2016/10/work-dvb-map-gs.jpg);background-repeat:no-repeat;background-position:center center;background-size:1920px;height:780px;position:relative}.tmf-ev-head-bt>img+p{display:none !important}.tmf-ev #content-static>p{display:none !important}.dvb .grayscale_map .camera{position:absolute;bottom:-180px;width:810px}.dvb .grayscale_map .dvb-ad{position:absolute;left:51vw;bottom:-620px;width:690px}#cs-content .dvb .x-container.section3{padding-top:160px !important}.dvb .section3 .section-title{position:relative;font-family:'Gotham',Helvetica,Arial,sans-serif;font-weight:800;color:#9a1805;font-size:28px;text-align:left;line-height:1.4em}.dvb .section3 .section-title .nominated-mark{position:absolute;left:-130px;top:-20px;width:120px}.dvb .section3 .right{padding-top:410px !important}.dvb .results{margin-bottom:60px !important}.dvb .results>.container{background-image:url(https://cdn.mercury.one/wp-content/uploads/2016/09/cs-posh-dvb-graphic.png);background-repeat:no-repeat;background-position:right center}.dvb .results .left{padding-top:40px !important;padding-bottom:240px !important}.dvb .results .title{font-family:'Gotham',Helvetica,Arial,sans-serif;font-weight:800;font-size:60px;padding-top:10px}.dvb .laptop img{width:1190px}@media screen and (max-width:1366px){.dvb .grayscale_map .camera{left:-210px}.dvb #mc_page_header_wrap{background-position:right}}@media screen and (max-width:1199px){.dvb .grayscale_map{background-position:left center}}@media screen and (max-width:991px){.dvb #mc_page_header_wrap{background-size:1230px;min-height:400px}.dvb .container.content aside{padding-right:0;padding-left:0}.dvb .container.content aside .info{padding-top:290px;padding-right:10px}.dvb .container.content aside .aside-wrapper{padding-left:0}.dvb .grayscale_map{background-position:left -160px center}.dvb .grayscale_map .camera{left:-180px;width:610px;bottom:-140px}.dvb .grayscale_map .dvb-ad{width:500px;bottom:-450px}.dvb .results>.container{background-position:center top 260px;height:133vw;max-height:900px;background-size:contain}.dvb .section3 .right{padding-top:260px !important}}@media screen and (max-width:768px){.dvb .container.content aside{padding-left:15px;padding-right:15px}.dvb .container.content aside .info{padding-top:0;padding-right:0}.dvb .container.content aside .aside-wrapper{padding-left:15px;padding-right:15px}.dvb #mc_page_header_wrap{background-size:1560px}.dvb .grayscale_map{background-position:left -370px top -150px;height:500px}.dvb .grayscale_map .map-photo{max-width:none !important;width:800px}.dvb .grayscale_map .camera{width:480px;left:-150px;bottom:30px}.dvb .grayscale_map .dvb-ad{width:380px;left:50vw;bottom:-60px}.dvb .results>.container{height:112vw}#cs-content .dvb .x-container.section3{padding-top:230px !important}.dvb .section3 .right{padding-top:0 !important}}@media screen and (max-width:640px){.dvb .article-wrapper .subtitle{font-size:30px}.dvb .results .title{font-size:50px}.dvb .results>.container{height:129vw}.dvb .grayscale_map{text-align:center;height:auto}.dvb .grayscale_map .camera,.dvb .grayscale_map .dvb-ad{position:relative;top:0;left:0}.dvb .grayscale_map .camera{left:-70px;margin-top:290px}#cs-content .dvb .x-container.section3{padding-top:0 !important}}@media screen and (max-width:480px){.dvb .results>.container{background-image:none;height:auto}.dvb .results .left{padding-bottom:0}.dvb .landscape{height:405px;background-size:1200px}.dvb .grayscale_map{margin-bottom:120px}.dvb .grayscale_map .camera{width:370px;margin-top:120px}.dvb .grayscale_map .dvb-ad{width:270px;margin-bottom:-110px}.dvb .results{margin-bottom:0}.dvb .results .title{font-size:40px}.dvb .results .left{padding-top:0}}body.iammi .mc_page_header_content{display:none}body.iammi #main_page_wrapp>section.content .left .title{line-height:1em;margin-top:0;font-size:43px}body.iammi #main_page_wrapp>section.content .right .aside-wrapper .info p,body.iammi #main_page_wrapp>section.content .right .aside-wrapper .info li a{color:#909090}body.iammi #main_page_wrapp>section.content .right .aside-wrapper .info p{text-transform:uppercase}body.iammi #main_page_wrapp>section.content .right .aside-wrapper .info li{border-bottom:0}body.iammi section#content-static article#Iammi_1{background:#fafafa;padding:0 0 150px}body.iammi section#content-static article#Iammi_2{background:#b6884f;height:900px}body.iammi section#content-static article#Iammi_2 figure{margin-top:-160px}body.iammi section#content-static article#Iammi_3{padding-bottom:80px !important;background:#ededed}body.iammi section#content-static article#Iammi_3 figure{margin-top:-390px}body.iammi section#content-static article#Iammi_4,body.iammi section#content-static article#Iammi_6,body.iammi section#content-static article#Iammi_7{display:block !important;float:left}body.iammi section#content-static article#Iammi_4>*,body.iammi section#content-static article#Iammi_6>*,body.iammi section#content-static article#Iammi_7>*{display:block;float:left}body.iammi section#content-static article#Iammi_4 img,body.iammi section#content-static article#Iammi_6 img,body.iammi section#content-static article#Iammi_7 img{margin-bottom:0}body.iammi section#content-static article#Iammi_5,body.iammi section#content-static article#Iammi_6{background:#e4d2ac}body.iammi section#content-static article#Iammi_7 figure{position:relative}body.iammi section#content-static article#Iammi_7 figure:before{position:absolute;content:"";top:0;left:0;width:100%;height:100%}body.iammi section#content-static article#Iammi_7 figure.lf{background:#e6e7eb}body.iammi section#content-static article#Iammi_7 figure.lf:before{left:-100%;background:inherit}body.iammi section#content-static article#Iammi_7 figure.rg{background:#f8f8f8}body.iammi section#content-static article#Iammi_7 figure.rg:before{left:initial;right:-100%;background:inherit}@media screen and (min-width:1366px){body.iammi #main_page_wrapp>section.content .left .title{font-size:60px}}@media screen and (max-width:1199px){body.iammi #main_page_wrapp>section.content .left .title{text-align:left;margin-bottom:40px}body.iammi #main_page_wrapp>section.content .left .title br{display:none}}@media screen and (max-width:1000px){body.iammi section#content-static article#Iammi_2{height:auto !important}body.iammi section#content-static .content-module{padding-top:40px;padding-bottom:40px}body.iammi section#content-static article#Iammi_2 figure,body.iammi section#content-static article#Iammi_3 figure{margin-top:0 !important}body.iammi section#content-static article#Iammi_1,body.iammi section#content-static article#Iammi_3,body.iammi section#content-static article#Iammi_6{padding-bottom:0 !important}body.iammi section#content-static article#Iammi_4,body.iammi section#content-static article#Iammi_7{padding-top:0 !important}body.iammi section#content-static article#Iammi_6 figure{display:inline-block;text-align:center}body.iammi section#content-static article#Iammi_6 figure img{display:inline-block}}@media screen and (max-width:768px){body.iammi #main_page_wrapp>section.content .left{width:100%;padding-left:15px}body.iammi #main_page_wrapp>section.content .right{width:100%}}.tmf-event-apps{background-color:#f2f2f2}.tmf-event-apps #mc_page_header_wrap{padding-left:100px;background-position:top 300px center;padding-bottom:1000px;margin-bottom:-1160px;z-index:-1}.tmf-event-apps #mc_page_header_wrap .mc_page_header_content{margin-top:100px !important}.tmf-event-apps #mc_page_header_wrap .post-title{width:760px}.tmf-event-apps #mc_page_header_wrap .post-title .h1{font-size:81px;line-height:1em;letter-spacing:-.04em;font-weight:900;color:grey;font-family:'Gotham',Helvetica,Arial,sans-serif}.tmf-event-apps #mc_page_header_wrap .post-title .bigger{font-size:75px;line-height:1em;font-weight:100;text-align:justify;-moz-text-align-last:right;text-align-last:right}.tmf-event-apps #mc_page_header_wrap .post-title .bigger span{float:right}.tmf-event-apps #menu-mercury2016{display:none}.tmf-event-apps section.container.content{display:none}.tmf-event-apps #main_page_wrapp{background-color:#f2f2f2}.tmf-event-apps .first-section{height:1120px;background-image:url(https://cdn.mercury.one/wp-content/uploads/2016/10/tmf-model.png);background-repeat:no-repeat,no-repeat;background-position:right top 399px}.tmf-event-apps .tables{height:1445px;background-image:url(https://cdn.mercury.one/wp-content/uploads/2016/09/tmf-tablet-right.png),url(https://cdn.mercury.one/wp-content/uploads/2016/09/tmf-tablet-left.png);background-repeat:no-repeat,no-repeat;background-position:right 90px top 408px,left 160px top 240px;margin-top:-790px}.tmf-event-apps .digital-engagement{height:2450px;margin-top:-230px;background-image:url(https://cdn.mercury.one/wp-content/uploads/2016/09/tmf-app-screens.png),url(https://cdn.mercury.one/wp-content/uploads/2016/09/tmf-screens.png),url(https://cdn.mercury.one/wp-content/uploads/2016/10/tmf-event-apss-work-around-2.png),url(https://cdn.mercury.one/wp-content/uploads/2016/09/tmf-people.png);background-repeat:no-repeat,no-repeat,no-repeat,no-repeat;background-position:left 100px top 500px,right 0 top -25px,right 0 bottom 470px,center bottom 0;background-size:auto,auto,auto,contain;position:relative}.tmf-event-apps .digital-engagement .digital-engagement-tools{padding-top:30px}.tmf-event-apps .digital-engagement img{width:400px}.tmf-event-apps .digital-engagement .middleLogo{position:absolute;top:1310px;right:480px}.tmf-event-apps .digital-engagement .title{color:gray;font-weight:100;font-size:50px;line-height:1em;margin-bottom:40px;font-family:'Gotham',Helvetica,Arial,sans-serif;font-weight:100}.tmf-event-apps .digital-engagement .shorter{width:560px}.tmf-event-apps .tmf-forum-tablet{background-color:#050e15}.tmf-event-apps .cellphone-one .row{display:table;padding:30px 0}.tmf-event-apps .cellphone-one .left,.tmf-event-apps .cellphone-one .right{display:table-cell;float:none;vertical-align:middle}.tmf-event-apps .cellphone-one .left img{width:840px;max-width:none}.tmf-event-apps .cellphone-one .right img{width:390px;max-width:none;margin-top:-150px;margin-left:-50px}.tmf-event-apps .cellphone-two{margin-top:-100px;position:relative}.tmf-event-apps .cellphone-two img{position:relative;z-index:2;bottom:-40px}.tmf-event-apps .cellphone-two .blue-belt{position:absolute;width:100%;height:370px;bottom:0;background-color:#1c6e83;z-index:1}@media screen and (max-width:1550px){.tmf-event-apps .tables{background-position:right 10px top 408px,left 50px top 240px}.tmf-event-apps .digital-engagement{background-position:left 0 top 560px,right -80px top 120px,right 0 bottom 470px,center bottom}}@media screen and (max-width:1366px){.tmf-event-apps .digital-engagement{background-position:left -100px top 580px,right -280px top,right 0 bottom 470px,center bottom;height:2550px}.tmf-event-apps .digital-engagement .middleLogo{top:1550px;left:300px}.tmf-event-apps .tables{background-position:right -20px top 648px,left 50px top 300px;height:1587px}.tmf-event-apps .first-section{background-position:right top 290px}.tmf-event-apps .cellphone-one .right img{width:auto}.tmf-event-apps .event-apps .tables{height:1645px}}@media screen and (max-width:1199px){.tmf-event-apps .cellphone-one .left img,.tmf-event-apps .cellphone-one .right img{width:auto;max-width:100%;margin:auto}.tmf-event-apps .cellphone-two img{bottom:-34px}.tmf-event-apps .cellphone-two .blue-belt{height:300px}.tmf-event-apps .first-section{background-position:right top 200px}.tmf-event-apps .tables{background-position:right -20px top 508px,left 50px top 220px}.tmf-event-apps .digital-engagement{margin-top:-250px;background-position:right 300% top 600px,left 250% top,right -150% top 470px,left bottom;height:2080px}.tmf-event-apps .digital-engagement .middleLogo{top:1300px;right:5%;left:auto}.tmf-event-apps .digital-engagement .shorter{width:370px}}@media screen and (max-width:991px){.tmf-event-apps .first-section{background-position:top 270px right,top left -290px}.tmf-event-apps .tables{margin-top:-500px;background-position:right -90px top 330px,left -60px top 0}.tmf-event-apps .digital-engagement{margin-top:-400px;height:2550px;background-position:right -60px top 280px,center bottom;background-image:url(https://cdn.mercury.one/wp-content/uploads/2016/09/tmf-screens.png),url(https://cdn.mercury.one/wp-content/uploads/2016/09/tmf-people.png)}.tmf-event-apps .digital-engagement .middleLogo{top:1460px;left:50%;margin-left:-190px}.tmf-event-apps .digital-engagement p{width:90%}.tmf-event-apps .tmf-logo{width:300px;max-width:300px !important}.tmf-event-apps .cellphone-two img{bottom:-28px}.tmf-event-apps .cellphone-two .blue-belt{height:220px}.tmf-event-apps .logos-section{padding-top:130px}}@media screen and (max-width:768px){.tmf-event-apps #mc_page_header_wrap{padding-left:0;margin-bottom:-960px}.tmf-event-apps #mc_page_header_wrap .mc_page_header_content{margin-top:0 !important}.tmf-event-apps #mc_page_header_wrap .post-title{width:auto}.tmf-event-apps #mc_page_header_wrap .post-title .h1{font-size:60px;width:340px}.tmf-event-apps #mc_page_header_wrap .post-title .bigger{font-size:50px}.tmf-event-apps .tables{margin-top:-700px;background-position:right -150px top 558px,left -110px top 240px;height:1280px}.tmf-event-apps .digital-engagement{background-image:url(https://cdn.mercury.one/wp-content/uploads/2016/09/tmf-screens.png),url(https://cdn.mercury.one/wp-content/uploads/2016/09/tmf-people.png);background-position:right -130px top 350px,center bottom;margin-top:50px}.tmf-event-apps .digital-engagement .title{font-size:40px}.tmf-event-apps .digital-engagement .middleLogo{top:1530px;width:320px}.tmf-event-apps .cellphone-one .left,.tmf-event-apps .cellphone-one .right{display:block;text-align:center}.tmf-event-apps .cellphone-two .left{display:none}}@media screen and (max-width:640px){.tmf-event-apps .first-section{background-position:top center;background-size:1000px}.tmf-event-apps .tables{margin-top:-700px;height:820px;background-position:center top 350px,center top;background-size:520px}.tmf-event-apps .digital-engagement{background-position:right -35px top 460px,center bottom 50px;background-size:680px,1000px,auto,contain;height:2250px}.tmf-event-apps .digital-engagement .shorter{width:100%}.tmf-event-apps .digital-engagement .middleLogo{top:1450px;margin-left:-160px}.tmf-event-apps .digital-engagement img{display:block;margin:0 auto;width:300px}.tmf-event-apps .cellphone-one .row{padding:50px 0 0}.tmf-event-apps .cellphone-two .blue-belt{height:180px}.tmf-event-apps .tmf-forum-tablet{display:none}}@media screen and (max-width:480px){.tmf-event-apps .digital-engagement{background-size:380px,1000px,auto,contain;background-position:right -35px top 650px,center bottom 50px;height:2020px}.tmf-event-apps .digital-engagement img{width:230px;margin-bottom:30px;top:1260px;width:230px}.tmf-event-apps .digital-engagement .middleLogo{top:1260px;width:260px;margin-left:-135px}.tmf-event-apps #mc_page_header_wrap .post-title .h1{font-size:40px;width:250px}.tmf-event-apps #mc_page_header_wrap .post-title .bigger{font-size:40px}.tmf-event-apps .cellphone-one .right img{width:230px}}.guiaepicureov2 .container.content .aside-wrapper .info p{font-size:24px}.guiaepicureov2 p{font-size:18px;line-height:1.8em}.guiaepicureov2 #mc_page_header_wrap{background-size:100%}.guiaepicureov2 #mc_page_header_wrap .post-title{display:block}.guiaepicureov2 #mc_page_header_wrap .post-title .postypeTitle,.guiaepicureov2 #mc_page_header_wrap .post-title h1,.guiaepicureov2 #mc_page_header_wrap .post-title p{display:none}.guiaepicureov2 #mc_page_header_wrap .post-title img{position:absolute;left:48vw;width:510px;bottom:-220px}.guiaepicureov2 #main_page_wrapp .container.content{padding-bottom:20px}.guiaepicureov2 #main_page_wrapp .container.content .right:before,.guiaepicureov2 #main_page_wrapp .container.content .left:after{display:none}.guiaepicureov2 .services-list ul{display:inline-block}.guiaepicureov2 .aside-wrapper .info{margin-left:-20px;margin-top:-30px}.guiaepicureov2 .aside-wrapper .info .h5{margin-top:0;margin-bottom:10px}.guiaepicureov2 h1.blue,.guiaepicureov2 h2.blue{color:#1f3e53;font-family:'Gotham',Helvetica,Arial,sans-serif}.guiaepicureov2 h1.red,.guiaepicureov2 h2.red{color:#843a3d;font-family:'Gotham',Helvetica,Arial,sans-serif}.guiaepicureov2 h2.dark-title{font-family:'Gotham',Helvetica,Arial,sans-serif;font-weight:900;font-size:26px;color:#333;padding-bottom:15px}.guiaepicureov2 .white-title{color:#fff}.guiaepicureov2 .first-section{background-color:#1f3e53;position:relative}.guiaepicureov2 .first-section p{color:#fff}.guiaepicureov2 .first-section .right{background-image:url(https://cdn.mercury.one/wp-content/uploads/2016/09/street-ad-fliped.jpg);background-position:-550px;background-repeat:no-repeat;height:720px;background-size:cover}@media screen and (max-width:991px){.guiaepicureov2 .first-section .right{float:none !important;width:100%}}.guiaepicureov2 .second-section>.box+p{margin-bottom:0 !important}.guiaepicureov2 .first-section .left{padding:139px 20px 0 0;text-align:right}.guiaepicureov2 .first-section .left h1{line-height:1em;margin-bottom:30px;font-size:59px}.guiaepicureov2 .first-section .left p{width:320px;float:right;font-weight:100}.guiaepicureov2 .second-section{background-image:url(https://cdn.mercury.one/wp-content/uploads/2016/09/laptop-coffee-shop.jpg);background-repeat:no-repeat;background-size:1600px;height:980px;position:relative}.guiaepicureov2 .second-section p{color:#fff;font-weight:100}.guiaepicureov2 .second-section .box{position:absolute;width:600px;right:0;background-color:#843a3d;padding:50px 130px 15px 22px;top:305px}.guiaepicureov2 .second-section .box h1{font-size:60px;line-height:1em;margin-bottom:40px}.guiaepicureov2 .second-section img{display:none}.guiaepicureov2 .third-section{background-color:#1f3e53;background-image:url(https://cdn.mercury.one/wp-content/uploads/2016/09/uber-phone.jpg);background-repeat:no-repeat;background-position:center left 33vw;background-size:1080px;height:700px}.guiaepicureov2 .third-section p{color:#fff}.guiaepicureov2 .third-section .left{text-align:right;padding:115px 14px 0 0}.guiaepicureov2 .third-section .left h1{line-height:1em;color:#e7e3df}.guiaepicureov2 .third-section .left p{float:right;color:#e7e3df;font-weight:100}.guiaepicureov2 .third-section img{display:none}.guiaepicureov2 .fourth-section{clear:both;padding:50px 30px 40px 0}.guiaepicureov2 .fourth-section .statistics h1{font-size:110px;line-height:1em}.guiaepicureov2 .fourth-section .statistics h2{font-size:37px;font-weight:900}.guiaepicureov2 .fourth-section article.left{margin-left:48px;padding:0}.guiaepicureov2 .fourth-section .right{float:right}.guiaepicureov2 .fourth-section .right .results{text-align:center;margin-left:-100px}.guiaepicureov2 .fourth-section .right .statistics h1{margin-bottom:0;position:relative;font-size:112px;line-height:1em;margin-top:-8px;text-transform:lowercase}.guiaepicureov2 .fourth-section .right .statistics h2{margin-top:0;line-height:1em}.guiaepicureov2 .fourth-section .right .statistics .second .smaller{font-size:.6em;position:absolute;bottom:-9px}.guiaepicureov2 .post-title{display:none}@media screen and (min-width:1600px){.guiaepicureov2 .first-section .right{background-size:1900px}.guiaepicureov2 .second-section{background-size:1920px}.guiaepicureov2 .third-section{background-size:1200px;background-position:center left 37vw}}@media screen and (max-width:1366px){.guiaepicureov2 .first-section .right{background-position:-570px}.guiaepicureov2 .first-section .left h1{font-size:56px}.guiaepicureov2 .first-section .left p{width:290px}.guiaepicureov2 .third-section{background-position:center left 31vw}}@media screen and (max-width:1199px){.guiaepicureov2 #content-static .fourth-section article.left,.guiaepicureov2 #content-static .fourth-section article.right{float:none;margin:auto;clear:both}.guiaepicureov2 #content-static .fourth-section article.left .results,.guiaepicureov2 #content-static .fourth-section article.right .results{text-align:center;margin-left:-50px}.guiaepicureov2 #content-static .fourth-section article.left .container-fluid,.guiaepicureov2 #content-static .fourth-section article.right .container-fluid{padding:0}.guiaepicureov2 #content-static .fourth-section article.left .container-fluid>div,.guiaepicureov2 #content-static .fourth-section article.right .container-fluid>div{padding:0}.guiaepicureov2 #mc_page_header_wrap .post-title img{left:43vw}.guiaepicureov2 .first-section .right{background-position:center center;height:650px}.guiaepicureov2 .second-section{height:auto;background-size:contain}.guiaepicureov2 .second-section .box{top:0;position:relative;left:50%;width:50%;padding:50px 40px 15px 22px}.guiaepicureov2 .third-section{background-position:center left 42vw;background-size:auto}.guiaepicureov2 .third-section .left{padding:150px 30px 120px 0}.guiaepicureov2 .fourth-section .statistics h1{font-size:80px;line-height:1em}.guiaepicureov2 .fourth-section .statistics h2{font-size:24px;font-weight:900}.guiaepicureov2 .fourth-section .statistics .second{margin-left:0}}@media screen and (max-width:1000px){.guiaepicureov2 .third-section .left h1{max-width:100%}.guiaepicureov2 .fourth-section{padding:100px 30px 100px 0}}@media screen and (max-width:991px){.guiaepicureov2 #content-static .fourth-section article.left h2,.guiaepicureov2 #content-static .fourth-section article.left .results,.guiaepicureov2 #content-static .fourth-section article.right h2,.guiaepicureov2 #content-static .fourth-section article.right .results{text-align:left;margin-left:0}.guiaepicureov2 #mc_page_header_wrap{background-size:cover}.guiaepicureov2 #mc_page_header_wrap .post-title img{left:37vw;width:420px}.guiaepicureov2 .aside-wrapper .info{margin-left:0;margin-top:0}.guiaepicureov2 .first-section .right{background-position:center right -310px;height:650px}.guiaepicureov2 .first-section .left{padding:45px}.guiaepicureov2 .first-section .left h1,.guiaepicureov2 .first-section .left p{float:left}.guiaepicureov2 .first-section .left h1{width:33%;margin-top:0;font-size:43px}.guiaepicureov2 .first-section .left p{width:66%;text-align:left;padding-left:40px;margin-bottom:0}.guiaepicureov2 .first-section .left:after{content:"";display:block;clear:left}.guiaepicureov2 .second-section .box{width:100%;padding:5%;margin:auto;float:none;left:auto}.guiaepicureov2 .second-section .box h1{font-size:43px}.guiaepicureov2 .second-section .box h1 br{display:none}.guiaepicureov2 .second-section .box :first-child{margin-top:0}.guiaepicureov2 .second-section .box :last-child{margin-bottom:0}.guiaepicureov2 .second-section img{display:block}.guiaepicureov2 .third-section{height:auto;background-image:none}.guiaepicureov2 .third-section img{display:inline;width:980px;max-width:none !important}.guiaepicureov2 .third-section .left{text-align:left;padding:45px}.guiaepicureov2 .third-section .left h1,.guiaepicureov2 .third-section .left p{float:left;margin-top:0;margin-bottom:0}.guiaepicureov2 .third-section .left h1{margin-top:20px;text-align:right;width:33%}.guiaepicureov2 .third-section .left p{padding-left:40px;width:66%}.guiaepicureov2 .fourth-section .statistics h1{font-size:120px;line-height:1em}.guiaepicureov2 .fourth-section .statistics h2{font-size:35px}}@media screen and (max-width:768px){.guiaepicureov2 #mc_page_header_wrap .post-title img{filter:brightness(0) invert(1);left:50%;margin-left:-210px;top:110px}.guiaepicureov2 .services-list ul{display:block}.guiaepicureov2 .first-section .left{padding:50px 30px 50px 15px;float:none !important}.guiaepicureov2 .first-section .left h1,.guiaepicureov2 .first-section .left p{float:none;width:100%;text-align:left;padding-left:0}.guiaepicureov2 .first-section .left h1{font-size:34px;margin-top:20px;margin-bottom:20px}.guiaepicureov2 .first-section .left h1 br{display:none}.guiaepicureov2 .first-section .left p{margin-bottom:10px}.guiaepicureov2 .second-section{height:auto;background-image:none}.guiaepicureov2 .second-section .box{width:100%;position:relative;top:0;padding:40px 15px}.guiaepicureov2 .second-section .box h1{font-size:34px}.guiaepicureov2 .second-section .box p{width:100%}.guiaepicureov2 .second-section img{display:inline;width:780px;max-width:none !important}.guiaepicureov2 .third-section img{width:770px}.guiaepicureov2 .third-section .left{padding:40px 15px}.guiaepicureov2 .third-section .left h1,.guiaepicureov2 .third-section .left p{float:none;width:100%}.guiaepicureov2 .third-section .left h1{text-align:left;margin-bottom:40px}.guiaepicureov2 .third-section .left h1 br{display:none}.guiaepicureov2 .third-section .left p{padding-left:0}.guiaepicureov2 .fourth-section{padding:0 0 70px}.guiaepicureov2 .fourth-section .statistics h1{font-size:90px}.guiaepicureov2 .fourth-section .statistics .second .smaller{position:relative}}@media screen and (max-width:640px){.single-case_study .guiaepicureov2 #mc_page_header_wrap{min-height:350px !important;height:350px !important}.guiaepicureov2 #mc_page_header_wrap .post-title img{margin-left:-170px;top:30px;width:330px}.guiaepicureov2 .first-section .right{height:450px;background-position:center center;background-size:1200px}.guiaepicureov2 .second-section img{display:block;width:650px;max-width:none !important}.guiaepicureov2 .third-section img{width:640px}}@media screen and (max-width:480px){.guiaepicureov2 .second-section{background-image:none;height:100%}.guiaepicureov2 .second-section img{width:490px}.guiaepicureov2 #mc_page_header_wrap .post-title img{margin-left:-125px;width:250px}.guiaepicureov2 .third-section img{margin-left:-150px}.guiaepicureov2 .fourth-section .right .statistics{width:auto}.guiaepicureov2 .fourth-section .right .statistics h1{font-size:92px}}.pcs-illustration .container.content .aside-wrapper .info p{font-size:24px}.pcs-illustration.single-case_study .container.content article .article-wrapper{padding-right:20px}.pcs-illustration #mc_page_header_wrap{background-position:top right}.pcs-illustration #mc_page_header_wrap .post-title img{width:480px;padding-top:260px}.pcs-illustration #main_page_wrapp .container{padding-left:100px}.pcs-illustration #main_page_wrapp .blog-related-stories .container{padding-left:0}.pcs-illustration #main_page_wrapp .increase-website .container{padding-left:0}.pcs-illustration #main_page_wrapp #mc_page_header_wrap .container{padding-left:0}.pcs-illustration #main_page_wrapp .container.content{padding-top:0}.pcs-illustration .container.content .left:after,.pcs-illustration .container.content .right:before{display:none}.pcs-illustration .article-wrapper .title{color:#03678b;text-transform:uppercase;font-family:'Gotham',Helvetica,Arial,sans-serif;font-size:26px;font-weight:800;margin-bottom:5px}.pcs-illustration .article-wrapper .subtitle{color:#03678b;text-transform:uppercase;font-weight:100;font-size:47px;line-height:1.2em;font-family:'Gotham',Helvetica,Arial,sans-serif;letter-spacing:-.06em}.pcs-illustration .aside-wrapper .info{padding-top:240px}.pcs-illustration .aside-wrapper .services-list ul{display:inline-block}.pcs-illustration .our-solution{background-color:#009ed8}.pcs-illustration .our-solution .illustration{padding-right:6px}.pcs-illustration .our-solution .illustration img{margin-top:-100px;margin-bottom:-50px;float:right;max-width:none !important}.pcs-illustration .our-solution .text{padding-top:50px;padding-bottom:40px}.pcs-illustration .our-solution .text .title{font-family:'Gotham',Helvetica,Arial,sans-serif;font-weight:800}.pcs-illustration .increase-website{padding-top:80px;padding-bottom:50px;z-index:6;position:relative}.pcs-illustration .increase-website .container{position:relative}.pcs-illustration .increase-website blockquote{border-left:0;padding-left:98px;font-size:16px;margin-top:36px}.pcs-illustration .increase-website blockquote p{margin-bottom:15px}.pcs-illustration .increase-website blockquote:before{content:"";display:block;width:60px;height:60px;background-image:url(data:image/png;base64,iVBORw0KGgoAAAANSUhEUgAAAEQAAAA9CAMAAAAj4D+JAAAAIVBMVEVHcEzb29vb29vb29vb29vb29vb29vb29vb29vb29vb29uoMeGKAAAACnRSTlMAv0CDWCen1RDvxqtn9wAAAP5JREFUWMPtl0sOQyEIRUVRgf0vuJ28RBTEpJM2leklh49gNKVr1z6xWgOHTDuVsACLCLj80vpbZ3QRCPJYtgn86F4U7CI7CLVBtyF1RFiQonQTgixbiErDgaDIFkJdQkjlANIkhsxxZkgWDiFLMTNkDQIHibQgCC8zXWcC0rYjvRhTNE3Ashekk0BzcVQ1GJw/2MupApW0z5Sd/c3RNMN+p5ZApk+4d7r3pk89SCQBbzuiynWvoh4EygfVjCVT0LNyAkm/D1Gz9hjaI9AfvZEPMVcdLL0dQMbDtiDzYV/IhVzIhXwVhNhyqt7zxXxKvVOB1caLmsqqN7rfqH+xFyZlOYtTHNVyAAAAAElFTkSuQmCC);background-repeat:no-repeat;background-size:contain;position:absolute;left:0}.pcs-illustration .increase-website .big-title{position:relative;height:370px}.pcs-illustration .increase-website .big-title .title{font-family:'Gotham',Helvetica,Arial,sans-serif;font-weight:800;line-height:1em;font-size:60px;color:#009ed8;width:520px;position:absolute;right:59vw;margin-top:114px;letter-spacing:-.02em}.pcs-illustration .increase-website .big-title .title .bigger{display:block;font-size:170px;line-height:.8em}.pcs-illustration .cellphone-tablet{text-align:right;margin-top:-537px;position:relative;z-index:5}.pcs-illustration .cellphone-tablet .tablet{width:1080px}.pcs-illustration .cellphone-tablet .cellphone{top:-367px;left:-232px;position:relative}.pcs-illustration .last-section{background-color:#5bb7d6;height:1068px;background-image:url(https://cdn.mercury.one/wp-content/uploads/2019/04/work-pcs-illustration-people-working-1.png);background-repeat:no-repeat;background-position:left bottom;margin-top:-1018px;position:relative;z-index:1}.pcs-illustration .last-section:after{content:"";display:block;width:400px;height:58px;background-color:#fff;position:absolute;bottom:0;right:0}.pcs-illustration .last-section .title{font-family:'Gotham',Helvetica,Arial,sans-serif;font-size:60px;font-weight:800;line-height:1em;position:absolute;bottom:150px;right:16px}.pcs-illustration .last-section .title .bigger{display:block;font-size:170px;line-height:.8em}@media screen and (max-width:1550px){.pcs-illustration .last-section{background-position:left -170px bottom}}@media screen and (max-width:1366px) and (min-width:1200px){.pcs-illustration .cellphone-tablet{margin-top:-258px !important;margin-right:-605px !important}}@media screen and (max-width:1366px){.pcs-illustration #mc_page_header_wrap{background-position:top right -200px}.pcs-illustration #mc_page_header_wrap:before{right:45vw}.pcs-illustration .cellphone-tablet{margin-top:-470px}.pcs-illustration .cellphone-tablet .tablet{width:750px;margin-right:-105px}.pcs-illustration .cellphone-tablet .cellphone{width:700px}.pcs-illustration .increase-website .big-title .title{font-size:42px;left:130px;margin-top:50px;width:430px}.pcs-illustration .last-section{margin-top:-760px}.pcs-illustration .last-section .title{bottom:320px}.pcs-illustration .last-section:after{display:none}}@media screen and (max-width:1200px){.pcs-illustration #main_page_wrapp .container{padding-left:0}}@media screen and (max-width:1199px){.pcs-illustration #mc_page_header_wrap{background-position:top right -370px}.pcs-illustration .aside-wrapper .info{padding-top:300px}.pcs-illustration .increase-website .big-title .title{left:90px;margin-top:40px;width:380px}}@media screen and (max-width:991px){.pcs-illustration #mc_page_header_wrap{background-position:top right -520px}.pcs-illustration #mc_page_header_wrap:before{right:29vw}.pcs-illustration #main_page_wrapp .blog-related-stories .container{padding:0}.pcs-illustration .mb-lines-2,.pcs-illustration .mb-lines-3{margin-bottom:1rem}.pcs-illustration .aside-wrapper .info{padding-top:260px;padding-left:0;padding-right:0}.pcs-illustration .article-wrapper .subtitle{font-size:37px}.pcs-illustration .cellphone-tablet{margin-top:-50px}.pcs-illustration .cellphone-tablet .tablet{width:730px;margin-top:-130px !important}.pcs-illustration .cellphone-tablet .cellphone{top:-340px;left:-130px}.pcs-illustration .increase-website .big-title .title{font-size:40px;left:150px;width:450px}.pcs-illustration .last-section{height:1140px}.pcs-illustration .last-section .title{padding-right:60px;left:400px;font-size:40px}.pcs-illustration .last-section .title .bigger{line-height:1.1em;font-size:90px}.pcs-illustration .our-solution .illustration{padding-right:0;text-align:center}.pcs-illustration .our-solution .illustration img{width:720px;float:none}}@media screen and (max-width:768px){.pcs-illustration #main_page_wrapp .container{padding:0 15px}.pcs-illustration #mc_page_header_wrap{background-image:none !important}.pcs-illustration #mc_page_header_wrap:before{right:0;width:100%;background-position:center center;top:180px;background-size:80%}.pcs-illustration #mc_page_header_wrap .mc_page_header_content{text-align:center;padding-top:0}.pcs-illustration #mc_page_header_wrap .post-title img{padding-top:70px}.pcs-illustration .aside-wrapper{padding-left:0 !important}.pcs-illustration .aside-wrapper .info{padding-top:0;padding-left:15px;padding-right:15px}.pcs-illustration .aside-wrapper .services-list ul{display:block}.pcs-illustration .our-solution{margin-top:120px}.pcs-illustration .our-solution .illustration img{margin-top:-100px}.pcs-illustration .our-solution .text{padding-bottom:0}.pcs-illustration .increase-website{padding-top:110px;padding-bottom:20px}.pcs-illustration .increase-website blockquote{padding:0 30px;margin-top:0}.pcs-illustration .increase-website blockquote:before{top:30px;left:30px}.pcs-illustration .increase-website .big-title .title{left:25px}.pcs-illustration .cellphone-tablet .tablet{margin-top:0 !important;width:600px}.pcs-illustration .cellphone-tablet .cellphone{margin-top:-140px;top:-120px;left:-40px;width:550px}.pcs-illustration .our-solution .illustration img{width:600px}.pcs-illustration .last-section{height:1200px;margin-top:-760px;background-position:left -110px bottom;background-size:1270px}.pcs-illustration .last-section .title{left:272px;font-size:40px}.pcs-illustration .last-section .title .bigger{font-size:12vw}}@media screen and (max-width:640px){.pcs-illustration #mc_page_header_wrap{min-height:500px}.pcs-illustration #mc_page_header_wrap:before{top:18vw}.pcs-illustration .article-wrapper .subtitle{font-size:32px}.pcs-illustration .cellphone-tablet .tablet{margin-top:290px !important;width:450px}.pcs-illustration .cellphone-tablet .cellphone{display:none}.pcs-illustration .increase-website .big-title{height:auto}.pcs-illustration .last-section{background-position:left -200px bottom}.pcs-illustration .last-section{height:810px;margin-top:-330px}.pcs-illustration .last-section .title{bottom:230px;font-size:35px;left:170px}.pcs-illustration .last-section .title .bigger{font-size:100px}.pcs-illustration .our-solution .illustration img{width:380px}}@media screen and (max-width:480px){.pcs-illustration .our-solution .illustration img{width:300px}.pcs-illustration .last-section{height:690px;margin-top:-270px;background-position:left -270px bottom}.pcs-illustration .last-section .title{font-size:34px;left:50px}.pcs-illustration .last-section .title .bigger{font-size:80px}.pcs-illustration .increase-website .big-title .title{font-size:34px;width:88%}.pcs-illustration .increase-website .big-title .title .bigger{font-size:90px}.pcs-illustration .cellphone-tablet .tablet{width:360px;margin-top:240px !important}}.pcs-event-management #mc_page_header_wrap{height:1520px;background-position:top;background-size:1920px}.pcs-event-management #mc_page_header_wrap .post-title{margin-top:-100px;display:block !important;margin-bottom:0 !important;text-align:left !important}.pcs-event-management .mc_page_header_content{opacity:1 !important}.pcs-event-management .mc_page_header_content .post-title{display:block !important;margin-bottom:0 !important;text-align:left !important}.pcs-event-management #mc_page_header_wrap .post-title .postypeTitle{display:none}.pcs-event-management #mc_page_header_wrap .post-title h1{font-size:70px;width:470px;line-height:1em;text-shadow:-5px 6px 10px rgba(0,0,0,.5)}.pcs-event-management #mc_page_header_wrap .post-title .bigger{font-size:80px;font-weight:lighter;text-shadow:-5px 6px 10px rgba(0,0,0,.5);margin-top:-18px;font-family:'Gotham',Helvetica,Arial,sans-serif;font-weight:100}.pcs-event-management #main_page_wrapp section.container.content{padding:0}.pcs-event-management #main_page_wrapp section.container.content .left:after,.pcs-event-management #main_page_wrapp section.container.content .right:before{display:none}.pcs-event-management #main_page_wrapp section.container.content .article-wrapper{margin-top:-15px}.pcs-event-management #main_page_wrapp section.container.content aside .aside-wrapper{padding-top:20px}.pcs-event-management .first-section{width:1570px;margin:0 auto}.pcs-event-management .first-section img{width:100%}.pcs-event-management .first-section .left{padding-right:10px}.pcs-event-management .first-section .right{padding-left:10px}.pcs-event-management .second-section{position:relative}.pcs-event-management .second-section .stand{background-image:url(https://cdn.mercury.one/wp-content/uploads/2016/09/work-pcs-wireless-stand.png);background-repeat:no-repeat;background-position:left 43.5vw top 112px;background-size:1190px;height:1100px;width:100%;position:absolute;top:0;left:0;z-index:5}.pcs-event-management .second-section .title{color:#182545;font-family:'Gotham',Helvetica,Arial,sans-serif;font-size:65px;font-weight:800;line-height:1em;margin-top:50px}.pcs-event-management .second-section .title .lighter{font-weight:100;letter-spacing:-.01em}.pcs-event-management .second-section .little-title{font-family:'Gotham',Helvetica,Arial,sans-serif;color:#182545;font-size:24px;font-weight:600;padding:40px 0 0 90px}.pcs-event-management .second-section img{padding-left:80px;width:450px}.pcs-event-management .second-section ul{padding-left:90px;padding-top:10px;list-style-type:none}.pcs-event-management .second-section ul li{color:#373536;font-size:30px;line-height:1.2em}@media screen and (max-width:1700px){.pcs-event-management .second-section .stand{background-position:left 680px top 110px}}@media screen and (max-width:1366px){.pcs-event-management .first-section{width:1190px}}@media screen and (max-width:1199px){.pcs-event-management #mc_page_header_wrap{height:1200px;background-position:top -270px center}.pcs-event-management .first-section{width:990px}.pcs-event-management .second-section .stand{background-position:left 50vw top 132px}}@media screen and (max-width:991px){.pcs-event-management #mc_page_header_wrap{height:900px;background-position:top;background-size:1260px}.pcs-event-management #mc_page_header_wrap .mc_page_header_content{padding-top:110px}.pcs-event-management #mc_page_header_wrap .post-title{transform:scale(.75);transform-origin:bottom left}.pcs-event-management .first-section{width:760px}.pcs-event-management .first-section img{margin-bottom:20px}.pcs-event-management .second-section .stand{right:-49vw;top:300px;background-position:left 48vw top}.pcs-event-management .second-section .stand img{width:96vw}.pcs-event-management .second-section .little-title{padding:40px 0 0}.pcs-event-management .second-section img{padding-left:0;width:320px}.pcs-event-management .second-section ul{padding-left:0}.pcs-event-management .second-section ul li{font-size:24px}.pcs-event-management .first-section{width:710px;margin:0 auto}.pcs-event-management .first-section img{width:100%}.pcs-event-management .first-section .left{padding-right:15px}.pcs-event-management .first-section .right{padding-left:15px}}@media screen and (max-width:768px){.pcs-event-management #mc_page_header_wrap{height:650px;background-position:top -200px center;padding-top:370px}.pcs-event-management #mc_page_header_wrap .post-title{margin-top:-100px;transform-origin:center center}.pcs-event-management #mc_page_header_wrap .post-title h1,.pcs-event-management #mc_page_header_wrap .post-title .bigger{font-size:55px;text-shadow:none;width:100%;text-align:center}.pcs-event-management #mc_page_header_wrap .post-title .bigger{margin-top:20px;line-height:1em}.pcs-event-management #mc_page_header_wrap .mc_page_header_content{padding-top:0}.pcs-event-management .first-section{width:640px}.pcs-event-management .first-section img{margin-bottom:20px}.pcs-event-management .second-section .title{font-size:50px;padding:0 35px}.pcs-event-management .second-section .little-title{padding:40px 0 0 30px}.pcs-event-management .second-section .stand{background-size:780px;background-position:left 53vw top}.pcs-event-management .second-section img{padding-left:0}.pcs-event-management .second-section ul{padding-left:30px}.pcs-event-management .second-section ul li{font-size:20px}}@media screen and (max-width:640px){.pcs-event-management #mc_page_header_wrap{height:500px;min-height:240px;padding-top:200px}.pcs-event-management #mc_page_header_wrap .post-title{margin-top:0}.pcs-event-management #mc_page_header_wrap .post-title h1,.pcs-event-management #mc_page_header_wrap .post-title .bigger{font-size:44px}.pcs-event-management .first-section{width:480px}.pcs-event-management .second-section{text-align:center}.pcs-event-management .second-section .title{font-size:40px}.pcs-event-management .second-section .little-title{padding:40px 0 0}.pcs-event-management .second-section .lighter{padding-top:10px;display:block}.pcs-event-management .second-section ul{padding-left:0}.pcs-event-management .stand{display:none}.pcs-event-management .stand-img{display:inline !important}.pcs-event-management .stand-img img{width:430px;padding-top:30px}}@media screen and (max-width:480px){.pcs-event-management #mc_page_header_wrap{padding-top:100px;height:370px}.pcs-event-management .first-section{width:320px}.pcs-event-management .second-section .title{font-size:30px}.pcs-event-management .stand-img img{width:300px}}.posh{background-color:#fafafa}.posh .services-list .reset-ul li a:link,.posh .services-list .reset-ul li a:visited{color:#333}.posh .container.content .aside-wrapper .info p{font-size:24px}.posh .container.content article .article-wrapper{font-size:18px}.posh #mc_page_header_wrap .post-title img{margin-left:-11px}.posh #mc_page_header_wrap{background-position:-3vw}.posh h4{font-family:'Gotham',Helvetica,Arial,sans-serif;font-size:30px;color:#333}.posh #main_page_wrapp{background-color:#fafafa;background-position:left top 310px}.posh #main_page_wrapp #content-static{background-image:url(https://cdn.mercury.one/wp-content/uploads/2016/09/posh-work-cellphones-row.jpg);background-repeat:no-repeat;background-position:left 2px top -18px}.posh .consistent-branding-elements{font-size:18px}.posh .img-branding-challenge{margin-top:-60px;margin-left:56px}.posh .consistent-col,.posh .james-col{padding-top:32px;padding-left:51px;padding-right:55px}.posh .consistent-col{padding-top:74px}.posh .img-absoluta .james-posh{background-color:none}#cs-content .posh.x-section .x-container.results{padding-top:480px !important;padding-bottom:80px !important}.posh .results .one-million-col h2{font-size:82px;font-family:'Gotham',Helvetica,Arial,sans-serif;font-weight:800;color:#333;margin:0;margin-left:19px}.posh p{font-size:18px}.posh .consistent-branding-elements .container{padding:0 !important}.posh .consistent-branding-elements .container img{max-width:none !important}.posh .consistent-branding-elements .container .logo-grey-posh{width:400px;margin-left:99px;opacity:.3;padding-top:92px;padding-bottom:80px}.posh #main_page_wrapp #content-static .consistent-branding-elements .img-absoluta .james-posh{padding-top:100px;background-color:transparent}.posh #mc_page_header_wrap .post-title{padding-top:240px}.posh .article-wrapper .special-text{font-size:50px;font-weight:100}.posh .article-wrapper .single-case_study .container.content article .article-wrapper h4{font-family:'Gotham',Helvetica,Arial,sans-serif}.posh .article-wrapper .single-case_study .container.content article .article-wrapper h5{font-size:50px}.posh .article-wrapper .single-case_study .container.content article .article-wrapper{font-size:18px}.posh .subtitle{font-family:'Gotham',Helvetica,Arial,sans-serif;font-weight:800;font-size:30px;margin-bottom:20px}.posh .consistent-branding{margin-top:50px}.posh .consistent-branding .left{margin-top:60px}.posh .consistent-branding .jamesposh img{width:730px}.posh .consistent-branding .right img{width:420px}.posh .one-million{margin-bottom:0;margin-top:76px;max-width:initial;margin-left:19px}.posh .one-million h2{font-family:'Gotham',Helvetica,Arial,sans-serif;font-size:90px;font-weight:800}.posh .one-million img{width:870px}.posh .results-col{padding-top:50px;font-size:18px;padding-left:40px}.posh .james-posh-img-small-devices{display:none;margin-top:30px}.posh .james-posh-img-large-devices{display:inline}.posh .img-absoluta{position:absolute}.posh .img-absoluta.branding-esp{margin-top:-31px;margin-left:22px}.posh .img-absoluta.james-posh{padding-top:75px;background-color:transparent;margin-top:41px !important;-moz-transform:scaleX(-1);-o-transform:scaleX(-1);-webkit-transform:scaleX(-1);transform:scaleX(-1);filter:FlipH;-ms-filter:"FlipH";width:860px;margin-left:-222px !important}@media screen and (max-width:1500px){.posh #main_page_wrapp #content-static{background-position:left -100px top 150px}}@media screen and (max-width:1366px){.posh #main_page_wrapp #content-static{background-position:left -40px top 710px;background-size:310px}#cs-content .posh.x-section .x-container.results{padding-top:40px !important}.posh .james-posh-img-small-devices{display:inline;-moz-transform:scaleX(-1);-o-transform:scaleX(-1);-webkit-transform:scaleX(-1);transform:scaleX(-1);filter:FlipH;-ms-filter:"FlipH"}.posh .james-posh-img-large-devices{display:none}.posh .consistent-branding-elements img{max-width:none}.posh .consistent-branding-elements .james-posh-img-small-devices{width:370px;max-width:none}.posh .consistent-branding-elements .case-study{width:380px}.posh .consistent-branding-elements .james-posh{width:490px;padding-top:0;margin-top:0;margin-left:20px}.posh .one-million-col img{width:780px}}@media screen and (max-width:1024px){.posh .consistent-branding .right img{width:290px}.posh .consistent-branding .james-posh-img-small-devices{width:290px}}@media screen and (max-width:1199px){.posh #main_page_wrapp #content-static{background-size:270px;background-position:left -40px top 800px}.posh .consistent-branding .left{margin-top:0}.posh .the-challenge .branding-first{float:left !important;width:390px}.posh .consistent-branding-elements img{padding-top:30px}.posh .img-absoluta.james-posh{width:450px;margin-left:10px !important;margin-top:-50px !important;padding-top:0}.posh .logo-grey-posh{width:480px}.posh .consistent-branding-elements .case-study{width:320px}.posh .consistent-branding-elements .james-posh{width:460px}}@media screen and (max-width:991px){.posh #main_page_wrapp #content-static{background-image:none !important}.posh #main_page_wrapp #content-static .consistent-col,.posh .james-col{padding-left:5px;padding-right:5px}.posh .results-col{padding-right:15px;padding-left:15px}.posh .one-million h2{font-size:56px}.posh .article-wrapper .title br{display:none}.posh .consistent-branding .james-posh-img-small-devices{margin-top:0}.posh .one-million img{width:610px}.posh .img-absoluta.james-posh,.posh .img-absoluta.case-study{position:relative}.posh .img-absoluta.case-study{padding-top:80px}.posh .logo-grey-posh{margin-left:0}#cs-content .posh.x-section .x-container.results{padding-top:0 !important}.posh .consistent-branding-elements .container{padding-bottom:0}.posh .consistent-branding-elements .branding-col{text-align:center}.posh .consistent-branding-elements .container{padding:25px !important}.posh .consistent-branding-elements .container .logo-grey-posh{margin-left:-30px}.posh .consistent-branding-elements .container .case-study{width:460px}.posh .consistent-branding-elements .container .left img{display:inline-block;margin:0 auto}.posh .results .one-million-col h2{font-size:56px}.posh .one-million-col img{width:590px}.posh .center-image-responsive{text-align:center}}@media screen and (max-width:768px){.posh .img-branding-challenge{margin-left:0}.posh #mc_page_header_wrap>:before{width:50vw;min-width:250px}.posh .one-million h2{font-size:46px}.posh #content-static .img-branding-challenge img{width:495px}.posh .img-branding-challenge{width:400px}.posh .consistent-branding-elements .container .branding-images{text-align:center}.posh .consistent-branding-elements .container .branding-images img{width:460px}}@media screen and (max-width:640px){#cs-content .posh.x-section .x-container.results{padding-bottom:0 !important}.posh .results .one-million-col h2{margin-left:0;font-size:46px}.single-case_study .posh #mc_page_header_wrap{min-height:300px}.posh #mc_page_header_wrap .post-title{text-align:center;padding-top:0}.posh #mc_page_header_wrap .post-title img{transform:scale(.75)}.posh .consistent-branding .right{text-align:center}.posh .consistent-branding .right img{width:440px;float:none !important;margin-top:30px}.posh .one-million{margin-left:0}.posh .one-million h2{font-size:30px}.posh .one-million img{width:410px}.posh .branding-images img{width:410px}.posh .consistent-branding-elements .container .branding-images{text-align:center}.posh .consistent-branding-elements .container .branding-images img{width:390px}.posh .one-million-col img{width:420px}}@media screen and (max-width:480px){.posh #mc_page_header_wrap .post-title img{width:265px;padding-top:10px}.posh .consistent-branding .right{text-align:center}.posh .consistent-branding .right img{width:280px}.posh .one-million{margin-left:0;margin-top:46px}.posh .one-million img{width:270px}.posh .results .one-million-col h2{font-size:33px;line-height:1.2em;margin-left:0}.posh .results .one-million-col h2 br{display:none}.posh .consistent-branding-elements .container .branding-images{text-align:center}.posh .consistent-branding-elements .container .branding-images img{width:300px}.posh .consistent-branding-elements .james-posh{width:300px}.posh .consistent-branding-elements .container .case-study{width:100%;margin-left:0}.posh .one-million-col img{width:280px}.posh .img-branding-challenge,.posh .logo-grey-posh{width:290px}.posh .img-branding-challenge{margin-top:0}.posh .logo-grey-posh{padding-bottom:0}}.frenchtruly .container.content .aside-wrapper .info p{font-size:24px}.frenchtruly #main_page_wrapp .container.content{padding-top:70px}.frenchtruly #mc_page_header_wrap{height:820px;background-position-x:right;margin-bottom:-100px;background-position-y:-27px}.frenchtruly #mc_page_header_wrap .post-title .postypeTitle,.frenchtruly #mc_page_header_wrap .post-title h1,.frenchtruly #mc_page_header_wrap .post-title p{display:none}.frenchtruly #mc_page_header_wrap .post-title img{margin-top:-70px;width:500px}.frenchtruly .article-wrapper .title{line-height:1em;margin-bottom:50px;color:#333;letter-spacing:-.01em}.frenchtruly article.left:after{opacity:0}.frenchtruly .services-list ul{display:inline-block}.frenchtruly .aside-wrapper .info{padding:0 0 0 30px}.frenchtruly #breadcrumbs{margin-top:-30px}.frenchtruly #content-static .subtitle{font-family:'Gotham',Helvetica,Arial,sans-serif;color:#311f1f;font-size:34px;letter-spacing:-.02em}.frenchtruly.section-1{height:870px !important;background-repeat:no-repeat;background-position:bottom left 53vw !important;margin-top:-85px !important}.frenchtruly.section-1 .left{padding-top:60px !important}.frenchtruly.section-2{margin-top:-160px !important;background-image:url(https://cdn.mercury.one/wp-content/uploads/2019/06/French-Truly-square-icons.png),url(https://cdn.mercury.one/wp-content/uploads/2019/06/French-Truly-web-mockups.png);background-position:right 17vw top -2vw,top 12.2vw right 43.7vw !important;background-repeat:no-repeat,no-repeat;height:1600px !important}.frenchtruly.section-2 .right{margin-top:-170px !important;padding-top:860px !important}.frenchtruly.section-2 .web-mockups{display:none}.frenchtruly.section-3{background-position:top left 49.5vw !important;background-repeat:no-repeat;margin-top:-618px !important;height:1290px !important}.frenchtruly.section-3 .sold-out{margin-left:-94px !important;margin-top:67px !important;margin-bottom:-26px !important}.frenchtruly.section-3 .french-truly-logo{margin-top:20px !important;width:390px !important;margin-left:-60px !important}.frenchtruly.section-3 .left{padding-top:380px !important}.frenchtruly.section-3 .french-truly-ceo{display:none}.frenchtruly p.bigger{font-size:24px;line-height:1.4em}.frenchtruly .request-proposal{display:none}.frenchtruly .three-columns-hp-alternative{margin-top:40px !important}#breadcrumbs a{color:#b8244b}@media screen and (max-width:1366px){.frenchtruly.section-3 .left{margin-left:0 !important}.frenchtruly.section-2 .right{margin-left:58% !important}.frenchtruly #mc_page_header_wrap{background-position:center right -6vw}.frenchtruly.section-3{background-position:top left 41vw !important;margin-bottom:100px !important}.frenchtruly.section-3 .sold-out{margin-left:-20px !important}.frenchtruly.section-3 .french-truly-logo{margin-left:30px !important}}@media screen and (max-width:1199px){.frenchtruly #mc_page_header_wrap{background-position:center right -29vw}.frenchtruly.section-2{height:1230px !important;background-position:center top,top 311px right 42vw !important;background-size:600px,560px !important}.frenchtruly.section-2 .right{padding-top:770px !important}.frenchtruly.section-3{background-position:top left 46vw !important;background-size:590px !important;margin-top:-240px !important}.frenchtruly.section-3 .left{padding-top:290px !important}}@media screen and (max-width:991px){.frenchtruly #mc_page_header_wrap{height:656px;background-position:center center;margin-bottom:0}.frenchtruly.section-1{height:660px !important;margin-top:-200px !important;background-size:540px !important}.frenchtruly.section-1 .left{padding-top:70px !important}.frenchtruly.section-2{height:1230px !important;margin-top:-60px !important;background-size:600px,520px !important;background-position:center top,top 311px right 50vw !important}.frenchtruly.section-2 .right{margin-left:50% !important}.frenchtruly.section-3{background-position:top 170px right !important;background-size:390px !important}.frenchtruly.section-3 .left{padding-top:200px !important}.frenchtruly.section-3 .sold-out{margin-bottom:5px !important}}@media screen and (min-width:768px) and (max-width:1200px){.frenchtruly.section-3 .french-truly-logo{margin-top:90px !important}}@media screen and (max-width:768px){.frenchtruly #mc_page_header_wrap{height:auto;background-position:center center;background-color:#fff;text-align:center;min-height:auto;background-image:none !important}.frenchtruly #mc_page_header_wrap .post-title img{margin-top:0;margin-bottom:20vw}.frenchtruly #mc_page_header_wrap .post-title img{transform:scale(.75)}.frenchtruly .article-wrapper .title{font-size:70px}.frenchtruly .aside-wrapper .info{padding:0 20px}.frenchtruly .aside-wrapper .info .services-list ul{display:block}.frenchtruly.section-1{margin-top:0 !important}.frenchtruly.section-1 .left{padding-top:0 !important}.frenchtruly.section-1 .left img{width:350px !important}.frenchtruly.section-2{height:auto !important;margin-top:-220px !important;background-size:520px,67% !important;background-position:left 30px top,center bottom 50px !important;background-image:url(https://cdn.mercury.one/wp-content/uploads/2016/09/French-Truly-square-icons.png),none}.frenchtruly.section-2 .right{padding-top:710px !important}.frenchtruly.section-2 .web-mockups{display:inline;width:540px !important}.frenchtruly.section-2 .web-mockup-image-container{text-align:center}.frenchtruly.section-2 .right{margin-left:0 !important}.frenchtruly.section-3{text-align:center;background-image:none !important;height:auto !important;margin-top:0 !important}.frenchtruly.section-3 .left{padding-top:60px !important}.frenchtruly.section-3 .sold-out{margin-left:0 !important;margin-bottom:50px !important;margin-top:0 !important}.frenchtruly.section-3 .french-truly-ceo{display:inline !important;width:570px !important}.frenchtruly.section-3 .french-truly-logo{margin:60px 0 100px !important}.frenchtruly.section-3 p{text-align:left}}@media screen and (max-width:640px){.frenchtruly .article-wrapper .title{font-size:50px}.frenchtruly.section-1{background-size:460px !important;height:auto !important;background-position:center bottom !important}.frenchtruly.section-1 .left{width:100% !important;margin-bottom:600px !important}.frenchtruly.section-1 .left img{display:block !important;margin:0 auto !important}.frenchtruly.section-2{margin-top:0 !important;background-image:none !important}.frenchtruly.section-2 .right{padding-top:40px !important;margin-top:0 !important}.frenchtruly.section-2 .web-mockups{width:420px !important}.frenchtruly p.bigger{font-size:18px}.frenchtruly.section-3 .french-truly-ceo{width:400px !important;margin:30px 0 70px !important}}@media screen and (max-width:480px){.frenchtruly.section-1{background-size:350px !important}.frenchtruly.section-1 .left{margin-bottom:450px !important}.frenchtruly.section-1 .left img{width:270px !important}.frenchtruly.section-2 .web-mockups{width:290px !important}.frenchtruly.section-3 .french-truly-logo{width:290px !important;margin:10px 0 20px !important}.frenchtruly.section-3 .french-truly-ceo{width:280px !important;margin:30px 0 70px !important}}.tmfregistrationv2 .big-title,.tmf-publications .big-title,.digital-transformation .big-title{font-family:'Gotham',Helvetica,Arial,sans-serif;font-weight:900;font-size:62px;color:#ccadb5;line-height:1;margin-bottom:30px;margin-top:0;letter-spacing:-3px}.tmfregistrationv2 .big-title,.tmf-publications .big-title,.digital-transformation .big-title{font-family:'Gotham',Helvetica,Arial,sans-serif;font-weight:900;font-size:42px;color:#333;line-height:1;margin-bottom:30px;margin-top:0;letter-spacing:0px}.tmfregistrationv2 #top_header #header_logo img,.tmf-publications #top_header #header_logo img,.digital-transformation #top_header #header_logo img{position:relative;left:-64px}.tmfregistrationv2 #top_header.header_scroll #header_logo img,.tmf-publications #top_header.header_scroll #header_logo img,.digital-transformation #top_header.header_scroll #header_logo img{position:relative;left:-39px}.tmfregistrationv2 #mc_page_header_wrap .post-title,.tmf-publications #mc_page_header_wrap .post-title,.digital-transformation #mc_page_header_wrap .post-title{padding-top:100px}.tmfregistrationv2 #mc_page_header_wrap .post-title h1,.tmfregistrationv2 #mc_page_header_wrap .post-title p,.tmf-publications #mc_page_header_wrap .post-title h1,.tmf-publications #mc_page_header_wrap .post-title p,.digital-transformation #mc_page_header_wrap .post-title h1,.digital-transformation #mc_page_header_wrap .post-title p{display:none}.tmfregistrationv2 #mc_page_header_wrap h1,.tmf-publications #mc_page_header_wrap h1,.digital-transformation #mc_page_header_wrap h1{font-size:58px;line-height:1em;padding-left:15px;margin-top:0}.tmfregistrationv2 #mc_page_header_wrap .mc_page_header_content,.tmf-publications #mc_page_header_wrap .mc_page_header_content,.digital-transformation #mc_page_header_wrap .mc_page_header_content{padding-left:0}.tmfregistrationv2 .container.content .left:after,.tmfregistrationv2 .container.content .right:before,.tmf-publications .container.content .left:after,.tmf-publications .container.content .right:before,.digital-transformation .container.content .left:after,.digital-transformation .container.content .right:before{display:none}.tmfregistrationv2 .container.content p,.tmf-publications .container.content p,.digital-transformation .container.content p{font-size:18px}.tmfregistrationv2 .container.content .aside-wrapper,.tmf-publications .container.content .aside-wrapper,.digital-transformation .container.content .aside-wrapper{right:-100px;position:relative;padding-left:0}.tmfregistrationv2 .container.content .aside-wrapper .info p,.tmf-publications .container.content .aside-wrapper .info p,.digital-transformation .container.content .aside-wrapper .info p{margin-top:0;color:#46a3c9;font-size:24px}.tmfregistrationv2 .container.content .aside-wrapper .services-list .reset-ul,.tmf-publications .container.content .aside-wrapper .services-list .reset-ul,.digital-transformation .container.content .aside-wrapper .services-list .reset-ul{display:inline-block}.tmfregistrationv2 .container.content .aside-wrapper .services-list .reset-ul li,.tmf-publications .container.content .aside-wrapper .services-list .reset-ul li,.digital-transformation .container.content .aside-wrapper .services-list .reset-ul li{border-bottom:1px solid #46a3c9}.tmfregistrationv2 .container.content .aside-wrapper .services-list .reset-ul li a:link,.tmfregistrationv2 .container.content .aside-wrapper .services-list .reset-ul li a:visited,.tmfregistrationv2 .container.content .aside-wrapper .services-list .reset-ul li a:active,.tmf-publications .container.content .aside-wrapper .services-list .reset-ul li a:link,.tmf-publications .container.content .aside-wrapper .services-list .reset-ul li a:visited,.tmf-publications .container.content .aside-wrapper .services-list .reset-ul li a:active,.digital-transformation .container.content .aside-wrapper .services-list .reset-ul li a:link,.digital-transformation .container.content .aside-wrapper .services-list .reset-ul li a:visited,.digital-transformation .container.content .aside-wrapper .services-list .reset-ul li a:active{color:#46a3c9}.tmfregistrationv2 .container.content .aside-wrapper .services-list .reset-ul li a:hover,.tmf-publications .container.content .aside-wrapper .services-list .reset-ul li a:hover,.digital-transformation .container.content .aside-wrapper .services-list .reset-ul li a:hover{color:#d6791d}.tmfregistrationv2 .container.content .aside-wrapper .services-list .reset-ul li:before,.tmf-publications .container.content .aside-wrapper .services-list .reset-ul li:before,.digital-transformation .container.content .aside-wrapper .services-list .reset-ul li:before{filter:grayscale(0%) brightness(100%) hue-rotate(180deg);-webkit-filter:grayscale(0%) brightness(100%) hue-rotate(180deg)}.tmfregistrationv2 .container.content .aside-wrapper .services-list .reset-ul li a:after,.tmf-publications .container.content .aside-wrapper .services-list .reset-ul li a:after,.digital-transformation .container.content .aside-wrapper .services-list .reset-ul li a:after{background-color:#1b81ab}.tmfregistrationv2 h1,.tmfregistrationv2 h2,.tmfregistrationv2 h3,.tmfregistrationv2 h4,.tmfregistrationv2 h5,.tmf-publications h1,.tmf-publications h2,.tmf-publications h3,.tmf-publications h4,.tmf-publications h5,.digital-transformation h1,.digital-transformation h2,.digital-transformation h3,.digital-transformation h4,.digital-transformation h5{font-family:'Gotham',Helvetica,Arial,sans-serif}.tmfregistrationv2 h1,.tmf-publications h1,.digital-transformation h1{font-family:'Gotham',Helvetica,Arial,sans-serif;font-weight:900}.tmfregistrationv2 h3.blue-title,.tmf-publications h3.blue-title,.digital-transformation h3.blue-title{font-weight:900;font-size:50px;color:#96bed2;line-height:1;font-size:42px}.tmfregistrationv2 #content-static p,.tmf-publications #content-static p,.digital-transformation #content-static p{font-size:18px}.tmfregistrationv2 h5.blue-title,.tmf-publications h5.blue-title,.digital-transformation h5.blue-title{font-family:'Gotham',Helvetica,Arial,sans-serif;font-weight:900;font-size:30px;color:#96bed2;line-height:1}.tmfregistrationv2 h5.blue-title.smaller,.tmf-publications h5.blue-title.smaller,.digital-transformation h5.blue-title.smaller{font-size:40px}.tmfregistrationv2 .blue-number,.tmf-publications .blue-number,.digital-transformation .blue-number{font-family:'Gotham',Helvetica,Arial,sans-serif;font-weight:900;font-size:110px;color:#96bed2;line-height:1;font-size:108px;margin-top:0;margin-bottom:10px}.tmfregistrationv2 .less-than,.tmf-publications .less-than,.digital-transformation .less-than{font-weight:100;font-size:80px;margin-right:-36px}.tmfregistrationv2 .percent,.tmf-publications .percent,.digital-transformation .percent{font-size:50px}.tmfregistrationv2 h3,.tmf-publications h3,.digital-transformation h3{font-size:18px;margin-bottom:33px;color:#333}@media screen and (max-width:1366px){.tmfregistrationv2 #top_header #header_logo img,.tmfregistrationv2 #top_header.header_scroll #header_logo img,.tmf-publications #top_header #header_logo img,.tmf-publications #top_header.header_scroll #header_logo img,.digital-transformation #top_header #header_logo img,.digital-transformation #top_header.header_scroll #header_logo img{left:0}}@media screen and (max-width:768px){.tmfregistrationv2 #mc_page_header_wrap .post-title,.tmf-publications #mc_page_header_wrap .post-title,.digital-transformation #mc_page_header_wrap .post-title{padding-top:0}.tmfregistrationv2 #mc_page_header_wrap h1,.tmf-publications #mc_page_header_wrap h1,.digital-transformation #mc_page_header_wrap h1{font-size:38px}.tmfregistrationv2 .container.content .aside-wrapper .services-list .reset-ul,.tmf-publications .container.content .aside-wrapper .services-list .reset-ul,.digital-transformation .container.content .aside-wrapper .services-list .reset-ul{display:block}}.tmfregistrationv2 h3.form-abandonment{font-size:40px;padding-left:50px;margin-top:-20px;margin-bottom:0}.tmfregistrationv2 .graphic{opacity:.4;max-width:none;margin-left:-30px;margin-top:-20px}.tmfregistrationv2 #content-static .container .aside h3.blue-title{padding-left:82px}.tmfregistrationv2 .blue-number{padding-left:30px;margin-bottom:0}.tmfregistrationv2 .blue-title{font-size:42px;padding-left:10px;margin-top:0}@media screen and (max-width:1366px){.tmfregistrationv2 #content-static .container .aside h3.blue-title{padding-left:20px}.tmfregistrationv2 .blue-number{padding-left:0}}@media screen and (max-width:1199px){.tmfregistrationv2 h3.form-abandonment{padding-left:0}.tmfregistrationv2 .graphic{margin-left:0;margin-top:0;max-width:100%}}@media screen and (max-width:991px){.tmfregistrationv2 .aside{margin-top:100px}}.tmf-publications .graphic{opacity:.4;width:480px}.tmf-publications .blue-number{right:-60px;position:relative;letter-spacing:-.04em}.tmf-publications .blue-number .smaller{margin-left:-80px;font-size:.7em;font-weight:600}.tmf-publications .blue-number span{letter-spacing:initial}.tmf-publications .blue-number .smaller-text{font-size:.34em}.tmf-publications .container.content .aside-wrapper{right:0}@media screen and (max-width:1199px){.tmf-publications .blue-number{font-size:85px}.tmf-publications .blue-number .smaller-text{font-size:.36em}}@media screen and (max-width:991px){.tmf-publications .blue-number .smaller{margin-left:0}}.bluetoothv2 #header_logo{margin-left:-60px}.bluetoothv2 #content-static .solution .bullets{padding-left:20px;padding-top:20px}.bluetoothv2 #content-static .solution .blue-title{padding-bottom:20px}.bluetoothv2 .article-wrapper p{margin-bottom:20px}.bluetoothv2 .mc_page_header_content{padding:0}.bluetoothv2 .mc_page_header_content .post-title{padding-top:125px}.bluetoothv2 .mc_page_header_content .post-title img{margin:0 0 -20px -20px}.bluetoothv2 .mc_page_header_content .title{line-height:1em;font-size:60px}.bluetoothv2 #breadcrumbs{margin-left:-15px}.bluetoothv2 .aside-wrapper .info p{font-size:24px}.bluetoothv2 .aside-wrapper .services-list ul li:before{filter:grayscale(100%) brightness(60%);-webkit-filter:grayscale(100%) brightness(60%)}.bluetoothv2 .container.content{padding-bottom:0;padding-left:0}@media screen and (max-width:991px){.bluetoothv2 .container.content{padding-left:20px}}.bluetoothv2 .forced-width{width:63%}.bluetoothv2 #content-static h3.blue-title,.bluetoothv2 #content-static h3.white-title{font-size:50px;margin-top:0}.bluetoothv2 #content-static .our-approach,.bluetoothv2 #content-static .our-philosophy{padding:15px 0}.bluetoothv2 #content-static ul{padding:0 20px;list-style-type:none;margin-bottom:0}.bluetoothv2 #content-static ul li{position:relative;margin-bottom:30px}.bluetoothv2 #content-static ul li:last-child{margin-bottom:10px}.bluetoothv2 #content-static ul li:before{content:"";display:block;width:7px;height:7px;background-color:#787878;border-radius:100%;position:absolute;left:-18px;top:9px}.bluetoothv2 #content-static .solution.second .right img{padding-top:75px}.bluetoothv2 #content-static .solution.second .left{padding-right:50px}.bluetoothv2 .request-proposal{display:none}@media screen and (max-width:1366px){.bluetoothv2 #header_logo{margin-left:0}}@media screen and (max-width:991px){.bluetoothv2 .mc_page_header_content .post-title{padding-top:0}.bluetoothv2 .mc_page_header_content .post-title img{transform:scale(.75);transform-origin:bottom left}.bluetoothv2 .mc_page_header_content .title{font-size:45px}.bluetoothv2 #breadcrumbs{margin-left:0}.bluetoothv2 #content-static{margin-top:40px}.bluetoothv2 #content-static .solution.second .right img{padding-top:0}.bluetoothv2 #content-static .solution.second .left{padding-right:15px}.bluetoothv2 .second .right{text-align:center}.bluetoothv2 .main-image{text-align:center}}@media screen and (max-width:768px){.bluetoothv2 .mc_page_header_content{text-align:center}.bluetoothv2 .mc_page_header_content .post-title img{transform-origin:bottom center}.bluetoothv2 .pilosophy,.bluetoothv2 .solution,.bluetoothv2 #content-static .second .right img{margin-top:30px}.bluetoothv2 #content-static{margin-top:0}.bluetoothv2 .forced-width{width:auto}.bluetoothv2 .main-image img{width:570px}}@media screen and (max-width:640px){.bluetoothv2 #content-static h3.blue-title,.bluetoothv2 #content-static h3.white-title{font-size:30px}.bluetoothv2 .main-image img{width:450px}.bluetoothv2 #content-static .second .right img{width:280px}.bluetoothv2 #content-static .our-approach,.bluetoothv2 #content-static .our-philosophy{padding:15px 0}.bluetoothv2 .pilosophy{margin-top:0}}@media screen and (max-width:480px){.bluetoothv2 .main-image{display:none}}.chouetv2 article#chouet1{background:#e4e4e4;margin-bottom:0 !important}.chouetv2 article#chouet1-2{margin-bottom:0 !important}.chouetv2 article#chouet1 img{margin-top:-6px;margin-left:14px;margin-bottom:0 !important}.chouetv2 .fourth-section+p{display:none}.chouetv2 article#chouet1-2 img{margin-left:50px;margin-top:9px}.chouetv2 .second-section{background-image:url(https://cdn.mercury.one/wp-content/uploads/2016/09/background.jpg);background-repeat:no-repeat;background-size:auto;background-position:center center;height:625px}.chouetv2 article#chouet3{background-image:url(https://cdn.mercury.one/wp-content/uploads/2016/09/chouet-grey-nature-background.jpg);background-position:center right -170px;background-size:cover;background-repeat:no-repeat;height:667px;margin-bottom:0 !important}.chouetv2 article#chouet3 figure{position:relative;top:-310px;z-index:999}.chouetv2 article#chouet4{padding-top:0 !important}.chouetv2 article#chouet4 figure{padding:100px 0;background:#f3f3f3}.chouetv2 article#chouet4 figure:nth-child(1){background-image:url(https://cdn.mercury.one/wp-content/uploads/2016/05/chouet_4b.jpg)}.chouetv2 article#chouet4 figure:nth-child(2){padding:150px 0 50px}.chouetv2 #mc_page_header_wrap{min-height:944px;background-size:inherit !important;margin-bottom:-320px !important;background-position:top !important}.chouetv2 #mc_page_header_wrap .mc_page_header_content .post-title{margin-top:-90px}.chouetv2 #mc_page_header_wrap .mc_page_header_content .post-title p{font-family:'Gotham',Helvetica,Arial,sans-serif;font-weight:800;font-size:57px;margin-top:-20px}.chouetv2 .container.content{padding-bottom:81px}.chouetv2 .container.content article.left{width:40%}.chouetv2 .container.content article.left .article-wrapper{padding-right:0}.chouetv2 .container.content .right:before,.chouetv2 .container.content .left:after{display:none}.chouetv2 .container.content aside{width:50%}.chouetv2 .container.content aside .aside-wrapper{padding-left:0;margin-top:-80px}.chouetv2 .container.content aside .aside-wrapper p{font-family:'Gotham',Helvetica,Arial,sans-serif;font-size:21px}@media screen and (min-width:1700px){.chouetv2 article#chouet3{background-position:center center}}@media screen and (max-width:1199px){.chouetv2 #chouet1-2 figure{padding:80px 0}.chouetv2 article#chouet3{background-position:center right -320px}}@media screen and (max-width:991px){.chouetv2 #mc_page_header_wrap .mc_page_header_content .post-title{margin-top:0}.chouetv2 #mc_page_header_wrap .mc_page_header_content .post-title img{transform:scale(.75);transform-origin:bottom left}.chouetv2 #mc_page_header_wrap .mc_page_header_content .post-title p{font-size:45px}.chouetv2 #mc_page_header_wrap .mc_page_header_content .title{font-size:45px}.chouetv2 .container.content{padding-bottom:31px}.chouetv2 article#chouet3{background-position:center right -230px}.chouetv2 article#chouet3 img{width:700px}.chouetv2 .second-section,.chouetv2 article#chouet3{height:470px}.chouetv2 .aside-wrapper .info{width:70% !important}}@media screen and (min-width:1200px){.chouetv2 article#chouet1{width:62% !important}}@media screen and (max-width:768px){.chouetv2 .aside-wrapper .info{width:100% !important}.chouetv2 #mc_page_header_wrap{background-image:none !important;text-align:center;min-height:500px;margin-bottom:0}.chouetv2 #mc_page_header_wrap .mc_page_header_content .post-title img{transform-origin:bottom center}.chouetv2 .first-section{margin-top:20px}.chouetv2 .first-section article#chouet1 img{margin-top:-65px}.chouetv2 .container.content aside .aside-wrapper{margin-top:0;padding-top:0;border:0}.chouetv2 #chouet3 img{width:600px}.chouetv2 .second-section,.chouetv2 article#chouet3{height:380px}.chouetv2 #chouet1-2 figure{padding:30px 0 60px}}@media screen and (max-width:640px){.chouetv2 #mc_page_header_wrap .mc_page_header_content .post-title p{font-size:34px;line-height:1em;margin-top:0}.chouetv2 .container.content article.left{width:100%}.chouetv2 .container.content aside .aside-wrapper{padding:0}.chouetv2 #chouet3 img{width:400px}.chouetv2 .second-section,.chouetv2 article#chouet3{height:380px}.chouetv2 #chouet4 figure img{width:400px}}@media screen and (max-width:480px){.chouetv2 .container.content aside{width:100%}.chouetv2 #chouet3 img{width:300px}.chouetv2 .second-section,.chouetv2 article#chouet3{height:300px}.chouetv2 .second-section figure,.chouetv2 article#chouet3 figure{top:-220px}.chouetv2 #chouet1 figure img{width:280px}.chouetv2 #chouet4 figure img{width:300px}}.tmfregistrationv2 #main_page_wrapp h3.form-abandonment{font-size:38px}.tmfregistrationv2 #main_page_wrapp #content-static .container .aside h3.blue-title{margin-bottom:10px}.tmfregistrationv2 #main_page_wrapp .mc_page_header_content h1 span{display:block}@media screen and (max-width:1200px){.tmfregistrationv2 .container.content .aside-wrapper{right:-80px}.tmfregistrationv2 #content-static .container .aside{right:0}}@media screen and (max-width:992px){.tmfregistrationv2 .container.content aside .aside-wrapper{padding-left:0}.tmfregistrationv2 .container.content .aside-wrapper{right:0}.tmfregistrationv2 #main_page_wrapp .container{padding-left:15px}.tmfregistrationv2 #content-static .container .aside{right:0}.tmfregistrationv2 #content-static .container .aside h3.blue-title{padding-left:0}}@media screen and (max-width:640px){.tmfregistrationv2 #mc_page_header_wrap{min-height:0;height:auto;padding:110px 0 80px}}@media screen and (max-width:400px){.tmfregistrationv2 .aside{margin-top:50px}.tmfregistrationv2 .aside .blue-title{width:100%;display:inline-block}.tmfregistrationv2 .aside .blue-number{font-size:54px;display:inline-block;width:35%}.tmfregistrationv2 .aside .less-than{font-size:38px;margin-right:-11px}.tmfregistrationv2 .aside .percent{font-size:32px}.tmfregistrationv2 .aside .form-abandonment{margin-bottom:10px;width:50%;display:inline-block;font-size:24px !important}}.tmf-publications #main_page_wrapp #mc_page_header_wrap .post-title{padding-top:30px}.tmf-publications #main_page_wrapp .content-static .aside .graphic,.tmf-publications #main_page_wrapp .content-static .aside .blue-number{margin-left:-44px}.tmf-publications #content-static .challenge-1 .container ul{padding-left:16px}@media screen and (max-width:1200px){.tmf-publications #content-static .container .aside{right:0}}@media screen and (max-width:992px){.tmf-publications #main_page_wrapp .graphic{margin-left:0}.tmf-publications .container.content aside .aside-wrapper{padding-left:0}.tmf-publications .container.content .aside-wrapper{right:0}.tmf-publications #content-static .container .aside{right:0}.tmf-publications #content-static .container .aside h3.blue-title{padding-left:0}.tmf-publications .blue-number{right:0}.tmf-publications #main_page_wrapp .container{padding-left:15px}}@media screen and (max-width:640px){.tmf-publications #mc_page_header_wrap{min-height:0;height:auto;padding:90px 0 80px}}@media screen and (max-width:480px){.tmf-publications .blue-number{font-size:64px}}.digital-transformation #main_page_wrapp #mc_page_header_wrap .post-title{padding-top:30px}.digital-transformation #main_page_wrapp .content-static .aside .graphic,.digital-transformation #main_page_wrapp .content-static .aside .blue-number{margin-left:-44px}.digital-transformation #main_page_wrapp .aside{padding-top:100px}.digital-transformation #main_page_wrapp .blue-number .smaller{font-size:.8em}.digital-transformation #main_page_wrapp h5.blue-title{font-size:37px;margin-top:-20px;letter-spacing:-.05em}.digital-transformation #main_page_wrapp h3{margin-top:0}@media screen and (max-width:1200px){.digital-transformation .container.content .aside-wrapper{right:-20px}.digital-transformation #content-static .container .aside{right:0}}@media screen and (max-width:992px){.digital-transformation .container.content aside .aside-wrapper{padding-left:0}.digital-transformation .container.content .aside-wrapper{right:0}.digital-transformation #main_page_wrapp .container{padding-left:15px}.digital-transformation #content-static .container .aside{right:0}.digital-transformation #content-static .container .aside h3.blue-title{padding-left:0}}@media screen and (max-width:640px){.digital-transformation #mc_page_header_wrap{min-height:0;height:auto;padding:90px 0 80px}}.posh .single-case_study .container.content article .article-wrapper .special-title{font-family:'Gotham',Helvetica,Arial,sans-serif}.posh .single-case_study .container.content article .left .article-wrapper .special-text{font-size:50px;font-weight:100;font-family:'Gotham',Helvetica,Arial,sans-serif}.live-discounts #mc_page_header_wrap{background-size:cover}.live-discounts #mc_page_header_wrap .mc_page_header_content p{font-size:22px}.live-discounts p{font-size:18px}.live-discounts .container.content .aside-wrapper .info p{font-size:24px}.live-discounts .container.content article .article-wrapper{font-size:18px}@media screen and (max-width:991px){.live-discounts .container.content aside .aside-wrapper{padding-left:8px}}@media screen and (max-width:768px) and (min-width:640px){.live-discounts #mc_page_header_wrap.half p{width:50%}}.sharkk #mc_page_header_wrap{background-position:bottom -207px right -58px;height:727px}.sharkk .case_item_logo{width:180px}.sharkk .section-1{padding-top:50px}.sharkk .section-1 .cloud{display:inline-block;padding-left:67px}.sharkk .section-1 .box-title-right{display:inline-block;border-left:1px solid #e7e7e7;vertical-align:middle;padding-left:30px;margin-left:27px;margin-top:-12px;letter-spacing:.1em}.sharkk .section-1 .big{color:#1fbff2;font-size:42px;margin-bottom:0}.sharkk .section-1 .small{color:#6e6e70;font-weight:100;font-size:24px;letter-spacing:0}.sharkk .section-1 .main-image{padding-top:17px}.sharkk .section-1 .box-left,.sharkk .section-1 .box-right{width:50%;float:left}.sharkk .section-1 .box-right .main-image{padding-top:4px}.sharkk .section-1 .box-right .big{color:#1fbff2;font-size:42px;margin-bottom:0}.sharkk .section-1 .box-right .title-box img{padding-left:41px}.sharkk .box-right .big{color:#1fbff2;font-size:42px;margin-bottom:0}.sharkk .box-right .small{color:#6e6e70;font-weight:100;font-size:22px}.sharkk .section-3 img{width:50%;display:inline-block;float:left}.sharkk .section-2{margin-top:100px}.sharkk .section-2 img{padding-top:122px;padding-left:11px}.sharkk .section-4{margin-top:120px}.sharkk .section-4 img{margin-top:-61px}.sharkk .section-5{padding-top:60px}.sharkk .section-5 .title{color:#1fbff2;font-weight:600;margin-top:-83px;font-size:54px}.sharkk .section-5 .subtitle{color:#6e6e70;font-weight:100;font-size:22px;margin-top:-6px}@media screen and (max-width:1410px){.sharkk .section-1 .box-title-right{padding-left:22px}.sharkk .section-1 .box-right .title-box .cloud{padding-left:0}}@media screen and (max-width:1365px){.sharkk .section-1 .big{font-size:32px !important}}@media screen and (max-width:1200px){.sharkk #mc_page_header_wrap{background-size:cover;background-position:bottom -100px center;height:727px}.sharkk .section-1 .box-title-right{padding-left:15px !important;margin-left:5px !important}}@media screen and (max-width:1124px){.sharkk .section-1 .big{font-size:24px}.sharkk .section-1 .cloud{display:none !important}.sharkk .section-1 .box-title-right{border:0 !important;width:100%;text-align:center;padding-left:0 !important;margin-left:0 !important;padding-right:0 !important}}@media screen and (max-width:1024px){.sharkk .section-1{margin-top:0}.sharkk .section-1 .title-box{width:520px;margin:0 auto;text-align:center}.sharkk .section-1 .box-left .main-image{padding-bottom:40px}.sharkk .section-2 img{padding-top:70px}}@media screen and (max-width:1100px){.sharkk #mc_page_header_wrap{background-position:bottom}}@media screen and (max-width:991px){.sharkk .section-1 .box-left,.sharkk .section-1 .box-right{width:100% !important;float:none !important}.sharkk .section-3 img{width:100% !important;float:none}.sharkk .section-1 .title-box{width:100% !important}}@media screen and (min-width:640px){.sharkk #mc_page_header_wrap .mc_page_header_content h1,.sharkk #mc_page_header_wrap .mc_page_header_content p{display:none !important}}@media screen and (max-width:768px){.sharkk .container.content{display:none}.sharkk .section-5 .title{font-size:34px}.sharkk .section-5 .subtitle{font-size:18px}.sharkk .section-3 img{width:100%}}@media screen and (max-width:640px){.sharkk #mc_page_header_wrap{max-height:50vh}.sharkk .section-1{margin-top:50px}.sharkk .section-1 .title-box{width:315px;margin:0 auto}.sharkk .section-1 .box-title-right{margin-left:10px}.sharkk .section-1 .box-left .main-image{padding-top:20px}.sharkk .section-4{margin-top:100px}.sharkk .section-2{margin-top:50px}.sharkk .section-2{margin-top:100px}.sharkk .section-2 img{padding-top:122px;padding-left:0}.sharkk .section-4{margin-top:120px}.sharkk .section-4 img{margin-top:-61px}.sharkk .section-5{padding-top:60px;letter-spacing:.1em}.sharkk .section-5 .title{color:#1fbff2;font-weight:600;margin-top:-83px;font-size:54px}.sharkk .section-5 .subtitle{color:#6e6e70;font-weight:100;font-size:22px;margin-top:-6px}}@media screen and (min-width:1800px){.sharkk #mc_page_header_wrap{background-size:cover;background-position:bottom center}}@media screen and (max-width:1410px){.sharkk .section-1 .box-title-right{padding-left:22px}.sharkk .section-1 .box-right .title-box .cloud{padding-left:0}}@media screen and (max-width:1365px){.sharkk .section-1 .big{font-size:32px !important}}@media screen and (max-width:1200px){.sharkk #mc_page_header_wrap{background-size:cover;background-position:bottom -100px center;height:727px}.sharkk .section-1 .box-title-right{padding-left:15px !important;margin-left:5px !important}}@media screen and (max-width:1124px){.sharkk .section-1 .big{font-size:24px}.sharkk .section-1 .cloud{display:none !important}.sharkk .section-1 .box-title-right{border:0 !important;width:100%;text-align:center}}@media screen and (max-width:1024px){.sharkk .section-1{margin-top:0}.sharkk .section-1 .title-box{width:520px;margin:0 auto;text-align:center}.sharkk .section-1 .box-left .main-image{padding-bottom:40px}.sharkk .section-2 img{padding-top:70px}}@media screen and (max-width:1100px){.sharkk #mc_page_header_wrap{background-position:bottom}}@media screen and (max-width:991px){.sharkk .section-1 .box-left,.sharkk .section-1 .box-right{width:100% !important;float:none !important}.sharkk .section-3 img{width:100% !important;float:none}.sharkk .section-1 .title-box{width:100% !important}}@media screen and (min-width:640px){.sharkk #mc_page_header_wrap .mc_page_header_content h1,.sharkk #mc_page_header_wrap .mc_page_header_content p{display:none !important}}@media screen and (max-width:768px){.sharkk .container.content{display:none}.sharkk .section-5 .title{font-size:34px}.sharkk .section-5 .subtitle{font-size:18px}.sharkk .section-3 img{width:100%}}@media screen and (max-width:640px){.sharkk #mc_page_header_wrap{max-height:50vh}.sharkk .section-1 .title-box{width:315px;margin:0 auto}.sharkk .section-1 .box-title-right{margin-left:10px}.sharkk .section-1 .box-left .main-image{padding-top:20px}.sharkk .section-4{margin-top:100px}.sharkk .section-2{margin-top:50px}.sharkk .section-5{margin-top:110px;padding-top:0}}.relative,.subLine{position:relative}.clearfix{clear:both}.block{display:block}.inline-block{display:inline-block}.trans{-moz-transition:all .5 ease;-ms-transition:all .5 ease;-o-transition:all .5 ease;-webkit-transition:all .5 ease}.backBlack{background:#000}.backGrey{background:#333}.backWhite,.backgroundWhite{background:#fff}.backWhiteDark,.whiteDarkBack{background:#f2f2f2}.backBlueLight{background:#4e93b2}.blackBar{background:#1d1d1d;width:100%}.greyBar{background:#f2f2f2;width:100%}.fLeft{float:left}.fRight{float:right}.vcenter{display:inline-block;vertical-align:middle;float:none}.img-responsive{display:block;width:100%;height:auto}.vc_row.vc_row-no-padding .vc_column-inner .container.center{margin:0 auto !important}.overflowNone{overflow:visible}.table100{display:table;width:100%}.table100 .table-cell{display:table-cell;vertical-align:middle;float:none}span.btn_pink_arrow{display:inline-block;vertical-align:bottom;width:37px;height:37px;background:url(https://cdn.mercury.one/wp-content/uploads/mercury/pink-arrow-left.png) no-repeat center;background-size:cover;transition:all .2s;margin-left:10px}a:hover span.btn_pink_arrow{background:url(https://cdn.mercury.one/wp-content/uploads/mercury/grey-arrow-left.png) no-repeat center}.full-height{height:100%}.full-width{width:100%}.h100vw{height:100vh}.nomt{margin-top:0}.nomb{margin-bottom:0}.nomr{margin-right:0}.mt0{margin-top:0}.mt10{margin-top:10px}.mt20{margin-top:20px}.mt30{margin-top:30px}.mt40{margin-top:40px}.mt50{margin-top:50px}.mt60{margin-top:60px}.mt70{margin-top:70px}.mt80{margin-top:80px}.mt90{margin-top:90px}.mt100{margin-top:100px}.mb0{margin-bottom:0}.mb10{margin-bottom:10px}.mb20{margin-bottom:20px}.mb30{margin-bottom:30px}.mb40{margin-bottom:40px}.mb50{margin-bottom:50px}.mb60{margin-bottom:60px}.mb70{margin-bottom:70px}.mb80{margin-bottom:80px}.mb90{margin-bottom:90px}.mb100{margin-bottom:100px}.mb300{margin-bottom:300px}.mb-lines-1{margin-bottom:1.6rem}.mt-lines-1{margin-top:1.6rem}.pb-lines-1{padding-bottom:1.6rem}.pt-lines-1{padding-top:1.6rem}.mb-lines-2{margin-bottom:3.2rem}.mt-lines-2{margin-top:3.2rem}.pb-lines-2{padding-bottom:3.2rem}.pt-lines-2{padding-top:3.2rem}.mb-lines-3{margin-bottom:4.8rem}.mt-lines-3{margin-top:4.8rem}.pb-lines-3{padding-bottom:4.8rem}.pt-lines-3{padding-top:4.8rem}.mb-lines-4{margin-bottom:6.4rem}.mt-lines-4{margin-top:6.4rem}.pb-lines-4{padding-bottom:6.4rem}.pt-lines-4{padding-top:6.4rem}.mb-lines-5{margin-bottom:8rem}.mt-lines-5{margin-top:8rem}.pb-lines-5{padding-bottom:8rem}.pt-lines-5{padding-top:8rem}.mb-lines-6{margin-bottom:9.6rem}.mt-lines-6{margin-top:9.6rem}.pb-lines-6{padding-bottom:9.6rem}.pt-lines-6{padding-top:9.6rem}.mb-lines-7{margin-bottom:11.2rem}.mt-lines-7{margin-top:11.2rem}.pb-lines-7{padding-bottom:11.2rem}.pt-lines-7{padding-top:11.2rem}.mb-lines-8{margin-bottom:12.8rem}.mt-lines-8{margin-top:12.8rem}.pb-lines-8{padding-bottom:12.8rem}.pt-lines-8{padding-top:12.8rem}.mb-lines-9{margin-bottom:14.4rem}.mt-lines-9{margin-top:14.4rem}.pb-lines-9{padding-bottom:14.4rem}.pt-lines-9{padding-top:14.4rem}.mb-lines-10{margin-bottom:16rem}.mt-lines-10{margin-top:16rem}.pb-lines-10{padding-bottom:16rem}.pt-lines-10{padding-top:16rem}.nopadding{padding:0 !important}.nopt{padding-top:0}.nopb{padding-bottom:0}.nopr{padding-right:0}.pb10{padding-bottom:10px}.pb20{padding-bottom:20px}.pb30{padding-bottom:30px}.pb40{padding-bottom:40px}.pb50{padding-bottom:50px}.pb60{padding-bottom:60px}.pb70{padding-bottom:70px}.pb80{padding-bottom:80px}.pb90{padding-bottom:90px}.pb100{padding-bottom:100px}.pt10{padding-top:10px}.pt20{padding-top:20px}.pt30{padding-top:30px}.pt40{padding-top:40px}.pt50{padding-top:50px}.pt60{padding-top:60px}.pt70{padding-top:70px}.pt80{padding-top:80px}.pt90{padding-top:90px}.pt100{padding-top:100px}.pl10{padding-left:10px}.pl20{padding-left:20px}.pl30{padding-left:30px}.pl40{padding-left:40px}.pl50{padding-left:50px}.pl60{padding-left:60px}.pl70{padding-left:70px}.pl80{padding-left:80px}.pl90{padding-left:90px}.pl100{padding-left:100px}.pr10{padding-right:10px}.pr20{padding-right:20px}.pr30{padding-right:30px}.pr40{padding-right:40px}.pr50{padding-right:50px}.pr60{padding-right:60px}.pr70{padding-right:70px}.pr80{padding-right:80px}.pr90{padding-right:90px}.pr100{padding-right:100px}.inline-center{text-align:center}.inline-left{text-align:left}.inline-right{text-align:right}.block-center{margin:0 auto}.width100{width:100%}.border{border:1px solid #d9d9d9}.overflowVisible{overflow:visible}.parallax{position:static;padding:0;background-repeat:no-repeat;background-color:transparent;background-position:center 0;background-attachment:fixed;overflow:hidden}.bk-cover{background-size:cover}.backBlueAlpha{background-color:rgba(23,33,43,.8)}.triangle{position:absolute;content:'';left:50%;-webkit-transform:translateX(-50%) !important;-moz-transform:translateX(-50%) !important;-ms-transform:translateX(-50%) !important;-o-transform:translateX(-50%) !important;transform:translateX(-50%) !important;top:-1px;border:40px solid transparent;border-top:40px solid #fff;z-index:999}ul.pink-bullet{padding-left:15px}ul.pink-bullet li{position:relative;margin:10px 0}ul.pink-bullet li ul li{margin:5px 0}ul.pink-bullet li ul li:before{content:"";top:0;background:0 0;color:#bf254b}ul.pink-bullet li:before{content:"";width:6px;height:6px;background:#bf254b;border-radius:4px;position:absolute;left:-15px;top:.6em}ul.pink-bullet.square-bullet li:before{border-radius:0}ul.pink-bullet ul{list-style-type:none;margin-bottom:0 !important}ul.pink-bullet ul li:before{content:"";width:6px;height:6px;border-radius:4px;border:1px solid #bf254b;position:absolute;left:-15px;top:.6em !important}ul.pink-bullet.gold li:before{background:#f18d1e}.grid-item{animation-name:itemAnim;-webkit-animation-name:itemAnim;animation-duration:.75s;-webkit-animation-duration:.75s;-webkit-animation-timing-function:ease-in-out;animation-timing-function:ease-in-out}.subLine:after,.subLineCenter:after{position:absolute;content:'';width:65px;height:3px;background:#bf254b;bottom:-15px;left:0}.subLineCenter:after{left:50%;-webkit-transform:translateX(-50%);-moz-transform:translateX(-50%);-ms-transform:translateX(-50%);-o-transform:translateX(-50%);transform:translateX(-50%)}.lineSideRight{border-right:1px solid #d9d9d9}.lineSideLeft{border-left:1px solid #d9d9d9}.lineBottom{border-left:1px solid #d9d9d9}.boxedPMargin{margin-bottom:10px;margin-top:20px}.block-center{margin:0 auto}.wide_back:before,.wide_back:after{position:absolute;content:"";top:0;left:0;width:100%;height:100%;background:inherit}.wide_back:before:before,.wide_back:after:before{-webkit-transform:translateX(-100%);-moz-transform:translateX(-100%);-ms-transform:translateX(-100%);-o-transform:translateX(-100%);transform:translateX(-100%)}.wide_back:before:after,.wide_back:after:after{-webkit-transform:translateX(100%);-moz-transform:translateX(100%);-ms-transform:translateX(100%);-o-transform:translateX(100%);transform:translateX(100%)}.quotes{font-size:150px;line-height:2}@keyframes itemAnim{0%{opacity:0}100%{opacity:1}}@-webkit-keyframes itemAnim{0%{opacity:0}100%{opacity:1}}.col-xs-15,.col-sm-15,.col-md-15,.col-lg-15{position:relative;min-height:1px;padding-right:15px;padding-left:15px}.col-xs-15{width:20%;float:left}@media(min-width:768px){.col-sm-15{width:20%;float:left}}@media(min-width:992px){.col-md-15{width:20%;float:left}}@media(min-width:1200px){.col-lg-15{width:20%;float:left}}.wide_back{position:relative}.wide_back:before,.wide_back:after{position:absolute;content:"";top:0;left:0;width:100%;height:100%;z-index:-1;background:inherit}.wide_back:before{-webkit-transform:translateX(-100%);-moz-transform:translateX(-100%);-ms-transform:translateX(-100%);-o-transform:translateX(-100%);transform:translateX(-100%)}.wide_back:after{-webkit-transform:translateX(100%);-moz-transform:translateX(100%);-ms-transform:translateX(100%);-o-transform:translateX(100%);transform:translateX(100%)}.stuck{position:fixed;z-index:999999}.bg-video{height:auto;vertical-align:top}.bg-video.full-width{width:100%}.roadmap-to-nice-page #mc_page_header_wrap .mc_page_header_content{padding-top:70px}.roadmap-to-nice-page #mc_page_header_wrap h1{text-shadow:none;font-weight:100}.roadmap-to-nice-page #mc_page_header_wrap h2{font-weight:400;font-size:52px}.roadmap-to-nice-page #mc_page_header_wrap p{width:50%;margin:0 auto;text-align:center}.roadmap-to-nice-page .timeline{background-image:url(https://cdn.mercury.one/wp-content/uploads/2016/10/grey-line-nice.png);background-position:center;background-repeat:repeat-y}.roadmap-to-nice-page .timeline .one .color-col{background-color:#6eb5bd;border-radius:4px;margin-bottom:85px}.roadmap-to-nice-page .timeline .one .color-col .round-number{display:block;margin:0 auto;margin-top:-42px}.roadmap-to-nice-page .timeline .one .color-col .text1{width:40%;display:inline-block;padding-left:35px}.roadmap-to-nice-page .timeline .one .color-col .text1 h3{color:#fff;font-size:30px;font-family:'Roboto',sans-serif;font-weight:400}.roadmap-to-nice-page .timeline .one .color-col .text1 ul{padding-left:22px}.roadmap-to-nice-page .timeline .one .color-col .text1 li{color:#fff;font-family:'Open sans';font-size:18px;font-weight:100}.roadmap-to-nice-page .timeline .one .color-col .ilustration{display:inline-block;vertical-align:top;width:35%}.roadmap-to-nice-page .timeline .one .color-col .text2{display:inline-block;width:22%;text-align:center}.roadmap-to-nice-page .timeline .one .color-col .text2 p:nth-child(1){color:#fff;font-family:'Open sans';font-size:16px;font-weight:100;margin-bottom:0}.roadmap-to-nice-page .timeline .one .color-col .text2 p:nth-child(2){color:#fff;font-family:'Open sans';font-size:16px;font-weight:400;margin-bottom:20px}.roadmap-to-nice-page .timeline .one .color-col .text2 a{background-color:#e0a440;color:#fff;padding:12px 20px;font-size:18px;font-weight:400;font-family:'Open sans'}.roadmap-to-nice-page .timeline .two .color-col:nth-child(1){background-color:#6ea8dd;width:45%;border-radius:4px}.roadmap-to-nice-page .timeline .two .color-col:nth-child(1) .box .pico{position:absolute;top:0;right:-12px;width:0;height:0;border-style:solid;border-width:14px 14px 0 0;border-color:#6ea8dd transparent transparent}.roadmap-to-nice-page .timeline .two .color-col:nth-child(1) .box .dot-timeline{position:absolute;top:-6px;right:-65px;border-radius:50%;width:12px;height:12px;background-color:#d7d8da}.roadmap-to-nice-page .timeline .two .color-col:nth-child(1) .round-number{display:block;margin:-42px 30px 0 50px}.roadmap-to-nice-page .timeline .two .color-col:nth-child(1) .ilustration{display:block;margin:-110px 0 0 270px;position:absolute}.roadmap-to-nice-page .timeline .two .color-col:nth-child(1) .text1{padding-left:35px}.roadmap-to-nice-page .timeline .two .color-col:nth-child(1) .text1 h3{color:#fff;font-size:30px;font-family:'Roboto',sans-serif;font-weight:400}.roadmap-to-nice-page .timeline .two .color-col:nth-child(1) .text1 ul{padding-left:22px}.roadmap-to-nice-page .timeline .two .color-col:nth-child(1) .text1 li{color:#fff;font-family:'Open sans';font-size:18px;font-weight:100}.roadmap-to-nice-page .timeline .two .color-col:nth-child(2){background-color:#ce863e;float:right;width:45%;margin-top:85px;border-radius:4px}.roadmap-to-nice-page .timeline .two .color-col:nth-child(2) .box .pico{position:absolute;top:0;left:-12px;width:0;height:0;border-style:solid;border-width:14px 0 0 14px;border-color:#ce863e transparent transparent}.roadmap-to-nice-page .timeline .two .color-col:nth-child(2) .box .dot-timeline{position:absolute;top:-6px;left:-64px;border-radius:50%;width:12px;height:12px;background-color:#d7d8da}.roadmap-to-nice-page .timeline .two .color-col:nth-child(2) .round-number{display:block;margin:-42px 30px 0 50px}.roadmap-to-nice-page .timeline .two .color-col:nth-child(2) .ilustration{display:block;margin:-110px 0 0 270px;position:absolute}.roadmap-to-nice-page .timeline .two .color-col:nth-child(2) .text1{padding-left:35px}.roadmap-to-nice-page .timeline .two .color-col:nth-child(2) .text1 h3{color:#fff;font-size:30px;font-family:'Roboto',sans-serif;font-weight:400}.roadmap-to-nice-page .timeline .two .color-col:nth-child(2) .text1 ul{padding-left:22px}.roadmap-to-nice-page .timeline .two .color-col:nth-child(2) .text1 li{color:#fff;font-family:'Open sans';font-size:18px;font-weight:100}.roadmap-to-nice-page .timeline .two .color-col:nth-child(2) .text2{padding-left:40px;margin-bottom:32px}.roadmap-to-nice-page .timeline .two .color-col:nth-child(2) .text2 p{color:#fff;font-family:'Open sans';font-size:16px;font-weight:100;margin-bottom:22px}.roadmap-to-nice-page .timeline .two .color-col:nth-child(2) .text2 a{background-color:#e0a440;color:#fff;padding:12px 20px;font-size:18px;font-weight:400;font-family:'Open sans'}.roadmap-to-nice-page .timeline .three .color-col:nth-child(1){background-color:#7da84b;width:45%;border-radius:4px}.roadmap-to-nice-page .timeline .three .color-col:nth-child(1) .box .pico{position:absolute;top:0;right:-12px;width:0;height:0;border-style:solid;border-width:14px 14px 0 0;border-color:#7da84b transparent transparent}.roadmap-to-nice-page .timeline .three .color-col:nth-child(1) .box .dot-timeline{position:absolute;top:-6px;right:-65px;border-radius:50%;width:12px;height:12px;background-color:#d7d8da}.roadmap-to-nice-page .timeline .three .color-col:nth-child(1) .round-number{display:block;margin:-42px 30px 0 50px}.roadmap-to-nice-page .timeline .three .color-col:nth-child(1) .ilustration{display:block;margin:-70px 0 0 280px;position:absolute}.roadmap-to-nice-page .timeline .three .color-col:nth-child(1) .text1{padding-left:35px}.roadmap-to-nice-page .timeline .three .color-col:nth-child(1) .text1 h3{color:#fff;font-size:30px;font-family:'Roboto',sans-serif;font-weight:400}.roadmap-to-nice-page .timeline .three .color-col:nth-child(1) .text1 ul{padding-left:22px}.roadmap-to-nice-page .timeline .three .color-col:nth-child(1) .text1 li{color:#fff;font-family:'Open sans';font-size:18px;font-weight:100}.roadmap-to-nice-page .timeline .three .color-col:nth-child(1) .text2{padding-left:40px;margin-bottom:32px}.roadmap-to-nice-page .timeline .three .color-col:nth-child(1) .text2 a{background-color:#e0a440;color:#fff;padding:12px 20px;font-size:18px;font-weight:400;font-family:'Open sans'}.roadmap-to-nice-page .timeline .three .color-col:nth-child(2){background-color:#805499;width:45%;float:right;margin-top:95px;border-radius:4px}.roadmap-to-nice-page .timeline .three .color-col:nth-child(2) .box .pico{position:absolute;top:0;left:-12px;width:0;height:0;border-style:solid;border-width:14px 0 0 14px;border-color:#805499 transparent transparent}.roadmap-to-nice-page .timeline .three .color-col:nth-child(2) .box .dot-timeline{position:absolute;top:-6px;left:-64px;border-radius:50%;width:12px;height:12px;background-color:#d7d8da}.roadmap-to-nice-page .timeline .three .color-col:nth-child(2) .round-number{display:block;margin:-42px 30px 0 50px}.roadmap-to-nice-page .timeline .three .color-col:nth-child(2) .ilustration{display:block;margin:-70px 0 0 340px;position:absolute}.roadmap-to-nice-page .timeline .three .color-col:nth-child(2) .text1{padding-left:35px}.roadmap-to-nice-page .timeline .three .color-col:nth-child(2) .text1 h3{color:#fff;font-size:30px;font-family:'Roboto',sans-serif;font-weight:400}.roadmap-to-nice-page .timeline .three .color-col:nth-child(2) .text1 ul{padding-left:22px}.roadmap-to-nice-page .timeline .three .color-col:nth-child(2) .text1 li{color:#fff;font-family:'Open sans';font-size:18px;font-weight:100}.roadmap-to-nice-page .timeline .three .color-col:nth-child(2) .text2{padding-left:40px;margin-bottom:32px}.roadmap-to-nice-page .timeline .three .color-col:nth-child(2) .text2 p{color:#fff;font-family:'Open sans';font-size:16px;font-weight:100;margin-bottom:22px}.roadmap-to-nice-page .timeline .three .color-col:nth-child(2) .text2 a{color:#fff;font-style:italic;font-family:'Open sans';font-size:18px;border:2px solid #fff;font-weight:400;padding:12px 20px}.roadmap-to-nice-page .timeline .four .color-col:nth-child(1){background-color:#444d5e;width:45%;border-radius:4px}.roadmap-to-nice-page .timeline .four .color-col:nth-child(1) .box .pico{position:absolute;top:0;right:-12px;width:0;height:0;border-style:solid;border-width:14px 14px 0 0;border-color:#444d5e transparent transparent}.roadmap-to-nice-page .timeline .four .color-col:nth-child(1) .box .dot-timeline{position:absolute;top:-6px;right:-65px;border-radius:50%;width:12px;height:12px;background-color:#d7d8da}.roadmap-to-nice-page .timeline .four .color-col:nth-child(1) .round-number{display:block;margin:-42px 30px 0 50px}.roadmap-to-nice-page .timeline .four .color-col:nth-child(1) .ilustration{display:block;margin:-58px 0 0 340px;position:absolute}.roadmap-to-nice-page .timeline .four .color-col:nth-child(1) .text1{padding-left:35px}.roadmap-to-nice-page .timeline .four .color-col:nth-child(1) .text1 h3{color:#fff;font-size:30px;font-family:'Roboto',sans-serif;font-weight:400}.roadmap-to-nice-page .timeline .four .color-col:nth-child(1) .text1 ul{padding-left:22px}.roadmap-to-nice-page .timeline .four .color-col:nth-child(1) .text1 li{color:#fff;font-family:'Open sans';font-size:18px;font-weight:100}.roadmap-to-nice-page .timeline .four .color-col:nth-child(1) .text2{padding-left:40px;margin-bottom:32px}.roadmap-to-nice-page .timeline .four .color-col:nth-child(1) .text2 a{background-color:#e0a440;color:#fff;padding:12px 20px;font-size:18px;font-weight:400;font-family:'Open sans'}.roadmap-to-nice-page .timeline .four .color-col:nth-child(2){background-color:#983045;width:45%;float:right;margin-top:85px;border-radius:4px}.roadmap-to-nice-page .timeline .four .color-col:nth-child(2) .box .pico{position:absolute;top:0;left:-12px;width:0;height:0;border-style:solid;border-width:14px 0 0 14px;border-color:#983045 transparent transparent}.roadmap-to-nice-page .timeline .four .color-col:nth-child(2) .box .dot-timeline{position:absolute;top:-6px;left:-64px;border-radius:50%;width:12px;height:12px;background-color:#d7d8da}.roadmap-to-nice-page .timeline .four .color-col:nth-child(2) .round-number{display:block;margin:-42px 30px 0 50px}.roadmap-to-nice-page .timeline .four .color-col:nth-child(2) .ilustration{display:block;margin:-58px 0 0 340px;position:absolute}.roadmap-to-nice-page .timeline .four .color-col:nth-child(2) .text1{padding-left:35px}.roadmap-to-nice-page .timeline .four .color-col:nth-child(2) .text1 h3{color:#fff;font-size:30px;font-family:'Roboto',sans-serif;font-weight:400}.roadmap-to-nice-page .timeline .four .color-col:nth-child(2) .text1 ul{padding-left:22px}.roadmap-to-nice-page .timeline .four .color-col:nth-child(2) .text1 li{color:#fff;font-family:'Open sans';font-size:18px;font-weight:100}.roadmap-to-nice-page .timeline .five .color-col{background-color:#70ab67;border-radius:4px;margin-bottom:85px;margin-top:85px}.roadmap-to-nice-page .timeline .five .color-col .round-number{display:block;margin:0 auto;margin-top:-42px}.roadmap-to-nice-page .timeline .five .color-col .ilustration{display:block;margin:-90px 0 0 770px;position:absolute}.roadmap-to-nice-page .timeline .five .color-col .text1{width:57%;padding-left:35px;display:inline-block;margin-bottom:32px}.roadmap-to-nice-page .timeline .five .color-col .text1 h3{color:#fff;font-size:30px;font-family:'Roboto',sans-serif;font-weight:400}.roadmap-to-nice-page .timeline .five .color-col .text1 ul{padding-left:22px}.roadmap-to-nice-page .timeline .five .color-col .text1 li{color:#fff;font-family:'Open sans';font-size:18px;font-weight:100}.roadmap-to-nice-page .timeline .five .color-col .text1 a{display:inline-block;background-color:#e0a440;color:#fff;padding:12px 20px;font-size:18px;font-weight:400;font-family:'Open sans'}.roadmap-to-nice-page .timeline .five .color-col .text2{width:35%;text-align:center;display:inline-block;vertical-align:top;margin-top:110px;margin-bottom:32px}.roadmap-to-nice-page .timeline .five .color-col .text2 p{margin-bottom:0;color:#fff;font-family:'Open sans'}.roadmap-to-nice-page .timeline .five .color-col .text2 p:nth-child(1){font-size:18px;font-weight:400}.roadmap-to-nice-page .timeline .five .color-col .text2 p:nth-child(2){font-size:16px;font-weight:100;margin-bottom:32px}.roadmap-to-nice-page .timeline .five .color-col .text2 a{color:#fff;font-style:italic;font-family:'Open sans';font-size:18px;border:2px solid #fff;font-weight:400;padding:12px 20px}.roadmap-to-nice-page .timeline .six .color-col:nth-child(1){background-color:#6ea8dd;width:45%}.roadmap-to-nice-page .timeline .six .color-col:nth-child(1) .box .pico{position:absolute;top:0;right:-12px;width:0;height:0;border-style:solid;border-width:14px 14px 0 0;border-color:#6ea8dd transparent transparent}.roadmap-to-nice-page .timeline .six .color-col:nth-child(1) .box .dot-timeline{position:absolute;top:-6px;right:-65px;border-radius:50%;width:12px;height:12px;background-color:#d7d8da}.roadmap-to-nice-page .timeline .six .color-col:nth-child(1) .round-number{display:block;margin:-42px 30px 0 50px}.roadmap-to-nice-page .timeline .six .color-col:nth-child(1) .ilustration{display:block;margin:-75px 0 0 320px;position:absolute}.roadmap-to-nice-page .timeline .six .color-col:nth-child(1) .text1{padding-left:35px}.roadmap-to-nice-page .timeline .six .color-col:nth-child(1) .text1 h3{color:#fff;font-size:30px;font-family:'Roboto',sans-serif;font-weight:400}.roadmap-to-nice-page .timeline .six .color-col:nth-child(1) .text1 ul{padding-left:22px}.roadmap-to-nice-page .timeline .six .color-col:nth-child(1) .text1 li{color:#fff;font-family:'Open sans';font-size:18px;font-weight:100}.roadmap-to-nice-page .timeline .six .color-col:nth-child(1) .text1 a{display:inline-block;background-color:#e0a440;color:#fff;padding:12px 20px;font-size:18px;font-weight:400;font-family:'Open sans'}.roadmap-to-nice-page .timeline .six .color-col:nth-child(1) .text2{padding-left:40px;margin-bottom:32px}.roadmap-to-nice-page .timeline .six .color-col:nth-child(1) .text2 p{color:#fff;font-family:'Open sans';font-size:16px;font-weight:100;margin-bottom:22px}.roadmap-to-nice-page .timeline .six .color-col:nth-child(1) .text2 a{background-color:#e0a440;color:#fff;padding:12px 20px;font-size:18px;font-weight:400;font-family:'Open sans'}.roadmap-to-nice-page .timeline .six .color-col:nth-child(2){background-color:#ce863e;width:45%;float:right;margin-top:85px}.roadmap-to-nice-page .timeline .six .color-col:nth-child(2) .box .pico{position:absolute;top:0;left:-12px;width:0;height:0;border-style:solid;border-width:14px 0 0 14px;border-color:#ce863e transparent transparent}.roadmap-to-nice-page .timeline .six .color-col:nth-child(2) .box .dot-timeline{position:absolute;top:-6px;left:-64px;border-radius:50%;width:12px;height:12px;background-color:#d7d8da}.roadmap-to-nice-page .timeline .six .color-col:nth-child(2) .round-number{display:block;margin:-42px 30px 0 50px}.roadmap-to-nice-page .timeline .six .color-col:nth-child(2) .ilustration{display:block;margin:-95px 0 0 310px;position:absolute}.roadmap-to-nice-page .timeline .six .color-col:nth-child(2) .text1{padding-left:35px}.roadmap-to-nice-page .timeline .six .color-col:nth-child(2) .text1 h3{color:#fff;font-size:30px;font-family:'Roboto',sans-serif;font-weight:400}.roadmap-to-nice-page .timeline .six .color-col:nth-child(2) .text1 ul{padding-left:22px}.roadmap-to-nice-page .timeline .six .color-col:nth-child(2) .text1 li{color:#fff;font-family:'Open sans';font-size:18px;font-weight:100}.roadmap-to-nice-page .timeline .six .color-col:nth-child(2) .text2 a{display:inline-block;background-color:#e0a440;color:#fff;padding:12px 20px;font-size:18px;font-weight:400;font-family:'Open sans'}.roadmap-to-nice-page .timeline .seven .color-col{background-color:#515054;margin-bottom:85px;margin-top:85px}.roadmap-to-nice-page .timeline .seven .color-col .round-number{display:block;margin:0 auto;margin-top:-42px}.roadmap-to-nice-page .timeline .seven .color-col .text1{margin-top:32px}.roadmap-to-nice-page .timeline .seven .color-col .text1 p{color:#fff;font-size:18px;font-weight:100;font-family:'Open sans';margin-bottom:0;width:60%;text-align:center;margin:0 auto}.roadmap-to-nice-page .timeline .seven .color-col .text2{text-align:center;margin-top:32px;margin-bottom:32px}.roadmap-to-nice-page .timeline .seven .color-col .text2 a{display:inline-block;background-color:#e0a440;color:#fff;padding:12px 20px;font-size:18px;font-weight:400;font-family:'Open sans'}.roadmap-to-nice-page .timeline .eight .color-col:nth-child(1){background-color:#805499;width:45%}.roadmap-to-nice-page .timeline .eight .color-col:nth-child(1) .box .pico{position:absolute;top:0;right:-12px;width:0;height:0;border-style:solid;border-width:14px 14px 0 0;border-color:#805499 transparent transparent}.roadmap-to-nice-page .timeline .eight .color-col:nth-child(1) .box .dot-timeline{position:absolute;top:-6px;right:-65px;border-radius:50%;width:12px;height:12px;background-color:#d7d8da}.roadmap-to-nice-page .timeline .eight .color-col:nth-child(1) .round-number{display:block;margin:-42px 30px 0 50px}.roadmap-to-nice-page .timeline .eight .color-col:nth-child(1) .ilustration{display:block;margin:-78px 0 0 320px;position:absolute}.roadmap-to-nice-page .timeline .eight .color-col:nth-child(1) .text1{padding-left:35px}.roadmap-to-nice-page .timeline .eight .color-col:nth-child(1) .text1 h3{color:#fff;font-size:30px;font-family:'Roboto',sans-serif;font-weight:400}.roadmap-to-nice-page .timeline .eight .color-col:nth-child(1) .text1 ul{padding-left:22px}.roadmap-to-nice-page .timeline .eight .color-col:nth-child(1) .text1 li{color:#fff;font-family:'Open sans';font-size:18px;font-weight:100}.roadmap-to-nice-page .timeline .eight .color-col:nth-child(2){background-color:#6eb5bd;margin-top:85px;width:45%;float:right}.roadmap-to-nice-page .timeline .eight .color-col:nth-child(2) .box .pico{position:absolute;top:0;left:-12px;width:0;height:0;border-style:solid;border-width:14px 0 0 14px;border-color:#6eb5bd transparent transparent}.roadmap-to-nice-page .timeline .eight .color-col:nth-child(2) .box .dot-timeline{position:absolute;top:-6px;left:-64px;border-radius:50%;width:12px;height:12px;background-color:#d7d8da}.roadmap-to-nice-page .timeline .eight .color-col:nth-child(2) .round-number{display:block;margin:-42px 30px 0 50px}.roadmap-to-nice-page .timeline .eight .color-col:nth-child(2) .ilustration{display:block;margin:-74px 0 0 320px;position:absolute}.roadmap-to-nice-page .timeline .eight .color-col:nth-child(2) .text1{padding-left:35px}.roadmap-to-nice-page .timeline .eight .color-col:nth-child(2) .text1 h3{color:#fff;font-size:28px;font-family:'Roboto',sans-serif;font-weight:400}.roadmap-to-nice-page .timeline .eight .color-col:nth-child(2) .text1 ul{padding-left:22px}.roadmap-to-nice-page .timeline .eight .color-col:nth-child(2) .text1 li{color:#fff;font-family:'Open sans';font-size:18px;font-weight:100}.roadmap-to-nice-page .timeline .eight .color-col:nth-child(2) .text2{padding-left:40px;margin-bottom:32px}.roadmap-to-nice-page .timeline .eight .color-col:nth-child(2) .text2 p{color:#fff;font-family:'Open sans';font-size:16px;font-weight:100;margin-bottom:22px}.roadmap-to-nice-page .timeline .eight .color-col:nth-child(2) .text2 a{background-color:#e0a440;color:#fff;padding:12px 20px;font-size:18px;font-weight:400;font-family:'Open sans'}.roadmap-to-nice-page .full-width-skyblue:before{width:0;height:0;border-style:solid;border-width:100px 100px 0;border-color:#fff transparent transparent;content:"";margin:0 auto}.roadmap-to-nice-page .full-width-skyblue{background-color:#6eb5bd;margin-top:85px;padding-top:30px;text-align:center}.roadmap-to-nice-page .full-width-skyblue .box-left{display:inline-block;width:45%}.roadmap-to-nice-page .full-width-skyblue .box-left h3{color:#fff;font-size:32px;font-weight:400;font-family:'Roboto',sans-serif;top:-60px;text-align:left;position:relative}.roadmap-to-nice-page .full-width-skyblue .box-left p{font-family:'Open sans';font-size:22px;font-weight:100;color:#fff;position:relative;top:-60px;text-align:left}.roadmap-to-nice-page .full-width-skyblue .separator{display:inline-block;vertical-align:top;margin-top:20px}.roadmap-to-nice-page .full-width-skyblue .box-right{display:inline-block}.roadmap-to-nice-page .full-width-skyblue .box-right ul{list-style:none;margin-bottom:20px;margin-top:20px}.roadmap-to-nice-page .full-width-skyblue .box-right li:nth-child(1) img{padding-top:8px}.roadmap-to-nice-page .full-width-skyblue .box-right li{display:table}.roadmap-to-nice-page .full-width-skyblue .box-right li img{display:table-cell}.roadmap-to-nice-page .full-width-skyblue .box-right li span{font-family:'Open sans';font-size:18px;font-weight:100;color:#fff;display:table-cell;padding-left:20px;vertical-align:middle;text-align:left}.roadmap-to-nice-page .full-width-grey{background-color:#515054}.roadmap-to-nice-page .full-width-grey .logo{margin:0 auto;display:block;margin-top:40px}.roadmap-to-nice-page .full-width-grey p{color:#fff;font-size:18px;font-weight:100;margin-bottom:0;margin-bottom:40px;margin-top:30px;text-align:center;width:78%;margin:30px auto}.tmfregistrationv2 .container.content .aside-wrapper .info p,.tmf-publications .container.content .aside-wrapper .info p,.digital-transformation .container.content .aside-wrapper .info p{margin-top:0 !important;color:#46a3c9 !important;font-size:24px}@media screen and (max-width:1199px){.roadmap-to-nice-page .timeline .two .color-col:nth-child(1) .ilustration{margin:-110px 0 0 170px}.roadmap-to-nice-page .timeline .two .color-col:nth-child(2) .ilustration{margin:-110px 0 0 210px}.roadmap-to-nice-page .timeline .three .color-col:nth-child(1) .ilustration{margin:-70px 0 0 170px}.roadmap-to-nice-page .timeline .three .color-col:nth-child(2) .ilustration{margin:-70px 0 0 210px}.roadmap-to-nice-page .timeline .four .color-col:nth-child(1) .ilustration{margin:-58px 0 0 200px}.roadmap-to-nice-page .timeline .four .color-col:nth-child(2) .ilustration{margin:-58px 0 0 200px}.roadmap-to-nice-page .timeline .five .color-col .ilustration{margin:-90px 0 0 620px}.roadmap-to-nice-page .timeline .six .color-col:nth-child(1) .ilustration{margin:-75px 0 0 210px}.roadmap-to-nice-page .timeline .six .color-col:nth-child(2) .ilustration{margin:-95px 0 0 200px}.roadmap-to-nice-page .timeline .eight .color-col:nth-child(1) .ilustration{margin:-78px 0 0 220px}.roadmap-to-nice-page .timeline .eight .color-col:nth-child(2) .ilustration{margin:-74px 0 0 200px}.roadmap-to-nice-page .timeline .two .color-col:nth-child(1) .box .dot-timeline,.roadmap-to-nice-page .timeline .three .color-col:nth-child(1) .box .dot-timeline,.roadmap-to-nice-page .timeline .four .color-col:nth-child(1) .box .dot-timeline,.roadmap-to-nice-page .timeline .six .color-col:nth-child(1) .box .dot-timeline,.roadmap-to-nice-page .timeline .eight .color-col:nth-child(1) .box .dot-timeline{right:-55px}.roadmap-to-nice-page .timeline .two .color-col:nth-child(2) .box .dot-timeline,.roadmap-to-nice-page .timeline .three .color-col:nth-child(2) .box .dot-timeline,.roadmap-to-nice-page .timeline .four .color-col:nth-child(2) .box .dot-timeline,.roadmap-to-nice-page .timeline .six .color-col:nth-child(2) .box .dot-timeline,.roadmap-to-nice-page .timeline .eight .color-col:nth-child(2) .box .dot-timeline{left:-54px}}@media screen and (max-width:991px){.roadmap-to-nice-page .timeline .one .color-col .text1 h3,.roadmap-to-nice-page .timeline .two .color-col:nth-child(1) .text1 h3,.roadmap-to-nice-page .timeline .two .color-col:nth-child(2) .text1 h3,.roadmap-to-nice-page .timeline .three .color-col:nth-child(1) .text1 h3,.roadmap-to-nice-page .timeline .three .color-col:nth-child(2) .text1 h3,.roadmap-to-nice-page .timeline .four .color-col:nth-child(1) .text1 h3,.roadmap-to-nice-page .timeline .four .color-col:nth-child(2) .text1 h3,.roadmap-to-nice-page .timeline .five .color-col .text1 h3,.roadmap-to-nice-page .timeline .six .color-col:nth-child(1) .text1 h3,.roadmap-to-nice-page .timeline .six .color-col:nth-child(2) .text1 h3,.roadmap-to-nice-page .timeline .eight .color-col:nth-child(1) .text1 h3,.roadmap-to-nice-page .timeline .eight .color-col:nth-child(2) .text1 h3{font-size:22px}.roadmap-to-nice-page .timeline .two .color-col:nth-child(1) .round-number,.roadmap-to-nice-page .timeline .two .color-col:nth-child(2) .round-number,.roadmap-to-nice-page .timeline .three .color-col:nth-child(1) .round-number,.roadmap-to-nice-page .timeline .three .color-col:nth-child(2) .round-number,.roadmap-to-nice-page .timeline .four .color-col:nth-child(1) .round-number,.roadmap-to-nice-page .timeline .four .color-col:nth-child(2) .round-number,.roadmap-to-nice-page .timeline .six .color-col:nth-child(1) .round-number,.roadmap-to-nice-page .timeline .six .color-col:nth-child(2) .round-number,.roadmap-to-nice-page .timeline .eight .color-col:nth-child(1) .round-number,.roadmap-to-nice-page .timeline .eight .color-col:nth-child(2) .round-number{margin:0 auto;margin-top:-42px}.roadmap-to-nice-page .timeline .one .color-col .ilustration,.roadmap-to-nice-page .timeline .two .color-col:nth-child(1) .ilustration,.roadmap-to-nice-page .timeline .two .color-col:nth-child(2) .ilustration,.roadmap-to-nice-page .timeline .one .color-col .ilustration,.roadmap-to-nice-page .timeline .three .color-col:nth-child(1) .ilustration,.roadmap-to-nice-page .timeline .three .color-col:nth-child(2) .ilustration,.roadmap-to-nice-page .timeline .four .color-col:nth-child(1) .ilustration,.roadmap-to-nice-page .timeline .four .color-col:nth-child(2) .ilustration,.roadmap-to-nice-page .timeline .five .color-col .ilustration,.roadmap-to-nice-page .timeline .six .color-col:nth-child(1) .ilustration,.roadmap-to-nice-page .timeline .six .color-col:nth-child(2) .ilustration,.roadmap-to-nice-page .timeline .eight .color-col:nth-child(1) .ilustration,.roadmap-to-nice-page .timeline .eight .color-col:nth-child(2) .ilustration{display:none}.roadmap-to-nice-page .timeline .two .color-col:nth-child(1) .box .dot-timeline,.roadmap-to-nice-page .timeline .three .color-col:nth-child(1) .box .dot-timeline,.roadmap-to-nice-page .timeline .four .color-col:nth-child(1) .box .dot-timeline,.roadmap-to-nice-page .timeline .six .color-col:nth-child(1) .box .dot-timeline,.roadmap-to-nice-page .timeline .eight .color-col:nth-child(1) .box .dot-timeline{right:-44px}.roadmap-to-nice-page .timeline .two .color-col:nth-child(2) .box .dot-timeline,.roadmap-to-nice-page .timeline .three .color-col:nth-child(2) .box .dot-timeline,.roadmap-to-nice-page .timeline .four .color-col:nth-child(2) .box .dot-timeline,.roadmap-to-nice-page .timeline .six .color-col:nth-child(2) .box .dot-timeline,.roadmap-to-nice-page .timeline .eight .color-col:nth-child(2) .box .dot-timeline{left:-43px}.roadmap-to-nice-page .timeline .one .color-col .text2{width:46%;text-align:right}.roadmap-to-nice-page .timeline .three .color-col:nth-child(1) .text2 a{font-size:12px}.roadmap-to-nice-page .timeline .five .color-col .text1 a{display:block;text-align:center;margin:6px auto}.roadmap-to-nice-page .timeline .five .color-col .text2{float:right}.roadmap-to-nice-page .full-width-skyblue .box-left{width:35%;float:left}.roadmap-to-nice-page .full-width-skyblue .separator{margin-top:32px}.roadmap-to-nice-page .full-width-skyblue .box-right li span{font-size:16px}.roadmap-to-nice-page .full-width-grey p{width:100%}.roadmap-to-nice-page .full-width-skyblue .box-left h3{top:-5px;font-size:28px}.roadmap-to-nice-page .full-width-skyblue .box-left p{top:-5px;font-size:18px}.roadmap-to-nice-page .full-width-skyblue .box-left p br{display:none}}@media screen and (max-width:768px){.roadmap-to-nice-page .timeline{background:0 0}.roadmap-to-nice-page .timeline .pico,.roadmap-to-nice-page .timeline .dot-timeline{display:none}.roadmap-to-nice-page .timeline .row{margin-left:0;margin-right:0}.roadmap-to-nice-page .timeline .row .color-col{width:100% !important}.roadmap-to-nice-page .timeline .three .color-col:nth-child(1),.roadmap-to-nice-page .timeline .four .color-col:nth-child(1){margin-top:85px}.roadmap-to-nice-page .timeline .two .color-col:nth-child(1) .text1 h3 br,.roadmap-to-nice-page .timeline .two .color-col:nth-child(2) .text1 h3 br,.roadmap-to-nice-page .timeline .three .color-col:nth-child(1) .text1 h3 br,.roadmap-to-nice-page .timeline .four .color-col:nth-child(1) .text1 h3 br,.roadmap-to-nice-page .timeline .six .color-col:nth-child(1) .text1 h3 br,.roadmap-to-nice-page .timeline .six .color-col:nth-child(2) .text1 h3 br,.roadmap-to-nice-page .timeline .eight .color-col:nth-child(1) .text1 h3 br,.roadmap-to-nice-page .full-width-skyblue .box-left h3 br,.roadmap-to-nice-page .full-width-skyblue .box-left p br{display:none}.roadmap-to-nice-page .full-width-skyblue .box-left{width:100%}.roadmap-to-nice-page .full-width-skyblue .box-right{width:80%;margin:0 auto}.roadmap-to-nice-page .full-width-skyblue .separator{display:none}.roadmap-to-nice-page .full-width-skyblue .box-left h3{text-align:center;top:0}.roadmap-to-nice-page .full-width-skyblue .box-left p{top:0;text-align:center}}.solutions-page .main-section.solution-section .reset-ul{padding-left:0}.solutions-page .main-section.solution-section .reset-ul li{padding-left:0}.solutions-page .main-section.solution-section .reset-ul li a{display:inline-block}.solutions-page .main-section.solution-section .reset-ul li a:after{display:inline-block;content:"\f105";color:#ff9920;margin-left:10px;font:normal normal normal 14px/1 FontAwesome}.solutions-page .solutions-main-content p{width:75%}@media screen and (max-width:768px){.solutions-page .solutions-main-content p{width:100%}.solutions-page .solution-section .left{padding-right:15px}}@media screen and (max-width:640px){.solutions-page ul{padding-left:20px}}@media screen and (max-width:400px){.solutions-page p{margin-bottom:25px}.solutions-page .fixed-menu{display:none}.solutions-page .intro{padding:0}.solutions-page .latest-work-main-container p{margin-bottom:0}.solutions-page .latest-work-main-container p.h5{margin:0;margin-bottom:15px}.solutions-page #digital .strategy-insights .solutions-main-content .right ul{padding-left:0}.solutions-page #digital .strategy-insights .solutions-main-content .right li{padding-left:1em;text-indent:-.5em}.solutions-page #digital .strategy-insights .solutions-main-content .right li:before{left:-8px}}.page-template-solutions-pages .container ul{padding-left:15px}@media screen and (max-width:400px){.page-template-solutions-pages .container ul li{text-indent:-.5em}}@media screen and (max-width:1099px){body.connect body.connect .first-section{background-size:900px;background-position:top 70px left 45vw;margin-bottom:30px}}@media screen and (max-width:1380px){.filterTitle{font-size:16px !important}.outline label{font-size:14px}.outline label:before{width:19px;height:19px;font-size:12px}}@media screen and (max-width:1199px){.solid-color-with-image-header #mc_page_header_wrap{background-position:top 120px right 50px;background-size:430px}.home-row{margin-bottom:20px}.home-col.home-esp .mid-bottom-off{bottom:-40px}.home-col.home-esp .mid-top-right-off{top:-20%}#header_menu .menu>li{padding:0 12px}.single-case_study figure.full_width{width:100%}.castlerock #mc_page_header_wrap{background-position:40% center}.castlerock .section-first{background-position:right -430px bottom}.pcs .solution{padding-top:80px;padding-bottom:30px}.pcs .solution .right{bottom:0}.pcs .consistent-design-third{background-position:center right -420px}.pcs .consistent-design-fourth .left{background-size:470px}.pcs .final-conclusions-first{background-position:-240px 60px;background-size:720px;padding:120px 0}.pcs .final-conclusions-second .illustration{background-position:left -340px bottom}.posh .james-posh .left{padding-top:100px;padding-bottom:50px}.posh .james-posh .right{margin-top:0}.posh .james-posh .right img{max-width:none !important;width:600px}.posh .web-development .left{padding-top:20px}.youveda .tea-bags .left{background-position:100px 200px;background-size:350px}.youveda .tea-bags .right{background-size:550px}.youveda .app-development .left img{position:relative;left:-130px}.youveda .customized-programs .left{padding-top:20px}.youveda .customized-programs .right{padding-top:0;padding-left:40px}.youveda .awesome-statics .right{padding-top:40px}.youveda .brand-born .right{padding-top:40px}.youveda .color-palette li{width:13.7%}.bluetooth .solution.first{padding-bottom:50px;padding-top:30px}.bluetooth .solution.first .main-image{margin-bottom:20px}.bluetooth .solution.second .main-image{left:200px;bottom:-40px}.bluetooth .solution.second .main-image img{width:600px}.bluetooth .solution.second .right{padding-left:28px}.bluetooth .recommendations{padding-bottom:70px}.tmf .our-solution-first{background-position:bottom right -90px;background-size:900px;background-repeat:no-repeat;height:700px}.tmf .our-solution-second{height:700px;background-size:contain;background-position:center center}.tmf .brand-system{padding-top:70px;background-position:right -90px bottom}.tmf .brand-system-2{height:600px}.tmf .final-conclusions{padding-top:60px;background-size:1000px;background-position:top 80px right -410px;padding-bottom:0}.tmf .final-conclusions .left{padding-top:60px}.tmf .final-conclusions .left .last-text{padding-right:20px}.tmf .final-conclusions .numbers{padding:0;margin-bottom:30px}.frenchtruly #mockup{padding:75px 0 80px}.frenchtruly #website-design .right img{margin-bottom:0;width:160px}.frenchtruly #upcoming-events{margin-bottom:0}.frenchtruly #upcoming-events figure{margin-bottom:0}.landesa #mc_page_header_wrap{background-position:center right -300px}.landesa #mc_page_header_wrap .post-title .bigger{width:440px}.landesa .solution{padding-top:120px}.landesa .performance{height:111px}.landesa .performance .title{padding-top:8px;margin-bottom:9px}.landesa .performance .bluegrey{background-position:left 10px bottom 17px}.optimized-site .countries .country .first-row .map img{position:relative;top:30px;left:30px}.optimized-site .countries .country .first-row .optimized img{float:none}.dvb .burbavj-poster img{width:460px}.dvb .camera-section img.camera{top:-90px;width:540px}.dvb .camera-section .right{padding-top:150px;padding-bottom:120px}.dvb .webpages{width:auto}.dvb .webpages .center .arrow-right{top:350px}.dvb .webpages .center .arrow-left{left:170px;top:230px}.dvb .webpages .right img{left:0}.dvb .webpages .left,.dvb .webpages .right{padding-top:120px}.posh2 .rebranding-challenge{background-position:left -280px center}.posh2 .fancy-dark{background-position:center right -270px}.posh2 .advanced-features{background-position:top right -250px}.posh2 .sales{padding-top:150px}.posh2 .sales .left{margin-top:-80px}.guia-epicureo #mc_page_header_wrap{background-position:right -490px top 20px}.guia-epicureo .first-section{background-position:right -880px center}.guia-epicureo .app-development{background-image:none}.guia-epicureo .app-development .right img{top:-160px}.guia-epicureo .statics{background-position:center right -170px}.pcs-posh-event-booths .section-6{background-size:contain}.single-post #mc_main_sidebar .author .info .right .circle{margin-top:0;margin-bottom:10px}.solutions-page #mc_page_header_wrap{background-size:700px;background-position:left 55vw top 100px}.solutions-page #mc_page_header_wrap h1{font-size:68px}.solutions-page .solution-section .main-title{font-size:54px}.solutions-page .white-box{height:375px}.error404 #main #animation #city-background{background-position-x:110%}.error404 #main #animation #ovni{right:-90px;left:auto !important}#main_page_wrapp.customer-experience-page-wrapper #mc_page_header_wrap .container .mc_page_header_content .gform_wrapper .gform_fields li:nth-child(1) .validation_message{padding-left:72px}.page-about-wrapper #Announcements-slider{padding-bottom:0}.page-about-wrapper #People .owl-carousel .owl-controls .thumbs a{width:90px;height:90px}.page-about-wrapper #People .owl-carousel .owl-controls .thumbs a:first-child{margin-left:0}.page-about-wrapper #People .owl-carousel .owl-controls .thumbs a:last-child{margin-left:0}.page-about #mc_page_header_wrap{background-size:540px}.page-about #mc_page_header_wrap h1{font-size:72px}.page-about form.get-in-touch,.page-about #get-in-touch form.get-in-touch{width:100%}.landing #outer-sections-container .slider-caption h1{max-width:100%}footer#mc_main_footer{position:static}footer#mc_main_footer .connect .title span{display:block}#main_page_wrapp{margin-bottom:0}.latest-work-container.solutions-layout .work-item{height:313px}}@media screen and (min-width:1024px){.hidden-dsk{display:none}}@media screen and (max-width:1024px){.hidden-hand-devices{display:none !important}img{max-width:100% !important}section#content-static #status figure{margin-top:-60px}.how-we-work-page .mc_tabs a{font-size:12px !important}.how-we-work-page section#Process h2{margin-top:0}.how-we-work-page h2{font-size:28px}.how-we-work-page h3{font-size:22px}.how-we-work-page section#Industries{padding-bottom:0}section#Industries .wide-row:nth-child(1):before,section#Industries .wide-row article:before{content:none !important}section#Industries article{padding:30px !important}section#Industries article.mod_right{padding-left:30px !important}.error404 #main #animation #city-background{background-position-x:110%}#mc_post_header_wrap .blog-header-comp .comp-bg{max-width:none !important}.fixed-menu .col-xs-2{padding-left:0;padding-right:0}}@media screen and (max-width:1000px){#header_menu .menu>li.header-pink-btn{display:none}#copyright_mercury .row,#copyright_mercury .copyright_social{text-align:center}#copyright_mercury .copyright_social{margin-top:8px}.grid-item,.grid-sizer{width:50%;height:75vh}.institutional-style.content{margin-bottom:0}}@media screen and (max-width:991px){#header_menu{padding-right:0}.solid-color-with-image-header #mc_page_header_wrap{background-size:330px;background-position:top 150px right 10px}.single-post #mc_page_header_wrap{background-position:100% 40%;background-size:320px}.single-post #mc_main_sidebar .gform_wrapper .gfield{width:50%;float:left}.single-post #mc_main_sidebar .gform_wrapper .gfield input{width:98%}.single-post #mc_main_sidebar .gform_wrapper .gfield:last-child input{float:right}.single-post #mc_main_sidebar .gform_wrapper .gfield_html{float:none;width:100%}.single-post #mc_main_sidebar .gform_wrapper .button{width:300px;margin:0 auto;display:block}.single-post #mc_main_sidebar :after{text-align:center}.single-post #mc_main_sidebar .recent-stories{width:35%;float:left}.single-post #mc_main_sidebar .author{width:80%;margin:0 auto}.single-post #mc_main_sidebar .author h5{text-align:left}.single-post #mc_main_sidebar .author .image{width:50%;float:left;border-bottom:0}.single-post #mc_main_sidebar .author .info{width:50%;float:left;padding-top:70px;padding-left:30px}.single-post #mc_main_sidebar .author .info .left,.single-post #mc_main_sidebar .author .info .right{width:100%;margin-bottom:0}.single-post #mc_main_sidebar .author .info .right .social-link{float:left}.single-post #mc_main_sidebar .author .info .right .social-link:first-child{margin-left:0;margin-right:10px}.single-team #mc_page_header_wrap{background-color:#f2f2f2;padding:0;height:auto}.single-team #mc_page_header_wrap .face img{right:0}.single-team #mc_page_header_wrap .post-title-wrapper{height:auto;bottom:0;right:0}.single-team #mc_page_header_wrap .post-title-wrapper .post-title{min-height:0;padding:0}.single-team #mc_page_header_wrap h1,.single-team #mc_page_header_wrap h2{color:#000 !important}.single-team #mc_page_header_wrap h1{padding-top:90px;font-size:38px}.single-team .main-text-wrapper{border-right:0;padding-right:0}.single-team #mc_main_sidebar{padding-left:15px;margin:40px 0 20px;border-bottom:1px solid grey}.hidden-mobile{display:none !important}#top_header.header_scroll #header_logo img{width:auto;margin:10px}.mc_post_header_img{display:none !important}#main_page_wrapp{margin-bottom:0}.parallax{margin-top:-4px}.lineSideRight{border:0}.callBtn{position:relative !important;right:initial !important;bottom:inherit !important;margin-top:40px}#three_circles .circle-wrap{margin-bottom:40px !important;display:inline-block;margin:30px auto;width:100%;text-align:center}#three_circles .circle-wrap>div{width:100%;display:inline-block !important}.videoInfo{padding-left:15px !important}article#sec1 p{padding:0 15px !important}.relatedArticles{margin-bottom:0 !important}.relatedArticles h5{min-height:0 !important}.relatedArticles .thumb{height:300px !important}section#content-static #rebranding .item-module{padding:50px 0 0 !important}section#content-static #mockup{padding:30px 0 80px !important}section#content-static #website-design p{margin:40px 0}section#content-static #website-design #french-trully-courses{margin:80px 0 -320px}section#content-static #website-design #french-trully-courses figure{margin:40px 0}section#content-static #cultural-events figure{margin:40px 0 !important}section#content-static #status img{margin:40px auto}.grid-item .postCat,.grid-item .postTitle{position:relative;color:#000;z-index:9999;font-size:16px;line-height:1.2em;-webkit-transform:none;-moz-transform:none;-ms-transform:none;-o-transform:none;transform:none;opacity:1;background:#fff;padding:5px;margin:0 25px;display:table;float:none;margin:10px 25px 0;font-weight:400}.grid-item .postTitle{font-weight:600;font-size:1.5em}.grid-item.case-study.bigThumb .postCat,.grid-item.case-study.bigThumb .postTitle{margin:0 25px}.grid-item.case-study.bigThumb:after{margin:25px 25px 0}.grid-item-wrapper .grid-item:hover .postCat,.grid-item:hover .postTitle{color:#000 !important}a:hover:before{background:0 0 !important}a:hover img{-webkit-transform:scale(1) !important;-moz-transform:scale(1) !important;-ms-transform:scale(1) !important;-o-transform:scale(1) !important;transform:scale(1) !important}.postTypeTitle,h4{-webkit-transform:translateX(0%) !important;-moz-transform:translateX(0%) !important;-ms-transform:translateX(0%) !important;-o-transform:translateX(0%) !important;transform:translateX(0%) !important;left:10%;opacity:1em;z-index:999}.how-we-work-page .banner-wrapper{margin:80px auto 60px auto}.how-we-work-page .banner-wrapper img{display:inline-block;float:none !important}.how-we-work-page .mc_tab_content .mc_tab_item{display:block !important}.how-we-work-page h3{margin:0 0 20px !important}.how-we-work-page section#Solutions h4{text-align:center}.how-we-work-page section#Solutions h4 .btn{display:table;margin:30px auto !important}.how-we-work-page section#Process .mc_tab_item{margin-top:100px}.how-we-work-page section#Services img{margin-bottom:40px}.how-we-work-page section#Services .text{margin-top:40px}.how-we-work-page section#Industries .wide-row{border:0 !important}.how-we-work-page section#Industries .wide-row article{padding:0 15px !important;height:auto}.how-we-work-page section#Technologies{background-size:contain}.how-we-work-page section#Technologies .row>div{display:inline-block;text-align:center;margin:30px auto}.how-we-work-page section#Technologies .row>div img{display:inline-block}.how-we-work-page .content section#Technologies .row{padding:0}.page-template-customer_experience_laboratories-php .stories{margin-bottom:80px}.page-template-customer_experience_laboratories-php .toolkit-highlighted div#person_wrapper{min-height:auto;padding:40px 0 0}#main_page_wrapp.customer-experience-page-wrapper #mc_page_header_wrap .container .mc_page_header_content .gform_wrapper .gform_fields li input{width:82%}#main_page_wrapp.customer-experience-page-wrapper #mc_page_header_wrap .container .mc_page_header_content .gform_wrapper .gform_fields li:nth-child(1) .validation_message{padding-left:38px}#main_page_wrapp.customer-experience-page-wrapper #mc_page_header_wrap .container .mc_page_header_content .gform_wrapper .validation_error{max-width:496px}#main_page_wrapp.customer-experience-page-wrapper .container .mc_page_header_content h1,#main_page_wrapp.customer-experience-page-wrapper .container .mc_page_header_content h2,#main_page_wrapp.customer-experience-page-wrapper .container .mc_page_header_content p{max-width:100%}.template-shortcode-two-column-wrapper.labs-template .cel-box{width:345px}.template-shortcode-two-column-wrapper .cel-box{margin-top:60px}.template-shortcode-two-column-wrapper .cel-box .thumbnail-background{max-height:195px}#copyright_mercury .copyright_text{margin-top:15px !important}#copyright_mercury .copyright_social{margin-top:15px !important}#mc_main_footer .footer_first_row>div:nth-child(3),#mc_main_footer .footer_first_row>div:nth-child(4){float:right}#mc_main_footer .footer_first_row>div:nth-child(4){margin-top:40px}#mc_main_footer .copyright_logo img{width:300px}.work-landesa article.h100vh{height:auto}.work-landesa article#two_tablets_1 figure.lf,.work-landesa article#two_tablets_1 figure.rg,.work-landesa article#two_tablets_2 figure.lf,.work-landesa article#two_tablets_2 figure.rg{display:inline-block;text-align:center}.work-landesa article#two_tablets_1 figure.lf:before,.work-landesa article#two_tablets_1 figure.rg:before,.work-landesa article#two_tablets_2 figure.lf:before,.work-landesa article#two_tablets_2 figure.rg:before{content:none}.work-landesa article#Securing_land{background:#fff;padding:0}.single-case_study .container.content article .article-wrapper{padding-right:10px}.single-case_study .container.content aside .aside-wrapper{padding-left:10px}.castle-rock #mc_page_header_wrap{background-position:35% center}.castle-rock .castle-rock .section-first{background-position:right -850px bottom}.castle-rock .section-third .iphone img{width:400px;position:relative;bottom:80px;left:30px}.pcs .solution .right img{max-width:100% !important;width:420px;margin-bottom:-100px}.pcs .consistent-design-first .right{border-left:0}.pcs .consistent-design-second{text-align:center}.pcs .consistent-design-third{background-position:center right -390px;background-size:860px;padding-top:140px;padding-bottom:140px}.pcs .consistent-design-fourth .left{background-size:330px}.pcs .final-conclusions-first{background-position:-220px 110px;background-size:580px;padding:120px 0}.pcs .final-conclusions-second .image-1,.pcs .final-conclusions-second .image-3{width:25%}.pcs .final-conclusions-second .image-2{width:50%}.pcs .final-conclusions-second .illustration .left{background-position:left -400px bottom}.pcs .final-conclusions-second .illustration .right{padding-left:70px}.pcs .final-conclusions-second .illustration .numbers{font-size:24px}.posh .branding-challenge .right{padding-top:10px}.posh .consistent-branding-elements .right{padding-top:50px}.posh .consistent-branding-elements .right h4 br{display:none}.posh .james-posh{background-color:#333}.posh .james-posh .container{width:100%;padding:0}.posh .james-posh .left{max-width:750px;margin:0 auto;padding-top:90px;padding-bottom:20px}.posh .james-posh .right{background-color:#141414;text-align:center}.posh .james-posh .right img{width:470px}.posh .james-posh .main-image{padding-bottom:0}.posh .web-development .right .main-image{margin-top:100px}.youveda .intro{height:540px}.youveda .product-packaging{height:auto;background-position:right -240px bottom;background-size:390px}.youveda .product-packaging .left{padding-top:70px}.youveda .product-packaging .right img{top:15px}.youveda .boxes img{left:-13px;position:relative}.youveda .tea-bags{height:auto}.youveda .tea-bags .left,.youveda .tea-bags .right{height:500px}.youveda .tea-bags .left{background-position:80px 120px;background-size:300px}.youveda .tea-bags .right{background-size:450px}.youveda .app-development{height:auto}.youveda .app-development .left .main-image{text-align:center}.youveda .app-development .left .main-image img{width:350px;position:relative;left:-60px}.youveda .app-development .right{padding-top:80px;padding-bottom:40px}.youveda .customized-programs{padding-top:50px}.youveda .awesome-statics{padding-top:50px;padding-bottom:30px}.youveda .awesome-statics .right{padding-top:0}.youveda .brand-inspiration{padding-top:70px}.youveda .brand-born{padding:80px 0 0}.youveda .brand-born .right{padding-top:0}.youveda .branding-assets .right{padding-top:80px}.bluetooth .solution.first .left{margin-bottom:50px}.bluetooth .solution.first .left .image{text-align:center;padding-top:0}.bluetooth .solution.second{padding-top:90px;padding-bottom:60px}.bluetooth .solution.second .main-image{position:relative;left:0;margin-top:10px;margin-bottom:40px}.bluetooth .pilosophy{padding-top:70px}.bluetooth .recommendations{padding-top:410px}.bluetooth .recommendations .main-image{top:-480px}.bluetooth .statistics{padding-bottom:50px}.tmf .our-solution-first{background-position:center bottom;background-size:600px;height:610px}.tmf .our-solution-first .left{padding-top:60px}.tmf .our-solution-second{height:520px}.tmf .brand-system{padding-bottom:0;background-size:300px;background-position:bottom -10px right 80px}.tmf .brand-system p:nth-child(4){width:50%}.tmf .brand-system-2{height:600px}.tmf .final-conclusions{background-size:660px;background-position:right -320px bottom -30px}.tmf .final-conclusions .left .last-text{width:50%}.frenchtruly #content-static .content-module img{margin-bottom:0;float:none !important;text-align:center}.frenchtruly #content-static .content-module img.french-icon{margin:15px 0 !important}.frenchtruly .logo-woman .left{padding-top:0}.frenchtruly .logo-woman .right figure img{margin-bottom:0 !important}.frenchtruly #rebranding .before-after img{margin:40px 30px 40px}.frenchtruly #website-design .left{text-align:center}.frenchtruly #website-design .left img{width:600px}.frenchtruly #website-design .right{margin-bottom:60px}.frenchtruly #website-design .right figure{text-align:center}.frenchtruly #website-design .right figure img{width:300px}.frenchtruly #website-design .col-lg-8 figure{top:0;margin-top:-70px}.frenchtruly #cultural-events{padding-bottom:20px}.frenchtruly #cultural-events .right{text-align:center}.frenchtruly #cultural-events .right img{width:500px}.frenchtruly #status.content-module{background-image:url(https://cdn.mercury.one/wp-content/uploads/2016/03/girl.png);background-repeat:no-repeat;background-position:bottom left -36px;background-size:290px;padding-top:0}.frenchtruly #status.content-module .left{display:none}.frenchtruly #status.content-module .right{padding-top:50px;padding-bottom:100px}.landesa #mc_page_header_wrap{background-position:center right -520px}.optimized-size.first{padding:60px 0 40px}.optimized-size.second{padding:60px 0 40px}.landesa .solution .right{padding-top:30px}.landesa .solution .left{text-align:center}.landesa .performance{height:145px}.landesa .performance .title{padding-top:17px;margin-bottom:27px}.optimized-site .countries .country .second-row .previous,.optimized-site .countries .country .second-row .previous-icon{width:100%;text-align:center;line-height:30px}.optimized-site .countries .country .second-row .not-optimized{padding-top:5px}section.the-challenge>div>div>p,section.optimized-site>div>div>p{text-align:left;margin-left:0 !important;margin-right:0 !important;padding-left:15px;padding-right:15px}.dvb .burbavj-poster img{left:50%;margin-left:-200px;width:400px}.dvb .camera-section img.camera{position:static;padding-top:30px}.dvb .camera-section .right{padding-top:20px;padding-bottom:30px}.dvb .webpages{width:750px}.dvb .webpages .center .arrow-right{top:285px;width:270px;padding-left:50px}.dvb .webpages .center .arrow-left{left:150px;top:197px;width:290px}.dvb .solution .laptop{margin-top:-400px}.dvb .solution .right{text-align:center}.posh2 .rebranding-challenge{padding:510px 0 70px;background-size:700px;background-position:center -250px}.posh2 .fancy-dark{background-position:center right -290px;padding:150px 0}.posh2 .branding-elements{padding:100px 0}.posh2 .branding-elements .left{margin-bottom:40px;text-align:center}.posh2 .branding-elements .right{text-align:center}.posh2 .website-redesign{padding-top:30px}.posh2 .website-redesign .right{padding-top:30px}.posh2 .profiles{padding-bottom:100px}.posh2 .profiles .left{text-align:center}.posh2 .profiles .right{padding-top:80px}.posh2 .advanced-features{padding:400px 0 50px;padding:550px 0 50px;background-position:top center;background-size:600px}.posh2 .advanced-features-2 .left img{width:300px}.posh2 .advanced-features-2 .right img{width:360px}.posh2 .sales .left{margin-bottom:80px}.posh2 .sales .right{text-align:center}.posh2 .sales .right img{width:380px}.guia-epicureo #mc_page_header_wrap{background-position:right -660px top 20px}.guia-epicureo .first-section{background-position:right -590px center;padding:90px 0}.guia-epicureo .ubermap:after{height:640px}.guia-epicureo .ubermap .left{padding-top:90px}.guia-epicureo .ubermap .right img{margin-left:0}.guia-epicureo .facebook{padding-top:80px;margin-bottom:30px}.guia-epicureo .facebook .chart .right{text-align:center}.guia-epicureo .facebook .chart .right img{width:90%}.guia-epicureo .facebook .rates .rate .number{font-size:40px}.guia-epicureo .facebook .rates .rate:nth-child(2) img{width:120px}.guia-epicureo .facebook .rates .rate:nth-child(3) .number{padding-top:60px}.guia-epicureo .app-development .left{padding-top:130px;padding-bottom:50px}.guia-epicureo .app-development .right img{width:290px;top:0;position:relative}.guia-epicureo .statics{background-position:center right -368px}.tmf-forum-registration .challenge-1.section-2{padding:70px 0}.tmf-forum-registration .challenge-1.section-2 .left{text-align:center;padding-top:0;padding-bottom:70px}.tmf-forum-registration .challenge-2.section-2 .image-tablet img{max-width:750px !important}.tmf-forum-registration .challenge-2.section-2 .solution .right{padding-top:120px}.tmf-forum-registration .challenge-2.section-2 .recommendation{padding:20px 0 100px}.tmf-forum-registration .challenge-2.section-2 .recommendation .right{padding-top:40px}.pcs-posh-event-booths #mc_page_header_wrap{background-position:center right -620px}.pcs-posh-event-booths .section-6{background-size:700px}.page-about-wrapper article#Announcements-slider .item>div{margin:20px auto}.page-about-wrapper .owl-item .image-person{width:45% !important;height:346px !important;right:0 !important;background-size:contain !important;background-repeat:no-repeat}.page-about-wrapper .owl-item .margin-paragraph{margin-bottom:50px}.page-about-wrapper section#People .owl-controls .thumbs a{background-image:none !important;width:20px !important;height:20px !important;margin:5px !important}.page-about-wrapper section#People .owl-controls .thumbs a.active{background:#bf254b}.page-about-wrapper .people-shortcode-container .row{margin-bottom:0}.page-about-wrapper .people-shortcode-container .people{margin-bottom:70px}.page-about #mc_page_header_wrap{background-size:440px}.page-about #mc_page_header_wrap h1{margin-top:80px}.how-we-work-page section#Services .mc_tab_item .banner-wrapper{margin-top:0 !important}.how-we-work-page section#Services .banner-wrapper{display:inline-block !important;text-align:left !important}.solutions-page #mc_page_header_wrap{background-position:left 65vw top 170px;background-size:550px}.solutions-page #mc_page_header_wrap.half h1,.solutions-page #mc_page_header_wrap.half h2,.solutions-page #mc_page_header_wrap.half p{max-width:66%}.solutions-page .white-box{height:auto}.solutions-page section.container{height:auto;padding:90px 14px}.solutions-page section.container.first{border-bottom:0;padding-top:0;padding-bottom:0}.solutions-page section.container.content.home{padding-top:70px;padding-bottom:90px}.solutions-page .content section .home-row .home-col.left{padding-right:0}.solutions-page .content section.container{height:auto}.solutions-page .content .main-section{padding-top:100px}.solutions-page .content .main-section#strategy{margin-top:-70px}.solutions-page .scheme .line{width:600px}.page-template-solutions-pages .main-title-gotham{font-size:90px}.fixed-menu .title{font-size:20px;padding-top:10px;display:none}.solutions-page .content .main-section{margin-bottom:0}.error404 #main #animation #city-background{background-position-x:70%}.engagement-plans .engagement-plans-section{background-position:top 270px right;background-size:480px;padding-bottom:130px}.engagement-plans .engagement-plans-section hr{width:327px;margin-left:0}.engagement-plans .engagement-plans-section .rates .ultra-small{width:290px}.engagement-plans .wont-do .image{margin-bottom:60px}.post-type-archive-work .filter-visible:nth-child(2n+1) .cel-box,.post-type-archive-work .filter-visible:nth-child(2n) .cel-box,.archive .filter-visible:nth-child(2n+1) .cel-box,.archive .filter-visible:nth-child(2n) .cel-box{padding-left:0;padding-right:0}.post-type-archive-work .filter-visible:nth-child(2),.archive .filter-visible:nth-child(2){margin-top:0}.post-type-archive-work .filter-visible .cel-box,.archive .filter-visible .cel-box{margin-bottom:70px;max-width:none}.post-type-archive-work .filter-visible .cel-box .thumbnail-background,.archive .filter-visible .cel-box .thumbnail-background{max-height:340px}.strategy-planning .main-section-title{text-align:center;margin-bottom:50px}.strategy-planning .main-section-title:after{margin:0 auto}.testimonial .header{text-align:center}.landing .header-footer .logo{padding:10px 0;width:25%;display:inline-block}.landing .header-footer .logo img{width:60%}.landing .header-footer .logo.pcs img,.landing .header-footer .logo.landesa img{width:80%}.landing .header-footer .logo.ritzcarlton{margin-left:10%}.landing .header-footer .logo.ritzcarlton img{width:50%}.landing .header-footer .logo:nth-child(1),.landing .header-footer .logo:nth-child(2),.landing .header-footer .logo:nth-child(3),.landing .header-footer .logo:nth-child(4){padding-bottom:0}.three-columns-hp-alternative .container .row.content{height:auto !important}.three-columns-hp-alternative .container .row.content .img-wrapp{position:relative !important;padding-right:0;max-height:none}.three-columns-hp-alternative .container .row.content .item{margin-bottom:30px}.three-columns-hp-alternative .container .row.content .item .thumbnail-background{height:auto}footer#mc_main_footer{padding-top:43px}footer#mc_main_footer .title{margin-bottom:15px}footer#mc_main_footer .footer_first_row .connect .title span{display:inline}footer#mc_main_footer .footer_first_row .connect>div:nth-child(2),footer#mc_main_footer .footer_first_row .connect div:nth-child(3){display:block;float:right;width:48%}footer#mc_main_footer .footer_first_row .connect>div:first-child{float:left;width:48%}footer#mc_main_footer .footer_first_row .subscribe{display:none}footer#mc_main_footer .footer_second_row .title.locations{text-align:left;padding:30px 0;padding-left:15px}footer#mc_main_footer .footer_second_row .title.locations:after{content:"+";margin-left:20px}footer#mc_main_footer .footer_second_row .title.locations{margin-bottom:50px}footer#mc_main_footer .footer_second_row .widget_nav_menu .menu li:last-child{margin-bottom:0}footer#mc_main_footer .footer2_sidebar_widget{margin-bottom:30px}.post-type-archive-work #mc_page_header_wrap h1,.post-type-archive-work #mc_page_header_wrap h2,.post-type-archive-work #mc_page_header_wrap p{width:50%}.post-type-archive-work .latest-work{padding:20px 0}.post-type-archive-work .latest-work .title{padding-left:35px;font-size:50px}body.connect #mc_page_header_wrap{background-position:right -450px center}body.connect .first-section{background-size:900px;background-position:top 70px left 45vw;margin-bottom:30px}body.connect .first-section form.get-in-touch{width:340px}body.connect .first-section form.get-in-touch .name,body.connect .first-section form.get-in-touch .email{width:100%;float:none}body.connect .first-section form.get-in-touch .name input,body.connect .first-section form.get-in-touch .email input{width:100%}body.connect .first-section .contact-section p{font-size:17px}body.connect .first-section .gform_wrapper.gform_validation_error .gfield_error{margin-bottom:0 !important}body.blog .thumbnail-background.txt-center.img-wrapp{position:relative;top:0}body.blog section.blog-related-stories a>div{padding-bottom:10px}.seudoblog_see_mor_link_box{margin-left:0}.latest-work-container.solutions-layout .work-item{height:240px}.latest-work-container.solutions-layout .work-item .text-content .category{font-size:18px}.latest-work-container.solutions-layout .work-item .text-content .brand{font-size:28px}.solutions-page .solution-section .left{border-right:0}.solutions-page .solution-section .right{border-left:0;padding-top:20px;padding-left:20px}.blog_category_archive_title .smaller{display:block}}@media screen and (max-width:768px){.page-template-solutions-pages .latest-work-main-container{padding-left:15px;padding-right:15px}.page-template-solutions-pages .solutions-related-work .h5{max-width:80%}#top_header.dark-25 .burger span{background-color:#fff !important}body.blog section.blog-related-stories a:nth-child(even){margin-left:0}body.blog .mb-lines-2{margin:0}.page-about #mc_page_header_wrap{background-image:none !important;padding:65px 0 0;height:auto}.page-about #mc_page_header_wrap .container.content{padding-top:0;padding-bottom:0}.page-about #mc_page_header_wrap h1{margin-top:50px}.page-about .about-title{font-size:38px}blockquote.highlighted.right:before,q.highlighted.right:before{float:none;margin-left:auto}.solid-color-with-image-header #mc_page_header_wrap{background-image:none !important}.admin-bar .menuAside{top:46px}.single-post #mc_page_header_wrap{background-image:none !important;padding:80px 0 0}.single-post #mc_page_header_wrap .post-title-wrapper .post-title{padding:130px 0 90px}#mc_page_header_wrap.half h1,#mc_page_header_wrap.half h2,#mc_page_header_wrap.half p,#mc_page_header_wrap.narrow h1,#mc_page_header_wrap.narrow h2,#mc_page_header_wrap.narrow p,#mc_page_header_wrap.blog h1,#mc_page_header_wrap.blog h2,#mc_page_header_wrap.blog p,#mc_page_header_wrap.two_thirds h1,#mc_page_header_wrap.two_thirds h2,#mc_page_header_wrap.two_thirds p{max-width:100%}#top_header{background-color:#fff}#top_header #header_logo{width:100%;max-width:none;float:none;display:inline-block;text-align:center;margin:0 auto}#top_header #header_logo img{display:inline-block;height:50px;width:auto}#top_header.header_scroll #header_logo img{height:30px}.burger{display:block}.header_scroll .burger{margin-top:.75em}#header_menu{display:none}#header_menu>ul{text-align:left;float:none}#header_menu>ul li{float:none;width:100%;border-bottom:solid 1px #333}#header_menu>ul li:last-child{border-color:transparent}#header_menu .sub-menu{position:static;width:100%}#header_menu .sub-menu li{border-color:transparent}#header_menu .sub-menu li:first-child a{padding-top:0}#header_menu .sub-menu li:last-child a{padding-bottom:15px}#mc_page_header_wrap .post-title-wrapper .post-title,.single-post #mc_page_header_wrap .post-title-wrapper .post-title,.single-team_members #mc_page_header_wrap .post-title-wrapper .post-title,.post-type-archive #mc_page_header_wrap .post-title-wrapper .post-title{vertical-align:top}#mc_page_header_wrap .post-title-wrapper,.single-post #mc_page_header_wrap .post-title-wrapper,.single-team_members #mc_page_header_wrap .post-title-wrapper,.post-type-archive #mc_page_header_wrap .post-title-wrapper{height:auto}#copyright_mercury #copyright_logo{width:100%;text-align:center}#copyright_mercury #copyright_logo #triangle{display:none}#copyright_mercury #copyright_logo img{margin:0 auto}#copyright_mercury .copyright-text{padding:0;text-align:center;width:100%}.single-case_study #mc_page_header_wrap{height:auto;padding:140px 0 0 !important}#mc_page_header_wrap.video_as_bg{margin-top:70px;min-height:35vh;padding:0}#mc_page_header_wrap.image_as_bg{margin-top:70px;padding:0}#mc_page_header_wrap .mc_page_header_content{margin-top:0 !important}#header_menu .menu>li.header-pink-btn{display:inline-block}.mc_image_blog_item figure img{max-height:400px;object-fit:cover;object-position:top}.grid-item,.grid-sizer{width:100%}.single-post #mc_page_header_wrap .post-title-wrapper .post-title,.single-team_members #mc_page_header_wrap .post-title-wrapper .post-title,.post-type-archive #mc_page_header_wrap .post-title-wrapper .post-title{vertical-align:top}.single-team_members #mc_page_header_wrap{background-position:90% bottom,center}.single-team_members #mc_page_header_wrap .face{width:100%;top:0;bottom:0;right:0}.single-team_members #mc_page_header_wrap .face img{width:100%}.single-portfolio_items .relatedItems a h4,.single-case_studies .relatedItems a h4{-webkit-transform:translateX(0);-moz-transform:translateX(0);-ms-transform:translateX(0);-o-transform:translateX(0);transform:translateX(0);opacity:1;color:#fff !important}.single-case_studies aside{text-align:center;padding:40px 0}.page-template-page-agile-marqueting div#person_wrapper{min-height:200px}.page-template-page-agile-marqueting .sideBox{position:relative !important;height:50vh !important}.page-template-page-agile-marqueting .sideBox .callBtn{display:table;position:absolute;top:50%;left:50%;-webkit-transform:translate(-50%,-50%);-moz-transform:translate(-50%,-50%);-ms-transform:translate(-50%,-50%);-o-transform:translate(-50%,-50%);transform:translate(-50%,-50%);left:50% !important;right:initial !important;bottom:initial !important}.page-template-page-agile-marqueting .relatedArticles article{margin:20px 0;padding:20px 0}.page-template-page-agile-marqueting .relatedArticles article .thumb{min-height:540px}.page-template-page-agile-marqueting .relatedArticles article .read-more{bottom:0}.callBtn{margin-top:60px}.pre_footer_widebar span{vertical-align:bottom !important}.pre_footer_widebar span a.mail{display:block}.pre_footer_widebar span a.mail:before{position:relative !important;display:block;top:0 !important;left:50% !important;margin-top:40px;margin-bottom:20px;-webkit-transform:translateY(0) translateX(-50%) !important;-moz-transform:translateY(0) translateX(-50%) !important;-ms-transform:translateY(0) translateX(-50%) !important;-o-transform:translateY(0) translateX(-50%) !important;transform:translateY(0) translateX(-50%) !important}.container.content aside p{margin:25px auto}.page-template-customer_experience_laboratories-php #mc_page_header_wrap .mc_page_header_content .ml-logo{width:320px;margin-bottom:20px}.page-template-customer_experience_laboratories-php .labs_join_mail{font-size:16px;padding:15px 0;bottom:-50px}.page-template-customer_experience_laboratories-php .toolkit-highlighted div#agile_title_repeated{font-size:34px}.page-template-customer_experience_laboratories-php .toolkit-highlighted h4{font-size:28px}.page-template-customer_experience_laboratories-php .toolkit-highlighted div#person_wrapper{min-height:none;padding:30px 0}.page-template-customer_experience_laboratories-php .call-to-action{font-size:22px;padding:30px 0}#main_page_wrapp.customer-experience-page-wrapper #mc_page_header_wrap{padding:90px 10px 20px}#main_page_wrapp.customer-experience-page-wrapper #mc_page_header_wrap .container{padding-top:0;padding-bottom:0}#main_page_wrapp.customer-experience-page-wrapper #mc_page_header_wrap .container .mc_page_header_content .gform_wrapper{max-width:70%}#main_page_wrapp.customer-experience-page-wrapper #mc_page_header_wrap .container .mc_page_header_content .gform_wrapper .gform_footer .gform_button{padding:12.5px 25px}.template-shortcode-two-column-wrapper{margin-top:3em}.template-shortcode-two-column-wrapper.labs-template .cel-box{width:500px;margin:50px auto 0}.template-shortcode-two-column-wrapper.labs-template .cel-box:nth-child(odd),.template-shortcode-two-column-wrapper.labs-template .cel-box:nth-child(even){float:none}.template-shortcode-two-column-wrapper .cel-box{margin-top:50px}.template-shortcode-two-column-wrapper .cel-box:nth-child(2){margin-top:50px}.template-shortcode-two-column-wrapper .cel-box .thumbnail-background{max-height:280px}.single-case_study #content-static article{display:block !important;float:left;padding-top:40px !important;padding-top:40px !important;margin-top:0 !important;margin-bottom:0 !important}.single-case_study figure:before{content:none !important}.single-case_study #mc_page_header_wrap{height:500px;min-height:500px}.single-case_study #mc_page_header_wrap .mc_page_header_content{padding-top:0}.single-case_study .container.content{padding-top:10px;padding-bottom:0}.single-case_study .container.content .aside-wrapper p.my_term-archive{margin-bottom:0}.single-case_study .container.content .right:before,.single-case_study .container.content .left:after{display:none}.single-case_study .container.content .left,.single-case_study .container.content .right{min-height:auto}.single-case_study .container.content article .article-wrapper{padding-right:0}.single-case_study .container.content aside .aside-wrapper{padding-left:0;border-top:1px solid #d9d9d9;padding-top:20px;margin-bottom:30px}.castle-rock .section-first{height:70vw}.castle-rock .section-first img{width:50vw;min-width:200px}.castle-rock .section-second .left,.castle-rock .section-second .right{height:460px}.castle-rock .section-third .first-row{margin-top:4vw}.castle-rock .section-fourth .left,.castle-rock .section-fourth .right{width:80%;margin:0 auto}.landesa #Landesa_3 img{width:80%}.landesa #Landesa_5 figure{text-align:center}.pcs .solution .image{text-align:center}.pcs .illustrations .border{max-width:420px;margin:0 auto;margin-bottom:30px}.pcs .consistent-design-first{padding-bottom:30px}.pcs .consistent-design-third{background-position:right bottom 50px;background-size:700px;padding-top:60px;padding-bottom:440px}.pcs .consistent-design-fourth .left,.pcs .consistent-design-fourth .right{height:70vw}.pcs .consistent-design-fourth .left{background-size:contain}.pcs .final-conclusions-first{padding-top:60px;padding-bottom:350px;background-position:right 90px bottom -30px;background-size:440px}.pcs .final-conclusions-second .illustration{background-position:left -290px bottom;background-size:730px;height:330px;padding-top:45px}.pcs .final-conclusions-second .illustration .right{padding-left:30px}.pcs .final-conclusions-second .illustration .numbers{font-size:22px}.pcs .final-conclusions-second .image-1,.pcs .final-conclusions-second .image-3{top:70px}.pcs .final-conclusions-second .image-2{top:30px}.posh .james-posh .right{margin-top:0}.youveda .intro{height:390px}.youveda .intro img{width:160px}.youveda .product-packaging{background-size:320px;background-position:right -50px bottom}.youveda .product-packaging .right{text-align:center}.youveda .product-packaging .right img{top:0;width:230px}.youveda .boxes img{left:-13px}.youveda .tea-bags .left,.youveda .tea-bags .right{height:380px;background-position:center center}.youveda .tea-bags .left{background-position:center 80px;background-size:250px}.youveda .app-development .left .main-image img{width:280px;left:-40px}.youveda .computer{padding-top:70px}.youveda .computer img{margin-bottom:0}.youveda .webpages img{width:90%;padding-right:8px}.youveda .webpages .left{padding:70px 0}.youveda .webpages .right{padding:70px 0}.youveda .awesome-statics .left{margin-bottom:50px;text-align:center}.youveda .awesome-statics .right{padding-left:15px}.youveda .brand-inspiration .right{margin-bottom:70px}.youveda .brand-inspiration .right .persephone{width:auto}.youveda .brand-born{padding:0}.youveda .brand-born .left{text-align:center;width:auto;margin-bottom:70px}.youveda .brand-born .left img{width:400px}.youveda .brand-born .right{margin-bottom:70px}.youveda .branding-assets .left{padding-top:0}.youveda .branding-assets .right{text-align:center;padding-top:20px}.youveda .branding-assets .right img{width:auto}.youveda .icons img{width:auto}.youveda .icons .first-row{border-bottom:0;margin-bottom:0}.youveda .icons .right{padding:30px 0}.youveda .color-palette{width:440px;margin:0 auto}.youveda .color-palette li{width:105px}.youveda .quote{padding-top:10px}.bluetooth #mc_page_header_wrap{background-position:left -370px top}.bluetooth .solution.first .main-image img{width:600px}.bluetooth .solution.second .left .image{text-align:center}.bluetooth .solution.second .left .image img{width:370px}.bluetooth .solution.second .main-image img{width:500px}.tmf .brand-system{background-position:bottom right -50px}.tmf .brand-system-2{height:400px}.tmf .final-conclusions{background-position:right -120px bottom -130px;background-size:550px}.frenchtruly #website-design .left img{width:480px}.frenchtruly #cultural-events .right img{width:420px}.frenchtruly #status.content-module .numbers .bigger{font-size:72px}.landesa #mc_page_header_wrap{background-position:center right -400px}.landesa #mc_page_header_wrap .post-title .bigger{width:290px}.landesa .the-challenge.second img{width:400px}.optimized-site.first{padding:60px 0 20px}.optimized-site.first .optimized{margin-bottom:20px}.optimized-site.first .optimized img{width:200px}.optimized-site.first .optimized.left{text-align:right}.optimized-site.first .optimized.right{text-align:left}.optimized-site.second{padding:60px 0 30px}.optimized-site.third .row{padding:60px 15px}.optimized-site.third .row .left,.optimized-site.third .row .right{text-align:center;background-image:none;background-color:#fff;padding:0}.optimized-site.third .row .left img,.optimized-site.third .row .right img{max-width:none !important;width:100%}.landesa .recommendations{padding:40px 0 20px}.landesa .recommendations .left{text-align:center;margin-bottom:30px}.landesa .solution{padding:40px 0 20px;text-align:center}.landesa .solution .decorative-belt{top:40px}.landesa .solution .left img{width:450px}.landesa .solution .right{padding-top:30px}.landesa .city img{width:300px;margin-bottom:40px;padding-bottom:40px;border-bottom:6px solid rgba(0,0,0,.1)}.landesa .city:last-child img{border-bottom:0;margin-bottom:0}.landesa article#Landesa_3{padding-top:0 !important;padding-bottom:0 !important;background:#fff !important}.landesa #Landesa_5 figure:nth-child(1){padding-top:40px !important}.landesa .performance{height:116px}.landesa .performance .title{padding-top:10px;margin-bottom:9px}.landesa .the-challenge.second .left{width:500px;margin:0 auto}.landesa .the-challenge.second .left .row>div{width:50%;margin-left:0}.landesa .optimized-numbers{width:500px;margin:0 auto}.landesa .optimized-numbers>div{width:50%;margin-left:0}.landesa .optimized-numbers .green{background-position:left top}.landesa .optimized-numbers .mustard{background-position:right -5px top}.optimized-site .countries .country{padding:50px 0;width:330px;margin:0 auto;margin-bottom:40px}.optimized-site .countries .country .first-row hr,.optimized-site .countries .country .first-row hr{margin-left:auto;margin-right:auto}.optimized-site .countries .country .first-row .map,.optimized-site .countries .country .first-row .optimized{width:100%}.optimized-site .countries .country .first-row .map .time,.optimized-site .countries .country .first-row .optimized .time{position:relative;top:15px;left:5px}.optimized-site .countries .country .first-row .map{margin-bottom:10px}.optimized-site .countries .country .first-row .map img{top:0;left:0}.optimized-site .countries .country .second-row{width:280px;margin:0 auto}.optimized-site .countries .country .second-row .not-optimized{padding-top:50px}.optimized-site .countries .country:last-child{margin-bottom:0}.dvb .the-challenge{padding:70px 0 100px;margin-bottom:0}.dvb .webpages{width:100%;position:static;margin-left:0}.dvb .webpages .center{padding-top:50px}.dvb .webpages .center .arrow-right,.dvb .webpages .center .arrow-left{display:none}.dvb .webpages .left{padding-top:30px}.dvb .webpages .right{padding-top:50px}.dvb .solution .laptop{margin-top:0}.posh2 .rebranding-challenge{background-size:610px;background-position:center -250px;padding:420px 0 70px}.posh2 .fancy-dark{background-image:none;padding:70px 0}.posh2 .fancy-dark p{margin-bottom:0}.posh2 .website-redesign .right{text-align:center}.posh2 .website-redesign .right img{width:400px}.posh2 .profiles{padding-bottom:30px}.posh2 .profiles .left img{width:450px}.posh2 .advanced-features{background-size:500px;padding:490px 0 50px}.guia-epicureo #mc_page_header_wrap .bigger{width:290px}.guia-epicureo .first-section{position:relative;background-position:left -260px center}.guia-epicureo .first-section:after{content:"";display:block;width:100%;height:100%;position:absolute;top:0;left:0;background-color:#000;opacity:.5;z-index:1}.guia-epicureo .first-section .container .row{position:relative;z-index:5}.guia-epicureo .ubermap:after{height:630px}.guia-epicureo .facebook .rates .rate .number{padding-top:40px}.guia-epicureo .facebook .rates .rate:nth-child(2){border-left:0;border-right:0}.guia-epicureo .app-development .right img{width:200px;top:31px}.guia-epicureo .statics{padding:50px 0;background-position:center right -18px}.guia-epicureo .statics .static .big-number{font-size:80px}.tmf-forum-registration .challenge-1.section-1{padding:0 0 70px}.tmf-forum-registration .challenge-1.section-2{padding:70px 0 30px}.tmf-forum-registration .challenge-2.section-1{padding:70px 0 150px}.tmf-forum-registration .challenge-2.section-2{padding:60px 0 0}.tmf-forum-registration .challenge-2.section-2 .image-tablet img{max-width:100% !important}.tmf-forum-registration .challenge-2.section-2 .solution .left{padding-top:0}.tmf-forum-registration .challenge-2.section-2 .solution .right{padding-top:40px}.tmf-forum-registration .challenge-2.section-2 .recommendation{padding:20px 0 50px}.tmf-forum-registration .challenge-2.section-2 .recommendation .right{padding-top:70px}.tmf-forum-registration .challenge-2.section-3{padding:60px 0}.pcs-posh-event-booths #mc_page_header_wrap{background-position:top 60px right -770px}.pcs-posh-event-booths .section-1{background-size:200%}.pcs-posh-event-booths .section-4{background-size:190%;background-position:left 25% center}.pcs-posh-event-booths .section-5{background-size:200%;background-position:left center}.pcs-posh-event-booths .section-6{background-size:700px}.live-discounts #mc_page_header_wrap{background-position:-220px}.live-discounts .section2{text-align:center;padding:30px 0}.live-discounts .section2 img{width:auto;top:0}.live-discounts .section2 .second img{top:0}.live-discounts .section2 .row>div{padding:20px 0}.page-about-wrapper section#News-Announcements{padding-bottom:0 !important}.page-about-wrapper section#News-Announcements #Announcements-slider .owl-carousel .owl-controls{position:relative !important;display:inline-block !important;right:inherit !important;top:-20px !important;margin-top:20px;margin-bottom:20px;left:50%;-webkit-transform:translateX(-50%);-moz-transform:translateX(-50%);-ms-transform:translateX(-50%);-o-transform:translateX(-50%);transform:translateX(-50%)}.page-about-wrapper section#People .owl-controls .thumbs a{width:10px !important;height:10px !important;padding:7px !important}.page-about-wrapper .thumbs{margin:0 10px !important}.page-about-wrapper .btn_pink{width:100%}.page-about-wrapper .owl-carousel .owl-stage-outer{padding-top:100px}.page-about-wrapper .people-shortcode-container .people:nth-child(odd){clear:left}.owl-carousel-team .owl-item .bio{font-size:16px}.owl-carousel-team .owl-item .image-person{width:170px !important;height:170px !important;border-radius:50%;background-color:#ccc;right:70px !important;top:70px}.institutional-style .module h2{font-size:34px !important}.how-we-work-page .content .mc_tab_content .btn{width:100%}.how-we-work-page .content section#Solutions h4{margin:50px 0;text-align:left}.how-we-work-page .banner-wrapper{margin:20px auto 30px auto}.how-we-work-page .mercury-box{height:100px !important}.how-we-work-page .mercury-box .title{text-align:left !important;left:0 !important}.how-we-work-page .mercury-box:after{bottom:0;top:0;line-height:30px;margin:auto;height:30px}.how-we-work-page .institutional-style .module{padding:20px 0}.how-we-work-page .content section#Solutions h4{margin:0 !important}.page-conference-and-event-marketing-strategy #conference-event-grafics ul{padding:0}.page-conference-and-event-marketing-strategy #conference-event-grafics ul li{font-size:16px;line-height:2}.solution-section .right{border:0}body.page-services-and-solutions #mc_page_header_wrap{margin-bottom:-140px}.solutions-page #mc_page_header_wrap{background-image:none !important;height:auto}.solutions-page #mc_page_header_wrap.tall{height:auto}.solutions-page #mc_page_header_wrap.half h1,.solutions-page #mc_page_header_wrap.half h2,.solutions-page #mc_page_header_wrap.half p{max-width:100%}.solutions-page .intro{padding:30px 0}.solutions-page section .home-row .home-col img{padding-bottom:20px}.solutions-page .content .scheme{text-align:center}.solutions-page .content .scheme .sales-sytems,.solutions-page .content .scheme .sales-inbound{text-align:center;padding:20px 0}.solutions-page .content .scheme .line{display:none}.solutions-page .content .main-section{margin-bottom:0}.solutions-page .fixed-menu{margin-bottom:20px}.solutions-page .fixed-menu .menu-item-title{display:none}.solutions-page .latest-work-main-container .h5{width:100%}.error404 #main #animation #ovni{right:-40px}.error404 #main #animation #city-background{background-image:none}.error404 #main .container .page-content p.bigger{width:60%}.engagement-plans .with-mercury{width:400px;margin:0 auto}.engagement-plans .master-title{margin-top:60px}.engagement-plans .engagement-plans-section{background-position:top 380px right;background-size:300px;margin-bottom:0;padding-bottom:80px}.engagement-plans .strategist-teams{width:280px;margin:0 auto}.engagement-plans .strategist-teams hr{margin-top:30px;margin-bottom:60px}.engagement-plans .wont-do .image{margin-bottom:80px}.single-team #mc_page_header_wrap{min-height:auto}.single-team #mc_page_header_wrap .post-title-wrapper{height:400px}.single-team #mc_page_header_wrap h1{font-size:32px}.single-team #mc_page_header_wrap h2{font-size:20px}.landing #outer-sections-container #container-slider .section{background-size:cover;background-position:center right -390px}.landing #outer-sections-container .button{margin-right:20px}.post-type-archive-work #mc_page_header_wrap{background-position:center right 45%}.post-type-archive-work #mc_page_header_wrap h1{margin-top:140px}.post-type-archive-work #mc_page_header_wrap,.post-type-archive-work #mc_page_header_wrap .post-title-wrapper{min-height:400px}.post-type-archive-work #main_page_wrapp>.container{padding-top:15px;padding-bottom:15px}.post-type-archive-work .latest-work{margin-top:80px}.post-type-archive-work .latest-work .title{padding-left:0}body.connect #mc_page_header_wrap{min-height:500px}body.connect .first-section h1{font-size:35px}body.connect .first-section form.get-in-touch{width:290px;float:left}.fixed-menu>.container{width:100%}.fixed-menu a{font-size:15px}.fixed-menu .col-xs-2{padding-left:0;padding-right:0}.fixed-menu .title,.fixed-menu p,.fixed-menu a{line-height:45px}.latest-work-container.solutions-layout .work-item{height:calc((100vw - 30px)*0.666)}.latest-work-container.solutions-layout .work-item .text-content .category{font-size:24px}.latest-work-container.solutions-layout .work-item .text-content .brand{font-size:38px}.page-template-solutions-pages .solutions-related-work .h5{width:100%;max-width:100%}.post-type-archive-work .latest-work-container.lastest-two>div:first-child{padding-right:15px}.post-type-archive-work .latest-work-container.lastest-two>div:nth-child(2){padding-left:15px}}@media screen and (max-width:640px){.solutions-page .solution-section .main-title{font-size:42px}body.page-services-and-solutions #mc_page_header_wrap{margin-bottom:0}body.page-services-and-solutions .fixed-menu .menu-item-title .title{display:none}body.post-type-archive-work .fixed-menu>.container,body.page-services-and-solutions .fixed-menu>.container{width:100%;padding:0}body.post-type-archive-work .sticky-wrapper .menu-item,body.page-services-and-solutions .sticky-wrapper .menu-item{padding:8px 0 0;height:auto}body.post-type-archive-work .sticky-wrapper .menu-item a,body.page-services-and-solutions .sticky-wrapper .menu-item a{padding-bottom:5px}body.post-type-archive-work .fixed-menu.our-work .menu-item.active a,body.page-services-and-solutions .menu-item.active a{padding-top:0}body.page-services-and-solutions .sticky-wrapper .menu-item a{padding-top:0}body.blog .sticky-wrapper .menu-item{display:none;width:100% !important}body.blog .sticky-wrapper .menu-item.active{display:inline-block}body.blog .fixed-menu .menu-item.active:after{width:100%;left:0}#mc_page_header_wrap h2,#mc_page_header_wrap p{max-width:100%}#mc_page_header_wrap .mc_page_header_content h1{width:100%}.post-type-archive #mc_page_header_wrap{height:auto}q.highlighted.left:before{position:relative}q.highlighted.left{padding-left:0;padding:20px}.single-post #mc_page_header_wrap h1:before{font-size:20px}.single-post #mc_page_header_wrap .post-title-wrapper .post-title{padding:70px 0 60px}#mc_page_header_wrap h1.font-color-textGray,#mc_page_header_wrap h2.font-color-textGray,#mc_page_header_wrap h3.font-color-textGray,#mc_page_header_wrap p.font-color-textGray,#mc_page_header_wrap .postypeTitle.font-color-textGray{color:#fff}.page-template-customer_experience_laboratories-php #mc_page_header_wrap{padding-bottom:0;background-position:center right -190px}.page-template-customer_experience_laboratories-php #mc_page_header_wrap p{font-size:22px}.page-template-customer_experience_laboratories-php .labs_join_mail{font-size:16px;padding:15px 0;position:relative}.page-template-customer_experience_laboratories-php .labs_join_mail .join_mail_sect_content{text-align:center;max-width:320px;margin:0 auto}.page-template-customer_experience_laboratories-php .labs_join_mail .join_mail_sect_content button{display:block;margin:0 auto;margin-bottom:5px}.page-template-customer_experience_laboratories-php .labs_join_mail .jmsc_icon{display:block;float:none;margin:0 auto;width:30px;height:30px;background-size:17px}.page-template-customer_experience_laboratories-php .labs_landing_video_wrap p{margin-bottom:0}.page-template-customer_experience_laboratories-php .labs_landing_video_wrap h3{margin-top:0}.page-template-customer_experience_laboratories-php .labs_landing_video_wrap .labs_video_captions{padding:20px}.page-template-customer_experience_laboratories-php .labs_landing_video_wrap .labs_video_captions>div{display:block;text-align:center;margin-bottom:20px}.page-template-customer_experience_laboratories-php .labs_landing_video_wrap .labs_video_captions>div button{margin-right:0}#main_page_wrapp.customer-experience-page-wrapper #mc_page_header_wrap .container .mc_page_header_content .gform_wrapper{max-width:100%}#main_page_wrapp.customer-experience-page-wrapper #mc_page_header_wrap .container .mc_page_header_content .gform_wrapper .gform_fields{margin-bottom:0}#main_page_wrapp.customer-experience-page-wrapper #mc_page_header_wrap .container .mc_page_header_content .gform_wrapper .gform_fields li{float:none;margin:0 auto;margin-top:20px;width:100%;max-width:488px;max-width:370px}#main_page_wrapp.customer-experience-page-wrapper #mc_page_header_wrap .container .mc_page_header_content .gform_wrapper .gform_fields li input{width:100%}#main_page_wrapp.customer-experience-page-wrapper #mc_page_header_wrap .container .mc_page_header_content .gform_wrapper .gform_fields li:nth-child(1) input{float:none;margin-right:0}#main_page_wrapp.customer-experience-page-wrapper #mc_page_header_wrap .container .mc_page_header_content .gform_wrapper .gform_fields li:nth-child(2) input{float:none;margin-left:0}#main_page_wrapp.customer-experience-page-wrapper #mc_page_header_wrap .container .mc_page_header_content .gform_wrapper .gform_fields li:nth-child(1) .validation_message{padding-left:8px}#main_page_wrapp.customer-experience-page-wrapper #mc_page_header_wrap .container .mc_page_header_content .gform_wrapper .gform_footer{padding-top:20px}#main_page_wrapp.customer-experience-page-wrapper #mc_page_header_wrap .container .mc_page_header_content .gform_wrapper .gform_footer .gform_button{margin-bottom:0}.single-case_study #mc_page_header_wrap{height:auto}.single-case_study #mc_page_header_wrap .mc_page_header_content{margin-top:0 !important}.single-case_study #mc_page_header_wrap .mc_page_header_content h1{max-width:100%}.landesa #green_pattern{height:300px;background-position:center -70px;background-repeat:no-repeat}.landesa .the-challenge.first{padding:40px 0}.landesa .mc_page_header_content .post-title{padding-top:60px}.pcs .solution .right img{width:300px;margin-bottom:-100px}.pcs .consistent-design-third{background-position:right bottom 50px;background-size:contain;padding-top:60px;padding-bottom:70%}.pcs .final-conclusions-first{padding-top:60px;padding-bottom:310px;background-position:center bottom -50px;background-size:400px}.posh2 #mc_page_header_wrap{height:auto;min-height:0;padding-bottom:60px}.tmf .our-solution-first{background-size:500px;height:600px;background-position:bottom right 30px}.tmf .our-solution-second{height:400px;background-size:700px;background-position:bottom -100px right -270px}.tmf .brand-system{background-size:300px;background-position:center bottom;padding-bottom:270px;padding-top:50px}.tmf .brand-system p:nth-child(4){width:100%}.tmf .brand-system-2{height:400px;background-size:cover}.tmf .final-conclusions{background-position:center bottom -280px;background-size:700px;padding-bottom:270px}.tmf .final-conclusions .numbers{width:100%;margin:0 auto}.tmf .final-conclusions .numbers>div{width:50%;float:left}.tmf .final-conclusions .numbers .bigger{font-size:42px}.tmf .final-conclusions .left .last-text{width:100%}.frenchtruly .logo-woman .left img{width:350px}.frenchtruly #status.content-module .numbers .bigger{font-size:60px}.frenchtruly #rebranding .logo{width:100%}.frenchtruly #rebranding .logo img{margin-bottom:10px !important}.frenchtruly #rebranding .logo.after p{margin-bottom:0}.youveda #mc_page_header_wrap .mc_page_header_content{padding-top:60px}.youveda .product-packaging{background-position:right 10px bottom}.youveda .product-packaging .right{text-align:left}.castle-rock .section-third .iphone img{width:320px}.castle-rock .section-fourth img{display:none}.castle-rock .section-sixth{margin-top:260px}.pcs-posh-event-booths .section-6{background-size:540px}.sharkk .section-7 .title{display:none}body:not(.single-team):not(.postid-24278):not(.postid-24202):not(.postid-24251):not(.home):not(.responsive-show-header):not(.connect):not(.show-header-bg) #mc_page_header_wrap{background-image:none !important}.responsive-show-header #mc_page_header_wrap{min-height:auto}.how-we-work-page .content section#Industries article.mod_right,.how-we-work-page .content section#Industries article.mod_left{padding:15px !important}.owl-carousel-team .owl-item .text{padding-top:180px;width:100%}.owl-carousel-team .owl-item .name{text-align:center}.owl-carousel-team .owl-item .subLine:after{left:50%;margin-left:-32.5px}.owl-carousel-team .owl-item .image-person{right:50% !important;margin-right:-85px;top:40px}.page-about-wrapper #People h5{padding-bottom:40px}.page-about-wrapper .people-shortcode-container .people{margin-bottom:40px}.page-about-wrapper .people-shortcode-container .people .info{padding:40px 15px}.error404 #main{background-size:cover,75%;background-position:left bottom,right 50px}.page-about #mc_page_header_wrap{background-color:transparent !important}.page-about #mc_page_header_wrap h1{color:#43a4b6;font-size:52px;width:290px}.page-about #mc_page_header_wrap h2{color:#4e4d4d}.page-about .view-all{display:block;float:none}.page-about .meet-the-team{padding-top:30px}.page-about .join-our-team .panel-heading{font-size:20px}.page-about #we-are-hiring{padding-top:30px}.page-about .connect-with-us{padding:30px 0}.single-post #mc_main_sidebar .recent-stories,.single-post #mc_main_sidebar .author{width:100%}.single-post #mc_main_sidebar .author .image{width:30%}.single-post #mc_main_sidebar .author .info{width:70%;padding-top:0}.single-post #mc_main_sidebar .author .info .left{width:65%}.single-post #mc_main_sidebar .author .info .right{width:35%}.single-post #mc_main_sidebar .author .description{float:left;width:70%;clear:none;margin-top:0;padding-top:0}.single-post #mc_main_sidebar .author .button{margin-left:30px}.page-template-solutions-pages .main-title-gotham{font-size:38px;line-height:46px}.solutions-page #mc_page_header_wrap{padding:65px 0 0;height:auto;min-height:auto;background-color:transparent !important}.solutions-page #mc_page_header_wrap h1{color:#333;font-size:50px}.solutions-page #mc_page_header_wrap h2{color:#333}.solutions-page #mc_page_header_wrap p{color:#4e4d4d}.solutions-page #mc_page_header_wrap .container.content{padding-bottom:2em}.solutions-page #mc_page_header_wrap.tall{padding:65px 0 0;height:auto}.solutions-page .main-section .main-section-title span{font-size:32px;line-height:38px}.solutions-page .content .main-section#strategy{margin-top:-50px}.solutions-page section .title{font-size:26px}.solutions-page .home-col.home-esp+.home-col,.solutions-page .home-col{padding:0}.solutions-page .home-col.home-esp{padding:0 30px !important}.solutions-page .home-row{margin-bottom:0}.solutions-page .gform_wrapper ul.gform_fields{margin-bottom:0 !important}.solutions-page .gform_wrapper .gform_fields .gfield{float:none;width:100%;margin:0 auto}.solutions-page .gform_wrapper .gform_fields .gfield input{width:100%;margin-bottom:20px}.solutions-page .gform_wrapper .gform_fields .gfield:nth-child(even) .validation_message{padding-left:0}.solutions-page .gform_wrapper .gform_fields .gfield .validation_message{margin-bottom:20px}.fixed-menu>.container{width:auto}.fixed-menu .menu-item{width:100%;float:none;display:none}.fixed-menu .menu-item.active{display:inline-block;width:100%;padding-left:0;padding-right:0}.fixed-menu .menu-item.active a{font-size:18px}.fixed-menu .title{font-size:18px;padding:10px 0}.fixed-menu .title,.fixed-menu p,.fixed-menu a{text-align:center;float:none}.fixed-menu .menu-item-title{display:block;width:50%;padding-right:0}.fixed-menu .menu-item-title .title{text-align:right}.fixed-menu.our-work .menu-item.active{width:100%}.fixed-menu.our-work .menu-item.active a{text-align:center}.single-team #mc_page_header_wrap{min-height:auto}.single-team #mc_page_header_wrap h1{font-size:42px}.single-team #mc_page_header_wrap .face{text-align:right}.single-team #mc_page_header_wrap .face img{position:relative;width:auto;max-width:350px !important}.single-team #mc_page_header_wrap .post-title-wrapper{width:100%;height:auto;display:block;min-height:auto}.web-mobile .container.content.home{padding-bottom:0}body.landing #outer-sections-container #container-slider .img-responsive{position:absolute;top:0;right:-20%;height:100%;max-width:none !important;width:auto}body.landing #outer-sections-container #container-slider .slider-caption h1{font-size:40px}body.landing #outer-sections-container #container-slider .slider-caption .secondary-title{font-size:20px;margin-top:0}body.landing #outer-sections-container #container-slider .section{position:relative;background-position:center right}body.landing #outer-sections-container .header-footer{height:auto}body.landing #outer-sections-container .header-footer .logo img{width:80%}body.landing #outer-sections-container .header-footer .logo.ritzcarlton{margin-left:0}body.landing #outer-sections-container .header-footer .logo.pcs img{width:100%}body.landing #outer-sections-container .header-footer .logo.ritzcarlton img{width:70px}body.landing #outer-sections-container .header-footer .logo:nth-child(4){padding-bottom:10px}body.landing #outer-sections-container,body.landing #outer-sections-container #container-slider,body.landing #outer-sections-container #container-slider .section.active{height:auto}body.landing #outer-sections-container #intro-text{position:relative;height:auto}footer#mc_main_footer .map{display:none}footer#mc_main_footer .footer_columns p{margin-bottom:0}footer#mc_main_footer .footer_columns .title{margin-bottom:12px}footer#mc_main_footer .footer_first_row{padding-bottom:0}footer#mc_main_footer .footer_first_row .connect{margin-bottom:30px}footer#mc_main_footer .footer_first_row .connect>div:nth-child(2),footer#mc_main_footer .footer_first_row .connect>div:nth-child(3){display:none}footer#mc_main_footer .footer_first_row .connect>div:first-child{width:100%}footer#mc_main_footer .footer_first_row .subscribe{display:block;margin-bottom:10px}footer#mc_main_footer .footer_second_row .widget_nav_menu .menu li{padding:0;display:block;float:none;border-right:0;margin-bottom:18px}footer#mc_main_footer .footer_second_row .widget_nav_menu .menu{float:left;text-align:left;margin-bottom:50px}footer#mc_main_footer .footer3_sidebar_widget p{margin-bottom:25px;line-height:1.4em}footer#mc_main_footer .footer3_sidebar_widget br{display:none}footer#mc_main_footer .copyright_logo img{width:270px}footer#mc_main_footer #copyright_mercury{padding:27px 15px}footer#mc_main_footer #copyright_mercury .copyright_text{margin-top:9px !important}.post-type-archive-work #mc_page_header_wrap{padding-top:95px;padding-bottom:0;background-color:transparent !important}.post-type-archive-work #mc_page_header_wrap h1{font-size:52px;margin-top:30px}.post-type-archive-work #mc_page_header_wrap h1,.post-type-archive-work #mc_page_header_wrap h2,.post-type-archive-work #mc_page_header_wrap p{width:100%}.post-type-archive-work #mc_page_header_wrap .post-title-wrapper{min-height:auto}.post-type-archive-work #mc_page_header_wrap .post-title-wrapper .post-title{min-height:auto;display:block;padding-bottom:40px}.post-type-archive-work .latest-work .title,.post-type-archive-work .latest-work-container .title{font-size:42px;margin-top:100px}.post-type-archive-work .container>.latest-work-container{padding-top:0}.brands .container .row>div{width:100%;text-align:center;padding:30px 0}.brands .row:nth-child(2){margin-top:0 !important;margin-bottom:0 !important}.brands .title{margin-bottom:40px}.brands div.row .posh img{width:130px}.brands div.row .sharkk img{width:100px}.brands div.row .dvunited{left:0}.brands .container div.row{margin:0 auto}.brands .container div.row .logo{float:left}.brands .container div.row .logo.ritz img{width:210px}.brands .container div.row .logo.pcs img{width:190px}body.connect #main_page_wrapp #mc_page_header_wrap{min-height:370px;background-position:right -320px center}body.connect .first-section{background-size:830px;background-position:top 70px center;margin-bottom:50px}body.connect .first-section .title-section{width:100%;text-align:left}body.connect .first-section .title-section br{display:none}body.connect .first-section .left-col{width:100%;text-align:left}body.connect .first-section .left-col ul{padding-left:0;padding-top:50px}body.connect .first-section .right-col{width:100%;padding-top:0;left:0}body.connect .first-section .gform_wrapper{position:relative;left:0;top:0}body.connect .first-section form.get-in-touch{width:100%;max-width:100%}body.connect .first-section .gforms_confirmation_message{position:relative;left:0;top:0}body.connect .first-section .gform_wrapper.gform_validation_error{top:0;left:0;margin-bottom:0}.latest-work-container.solutions-layout .main-title{font-size:54px}.latest-work-container.solutions-layout .work-item .text-content .brand{font-size:30px}.latest-work-container.solutions-layout .work-item .text-content .category{font-size:20px}}@media screen and (max-width:600px){.gform_wrapper .float_left_half_mercury_class{float:none;width:100%}.gform_wrapper .position_absolute_half_right_mercury_class{position:relative;width:100%}.admin-bar .header_scroll~#main_page_wrapp .stuck.fixed-menu{top:48px}form.request-a-proposal .gform_footer{float:none;padding-left:0}form.request-a-proposal .validation_error{position:relative;top:0}.admin-bar #top_header.header_scroll{top:0}.menuAside{width:75vw}#main_page_wrapp.menuIn,#top_header.menuIn,footer#mc_main_footer.menuIn{-webkit-transform:translateX(-75vw);-moz-transform:translateX(-75vw);-ms-transform:translateX(-75vw);-o-transform:translateX(-75vw);transform:translateX(-75vw)}.callBtn{margin-top:60px}.callBtn *{float:none !important;text-align:center}.relatedArticles article .thumb{min-height:400px !important}.how-we-work-page section.section{padding:30px 0}.how-we-work-page h1{margin-top:0 !important;font-size:34px !important}.how-we-work-page h3{font-size:24px !important}.how-we-work-page .banner-wrapper{display:inline-block;text-align:center}.how-we-work-page section#Solutions .mc_tab_item h3{margin:40px 0 20px !important}.how-we-work-page section#Process h3{margin-bottom:60px !important}.how-we-work-page h3{margin:20px 0 !important}.how-we-work-page section#Services .mc_tab_item ul{padding-left:0 !important}.how-we-work-page section#Services .mc_tab_item h3{margin:60px 0 0 !important}.how-we-work-page section#Services img{margin:40px auto 40px auto;width:40%}.how-we-work-page section#Industries{padding-top:40px}.page-template-customer_experience_laboratories-php .stories-studies .item .image{float:none;width:100%;height:200px}.page-template-customer_experience_laboratories-php .stories-studies .item .text-content{width:100%;float:none}.page-template-customer_experience_laboratories-php .stories-studies .item .text-content p:first-child{margin-bottom:0}#main_page_wrapp.customer-experience-page-wrapper #mc_page_header_wrap{padding:40px 10px 20px}#main_page_wrapp.customer-experience-page-wrapper #mc_page_header_wrap .container .mc_page_header_content .gform_wrapper .gform_footer .gform_button{padding:12.5px 20px}.template-shortcode-two-column-wrapper.labs-template .cel-box{width:400px}.template-shortcode-two-column-wrapper .cel-box{margin-top:70px}.template-shortcode-two-column-wrapper .cel-box .thumbnail-background{max-height:220px}.pcs .final-conclusions-first{background-position:center bottom 30px;background-size:310px}.pcs .final-conclusions-second .illustration{height:600px;background-position:left -350px bottom}.pcs .final-conclusions-second .illustration .left,.pcs .final-conclusions-second .illustration .right{width:100%;text-align:center;margin:20px 0}.pcs .final-conclusions-second .illustration .numbers .bigger{font-size:80px}.bluetooth .solution.first{padding-top:0;padding-bottom:10px}.bluetooth .solution.first .left .image img{width:300px}.bluetooth .solution.second{padding-top:60px}.bluetooth .recommendations{padding-top:190px}.bluetooth .recommendations .main-image{top:-280px}.bluetooth .statistics{padding-bottom:0}.bluetooth .statistics .main-image img{width:240px}.frenchtruly #status.content-module{background-image:none}.frenchtruly #status.content-module .right{padding-top:0;width:100%;margin-left:0;padding-bottom:30px}.frenchtruly #rebranding .before-after img{margin:40px 0}.landesa .the-challenge.second .left{width:460px}.landesa .performance{height:106px}.landesa .performance .title{font-size:20px;margin-bottom:16px}.landesa .performance .number{font-size:26px}.dvb .burbavj-poster img{width:330px;margin-left:-165px;top:-90px}.posh2 .branding-elements{padding:70px 0}.posh2 .website-redesign .left{padding-top:30px}.posh2 .profiles .left img{width:350px}.posh2 .advanced-features{background-size:370px;padding:370px 0 50px}.posh2 .sales .right img{width:300px}.guia-epicureo .first-section{background-position:left -190px center;padding:70px 0 50px}.guia-epicureo .laptops .left,.guia-epicureo .laptops .right{width:100%}.guia-epicureo .laptops .left img,.guia-epicureo .laptops .right img{padding-right:10px}.guia-epicureo .ubermap:after{height:430px}.guia-epicureo .ubermap .left{padding-top:0;text-align:center}.guia-epicureo .ubermap .left img{width:240px}.guia-epicureo .ubermap .right{text-align:center}.guia-epicureo .ubermap .right img{width:200px}.guia-epicureo .ubermap .left,.guia-epicureo .ubermap .right{width:100%}.guia-epicureo .facebook .rates .rate{width:100%}.guia-epicureo .facebook .rates .rate .number{padding-top:0}.guia-epicureo .facebook .rates .rate:after{content:"";display:block;margin:0 auto;width:300px;height:2px;border-bottom:1px solid #cacaca;margin-top:50px;margin-bottom:50px}.guia-epicureo .facebook .rates .rate:last-child:after{display:none}.guia-epicureo .app-development .left{padding-bottom:10px;padding-top:40px}.guia-epicureo .app-development .left p{margin-bottom:0}.guia-epicureo .app-development .right{text-align:center;padding-bottom:70px}.guia-epicureo .app-development .right img{position:relative;width:250px}.guia-epicureo .app-development .left,.guia-epicureo .app-development .right{width:100%}.guia-epicureo .statics{background-position:right;background-size:1360px}.guia-epicureo .statics .container>div{width:100%;margin-left:0}.guia-epicureo .statics .static{text-align:center}.guia-epicureo .statics .static .big-number{font-size:70px}.guia-epicureo .statics .static .description{display:block}.error404 #main{min-height:auto;padding-bottom:30px}.error404 #main #animation #ovni{display:none}.error404 #main .container .page-content p.bigger{width:100%}.error404 #main .container .page-header{padding-top:0}.how-we-work-page .content section#Industries .subLine:after{bottom:-15px}.how-we-work-page .content section#Industries .text{margin-top:30px !important}.how-we-work-page .content .mc_tab_content .mc_tab_item .mercury-box p.description{text-align:left}.how-we-work-page section#Services .banner-wrapper{display:inline-block !important;text-align:left !important}.engagement-plans .with-mercury{width:auto;margin-left:-15px;margin-right:-15px}.engagement-plans .master-title br{display:none}.engagement-plans .engagement-plans-section{background-position:center bottom;padding-bottom:330px;margin-bottom:30px}.engagement-plans .strategist-teams{width:auto}}@media screen and (max-width:480px){.page-template-solutions-pages #breadcrumbs>span>span>.bcrumb-sep:first-of-type,.page-template-solutions-pages #breadcrumbs>span>span>a:link:nth-child(1){display:none}.page-template-solutions-pages #breadcrumbs>span>span>.bcrumb-sep:first-of-type span:first-of-type,.page-template-solutions-pages #breadcrumbs>span>span>a:link:nth-child(1) span:first-of-type{display:none}.page-template-solutions-pages #breadcrumbs{margin-bottom:0}#form_section.bottom_form .phone{margin-bottom:0}#form_section.bottom_form .locations-section .location{width:100%}#form_section.bottom_form .locations-section .location br{display:none}#form_section.bottom_form .locations-section .location .contact_info_locations{height:auto}#top_header #header_logo img{height:40px;width:auto}.field_50_left{float:none;width:100%;padding-right:0}.field_50_right{float:none;width:100%;padding-left:0}.page-template-page-agile-marqueting .relatedArticles article .thumb{min-height:300px !important}.single-post #mc_page_header_wrap .post-title-wrapper .post-title{padding:60px 0}.single-post #mc_main_sidebar .gform_wrapper{margin-bottom:30px}.single-post #mc_main_sidebar .gform_wrapper .gfield{width:100%;float:none}.single-post #mc_main_sidebar .gform_wrapper .gfield input{width:100%}.single-post #mc_main_sidebar .gform_wrapper .button{width:100%}.single-post #mc_main_sidebar .author{text-align:center}.single-post #mc_main_sidebar .author h5{text-align:center}.single-post #mc_main_sidebar .author .image{float:none;max-height:calc(40vh);text-align:center;overflow:hidden;padding:0 20%;width:100%;border-bottom:1px solid #d8d8d8}.single-post #mc_main_sidebar .author .image image{height:100%;max-width:auto}.single-post #mc_main_sidebar .author .info{width:100%;padding-left:0}.single-post #mc_main_sidebar .author .info .left{width:100%}.single-post #mc_main_sidebar .author .info .right{width:100%;text-align:center;margin-bottom:10px}.single-post #mc_main_sidebar .author .info .right .social-link{float:none;display:inline;margin:0 10px}.single-post #mc_main_sidebar .author .description{width:100%;padding-left:0;margin-bottom:15px}.single-post #mc_main_sidebar .author .button{margin-left:0}.blog_category_archive_title{font-size:40px;line-height:1em}.blog_category_archive_title .smaller{font-size:1em}.youveda .product-packaging{background-position:right -130px bottom}.youveda .color-palette{width:auto}.youveda .color-palette li{width:23%}.single-case_study .work-youveda .color-palette .section-first,.single-case_study .youveda .color-palette .castle-rock .section-first{background-position:right -1100px bottom;height:400px}.single-case_study .work-youveda .color-palette .section-first img,.single-case_study .youveda .color-palette .castle-rock .section-first img{width:230px}.single-case_study .work-youveda .color-palette .section-fourth .left,.single-case_study .work-youveda .color-palette .section-fourth .right,.single-case_study .youveda .color-palette .castle-rock .section-fourth .left,.single-case_study .youveda .color-palette .castle-rock .section-fourth .right{height:auto}.single-case_study .work-youveda .color-palette .section-fourth .left .first-row,.single-case_study .work-youveda .color-palette .section-fourth .left .second-row,.single-case_study .youveda .color-palette .castle-rock .section-fourth .left .first-row,.single-case_study .youveda .color-palette .castle-rock .section-fourth .left .second-row{height:220px}.single-case_study .work-youveda .color-palette .section-fourth .right,.single-case_study .youveda .color-palette .castle-rock .section-fourth .right{height:340px}.landesa #Landesa_4 img{width:400px}.landesa #Landesa_5{margin-top:-160px}.landesa #Landesa_5 figure:nth-child(1){padding-top:210px}.landesa #Landesa_5 figure:nth-child(2){padding-top:50px}.pcs .final-conclusions-first{background-position:center bottom 30px;background-size:310px}.posh .consistent-branding-elements .container{padding:50px 0}.posh .consistent-branding-elements .container .right p{margin-bottom:0}.posh .james-posh .left{padding-top:60px}.posh .james-posh .right img{width:100%}.posh .james-posh .main-image{padding-top:50px}.posh .web-development{padding-bottom:60px}.posh .web-development .right .main-image{margin-top:70px}.posh .final-conclusions .main-image{padding-bottom:40px}.tmf .our-solution-first{background-size:450px;background-position:bottom right 10px}.tmf .our-solution-second{background-position:bottom -80px right -330px}.tmf-publications h2.big-title,.digital-transformation h2.big-title,.tmfregistrationv2 h2.big-title{font-size:40px}.landesa .the-challenge.second .left{width:250px}.landesa .the-challenge.second .left .row>div{width:100%}.landesa .performance{height:116px}.landesa .performance .title{padding-top:13px;margin-bottom:21px}.landesa .performance.green{background-position:left top}.landesa .performance.bluegrey{background-position:left bottom}.landesa .optimized-numbers{width:250px;margin:0 auto}.landesa .optimized-numbers>div{width:100%}.landesa .optimized-numbers .mustard{background-position:right 5px top}.posh2 .website-redesign .right img{width:320px}.posh2 .profiles .left img{width:300px}.posh2 .advanced-features{background-size:320px;background-position:23px top;padding:320px 0 20px}.bluetooth .statistics{text-align:center}.how-we-work-page h1{line-height:1.25em;font-style:capitalize;font-weight:700;padding:0;font-size:34px}.institutional-style .module h2{font-size:34px}.institutional-style .module h5{line-height:1.46em;font-size:20px;font-weight:700;margin:20px 0 0;padding:0}.how-we-work-page section#services .mc_tab_item h3{margin-top:50px !important}.how-we-work-page section#Services img{margin-top:30px !important;margin-bottom:50px !important}.how-we-work-page .content ul{margin-bottom:50px !important}.how-we-work-page ul.pink-bullet li{margin:30px 0}.how-we-work-page .content section#Industries article{padding:60px 30px}.single-post .join_mail_sect_content span{display:block;float:none;margin:auto}.single-post .join_mail_sect_content{text-align:center}.relatedItems-team .container .row{padding:0 15px}.relatedItems-team .container .row a{margin-top:15px}.single-post .content img{margin-bottom:30px}#main_page_wrapp.customer-experience-page-wrapper #mc_page_header_wrap .container .mc_page_header_content .gform_wrapper .gform_footer .gform_button{padding:12.5px 15px;font-size:14px}#main_page_wrapp.customer-experience-page-wrapper #mc_page_header_wrap .container .mc_page_header_content .mclabslogo{width:270px}.template-shortcode-two-column-wrapper.labs-template .cel-box{width:300px}.template-shortcode-two-column-wrapper .cel-box{margin-top:60px}.solutions-page section.container.content.home{padding-bottom:40px}.solutions-page section.container{padding:50px 14px}.solutions-page g{padding:80px 0 0}.solutions-page g h1{font-size:46px}.solutions-page g h2{font-size:20px}.solutions-page .solution-section .right{border:0;padding-left:15px}.solutions-page .content .main-section{padding-top:110px;margin-bottom:35px}.solutions-page .content .main-section#strategy{margin-top:-70px}.solutions-page .institutional-style.content{margin-bottom:3.2rem}.solutions-page .form.what-we-do{padding:15px 0}.solutions-page .form.what-we-do h5{padding:0 15px}.solutions-page .form.what-we-do .gfield{width:100%}.solutions-page .form.what-we-do .gform_wrapper .gform_fields .gfield{width:100%}.solutions-page .form.what-we-do .gform_wrapper .gform_fields .gfield:nth-child(odd) input,.solutions-page .form.what-we-do .gform_wrapper .gform_fields .gfield:nth-child(even) input{width:100%}.solutions-page .form.what-we-do .gform_wrapper .gform_footer{padding-top:0;padding-bottom:30px}.latest-work-container.solutions-layout .main-title{font-size:54px}.latest-work-container.solutions-layout .work-item .text-content .brand{font-size:22px}.latest-work-container.solutions-layout .work-item .text-content .category{font-size:16px}.main-title-gotham{font-size:46px;line-height:.9em}.fixed-menu .menu-item-title .title{display:none}.fixed-menu .menu-item.active{width:100%}.fixed-menu .menu-item.active a{text-align:center}.page-about-wrapper article#Announcements-slider .item>div:nth-child(1){width:100%}.page-about-wrapper article#Announcements-slider .item>div:nth-child(2){width:100%}.page-about-wrapper .people-shortcode-container .people{width:80%;margin:0 auto;float:none;margin-bottom:30px}.page-about .people-shortcode-container .people{width:320px;margin:0 auto;margin-bottom:30px;float:none}body.about .bigtitlegray{font-size:40px;line-height:1em;margin-bottom:20px}.web-mobile .logos .logo{width:29%}body.landing #outer-sections-container .header-footer .logo{width:33%}body.landing #outer-sections-container .header-footer .logo img{width:60%}body.landing #outer-sections-container .header-footer .logo.ritzcarlton{display:none}body.connect #main_page_wrapp #mc_page_header_wrap{background-size:750px;background-position-x:-149px;min-height:auto}body.connect .first-section .contact-section p{font-size:20px;margin-bottom:0}body.connect .first-section .left-col{text-align:left;width:100%}body.connect .first-section ul{padding-left:0}body.connect .first-section form.get-in-touch .gform_button{width:100%}}@media screen and (max-width:400px){body.post-type-archive-work .fixed-menu{display:none}body.post-type-archive-work #main_page_wrapp>.container{padding-top:30px}body.post-type-archive-work .fixed-menu.our-work{display:none}body.post-type-archive-work .latest-work-container.solutions-layout .work-footer{padding:30px 0}}@media screen and (min-width:1366px){.castle-rock .section-first{background-position:center bottom}.landesa #Landesa_1{max-height:850px}.landesa #Landesa_4{max-height:790px}.youveda .product-packaging .right{right:-90px}.youveda .tea-bags .right{background-position:center center}.tmf .our-solution-second{background-position:center center}.dvb .burbavj-poster img{top:-430px;right:170px}.dvb .camera-section img.camera{left:0}.posh2 .advanced-features{background-position:top right -40px}.guia-epicureo #mc_page_header_wrap{background-position:right -180px top 20px}.guia-epicureo .first-section{padding:260px 0 180px;background-position:left 30% center}.pcs-posh-event-booths .section-6{background-size:1350px}.page-about #mc_page_header_wrap{background-position:center right 10%}.solutions-page #mc_page_header_wrap{background-position:left 55vw top 0}}@media screen and (max-width:1024px){.post-title h1{font-size:42px}}@media screen and (max-width:767px){.post-title{margin-top:0}.post-title h1{font-size:32px}.brand_tag{margin-top:0 !important}}ul.tax-list{margin:0;padding:0}ul.tax-list li{list-style:none;font-size:22px;font-weight:600;margin-bottom:15px}ul.tax-list li a{color:#44394f}ul.tax-list li.active a,ul.tax-list li a:hover{color:#b8244b}.showcase_shuffle .item{position:relative}.showcase_shuffle .item a.overlay-wrap{position:absolute;width:100%;height:100%;z-index:99;opacity:.5}.showcase_shuffle .item a.item-link{display:none;font-size:16px;font-weight:800;color:#fff;padding:20px 40px;border:1px solid #fff;border-radius:40px;position:absolute;z-index:100;top:calc(50% - 30px);left:calc(50% - 80px);z-index:110}.showcase_shuffle .item:hover a{display:inline-block}.showcase_shuffle .item:hover{transform:scale(1.1,1.1);transition:all ease-in-out .2s}.showcase_shuffle .item:hover .overlay{position:absolute;width:100%;height:100%;z-index:95;opacity:.5} @font-face{font-family:"gotham";src:local('Gotham-Black'),url('https://cdn.mercury.one/wp-content/themes/pro-child/custom/fonts/Gotham-Black.ttf') format('truetype');font-weight:900;font-display:swap}@font-face{font-family:"gotham";src:local('Gotham-Bold'),url('https://cdn.mercury.one/wp-content/themes/pro-child/custom/fonts/Gotham-Bold.otf') format('opentype');font-weight:700;font-display:swap}@font-face{src:local('Gotham-Book'),url('https://cdn.mercury.one/wp-content/themes/pro-child/custom/fonts/Gotham-Book.otf') format('opentype');font-display:swap}@font-face{font-family:"gotham";src:local('Gotham-Light'),url('https://cdn.mercury.one/wp-content/themes/pro-child/custom/fonts/Gotham-Light.ttf') format('truetype');font-weight:300;font-display:swap}@font-face{font-family:"gotham";src:local('Gotham-Medium'),url('https://cdn.mercury.one/wp-content/themes/pro-child/custom/fonts/Gotham-Medium.ttf') format('truetype');font-weight:600;font-display:swap}.font_helvetica,.font_helvetica *{font-family:Helvetica,Arial,sans-serif !important}.x-navbar{border-bottom:none;box-shadow:none;-webkit-box-shadow:none;-moz-box-shadow:none}body,body p{font-family:Helvetica,Arial,sans-serif !important;line-height:1.5}body a{font-family:Helvetica,Arial,sans-serif}body h1,body h2,body h3,body h4,body h5,body h6{font-family:"gotham" !important;margin-top:0}.h1,.h2,.h3,.h4,.h5,.h6{margin-top:0 !important}.font_gotham{font-family:"gotham" !important}.font_proxima{font-family:"proximaxnova" !important}.x-navbar .x-nav-wrap .x-nav>li>a{font-family:Helvetica,Arial,sans-serif !important}.text_upper{text-transform:uppercase}.fs_80{font-size:80px;line-height:1}.fs_72{font-size:72px;line-height:1}.fs_60{font-size:60px;line-height:1.2}.fs_54{font-size:54px;line-height:1}.fs_50{font-size:50px;line-height:1.2}.fs_45{font-size:45px;line-height:1.2}.fs_40{font-size:40px;line-height:1.2}.fs_37{font-size:37px;line-height:1.2}.fs_32{font-size:32px;line-height:1.3}.fs_30{font-size:30px !important;line-height:1.4}.fs_28{font-size:28px;line-height:1.4}.fs_26{font-size:26px;line-height:1.4}.fs_24{font-size:24px;line-height:1.4}.fs_22{font-size:22px;line-height:1.4}.fs_20{font-size:20px}.fs_18{font-size:18px}.fs_16{font-size:16px}.fs_14{font-size:14px}.font_light{font-weight:300 !important}.font_regular{font-weight:400 !important}.font_medium{font-weight:600 !important}.font_bold{font-weight:700 !important}.font_black{font-weight:900 !important}.color_white,.white{color:#fff !important}.color_black{color:#000 !important}.color_pink{color:#b8244b !important}.color_violet_1,.color_violate_1{color:#44394f}.color_violet_2,.color_violate_2{color:#252659}.color_violet_3,.color_violate_3{color:#221b29}.color_sky_1{color:#00adff !important}.fancybox-content{padding:0}.text-right{text-align:right}a.x-btn.btn_pink{background-color:#b8244b;border:none;box-shadow:none !important;text-transform:uppercase;padding:20px 40px;border-radius:40px;text-shadow:none;font-weight:700;margin:0}.box_flex{display:flex;min-height:245px;background:#fff;flex-direction:column;width:100%;max-width:400px;margin:auto;justify-content:center;position:relative;padding:20px;border-radius:5px;box-shadow:0px 13px 23px 0px rgba(0,0,0,.23)}.box_flex .title_flex{display:flex;font-family:Helvetica,Arial,sans-serif;align-items:center;color:#44394f;font-weight:600;font-size:22px;text-transform:uppercase;z-index:9999}.services .box_flex{justify-content:unset}.services .box_flex .title_flex{margin:5% 0}.flex_btn{background-image:url(data:image/png;base64,iVBORw0KGgoAAAANSUhEUgAAAKkAAABWCAYAAAC0EbbjAAAETElEQVR4Xu3duU4bURTG8TMSouYREgn3VOndWImrlCkDj5IHoEwJKemSiq2BPkVSRtgFbxDXZJnIChbGnuXOXc/yuUL4jj3858cZW4xFRbihAPMCFfP9w+6hAAEpELAvAKTsDxF2EEhhgH0BIPU4RKPRu/d1RafzuzP08+jXtMnNi7d7v3Yejifz86PN+xF5YOQV0OVmQDowXsvyJdCHnYebiurFZH4xBtKArutAgTQg5NqmK6BEdFBRfQukAV03gQJpQMzHTdeBLr8FpAFNm4ACaUBQItoECqQBPduAAql/1CagQOrZswsokPpFbQMKpB49+4AC6fCoXUCBdGBPF6BAOixqH1AgHdDTFSiQukd1AQqkjj2HAAVSt6iuQIHUoedQoEDaH3UIUCDt6ekDFEi7ow4FCqQdPX2BAml7VB+gQNrSMwQokDZH9QUKpA09Q4EC6XbUEKBAutEzBlAg3UZ6tT/9tryaqf8tVfMKXGDy2CUWUCB9Du16f3pSEx36AsUkTQAUSJ84xgAKpEQUc4KuDg+uzCeKBdQ80hRAMUnjAjWNNBVQ60hjTtDVmcnkG6eUQC0jTQHU5CRNDdQq0lRAzSHNAdQi0pRATSHNBdQa0tRAzSDNCdQS0hxATSDNDdQK0lxA1SMtAdQC0pxAVSMtBVQ70txA1SItCVQz0hJAVSItDVQr0lJA1SHlAFQj0pJAVSHlAlQb0tJA1SDlBFQTUg5AVSDlBlQLUi5AxSPlCFQDUk5ARSPlClQ6Um5AxSLlDFQyUo5ARSLlDlQqUq5AxSGVAFQiUs5ARSGVAlQa0svR9LCq6ZiI9pb7zvEm4jNOkoBKQvoI9IQjzPV9Yo9UGlApSKUAZX+6lwhUAlJJQFkjlQqUO1JpQNkilQyUM1KJQFkilQ6UK1KpQNkh1QCUI1LJQFkh1QKUG1LpQNkg1QSUE1INQFkg1QaUC1ItQIsj1QiUA1JNQIsi1Qq0NFJtQIsh1Qy0JFKNQIsg1Q60FFKtQLMjtQC0BFLNQLMitQI0N1LtQLMhtQQ0J1ILQLMgtQY0F1IrQJMjtQg0B1JLQJMitQo0NVJrQJMhtQw0JVKLQJMgtQ40FVKrQKMjBdBlUqLY/wDXMtCoSAH0P9DYSK9H04O6phvOn4t/+snTfBXlI80A+vzgxJqkAPq/azBSAN2eHjGQAuhT1yCkANp8egtFCqDPu3ojBdBmoBXR19nd2SvfV2cAul3OCymAthOsajqczc4++SAF0LZf/Pp2Mr8Yb95btUUG0A6gAVMUQLu6DkAKoO2neKrpIyaoz/mjf5u6oqPXs/NT50na/5BYMaQAJmhvrcXu792X4/svCyDtbRV/AYD2Nl1UFY0ns/PvTStbX5P2PiwWOBe42p/+tPyXpI5Qi4ro85+dvx/e/Li8b1sHpM7UsLBUASAtVR7P61wASJ1TYWGpAkBaqjye17kAkDqnwsJSBf4Bis6ihPbAtQ0AAAAASUVORK5CYII=);position:absolute;right:10px;bottom:10px;width:68px;height:68px;display:flex;align-items:flex-end;justify-content:flex-end;padding:12px 12px 4px 0;color:#fff;cursor:pointer;border-radius:0 0 5px;font-size:30px;line-height:1;font-weight:900;background-repeat:no-repeat !important;background-color:#fff;background-position:-5px -5px}a.flex_btn,a.flex_btn:hover{color:#fff}.flex_btn.pink{background-image:url(data:image/png;base64,iVBORw0KGgoAAAANSUhEUgAAAKkAAABWCAYAAAC0EbbjAAAETElEQVR4Xu3duU4bURTG8TMSouYREgn3VOndWImrlCkDj5IHoEwJKemSiq2BPkVSRtgFbxDXZJnIChbGnuXOXc/yuUL4jj3858cZW4xFRbihAPMCFfP9w+6hAAEpELAvAKTsDxF2EEhhgH0BIPU4RKPRu/d1RafzuzP08+jXtMnNi7d7v3Yejifz86PN+xF5YOQV0OVmQDowXsvyJdCHnYebiurFZH4xBtKArutAgTQg5NqmK6BEdFBRfQukAV03gQJpQMzHTdeBLr8FpAFNm4ACaUBQItoECqQBPduAAql/1CagQOrZswsokPpFbQMKpB49+4AC6fCoXUCBdGBPF6BAOixqH1AgHdDTFSiQukd1AQqkjj2HAAVSt6iuQIHUoedQoEDaH3UIUCDt6ekDFEi7ow4FCqQdPX2BAml7VB+gQNrSMwQokDZH9QUKpA09Q4EC6XbUEKBAutEzBlAg3UZ6tT/9tryaqf8tVfMKXGDy2CUWUCB9Du16f3pSEx36AsUkTQAUSJ84xgAKpEQUc4KuDg+uzCeKBdQ80hRAMUnjAjWNNBVQ60hjTtDVmcnkG6eUQC0jTQHU5CRNDdQq0lRAzSHNAdQi0pRATSHNBdQa0tRAzSDNCdQS0hxATSDNDdQK0lxA1SMtAdQC0pxAVSMtBVQ70txA1SItCVQz0hJAVSItDVQr0lJA1SHlAFQj0pJAVSHlAlQb0tJA1SDlBFQTUg5AVSDlBlQLUi5AxSPlCFQDUk5ARSPlClQ6Um5AxSLlDFQyUo5ARSLlDlQqUq5AxSGVAFQiUs5ARSGVAlQa0svR9LCq6ZiI9pb7zvEm4jNOkoBKQvoI9IQjzPV9Yo9UGlApSKUAZX+6lwhUAlJJQFkjlQqUO1JpQNkilQyUM1KJQFkilQ6UK1KpQNkh1QCUI1LJQFkh1QKUG1LpQNkg1QSUE1INQFkg1QaUC1ItQIsj1QiUA1JNQIsi1Qq0NFJtQIsh1Qy0JFKNQIsg1Q60FFKtQLMjtQC0BFLNQLMitQI0N1LtQLMhtQQ0J1ILQLMgtQY0F1IrQJMjtQg0B1JLQJMitQo0NVJrQJMhtQw0JVKLQJMgtQ40FVKrQKMjBdBlUqLY/wDXMtCoSAH0P9DYSK9H04O6phvOn4t/+snTfBXlI80A+vzgxJqkAPq/azBSAN2eHjGQAuhT1yCkANp8egtFCqDPu3ojBdBmoBXR19nd2SvfV2cAul3OCymAthOsajqczc4++SAF0LZf/Pp2Mr8Yb95btUUG0A6gAVMUQLu6DkAKoO2neKrpIyaoz/mjf5u6oqPXs/NT50na/5BYMaQAJmhvrcXu792X4/svCyDtbRV/AYD2Nl1UFY0ns/PvTStbX5P2PiwWOBe42p/+tPyXpI5Qi4ro85+dvx/e/Li8b1sHpM7UsLBUASAtVR7P61wASJ1TYWGpAkBaqjye17kAkDqnwsJSBf4Bis6ihPbAtQ0AAAAASUVORK5CYII=);background-position:-89px -5px}.box_flex.strip_class{background-image:url(data:image/png;base64,iVBORw0KGgoAAAANSUhEUgAAAN4AAABeCAMAAAB7CVpdAAAAHlBMVEVHcEz72a/72a/72a/72a/72a/72a/72a/72a/72a8UASA2AAAACXRSTlMA47tEhhhlnzD9l3/zAAABq0lEQVR42t3bC3KCQBAA0d4PsLn/hUM0lVJLCWvQ7HTf4NXAsPihflhLM2vTogUuXz5KtvpO84M5Sa/PM4+pOoHwA1TznDsG1ECusy1RUANBDQQ1ENRAHlUWNc/xmGCr+Ec1tpuCH7b5tTmreaG3DLsKexOyt5hPQvYXcYR0FW6EdDbFWqT0F+ki5alaFCHP1mo28873YRLzTrt07CFyQOt1msS804Xa6pK9vG9kmWvOWt6FchniguWVtTbX/50m76ms81wH+nYq76+VUuoJm4y8G2t95ZOTIVrv0deMknGayvFGBqsde45lwMpxr1uM2VEvlAzbIZ96MHAHfHAFaiCogQzfn76jGp9Hy2reOkA3j5bUPMhuHoub99wNiNuH24fbh9sXi9e9P3H7ovGmrOZ1ns/C8ShuXtf6DMjrWS8ReR3rhZC+pObtX58xebvXZ1De3vWJ2xeWt+/xgNuH24fbh9uH24fbh9uH2xeft3l+weBLat7G+5GC9/j9HUnVzaMkNe/+/9ARdWeDmnh3Boir299oYet6xeDrcoIYa0sy875GeBbibZpr/gRsaDqGrsTs5wAAAABJRU5ErkJggg==);background-repeat:no-repeat;background-size:101% auto;background-position:top center}.box_flex.strip_class,.modal_flex_box .modal_box_container{background-image:url(data:image/png;base64,iVBORw0KGgoAAAANSUhEUgAAAN4AAABeCAMAAAB7CVpdAAAAHlBMVEVHcEz72a/72a/72a/72a/72a/72a/72a/72a/72a8UASA2AAAACXRSTlMA47tEhhhlnzD9l3/zAAABq0lEQVR42t3bC3KCQBAA0d4PsLn/hUM0lVJLCWvQ7HTf4NXAsPihflhLM2vTogUuXz5KtvpO84M5Sa/PM4+pOoHwA1TznDsG1ECusy1RUANBDQQ1ENRAHlUWNc/xmGCr+Ec1tpuCH7b5tTmreaG3DLsKexOyt5hPQvYXcYR0FW6EdDbFWqT0F+ki5alaFCHP1mo28873YRLzTrt07CFyQOt1msS804Xa6pK9vG9kmWvOWt6FchniguWVtTbX/50m76ms81wH+nYq76+VUuoJm4y8G2t95ZOTIVrv0deMknGayvFGBqsde45lwMpxr1uM2VEvlAzbIZ96MHAHfHAFaiCogQzfn76jGp9Hy2reOkA3j5bUPMhuHoub99wNiNuH24fbh9sXi9e9P3H7ovGmrOZ1ns/C8ShuXtf6DMjrWS8ReR3rhZC+pObtX58xebvXZ1De3vWJ2xeWt+/xgNuH24fbh9uH24fbh9uH2xeft3l+weBLat7G+5GC9/j9HUnVzaMkNe/+/9ARdWeDmnh3Boir299oYet6xeDrcoIYa0sy875GeBbibZpr/gRsaDqGrsTs5wAAAABJRU5ErkJggg==)}.modal_flex_box.sky .box_flex.strip_class,.modal_flex_box.sky .modal_box_container{background-image:url(data:image/png;base64,iVBORw0KGgoAAAANSUhEUgAAAN4AAABeCAMAAAB7CVpdAAAAHlBMVEVHcEyD29mD29mD29mD29mD29mD29mD29mD29mD29kpYnpVAAAACXRSTlMA10a8ZIYQnyqgq7PwAAABsElEQVR42t3cC5LCIBQF0ebP7H/DQxx1SssoJFF5t3dwCgIkUhJ+VHORlneywLL4iLLA0/iRk+r85FzR9F145CDNa2tMkOYpArlNbREFaSBIA0EaCNJA1tJYRUEayLNqkeY1YJLmtbOo6VWGjgw/hHRl9iGkM6NzlP58keZZHEIGq8kp84xNUjZlRsjWvIlZyvZyjUGY14BkX5ws74z0KQjz/jaMZnS6vCuyBF3eZVX1aZKx5I3lE/OrTj5SXaBNGjR5d2Pq46ewfLdl/r5z52SKfHyTkXmq8fhjLJN18AmI+coHvm4xZ0cJmbVjvuswb/mAz8dM3W4gk7dzis7O23khjPmrTpoHSZtH1eZRgzSPXKR5G2+c2uERtXlbfGj7TPHGnz+0fcZ4OG1edtK8wfOZOd7Y8mmPN/T+YJBH0OYNLC8WeQPLC9o+m7zu5RNtn1Ve5+kTbZ9dXtf2Z5jXs/2h7UPbh+2cNu/V+GHdF6R5L/Y/tH0CvGfnTwUeXpu3/vu0Bm/15z9Uitq8xxMUoZI278EFA7S6/1cy1Lq9hAbSQBT7vyeJZjkWZd5pDFNxv3d1O2opb3Q0AAAAAElFTkSuQmCC)}.modal_flex_box.violet .box_flex.strip_class,.modal_flex_box.violet .modal_box_container{background-image:url(data:image/png;base64,iVBORw0KGgoAAAANSUhEUgAAAN4AAABeCAMAAAB7CVpdAAAAGFBMVEVHcEyvg52vg52vg52vg52vg52vg52vg50/kY/TAAAAB3RSTlMAFI7D6WE7zNO9IwAAAbFJREFUeNrd3AtugzAQANEx2O79b1wgjZQPUH5pvTM3eFrYQOSE/staLgyVrAV2oy91Wt80Py8wc6tKb0Hu1azmOXcMqIFPvGHHZDNvyAV847kmyFwe4CzPM0EWSo4tynIGIGvFf1RjvdqpeaTYW4bfi7xl2FTYm5CNBb1G2V7p1byII2RnNZaQ3aVIFymHCiPkYMMMs5gX5D7kXK0PkfPV0vVi3jjEyZitvLtyRPZa3oOykVnyodJ4U07M3sh7GecIHaRZyXuh1jJN9S+w/G/1wxuXFkrlU08HNNO4b7OXd9u2Fz8B0V5XvlDSZlcJabVrvteh4S74+hjUQFADW+edPBBG+505LxWAd2aAhOjwHRiDd/gCDcIj9WrewRsQt49AdW7egfmBen6xeLv3J25fMN7ez/doPIqbt2+94PYF5O1ZL0T0uXk71mdI3vb1idsXlLd1fUblbXx7IKyvV/O2+XD7cPtw+3D7cPtw+3D7iO/r1LzV508Db+X9QcFbfr918BYXDJY6N2/+AvXwZj8hMPX+E19cFTfv9d9KdLzng6AIezitjLP0c+IcbWk8VP8NTH/1yQBgvLMAAAAASUVORK5CYII=)}.modal_box{position:fixed;width:100%;height:100%;left:0;top:0;z-index:9999999 !important;display:block;background:rgba(0,0,0,1)}.x-section.position_static{position:static !important}.modal_box.dark{background:rgba(0,0,0,1)}.modal_box_container{position:absolute;top:50%;left:50%;transform:translate(-50%,-50%);background:#fff;width:100%;max-width:450px;box-shadow:0px 0px 23px 0px #000;padding:40px;background-repeat:no-repeat;background-position:right top;background-size:40%;border-radius:10px}.modal_flex_box .modal_box.dark .modal_box_container{background:#fff !important}.mb_btns{display:table;width:100%;text-align:center}.mb_btns>a{border:1px solid;width:45%;display:inline-block;vertical-align:middle;padding:13px 10px;margin:0 2%;font-weight:700;border-radius:40px;font-size:20px}.modal_box_ovelay,.body_app_overlay{position:absolute;width:100%;height:100%;top:0;left:0}a.mb_close{color:#666}.modal_box.dark a.mb_close{color:#fff;position:absolute;top:-16%;right:1%}.testimonial_box{position:relative;overflow:visible;display:table;width:100%}.testimonial_box li.x-block-grid-item:first-child{position:absolute;right:100%;width:65px;height:65px;background:#fff;box-shadow:6px 9px 16px 0px rgba(0,0,0,.22);border-radius:50%;bottom:0}.testimonial_box li.x-block-grid-item:first-child img{position:absolute;width:70%;margin:0;left:50%;top:50%;transform:translate(-50%,-50%)}.testimonial_box li.x-block-grid-item:last-child{background:#fff;padding:30px;border-radius:5px;width:100%;color:#44394f}.testimonial_box .t_text{font-size:18px;font-weight:700;padding-bottom:40px}.testimonial_box .t_info{font-size:15px}.testimonial_box .t_auth{font-weight:700}.testimonial_box li.x-block-grid-item:last-child:before{content:'';display:block;position:absolute;border-right:15px solid #fff;border-bottom:15px solid transparent;border-top:15px solid transparent;bottom:20px;right:100%}.alter_column>.x-column:first-child{float:right;margin-right:0;order:2}.service_thankyou_msg{text-align:center;min-height:360px;align-items:center;display:flex;flex-direction:column;justify-content:center;font-size:18px;color:#000}.service_thankyou_msg h3{font-size:30px;color:#252659}.x-container.max.width.partner{padding-top:70px !important;padding-bottom:70px !important}.partner .x-image{position:relative;display:flex;align-items:center;min-height:485px;width:100%}.partner>.x-row-inner>.x-col:first-child{width:54%}.partner>.x-row-inner>.x-col:last-child{width:44%}.partner .mac,.partner .ipad{transform:translateX(7%)}.partner.alter_column .mac,.partner.alter_column .ipad{transform:translateX(-7%)}.partner .x-image.im_before .p_img_before{position:absolute;width:85%;background:#f2f2f2;display:block;height:100%;content:'';left:0;right:auto}.partner .x-image img{position:relative;z-index:2;margin:auto}.partner .x-image.im_before.im_before_1 .p_img_before{background:#bb101d}.partner .x-image.im_before.im_before_2 .p_img_before{background:#34495a}.partner .x-image.im_before.im_before_3 .p_img_before{background:#d39b4e}.partner.alter_column>.x-row-inner{flex-direction:row-reverse}.partner.alter_column .x-image.im_before .p_img_before{left:auto;right:0}.partner{padding-top:70px !important}.partner h3{padding-bottom:20px}.max_460{max-width:460px}.max_385{max-width:385px}.partner .x-image .mac_bg{position:absolute;width:73%;height:48.5%;left:13.5%;top:18%;background-size:cover;background-color:#000}.partner .x-image .ipad_bg{position:absolute;left:15%;top:9%;width:71%;height:76%;background-color:#fff;background-size:cover}.x-row-inner{justify-content:space-between;align-items:center}.solution_popup{max-width:800px;width:96%;padding:30px;max-height:90vh}.popup_how_can_we_help{max-width:100vw;width:100%;padding:30px;max-height:100vh;min-height:100vh}.fancybox-slide--html{padding:0}.fancybox-container{z-index:999900}button.fancybox-button svg *{fill:red !important}.popup_how_can_we_help h2{text-align:center;font-family:"gotham" !important;font-size:28px;font-weight:600 !important;margin:40px 0}.popup_how_can_we_help ul.gform_fields.top_label .gfield_label{font-family:Helvetica,Arial,sans-serif;font-size:16px}.connect_pop_v2{max-width:1000px;margin:auto}.popup_how_can_we_help ul.gform_fields .gfield_radio label{font-family:Helvetica,Arial,sans-serif;font-size:16px;font-weight:300}.popup_how_can_we_help .ginput_container input{height:42px;box-shadow:none;border-radius:0;font-family:Helvetica,Arial,sans-serif !important;font-size:16px !important;font-weight:300;width:100% !important}.popup_how_can_we_help ul.gform_fields .gfield_radio li{padding:5px 0 !important}.popup_how_can_we_help .ginput_container textarea.textarea{height:90px;box-shadow:none;border-radius:0;font-family:Helvetica,Arial,sans-serif !important;font-size:16px !important;font-weight:300}.popup_how_can_we_help iframe{width:100%;height:620px}.list_page_popup{max-width:750px;margin:auto;padding-bottom:20px}.list_page_popup ul{display:flex;margin:0}.list_page_popup li{list-style:none;padding:5px;flex-basis:33.33%;text-align:center}.list_page_popup li a{color:#000}@media screen and (min-width:768px){.x-row-inner>.x-col{width:50%}}.partner .x-image .mac,.partner .x-image .ipad{position:relative}.max_385{max-width:385px}.partner .x-image .mac_bg{position:absolute;width:73%;height:48.5%;left:13.5%;top:18%;background-size:cover;background-color:#000}.partner .x-image .ipad_bg{position:absolute;left:15%;top:9%;width:71%;height:76%;background-color:#fff;background-size:cover}@media screen and (max-width:992px){.testimonial_box li.x-block-grid-item:first-child{display:none}}@media screen and (max-width:1024px){.fs_37{font-size:30px}.fs_32{font-size:28px}.fs_40{font-size:32px}.fs_20{font-size:18px}.box_flex .title_flex{font-size:16px}.fs_50{font-size:42px}.fs_60{font-size:46px}.fs_72{font-size:54px}.fs_80{font-size:72px}.testimonial_text{font-size:25px}.pb_title a{font-size:25px}}@media screen and (max-width:992px){.fs_45{font-size:40px}.x-section>.x-container{display:flex;flex-direction:column}.x-section>.x-container>.x-column{width:100%;margin:0}.testimonial_box li.x-block-grid-item:first-child{right:0;bottom:-15px}.testimonial_box li.x-block-grid-item:last-child:before{display:none}.mob_alter{flex-direction:column-reverse !important}}@media screen and (max-width:979px){header.masthead.masthead-inline{border-bottom:1px solid gray}.x-brand{margin-left:auto;margin-right:auto;float:none;display:table}a#x-btn-navbar{position:absolute;left:0;top:0;padding-left:0;padding-right:0;box-shadow:none;color:#000;background:0 0 !important}}@media screen and (max-width:768px){.fs_45{font-size:45px}.fs_28{font-size:30px}.fs_18{font-size:20px}.fs_14{font-size:20px}}@media screen and (max-width:567px){.fs_54{font-size:60px}.fs_24{font-size:32px}.fs_18{font-size:26px}.fs_28{font-size:36px}.fs_45{font-size:50px}.fs_80{font-size:100px}.fs_14{font-size:26px}}@media screen and (max-width:414px){.fs_54{font-size:50px}.fs_45{font-size:32px}.fs_24{font-size:24px}.fs_18,.fs_alt_14{font-size:20px}.fs_28{font-size:26px}.fs_45{font-size:40px}.fs_14{font-size:20px}}@media screen and (max-width:375px){.fs_45{font-size:32px}.fs_14{font-size:16px}}@media screen and (max-width:767px){.fs_50{font-size:60px}.fs_60{font-size:64px}.fs_72{font-size:60px}.fs_40{font-size:60px}.fs_37{font-size:40px}.fs_32{font-size:38px}.fs_30{font-size:45px}.fs_26{font-size:40px}.fs_22{font-size:36px}.fs_20{font-size:30px}.single-service .fs_20{font-size:20px}.list_page_popup ul{flex-wrap:wrap}.list_page_popup li{flex-basis:100%}.box_flex{max-width:unset}.box_flex .title_flex{font-size:35px}.box_flex.strip_class{background-size:50% auto;background-position:top right}.mb_btns>a{width:48%;padding:7px 5px;margin:0 1%;font-size:12px}.modal_box_container{padding:25px}hr.x-gap[style="margin: 50px 0 0 0;"]{margin-top:25px !important}hr.x-gap[style="margin: 100px 0 0 0;"]{margin-top:40px !important}.alter_column>.x-column:first-child{float:none}}@media screen and (max-width:480px){.fs_40{font-size:32px}.h-custom-headline br{display:none}}@media screen and (max-width:420px){.fs_50{font-size:32px}.fs_60{font-size:36px}.fs_72{font-size:42px}.fs_40{font-size:26px}.fs_37{font-size:25px}.fs_32{font-size:24px}.fs_30{font-size:22px}.fs_26{font-size:20px}.fs_22{font-size:20px}.fs_20{font-size:18px}.fs_18{font-size:16px}.box_flex .title_flex{font-size:24px}a.x-brand.img{max-width:200px}.fs_80{font-size:80px}}.blog_listing_1.x-main.full{padding-top:45px;background:#fff}a.post_thumb_link_1,a.post_thumb_link_2{position:relative;overflow:hidden;padding-bottom:65%;display:block;background:#999}.post_thumb_1{margin-bottom:10px}.post_category_1{padding:5px 0 7px}.post_category_2{padding-bottom:7px}.post_category_1,.post_category_1 a,.post_category_2,.post_category_2 a{color:gray;font-family:Helvetica,Arial,sans-serif;font-size:14px;text-transform:uppercase}.post_title_1 a{color:#1a1a1a;font-weight:700;font-family:Helvetica,Arial,sans-serif;font-size:22px;line-height:1.2}a.post_thumb_link_1 img,a.post_thumb_link_2 img{position:absolute;width:100%;height:auto;top:50%;-moz-transform:translateY(-50%);-webkit-transform:translateY(-50%);transform:translateY(-50%)}.post_box_1{margin-bottom:50px}.pb_ml_2{width:80%;background:#fff;margin-top:-70px;position:relative;padding:15px 0;z-index:2;padding-right:15px}.post_title_2 a{color:#b8244b;font-size:40px;display:block;line-height:1.2;font-family:Georgia,Times,Times New Roman,serif;font-weight:700}.pb_exp_2{font-family:Helvetica,Arial,sans-serif;color:#1a1a1a;font-size:20px;line-height:1.2;padding-top:10px}.se_acc_list{border-bottom:1px solid #ccc;padding:0 0 7px;margin-bottom:7px}.se_acc_title{color:#b8244b;text-transform:uppercase;cursor:pointer;font-size:14px;font-family:Helvetica,Arial,sans-serif}.se_acc_body a{display:block;color:#1a1a1a;font-family:Helvetica,Arial,sans-serif;font-weight:600;font-size:16px;margin-top:15px;line-height:1.2}.se_acc_body{padding:15px 0}.cat_tm h3{margin:0;font-family:"gotham",sans-serif;font-weight:300;color:#44394f;font-size:54px}.cat_head_m{display:flex;width:100%;flex-wrap:wrap;flex-direction:row;justify-content:space-between;align-items:flex-end;padding-bottom:30px}.pm_m_out{display:flex}.pb_m_1{width:40%;padding-right:30px}.pb_m_2,.pb_m_3{width:30%;padding-right:30px}.pb_m_3{padding-right:0}.pb_m_1 .post_title_2 a{font-size:24px;line-height:1.2}.pb_m_1 .pb_exp_2{font-size:18px}.pb_m_1 .pb_ml_2{width:90%;padding-right:10%}.cat_bt_m{font-size:22px;font-family:Helvetica,Arial,sans-serif;color:#44394f}.cat_bt_m a{color:#b8244b;font-weight:700;font-family:Helvetica,Arial,sans-serif}.sec_lc{display:flex}.lc_1{width:40%;padding-right:30px}.lc_2{width:60%}.list_box ul{list-style:none;margin:0}.list_box ul li a{color:#8d8d8f;font-size:20px;text-transform:uppercase;font-family:Helvetica,Arial,sans-serif;font-weight:600;display:block;padding:8px 10px;transition:.3s}.list_box ul li a:hover{box-shadow:0px 0px 28px 0px rgba(0,0,0,.15);border-radius:5px}.list_box ul li a span{vertical-align:middle;display:inline-block}.list_box ul li a span:last-child{max-width:calc(100% - 60px)}span.lb_icon{background:#ccc;padding:10px;border-radius:50%;border:2px solid #fff;box-shadow:0px 0px 3px 3px #00000054;color:#fff;margin-right:10px}.list_box ul li{margin-bottom:15px}.list_box ul li .icon-support{background:#dd3c1d;background:-moz-linear-gradient(top,rgba(221,60,29,1) 0%,rgba(255,121,100,1) 100%);background:-webkit-linear-gradient(top,rgba(221,60,29,1) 0%,rgba(255,121,100,1) 100%);background:linear-gradient(to bottom,rgba(221,60,29,1) 0%,rgba(255,121,100,1) 100%);filter:progid:DXImageTransform.Microsoft.gradient(startColorstr="#dd3c1d",endColorstr="#ff7964",GradientType=0)}.list_box ul li .icon-settings{background:#003594;background:-moz-linear-gradient(top,rgba(0,53,148,1) 0%,rgba(125,185,232,1) 100%);background:-webkit-linear-gradient(top,rgba(0,53,148,1) 0%,rgba(125,185,232,1) 100%);background:linear-gradient(to bottom,rgba(0,53,148,1) 0%,rgba(125,185,232,1) 100%);filter:progid:DXImageTransform.Microsoft.gradient(startColorstr="#003594",endColorstr="#7db9e8",GradientType=0)}.list_box ul li .icon-wrench{background:#3b7912;background:-moz-linear-gradient(top,rgba(59,121,18,1) 1%,rgba(107,179,50,1) 100%);background:-webkit-linear-gradient(top,rgba(59,121,18,1) 1%,rgba(107,179,50,1) 100%);background:linear-gradient(to bottom,rgba(59,121,18,1) 1%,rgba(107,179,50,1) 100%);filter:progid:DXImageTransform.Microsoft.gradient(startColorstr="#3b7912",endColorstr="#6bb332",GradientType=0)}.list_box ul li .icon-equalizer{background:#452a70;background:-moz-linear-gradient(top,rgba(69,42,112,1) 0%,rgba(131,104,182,1) 100%);background:-webkit-linear-gradient(top,rgba(69,42,112,1) 0%,rgba(131,104,182,1) 100%);background:linear-gradient(to bottom,rgba(69,42,112,1) 0%,rgba(131,104,182,1) 100%);filter:progid:DXImageTransform.Microsoft.gradient(startColorstr="#452a70",endColorstr="#8368b6",GradientType=0)}.most_views_outer{display:flex;flex-wrap:wrap}.most_views_outer>div:nth-child(2n+1){padding-right:20px;flex-basis:50%}.most_views_outer>div{flex-basis:calc(50% - 20px);padding-bottom:20px}.mv_cat{padding-top:10px;padding-bottom:7px}.mv_cat a{color:gray;text-transform:uppercase;font-family:Helvetica,Arial,sans-serif}.mv_title a{color:#1a1a1a;font-size:22px;line-height:1.2;font-family:Georgia,Times,Times New Roman,serif;font-weight:700}.gap_50{height:50px}.gap_30{height:30px}.service_form input[type=submit],.service_form .btn_submit{padding:20px}.mv_thumb a{position:relative;overflow:hidden;padding-bottom:65%;display:block;background:#999}.mv_thumb a img{position:absolute;width:100%;height:auto;top:50%;-moz-transform:translateY(-50%);-webkit-transform:translateY(-50%);transform:translateY(-50%)}@media screen and (max-width:992px){.post_title_2 a{font-size:24px}.post_title_1 a{font-size:17px}.post_box_1{margin-bottom:20px}.pb_exp_2{font-size:17px}.se_acc_body a{font-size:14px}.cat_tm h3{font-size:34px}.cat_bt_m{font-size:17px}.pb_m_1 .pb_ml_2{width:auto;padding-right:0;margin-top:0}.pb_m_1 .post_title_2 a{font-size:24px;line-height:1.2}.post_title_1 a{font-size:15px;line-height:1.2;display:block}span.lb_icon{padding:5px;margin-right:5px}.sec_lc .gap_30{display:none}.list_box ul li{margin:0}.list_box ul li a{font-size:14px;padding:5px 3px;color:#44394f;padding:15px 7px}.list_box ul li a:hover{border-radius:5px;box-shadow:0px 0px 28px 0px rgba(0,0,0,.15)}.list_box ul li a:after{content:"+";color:#b8244b;font-size:18px;padding-left:15px}.list_box ul li a span.lb_icon{display:none}.mv_title a{font-size:16px}.mv_cat{line-height:1.2;padding:15px 0 10px}.pb_ml_2{width:auto;margin-top:0;padding-right:0}.cat_head_m{text-align:center}.pm_m_out{flex-direction:column}.pb_m_1,.pb_m_2,.pb_m_3{width:100%;padding:0 0 15px}.cat_tm h3{font-size:30px}.cat_head_m{flex-direction:column;align-items:center}.sec_lc{flex-direction:column}.lc_1,.lc_2{width:100%;padding:0 0 15px}.most_views_outer{flex-direction:column}.most_views_outer>div{flex-basis:100%;padding:0 0 25px !important}}.single-post h1:not(.site-title),.single-post h2,.single-post h3,.single-post h4,.single-post h5,.single-post h6,.single-post h1 a,.single-post h2,a,.single-post h3 a,.single-post h4 a,.single-post h5 a,.single-post h6 a,.single-post .post-box-text .post-box-title a{color:#000}.single-post a{color:#006ca1;text-decoration:none !important}.single-post a:hover,.single-post a:focus{color:#035a7c}.single-post .page-wrapper{overflow:hidden}.post-main,.blue-section,.post-head,.sub-footer{-webkit-transition:all .3s;-ms-transition:all .3s;transition:all .3s}.single-post .post-main .post{background:#fff}nav.post-navigation .nav-next a,nav.post-navigation .nav-previous a{background:#e5e5e5;color:#006ca1;text-decoration:none !important;padding:18px 23px;display:inline-block;position:relative}nav.post-navigation .nav-previous a:before{display:block;font-family:FontAwesome;font-style:normal;font-weight:400;text-decoration:inherit;content:"";position:absolute;left:20px;top:50%;margin-top:-6px;color:#b3b3b3;font-size:14px;z-index:1;text-decoration:none;line-height:1em;width:14px;height:14px}nav.post-navigation .nav-next a:before{display:block;font-family:FontAwesome;font-style:normal;font-weight:400;text-decoration:inherit;content:"";position:absolute;right:20px;top:50%;margin-top:-6px;color:#b3b3b3;font-size:14px;z-index:1;text-decoration:none;line-height:1em;width:14px;height:14px}.post-navigation .nav-previous{float:left;width:48%}.post-navigation .nav-next{float:right;width:48%;text-align:right}.nav-links{display:table;width:100%}nav.post-navigation .nav-next a:hover,nav.post-navigation .nav-previous a:hover{opacity:.75}nav.post-navigation .nav-previous a:before,nav.post-navigation .nav-next a:before{color:#006ca1}nav.post-navigation{background:#fff;margin-bottom:0}div#comments{margin:auto;padding:70px 5px;max-width:700px}div#respond{margin:0}div#respond .comment-reply-title{display:none}#commentform:after,#commentform:before{content:'';display:table}#commentform:after{clear:both}#commentform .form-submit{float:left;width:50%;padding:15px}#commentform>p{padding:15px}.comment-notes #email-notes,.comment-notes .required{position:relative}.comment-notes #email-notes:before,.comment-notes #email-notes:after,.comment-notes .required:before,.comment-notes .required:after{content:'';position:absolute;width:9px;height:9px}.comment-notes #email-notes:before{left:-18px;top:-12px;border-top:1px solid gray;border-left:1px solid gray}.comment-notes #email-notes:after{left:-18px;bottom:-12px;border-bottom:1px solid gray;border-left:1px solid gray}.comment-notes .required:before{right:-18px;top:-12px;border-top:1px solid gray;border-right:1px solid gray}.comment-notes .required:after{right:-18px;bottom:-12px;border-bottom:1px solid gray;border-right:1px solid gray}.comment-notes{text-align:center;color:#333;font-size:18px;font-weight:500;font-family:Helvetica,Arial,sans-serif}.input-xlarge{border:1px solid #cbcbcb;background:#fff;color:#333;outline:none;padding-left:12px !important;border-radius:0}div#respond .input-wrap{width:50%;margin:0;padding:15px}div#respond .input-wrap.textarea{width:100%;margin:0}div#respond textarea{margin-bottom:0 !important}div#respond #submit-respond{background:#2f629b;color:#fff;border-radius:0;padding:5px 20px}div#respond #submit-respond:hover{background:#3773aa;border-color:#3773aa}.comments-title{font-size:20px;font-family:Helvetica,Arial,sans-serif;margin:0;padding:0 15px}.comment-list{padding:0 15px}div#comments .comment-list .comment .comment-body{background-color:#fff;border:1px solid #eee;padding:20px}div#comments .comment-content,div#comments .comment-meta .comment-author .fn{font-size:15px;color:#333}.comment-awaiting-moderation,div#comments .comment-meta .comment-author .says{font-size:12px}div#comments .comment-meta .comment-metadata{font-size:10px}div#comments .comment-list .comment .comment-body .reply .comment-reply-link{font-size:12px}.p-comments{background:#fafafa;border-top:1px solid #cbcbcb;border-bottom:1px solid #cbcbcb}.post-head{background-color:#fff}.admin-bar .post-head{margin-top:0}.post-head .container{position:relative;height:100%}.post-head h1{font-size:56px;font-family:'Gotham',sans-serif !important;color:#333 !important;font-weight:900;max-width:600px;width:100%;position:absolute;bottom:100px;left:20px}.post-head h1.wp-cat-title{font-size:45px}h1.s-page-title{font-size:60px;font-family:Helvetica,Arial,sans-serif;color:#000;font-weight:900}.single-post .container--sm{max-width:800px;display:block}.single-post a{color:#006ca1;text-decoration:none !important}.single-post .post-content{padding:0;position:relative}.post-main .metadata ul li{font-size:15px;color:gray;font-family:Helvetica,Arial,sans-serif;font-weight:400;margin-bottom:9px;text-transform:none;float:none;min-height:25px}.post-main .metadata ul li .author a{color:gray;font-weight:500}.post-main .metadata{margin-bottom:30px;text-align:left;position:relative}.post-main .metadata .tags-links a{color:#006ca1}.post-main .metadata ul li.meta_categories{float:left}.post-main .meta_categories a{color:#006ca1 !important;text-transform:uppercase;font-weight:300;display:inline-block;padding:1px 6px;border:1px solid #006ca1}.post-main .entry{font-family:Georgia,Times,Times New Roman,serif;color:#4d4d4d;font-size:18px}.single-post .post-content{padding-bottom:60px}.post-main .entry h2,.post-main .entry h3{font-size:25px;font-family:Helvetica,Arial,sans-serif;font-weight:700;margin-bottom:25px}.post-main .entry h2{font-size:30px;margin-bottom:25px}.post-main .entry p,.post-main .entry ul,.post-main .entry ol,.post-main .entry img{margin-bottom:35px}.header-type{position:relative;text-align:left;margin-top:-10%}.header-type .p-header-image{max-width:9999999px !important}.s-pg-background{height:450px;width:100%;position:fixed;z-index:-1;top:40px;left:0;background-size:cover;background-position:center;background-repeat:no-repeat}.s-page-bg{background:#fff;padding:30px 0;margin-top:400px}.p-header-thumb{position:absolute;z-index:10}.p-header-thumb img{position:absolute;left:50%;top:50%;max-width:95%;max-height:95%;width:auto;height:auto;-webkit-transform:translateX(-50%) translateY(-50%);-moz-transform:translateX(-50%) translateY(-50%);-ms-transform:translateX(-50%) translateY(-50%);transform:translateX(-50%) translateY(-50%)}.header-type2 .p-header-image{margin-top:-284px;margin-bottom:-90px;width:950px}.header-type2 .p-header-thumb{width:215px;height:380px;bottom:57px;left:345px;-webkit-transform:rotate(6.9deg);-moz-transform:rotate(6.9deg);-ms-transform:rotate(6.9deg);transform:rotate(6.9deg)}.header-type1 .p-header-image{margin-top:-400px;margin-left:-165px;margin-bottom:-166px;max-width:1200px !important}.header-type1 .p-header-thumb{width:532px;height:550px;background:#ccc;bottom:237px;left:79px;-webkit-transform:rotate(-8.31deg);-moz-transform:rotate(-8.31deg);-ms-transform:rotate(-8.31deg);transform:rotate(-8.31deg)}.header-type4 .p-header-thumb{width:252px;height:452px;bottom:90px;left:113px;-webkit-transform:rotate(-14.3deg);-moz-transform:rotate(-14.3deg);-ms-transform:rotate(-14.3deg);transform:rotate(-14.3deg)}.header-type4 .p-header-image{margin-left:-220px;margin-top:-465px;width:1274px;margin-bottom:-54px}.header-type3{margin-top:0}.header-type3 .p-header-image{width:660px;margin-top:-30px;margin-bottom:-53px}.header-type3 .p-header-thumb{height:452px;width:255px;left:367px;top:84px}.continue-reading{text-align:center;font-size:16px;color:#989898;font-family:Helvetica,Arial,sans-serif;margin-bottom:30px}.continue-reading span{cursor:pointer}.f-posts-container{position:relative;padding:60px 0;margin-bottom:50px !important}.f-posts__bg{position:absolute;top:0;bottom:0;left:-99999px;right:-99999px;background:#fafafa;border-bottom:1px solid #cbcbcb;border-top:1px solid #cbcbcb}.f-posts .rpwe-block{position:relative;z-index:50;margin-left:-155px;margin-right:-155px}.f-posts .rpwe-block .rpwe-ul:before,.f-posts .rpwe-block .rpwe-ul:after{content:'';display:table}.f-posts .rpwe-block .rpwe-ul:after{clear:both}.f-posts .rpwe-block .rpwe-li{float:left;width:33.333%;margin:0 !important;padding:0 15px;border:none}.f-posts .rpwe-block ul{margin:0 !important}.f-posts .rpwe-block img{margin:0;padding:0 !important;border:none !important;position:absolute;left:50%;top:50%;width:auto;height:auto;max-height:100%;min-width:100%;max-width:9999px;-webkit-transform:translateX(-50%) translateY(-50%);-moz-transform:translateX(-50%) translateY(-50%);-ms-transform:translateX(-50%) translateY(-50%);transform:translateX(-50%) translateY(-50%);-webkit-transition:all .5s;-moz-transition:all .5s;-ms-transition:all .5s;transition:all .5s}.f-posts .rpwe-block img:hover{-webkit-transform:translateX(-50%) translateY(-50%) scale(1.1) !important;-moz-transform:translateX(-50%) translateY(-50%) scale(1.1) !important;-ms-transform:translateX(-50%) translateY(-50%) scale(1.1) !important;transform:translateX(-50%) translateY(-50%) scale(1.1) !important}.f-posts .rpwe-title{font-size:24px !important;line-height:1.1 !important;font-family:Helvetica,Arial,sans-serif;font-weight:700;margin-top:22px !important}.f-posts .rpwe-img{position:relative;display:block !important;height:0;overflow:hidden;padding-bottom:60%}.container{margin:auto;padding-left:15px;padding-right:15px}.content-body{background:#fff}nav.post-navigation .nav-next a{padding-right:45px}nav.post-navigation .nav-previous a{padding-left:45px}h2.r-posts-heading{font-size:28px;font-weight:300;font-family:"gotham",sans-serif;text-align:center;color:#306;padding-bottom:25px;font-weight:300}.v-article__wrap h3{margin:0;font-size:24px;font-family:Helvetica,Arial,sans-serif;letter-spacing:.5px;color:#333;font-weight:900}.single_related{border-top:1px solid #c4c8c9}.single_related h3{font-family:Georgia,Times,Times New Roman,serif;font-weight:400;font-size:32px;line-height:150%;margin-top:5px;margin-bottom:15px}.single_related h3 a{color:#000}.single_related h3 a:hover{color:#000;color:inherit;text-decoration:underline !important}.single_related p{font-family:Helvetica,Arial,sans-serif;font-size:16px;color:#4d4d4d}.single_related ul{margin:30px 0 0;padding:0}.single_related ul li{list-style:none;display:inline-block;padding-right:10px;font-family:"gotham",sans-serif;font-size:14px;text-transform:uppercase;font-weight:300}.single_related ul li:last-child{padding-right:0}.single_related ul li a{display:block;color:#b8244b}a.thumb-image-wrapp{position:relative;display:block;padding-bottom:60%;margin-bottom:20px;background-size:cover;background-color:#ccc}.r-posts{border-top:1px solid #e5e5e5}ul.list_meta{margin:0 0 15px;list-style:none}ul.list_meta li{display:inline-block;vertical-align:top;margin-right:10px;margin-bottom:10px}.list_cat a{border:1px solid;padding:3px 7px;margin-right:4px}a.lnk_author{color:gray;text-transform:capitalize}.post_content,body .post_content p,body .post_content li{font-family:Georgia,Times,Times New Roman,serif !important;color:#4d4d4d;font-size:18px}.post_content h1{font-family:Helvetica,Arial,sans-serif;font-size:40px;font-weight:700}.post_content h2{font-family:Helvetica,Arial,sans-serif;font-size:30px;font-weight:700}.post_content h3{font-family:Helvetica,Arial,sans-serif;font-size:24px;font-weight:700}.r-posts{padding:50px 0;background:#f2f2f3}.blog_form{background:#f2f2f2;padding:30px 20px}strong.frm_head{color:#306;font-family:"gotham",sans-serif;font-size:16px;font-weight:300}.blog_form label.gfield_label{display:none !important}.blog_form .gform_body input{width:100% !important;border:none;padding:0 10px !important;border-radius:0}.blog_form .gform_footer.top_label input[type=submit]{margin:0 !important;width:100% !important;background:#776ca5 !important;color:#fff;font-size:15px !important;padding:9px 15px;text-transform:uppercase;border:none !important;box-shadow:none;text-shadow:none;border-radius:0}body .blog_form .gform_wrapper ul li.gfield{padding:0 !important}.blog_sidebar{position:relative;z-index:9}.blog_sidebar h2.widgettitle{font-size:28px;font-family:"gotham",sans-serif;color:#452a70;padding-bottom:20px;font-weight:300}ul.rpwe-ul{border:none}ul.rpwe-ul>li{border-bottom:1px solid #8d8d8f !important;padding:0 0 15px;margin-bottom:15px}.rpwe-ul h3.rpwe-title a{color:#333 !important;font-family:Helvetica,Arial,sans-serif !important;font-size:18px;text-decoration:none !important;border:none;font-weight:900}li.rpwe-li time{color:#8368b6;font-family:Georgia,Times,Times New Roman,serif;font-size:14px;font-weight:400}.author_bio_from_team h6{text-transform:none;font-family:"gotham",sans-serif;font-size:23px;color:#333;font-weight:700}.author_bio_from_team .description{font-size:14px;color:#333;letter-spacing:-.02em}.author_bio_from_team .info .right{width:35%;float:left}.author_bio_from_team .info .right .circle{width:38px;height:38px;background-color:#006ca1;border-radius:100%;text-align:center;display:inline-block;margin:.5em 2px 0;line-height:38px;color:#fff;font-size:18px}.author_bio_from_team .info .left{width:65%;float:left;font-size:16px;color:#333;padding-left:10px;font-family:"gotham",sans-serif;font-weight:300;line-height:1.7}.author_bio_from_team .info .left span{display:block}.author_bio_from_team .info .left .position{text-transform:uppercase}.author_bio_from_team .info .left .company{text-transform:capitalize;color:#aeaeae}.author_bio_from_team img{border-bottom:1px solid #ccc}@media screen and (max-width:1500px){.post-head h1{font-size:50px}}@media screen and (max-width:1199px){.f-posts .rpwe-block{margin-left:-55px;margin-right:-55px}.post-head h1{position:relative;z-index:20;top:0;left:0;max-width:100%;margin-bottom:20px;-webkit-transform:none;-moz-transform:none;-ms-transform:none;transform:none}.header-type.header-type4{margin-left:10%}}@media (min-width:1200px){.col-lg-6{width:50%}.col-lg-offset-6{margin-left:50%}.container{width:1040px}}@media (min-width:992px){.col-md-offset-1{padding-left:8.33333333%}.col-lg-offset-2{padding-left:25%}.col-md-6{width:50%;float:left}.container:before,.container:after{content:'';display:table;clear:both}}@media screen and (max-width:1199px){.f-posts .rpwe-block{margin-left:-55px;margin-right:-55px}.post-head h1{position:relative;z-index:20;top:0;left:0;max-width:100%;margin-bottom:20px;-webkit-transform:none;-moz-transform:none;-ms-transform:none;transform:none}.header-type.header-type4{margin-left:10%}}@media screen and (max-width:1130px){.home .h-bottom-header .sub-head-right .orange-btn{display:none}}@media screen and (max-width:991px){.box_flex{min-height:150px}.f-posts .rpwe-block{margin-left:0;margin-right:0}.f-posts .rpwe-title{font-size:20px !important}.post-head h1,h1.s-page-title{font-size:45px}.header-type4 .p-header-thumb{width:200px;height:374px;bottom:55px;left:59px}.header-type1 .p-header-image{margin-top:-100px;margin-left:0;margin-bottom:-86px;width:600px !important}.header-type4 .p-header-image{margin-left:-200px;max-width:1000px !important}.header-type1 .p-header-thumb{width:266px;height:350px;background:#ccc;bottom:115px;left:117px}}@media screen and (max-width:767px){.f-posts .rpwe-block .rpwe-li{width:100%;margin-bottom:20px !important}.comment-notes #email-notes:before,.comment-notes #email-notes:after,.comment-notes .required:before,.comment-notes .required:after{display:none}.post-head h1,h1.s-page-title,.post-head h1.wp-cat-title{font-size:30px}.header-type2{height:390px}.header-type2 .p-header-image{max-width:700px !important;left:50%;transform:translateX(-50%);position:absolute;margin-top:-300px}.header-type2 .p-header-thumb{width:155px;height:278px;bottom:24px;margin-left:-17px;left:50%;-webkit-transform:rotate(6.9deg) translateX(-50%);moz-transform:rotate(6.9deg) translateX(-50%);-ms-transform:rotate(6.9deg) translateX(-50%);transform:rotate(6.9deg) translateX(-50%)}.post-main .entry{font-size:16px}.post-main .entry h2,.post-main .entry h3{font-size:20px;margin-bottom:20px}.post-main .entry h2{font-size:25px;margin-bottom:20px}div#respond .input-wrap{width:100%}.header-type3 .p-header-image{max-width:400px !important;margin-top:0;margin-bottom:-40px}.header-type3 .p-header-thumb{height:274px;width:155px;left:222px;top:69px}.r-posts .row{column-count:1;column-gap:0}}@media screen and (max-width:640px){.header-type.header-type1{margin-left:-5%}}@media screen and (max-width:600px){ul.x-block-grid.action_box li.x-block-grid-item:nth-child(2n+1){margin-right:5%}}@media screen and (max-width:480px){.header-type.header-type4{margin-left:0}.header-type.header-type1{margin-left:-21%}.post-head .container{margin-top:-2px}}@media screen and (max-width:450px){.header-type3{margin-left:-120px}}header.x-header-landmark.x-container.max.width{display:none}.position-r{padding-bottom:15px}.cat-header h1,.cat-header h3{font-size:65px;color:#306!important;margin:0;display:table;position:relative;padding:25px 25px 0;font-family:Gotham,sans-serif;font-weight:300;margin:auto}.container{padding-right:15px;padding-left:15px;margin-right:auto;margin-left:auto}body.archive{background:#fff}@media (min-width:768px){.container{width:750px}}@media (min-width:992px){.container{width:970px}}@media (min-width:1200px){.container{width:1040px}}.container-fluid{padding-right:15px;padding-left:15px;margin-right:auto;margin-left:auto}.row{margin-right:-15px;margin-left:-15px}.col-lg-1,.col-lg-10,.col-lg-11,.col-lg-12,.col-lg-2,.col-lg-3,.col-lg-4,.col-lg-5,.col-lg-6,.col-lg-7,.col-lg-8,.col-lg-9,.col-md-1,.col-md-10,.col-md-11,.col-md-12,.col-md-2,.col-md-3,.col-md-4,.col-md-5,.col-md-6,.col-md-7,.col-md-8,.col-md-9,.col-sm-1,.col-sm-10,.col-sm-11,.col-sm-12,.col-sm-2,.col-sm-3,.col-sm-4,.col-sm-5,.col-sm-6,.col-sm-7,.col-sm-8,.col-sm-9,.col-xs-1,.col-xs-10,.col-xs-11,.col-xs-12,.col-xs-2,.col-xs-3,.col-xs-4,.col-xs-5,.col-xs-6,.col-xs-7,.col-xs-8,.col-xs-9{position:relative;min-height:1px;padding-right:15px;padding-left:15px}.col-xs-1,.col-xs-10,.col-xs-11,.col-xs-12,.col-xs-2,.col-xs-3,.col-xs-4,.col-xs-5,.col-xs-6,.col-xs-7,.col-xs-8,.col-xs-9{float:left}.col-xs-12{width:100%}.col-xs-11{width:91.66666667%}.col-xs-10{width:83.33333333%}.col-xs-9{width:75%}.col-xs-8{width:66.66666667%}.col-xs-7{width:58.33333333%}.col-xs-6{width:50%}.col-xs-5{width:41.66666667%}.col-xs-4{width:33.33333333%}.col-xs-3{width:25%}.col-xs-2{width:16.66666667%}.col-xs-1{width:8.33333333%}@media (min-width:768px){.col-sm-1,.col-sm-10,.col-sm-11,.col-sm-12,.col-sm-2,.col-sm-3,.col-sm-4,.col-sm-5,.col-sm-6,.col-sm-7,.col-sm-8,.col-sm-9{float:left}.col-sm-12{width:100%}.col-sm-11{width:91.66666667%}.col-sm-10{width:83.33333333%}.col-sm-9{width:75%}.col-sm-8{width:66.66666667%}.col-sm-7{width:58.33333333%}.col-sm-6{width:50%}.col-sm-5{width:41.66666667%}.col-sm-4{width:33.33333333%}.col-sm-3{width:25%}.col-sm-2{width:16.66666667%}.col-sm-1{width:8.33333333%}.col-sm-pull-12{right:100%}.col-sm-pull-11{right:91.66666667%}.col-sm-pull-10{right:83.33333333%}.col-sm-pull-9{right:75%}.col-sm-pull-8{right:66.66666667%}.col-sm-pull-7{right:58.33333333%}.col-sm-pull-6{right:50%}.col-sm-pull-5{right:41.66666667%}.col-sm-pull-4{right:33.33333333%}.col-sm-pull-3{right:25%}.col-sm-pull-2{right:16.66666667%}.col-sm-pull-1{right:8.33333333%}.col-sm-pull-0{right:auto}.col-sm-push-12{left:100%}.col-sm-push-11{left:91.66666667%}.col-sm-push-10{left:83.33333333%}.col-sm-push-9{left:75%}.col-sm-push-8{left:66.66666667%}.col-sm-push-7{left:58.33333333%}.col-sm-push-6{left:50%}.col-sm-push-5{left:41.66666667%}.col-sm-push-4{left:33.33333333%}.col-sm-push-3{left:25%}.col-sm-push-2{left:16.66666667%}.col-sm-push-1{left:8.33333333%}.col-sm-push-0{left:auto}.col-sm-offset-12{margin-left:100%}.col-sm-offset-11{margin-left:91.66666667%}.col-sm-offset-10{margin-left:83.33333333%}.col-sm-offset-9{margin-left:75%}.col-sm-offset-8{margin-left:66.66666667%}.col-sm-offset-7{margin-left:58.33333333%}.col-sm-offset-6{margin-left:50%}.col-sm-offset-5{margin-left:41.66666667%}.col-sm-offset-4{margin-left:33.33333333%}.col-sm-offset-3{margin-left:25%}.col-sm-offset-2{margin-left:16.66666667%}.col-sm-offset-1{margin-left:8.33333333%}.col-sm-offset-0{margin-left:0}}@media (min-width:992px){.col-md-1,.col-md-10,.col-md-11,.col-md-12,.col-md-2,.col-md-3,.col-md-4,.col-md-5,.col-md-6,.col-md-7,.col-md-8,.col-md-9{float:left}.col-md-12{width:100%}.col-md-11{width:91.66666667%}.col-md-10{width:83.33333333%}.col-md-9{width:75%}.col-md-8{width:66.66666667%}.col-md-7{width:58.33333333%}.col-md-6{width:50%}.col-md-5{width:41.66666667%}.col-md-4{width:33.33333333%}.col-md-3{width:25%}.col-md-2{width:16.66666667%}.col-md-1{width:8.33333333%}.col-md-pull-12{right:100%}.col-md-pull-11{right:91.66666667%}.col-md-pull-10{right:83.33333333%}.col-md-pull-9{right:75%}.col-md-pull-8{right:66.66666667%}.col-md-pull-7{right:58.33333333%}.col-md-pull-6{right:50%}.col-md-pull-5{right:41.66666667%}.col-md-pull-4{right:33.33333333%}.col-md-pull-3{right:25%}.col-md-pull-2{right:16.66666667%}.col-md-pull-1{right:8.33333333%}.col-md-pull-0{right:auto}.col-md-push-12{left:100%}.col-md-push-11{left:91.66666667%}.col-md-push-10{left:83.33333333%}.col-md-push-9{left:75%}.col-md-push-8{left:66.66666667%}.col-md-push-7{left:58.33333333%}.col-md-push-6{left:50%}.col-md-push-5{left:41.66666667%}.col-md-push-4{left:33.33333333%}.col-md-push-3{left:25%}.col-md-push-2{left:16.66666667%}.col-md-push-1{left:8.33333333%}.col-md-push-0{left:auto}.col-md-offset-12{margin-left:100%}.col-md-offset-11{margin-left:91.66666667%}.col-md-offset-10{margin-left:83.33333333%}.col-md-offset-9{margin-left:75%}.col-md-offset-8{margin-left:66.66666667%}.col-md-offset-7{margin-left:58.33333333%}.col-md-offset-6{margin-left:50%}.col-md-offset-5{margin-left:41.66666667%}.col-md-offset-4{margin-left:33.33333333%}.col-md-offset-3{margin-left:25%}.col-md-offset-2{margin-left:16.66666667%}.col-md-offset-1{margin-left:8.33333333%}.col-md-offset-0{margin-left:0}}@media (min-width:1200px){.col-lg-1,.col-lg-10,.col-lg-11,.col-lg-12,.col-lg-2,.col-lg-3,.col-lg-4,.col-lg-5,.col-lg-6,.col-lg-7,.col-lg-8,.col-lg-9{float:left}.col-lg-12{width:100%}.col-lg-11{width:91.66666667%}.col-lg-10{width:83.33333333%}.col-lg-9{width:75%}.col-lg-8{width:66.66666667%}.col-lg-7{width:58.33333333%}.col-lg-6{width:50%}.col-lg-5{width:41.66666667%}.col-lg-4{width:33.33333333%}.col-lg-3{width:25%}.col-lg-2{width:16.66666667%}.col-lg-1{width:8.33333333%}.col-lg-pull-12{right:100%}.col-lg-pull-11{right:91.66666667%}.col-lg-pull-10{right:83.33333333%}.col-lg-pull-9{right:75%}.col-lg-pull-8{right:66.66666667%}.col-lg-pull-7{right:58.33333333%}.col-lg-pull-6{right:50%}.col-lg-pull-5{right:41.66666667%}.col-lg-pull-4{right:33.33333333%}.col-lg-pull-3{right:25%}.col-lg-pull-2{right:16.66666667%}.col-lg-pull-1{right:8.33333333%}.col-lg-pull-0{right:auto}.col-lg-push-12{left:100%}.col-lg-push-11{left:91.66666667%}.col-lg-push-10{left:83.33333333%}.col-lg-push-9{left:75%}.col-lg-push-8{left:66.66666667%}.col-lg-push-7{left:58.33333333%}.col-lg-push-6{left:50%}.col-lg-push-5{left:41.66666667%}.col-lg-push-4{left:33.33333333%}.col-lg-push-3{left:25%}.col-lg-push-2{left:16.66666667%}.col-lg-push-1{left:8.33333333%}.col-lg-push-0{left:auto}.col-lg-offset-12{margin-left:100%}.col-lg-offset-11{margin-left:91.66666667%}.col-lg-offset-10{margin-left:83.33333333%}.col-lg-offset-9{margin-left:75%}.col-lg-offset-8{margin-left:66.66666667%}.col-lg-offset-7{margin-left:58.33333333%}.col-lg-offset-6{margin-left:50%}.col-lg-offset-5{margin-left:41.66666667%}.col-lg-offset-4{margin-left:33.33333333%}.col-lg-offset-3{margin-left:25%}.col-lg-offset-2{margin-left:16.66666667%}.col-lg-offset-1{margin-left:8.33333333%}.col-lg-offset-0{margin-left:0}}.clearfix:after,.clearfix:before,.container-fluid:after,.container-fluid:before,.container:after,.container:before,.row:after,.row:before{display:table;content:" ";clear:both}.row-invert>div{float:right}.fw-h-content h2,.fw-h-content h2 a{text-decoration:none!important;font-size:50px;font-weight:700}.fw-h-content .excerpt{font-size:20px;margin-top:15px;font-family:Georgia,Times,Times New Roman,serif;color:#333}.article-separator{margin-top:30px;height:1px;margin-bottom:30px}.white-section hr{margin-top:35px;margin-bottom:35px;border-top:1px solid #b2b2b2}.fw-h-thumb-lg{height:0;padding-bottom:54%;position:relative;overflow:hidden}.fw-h-thumb-lg a{position:absolute;top:0;left:0;right:0;bottom:0;background-size:cover;background-position:center;transition:all .5s}.thumb-image-wrapp img{position:absolute;width:100%;min-height:100%;left:0;top:50%;-webkit-transform:translateY(-50%);-moz-transform:translateY(-50%);-ms-transform:translateY(-50%);transform:translateY(-50%)}.fw-h-thumb-lg a:hover{transform:scale(1.1)}.c-label{font-size:18px;color:#452a70!important;text-decoration:none!important;text-transform:uppercase;border:1px solid #452a70;display:inline-block;padding:2px 7px}.h-top-section{padding:70px 0}.fw-h-content h2,.fw-h-content h2 a{text-decoration:none!important;font-size:50px;font-family:Helvetica,Arial,sans-serif;font-weight:700}.fw-h-content h2 a:hover{color:#452a70}.fw-h-content .excerpt{font-size:20px;margin-top:15px;font-family:Georgia,Times,Times New Roman,serif}.l-news-wrap{padding-top:35px;padding-bottom:35px}.l-news-wrap h2{margin-top:0;margin-bottom:10px;font-size:24px;font-weight:900;font-family:Helvetica,Arial,sans-serif;text-transform:uppercase}.l-news-list{list-style:none;padding:0;margin:0;font-size:17px;font-style:italic;font-family:Georgia,Times,Times New Roman,serif}.l-news-list a{text-decoration:none!important;color:#fff;display:inline-block}.l-news-list a:hover{color:#57a1c8}.l-news-list li{padding:14px 0;border-top:1px solid #b2b2b2}.l-news-list li:first-of-type{border-top:none}.blue-section,.section-l-news{background:#010f22 url(https://cdn.mercury.one/wp-content/uploads/2017/03/gradient.png) repeat-y center}.l-news-thumb{position:absolute;top:0;bottom:0;width:100%;max-width:900px;background-position:top center;background-size:cover;right:37%}.hp-first-section{padding-top:55px}.white-section hr{margin-top:35px;margin-bottom:35px;border-top:1px solid #b2b2b2}.f-wh-article{height:0;padding-bottom:55%;position:relative;overflow:hidden}.f-wh-article__thumb{position:absolute;top:0;left:0;right:0;bottom:0;z-index:1;transition:all .5s;background-size:cover;background-repeat:no-repeat;background-position:center}.f-wh-article:hover>.f-wh-article__thumb{transform:scale(1.1)}.f-wh-article__wrap{position:absolute;z-index:10;left:30px;max-width:540px;top:50%;transform:translateY(-50%)}.f-wh-article__wrap h2,.f-wh-article__wrap h2 a{text-decoration:none!important;color:#fff !important;font-size:50px;font-family:Helvetica,Arial,sans-serif;font-weight:700;line-height:1;text-shadow:1px 1px 1px rgba(0,0,0,.5)}.f-wh-article .c-label{border-color:#fff;color:#fff!important;text-shadow:1px 1px 1px rgba(0,0,0,.5)}.cat-h-thumbnail,.col2-article-thumb,.h-md-article,.h-sm-article,.vid-article,.vid-v__thumb{position:relative;height:0;padding-bottom:60%;overflow:hidden}.h-sm-article{padding-bottom:100%}.col2-article-thumb,.vid-v__thumb{padding-bottom:70%}.cat-h-thumbnail a,.col2-article-thumb a,.h-md-article a,.h-sm-article a,.vid-article a,.vid-v__thumb a{position:absolute;top:0;left:0;right:0;bottom:0;background-size:cover;background-position:center;transition:all .5s}.vid-article a{z-index:10}.vid-article a i{position:absolute;top:50%;left:50%;transform:translateX(-50%) translateY(-50%);color:#666;font-size:60px}.col2-article-thumb a:hover,.h-md-article a:hover,.h-sm-article a:hover,.vid-article a:hover,.vid-v__thumb a:hover{transform:scale(1.1)}.v-article .c-label{position:absolute;bottom:10px;left:-20px;font-size:16px;background:#fff}.col2-article-wrap .c-label{font-size:16px}.col2-article-wrap h2,.v-article__wrap h2,.v-article__wrap h3{font-size:24px;font-family:Helvetica,Arial,sans-serif;font-weight:700;margin-bottom:0}.col2-article-wrap h2{font-size:30px;line-height:1}.col2-article-wrap h2 a:hover,.h-sm-article-right h3 a:hover,.v-article__wrap h2 a:hover,.v-article__wrap h3 a:hover{text-decoration:none!important;color:#452a70}.excerpt{color:#333;font-size:16px}.col2-article-wrap .excerpt,.v-article__wrap .excerpt{margin-top:10px;font-family:Georgia,Times,Times New Roman,serif}.v-article__wrap .excerpt p{margin-bottom:0}.h-sm-article-left{float:left;width:130px}.h-sm-article-right{float:left;width:calc(100% - 130px);padding-left:10px}.h-sm-article-right .c-label{font-size:14px}.h-sm-article-right h3{font-size:18px;margin-top:20px;font-family:Helvetica,Arial,sans-serif;font-weight:700}.white-section hr.hr-md{margin-top:25px;margin-bottom:25px}.row-2cols>div:nth-of-type(3){clear:both}.row-2cols>div:nth-of-type(1),.row-2cols>div:nth-of-type(2){min-height:320px;margin-bottom:25px}.row-2cols .h-md-article{padding-bottom:65%}.hp-title{font-size:24px;font-family:Helvetica,Arial,sans-serif;font-weight:900;text-transform:uppercase;margin-top:0}.m-popular-section .hp-title{padding-bottom:20px;margin-bottom:15px;border-bottom:3px solid #b2b2b2}.m-popular-section{padding-bottom:45px}.hp-subtitle{font-size:20px;font-weight:900;font-family:Helvetica,Arial,sans-serif;margin-bottom:15px}.popular-posts{list-style:none;padding:0;margin:10px 0}.popular-posts li{float:left;width:33.3333%;min-height:140px;border-left:1px solid #b2b2b2;border-bottom:1px solid #b2b2b2;padding:20px 20px 20px 50px;position:relative}.popular-posts li a{font-size:18px;line-height:1.1;font-family:Helvetica,Arial,sans-serif;color:#452a70}.popular-posts li:nth-of-type(1),.popular-posts li:nth-of-type(4){border-left:none}.popular-posts li:nth-of-type(4),.popular-posts li:nth-of-type(5),.popular-posts li:nth-of-type(6){border-bottom:none}.p-posts-count{font-family:Georgia,Times,Times New Roman,serif;position:absolute;font-weight:700;font-size:40px;line-height:1;left:12px;top:15px}.blue-section{padding:45px 0}.blue-section hr{border-top:1px solid #b2b2b2;margin-top:35px;margin-bottom:40px}.m-popular-section+.blue-section{padding-top:90px}.cat-link{font-size:24px;color:#0ff;text-transform:uppercase;font-family:Helvetica,Arial,sans-serif;font-weight:900;display:inline-block;margin-bottom:15px}.cat-h-wrap,.cat-v-wrap{font-size:18px;font-family:Georgia,Times,Times New Roman,serif;color:#fff}.cat-v-wrap{font-size:16px}.cat-h-wrap h2,.cat-v-wrap h3{font-size:35px;font-family:Helvetica,Arial,sans-serif;font-weight:900;margin-top:10px;margin-bottom:20px}.cat-v-wrap h3{font-size:24px;margin-top:20px;margin-bottom:15px}.cat-h-wrap h2 a,.cat-v-wrap h3 a{color:#fff!important;text-decoration:none!important}.cat-h-wrap h2 a:hover,.cat-v-wrap h3 a:hover{color:#0ff!important}.article-separator{margin-top:30px;height:1px;margin-bottom:30px}.posts-list{list-style:none;padding:0;margin:60px 0 0}.posts-list li:last-of-type a{border-bottom:1px solid #b2b2b2}.posts-list li a{display:block;border-top:1px solid #b2b2b2;text-decoration:none!important;padding:20px 30px}.posts-list li a:hover{background:#fafafa}.p-list-title{margin-top:0;font-size:22px;font-family:Helvetica,Arial,sans-serif;font-weight:500;color:#333!important;transition:all .3s;margin-bottom:6px;transform:translateY(15px)}.posts-list li a:hover .p-list-title{transform:translateY(0);color:#452a70!important}.p-list-excerpt{margin-bottom:0;opacity:0;visibility:hidden;white-space:nowrap;overflow:hidden;text-overflow:ellipsis;font-family:Georgia,Times,Times New Roman,serif;font-size:17px;color:#4d4d4d!important;font-style:italic;transition:.3s all}.posts-list li a:hover .p-list-excerpt{opacity:1;visibility:visible}.arch-list{padding-bottom:100px}@media screen and (max-width:767px){.f-wh-article__wrap h2,.f-wh-article__wrap h2 a,.fw-h-content h2,.fw-h-content h2 a{font-size:24px}.fw-h-content .excerpt{font-size:16px;padding-bottom:20px}.f-wh-article{margin-bottom:20px}.cat-header h1,.cat-header h3{font-size:24px}}#m-cta{background:transparent url(https://cdn.mercury.one/wp-content/uploads/2019/04/m-cta-bg.jpg) center no-repeat;background-size:cover}.blog-cta{display:none;padding:15% 0}.blog-cta p{font-size:16px;color:#fff;font-weight:400}.blog-cta h3{font-size:22px;color:#fff;font-weight:400}.blog-cta .cta_content{max-width:75%}.blog-cta img{max-width:180px !important}.blog-cta .cta_content p{margin:20px 0 35px}.blog-cta .cta_content h3{margin:20px 0 35px 25px}a.bog_cta_learn_more{color:#b8244b;font-size:12px;text-transform:uppercase;padding:15px 40px;background-color:#fff;border-radius:40px}#wp-cta{background:transparent url(data:image/jpeg;base64,/9j/4AAQSkZJRgABAQAAAQABAAD//gAfQ29tcHJlc3NlZCBieSBqcGVnLXJlY29tcHJlc3P/2wCEAA8PDw8QDxETExEYGhcaGCQhHh4hJDYmKSYpJjZSMzwzMzwzUkhXR0JHV0iCZlpaZoKWfnd+lrWiorXk2eT///8BDw8PDxAPERMTERgaFxoYJCEeHiEkNiYpJikmNlIzPDMzPDNSSFdHQkdXSIJmWlpmgpZ+d36WtaKiteTZ5P/////CABEIAhUC7wMBIgACEQEDEQH/xAAbAAEAAwEBAQEAAAAAAAAAAAAAAQMHAgYFBP/aAAgBAQAAAADywAAAAAAAAA9XoQAAAAAYkAAAAAAAAAO9h/SCERATMyAAMSAAAAAAAAAD3HtTnnmAATPXUgAxIAAAAAAAAAP06+iAAATPcyAYkAAAAAAAAAD33qAl0kQiIBPfYDEgAAAAAAAAAfR1VPfSQBDnmIE2yDEgAAAAAAAAANL9DIAAI54gdWhiQAAAAAAAAAH39OAAAI54gmzoxIAAAAAAAAABrn0QAAAr5gs7YkAAAAAAAAAA9boAAAAOa4OrMTAAAAAAAAAAd7F+gAAACrk6xcAAAAAAAAAA917MAAAEc8QYyAAAAAAAAAAfq2DsAAAV8wGMgAAAAAAAAADR/TAAAHNQGMgAAAAAAAAAD6msgAAIqgDGQAAAAAAAAAA1L7YAAHFYDGQAAAAAAAAAA9BpRIJ5R10HFYDGQAAAAAAAAAAnVfoAAXhzUAxkAAAAAAAAAAHqffQBMpnsFMAYyAAAAAAAAAACzXbQJtkAr4AxkAAAAAAAAAAD2/rwFnYBFUAxkAAAAAAAAAAD9es9AdWgCvgGMgAAAAAAAAAANB9KBNsgCmAxkAAAAAAAAAAB9TUgFnYA5qDGQAAAAAAAAAADTPtAdWgBVyMZAAAAAAAAAAAPv6OBNsgDisYyAAAAAAAAAAATq37wLOwApgxkAAAAAAAAAAAer92B1aAFMGMgAAAAAAAAAAC3WrwTbIAr4MZAAAAAAAAAAAD2/rwLOwBXwYyAAAAAAAAAAAH69Z6B1aAK+DGQAAAAAAAAAAAaF6QE2yAV8JxgAAAAAAAAAAAH1dRAs7AKuVmKgAAAAAAAAAAAad9gE3AIqhbigAAAAAAAAAAAHodFAukDmpN2JAAAAAAAAAAAATrH7QW9AcVu7MSAAAAAAAAAAAAes90CbgKYXTiQAAAAAAAAAAAC3W7gXSEUpuYkAAAAAAAAAAAAe49cC3oOK1nbEgAAAAAAAAAAAD9msyE3BVyuliQAAAAAAAAAAAA0T0QLpFMTcYkAAAAAAAAAAAAPragCzs5qWdmJAAAAAAAAAAAABqH1gm4r4XSYkAAAAAAAAAAAAHotEBdKmOrRiQAAAAAAAAAAAATrP7As7ilZ2MSAAAAAAAAAAAAB673ATdXxNsjEgAAAAAAAAAAAAXa3aF1UdWhiQAAAAAAAAAAAAHufWh3ws7DEgAAAAAAAAAAAAP26xIJtkV4sAAAAAAAAAAAAA0X0IOrRxXjIAAAAAAAAAAAAD7GnAs7OOIxkAAAAAAAAAAAAA1H6om444hjIAAAAAAAAAAAAB6TQh1aiknGAAAAAAAAAAAAADrWf1ls18k24mAAAAAAAAAAAAAPYe2T3xB1axIAAAAAAAAAAAAAX63ZME9dyxIAAAAAAAAAAAAAPd+rE2dDEgAAAAAAAAAAAAA/fq0z1YDEgAAAAAAAAAAAAAaP6LuQMSAAAAAAAAAAAAAB9zUQDEgAAAAAAAAAAAAANa+mAxIAAAAAAAAAAAAAD1WhgMSAAAAAAAAAAAAAA62L9IGJAAAAAAAAAAAAAAPa+4AxIAAAAAAAAAAAAAB+jYbAYkAAAAAAAAAAAAAAaJ6kGJAAAAAAAAAAAAAAH1tXB/8QAFQEBAQAAAAAAAAAAAAAAAAAAAAH/2gAIAQIQAAAAAAAAAAAAAAAAAKCAAAAAAAAAAAAAAAAAAAAAAAAAAAAAAAAAAAAAAAApAAAAAAAKIAAAAAABRAAAAABRAUgAAAAAogKQAAAAAKQCoAAAAAFIBUAAAAABSAWAAAAAApALAAAAAAKgFgAAAAAFIAAAAAAAVAAAAAAACoAAAAAAAUgAAAAAABUAAAAAAAKgAAAAAAAqAAAAAAAFQAAAAAAAVAAAAAAACoWAAAAAAAAAAAAAAAAAAAAAAAAAAAAAAAAAAAAAAAAAAAAAAAAAAAAAAAAAAAAAAD//xAAUAQEAAAAAAAAAAAAAAAAAAAAA/9oACAEDEAAAAAAAAAAAAAAAAAAAAAAAAAAAAAAAAAAAAAAAAAAAAAAAAAAAAAAAAAAAAAAAAAAAAAAAAAAAAAAAAAAAAAAAAAAAAAAAAAAAAAAAAAAAAAAAAAAAAAAAAAAAAAAAAAAAAAAAAAAAAAAAAAAAAAAAAAAAAAAAAAAAAAAAAAAAAAAAAAAAAAAAAAAAAAAAAAAAAAAAAAAAAAAAAAAAAAAAAAAAAAAAAAAAAAAAAAAAAAAAAAAAAAAAAAAAAAAAAAAAAAAAAAAAAAAD/8QAMxAAAgADBAgGAgIDAQEAAAAAAQIAAwQRICJgBQYSITAxUXIQExRAQWEyQnGBI4KyUGL/2gAIAQEAAT8A/wDa1TrvIrTTOcE/l3jL0uY8qYkxDYykEHoRFFVJWUcioTk6gnuv2jrBYQXEbf1G39CNto2zG2Y2/qNsdI2xFo65M1PrsU6hc7jjTxNgjaEF2MWk/PGDtAeAQckUdS9JVSahOctgYlzpU2VLmSzarqGB/mCxPtQxEB+oyPqvW+bSvTMcUrl2m/YekbDRsGNj7jYjYjY+42PuNgiNlunABIgP8GBYciaKrfQ10md+ltj9p8bCYCQEEADiEL0gp0MFSLwJELM65E1dq/V6PVWbHJwGAoHsyBBTpBBF0MRAIOQtW6/0WkkBNiTsDe3K9IIIuh/jIWia4V+j5M8m2Z+L9y+3Nhgp0uq5GQdUq7yax6Vzgn8u8e5K2wQRcVrMgSpjypiTENjIwYHoRFHUy6ukkVCcnW33JsMFbLitZkDVCv3TqF2/+09ztARtjpkSiqno6qTUJzRgYlzEmy0mIbVdQyn6Pty3TI+qdeJ9G1K5xSOXafbTHtNnwMkaGrvQ6QkzScFuy/afak2DJWrtf6zRiKx/yScB9o/LJWrVeaLSKg/hOwGNv6jbHSNsRtiNsRtiNsRtiNsR5v1G39Rt/UbZhX+Lz/GSgSCCDGi6wVtDJnftZY/cPZvyyXqtW+VUvSscM3evcOFsnpGyekbDQFsvHpkuTNeRNlzZZsdGDA/YinqEqqeTPT8ZiA8EG0cJxYcl6qVtqTqNjyxpwU4TC0ZLoKt6KskVC/o28dR8iEdZiK6G1WAIPUHgKbDw3HzkvVmt8+jNOxxyeXaeCDu4REEWZK0PW+ir5UwnAcL9p4KHhuMl6BrfV0CWnHKwNwF3HiEWGzJWrlb6avEtjgnYeCDu4bjJQJBBBsIjRlYK2ikzv2IsfuHAQ8M7xZkvVat8ufMpX5TN6dw4Cmw8Q8zkqTNeRNlzUNjIwYf1FNUJU08qenJ1B4ANo4b7jkvVWttSbSMd6404CHhv8ZLoapqOrkzx+jbx1EI6uiuptVgCD1BvqbDw3+Mmas1vn0RkMccn/k8AG0cJ+eTNC1voq+U5OBsD/wAHgIeE3M+Kc8laCrfWaPlknHLwPfU2HiryyVq5W+mrhKY4J2H++AptHAY7vEC3JasVIYGwg2gxo2rFbRSZ/wAkYu4X5fAmH48UyZqtW7E6ZSMd0zEncL4Nh4B3k+K7hkyROeROlzkOJGDCKeelRIlTk/F1DC+ptF5uXiN5ydqrW7UqbSMd6Y0vy7znxTJ1BVmirJM8clbeOqmFZXUMptBAIN4Gw3mNp8V3DJ+rVb6ih8ljjk7v9b6m0XD18RvOUNCVvoq+UxOB8D30uNy8UyjoSt9ZQSmJxpge8DYbjnf4qN2UdWq309d5LHBO3f7XwbRdUWnKSsyMGU2EEEGNH1YraOTPHNlxDowvJ4PuHigynqrW7E2bSMdz40vA2Hwfn4gbsp0896efKnJ+SMGESJyVEmXOQ4XUMLwNog7yfBRacq6q1u3Jm0jHemJO03gbAfFOuVdHVZoq2TP+A2LtMKwZQym0EWg8AC6zW5R1brfU0PlMccnD/V9BabrN8ZS0FW+j0hLJOB8D30G624zZU0LW+toJTk40wP8AyLwFg8Wb4GVdWa3yK0yGOCd/0Lqjf4vMt3DlcAJykjMjK6mxlIIPQiKCqWtpJM8fsu8dDcQboJsgtbcAJgDKeqtbY82kc7mxpcLWcroUmAAMqU096aolTk5owMSZyT5MuahtV1DD+74XrlfVat25EykY75eJe03QCYCgZY0ZWGirZM/4BsbtMAggEG0EeIW2Buy1q5W+poBLY45OGAhMAAZc1erhR6SlbR/xzcD5f0NXiu0bJcn/ACLgmfyMvaqVwkVxp3/Cfy7xl5HaW6uhsZSCD0IihqpdbRSKhf3XeOhy9qjXAPOon5HGmXqSpekqZM9PylsDEmak6TLmobVdQw/g5e1Sr/NpJtIxxSt69py9oOpen0rSFP2cIf4a/wD/xAAUEQEAAAAAAAAAAAAAAAAAAACg/9oACAECAQE/AEff/8QAFBEBAAAAAAAAAAAAAAAAAAAAoP/aAAgBAwEBPwBH3//Z) center no-repeat;background-size:cover}#wp-cta a.bog_cta_learn_more{background-color:#f69101;color:#fff}@media (max-width:992px){.blog-cta{display:block}}.line2{line-height:2}.line2 p{line-height:inherit}a.noLink{cursor:default !important}.action_box li img:hover{filter:grayscale(100%)}.action_box li i:hover{filter:grayscale(100%)}.item:after{content:'';display:block;clear:both}.item .item-left{width:33.33%;float:left}.item .item-right{width:66.66%;float:left}.bx-wrapper{margin:0;border:none;background:0 0;box-shadow:none}.bx-wrapper img{display:inline-block;width:100%;position:relative}.showcase_slider .item img{width:100%}a{cursor:pointer}.fancybox-skin{background:#fff;padding:30px !important}.fancybox-close{top:1px;right:1px;background:0 0}.fancybox-close:after{content:"X";position:absolute;top:0;right:10px;font-size:22px}.fancybox-inner::-webkit-scrollbar{width:0 !important}.fancybox-inner{overflow:-moz-scrollbars-none;-ms-overflow-style:none}.solution_popup iframe::-webkit-scrollbar{width:0 !important}.solution_popup iframe{overflow:-moz-scrollbars-none;-ms-overflow-style:none}.solution_popup{text-align:center}.solution_popup h2{font-weight:700;text-align:center;font-size:40px;color:#252659}.solution_popup p{font-size:18px;text-align:center;color:#666}.solution_popup .gform_footer{text-align:center}.solution_popup input[type=submit],.solution_popup .solution_popup_confirm a,.popup_how_can_we_help input[type=submit]{font-family:Helvetica,Arial,sans-serif;background:#b8244b;font-weight:600;font-size:16px !important;text-transform:uppercase;color:#fff;border-radius:40px;line-height:100%;text-shadow:none;padding:15px 65px;margin:0 !important;cursor:pointer;border:none;-webkit-box-shadow:0px 48px 27px -15px rgba(230,230,230,1) !important;-moz-box-shadow:0px 48px 27px -15px rgba(230,230,230,1) !important;box-shadow:0px 48px 27px -15px rgba(230,230,230,1) !important}.solution_popup input[type=submit]:hover,.popup_how_can_we_help input[type=submit]:hover{border:none;color:#fff}.popup_how_can_we_help .gform_footer.top_label{text-align:center}.solution_popup input[type=text],.solution_popup input[type=email],.solution_popup textarea{border-radius:0;border:1px solid #b3b3b3;padding:15px 10px !important;height:auto;font-size:16px !important;color:#666 !important}.solution_popup label.gfield_label{font-size:16px !important;font-weight:400 !important;color:#666 !important}.solution_popup label.gfield_label .gfield_required{display:none}.solution_popup .gfield_checkbox li label,.solution_popup .gfield_radio li label{display:inline-block !important;font-size:16px !important;font-weight:400 !important;color:#666 !important}.solution_popup .gform_wrapper ul.gfield_checkbox,.solution_popup .gform_wrapper #field_5_13 ul.gfield_radio{column-count:3}.solution_popup .gform_wrapper #field_4_8 ul.gfield_checkbox li,.solution_popup .gform_wrapper #field_5_8 ul.gfield_checkbox li{margin:10px 0 !important;display:block !important}.solution_popup .gform_wrapper #field_4_11 ul.gfield_radio li,.solution_popup .gform_wrapper #field_5_11 ul.gfield_radio li{margin:10px 0 !important;display:inline-block !important}.solution_popup .gform_wrapper #field_4_11 .ginput_container_radio,.solution_popup .gform_wrapper #field_5_11 .ginput_container_radio,.solution_popup .gform_wrapper #field_5_12 .ginput_container_fileupload{display:inline-block;margin:0 0 0 20px;vertical-align:middle}.solution_popup .gform_wrapper ul.gfield_checkbox li input[type=checkbox]:checked+label,.solution_popup .gform_wrapper ul.gfield_radio li input[type=radio]:checked+label{font-weight:400 !important}.solution_popup .gform_wrapper ul.gfield_checkbox input[type=checkbox],.solution_popup .gform_wrapper ul.gfield_radio input[type=radio],.popup_how_can_we_help .gform_wrapper ul.gfield_checkbox li input[type=checkbox],.popup_how_can_we_help .gform_wrapper ul.gfield_radio li input[type=radio]{-webkit-appearance:none;-moz-appearance:none;-ms-appearance:none;appearance:none;background:transparent url(data:image/png;base64,iVBORw0KGgoAAAANSUhEUgAAAD8AAAA/CAMAAABggeDtAAAAFVBMVEVHcEzNzc3Nzc36+vrw8PDo6OjOzs5fyj62AAAAA3RSTlMAP6EDeX2cAAABLUlEQVRIx+1X0RKEIAhMBf7/k68UQq1rBJq5l1tNsZllF+rFbatIdmyKTB5kZqfjgEhoW3Y0DwfZBSI27+bniDzCYSC56YeDFOJT5dPP9JUP9uZ1fOA3ljHrg1UeBn2I6wOaZqcvZOtQ/74x6Dvop/5+Al7W1z2D+jdqT/VL3jWcfpnfjoseRAlh0LdBcoi+D2P/cch8s2FXOp9i+n++8ItrvqZfnKP373mYX6vxDBB+8XVQ6wdXjsa/uG9zIR77r2WtxtK/lrZuLLIWn/0v6soS9/0vcwuecnCo/qUABvTbdZUIB/0v8jcuxC9/vynzGmoG+f7qbn12/ovTAXT+PRj1ZxNQHuK2vK9v60BQ/8+P938L8OsFLPsLaFdIooh8vX+i6+el9Mr9N3T//gAxujrpG31cygAAAABJRU5ErkJggg==) top left no-repeat;background-size:cover;width:20px !important;height:20px;margin:1px 0 0;border:none;vertical-align:middle}.solution_popup label.gfield_label[for=input_5_12]:after{content:"Upload File";display:inline-block;text-transform:uppercase;padding:9px 30px 5px;font-size:13px;margin-left:15px;background:#fff;border:1px solid #999;border-radius:40px;cursor:pointer;-webkit-box-shadow:inset 0px 33px 10px -14px rgba(230,230,230,1);-moz-box-shadow:inset 0px 43px 27px -15px rgba(230,230,230,1);box-shadow:inset 0px 33px 10px -14px rgba(230,230,230,1)}.solution_popup #input_5_12{display:none}.solution_popup .gform_wrapper ul.gfield_checkbox input[type=checkbox]:checked,.solution_popup .gform_wrapper ul.gfield_radio input[type=radio]:checked,.popup_how_can_we_help .gform_wrapper ul.gfield_checkbox li input[type=checkbox]:checked,.popup_how_can_we_help .gform_wrapper ul.gfield_radio li input[type=radio]:checked{background:transparent url(data:image/png;base64,iVBORw0KGgoAAAANSUhEUgAAAD8AAAA/CAMAAABggeDtAAAALVBMVEXNzc1HcEzkwsXNzc38/Pzp6env7+/29vbOzc29FiLk3d29Ex/GPEbLXWXPa3LjKF3DAAAABHRSTlM/APAQEtB/tAAAAmlJREFUSMfFl4ty4yAMRQkGyRbE//+5K94IcJuwO7MycQnm6F5hpi3qFUN9HxkMN33uhD4Sr7hP3wdTR+SZtjtBIYFi82Q5wU471aG25aMDXvgtnDKvGp88ffKhOr/nt/z/B55u73VmIv8l/r4ud+ldfXq7K4QmaPrw8cV45J3TUh8+agFP+qEEoKIvRJ47RT2Gh+yfnsyOnaYeA36rf+gI9eu6odQfnkO62dISBwWGCffE40m/Tupahm3NXV5cwYPtqr8KK3oTjuFB1gch3dDWD7uux3UaHfQtPATdC3Whz6Hf/l7XYgfzOg/X9xdxz5OWCexgPqtLfe3jtnzTr7hGmHlWTx7nBPesjiNPvm6ONyF0l72nlQ90eFZ5hH5nyzWYVj7R8Vb18WqznOsc2Htc+eQ+ynf6wqRjB2kO42LPn0bWVvXJ93xKwP7W6sVC0eeSRAIXS5hxHsvCuRUecOUAViufyHzV+kPiKcGIG4wBiKXT+edR8v1LcH7cddl9K6Lzj2kNnFiEYeUbi3kBqn42JBNM6s17/tl4WCRY1D7EoP+U4AmfebmIDf+cnxy4R/UlPzn4AUeIPKCccfb7IOLmZ/04o1xojPaydvG8v4o+pimlmbKVWT1p12f1E2/Nv7zqGrA6f8/DrVc6mV9Yi7/MLzIi61THkz6r8h+s8DtgHJdfKx8D2yfNTZnqeB7uwgr/XZF96ws3S/9mNyqPzWHpo5FGTK1i4uuwfI7DlzEjmn/m/694u82H9/c6aZsP55+Xot0CMJy/juM8cROP579w/iTAb4P/eTtVOv8eau/8W87Px3Fsn7//APIfXwUKB5anAAAAAElFTkSuQmCC) top left no-repeat;background-size:cover}.solution_popup iframe{width:100%;height:630px}.solution_popup_confirm:not(.calendly){padding:100px 0}.solution_popup_confirm h2{margin-bottom:15px}.solution_popup_confirm p{margin-bottom:50px}.solution_popup .gform_wrapper .screen-reader-text{height:auto;overflow:visible;position:relative;clip:auto;clip-path:inherit}.top_advertising{position:absolute;bottom:100%;left:15px;width:100%}.top_advertising:after{content:'';display:block;clear:both}.top_advertising .top_advertising_left{float:left;width:36%}.top_advertising .top_advertising_right{float:left;width:64%}.top_advertising .top_advertising_service{font-family:Helvetica,Arial,sans-serif;color:#999;font-size:16px;margin-top:10px}.top_advertising .top_advertising_service strong{font-family:Helvetica,Arial,sans-serif;font-weight:600}.top_advertising .top_advertising_content{font-family:Helvetica,Arial,sans-serif;font-weight:300;color:#452a70;font-size:26px;margin-top:30px;line-height:120%}.top_advertising .top_advertising_content strong{display:block;font-family:Helvetica,Arial,sans-serif;font-weight:700}.top_advertising a.top_advertising_link{text-transform:uppercase;display:inline-block;font-family:Helvetica,Arial,sans-serif;font-weight:700;font-size:14px;padding:10px 40px;border-radius:40px;background-color:#f69101;color:#fff;margin-top:20px;box-shadow:2px 10px 14px 0px rgba(35,33,33,.22)}.partner_text .pop_link_btn{background:#b8244b;color:#fff;padding:12px 25px;font-size:14px;font-weight:700;border-radius:30px;cursor:pointer}@media (max-width:992px){.top_advertising{margin-bottom:10%}.post-head .row{-ms-box-orient:horizontal;display:-webkit-box;display:-moz-box;display:-ms-flexbox;display:-moz-flex;display:-webkit-flex;display:flex;flex-direction:column;-webkit-flex-flow:row wrap;flex-flow:row wrap;flex-wrap:wrap}.post-head .row .col-lg-6:nth-of-type(2){order:1}.post-head .row .col-lg-6:nth-of-type(1){order:2}.post-head .row>div{width:100%}.post-head h1,h1.s-page-title{margin-top:40px}}@media screen and (max-width:768px){.popup_how_can_we_help .gform_wrapper .gform_body ul.gform_fields li.gfield div.ginput_container>span{margin-left:0 !important;padding-top:0;margin-bottom:15px}.popup_how_can_we_help .gform_wrapper .top_label li.gfield.gf_left_half,.popup_how_can_we_help .gform_wrapper .top_label li.gfield.gf_right_half{width:100%}.fancybox-skin{padding:15px !important}.solution_popup iframe{width:110%}.solution_popup h2{font-size:35px}.solution_popup p{font-size:16px}.solution_popup input[type=text],.solution_popup input[type=email],.solution_popup textarea{padding:8px !important}.solution_popup .gform_wrapper ul.gfield_checkbox,.solution_popup .gform_wrapper #field_5_13 ul.gfield_radio{column-count:1}.solution_popup .gform_wrapper #field_4_11 .ginput_container_radio,.solution_popup .gform_wrapper #field_5_11 .ginput_container_radio,.solution_popup .gform_wrapper #field_5_12 .ginput_container_fileupload{display:block;margin:0}.solution_popup .gform_wrapper #field_4_11 ul.gfield_radio li,.solution_popup .gform_wrapper #field_5_13 ul.gfield_radio li,.solution_popup .gform_wrapper #field_5_11 ul.gfield_radio li{margin:10px 0 !important;display:block !important}.solution_popup .gform_wrapper .screen-reader-text{width:auto}.partner.x-container.width{max-width:unset;width:100%}.partner .x-row-inner>.x-col{width:100%}.partner .x-image.im_before .p_img_before{width:100%}.partner .x-image .mac,.partner .x-image .ipad{margin:auto}.max_385{max-width:520px;width:88%}.partner_text{padding-top:50px}.max_360{max-width:unset}.partner>.x-row-inner>.x-col:first-child,.partner>.x-row-inner>.x-col:last-child{width:100%}.partner .mac,.partner.alter_column .mac,.partner .ipad,.partner.alter_column .ipad{transform:translateX(0) scale(1)}.x-container.max.width.partner{padding-top:55px !important;padding-bottom:55px !important}}.services_page_links ul{margin:0;padding:0}.services_page_links ul li{list-style:none;color:#fff;text-transform:uppercase}.services_page_links ul li a{font-size:18px;padding:15px 11px;color:#fff;display:block;border-radius:8px;margin:10px 0;font-weight:600}.services_page_links ul li a:hover{background:#fff;color:#252659}.services_page_links ul li a span b{margin-left:4px}.services_page_links ul li a:hover span b{color:#252659 !important}.showcase_slider .item{position:relative}.showcase_slider .item a.overlay-wrap{position:absolute;width:100%;height:100%;z-index:99;opacity:.5}.showcase_slider .item a.item-link{display:none;font-size:16px;font-weight:800;color:#fff;padding:20px 40px;border:1px solid #fff;border-radius:40px;position:absolute;z-index:100;top:calc(50% - 30px);left:calc(50% - 80px);z-index:110}.showcase_slider .item:hover a{display:inline-block}.showcase_slider .item:hover{transform:scale(1.1,1.1);transition:all ease-in-out .2s}.showcase_slider .item:hover .overlay{position:absolute;width:100%;height:100%;z-index:95;opacity:.5}.see_more{text-align:center;margin:45px 0;color:#b9244a}.see_more a{background-color:#b9244a;color:#fff !important;font-size:16px;font-weight:700;text-transform:uppercase;padding:15px 40px;border-radius:25px;border:1px solid #b9244a;box-shadow:6px 9px 16px 0px rgba(0,0,0,.22)}.see_more a:hover{background-color:#fff !important;color:inherit !important}@media screen and (max-width:767px){.services_page_links ul li a{font-size:18px;padding:7px;color:#fff;display:block;border-radius:8px;margin:10px -7px;font-weight:600}.services_page_links ul{padding-bottom:20px}.partner .x-image{padding:20px 0;min-height:auto;margin-bottom:0}}.mercury_inline_menu a{color:#333}.mercury_inline_menu ul.sub-menu:before{display:none !important}.mercury_inline_menu .sub-menu .current-menu-item>a,.mercury_inline_menu .sub-menu li a:hover{color:#b9244a;box-shadow:none;background:0 0}.mercury_inline_menu>ul{display:flex;justify-content:space-between;margin:0;flex-wrap:wrap}.mercury_inline_menu>ul li{list-style:none;margin:0}.mercury_inline_menu>ul>li{flex-basis:calc(25% - 30px);padding:20px 0}.mercury_inline_menu>ul>li>a{font-size:28px !important;font-family:"gotham" !important;font-weight:600;margin-bottom:25px;display:block}.mercury_inline_menu ul.sub-menu{margin:0;background:0 0 !important}.mercury_inline_menu ul.sub-menu>li:last-child{border-bottom:1px solid #dddd}.mercury_inline_menu ul.sub-menu>li{border-top:1px solid #ddd}.mercury_inline_menu ul.sub-menu>li>a{font-size:14px;display:block;padding:12px 0}@media screen and (max-width:992px){.mercury_inline_menu>ul>li{flex-basis:calc(50% - 30px)}.mercury_inline_menu ul.sub-menu>li>a{font-size:16px}}@media screen and (max-width:767px){.mercury_inline_menu>ul>li{flex-basis:100%}.mercury_inline_menu>ul>li>a{font-size:24px !important;margin-bottom:15px}}.post-head-new{display:table;width:100%}.phn_bg{display:block;margin:0;width:58%;position:absolute;z-index:1;left:auto;right:-15px;max-width:1100px}.phn_bg_alt{background-color:#ccc}.phn_alt_type1{position:absolute;left:46%;top:24%;width:24.5%;height:61%;transform:rotate(-6deg);display:flex;align-items:center;justify-content:center}.phn_alt_type2{position:absolute;left:29%;top:15%;width:37.5%;height:70%;transform:rotate(13deg);display:flex;align-items:center;justify-content:center}.phn_alt_type3{position:absolute;left:36.5%;top:24%;width:23.5%;height:70%;transform:rotate(9.69deg);display:flex;align-items:center;justify-content:center}.phn_alt_type4{position:absolute;left:40.5%;top:18%;width:23.5%;height:72%;display:flex;align-items:center;justify-content:center}.phn_alt_type5{position:absolute;left:35.5%;top:16%;width:23.5%;height:72%;transform:rotate(10.69deg);display:flex;align-items:center;justify-content:center}.phn_alt_type6{position:absolute;left:34.5%;top:16%;width:23.5%;height:72%;transform:rotate(-10deg);display:flex;align-items:center;justify-content:center}.phn_bg_alt>div{width:75%}.phn_img{position:relative;z-index:2}.header_post_tn{position:relative}.head_title{position:relative;left:0;width:100%;z-index:3;bottom:0;padding-top:15%;padding-bottom:100px}.head_title h1{font-weight:900;font-size:56px;display:block;font-family:'Gotham',sans-serif !important}.fancybox-skin .fancybox-inner>div{background:#fff;padding:30px}.fancybox-skin{-webkit-box-shadow:none !important;-moz-box-shadow:none !important;box-shadow:none !important;background:0 0 !important}.fancybox-close:after{color:#fff !important}.single-post #main{z-index:2;position:relative}@media screen and (max-width:1199px){.head_title{position:relative;bottom:0;padding-bottom:20px;padding-top:0}.phn_bg{width:auto}.top_advertising{position:relative;bottom:auto;left:auto;display:table;margin:auto;width:auto}.phn_bg{position:relative;margin:auto;left:auto;right:auto}}@media screen and (max-width:992px){.head_title h1{font-size:45px}.x-row.partner.x-container{width:100%}}@media screen and (max-width:768px){.partner.x-container.width{max-width:unset;width:100%}.partner .x-row-inner>.x-col{width:100%}.partner .x-image.im_before .p_img_before{width:100%}.partner .x-image .mac,.partner .x-image .ipad{margin:auto}.max_385{max-width:520px;width:88%}.partner_text{padding-top:50px}}@media screen and (max-width:767px){.head_title h1{font-size:30px}.partner .x-image{min-height:unset;margin-bottom:30px;padding:20px 0}}@media screen and (max-width:576px){.partner>.x-row-inner,.partner.alter_column>.x-row-inner{flex-direction:reverse}.partner_text{padding-top:40px}.x-container.max.width.partner{padding-top:40px !important;padding-bottom:40px !important}.partner>.x-row-inner,.partner.alter_column>.x-row-inner{flex-direction:reverse}.partner .x-image{padding:50px 0}}@media screen and (min-width:991px){.pop_fade_in{opacity:0;animation-fill-mode:forwards}.fancybox-is-open .pop_fade_in{-webkit-animation-name:fadeIn;animation-name:fadeIn}}@media screen and (min-width:1500px){.head_title{padding-top:20%}} @-webkit-keyframes fadeOut{from{opacity:1}to{opacity:0}}@keyframes fadeOut{from{opacity:1}to{opacity:0}}.fadeOut{-webkit-animation-name:fadeOut;animation-name:fadeOut}@-webkit-keyframes slideOutLeft{from{-webkit-transform:translate3d(0,0,0);transform:translate3d(0,0,0)}to{visibility:hidden;-webkit-transform:translate3d(-100%,0,0);transform:translate3d(-100%,0,0)}}@keyframes slideOutLeft{from{-webkit-transform:translate3d(0,0,0);transform:translate3d(0,0,0)}to{visibility:hidden;-webkit-transform:translate3d(-100%,0,0);transform:translate3d(-100%,0,0)}}.slideOutLeft{-webkit-animation-name:slideOutLeft;animation-name:slideOutLeft}.d-table{width:100%;height:100%;display:table}.d-tablecell{display:table-cell;vertical-align:middle}.custom-btn1{background-color:#fff;color:#000;border:1px solid #fff;display:inline-block;padding:12px 30px;text-transform:uppercase;border-radius:30px;text-decoration:none}.custom-btn1:hover{background-color:#fff;text-decoration:none;color:#000}.hero-slider{position:relative}.single-hs-item{height:100vh;background-size:cover;background-position:center center;position:relative}.item-bg1{background:#224;background:-moz-linear-gradient(left,#224 0%,#224 50%,#c38151 50%,#c38151 100%);background:-webkit-linear-gradient(left,#224 0%,#224 50%,#c38151 50%,#c38151 100%);background:linear-gradient(to right,#224 0%,#224 50%,#c38151 50%,#c38151 100%);filter:progid:DXImageTransform.Microsoft.gradient(startColorstr='#222244',endColorstr='#c38151',GradientType=1)}.item-bg2{background:#0c7068;background:-moz-linear-gradient(-45deg,#0c7068 0%,#4ba997 100%);background:-webkit-linear-gradient(-45deg,#0c7068 0%,#4ba997 100%);background:linear-gradient(135deg,#0c7068 0%,#4ba997 100%);filter:progid:DXImageTransform.Microsoft.gradient(startColorstr='#0c7068',endColorstr='#4ba997',GradientType=1)}.item-bg3{background-color:#ce986a}.hero-text{width:88%;padding:0 15px;text-align:center;max-width:1140px;margin-left:auto;margin-right:auto;position:relative;z-index:9}.hero-text h2{color:#fff;text-transform:capitalize;margin:0}.hero-text h3{color:#fff;text-transform:capitalize;margin:0 0 10px}.hero-text p{color:#fff;margin-left:auto;margin-right:auto;line-height:1.56;margin-top:20px;margin-bottom:35px}.hero-text .rw{color:#fff;margin-left:auto;margin-right:auto;line-height:1.56;margin-top:20px;margin-bottom:35px}.hero-text a,.hero-text a:hover{color:#fff}.hero-slider .owl-item.active h2,.hero-slider .owl-item.active h3,.hero-slider .owl-item.active .anim-fadeIn{-animation:1s .3s fadeIn both;animation:1s .3s fadeIn both}.hero-slider .owl-item.active p{-webkit-animation:1s .3s fadeIn both;animation:1s .3s fadeIn both}.hero-slider .owl-item.active .slider-btn{-webkit-animation:1s .3s fadeIn both;animation:1s .3s fadeIn both}.owl-carousel .owl-nav button.owl-prev{background-color:#ff3547;position:absolute;left:0;top:50%;color:#fff;font-size:30px;margin:-40px 0 0;border-radius:0;height:50px;width:50px}.owl-carousel .owl-nav button.owl-next{background-color:#ff3547;position:absolute;right:0;top:50%;color:#fff;font-size:30px;margin:-40px 0 0;border-radius:0;height:50px;width:50px}.owl-theme .owl-nav{margin-top:0}.owl-dots{position:absolute;left:0;right:0;bottom:20px}.owl-theme .owl-dots .owl-dot span{width:11px;height:20px}.owl-theme .owl-dots .owl-dot.active span,.owl-theme .owl-dots .owl-dot:hover span{background:#ff3547}.stp>div{padding:10px 5px}img{max-width:100%}.stp{display:flex;max-width:350px;margin:auto}.ps_p{display:none !important}.stp .disabled{pointer-events:none;opacity:.6}.stp .disabled:hover{background:0 0 !important}.slider_outer_div{position:relative}.d-table .container{max-width:1200px !important;width:100% !important}.d-table .row{margin:0 auto !important}.step_nav{position:absolute;width:110px;z-index:99;left:0;top:50%;transform:translateY(-50%);cursor:pointer;align-items:center;justify-content:center;height:70%}.step_nav.navNext{left:auto;right:0}.step_nav{background:0 0 !important}.np_img{position:absolute;height:90%;width:0;left:0;transition:.3s;background-size:cover;background-position:left center;top:50%;transform:translateY(-45%)}.step_nav.navNext .np_img{left:auto;right:0;transition:.4s}.step_nav.navNext .np_hover{position:absolute;top:0;left:0;width:100%;height:100%;display:none;opacity:.5}.step_nav.navNext:hover .np_hover{display:block}.step_nav.navNext.disabled:hover .np_hover{display:none}.single_sld_bg{position:absolute;width:100%;height:100%;background-size:cover}.single-hs-item:before,.single_sld_bg:before{position:absolute;display:block;content:'';left:0;width:100%;height:100%;top:0;background:#000;background:-moz-linear-gradient(157deg,rgba(0,0,0,.7) 0%,rgba(0,0,0,.5) 33%,rgba(0,0,0,0) 68%,rgba(0,0,0,0) 98%);background:-webkit-linear-gradient(157deg,rgba(0,0,0,.7) 0%,rgba(0,0,0,.5) 33%,rgba(0,0,0,0) 68%,rgba(0,0,0,0) 98%);background:linear-gradient(157deg,rgba(0,0,0,.7) 0%,rgba(0,0,0,.5) 33%,rgba(0,0,0,0) 68%,rgba(0,0,0,0) 98%);filter:progid:DXImageTransform.Microsoft.gradient(startColorstr="#000000",endColorstr="#000000",GradientType=1);opacity:.25}.step_nav:hover .np_img{width:100%}.np_text{position:absolute;top:50%;right:50px;font-size:13px;color:#fff;z-index:999;display:flex;align-items:center;background:rgba(0,0,0,.65);border-radius:100px;box-shadow:0px 0px 3px rgba(0,0,0,.53)}.np_text i{font-size:35px;width:50px;height:50px}.np_label{width:0;padding:4px 0 0;overflow:hidden;transition:.3s;text-transform:uppercase;white-space:nowrap}.np_text:hover{background:#fff;color:#000}.np_text:hover .np_label{width:auto;padding:4px 20px 0}.navPrev .np_text{left:50px;right:auto}.np_text i svg *{fill:#fff}.np_text i svg{width:25px;height:25px;margin:12.5px}.np_text:hover i svg *{fill:#000}.sld_op{right:10%}.sld_op.sld_bottom{position:absolute;bottom:0;right:0;max-width:100% !important}.sld_op.sld_middle{position:absolute;top:50%;transform:translateY(-50%);max-width:100% !important}.sld_op.sld_bottom_middle{position:absolute;bottom:0;left:50%;max-width:100% !important}.sld_op.sld_center_right{position:absolute;bottom:50%;transform:translateY(50%);right:0;max-width:100% !important}.sld_op.sld_top_right{position:absolute;bottom:auto;top:0;right:0;max-width:100% !important}.anim-delay-500{animation-delay:.5s !important;-webkit-animation-delay:.5s !important}.anim-delay-1000{animation-delay:1s !important;-webkit-animation-delay:1s !important}.anim-delay-1500{animation-delay:1.5s !important;-webkit-animation-delay:1.5s !important}.anim-delay-2000{animation-delay:2s !important;-webkit-animation-delay:2s !important}.anim-delay-2500{animation-delay:2.5s !important;-webkit-animation-delay:2.5s !important}.sld_pop_box>div{flex-basis:50%}.sld_pop_box{display:flex;align-items:center;justify-content:center;background:#fff}.pop_text{max-width:400px;margin:auto;padding:20px}.fancybox-button svg *{fill:#fff !important;opacity:1}.fancybox-close:after{color:#fff !important}.sld_pop_outer{background:0 0}.sld_pop_outer img{display:block}.fancybox-skin{background:0 0 !important;-webkit-box-shadow:none !important;-moz-box-shadow:none !important;box-shadow:none !important}#mercury_slider .owl-item.active{background:#000}.navPrev.disabled{display:none}.sld_pop_act{box-shadow:0px 0px 7px -2px hsla(0,0%,0%,.45)}.navNext a.wm_showcase{position:absolute;width:100%;height:100%;z-index:2;display:none}.navNext.last a.wm_showcase{display:block}.slider_thumb_small_ct{display:flex;flex-wrap:wrap;width:100%;max-width:350px;position:relative;align-items:center;justify-content:space-between;color:#fff}.bt_img,.split_sld_thumb{display:flex;align-items:center;flex-direction:row-reverse}.split_sld_thumb{flex-direction:row}.slider_thumb_small_ct .bt_img>div,.split_sld_thumb .split_sld_inn{width:50px;height:50px;border:4px solid #fff;border-radius:50%;overflow:hidden;cursor:pointer;margin-right:-10px;box-shadow:0px 0px 4px 0px #000;background:#fff;position:relative}.slider_opt img,.split_sld_thumb img{box-shadow:0px 0px 3px 0px rgba(0,0,0,.6) inset;border-radius:50%;position:absolute;left:0;top:0;width:100%;height:100%}.slider_opt.t_img_active,.split_sld_inn.active{border-color:#000 !important}.next_img,.next_project{font-size:13px;text-transform:uppercase;color:#fff;cursor:pointer;margin-left:30px}.next_img i,.next_project i{margin-left:20px}.split_outer{display:flex;width:420px;justify-content:flex-start;align-items:center;flex-wrap:wrap;margin-top:10px}.np_hover,.np_img{display:none !important}.edit_this_slide{pointer-events:auto;z-index:99999;position:absolute;left:0;background:red;padding:3px 10px}.edit_this_slide a{color:#fff}#popup_slide_popup{position:fixed;left:0;top:0;width:100%;height:100%;z-index:999999;background:#fff;transform:translateX(-100%)}#popup_slide_popup.pop-active{transform:translateX(0)}.close_popup{position:absolute;z-index:999;cursor:pointer;border:2px solid #b8244b;right:10px;top:10px;border-radius:50%;padding:18px;width:60px;height:60px;text-align:center;line-height:0;font-size:50px;background:#fff}.close_popup svg *{fill:#b8244b}.close_popup i{line-height:60px;color:#b8244b;font-size:40px;margin-left:-.2rem}.plb_out{display:table}.pop_link_btn{display:inline-block}.slider_content-fh{min-height:350px}@media only screen and (max-width:991px){.d-tablecell{display:block}.d-tablecell .hero-text{padding:30px 10px !important}.sld_op{position:relative !important;width:100% !important;left:0 !important;right:0 !important;top:0 !important;bottom:0 !important;transform:translate(0,0) !important;padding-bottom:100%;margin:auto;overflow:hidden}.sld_op img{position:absolute;top:0;left:0 max-width:100%;width:100%}.single-hs-item{height:auto}.step_nav{width:60px;height:30%}}@media screen and (max-width:768px){.d-tablecell .hero-text{padding:20px 0 !important;min-height:400px;display:flex}.hero-text p,.hero-text .rw{margin:20px auto 20px}.step_nav{top:calc(100% - 80px);height:100px}.slider_thumb_small_ct{flex-direction:column;margin:auto;padding:10px}.next_img{padding-top:15px}.bt_img{padding-right:10px}.stp{position:absolute;width:100%;max-width:unset;left:0;top:85vh;display:none}.step_nav{top:0;height:100px}}@media only screen and (max-width:600px){.hero-text p,.hero-text .rw{font-size:15px;margin-bottom:25px}.hero-text .fs_40{font-size:24px;margin-bottom:25px;padding-top:20px}.owl-carousel .owl-nav button.owl-next{top:auto;margin:0;bottom:0}.owl-carousel .owl-nav button.owl-prev{top:auto;margin:0;bottom:0}.owl-dots{bottom:10px;left:50px;right:50px}.sld_pop_box>div{flex-basis:100%}.sld_pop_box{flex-wrap:wrap}.np_text{right:10px}.navPrev .np_text{left:10px}.np_text i{font-size:18px;width:35px;height:35px;line-height:35px}.np_text i svg{margin:5px}.np_text:hover .np_label{padding:4px 10px 0}.close_popup{width:50px;height:50px;padding:13px}.close_popup i{line-height:50px}..slider_content-fh{min-height:unset}}@media screen and (max-width:767px){#popup_slide_popup{overflow:auto}.split_outer{margin:auto;flex-direction:column;width:auto;padding:50px 0 20px}.split_sld_thumb{padding-bottom:15px;padding-right:10px}.hero-text .rw{font-size:30px;margin-bottom:10px}.next_img,.next_project{margin:0 auto}.d-table .container{padding:0}.slider_content-fh{min-height:unset}.d-table .row>div{padding:0}} a,h1 a:hover,h2 a:hover,h3 a:hover,h4 a:hover,h5 a:hover,h6 a:hover,.x-breadcrumb-wrap a:hover,.widget ul li a:hover,.widget ol li a:hover,.widget.widget_text ul li a,.widget.widget_text ol li a,.widget_nav_menu .current-menu-item>a,.x-accordion-heading .x-accordion-toggle:hover,.x-comment-author a:hover,.x-comment-time:hover,.x-recent-posts a:hover .h-recent-posts{color:#252659}a:hover,.widget.widget_text ul li a:hover,.widget.widget_text ol li a:hover,.x-twitter-widget ul li a:hover{color:#44394f}.rev_slider_wrapper,a.x-img-thumbnail:hover,.x-slider-container.below,.page-template-template-blank-3-php .x-slider-container.above,.page-template-template-blank-6-php .x-slider-container.above{border-color:#252659}.entry-thumb:before,.x-pagination span.current,.flex-direction-nav a,.flex-control-nav a:hover,.flex-control-nav a.flex-active,.mejs-time-current,.x-dropcap,.x-skill-bar .bar,.x-pricing-column.featured h2,.h-comments-title small,.x-entry-share .x-share:hover,.x-highlight,.x-recent-posts .x-recent-posts-img:after{background-color:#252659}.x-nav-tabs>.active>a,.x-nav-tabs>.active>a:hover{box-shadow:inset 0 3px 0 0 #252659}.x-main{width:69.536945%}.x-sidebar{width:25.536945%}.x-comment-author,.x-comment-time,.comment-form-author label,.comment-form-email label,.comment-form-url label,.comment-form-rating label,.comment-form-comment label,.widget_calendar #wp-calendar caption,.widget.widget_rss li .rsswidget{font-family:Helvetica,Arial,sans-serif;font-weight:700}.p-landmark-sub,.p-meta,input,button,select,textarea{font-family:Helvetica,Arial,sans-serif}.widget ul li a,.widget ol li a,.x-comment-time{color:#999}.widget_text ol li a,.widget_text ul li a{color:#252659}.widget_text ol li a:hover,.widget_text ul li a:hover{color:#44394f}.comment-form-author label,.comment-form-email label,.comment-form-url label,.comment-form-rating label,.comment-form-comment label,.widget_calendar #wp-calendar th,.p-landmark-sub strong,.widget_tag_cloud .tagcloud a:hover,.widget_tag_cloud .tagcloud a:active,.entry-footer a:hover,.entry-footer a:active,.x-breadcrumbs .current,.x-comment-author,.x-comment-author a{color:#272727}.widget_calendar #wp-calendar th{border-color:#272727}.h-feature-headline span i{background-color:#272727}html{font-size:14px}@media (min-width:480px){html{font-size:14px}}@media (min-width:767px){html{font-size:14px}}@media (min-width:979px){html{font-size:14px}}@media (min-width:1200px){html{font-size:14px}}body{font-style:normal;font-weight:400;color:#999;background-color:#fff}.w-b{font-weight:400 !important}h1,h2,h3,h4,h5,h6,.h1,.h2,.h3,.h4,.h5,.h6{font-family:Helvetica,Arial,sans-serif;font-style:normal;font-weight:700}h1,.h1{letter-spacing:0em}h2,.h2{letter-spacing:0em}h3,.h3{letter-spacing:0em}h4,.h4{letter-spacing:0em}h5,.h5{letter-spacing:0em}h6,.h6{letter-spacing:0em}.w-h{font-weight:700 !important}.x-container.width{width:88%}.x-container.max{max-width:1200px}.x-main.full{float:none;display:block;width:auto}@media (max-width:979px){.x-main.full,.x-main.left,.x-main.right,.x-sidebar.left,.x-sidebar.right{float:none;display:block;width:auto !important}}.entry-header,.entry-content{font-size:1rem}body,input,button,select,textarea{font-family:Helvetica,Arial,sans-serif}h1,h2,h3,h4,h5,h6,.h1,.h2,.h3,.h4,.h5,.h6,h1 a,h2 a,h3 a,h4 a,h5 a,h6 a,.h1 a,.h2 a,.h3 a,.h4 a,.h5 a,.h6 a,blockquote{color:#272727}.cfc-h-tx{color:#272727 !important}.cfc-h-bd{border-color:#272727 !important}.cfc-h-bg{background-color:#272727 !important}.cfc-b-tx{color:#999 !important}.cfc-b-bd{border-color:#999 !important}.cfc-b-bg{background-color:#999 !important}.x-btn,.button,[type=submit]{color:#fff;border-color:#ac1100;background-color:#ff2a13;margin-bottom:.25em;text-shadow:0 .075em .075em rgba(0,0,0,.5);box-shadow:0 .25em 0 0 #a71000,0 4px 9px rgba(0,0,0,.75);border-radius:.25em}.x-btn:hover,.button:hover,[type=submit]:hover{color:#fff;border-color:#600900;background-color:#ef2201;margin-bottom:.25em;text-shadow:0 .075em .075em rgba(0,0,0,.5);box-shadow:0 .25em 0 0 #a71000,0 4px 9px rgba(0,0,0,.75)}.x-btn.x-btn-real,.x-btn.x-btn-real:hover{margin-bottom:.25em;text-shadow:0 .075em .075em rgba(0,0,0,.65)}.x-btn.x-btn-real{box-shadow:0 .25em 0 0 #a71000,0 4px 9px rgba(0,0,0,.75)}.x-btn.x-btn-real:hover{box-shadow:0 .25em 0 0 #a71000,0 4px 9px rgba(0,0,0,.75)}.x-btn.x-btn-flat,.x-btn.x-btn-flat:hover{margin-bottom:0;text-shadow:0 .075em .075em rgba(0,0,0,.65);box-shadow:none}.x-btn.x-btn-transparent,.x-btn.x-btn-transparent:hover{margin-bottom:0;border-width:3px;text-shadow:none;text-transform:uppercase;background-color:transparent;box-shadow:none}body .gform_wrapper .gfield_required{color:#252659}body .gform_wrapper h2.gsection_title,body .gform_wrapper h3.gform_title,body .gform_wrapper .top_label .gfield_label,body .gform_wrapper .left_label .gfield_label,body .gform_wrapper .right_label .gfield_label{font-weight:700}body .gform_wrapper h2.gsection_title{letter-spacing:0em !important}body .gform_wrapper h3.gform_title{letter-spacing:0em !important}body .gform_wrapper .top_label .gfield_label,body .gform_wrapper .left_label .gfield_label,body .gform_wrapper .right_label .gfield_label{color:#272727}body .gform_wrapper .validation_message{font-weight:400}.e45026-1.x-bar{height:100px;font-size:16px;background-color:transparent;z-index:9999}.e45026-1.x-bar-content{flex-direction:row;justify-content:space-between;align-items:center;flex:0 1 100%;height:100px}.e45026-1.x-bar-outer-spacers:before,.e45026-1.x-bar-outer-spacers:after{flex-basis:2em;width:2em !important;height:2em}.e45026-1.x-bar-space{font-size:16px;height:100px}.e45026-8.x-anchor{border-radius:30px;font-size:1em;background-color:#b8244b}.e45026-8.x-anchor .x-anchor-content{flex-direction:row;justify-content:center;align-items:center;padding:12px 30px}.e45026-8.x-anchor[class*=active]{background-color:#b8244b}.e45026-8.x-anchor .x-anchor-text{margin:5px}.e45026-8.x-anchor .x-anchor-text-primary{font-family:inherit;font-size:1em;font-style:normal;font-weight:400;line-height:1;color:#fff}.e45026-8.x-anchor[class*=active] .x-anchor-text-primary{color:#fff}.e45026-8.x-anchor .x-anchor-text-secondary{margin-top:.35em;font-family:inherit;font-size:.75em;font-style:normal;font-weight:400;line-height:1;color:rgba(0,0,0,1)}.e45026-8.x-anchor[class*=active] .x-anchor-text-secondary{color:rgba(0,0,0,.5)}.e45026-2.x-bar-container{flex-direction:row;justify-content:space-between;align-items:center;flex:1 0 auto;max-width:250px;background-color:transparent}.e45026-4.x-bar-container{flex-direction:row;justify-content:space-between;align-items:center;flex:0 1 auto;background-color:transparent}.e45026-7.x-bar-container{flex-direction:row;justify-content:space-between;align-items:center;flex:0 1 auto;background-color:transparent}.e45026-6.x-anchor-toggle{width:2.75em;height:2.75em;border-radius:100em;font-size:1em;background-color:rgba(255,255,255,1)}.e45026-6.x-anchor-toggle .x-anchor-content{flex-direction:row;justify-content:center;align-items:center}.e45026-6.x-anchor-toggle[class*=active]{background-color:rgba(255,255,255,1)}.e45026-6.x-anchor-toggle .x-graphic{margin:5px}.e45026-6 .x-toggle{color:rgba(0,0,0,1)}.e45026-6[class*=active] .x-toggle,.e45026-6 .x-toggle[class*=active]{color:rgba(0,0,0,.5)}.e45026-6 .x-toggle-burger{width:12em;margin:3.25em 0;font-size:.1em}.e45026-6 .x-toggle-burger-bun-t{transform:translate3d(0,-3.25em,0)}.e45026-6 .x-toggle-burger-bun-b{transform:translate3d(0,3.25em,0)}.e45026-6.x-off-canvas{font-size:16px}.e45026-6.x-off-canvas .x-off-canvas-bg{background-color:rgba(0,0,0,.75)}.e45026-6.x-off-canvas .x-off-canvas-close{width:calc(1em*2);height:calc(1em*2);font-size:1.5em;color:rgba(0,0,0,.5)}.e45026-6.x-off-canvas .x-off-canvas-close:hover,.e45026-6.x-off-canvas .x-off-canvas-close:focus{color:rgba(0,0,0,1)}.e45026-6.x-off-canvas .x-off-canvas-content{max-width:24em;padding:calc(1.5em*2);background-color:#fff;box-shadow:0em 0em 2em 0em rgba(0,0,0,.25)}.e45026-6.x-menu{margin:0;font-size:1em}.e45026-6.x-menu>li>.x-anchor{font-size:1em;background-color:transparent}.e45026-6.x-menu>li>.x-anchor .x-anchor-content{flex-direction:row;justify-content:center;align-items:center;padding:.75em}.e45026-6.x-menu>li>.x-anchor[class*=active]{background-color:transparent}.e45026-6.x-menu>li>.x-anchor .x-anchor-text{margin:5px auto 5px 5px}.e45026-6.x-menu>li>.x-anchor .x-anchor-text-primary{font-family:inherit;font-size:1em;font-style:normal;font-weight:400;line-height:1;color:rgba(0,0,0,1)}.e45026-6.x-menu>li>.x-anchor[class*=active] .x-anchor-text-primary{color:rgba(0,0,0,.5)}.e45026-6.x-menu>li>.x-anchor .x-anchor-text-secondary{margin-top:.35em;font-family:inherit;font-size:.75em;font-style:normal;font-weight:400;line-height:1;color:rgba(0,0,0,1)}.e45026-6.x-menu>li>.x-anchor[class*=active] .x-anchor-text-secondary{color:rgba(0,0,0,.5)}.e45026-6.x-menu>li>.x-anchor .x-anchor-sub-indicator{margin:5px;font-size:1em;color:rgba(0,0,0,1)}.e45026-6.x-menu>li>.x-anchor[class*=active] .x-anchor-sub-indicator{color:rgba(0,0,0,.5)}.e45026-6 .sub-menu .x-anchor{font-size:1em;background-color:transparent}.e45026-6 .sub-menu .x-anchor .x-anchor-content{flex-direction:row;justify-content:center;align-items:center;padding:.75em}.e45026-6 .sub-menu .x-anchor[class*=active]{background-color:transparent}.e45026-6 .sub-menu .x-anchor .x-anchor-text{margin:5px auto 5px 5px}.e45026-6 .sub-menu .x-anchor .x-anchor-text-primary{font-family:inherit;font-size:1em;font-style:normal;font-weight:400;line-height:1;color:rgba(0,0,0,1)}.e45026-6 .sub-menu .x-anchor[class*=active] .x-anchor-text-primary{color:rgba(0,0,0,.5)}.e45026-6 .sub-menu .x-anchor .x-anchor-text-secondary{margin-top:.35em;font-family:inherit;font-size:.75em;font-style:normal;font-weight:400;line-height:1;color:rgba(0,0,0,1)}.e45026-6 .sub-menu .x-anchor[class*=active] .x-anchor-text-secondary{color:rgba(0,0,0,.5)}.e45026-6 .sub-menu .x-anchor .x-anchor-sub-indicator{margin:5px;font-size:1em;color:rgba(0,0,0,1)}.e45026-6 .sub-menu .x-anchor[class*=active] .x-anchor-sub-indicator{color:rgba(0,0,0,.5)}.e45026-5.x-menu{flex-direction:row;justify-content:space-around;align-items:stretch;align-self:stretch;flex:0 0 auto;margin:0;font-size:1em}.e45026-5.x-menu>li,.e45026-5.x-menu>li>a{flex:0 1 auto}.e45026-5.x-menu>li>.x-anchor{font-size:13px;background-color:transparent}.e45026-5.x-menu>li>.x-anchor .x-anchor-content{flex-direction:row;justify-content:center;align-items:center;padding:.75em}.e45026-5.x-menu>li>.x-anchor[class*=active]{background-color:transparent}.e45026-5.x-menu>li>.x-anchor .x-anchor-text{margin:5px}.e45026-5.x-menu>li>.x-anchor .x-anchor-text-primary{font-family:inherit;font-size:14px;font-style:normal;font-weight:400;line-height:1;color:#000}.e45026-5.x-menu>li>.x-anchor[class*=active] .x-anchor-text-primary{color:#000}.e45026-5.x-menu>li>.x-anchor .x-anchor-text-secondary{margin-top:.35em;font-family:inherit;font-size:.75em;font-style:normal;font-weight:400;line-height:1;color:rgba(0,0,0,1)}.e45026-5.x-menu>li>.x-anchor[class*=active] .x-anchor-text-secondary{color:rgba(0,0,0,.5)}.e45026-5.x-menu>li>.x-anchor .x-anchor-sub-indicator{margin:5px;font-size:1em;color:rgba(0,0,0,1)}.e45026-5.x-menu>li>.x-anchor[class*=active] .x-anchor-sub-indicator{color:rgba(0,0,0,.5)}.e45026-5 .x-dropdown{width:14em;font-size:16px;background-color:#fff;box-shadow:0em .15em 2em 0em rgba(0,0,0,.15)}.e45026-5 .sub-menu .x-anchor{font-size:1em;background-color:transparent}.e45026-5 .sub-menu .x-anchor .x-anchor-content{flex-direction:row;justify-content:center;align-items:center;padding:.75em}.e45026-5 .sub-menu .x-anchor[class*=active]{background-color:transparent}.e45026-5 .sub-menu .x-anchor .x-anchor-text{margin:5px auto 5px 5px}.e45026-5 .sub-menu .x-anchor .x-anchor-text-primary{font-family:inherit;font-size:1em;font-style:normal;font-weight:400;line-height:1;color:rgba(0,0,0,1)}.e45026-5 .sub-menu .x-anchor[class*=active] .x-anchor-text-primary{color:#000}.e45026-5 .sub-menu .x-anchor .x-anchor-text-secondary{margin-top:.35em;font-family:inherit;font-size:.75em;font-style:normal;font-weight:400;line-height:1;color:rgba(0,0,0,1)}.e45026-5 .sub-menu .x-anchor[class*=active] .x-anchor-text-secondary{color:rgba(0,0,0,.5)}.e45026-5 .sub-menu .x-anchor .x-anchor-sub-indicator{margin:5px;font-size:1em;color:rgba(0,0,0,1)}.e45026-5 .sub-menu .x-anchor[class*=active] .x-anchor-sub-indicator{color:rgba(0,0,0,.5)}.e45026-3.x-text{margin:0;padding:0;font-family:inherit;font-size:1em;font-style:normal;font-weight:400;line-height:1.4;letter-spacing:0em;text-transform:none;color:rgba(0,0,0,1);background-color:transparent}.e45026-3.x-text>:first-child{margin-top:0}.e45026-3.x-text>:last-child{margin-bottom:0}.e45026-1.x-bar-outer-spacers:before,.e45026-1.x-bar-outer-spacers:after{flex-basis:1em;width:1em;height:1em}.e45026-1.x-bar-content{max-width:1600px}@media screen and (max-width:1199px){.e45026-8.x-anchor-button{display:table;margin:0 0 0 auto}}@media screen and (max-width:375px){.e45026-2{max-width:200px !important}}.e45026-4.x-bar-container{width:calc(100% - 460px);justify-content:center}@media screen and (max-width:1199px){.e45026-4.x-bar-container{width:auto;order:2}}@media screen and (max-width:1199px){.e45026-7.x-bar-container{width:calc(100% - 320px) !important;text-align:right}}@media screen and (max-width:560px){.e45026-7.x-bar-container{display:none !important}}@media screen and (min-width:1200px){.e45026-6{display:none !important}}.e45026-5.x-menu>li>a.x-anchor{font-family:Helvetica,Arial,sans-serif !important}.e45026-5.x-menu{position:relative}@media screen and (max-width:1500px) and (min-width:1100px){.e45026-5.x-menu>li>.x-anchor .x-anchor-content{padding:.3em}}@media screen and (min-width:1361px) and (max-width:1400px){header .e45026-5.x-menu .menu_gap{margin-left:3% !important}}@media screen and (max-width:1500px) and (min-width:1200px){.e45026-5.x-menu>li>.x-anchor .x-anchor-text-primary{font-size:1em}}@media screen and (max-width:1199px){.e45026-5.x-menu{display:none !important}}.e45520-1.x-bar{height:auto;font-size:16px;background-color:#fff;z-index:9999}.e45520-1.x-bar-content{flex-direction:column;justify-content:center;align-items:center;flex-wrap:wrap;align-content:center;flex:0 1 100%;height:auto}.e45520-1.x-bar-outer-spacers:before,.e45520-1.x-bar-outer-spacers:after{flex-basis:2em;width:2em !important;height:2em}.e45520-1.x-bar-space{font-size:16px}.e45520-4.x-anchor{margin:20px 0 0;border-radius:30px;font-size:1em;background-color:#b9244a;box-shadow:0em .15em .65em 0em #fff}.e45520-4.x-anchor .x-anchor-content{flex-direction:row;justify-content:center;align-items:center;padding:10px 30px}.e45520-4.x-anchor[class*=active]{background-color:#b9244a;box-shadow:0em .15em .65em 0em #fff}.e45520-4.x-anchor .x-anchor-text{margin:5px}.e45520-4.x-anchor .x-anchor-text-primary{font-family:inherit;font-size:14px;font-style:normal;font-weight:700;line-height:1;color:#fff}.e45520-4.x-anchor[class*=active] .x-anchor-text-primary{color:#fff}.e45520-4.x-anchor .x-anchor-text-secondary{margin-top:.35em;font-family:inherit;font-size:.75em;font-style:normal;font-weight:400;line-height:1;color:rgba(0,0,0,1)}.e45520-4.x-anchor[class*=active] .x-anchor-text-secondary{color:rgba(0,0,0,.5)}.e45520-2.x-bar-container{flex-direction:column;justify-content:center;align-items:center;flex:1 0 auto;padding:75px 0 0;background-color:transparent}.e45520-5.x-bar-container{flex-direction:row;justify-content:space-between;align-items:center;flex:0 1 auto;padding:70px 0 0;background-color:transparent}.e45520-7.x-bar-container{flex-direction:row;justify-content:center;align-items:flex-start;flex:0 1 auto;padding:25px 0 0;background-color:transparent}.e45520-10.x-bar-container{flex-direction:row;justify-content:space-between;align-items:center;flex:0 1 auto;padding:30px 0;background-color:transparent}.e45520-14.x-bar-container{flex-direction:row;justify-content:center;align-items:center;flex:0 1 auto;padding:20px 0;background-color:#1d1024}.e45520-6.x-text{margin:0;padding:0;font-size:1em;background-color:transparent}.e45520-6.x-text .x-text-content-text-primary{margin:0 calc(0em*-1) 0 0;font-family:inherit;font-size:1em;font-style:normal;font-weight:400;line-height:1.4;letter-spacing:0em;text-transform:none;color:rgba(0,0,0,1)}.e45520-11.x-image{width:45px;background-color:transparent}.e45520-9.x-image{background-color:transparent}.e45520-12.x-menu{flex-direction:row;justify-content:space-around;align-items:stretch;align-self:stretch;flex:0 0 auto;margin:0;font-size:1em}.e45520-12.x-menu>li,.e45520-12.x-menu>li>a{flex:0 1 auto}.e45520-12.x-menu>li>.x-anchor{font-size:1em;background-color:transparent}.e45520-12.x-menu>li>.x-anchor .x-anchor-content{flex-direction:row;justify-content:center;align-items:center;padding:.75em}.e45520-12.x-menu>li>.x-anchor[class*=active]{background-color:transparent}.e45520-12.x-menu>li>.x-anchor .x-anchor-text{margin:5px}.e45520-12.x-menu>li>.x-anchor .x-anchor-text-primary{font-family:inherit;font-size:1em;font-style:normal;font-weight:400;line-height:1;color:rgba(0,0,0,1)}.e45520-12.x-menu>li>.x-anchor[class*=active] .x-anchor-text-primary{color:rgba(0,0,0,.5)}.e45520-12.x-menu>li>.x-anchor .x-anchor-text-secondary{margin-top:.35em;font-family:inherit;font-size:.75em;font-style:normal;font-weight:400;line-height:1;color:rgba(0,0,0,1)}.e45520-12.x-menu>li>.x-anchor[class*=active] .x-anchor-text-secondary{color:rgba(0,0,0,.5)}.e45520-12.x-menu>li>.x-anchor .x-anchor-sub-indicator{margin:5px;font-size:1em;color:rgba(0,0,0,1)}.e45520-12.x-menu>li>.x-anchor[class*=active] .x-anchor-sub-indicator{color:rgba(0,0,0,.5)}.e45520-12 .x-dropdown{width:14em;font-size:16px;background-color:#fff;box-shadow:0em .15em 2em 0em rgba(0,0,0,.15)}.e45520-12 .sub-menu .x-anchor{font-size:1em;background-color:transparent}.e45520-12 .sub-menu .x-anchor .x-anchor-content{flex-direction:row;justify-content:center;align-items:center;padding:.75em}.e45520-12 .sub-menu .x-anchor[class*=active]{background-color:transparent}.e45520-12 .sub-menu .x-anchor .x-anchor-text{margin:5px auto 5px 5px}.e45520-12 .sub-menu .x-anchor .x-anchor-text-primary{font-family:inherit;font-size:1em;font-style:normal;font-weight:400;line-height:1;color:rgba(0,0,0,1)}.e45520-12 .sub-menu .x-anchor[class*=active] .x-anchor-text-primary{color:rgba(0,0,0,.5)}.e45520-12 .sub-menu .x-anchor .x-anchor-text-secondary{margin-top:.35em;font-family:inherit;font-size:.75em;font-style:normal;font-weight:400;line-height:1;color:rgba(0,0,0,1)}.e45520-12 .sub-menu .x-anchor[class*=active] .x-anchor-text-secondary{color:rgba(0,0,0,.5)}.e45520-12 .sub-menu .x-anchor .x-anchor-sub-indicator{margin:5px;font-size:1em;color:rgba(0,0,0,1)}.e45520-12 .sub-menu .x-anchor[class*=active] .x-anchor-sub-indicator{color:rgba(0,0,0,.5)}.e45520-3.x-text{margin:0;padding:0;font-family:inherit;font-size:1em;font-style:normal;font-weight:400;line-height:1.4;letter-spacing:0em;text-transform:none;color:rgba(0,0,0,1);background-color:transparent}.e45520-15.x-text{margin:0;padding:0;font-family:inherit;font-size:14px;font-style:normal;font-weight:400;line-height:1.4;letter-spacing:0em;text-align:center;text-transform:none;color:#fff;background-color:transparent}.e45520-3.x-text>:first-child{margin-top:0}.e45520-15.x-text>:first-child{margin-top:0}.e45520-3.x-text>:last-child{margin-bottom:0}.e45520-15.x-text>:last-child{margin-bottom:0}.e45520-8.x-bar-widget-area{font-size:16px;background-color:transparent}.e45520-13.x-bar-widget-area{font-size:16px;background-color:transparent}.e45520-1{display:block}.e45520-1 .x-bar-container{margin:auto}.e45520-1:before,.e45520-1:after{display:none !important}.e45520-4{font-family:Helvetica,Arial,sans-serif}.e45520-5{width:100%;max-width:1080px}@media screen and (max-width:768px){.e45520-5{justify-content:center !important}}.e45520-7{width:100%;max-width:1080px}@media screen and (max-width:768px){.e45520-7.x-bar-container{flex-direction:column}.se_ft_widget_1>div,.se_ft_widget_1>div:last-child{-webkit-flex-basis:100%;-ms-flex-preferred-size:100%;flex-basis:100%;margin-bottom:30px !important;padding:0 15px}.se_ft_widget_1 p{text-align:center}.e45520-7.x-bar-container>*{width:100% !important}}@media screen and (max-width:768px){.e45520-7.x-bar-container>*{flex-direction:column}}.e45520-10{width:100%;max-width:1080px}@media screen and (max-width:1100px){.e45520-10.x-bar-container{flex-direction:column}}.e45520-14{width:100%}.e45520-6 .x-text-content-text-primary{font-family:"gotham" !important;font-weight:300 !important;font-size:30px !important}.e45520-3.ft_mlist{display:table;margin:auto;font-size:45px !important;font-weight:300 !important;font-family:"gotham" !important;padding-left:130px;position:relative}.e45520-3.ft_mlist>div{display:inline-block;vertical-align:top;position:relative}.ft_d_m{margin:0 10px}.ft_d_m:after{content:"";display:block;position:absolute;width:100%;height:50%;bottom:0;left:0;z-index:9999;background:-moz-linear-gradient(top,rgba(255,255,255,0) 0%,rgba(255,255,255,.79) 25%,rgba(255,255,255,1) 91%,rgba(255,255,255,1) 100%);background:-webkit-linear-gradient(top,rgba(255,255,255,0) 0%,rgba(255,255,255,.79) 25%,rgba(255,255,255,1) 91%,rgba(255,255,255,1) 100%);background:linear-gradient(to bottom,rgba(255,255,255,0) 0%,rgba(255,255,255,.79) 25%,rgba(255,255,255,1) 91%,rgba(255,255,255,1) 100%);filter:progid:DXImageTransform.Microsoft.gradient(startColorstr='#00ffffff',endColorstr='#ffffff',GradientType=0)}span.gc-slect-cont{display:-webkit-box;display:-webkit-flex;display:-moz-box;display:-ms-flexbox;display:flex;-webkit-flex-wrap:wrap;-ms-flex-wrap:wrap;flex-wrap:wrap}span.ft_d_m{margin:0;display:-webkit-box;display:-webkit-flex;display:-moz-box;display:-ms-flexbox;display:flex;-webkit-box-orient:vertical;-webkit-box-direction:normal;-webkit-flex-direction:column;-moz-box-orient:vertical;-moz-box-direction:normal;-ms-flex-direction:column;flex-direction:column}@media screen and (max-width:1024px){.e45520-3.ft_mlist{font-size:40px !important;padding-left:70px}}@media screen and (max-width:992px){.e45520-3.ft_mlist{font-size:40px !important;padding-left:110px}}@media screen and (max-width:991px){span.gc-slect-cont{display:block !important}}@media screen and (max-width:768px){.e45520-3.ft_mlist{font-size:30px !important;padding-left:0}}@media screen and (max-width:767px){.e45520-3.ft_mlist>div{display:block;vertical-align:top;position:relative;text-align:center}}.e45520-13 .widget{margin-top:0}@media screen and (min-width:1199px){header.x-masthead .x-bar{position:fixed;top:0 !important;width:100%;z-index:99999}.sub-menu ul.sub-menu:before{display:none}.x-bar{transition:.3s}header.x-masthead.fixed-header .x-bar{position:fixed;top:0 !important;left:0;width:100%;z-index:99999;background:rgba(255,255,255,0)}.page-id-44969 .fixed-header a img,.page-id-44969 .fixed-header:hover a img{-webkit-filter:invert(100%);filter:invert(100%)}.admin-bar header.x-masthead .x-bar,.admin-bar header.x-masthead.fixed-header .x-bar{top:32px}header .x-menu,.logo_table table tr td:last-child{transition:all .75s cubic-bezier(.64,.22,.52,1.01)}header .x-menu .menu_button{display:none !important}.fixed-header .nav-menu li:not(.menu_button) a span{color:#000 !important}.fixed-header .x-menu,.fixed-header .logo_table table tr td:last-child{transform:translate(0px,-100px)}}@media screen and (min-width:1199px){.menu-item-has-children.x-megamenu{position:static}.menu-item-has-children.x-megamenu>.x-dropdown{width:100%;display:flex;border-top:2px solid #b8244b;padding:40px 30px}.menu-item-has-children.x-megamenu>.x-dropdown:before{display:none}.x-megamenu>a:after{content:'';display:block;width:10px;height:10px;background:#b8244b;position:absolute;bottom:-18px;left:50%;transform:rotate(45deg) translate(-50%);transition:.3s;transition-delay:.5s}.x-megamenu:hover>a:after{bottom:-8px}.x-megamenu.col-4>.sub-menu>li{width:25%}.x-megamenu.col-4>.sub-menu>li>.sub-menu{display:block !important;position:static;visibility:visible !important;width:100%;min-width:0;padding:0;box-shadow:none;opacity:1 !important;transform:translate(0px,0px);top:0 !important}.x-megamenu.col-4>.sub-menu>li>a span{font-size:20px !important;font-weight:700 !important}.x-megamenu.col-4>.sub-menu>li>a i.x-anchor-sub-indicator{display:none}.x-megamenu.col-4>.sub-menu>li .x-anchor-content{flex-direction:row;justify-content:center;align-items:center;padding:3px .75em}header .x-menu a span{position:relative}header .x-menu a span:after{display:block;content:'';height:1px;width:0;background:#b8244b;transition:.3s;position:absolute;bottom:0;left:0}header .x-menu a:hover span{color:#b8244b !important}header .x-menu a:hover span:after{width:100%}header .x-menu .sub-menu .current-menu-item>a,header .x-menu .sub-menu li a:hover{background:0 0 !important;opacity:1;box-shadow:none}header .x-menu ul.sub-menu{background:#fff!important}header .x-menu i.x-anchor-sub-indicator{display:none}header .x-menu>li>a{text-transform:uppercase}.menu_bold>a span{font-weight:700 !important;font-size:14px !important}header .x-menu{width:100%;justify-content:center !important}header .x-menu .menu_gap{margin-left:2% !important}}@media screen and (min-width:1240px){header .x-menu .menu_gap{margin-left:6% !important}}@media screen and (min-width:1280px){header .x-menu .menu_gap{margin-left:10% !important}}@media screen and (min-width:1199px){.page-id-44969 header a img,.page-id-44969 header:hover a img,.page-id-44969 header table img,.page-id-44969 header:hover table img,.page-id-43141 header a img,.page-id-43141 header:hover a img,.page-id-43141 header table img,.page-id-43141 header:hover table img,.page-id-102 header a img,.page-id-102 header:hover a img,.page-id-102 header table img,.page-id-102 header:hover table img.page-id-71 header a img,.page-id-71 header:hover a img,.page-id-71 header table img,.page-id-71 header:hover table img{-webkit-filter:invert(100%);filter:invert(100%)}header.fixed-header.fixed-header-white a img,header.fixed-header.fixed-header-white table img{-webkit-filter:invert(0%);filter:invert(0%)}.page-id-44969 header .x-menu>li>a span,.page-id-43141 header .x-menu>li>a span,.page-id-102 header .x-menu>li>a span,.page-id-71 header .x-menu>li>a span{color:#fff !important}.page-id-44969 header .x-menu>li:hover>a span,.page-id-43141 header .x-menu>li:hover>a span,.page-id-102 header .x-menu>li:hover>a span,.page-id-71 header .x-menu>li:hover>a span{color:#b8244b !important}}@media screen and (min-width:1199px) and (max-width:1400px){.menu-item-has-children.x-megamenu>.x-dropdown{width:calc(100% + 400px);margin-right:-175px}.sub-menu .x-anchor .x-anchor-text-primary{font-size:15px !important}}@media screen and (min-width:1400px) and (max-width:1500px){.menu-item-has-children.x-megamenu>.x-dropdown{width:calc(100% + 300px);margin-right:-135px}.sub-menu .x-anchor .x-anchor-text-primary{font-size:15px !important}}@media screen and (max-width:1199px){.x-anchor-sub-indicator[data-x-icon-s]:before{content:'+' !important}.x-menu>li>.x-anchor{border-top:1px solid #ccc;text-transform:uppercase}header .x-menu>li>.x-anchor .x-anchor-content{padding:7px 0}ul.sub-menu:before{display:none !important}.menu_bold>a span{font-weight:700 !important}.x-off-canvas .x-off-canvas-content{padding:50px 20px 20px !important}}.logo_table{position:relative}.logo_table *{margin:0}.logo_table td{border:none;padding:0}.logo_table img{margin:0}.logo_table a{position:absolute;left:0;top:0;width:100%;height:100%;display:block}@media screen and (min-width:1199px){header.x-masthead.clc img{filter:invert(1)}header.x-masthead.clc .x-menu>li>.x-anchor .x-anchor-text-primary{color:#fff}.fixed-header .x-menu ul.sub-menu.x-dropdown,.fixed-header .x-megamenu>a:after{display:none !important}}@media screen and (min-width:980px){body:not(.reverse_transparent_bg) header.header_bg_opt:not(.fixed-header)>div{transition:.3s linear;background:rgba(255,255,255,.9) !important}body:not(.reverse_transparent_bg) header.header_bg_opt:not(.fixed-header)>div .x-menu a:not(:hover) *{color:#000 !important}body:not(.reverse_transparent_bg) header.header_bg_opt:not(.fixed-header)>div img{filter:invert(0)}}footer.x-colophon{background:#fff;z-index:99;border-top:none;box-shadow:none}.x-bar-container{padding-left:15px !important;padding-right:15px !important}.se_ft_widget_1{display:-webkit-box;display:-webkit-flex;display:-moz-box;display:-ms-flexbox;display:flex;width:50%}.se_ft_widget_1>div{font-family:Helvetica,Arial,sans-serif !important;text-shadow:none;color:#000;font-size:16px;min-width:200px;padding-right:15px;margin-top:20px !important}.se_ft_widget_1 a{color:#000 !important;font-family:Helvetica,Arial,sans-serif !important;font-weight:700}body .se_ft_widget_1 #text-2 p{margin-bottom:22px}body .se_ft_widget_1 p{font-family:Helvetica,Arial,sans-serif !important;margin-bottom:10px}.se_ft_widget_1>div:last-child{text-transform:uppercase;padding-left:20px;font-size:12px;padding-top:0}.x-colophon .x-menu>li>.x-anchor .x-anchor-text-primary{font-family:inherit;font-size:13px !important;font-style:normal;font-weight:700 !important;line-height:1;text-transform:uppercase;color:#000}.x-colophon .x-menu>li>.x-anchor{border:none}.gc-slect-cont .ft_d_m.gc-dshow:after{opacity:0;visibility:hidden;transition:all 0s}.gc-slect-cont .ft_d_m:after{opacity:1;visibility:visible;transition:all .3s ease-in .5s}@media screen and (max-width:1100px){.x-colophon .x-menu{padding:20px 0;display:table;text-align:center}.x-colophon .x-menu>li{display:inline-block}}.fancybox-overlay-fixed{z-index:999999}.cs-ui-theme-light .animated{visibility:visible}.cs-ui-theme-light div,.cs-ui-theme-light button,.cs-ui-theme-light img{opacity:1 !important;visibility:visible !important}.x-navbar .desktop .x-nav li>a>span:after{display:none}span.aos-init{display:block}.cs-element-preview [data-aos^=fade][data-aos^=fade]{opacity:1}.desktop .sub-menu{font-size:14px}.desktop .sub-menu{min-width:280px;right:-95px !important}.x-navbar .desktop .x-nav .menu-item-has-children>a>span:after,.x-nav-wrap.mobile .menu-item-has-children>a>.x-sub-toggle>span>i:before{content:'+' !important;display:inline-block !important;font-weight:700 !important;line-height:.5}.intro_img{max-width:480px;margin:60px auto 0}.intro_img img{margin:0}.intro_img .im_1{width:70%;box-shadow:0px 0px 25px 0px rgba(0,0,0,.3);border-radius:7px;overflow:hidden}.intro_img .im_2{width:70%;margin:-12% 0 auto auto;box-shadow:0px 0px 25px 0px rgba(0,0,0,.3);border-radius:7px;overflow:hidden}.showcase_out_container>.x-container{padding-top:70px}.showcase_out_container>.x-container:first-child{padding-top:0}.point_list{display:flex;flex-wrap:wrap;align-items:flex-end;padding:10px 0}.point_cell_1{font-size:50px;text-align:right;font-weight:900;font-family:"gotham";color:#44394f;width:140px;padding-right:20px;line-height:1}.point_cell_2{width:calc(100% - 150px);max-width:200px}.x-navbar .desktop .x-nav>li>a:hover,.x-navbar .desktop .x-nav>.x-active>a,.x-navbar .desktop .x-nav>.current-menu-item>a{box-shadow:none}.footer_social{text-align:right}.footer_social a{font-size:16px;border-radius:100em !important;width:30px;height:30px;border:1px solid #fff;display:inline-flex;flex-direction:column;position:relative;min-width:1px;border-radius:0;cursor:pointer;transition-property:border-color,background-color,box-shadow,opacity,transform;margin-right:7px}.footer_social a:last-child{margin-right:0}.footer_social a span{flex-direction:row;justify-content:center;align-items:center;display:flex;flex:1 0 auto;position:relative;overflow:hidden;border-radius:inherit;transform:translate3d(0,0,0)}.footer_social a span .x-icon{width:1em;height:1em;line-height:16px;font-size:16px;color:#a29ca8;background-color:transparent;text-shadow:none}.footer_social a:hover{background:#fff}.footer_social a:hover span .x-icon{color:#291e2e}.footer_social a svg *{fill:#291e2e;opacity:1;transition:.3s}.footer_social a:hover svg *{fill:#b8244b;opacity:1}.showcase_out_container{max-width:1100px;margin:auto}a.btn_full_link{position:absolute;display:block;top:0;left:0;width:100%;height:100%;z-index:9999}.service_form .ginput_container_checkbox label{font-size:19px !important;margin-right:0 !important;max-width:100% !important;width:100% !important}body .service_form .gform_wrapper ul.top_label li ul.gfield_checkbox li{align-items:baseline !important}.service_form .gform_wrapper .gform_body ul.gform_fields li.gfield+li.gfield{padding-right:0}.modal_flex_box{margin-bottom:25px}ul.sub-menu:before{content:'';display:block;position:absolute;background:#f6f9fc;width:15px;height:15px;transform:rotate(45deg) translate(-50%);top:0;left:48%}ul.sub-menu{background:#f6f9fc !important}.sub-menu .current-menu-item>a,.sub-menu li a:hover{background:#fff !important;box-shadow:3px 0px 0 inset}.x-navbar .mobile .x-nav ul li>a{padding-left:15px}.x-nav-wrap.mobile .x-nav ul li.current-menu-item>a,.x-nav-wrap.mobile .x-nav ul li>a:hover{background:#fff !important;box-shadow:3px 0px 0 inset}.x-nav-wrap.mobile ul{margin:0 !important}.services-l-aside-wrap{max-width:300px}.blog_sidebar .widget_recent_entries ul li{padding:12px 0}.blog_sidebar .widget_recent_entries ul{border:none;box-shadow:none;font-family:Helvetica,Arial,sans-serif}.blog_sidebar .widget_recent_entries ul a{font-weight:700;color:#44394f;font-family:Helvetica,Arial,sans-serif}.blog_sidebar section{text-shadow:none}#menu-main-menu li.menu-item.menu_btn a{background:#b9244a;display:inline-block;height:auto;position:relative;padding:0;top:20px;padding:15px 20px;border-radius:50px;color:#fff;margin-left:20px}div#x-nav-wrap-mobile{padding:10px 0}.author_bio_from_team .social-link svg *{opacity:1}@media (max-width:992px){.intro_img{margin:10px auto 30px auto}.showcase_out_container>.x-container{padding-top:25px}#x-nav-wrap-mobile .x-nav li.menu-item.menu_btn a{background:#b9244a;display:inline-block;height:auto;position:relative;padding:0;top:0;padding:15px 20px;border-radius:50px;color:#fff;margin-top:15px}}@media (max-width:767px){.service_form .ginput_container_checkbox label{font-size:12px !important}body .service_form .gform_wrapper ul.top_label li ul.gfield_checkbox li{align-items:center !important}}@media (max-width:1025px) and (min-width:992px){.x-navbar .desktop .x-nav>li>a:not(.x-btn-navbar-woocommerce){padding-left:18px;padding-right:18px}}@media screen and (max-width:1100px) and (min-width:992px){.x-brand img{width:200px}}@media screen and (min-width:992px){header.masthead.masthead-inline{position:relative;z-index:99999}.x-navbar{transition:.3s}.nav_fixed .x-brand img{filter:brightness(0) invert(1)}.nav_fixed.x-navbar .desktop .x-nav>li>a{color:#fff}.nav_fixed.x-navbar{background:rgba(29,16,36,.85)}}.anim-delay-250{animation-delay:.25s !important;-webkit-animation-delay:.25s !important}.anim-delay-500{animation-delay:.5s !important;-webkit-animation-delay:.5s !important}.anim-delay-750{animation-delay:.75s !important;-webkit-animation-delay:.75s !important}.anim-delay-1000{animation-delay:1s !important;-webkit-animation-delay:1s !important}.anim-delay-1250{animation-delay:1.25s !important;-webkit-animation-delay:1.25s !important}.anim-delay-1500{animation-delay:1.5s !important;-webkit-animation-delay:1.5s !important}.anim-delay-1750{animation-delay:1.75s !important;-webkit-animation-delay:1.75s !important}.anim-delay-2000{animation-delay:2s !important;-webkit-animation-delay:2s !important}.anim-delay-2250{animation-delay:2.25s !important;-webkit-animation-delay:2.25s !important}.anim-delay-2500{animation-delay:2.5s !important;-webkit-animation-delay:2.5s !important}.anim-delay-2750{animation-delay:2.75s !important;-webkit-animation-delay:2.75s !important}.anim-delay-3000{animation-delay:3s !important;-webkit-animation-delay:3s !important}.anim-duration-250{animation-duration:.25s !important;-webkit-animation-duration:.25s !important}.anim-duration-500{animation-duration:.5s !important;-webkit-animation-duration:.5s !important}.anim-duration-750{animation-duration:.75s !important;-webkit-animation-duration:.75s !important}.anim-duration-1000{animation-duration:1s !important;-webkit-animation-duration:1s !important}.anim-duration-1250{animation-duration:1.25s !important;-webkit-animation-duration:1.25s !important}.anim-duration-1500{animation-duration:1.5s !important;-webkit-animation-duration:1.5s !important}.anim-duration-1750{animation-duration:1.75s !important;-webkit-animation-duration:1.75s !important}.anim-duration-2000{animation-duration:2s !important;-webkit-animation-duration:2s !important}.anim-duration-2250{animation-duration:2.25s !important;-webkit-animation-duration:2.25s !important}.anim-duration-2500{animation-duration:2.5s !important;-webkit-animation-duration:2.5s !important}.anim-duration-2750{animation-duration:2.75s !important;-webkit-animation-duration:2.75s !important}.anim-duration-3000{animation-duration:3s !important;-webkit-animation-duration:3s !important} .service_list{margin-top:0 !important}.special-title{font-weight:600 !important}.services-list li a{margin-top:10px}h4{font-weight:700}.max-img-width{max-width:99999px !important}.posh .consistent-branding-elements .container .logo-grey-posh{max-width:100% !important}.x-container.bg_container{position:absolute !important;height:100%;display:block;left:0;top:0;width:auto !important;padding-top:10% !important;margin-left:-6% !important;width:28% !important}@media screen and (max-width:991px){.left{float:none !important}.branding-esp,.posh .img-absoluta.james-posh{display:block;margin:auto !important}.posh .consistent-col,.posh .james-col{padding-left:0 !important;padding-right:0 !important;padding-top:30px !important}}@media screen and (max-width:767px){.post-title.post_brand{width:200px;margin:12% auto !important;display:table}.row{margin-left:0;margin-right:0}.p-header{min-height:unset}.posh .consistent-branding-elements .container,.posh .center-image-responsive,.aside-wrapper .info{padding:0 !important}.single-case_study #mc_page_header_wrap{padding:0 !important}} .cls-1{opacity:.5}.cls-2{fill:#fff} .cls-1{opacity:.5}.cls-2{fill:#fff} .cls-1{opacity:.5}.cls-2{fill:#fff} .cls-1{opacity:.5}.cls-2{fill:#fff} .cls-1{opacity:.5}.cls-2{fill:#fff} .lazyload,.lazyloading{opacity:0}.lazyloaded{opacity:1;transition:opacity .3s} body .gform_wrapper.gf_reset_wrapper,body .gform_wrapper.gf_reset_wrapper button,body .gform_wrapper.gf_reset_wrapper caption,body .gform_wrapper.gf_reset_wrapper div,body .gform_wrapper.gf_reset_wrapper fieldset,body .gform_wrapper.gf_reset_wrapper form,body .gform_wrapper.gf_reset_wrapper h1,body .gform_wrapper.gf_reset_wrapper h2,body .gform_wrapper.gf_reset_wrapper h3,body .gform_wrapper.gf_reset_wrapper h4,body .gform_wrapper.gf_reset_wrapper h5,body .gform_wrapper.gf_reset_wrapper h6,body .gform_wrapper.gf_reset_wrapper iframe,body .gform_wrapper.gf_reset_wrapper img,body .gform_wrapper.gf_reset_wrapper input[type=button],body .gform_wrapper.gf_reset_wrapper input[type=email],body .gform_wrapper.gf_reset_wrapper input[type=image],body .gform_wrapper.gf_reset_wrapper input[type=number],body .gform_wrapper.gf_reset_wrapper input[type=password],body .gform_wrapper.gf_reset_wrapper input[type=submit],body .gform_wrapper.gf_reset_wrapper input[type=tel],body .gform_wrapper.gf_reset_wrapper input[type=text],body .gform_wrapper.gf_reset_wrapper input[type=url],body .gform_wrapper.gf_reset_wrapper label,body .gform_wrapper.gf_reset_wrapper legend,body .gform_wrapper.gf_reset_wrapper li,body .gform_wrapper.gf_reset_wrapper ol,body .gform_wrapper.gf_reset_wrapper p,body .gform_wrapper.gf_reset_wrapper select,body .gform_wrapper.gf_reset_wrapper span,body .gform_wrapper.gf_reset_wrapper table,body .gform_wrapper.gf_reset_wrapper tbody,body .gform_wrapper.gf_reset_wrapper td,body .gform_wrapper.gf_reset_wrapper textarea,body .gform_wrapper.gf_reset_wrapper tfoot,body .gform_wrapper.gf_reset_wrapper th,body .gform_wrapper.gf_reset_wrapper thead,body .gform_wrapper.gf_reset_wrapper tr,body .gform_wrapper.gf_reset_wrapper ul{margin:0;padding:0;border:0;outline:0}body .gform_wrapper.gf_reset_wrapper button,body .gform_wrapper.gf_reset_wrapper caption,body .gform_wrapper.gf_reset_wrapper div,body .gform_wrapper.gf_reset_wrapper fieldset,body .gform_wrapper.gf_reset_wrapper form,body .gform_wrapper.gf_reset_wrapper iframe,body .gform_wrapper.gf_reset_wrapper img,body .gform_wrapper.gf_reset_wrapper input[type=button],body .gform_wrapper.gf_reset_wrapper input[type=email],body .gform_wrapper.gf_reset_wrapper input[type=image],body .gform_wrapper.gf_reset_wrapper input[type=number],body .gform_wrapper.gf_reset_wrapper input[type=password],body .gform_wrapper.gf_reset_wrapper input[type=submit],body .gform_wrapper.gf_reset_wrapper input[type=tel],body .gform_wrapper.gf_reset_wrapper input[type=text],body .gform_wrapper.gf_reset_wrapper input[type=url],body .gform_wrapper.gf_reset_wrapper label,body .gform_wrapper.gf_reset_wrapper legend,body .gform_wrapper.gf_reset_wrapper li,body .gform_wrapper.gf_reset_wrapper ol,body .gform_wrapper.gf_reset_wrapper p,body .gform_wrapper.gf_reset_wrapper select,body .gform_wrapper.gf_reset_wrapper span,body .gform_wrapper.gf_reset_wrapper table,body .gform_wrapper.gf_reset_wrapper tbody,body .gform_wrapper.gf_reset_wrapper td,body .gform_wrapper.gf_reset_wrapper textarea,body .gform_wrapper.gf_reset_wrapper tfoot,body .gform_wrapper.gf_reset_wrapper th,body .gform_wrapper.gf_reset_wrapper thead,body .gform_wrapper.gf_reset_wrapper tr,body .gform_wrapper.gf_reset_wrapper ul{font-weight:inherit;font-style:inherit;font-size:100%;font-family:inherit;vertical-align:baseline;line-height:1;font-weight:400}body .gform_wrapper.gf_reset_wrapper div,body .gform_wrapper.gf_reset_wrapper p,body .gform_wrapper.gf_reset_wrapper span{line-height:1.8}body .gform_wrapper.gf_reset_wrapper fieldset,body .gform_wrapper.gf_reset_wrapper img{border:0}body .gform_wrapper.gf_reset_wrapper li,body .gform_wrapper.gf_reset_wrapper ol,body .gform_wrapper.gf_reset_wrapper ul{list-style:none}body .gform_wrapper.gf_reset_wrapper a img{border:none}body .gform_wrapper.gf_reset_wrapper :focus{outline:0} .gform_wrapper{margin-bottom:16px;margin-top:16px;max-width:100%}.gform_wrapper form{text-align:left;max-width:100%;margin:0 auto}.gform_wrapper *,.gform_wrapper :after,.gform_wrapper :before{box-sizing:border-box!important}.gform_wrapper h1,.gform_wrapper h2,.gform_wrapper h3{font-weight:400;border:none;background:0 0}.gform_wrapper input:not([type=radio]):not([type=checkbox]):not([type=submit]):not([type=button]):not([type=image]):not([type=file]){font-size:inherit;font-family:inherit;padding:5px 4px;letter-spacing:normal}.gform_wrapper input[type=image]{border:none!important;padding:0!important;width:auto!important}.gform_wrapper textarea{font-size:inherit;font-family:inherit;letter-spacing:normal;padding:6px 8px;line-height:1.5;resize:none}.gform_wrapper select{line-height:1.5}.gform_wrapper .ginput_container_multiselect select{background-image:none!important;-webkit-appearance:none;-moz-appearance:none;outline:0}.gform_wrapper ul.gform_fields{margin:0!important;list-style-type:none;display:block}.gform_wrapper ul,html>body .entry ul{text-indent:0}.gform_wrapper form li,.gform_wrapper li{margin-left:0!important;list-style-type:none!important;list-style-image:none!important;list-style:none!important;overflow:visible}.gform_wrapper ul li.gfield{clear:both}.gform_wrapper ul.gfield_checkbox li,.gform_wrapper ul.gfield_radio li{overflow:hidden}.gform_wrapper form ul.gform_fields.left_label li.gfield,.gform_wrapper form ul.gform_fields.right_label li.gfield,.gform_wrapper ul.gform_fields.left_label li.gfield,.gform_wrapper ul.gform_fields.right_label li.gfield{margin-bottom:14px}.gform_wrapper form ul.left_label li ul.gfield_checkbox li,.gform_wrapper form ul.left_label li ul.gfield_radio li,.gform_wrapper form ul.right_label li ul.gfield_checkbox li,.gform_wrapper form ul.right_label li ul.gfield_radio li,.gform_wrapper ul.left_label li ul.gfield_checkbox li,.gform_wrapper ul.left_label li ul.gfield_radio li,.gform_wrapper ul.right_label li ul.gfield_checkbox li,.gform_wrapper ul.right_label li ul.gfield_radio li{margin-bottom:10px}.gform_wrapper ul li:after,.gform_wrapper ul li:before,.gform_wrapper ul.gform_fields{padding:0;margin:0;overflow:visible}.gform_wrapper select{font-size:inherit;font-family:inherit;letter-spacing:normal}.gform_wrapper select option{padding:2px;display:block}.gform_wrapper .inline{display:inline!important}.gform_wrapper .gform_heading{width:100%;margin-bottom:18px}.gform_wrapper .clear-multi{display:flex}.gform_wrapper .gfield_date_day,.gform_wrapper .gfield_date_year{display:-moz-inline-stack;display:inline-block}.gform_wrapper .gfield_date_day,.gform_wrapper .gfield_date_month,.gform_wrapper .gfield_date_year{width:33.333%;flex-direction:row}@media only screen and (min-width:321px){.gform_wrapper .gfield_date_day,.gform_wrapper .gfield_date_month{max-width:4rem}.gform_wrapper .gfield_date_year,.gform_wrapper .gfield_time_ampm{max-width:calc(4rem + .5rem)}}.gform_wrapper .gfield_date_dropdown_day,.gform_wrapper .gfield_date_dropdown_month,.gform_wrapper .gfield_date_dropdown_year{vertical-align:top;flex-direction:row}.gform_wrapper .gfield_date_dropdown_day,.gform_wrapper .gfield_date_dropdown_month,.gform_wrapper .gfield_date_dropdown_year{margin-right:.5rem}.gform_wrapper .gfield_date_day,.gform_wrapper .gfield_date_month{width:4rem;margin-right:.5rem}.gform_wrapper .gfield_date_day input[type=number],.gform_wrapper .gfield_date_month input[type=number]{width:calc(3rem + 8px)!important}.gform_wrapper .gfield_date_year input[type=number]{width:calc(4rem + 8px)!important}.gform_wrapper .gfield_date_year{width:5rem}.gform_wrapper .gfield_date_day input,.gform_wrapper .gfield_date_month input{width:calc(3rem + 8px)}.gform_wrapper .gfield_date_year input{width:4rem}.gform_wrapper .field_sublabel_above div[class*=gfield_date_].ginput_container label,.gform_wrapper .field_sublabel_below div[class*=gfield_date_].ginput_container label{width:3rem;text-align:center}.gform_wrapper .field_sublabel_above div.gfield_date_year.ginput_container label,.gform_wrapper .field_sublabel_below div.gfield_date_year.ginput_container label{width:4rem}.gform_wrapper .gfield_time_ampm,.gform_wrapper .gfield_time_hour,.gform_wrapper .gfield_time_minute{width:33.333%;flex-direction:row}@media only screen and (min-width:321px){.gform_wrapper .gfield_time_hour,.gform_wrapper .gfield_time_minute{max-width:4rem}.gform_wrapper .gfield_time_ampm,.gform_wrapper .gfield_time_hour{max-width:calc(4rem + .5rem)}.gform_wrapper .gfield_time_hour{max-width:calc(4rem + .5rem)}}.gform_wrapper ul.gform_fields:not(.top_label) .ginput_container_time span{float:left}.gform_wrapper .gfield_time_hour i{font-style:normal!important;font-family:sans-serif!important;width:10px;text-align:center;float:right;margin-top:9%}.gform_wrapper .gfield_time_minute{margin-right:.5rem}.gform_wrapper .gfield_time_hour{margin-right:.25rem}.gform_wrapper .gfield_time_ampm{vertical-align:top;display:-moz-inline-stack;display:inline-block}.gform_wrapper .gfield_time_ampm select{min-width:calc(2rem + 25px);width:calc(3rem + 25px)}.gform_wrapper .gfield_time_ampm_shim{display:block;font-size:.813em;margin:9px 0 1px 1px}.gform_wrapper .gfield_time_hour input,.gform_wrapper .gfield_time_minute input{width:calc(3rem + 8px)}.gform_wrapper .gfield_time_hour input[type=number],.gform_wrapper .gfield_time_minute input[type=number]{width:calc(3rem + 8px)!important}.gform_wrapper .field_sublabel_above div[class*=gfield_time_].ginput_container label,.gform_wrapper .field_sublabel_below div[class*=gfield_time_].ginput_container label{width:3rem;text-align:center}.gform_wrapper .field_hover{border:1px dashed #2175a9;cursor:pointer}.gform_wrapper .field_selected{background-color:#dfefff;border:1px solid #c2d7ef}.gform_wrapper .field_name_first,.gform_wrapper .field_name_last,.gform_wrapper .field_name_middle{width:49.5%;display:-moz-inline-stack;display:inline-block;vertical-align:top}.gform_wrapper .ginput_complex.ginput_container{overflow:visible;width:100%}.gform_wrapper label.gfield_label,.gform_wrapper legend.gfield_label{font-weight:700;font-size:inherit}.gform_wrapper .top_label .gfield_label,.gform_wrapper legend.gfield_label{display:-moz-inline-stack;display:inline-block;line-height:1.3;clear:both}.gform_wrapper .top_label .gfield_hide_label{display:none}.gform_wrapper .ginput_complex .ginput_left input:not([type=radio]):not([type=checkbox]):not([type=submit]):not([type=image]):not([type=file]),.gform_wrapper .ginput_complex .ginput_right input:not([type=radio]):not([type=checkbox]):not([type=submit]):not([type=image]):not([type=file]),.gform_wrapper .ginput_complex input:not([type=radio]):not([type=checkbox]):not([type=submit]):not([type=image]):not([type=file]){width:100%}.gform_wrapper .ginput_complex .ginput_right select,.gform_wrapper .ginput_complex select{width:100%}.gform_wrapper .field_sublabel_above .ginput_complex.ginput_container label,.gform_wrapper .field_sublabel_above div[class*=gfield_date_].ginput_container label,.gform_wrapper .field_sublabel_above div[class*=gfield_time_].ginput_container label,.gform_wrapper .field_sublabel_below .ginput_complex.ginput_container label,.gform_wrapper .field_sublabel_below div[class*=gfield_date_].ginput_container label,.gform_wrapper .field_sublabel_below div[class*=gfield_time_].ginput_container label{display:block;font-size:.813em;letter-spacing:.5pt;white-space:nowrap}.gform_wrapper ul.gfield_checkbox li label,.gform_wrapper ul.gfield_radio li label{display:-moz-inline-stack;display:inline-block;letter-spacing:inherit;vertical-align:middle;cursor:pointer}.gform_wrapper .field_sublabel_above .ginput_complex.ginput_container label,.gform_wrapper .field_sublabel_above div[class*=gfield_time_].ginput_container label{margin:9px 0 1px 1px}.gform_wrapper ul.gform_fields:not(.top_label) .field_sublabel_above .ginput_container.ginput_container_email label,.gform_wrapper ul.gform_fields:not(.top_label) .field_sublabel_above .ginput_container.ginput_container_name label,.gform_wrapper ul.gform_fields:not(.top_label) .field_sublabel_above .ginput_container.ginput_container_password label,.gform_wrapper ul.gform_fields:not(.top_label) .field_sublabel_above .ginput_container.ginput_container_time label{margin-top:0}.gform_wrapper .field_sublabel_below .ginput_complex.ginput_container label,.gform_wrapper .field_sublabel_below div[class*=gfield_time_].ginput_container label{margin:1px 0 9px 1px}.gform_wrapper .top_label .field_sublabel_above label.gfield_label+.ginput_complex.ginput_container,.gform_wrapper .top_label .field_sublabel_above label.gfield_label+div[class*=gfield_time_].ginput_container{margin-top:0}body .gform_wrapper .top_label div.ginput_container{margin-top:8px}body.gform_wrapper div.clear-multi{display:-moz-inline-stack;display:inline-block}body .gform_wrapper ul li.field_description_below div.ginput_container_checkbox,body .gform_wrapper ul li.field_description_below div.ginput_container_radio{margin-top:16px;margin-bottom:0}.gform_wrapper .hidden_label .gfield_label{clip:rect(1px,1px,1px,1px);position:absolute!important;height:1px;width:1px;overflow:hidden}.gfield.left_label,.gfield.right_label{padding-top:10px}.gform_wrapper li.hidden_label input{margin-top:12px}.gform_wrapper .field_sublabel_hidden_label .ginput_complex.ginput_container input[type=text],.gform_wrapper .field_sublabel_hidden_label .ginput_complex.ginput_container select{margin-bottom:12px}.gform_wrapper .screen-reader-text,.gform_wrapper label.hidden_sub_label{border:0;clip:rect(1px,1px,1px,1px);clip-path:inset(50%);height:1px;margin:-1px;overflow:hidden;padding:0;position:absolute;width:1px;word-wrap:normal!important}.gform_wrapper input.large,.gform_wrapper input.medium,.gform_wrapper input.small,.gform_wrapper select.large,.gform_wrapper select.medium,.gform_wrapper select.small{width:100%}.gform_wrapper input.datepicker_with_icon.large,.gform_wrapper input.datepicker_with_icon.medium,.gform_wrapper input.datepicker_with_icon.small{width:calc(100% - 24px)}.gform_wrapper .gfield_error input.large,.gform_wrapper .gfield_error input.medium,.gform_wrapper .gfield_error input.small,.gform_wrapper .gfield_error select.large,.gform_wrapper .gfield_error select.medium,.gform_wrapper .gfield_error select.small{width:100%}.gform_wrapper .gfield_error input.datepicker_with_icon.large,.gform_wrapper .gfield_error input.datepicker_with_icon.medium,.gform_wrapper .gfield_error input.datepicker_with_icon.small{width:calc(100% - 32px)}.gform_wrapper textarea.small{height:80px;width:100%}.gform_wrapper textarea.medium{height:120px;width:100%}.gform_wrapper textarea.large{height:160px;width:100%}.gform_wrapper h2.gsection_title{margin:0!important;padding:0!important;letter-spacing:normal!important}.gform_wrapper .gsection .gfield_label,.gform_wrapper h2.gsection_title,.gform_wrapper h3.gform_title{font-weight:700;font-size:1.25em}.gform_wrapper h3.gform_title{letter-spacing:normal!important;margin:10px 0 6px 0}.gform_wrapper li.gfield.field_description_below+li.gsection{margin-top:24px!important}.gform_wrapper span.gform_description{font-weight:400;display:block;width:calc(100% - 16px);margin-bottom:16px}.gform_wrapper .gsection{border-bottom:1px solid #ccc;padding:0 16px 8px 0;margin:28px 0 28px 0;clear:both}.gform_wrapper ul.gfield_checkbox li input[type=checkbox],.gform_wrapper ul.gfield_radio li input[type=radio]{width:auto!important}.gform_wrapper .gfield_checkbox li,.gform_wrapper .gfield_radio li{position:relative}.gform_wrapper ul.gfield_checkbox,.gform_wrapper ul.gfield_radio{margin:6px 0;padding:0}.gform_wrapper .gfield_checkbox li label,.gform_wrapper .gfield_radio li label{display:-moz-inline-stack;display:inline-block;padding:0;width:auto;line-height:1.5;font-size:.875em;vertical-align:middle;max-width:85%;white-space:normal}.gform_wrapper .gfield_checkbox li label{margin:0}.gform_wrapper .gfield_radio li label{margin:2px 0 0 4px}.gform_wrapper .gfield_checkbox li input,.gform_wrapper .gfield_checkbox li input[type=checkbox],.gform_wrapper .gfield_radio li input[type=radio]{display:-moz-inline-stack;display:inline-block;vertical-align:middle;margin-left:1px}.gform_wrapper .description,.gform_wrapper .gfield_description,.gform_wrapper .gsection_description,.gform_wrapper .instruction{font-size:.813em;line-height:inherit;clear:both;font-family:inherit;letter-spacing:normal}.gform_wrapper .description,.gform_wrapper .gfield_description,.gform_wrapper .gsection_description{padding:0 16px 0 0}.gform_wrapper .field_description_below .gfield_description{padding-top:16px}.gform_wrapper .field_sublabel_above .description,.gform_wrapper .field_sublabel_above .gfield_description,.gform_wrapper .field_sublabel_above .gsection_description{margin-top:9px}.gform_wrapper .top_label .gsection_description{width:100%;margin-bottom:9px}.gform_wrapper .gfield_description{width:100%}.gform_wrapper .description_above .gfield_description{padding:0 0 10px 0}.gfield_date_year+.gfield_description{padding:0}.gform_wrapper .field_description_below .gfield_consent_description,.gform_wrapper .gfield_consent_description{width:100%;max-height:240px;overflow-y:scroll;border:1px solid #ddd;margin-top:12px;padding:6px 8px;font-size:.688em}.gform_wrapper .gfield_required{color:#790000;margin-left:4px}.gform_wrapper li.gfield.gfield_error,.gform_wrapper li.gfield.gfield_error.gfield_contains_required.gfield_creditcard_warning{background-color:rgba(255,223,224,.25);margin-bottom:6px!important;border-top:1px solid #c89797;border-bottom:1px solid #c89797;padding-bottom:6px;padding-top:8px;box-sizing:border-box}.gform_wrapper li.gfield.gfield_creditcard_warning{padding:16px 16px 14px 16px;border-top:2px solid #790000;border-bottom:4px solid #790000;background-color:rgba(255,223,224,.25);width:calc(100% - 16px)}.gform_wrapper li.gfield.gfield_error.gfield_creditcard_warning{padding:16px 16px 14px 16px}.gform_wrapper li.gfield.gfield_creditcard_warning div.gfield_creditcard_warning_message{font-size:.875em;font-weight:700;font-family:inherit;min-height:25px;color:#790000;max-width:100%;position:relative}.gform_wrapper li.gfield.gfield_creditcard_warning div.gfield_creditcard_warning_message span{display:block;padding:0 0 14px 24px;margin-bottom:16px;line-height:1.5;letter-spacing:.1pt;border-bottom:1px solid #790000;text-transform:uppercase;background-image:url(data:image/svg+xml;base64,PD94bWwgdmVyc2lvbj0iMS4wIiBlbmNvZGluZz0idXRmLTgiPz4NCjwhLS0gR2VuZXJhdG9yOiBBZG9iZSBJbGx1c3RyYXRvciAxOS4xLjAsIFNWRyBFeHBvcnQgUGx1Zy1JbiAuIFNWRyBWZXJzaW9uOiA2LjAwIEJ1aWxkIDApICAtLT4NCjwhRE9DVFlQRSBzdmcgUFVCTElDICItLy9XM0MvL0RURCBTVkcgMS4xLy9FTiIgImh0dHA6Ly93d3cudzMub3JnL0dyYXBoaWNzL1NWRy8xLjEvRFREL3N2ZzExLmR0ZCI+DQo8c3ZnIHZlcnNpb249IjEuMSIgaWQ9IkxheWVyXzEiIHhtbG5zPSJodHRwOi8vd3d3LnczLm9yZy8yMDAwL3N2ZyIgeG1sbnM6eGxpbms9Imh0dHA6Ly93d3cudzMub3JnLzE5OTkveGxpbmsiIHg9IjBweCIgeT0iMHB4Ig0KCSB2aWV3Qm94PSItMTA2NyAyODY1IDI0IDMyIiBzdHlsZT0iZW5hYmxlLWJhY2tncm91bmQ6bmV3IC0xMDY3IDI4NjUgMjQgMzI7IiB4bWw6c3BhY2U9InByZXNlcnZlIj4NCjxzdHlsZSB0eXBlPSJ0ZXh0L2NzcyI+DQoJLnN0MHtmaWxsOiM3OTAwMDA7fQ0KPC9zdHlsZT4NCjxwYXRoIGNsYXNzPSJzdDAiIGQ9Ik0tMTA1MywyODY1Yy01LjUsMC0xMCw0LjUtMTAsMTBoNGMwLTMuMywyLjctNiw2LTZjMy4zLDAsNiwyLjcsNiw2djJoLTIwdjE0YzAsMy4zLDIuNyw2LDYsNmgxMg0KCWMzLjMsMCw2LTIuNyw2LTZ2LTE2Qy0xMDQzLDI4NjkuNS0xMDQ3LjUsMjg2NS0xMDUzLDI4NjV6IE0tMTA0OSwyODkzaC0xMmMtMS4xLDAtMi0wLjktMi0ydi0xMGgxNnYxMA0KCUMtMTA0NywyODkyLjEtMTA0Ny45LDI4OTMtMTA0OSwyODkzeiBNLTEwNTMsMjg4N2MwLDEuMS0wLjksMi0yLDJzLTItMC45LTItMmMwLTEuMSwwLjktMiwyLTJTLTEwNTMsMjg4NS45LTEwNTMsMjg4N3oiLz4NCjwvc3ZnPg0K);background-size:1em auto;background-repeat:no-repeat;background-position:left center}.gform_wrapper li.gfield.gfield_error.gfield_creditcard_warning div.gfield_creditcard_warning_message{padding:16px 16px 14px 16px}li.gfield+li.gfield.gfield_creditcard_warning{margin-top:16px!important}.gform_wrapper .top_label .gfield_error{width:calc(100% - 2px)}.gform_wrapper .top_label .gfield_error input.large,.gform_wrapper .top_label .gfield_error select.large,.gform_wrapper .top_label .gfield_error textarea.textarea{width:100%}.gform_wrapper .left_label .gfield_error input.large,.gform_wrapper .left_label .gfield_error select.large,.gform_wrapper .left_label .gfield_error textarea.textarea,.gform_wrapper .right_label .gfield_error input.large,.gform_wrapper .right_label .gfield_error select.large,.gform_wrapper .right_label .gfield_error textarea.textarea{width:70%}.gform_wrapper .gfield_error .gfield_label{color:#790000}.gform_wrapper li.gfield.gfield_error.gfield_contains_required{padding-right:0}.gform_wrapper li.gfield.gfield_error.gfield_contains_required div.gfield_time_ampm.ginput_container,.gform_wrapper li.gfield.gfield_error.gfield_contains_required div.gfield_time_minute.ginput_container{margin-left:0}.gform_wrapper li.gfield.gfield_error.gfield_contains_required div.gfield_description{max-width:100%;padding-right:16px}.gform_wrapper li.gfield.gfield_error.gfield_contains_required div.ginput_container,.gform_wrapper li.gfield.gfield_error.gfield_contains_required label.gfield_label{margin-top:12px}.gform_wrapper li.gfield.gfield_error.gfield_contains_required fieldset legend.gfield_label{position:relative;top:12px}.gform_wrapper div.validation_error{color:#790000;font-size:1em;font-weight:700;margin-bottom:25px;border-top:2px solid #790000;border-bottom:2px solid #790000;padding:16px 0 16px 0;clear:both;width:100%;text-align:center}.gform_wrapper ol.validation_list{clear:both;width:100%;margin-bottom:25px;color:#790000}.gform_wrapper ol.validation_list li{list-style-type:decimal!important}.gform_wrapper ol.validation_list li a{color:#790000}.gform_wrapper ol.validation_list:after{content:""}.gform_wrapper div#error{margin-bottom:25px}.gform_wrapper table.gfield_list tbody tr td.gfield_list_icons{vertical-align:middle!important}.gform_wrapper li.gfield fieldset{margin:0;padding:0;display:block;position:relative;width:100%}.gform_wrapper li.gfield fieldset>*{width:auto}.gform_wrapper li.gfield fieldset legend.gfield_label{width:100%;line-height:32px}div.gf_page_steps+div.validation_error{margin-top:16px}.gform_wrapper div.gfield_description.validation_error{color:#790000;font-weight:700;font-size:.875em;line-height:1.2;margin-bottom:16px}.gform_wrapper .validation_message{color:#790000;font-weight:700;letter-spacing:normal}.gform_wrapper li.gfield_error input:not([type=radio]):not([type=checkbox]):not([type=submit]):not([type=button]):not([type=image]):not([type=file]),.gform_wrapper li.gfield_error textarea{border:1px solid #790000}.gform_wrapper li.gfield_error div.ginput_complex.ginput_container label,.gform_wrapper li.gfield_error ul.gfield_checkbox,.gform_wrapper li.gfield_error ul.gfield_radio{color:#790000}.gform_wrapper .gform_footer{padding:16px 0 10px 0;margin:16px 0 0 0;clear:both;width:100%}.gform_wrapper .gform_footer input.button,.gform_wrapper .gform_footer input[type=submit],.gform_wrapper .gform_page_footer input.button,.gform_wrapper .gform_page_footer input[type=submit]{font-size:1em;width:100%;margin:0 0 16px 0}.gform_wrapper .gform_footer a.gform_save_link,.gform_wrapper .gform_page_footer a.gform_save_link{font-size:1em;display:block;text-align:center}.gform_wrapper .gform_footer input[type=image]{padding:0;width:auto!important;background:0 0!important;border:none!important;margin:0 auto 16px auto!important;display:block;max-width:100%}.gform_wrapper .ginput_complex .ginput_full,.gform_wrapper .ginput_complex .ginput_left,.gform_wrapper .ginput_complex .ginput_right{min-height:45px}.gform_wrapper .ginput_complex .ginput_full input[type=email],.gform_wrapper .ginput_complex .ginput_full input[type=number],.gform_wrapper .ginput_complex .ginput_full input[type=password],.gform_wrapper .ginput_complex .ginput_full input[type=tel],.gform_wrapper .ginput_complex .ginput_full input[type=text],.gform_wrapper .ginput_complex .ginput_full input[type=url]{width:100%}.gform_wrapper .gfield_error .ginput_complex .ginput_full input[type=email],.gform_wrapper .gfield_error .ginput_complex .ginput_full input[type=number],.gform_wrapper .gfield_error .ginput_complex .ginput_full input[type=password],.gform_wrapper .gfield_error .ginput_complex .ginput_full input[type=tel],.gform_wrapper .gfield_error .ginput_complex .ginput_full input[type=text],.gform_wrapper .gfield_error .ginput_complex .ginput_full input[type=url],.gform_wrapper .gfield_error .ginput_complex .ginput_full select{width:100%}.gform_wrapper .gfield_checkbox li,.gform_wrapper .gfield_radio li{margin:0 0 16px 0;line-height:1.2}.gchoice_select_all,.gform_wrapper ul.gfield_checkbox li input[type=checkbox]:checked+label,.gform_wrapper ul.gfield_radio li input[type=radio]:checked+label{font-weight:700}.gform_wrapper input.datepicker.datepicker_with_icon{margin-right:4px!important;display:-moz-inline-stack;display:inline-block}.gform_wrapper .gf_hidden,.gform_wrapper .gform_hidden,.gform_wrapper input.gform_hidden,.gform_wrapper input[type=hidden]{display:none!important;max-height:1px!important;overflow:hidden}.gform_wrapper .gf_invisible,.gform_wrapper .gfield_visibility_hidden{visibility:hidden;position:absolute;left:-9999px}.gform_wrapper .ginput_full br,.gform_wrapper .ginput_left br,.gform_wrapper .ginput_right br{display:none!important}.gform_wrapper ul.gfield_checkbox li,.gform_wrapper ul.gfield_radio li{padding:0!important}.gform_wrapper ul.gfield_radio li input+input{margin-left:4px}.gform_wrapper ul.gfield_radio li input[value=gf_other_choice]{margin-right:6px;margin-top:4px}.gform_wrapper .gfield_description+.gform_wrapper .gfield_description.validation_message{margin-top:6px}.gform_wrapper .ginput_container.ginput_list+.gfield_description.validation_message{margin-top:0}.gform_wrapper li.gfield_html{max-width:100%}.gform_wrapper .gfield_html.gfield_no_follows_desc{margin-top:10px}body .gform_wrapper ul li.gfield.gfield_html img{max-width:100%!important}.gform_wrapper .gform_ajax_spinner{padding-left:10px}.gform_validation_container,.gform_wrapper .gform_validation_container,body .gform_wrapper .gform_body ul.gform_fields li.gfield.gform_validation_container,body .gform_wrapper li.gform_validation_container,body .gform_wrapper ul.gform_fields li.gfield.gform_validation_container{display:none!important;position:absolute!important;left:-9000px}.gform_wrapper .gfield_captcha_input_container{padding-top:3px}.gform_wrapper .simple_captcha_small input{width:64px}.gform_wrapper .simple_captcha_medium input{width:96px}.gform_wrapper .simple_captcha_large input{width:128px}.gform_wrapper .gform_wrapper .left_label .simple_captcha_small,.gform_wrapper .left_label .simple_captcha_large,.gform_wrapper .left_label .simple_captcha_medium,.gform_wrapper .right_label .simple_captcha_large,.gform_wrapper .right_label .simple_captcha_medium,.gform_wrapper .right_label .simple_captcha_small{margin-left:32%}.gform_wrapper .gfield_captcha_container img.gfield_captcha{border:none!important;background:0 0!important;float:none!important;margin:0!important;padding:0!important}.gform_wrapper .math_small input{width:70px}.gform_wrapper .math_medium input{width:510px}.gform_wrapper .math_large input{width:612px}.gform_wrapper .left_label .math_large,.gform_wrapper .left_label .math_medium,.gform_wrapper .left_label .math_small,.gform_wrapper .right_label .math_large,.gform_wrapper .right_label .math_medium,.gform_wrapper .right_label .math_small{margin-left:32%}.gform_wrapper div.charleft{font-size:.688em;margin-top:4px;color:#767676;width:92%!important;white-space:nowrap!important}.gform_wrapper div.charleft[style]{width:92%!important}.gform_wrapper .left_label div.charleft,.gform_wrapper .right_label div.charleft{margin-left:32%}.gform_wrapper div.charleft.ginput_counter_tinymce{border:1px solid #eee;border-width:1px 0 0;padding:4px 9px;width:100%!important}.gform_wrapper div.charleft.warningTextareaInfo{color:#767676}.gform_wrapper div.charleft.ginput_counter_error{color:red}.gform_wrapper li.gf_hide_charleft div.charleft{display:none!important}.gf_submission_limit_message{color:#790000;font-size:1.375em}.gform_wrapper .ginput_price{-moz-opacity:.7;-khtml-opacity:.7;opacity:.7}.gform_wrapper span.ginput_total{color:#060;font-size:inherit}.gform_wrapper .top_label span.ginput_total{margin:8px 0}.gform_wrapper span.ginput_product_price_label{margin-right:2px}.gform_wrapper span.ginput_product_price{color:#900}.gform_wrapper span.ginput_quantity_label{margin-left:10px;margin-right:2px}.gform_wrapper input.ginput_quantity[type=text]{width:3rem}.gform_wrapper input.ginput_quantity[type=number]{width:4rem}.gform_wrapper .gform_page_footer{margin:14px 0;width:100%;border-top:1px dotted #ccc;padding:16px 0 0 0;clear:both}.gform_wrapper .gform_page_footer.left_label,.gform_wrapper .gform_page_footer.right_label{padding:16px 0 0 29%}.gform_wrapper .gform_page_footer .button.gform_next_button,.gform_wrapper .gform_page_footer .button.gform_previous_button{display:-moz-inline-stack;display:inline-block}.gform_wrapper .gform_page_footer .button.gform_previous_button{margin-bottom:8px}.gform_wrapper .gf_progressbar_wrapper{clear:both;width:100%;margin:0 0 16px 0;padding:0 0 16px 0}.gform_wrapper .gf_progressbar_wrapper h3.gf_progressbar_title{font-size:.813em;line-height:1!important;margin:0 0 8px 12px!important;padding:0!important;clear:both;-moz-opacity:.6;-khtml-opacity:.6;opacity:.6}.gform_wrapper .gf_progressbar{padding:10px;position:relative;background-color:rgba(0,0,0,.1);-moz-border-radius:25px;-webkit-border-radius:25px;border-radius:25px;-webkit-box-shadow:inset 0 0 1px 1px rgba(0,0,0,.05);-moz-box-shadow:inset 0 0 1px 1px rgba(0,0,0,.05);box-shadow:inset 0 0 1px 1px rgba(0,0,0,.05);width:100%}.gform_wrapper .gf_progressbar_percentage{height:24px;text-align:right;font-family:helvetica,arial,sans-serif;font-size:.813em!important;text-shadow:0 1px 1px rgba(0,0,0,.5);border-top-right-radius:4px;border-bottom-right-radius:4px;border-top-left-radius:20px;border-bottom-left-radius:20px;z-index:999;vertical-align:middle;background:repeating-linear-gradient(-45deg,rgba(0,0,0,0),rgba(0,0,0,0) 10px,rgba(0,0,0,.1) 10px,rgba(0,0,0,.1) 20px),linear-gradient(to bottom,rgba(0,0,0,0),rgba(0,0,0,.3))}.gform_wrapper .gf_progressbar:after{content:"";display:block;width:100%;z-index:990;height:24px;margin-top:-24px;background-color:rgba(0,0,0,.1);border-top-right-radius:20px;border-bottom-right-radius:20px;border-top-left-radius:20px;border-bottom-left-radius:20px;-webkit-box-shadow:inset 0 0 2px 2px rgba(0,0,0,.05);-moz-box-shadow:inset 0 0 2px 2px rgba(0,0,0,.05);box-shadow:inset 0 0 2px 2px rgba(0,0,0,.05)}.gform_wrapper .gf_progressbar_percentage.percentbar_100{border-top-right-radius:20px;border-bottom-right-radius:20px}.gform_wrapper .gf_progressbar_percentage span{display:block;width:auto;float:right;margin-right:5px;margin-left:5px;line-height:1.8}.gform_wrapper .gf_progressbar_percentage.percentbar_0 span{color:#959595;text-shadow:none;float:none!important;margin-left:12px;word-wrap:normal}.gform_wrapper .percentbar_blue{background-color:#036493;color:#fff}.gform_wrapper .percentbar_gray{background-color:#7c7c7c;color:#fff}.gform_wrapper .percentbar_green{background-color:#88b831;color:#fff}.gform_wrapper .percentbar_orange{background-color:#ff7120;color:#fff}.gform_wrapper .percentbar_red{background-color:#ff2a1a;color:#fff}.gform_wrapper .gf_page_steps{width:100%;margin:0 0 8px 0;padding:0 0 4px 0;border-bottom:1px dotted #ccc}.gform_wrapper .gf_step{width:100%;margin:24px 24px 24px 0;font-size:.875em;height:14px;line-height:1.25!important;-moz-opacity:.2;-khtml-opacity:.2;opacity:.2;font-family:inherit}.gform_wrapper .gf_step span.gf_step_number{font-size:1.25em;font-family:arial,sans-serif;margin-right:4px}.gform_wrapper .gf_step span.gf_step_label,.gform_wrapper .gf_step span.gf_step_number{display:-moz-inline-stack;display:inline-block;vertical-align:middle}.gform_wrapper .gf_step.gf_step_active{-moz-opacity:1;-khtml-opacity:1;opacity:1}.gform_wrapper .gf_step_clear{display:block;clear:both;height:1px;overflow:hidden}.gform_wrapper .gfield_password_strength{border:1px solid #ddd;margin-top:18px;margin-bottom:18px;line-height:1.8;padding:10px 5px;text-align:center;background-color:#eee;border-bottom:3px solid #ddd}.gform_wrapper ul.top_label li.gfield.gfield_error.gfield_contains_required .gfield_password_strength{margin-right:16px}.gform_wrapper ul.left_label li.gfield .gfield_password_strength,.gform_wrapper ul.right_label li.gfield .gfield_password_strength{margin-top:18px;margin-bottom:18px;width:100%}.gform_wrapper .gfield_password_strength.bad{background-color:#ffb78c;border-color:#ff853c;border-bottom:3px solid #ff853c}.gform_wrapper .gfield_password_strength.good{background-color:#ffec8b;border-color:#fc0;border-bottom:3px solid #fc0}.gform_wrapper .gfield_password_strength.mismatch,.gform_wrapper .gfield_password_strength.short{background-color:#ffa0a0;border-color:#f04040;border-bottom:3px solid #f04040}.gform_wrapper .gfield_password_strength.strong{background-color:#c3ff88;border-color:#8dff1c;border-bottom:3px solid #8dff1c}.ginput_container_password,.ginput_container_password span{position:relative}.ginput_container_password button{-webkit-appearance:none;appearance:none;background:0 0;border:none;padding:5px 0;position:absolute;right:1px;text-align:center;top:1px;width:40px}.ginput_container_password span.ginput_left button{right:9px}.ginput_container_password:not(.ginput_complex) span{display:inline-block;width:100%}.ginput_container_password:not(.ginput_complex) span input{width:100%}.ginput_container_password span.medium{width:calc(50% - 8px)}.ginput_container_password span.small{width:25%}.gform_wrapper table.gfield_list,.gform_wrapper table.gfield_list caption,.gform_wrapper table.gfield_list tbody,.gform_wrapper table.gfield_list td,.gform_wrapper table.gfield_list tfoot,.gform_wrapper table.gfield_list th,.gform_wrapper table.gfield_list thead,.gform_wrapper table.gfield_list tr{margin:0;padding:0;border:0;font-size:100%;font:inherit;vertical-align:baseline}.gform_wrapper table.gfield_list{border-spacing:0;border-collapse:collapse}.gfield_repeater_buttons{padding-top:15px}.gform_wrapper table.gfield_list{table-layout:auto!important}.gform_wrapper table.gfield_list thead th{font-weight:700;text-align:left}.gform_wrapper table.gfield_list colgroup{width:100%;display:block}.gform_wrapper li.gfield.gfield_error table.gfield_list thead th{color:#790000}.gform_wrapper table.gfield_list thead,.gform_wrapper table.gfield_list tr{padding:0;margin:0}.gform_wrapper table.gfield_list td,.gform_wrapper table.gfield_list th{padding:4px 0 4px 0}.gform_wrapper ul.gform_fields:not(.top_label) table.gfield_list th{padding:0 0 4px 0}.gform_wrapper table.gfield_list td+td,.gform_wrapper table.gfield_list th+th{padding:0 0 0 16px}.gform_wrapper .gfield_list{width:100%}.gform_wrapper .gfield_list td.gfield_list_cell input{width:100%}.gfield_icon_disabled{cursor:default!important;-moz-opacity:.6;-khtml-opacity:.6;opacity:.6}.gform_wrapper table.gfield_list tr td.gfield_list_icons{width:48px!important;padding:0 0 0 4px!important;box-sizing:border-box}.gform_wrapper table.gfield_list td.gfield_list_icons img{display:-moz-inline-stack;display:inline-block;vertical-align:middle}.gform_wrapper .gform_card_icon_container{margin:8px 0 6px 0;height:32px}.gform_wrapper div.gform_card_icon{margin-right:4px;text-indent:-9000px;background-image:url(https://cdn.mercury.one/wp-content/plugins/gravityforms/css/../images/gf-creditcard-icons.svg);background-repeat:no-repeat;width:36px;height:30px;float:left}.gform_wrapper .gform_card_icon_container.gform_card_icon_style1 div.gform_card_icon.gform_card_icon_visa{background-position:0 0}.gform_wrapper .gform_card_icon_container.gform_card_icon_style1 div.gform_card_icon.gform_card_icon_selected.gform_card_icon_visa{background-position:0 -32px}.gform_wrapper .gform_card_icon_container.gform_card_icon_style1 div.gform_card_icon.gform_card_icon_inactive.gform_card_icon_visa{background-position:0 -64px}.gform_wrapper .gform_card_icon_container.gform_card_icon_style1 div.gform_card_icon.gform_card_icon_mastercard{background-position:-36px 0}.gform_wrapper .gform_card_icon_container.gform_card_icon_style1 div.gform_card_icon.gform_card_icon_selected.gform_card_icon_mastercard{background-position:-36px -32px}.gform_wrapper .gform_card_icon_container.gform_card_icon_style1 div.gform_card_icon.gform_card_icon_inactive.gform_card_icon_mastercard{background-position:-36px -64px}.gform_wrapper .gform_card_icon_container.gform_card_icon_style1 div.gform_card_icon.gform_card_icon_amex{background-position:-72px 0}.gform_wrapper .gform_card_icon_container.gform_card_icon_style1 div.gform_card_icon.gform_card_icon_selected.gform_card_icon_amex{background-position:-72px -32px}.gform_wrapper .gform_card_icon_container.gform_card_icon_style1 div.gform_card_icon.gform_card_icon_inactive.gform_card_icon_amex{background-position:-72px -64px}.gform_wrapper .gform_card_icon_container.gform_card_icon_style1 div.gform_card_icon.gform_card_icon_discover{background-position:-108px 0}.gform_wrapper .gform_card_icon_container.gform_card_icon_style1 div.gform_card_icon.gform_card_icon_selected.gform_card_icon_discover{background-position:-108px -32px}.gform_wrapper .gform_card_icon_container.gform_card_icon_style1 div.gform_card_icon.gform_card_icon_inactive.gform_card_icon_discover{background-position:-108px -64px}.gform_wrapper .gform_card_icon_container.gform_card_icon_style1 div.gform_card_icon.gform_card_icon_maestro{background-position:-144px 0}.gform_wrapper .gform_card_icon_container.gform_card_icon_style1 div.gform_card_icon.gform_card_icon_selected.gform_card_icon_maestro{background-position:-144px -32px}.gform_wrapper .gform_card_icon_container.gform_card_icon_style1 div.gform_card_icon.gform_card_icon_inactive.gform_card_icon_maestro{background-position:-144px -64px}.gform_wrapper .gform_card_icon_container.gform_card_icon_style1 div.gform_card_icon.gform_card_icon_jcb{background-position:-180px 0}.gform_wrapper .gform_card_icon_container.gform_card_icon_style1 div.gform_card_icon.gform_card_icon_selected.gform_card_icon_jcb{background-position:-180px -32px}.gform_wrapper .gform_card_icon_container.gform_card_icon_style1 div.gform_card_icon.gform_card_icon_inactive.gform_card_icon_jcb{background-position:-180px -64px}.gform_wrapper .gform_card_icon_container.gform_card_icon_style2 div.gform_card_icon.gform_card_icon_visa{background-position:0 -189px}.gform_wrapper .gform_card_icon_container.gform_card_icon_style2 div.gform_card_icon.gform_card_icon_selected.gform_card_icon_visa{background-position:0 -221px}.gform_wrapper .gform_card_icon_container.gform_card_icon_style2 div.gform_card_icon.gform_card_icon_inactive.gform_card_icon_visa{background-position:0 -252px}.gform_wrapper .gform_card_icon_container.gform_card_icon_style2 div.gform_card_icon.gform_card_icon_mastercard{background-position:-36px -189px}.gform_wrapper .gform_card_icon_container.gform_card_icon_style2 div.gform_card_icon.gform_card_icon_selected.gform_card_icon_mastercard{background-position:-36px -221px}.gform_wrapper .gform_card_icon_container.gform_card_icon_style2 div.gform_card_icon.gform_card_icon_inactive.gform_card_icon_mastercard{background-position:-36px -252px}.gform_wrapper .gform_card_icon_container.gform_card_icon_style2 div.gform_card_icon.gform_card_icon_amex{background-position:-72px -189px}.gform_wrapper .gform_card_icon_container.gform_card_icon_style2 div.gform_card_icon.gform_card_icon_selected.gform_card_icon_amex{background-position:-72px -221px}.gform_wrapper .gform_card_icon_container.gform_card_icon_style2 div.gform_card_icon.gform_card_icon_inactive.gform_card_icon_amex{background-position:-72px -252px}.gform_wrapper .gform_card_icon_container.gform_card_icon_style2 div.gform_card_icon.gform_card_icon_discover{background-position:-108px -189px}.gform_wrapper .gform_card_icon_container.gform_card_icon_style2 div.gform_card_icon.gform_card_icon_selected.gform_card_icon_discover{background-position:-108px -221px}.gform_wrapper .gform_card_icon_container.gform_card_icon_style2 div.gform_card_icon.gform_card_icon_inactive.gform_card_icon_discover{background-position:-108px -252px}.gform_wrapper .gform_card_icon_container.gform_card_icon_style2 div.gform_card_icon.gform_card_icon_maestro{background-position:-144px -189px}.gform_wrapper .gform_card_icon_container.gform_card_icon_style2 div.gform_card_icon.gform_card_icon_selected.gform_card_icon_maestro{background-position:-144px -221px}.gform_wrapper .gform_card_icon_container.gform_card_icon_style2 div.gform_card_icon.gform_card_icon_inactive.gform_card_icon_maestro{background-position:-144px -252px}.gform_wrapper .gform_card_icon_container.gform_card_icon_style2 div.gform_card_icon.gform_card_icon_jcb{background-position:-180px -189px}.gform_wrapper .gform_card_icon_container.gform_card_icon_style2 div.gform_card_icon.gform_card_icon_selected.gform_card_icon_jcb{background-position:-180px -221px}.gform_wrapper .gform_card_icon_container.gform_card_icon_style2 div.gform_card_icon.gform_card_icon_inactive.gform_card_icon_jcb{background-position:-180px -252px}.gform_card_icon_container input[type=radio]#gform_payment_method_creditcard{float:left;position:relative;top:4px!important}.gform_wrapper .ginput_complex .ginput_cardinfo_right{min-width:85px!important}.gform_wrapper .ginput_complex .ginput_cardinfo_left label,.gform_wrapper .ginput_complex .ginput_cardinfo_right label{white-space:nowrap!important}.gform_wrapper .ginput_complex span.ginput_cardextras{display:block;overflow:hidden}.gform_wrapper .ginput_complex .ginput_cardinfo_left span.ginput_card_expiration_container{position:relative;display:block;min-width:160px!important}.gform_wrapper .ginput_complex .ginput_cardinfo_left span.ginput_card_expiration_container select{margin-bottom:8px}.gform_wrapper .ginput_complex .ginput_cardinfo_right input.ginput_card_security_code{max-width:50%!important}.gform_wrapper .ginput_complex .ginput_cardinfo_right span.ginput_card_security_code_icon{width:32px;height:23px;background-image:url(https://cdn.mercury.one/wp-content/plugins/gravityforms/css/../images/gf-creditcard-icons.svg);background-repeat:no-repeat;background-position:0 -128px;position:relative;top:-1px;left:6px;display:-moz-inline-stack;display:inline-block}.gform_wrapper .gform_fileupload_multifile .gform_drop_area{padding:24px;border:1px dashed #ccc;text-align:center;color:#aaa;margin-bottom:16px;background:rgba(0,0,0,.02);-webkit-border-radius:4px;-moz-border-radius:4px;border-radius:4px}.gform_wrapper span.gform_drop_instructions{display:block;margin-bottom:8px}.gform_delete{vertical-align:middle;cursor:pointer}.gform_wrapper .copy_values_option_container .copy_values_enabled{width:auto}.gform_wrapper li.field_sublabel_above .ginput_complex input[type=text]{margin-bottom:1px}.gform_wrapper .form_saved_message{margin:1em auto;padding:3em 2em 3em;width:99%;font-size:1em;line-height:1.8;color:#31708f;background-color:#e3f3f3;text-align:center;-webkit-border-radius:2px;-moz-border-radius:2px;border-radius:2px}.gform_wrapper .form_saved_message form{text-align:center}.form_saved_message p.resume_form_link_wrapper{background-color:#fff;display:inline-block;padding:1em;-webkit-border-radius:2px;-moz-border-radius:2px;border-radius:2px;max-width:98%!important;overflow:hidden;-webkit-box-shadow:0 3px 2px 0 rgba(66,103,126,.2);-moz-box-shadow:0 3px 2px 0 rgba(66,103,126,.2);box-shadow:0 3px 2px 0 rgba(66,103,126,.2)}.form_saved_message a.resume_form_link{word-wrap:break-word;text-decoration:none;color:#2f637e}.form_saved_message .form_saved_message_emailform{margin:1em 0 0 0}.form_saved_message label.form_saved_label{position:absolute;left:-9000px}div.form_saved_message div.form_saved_message_emailform form input[type=text]{margin-bottom:.25em}div.form_saved_message div.form_saved_message_emailform form input{margin:.75em auto 0 auto;display:inline-block}div.form_saved_message div.form_saved_message_emailform form input[type=email]{padding:calc(.75em - 1px)!important;width:24em;max-width:98%!important;font-size:1em;background-color:#fff;border:1px solid #91afc7;color:#424242;-webkit-border-radius:2px;-moz-border-radius:2px;border-radius:2px;-webkit-appearance:none;-moz-appearance:none;-webkit-box-shadow:inset 0 0 5px 0 #eee;-moz-box-shadow:inset 0 0 5px 0 #eee;box-shadow:inset 0 0 5px 0 #eee}div.form_saved_message div.form_saved_message_emailform form input[type=submit]{padding:.75em 1em;font-size:1em;line-height:1;background-color:#91afc7;border:1px solid #91afc7;color:#fff;text-transform:uppercase;-webkit-border-radius:2px;-moz-border-radius:2px;border-radius:2px;-webkit-appearance:none;-moz-appearance:none}@media only screen and (max-width:640px){div.form_saved_message div.form_saved_message_emailform form input[type=email],div.form_saved_message div.form_saved_message_emailform form input[type=submit]{display:block;width:98%}}.form_saved_message .form_saved_message_emailform .validation_message{color:#790000;font-weight:700;padding:2em}.form_saved_message_sent{margin:1em auto;padding:3em 2em;width:99%;font-size:1em;background-color:#e9ffd9;color:#3c763d;text-align:center;-webkit-border-radius:2px;-moz-border-radius:2px;border-radius:2px;box-sizing:border-box}.form_saved_message_sent .saved_message_email,.form_saved_message_sent .saved_message_success{font-weight:700;display:block;line-height:2}.form_saved_message_sent .saved_message_email{word-wrap:break-word;text-decoration:underline}body #content .entry-content .gform_wrapper form .gform_body .gform_fields .gfield .ginput_container #recaptcha_widget_div #recaptcha_area .recaptchatable tbody tr td .recaptcha_input_area,body .gform_wrapper form .gform_body .gform_fields .gfield .ginput_container #recaptcha_widget_div #recaptcha_area .recaptchatable tbody tr td .recaptcha_input_area{line-height:1!important}body .gform_wrapper img.ui-datepicker-trigger{width:17px!important;height:16px!important;display:-moz-inline-stack;display:inline-block}body .gform_wrapper img.add_list_item,body .gform_wrapper img.delete_list_item{display:-moz-inline-stack;display:inline-block;margin-top:-2px}.gform_wrapper ul li.gfield.field_sublabel_above.field_description_below+li.gfield{margin-top:16px}.gform_wrapper li.gfield ul.gfield_radio li input[type=radio]+input[type=text]{width:45.25%}.gform_wrapper table.recaptchatable{table-layout:auto}.gform_wrapper ul.gform_fields:not(.top_label) div.ginput_container_captcha{margin-left:29%}.gfield .wp-editor-container{border:1px solid #ddd}.gfield .wp-switch-editor{border-color:#ddd}.gfield .html-active .switch-html,.gfield .tmce-active .switch-tmce{border-bottom-color:#f5f5f5}.gfield .mce-edit-area iframe{width:99.9%!important;margin:0!important}body .gform_wrapper ul li.gfield{margin-top:16px;padding-top:0}body .gform_wrapper ul.gfields li.gfield label.gfield_label{margin-bottom:0!important;padding-bottom:0!important}body .gform_wrapper div.gform_body ul.gform_fields li.gfield.gfield_html{line-height:inherit}body .gform_wrapper div.gform_body ul.gform_fields li.gfield.gfield_html ul li,body .gform_wrapper form div.gform_body ul.gform_fields li.gfield.gfield_html ul li{list-style-type:disc!important;margin:0 0 8px 0;overflow:visible;padding-left:0}body .gform_wrapper div.gform_body ul.gform_fields li.gfield.gfield_html ul,body .gform_wrapper form div.gform_body ul.gform_fields li.gfield.gfield_html ul{list-style-type:disc!important;margin:16px 0 16px 28px!important;padding-left:0}body .gform_wrapper div.gform_body ul.gform_fields li.gfield.gfield_html ol li,body .gform_wrapper form div.gform_body ul.gform_fields li.gfield.gfield_html ol li{list-style-type:decimal!important;overflow:visible;margin:0 0 8px 0;padding-left:0}body .gform_wrapper div.gform_body ul.gform_fields li.gfield.gfield_html ol,body .gform_wrapper form div.gform_body ul.gform_fields li.gfield.gfield_html ol{list-style-type:decimal!important;margin:16px 0 18px 32px;padding-left:0}body .gform_wrapper div.gform_body ul.gform_fields li.gfield.gfield_html ol li ul,body .gform_wrapper form div.gform_body ul.gform_fields li.gfield.gfield_html ol li ul li{list-style-type:disc!important;padding-left:0}body .gform_wrapper div.gform_body ul.gform_fields li.gfield.gfield_html ol li ul{margin:16px 0 16px 16px}body .gform_wrapper form div.gform_body ul.gform_fields li.gfield.gfield_html ol li ul li{margin:0 0 8px}body .gform_wrapper div.gform_body ul.gform_fields li.gfield.gfield_html dl{margin:0 0 18px 0;padding-left:0}body .gform_wrapper div.gform_body ul.gform_fields li.gfield.gfield_html dl dt{font-weight:700}body .gform_wrapper div.gform_body ul.gform_fields li.gfield.gfield_html dl dd{margin:0 0 16px 18px}.gform_wrapper span.gf_clear_span{display:block;height:1px;overflow:hidden;width:100%;float:none;clear:both;margin-top:-1px}.gform_wrapper .chosen-container{position:relative;display:inline-block;vertical-align:middle;font-size:13px;-webkit-user-select:none;-moz-user-select:none;-ms-user-select:none;user-select:none}.gform_wrapper .chosen-container *{-webkit-box-sizing:border-box;box-sizing:border-box}.gform_wrapper .chosen-container .chosen-drop{position:absolute;top:100%;z-index:1010;width:100%;border:1px solid #aaa;border-top:0;background:#fff;-webkit-box-shadow:0 4px 5px rgba(0,0,0,.15);box-shadow:0 4px 5px rgba(0,0,0,.15);display:none}.gform_wrapper .chosen-container.chosen-with-drop .chosen-drop{display:block}.gform_wrapper .chosen-container a{cursor:pointer}.gform_wrapper .chosen-container .chosen-single .group-name,.gform_wrapper .chosen-container .search-choice .group-name{margin-right:4px;overflow:hidden;white-space:nowrap;text-overflow:ellipsis;font-weight:400;color:#999}.gform_wrapper .chosen-container .chosen-single .group-name:after,.gform_wrapper .chosen-container .search-choice .group-name:after{content:":";padding-left:2px;vertical-align:top}.gform_wrapper .chosen-container-single .chosen-single{position:relative;display:block;overflow:hidden;padding:0 0 0 8px;height:25px;border:1px solid #aaa;border-radius:5px;background-color:#fff;background:-webkit-gradient(linear,left top,left bottom,color-stop(20%,#fff),color-stop(50%,#f6f6f6),color-stop(52%,#eee),to(#f4f4f4));background:linear-gradient(#fff 20%,#f6f6f6 50%,#eee 52%,#f4f4f4 100%);background-clip:padding-box;-webkit-box-shadow:0 0 3px #fff inset,0 1px 1px rgba(0,0,0,.1);box-shadow:0 0 3px #fff inset,0 1px 1px rgba(0,0,0,.1);color:#444;text-decoration:none;white-space:nowrap;line-height:24px}.gform_wrapper .chosen-container-single .chosen-single input[type=text]{cursor:pointer;opacity:0;position:absolute;width:0}.gform_wrapper .chosen-container-single .chosen-default{color:#999}.gform_wrapper .chosen-container-single .chosen-single span{display:block;overflow:hidden;margin-right:26px;text-overflow:ellipsis;white-space:nowrap}.gform_wrapper .chosen-container-single .chosen-single-with-deselect span{margin-right:38px}.gform_wrapper .chosen-container-single .chosen-single abbr{position:absolute;top:6px;right:26px;display:block;width:12px;height:12px;background:url(data:image/png;base64,iVBORw0KGgoAAAANSUhEUgAAADQAAAAlCAQAAACn+wJeAAAB4UlEQVRIx+2XsWtTURTGrwouLQQDwYLFzT3yJBDoYoVvySQoKFShSHe7qAgqiMn9rcUibnVwEARBl0AgUIh/QXBxFIpKJHAhUBz0HQcf4U0xtZwu+r3l8t4758fHPe/jvhBcRIUuWbFuMKAWnEB9jEQWAk0SRt8LtMo+RmKdhDGiHrzEChOMHGPsiAkhBDbIMXKu+2KaJUfZwcsXD4RJrJFKKHaw6fVmRnmNT5ydC9TDSDRCIGOMMfh9u8pegRmzNKP8NUZvzu+oR6NY19mddqVVgG7MKL5SvHPrcJu3g/F2xvMqowKUOHMYUJXhrAa8Ku1j90/dVFFXxaypoYFqfzFR80h9mZKyENRUkskrgrSqfZmS1pVkGskvG7SiiUy5TGP5RpA2lMuUyzeC1Cw5yrwxSWtKrij1ZEpqhKBMY5kGXqCKeioiSHXtain817+k9gLLLD887ozhLl8xjGG86onZxuIe99jCsHjTCRMvYvF9+1QIIcTz8RuTzmkfP0+jdaYJHW9jXPYBvYj5/ZNlf06HxvgEYzoC8Tk5l1xAnXP8IHVam8faC3GTn3x5cMJr6q5h0fjI5+L4suU24PFCfMkHhvExHQyL20eQEfERhsVncdEfdYfvGK2jcPUOK/+A/QJb5yp50uoC6QAAAABJRU5ErkJggg==) -42px 1px no-repeat;font-size:1px}.gform_wrapper .chosen-container-single .chosen-single abbr:hover{background-position:-42px -10px}.gform_wrapper .chosen-container-single.chosen-disabled .chosen-single abbr:hover{background-position:-42px -10px}.gform_wrapper .chosen-container-single .chosen-single div{position:absolute;top:0;right:0;display:block;width:18px;height:100%}.gform_wrapper .chosen-container-single .chosen-single div b{display:block;width:100%;height:100%;background:url(data:image/png;base64,iVBORw0KGgoAAAANSUhEUgAAADQAAAAlCAQAAACn+wJeAAAB4UlEQVRIx+2XsWtTURTGrwouLQQDwYLFzT3yJBDoYoVvySQoKFShSHe7qAgqiMn9rcUibnVwEARBl0AgUIh/QXBxFIpKJHAhUBz0HQcf4U0xtZwu+r3l8t4758fHPe/jvhBcRIUuWbFuMKAWnEB9jEQWAk0SRt8LtMo+RmKdhDGiHrzEChOMHGPsiAkhBDbIMXKu+2KaJUfZwcsXD4RJrJFKKHaw6fVmRnmNT5ydC9TDSDRCIGOMMfh9u8pegRmzNKP8NUZvzu+oR6NY19mddqVVgG7MKL5SvHPrcJu3g/F2xvMqowKUOHMYUJXhrAa8Ku1j90/dVFFXxaypoYFqfzFR80h9mZKyENRUkskrgrSqfZmS1pVkGskvG7SiiUy5TGP5RpA2lMuUyzeC1Cw5yrwxSWtKrij1ZEpqhKBMY5kGXqCKeioiSHXtain817+k9gLLLD887ozhLl8xjGG86onZxuIe99jCsHjTCRMvYvF9+1QIIcTz8RuTzmkfP0+jdaYJHW9jXPYBvYj5/ZNlf06HxvgEYzoC8Tk5l1xAnXP8IHVam8faC3GTn3x5cMJr6q5h0fjI5+L4suU24PFCfMkHhvExHQyL20eQEfERhsVncdEfdYfvGK2jcPUOK/+A/QJb5yp50uoC6QAAAABJRU5ErkJggg==) no-repeat 0 2px}.gform_wrapper .chosen-container-single .chosen-search{position:relative;z-index:1010;margin:0;padding:3px 4px;white-space:nowrap}.gform_wrapper .chosen-container-single .chosen-search input[type=text]{margin:1px 0;padding:4px 20px 4px 5px;width:100%;height:auto;outline:0;border:1px solid #aaa;background:url(data:image/png;base64,iVBORw0KGgoAAAANSUhEUgAAADQAAAAlCAQAAACn+wJeAAAB4UlEQVRIx+2XsWtTURTGrwouLQQDwYLFzT3yJBDoYoVvySQoKFShSHe7qAgqiMn9rcUibnVwEARBl0AgUIh/QXBxFIpKJHAhUBz0HQcf4U0xtZwu+r3l8t4758fHPe/jvhBcRIUuWbFuMKAWnEB9jEQWAk0SRt8LtMo+RmKdhDGiHrzEChOMHGPsiAkhBDbIMXKu+2KaJUfZwcsXD4RJrJFKKHaw6fVmRnmNT5ydC9TDSDRCIGOMMfh9u8pegRmzNKP8NUZvzu+oR6NY19mddqVVgG7MKL5SvHPrcJu3g/F2xvMqowKUOHMYUJXhrAa8Ku1j90/dVFFXxaypoYFqfzFR80h9mZKyENRUkskrgrSqfZmS1pVkGskvG7SiiUy5TGP5RpA2lMuUyzeC1Cw5yrwxSWtKrij1ZEpqhKBMY5kGXqCKeioiSHXtain817+k9gLLLD887ozhLl8xjGG86onZxuIe99jCsHjTCRMvYvF9+1QIIcTz8RuTzmkfP0+jdaYJHW9jXPYBvYj5/ZNlf06HxvgEYzoC8Tk5l1xAnXP8IHVam8faC3GTn3x5cMJr6q5h0fjI5+L4suU24PFCfMkHhvExHQyL20eQEfERhsVncdEfdYfvGK2jcPUOK/+A/QJb5yp50uoC6QAAAABJRU5ErkJggg==) no-repeat 100% -20px;font-size:1em;font-family:sans-serif;line-height:normal;border-radius:0}.gform_wrapper .chosen-container-single .chosen-drop{margin-top:-1px;border-radius:0 0 4px 4px;background-clip:padding-box}.gform_wrapper .chosen-container-single.chosen-container-single-nosearch .chosen-search{position:absolute;opacity:0;pointer-events:none}.gform_wrapper .chosen-container .chosen-results{color:#444;position:relative;overflow-x:hidden;overflow-y:auto;margin:0 4px 4px 0;padding:0 0 0 4px;max-height:240px;-webkit-overflow-scrolling:touch}.gform_wrapper .chosen-container .chosen-results li{display:none;margin:0;padding:5px 6px;list-style:none;line-height:15px;word-wrap:break-word;-webkit-touch-callout:none}.gform_wrapper .chosen-container .chosen-results li.active-result{display:list-item;cursor:pointer}.gform_wrapper .chosen-container .chosen-results li.disabled-result{display:list-item;color:#ccc;cursor:default}.gform_wrapper .chosen-container .chosen-results li.highlighted{background-color:#3875d7;background-image:-webkit-gradient(linear,left top,left bottom,color-stop(20%,#3875d7),color-stop(90%,#2a62bc));background-image:linear-gradient(#3875d7 20%,#2a62bc 90%);color:#fff}.gform_wrapper .chosen-container .chosen-results li.no-results{color:#777;display:list-item;background:#f4f4f4}.gform_wrapper .chosen-container .chosen-results li.group-result{display:list-item;font-weight:700;cursor:default}.gform_wrapper .chosen-container .chosen-results li.group-option{padding-left:15px}.gform_wrapper .chosen-container .chosen-results li em{font-style:normal;text-decoration:underline}.gform_wrapper .chosen-container-multi .chosen-choices{position:relative;overflow:hidden;margin:0;padding:0 5px;width:100%;height:auto;border:1px solid #aaa;background-color:#fff;background-image:-webkit-gradient(linear,left top,left bottom,color-stop(1%,#eee),color-stop(15%,#fff));background-image:linear-gradient(#eee 1%,#fff 15%);cursor:text}.gform_wrapper .chosen-container-multi .chosen-choices li{float:left;list-style:none}.gform_wrapper .chosen-container-multi .chosen-choices li.search-field{margin:0;padding:0;white-space:nowrap}.gform_wrapper .chosen-container-multi .chosen-choices li.search-field input[type=text]{margin:1px 0;padding:0;height:25px;outline:0;border:0!important;background:0 0!important;-webkit-box-shadow:none;box-shadow:none;color:#999;font-size:100%;font-family:sans-serif;line-height:normal;border-radius:0;width:25px}.gform_wrapper .chosen-container-multi .chosen-choices li.search-choice{position:relative;margin:3px 5px 3px 0;padding:3px 20px 3px 5px;border:1px solid #aaa;max-width:100%;border-radius:3px;background-color:#eee;background-image:-webkit-gradient(linear,left top,left bottom,color-stop(20%,#f4f4f4),color-stop(50%,#f0f0f0),color-stop(52%,#e8e8e8),to(#eee));background-image:linear-gradient(#f4f4f4 20%,#f0f0f0 50%,#e8e8e8 52%,#eee 100%);background-size:100% 19px;background-repeat:repeat-x;background-clip:padding-box;-webkit-box-shadow:0 0 2px #fff inset,0 1px 0 rgba(0,0,0,.05);box-shadow:0 0 2px #fff inset,0 1px 0 rgba(0,0,0,.05);color:#333;line-height:13px;cursor:default}.gform_wrapper .chosen-container-multi .chosen-choices li.search-choice span{word-wrap:break-word}.gform_wrapper .chosen-container-multi .chosen-choices li.search-choice .search-choice-close{position:absolute;top:4px;right:3px;display:block;width:12px;height:12px;background:url(data:image/png;base64,iVBORw0KGgoAAAANSUhEUgAAADQAAAAlCAQAAACn+wJeAAAB4UlEQVRIx+2XsWtTURTGrwouLQQDwYLFzT3yJBDoYoVvySQoKFShSHe7qAgqiMn9rcUibnVwEARBl0AgUIh/QXBxFIpKJHAhUBz0HQcf4U0xtZwu+r3l8t4758fHPe/jvhBcRIUuWbFuMKAWnEB9jEQWAk0SRt8LtMo+RmKdhDGiHrzEChOMHGPsiAkhBDbIMXKu+2KaJUfZwcsXD4RJrJFKKHaw6fVmRnmNT5ydC9TDSDRCIGOMMfh9u8pegRmzNKP8NUZvzu+oR6NY19mddqVVgG7MKL5SvHPrcJu3g/F2xvMqowKUOHMYUJXhrAa8Ku1j90/dVFFXxaypoYFqfzFR80h9mZKyENRUkskrgrSqfZmS1pVkGskvG7SiiUy5TGP5RpA2lMuUyzeC1Cw5yrwxSWtKrij1ZEpqhKBMY5kGXqCKeioiSHXtain817+k9gLLLD887ozhLl8xjGG86onZxuIe99jCsHjTCRMvYvF9+1QIIcTz8RuTzmkfP0+jdaYJHW9jXPYBvYj5/ZNlf06HxvgEYzoC8Tk5l1xAnXP8IHVam8faC3GTn3x5cMJr6q5h0fjI5+L4suU24PFCfMkHhvExHQyL20eQEfERhsVncdEfdYfvGK2jcPUOK/+A/QJb5yp50uoC6QAAAABJRU5ErkJggg==) -42px 1px no-repeat;font-size:1px}.gform_wrapper .chosen-container-multi .chosen-choices li.search-choice .search-choice-close:hover{background-position:-42px -10px}.gform_wrapper .chosen-container-multi .chosen-choices li.search-choice-disabled{padding-right:5px;border:1px solid #ccc;background-color:#e4e4e4;background-image:-webkit-gradient(linear,left top,left bottom,color-stop(20%,#f4f4f4),color-stop(50%,#f0f0f0),color-stop(52%,#e8e8e8),to(#eee));background-image:linear-gradient(#f4f4f4 20%,#f0f0f0 50%,#e8e8e8 52%,#eee 100%);color:#666}.gform_wrapper .chosen-container-multi .chosen-choices li.search-choice-focus{background:#d4d4d4}.gform_wrapper .chosen-container-multi .chosen-choices li.search-choice-focus .search-choice-close{background-position:-42px -10px}.gform_wrapper .chosen-container-multi .chosen-results{margin:0;padding:0}.gform_wrapper .chosen-container-multi .chosen-drop .result-selected{display:list-item;color:#ccc;cursor:default}.gform_wrapper .chosen-container-active .chosen-single{border:1px solid #5897fb;-webkit-box-shadow:0 0 5px rgba(0,0,0,.3);box-shadow:0 0 5px rgba(0,0,0,.3)}.gform_wrapper .chosen-container-active.chosen-with-drop .chosen-single{border:1px solid #aaa;border-bottom-right-radius:0;border-bottom-left-radius:0;background-image:-webkit-gradient(linear,left top,left bottom,color-stop(20%,#eee),color-stop(80%,#fff));background-image:linear-gradient(#eee 20%,#fff 80%);-webkit-box-shadow:0 1px 0 #fff inset;box-shadow:0 1px 0 #fff inset}.gform_wrapper .chosen-container-active.chosen-with-drop .chosen-single div{border-left:none;background:0 0}.gform_wrapper .chosen-container-active.chosen-with-drop .chosen-single div b{background-position:-18px 2px}.gform_wrapper .chosen-container-active .chosen-choices{border:1px solid #5897fb;-webkit-box-shadow:0 0 5px rgba(0,0,0,.3);box-shadow:0 0 5px rgba(0,0,0,.3)}.gform_wrapper .chosen-container-active .chosen-choices li.search-field input[type=text]{color:#222!important}.gform_wrapper .chosen-disabled{opacity:.5!important;cursor:default}.gform_wrapper .chosen-disabled .chosen-single{cursor:default}.gform_wrapper .chosen-disabled .chosen-choices .search-choice .search-choice-close{cursor:default}.gform_wrapper .chosen-rtl{text-align:right}.gform_wrapper .chosen-rtl .chosen-single{overflow:visible;padding:0 8px 0 0}.gform_wrapper .chosen-rtl .chosen-single span{margin-right:0;margin-left:26px;direction:rtl}.gform_wrapper .chosen-rtl .chosen-single-with-deselect span{margin-left:38px}.gform_wrapper .chosen-rtl .chosen-single div{right:auto;left:3px}.gform_wrapper .chosen-rtl .chosen-single abbr{right:auto;left:26px}.gform_wrapper .chosen-rtl .chosen-choices li{float:right}.gform_wrapper .chosen-rtl .chosen-choices li.search-field input[type=text]{direction:rtl}.gform_wrapper .chosen-rtl .chosen-choices li.search-choice{margin:3px 5px 3px 0;padding:3px 5px 3px 19px}.gform_wrapper .chosen-rtl .chosen-choices li.search-choice .search-choice-close{right:auto;left:4px}.gform_wrapper .chosen-rtl.chosen-container-single .chosen-results{margin:0 0 4px 4px;padding:0 4px 0 0}.gform_wrapper .chosen-rtl .chosen-results li.group-option{padding-right:15px;padding-left:0}.gform_wrapper .chosen-rtl.chosen-container-active.chosen-with-drop .chosen-single div{border-right:none}.gform_wrapper .chosen-rtl .chosen-search input[type=text]{padding:4px 5px 4px 20px;background:url(data:image/png;base64,iVBORw0KGgoAAAANSUhEUgAAADQAAAAlCAQAAACn+wJeAAAB4UlEQVRIx+2XsWtTURTGrwouLQQDwYLFzT3yJBDoYoVvySQoKFShSHe7qAgqiMn9rcUibnVwEARBl0AgUIh/QXBxFIpKJHAhUBz0HQcf4U0xtZwu+r3l8t4758fHPe/jvhBcRIUuWbFuMKAWnEB9jEQWAk0SRt8LtMo+RmKdhDGiHrzEChOMHGPsiAkhBDbIMXKu+2KaJUfZwcsXD4RJrJFKKHaw6fVmRnmNT5ydC9TDSDRCIGOMMfh9u8pegRmzNKP8NUZvzu+oR6NY19mddqVVgG7MKL5SvHPrcJu3g/F2xvMqowKUOHMYUJXhrAa8Ku1j90/dVFFXxaypoYFqfzFR80h9mZKyENRUkskrgrSqfZmS1pVkGskvG7SiiUy5TGP5RpA2lMuUyzeC1Cw5yrwxSWtKrij1ZEpqhKBMY5kGXqCKeioiSHXtain817+k9gLLLD887ozhLl8xjGG86onZxuIe99jCsHjTCRMvYvF9+1QIIcTz8RuTzmkfP0+jdaYJHW9jXPYBvYj5/ZNlf06HxvgEYzoC8Tk5l1xAnXP8IHVam8faC3GTn3x5cMJr6q5h0fjI5+L4suU24PFCfMkHhvExHQyL20eQEfERhsVncdEfdYfvGK2jcPUOK/+A/QJb5yp50uoC6QAAAABJRU5ErkJggg==) no-repeat -30px -20px;direction:rtl}.gform_wrapper .chosen-rtl.chosen-container-single .chosen-single div b{background-position:6px 2px}.gform_wrapper .chosen-rtl.chosen-container-single.chosen-with-drop .chosen-single div b{background-position:-12px 2px}@media only screen and (-webkit-min-device-pixel-ratio:1.5),only screen and (min-resolution:144dpi),only screen and (min-resolution:1.5dppx){.gform_wrapper .chosen-container .chosen-results-scroll-down span,.gform_wrapper .chosen-container .chosen-results-scroll-up span,.gform_wrapper .chosen-container-multi .chosen-choices .search-choice .search-choice-close,.gform_wrapper .chosen-container-single .chosen-search input[type=text],.gform_wrapper .chosen-container-single .chosen-single abbr,.gform_wrapper .chosen-container-single .chosen-single div b,.gform_wrapper .chosen-rtl .chosen-search input[type=text]{background-image:url(data:image/png;base64,iVBORw0KGgoAAAANSUhEUgAAAGgAAABKCAQAAAD9cdkXAAACqUlEQVRo3u2av2/TQBTHI8FQCYYguoLCyOY/IQNk6NSF3RNzBmZ04oe/JwFSp0owtSNb/oT8B8mIBIioAyuWrA7pD4fns+vkzvZQ1+3lne57UoZXJfan79333ovT6zGTDGUsg0o0oGjY4yfCWdEykBROFg954hhIJQ4/pI0bL5E0HIryAgpMpGqEW9HpAAktzjg1SNxxGpH44hRIiYaTsMZxDsixknPMFKzaNgSEQwcrBtklMLDW+mBRV5lYtAaaqvdPrTWnGNYCDdtdOtq/+oRo39r4gEkFZ9LusqK/zjcWom9pwKOq1w0xbrsDILR/i7Bmit3cSG4H2icN7CEturIDDWhqD2jYnR1srm6t4XpIk5vYQff2b2oUjuJRxRRGAUXDph0Qt7eD2xbhrGgZSAoni4d31LJ0jGMglTjNSNuqjRsvkTQcivICCkykaoTZ+GAAJLQ449QgccdpROKLUyAlGk7CGsc5IMdKzjFTcMy2nTtY3Wt9XGtOW44PW490vQHPy8vLy8vLy2ubJfrRGHP6RjxVaxaNu31kdseipxdXj93SYq3kP4tPL24mhAqAMHApL+QFvRZQCHlmJ8/MGX7jtXz64Yl8K39hmUOyy5Loq2JLcYoDsVNCPpbfcKqyFDPbS9FYldpSftHjr+7JQ5xnWYrGrIDkLNs5+PnmQSV3OzhR+2jOC0jtn/os4F1uD+yAcPn+Wd3fPr4kz2MK9NwpoMaSkwxLrmh3foiHFVPYxYkCmnGz7fxQ/SruGx53zNK21cGaqoP1WOyWeXskv6uDdYUluyaVWh/V5OAcf+QnvIj28Bl/8+woyzji2JwWranWnK5/YsMPqRgf0o3hgYqNNVI24GVtUL4wzwY8HLFGqi1Gj8QNae4ckiPfCa2Req5I9XyNv1n+D6RKWo1cTsbTAAAAAElFTkSuQmCC)!important;background-size:52px 37px!important;background-repeat:no-repeat!important}}body .gform_wrapper .chosen-container a.chosen-single{border-radius:inherit}body .gform_wrapper ul.chosen-results li{line-height:inherit}@media only screen and (max-width:641px){.gform_wrapper input:not([type=radio]):not([type=checkbox]):not([type=image]):not([type=file]){line-height:2;min-height:2rem}.gform_wrapper textarea{line-height:1.5}.gform_wrapper .chosen-container.chosen-container-single[style]{width:100%!important}.gform_wrapper .chosen-container-single .chosen-single{height:40px;line-height:2.8}.gform_wrapper .chosen-container-single .chosen-single div b{position:relative;top:10px}.gform_wrapper div.chosen-container.chosen-container-multi[style]{width:100%!important}.gform_wrapper .chosen-container.chosen-container-multi ul.chosen-choices li.search-choice,.gform_wrapper .chosen-container.chosen-container-multi ul.chosen-choices li.search-field{width:100%;line-height:inherit;float:none}.gform_wrapper .chosen-container.chosen-container-multi ul.chosen-choices li.search-choice span{margin-bottom:0}.gform_wrapper .chosen-container-multi .chosen-choices li.search-choice .search-choice-close{top:calc(50% - 6px)}.gform_wrapper .ginput_container span:not(.ginput_price){margin-bottom:8px;display:block}.gform_wrapper li.field_sublabel_below .ginput_complex{margin-top:12px!important}.gform_wrapper ul.gfield_checkbox li label,.gform_wrapper ul.gfield_radio li label{width:85%;cursor:pointer}}@media only screen and (max-width:761px),(min-device-width:768px) and (max-device-width:1023px){.gform_wrapper ul.gform_fields li.gfield.gfield_error+li.gfield.gfield_error{margin-top:32px}.gform_wrapper table.gfield_list{border:0}.gform_wrapper table.gfield_list thead{position:absolute;top:-9999px;left:-9999px}.gform_wrapper table.gfield_list tr{margin-bottom:10px;display:block;background:#fff;position:relative;border:1px solid #ccc;border-top:2px solid #ccc;border-bottom:4px solid #ccc}.gform_wrapper table.gfield_list td{display:block;margin-left:8px;margin-right:8px}.gform_wrapper table.gfield_list td.gfield_list_icons{border-bottom:0;margin:16px 0 0 0!important}.gform_wrapper ul.gform_fields.form_sublabel_above table.gfield_list td:before,.gform_wrapper ul.gform_fields.form_sublabel_below table.gfield_list td:after{content:attr(data-label);font-size:.875em;letter-spacing:.5pt;white-space:nowrap;display:block;clear:both}.gform_wrapper ul.gform_fields.form_sublabel_above table.gfield_list td:before{margin:8px 0 3px 8px}.gform_wrapper ul.gform_fields.form_sublabel_below table.gfield_list td:after{margin:3px 0 8px 8px}.gform_wrapper table.gfield_list td+td,.gform_wrapper table.gfield_list th+th{padding:4px 0 0 0}.gform_wrapper table.gfield_list tr.gfield_list_row_even,.gform_wrapper table.gfield_list tr.gfield_list_row_odd{margin:16px 0}.gform_wrapper table.gfield_list tr.gfield_list_row_odd:first-child{padding-top:12px}.gform_wrapper table.gfield_list tr{padding-top:12px}.gform_wrapper table.gfield_list tr td.gfield_list_icons{width:100%!important;padding:0 4px 4px 4px!important;background-color:#eee}.gform_wrapper table.gfield_list tr td.gfield_list_icons img.add_list_item{margin:12px 0 0 16px!important}.gform_wrapper table.gfield_list tr td.gfield_list_icons img.delete_list_item{margin:12px 0 0 8px!important}.gform_wrapper .gform_footer a.gform_save_link,.gform_wrapper .gform_page_footer a.gform_save_link{margin-left:0}.gform_wrapper .gfield_list td.gfield_list_cell input{width:calc(100% - 16px);margin-left:8px;margin-right:8px}}@media only screen and (min-width:641px){.gform_wrapper .gform_body{width:100%}.gform_wrapper.gform_validation_error .gform_body ul li.gfield.gfield_error:not(.gf_left_half):not(.gf_right_half){max-width:calc(100% - 16px)!important}.gform_wrapper .gfield_checkbox li,.gform_wrapper .gfield_radio li{margin:0 0 8px 0;line-height:1.3}.gform_wrapper .gsection{margin:28px 16px 28px 0}.gform_wrapper ul.gform_fields:not(.top_label) .gfield_label{float:left;width:29%;padding-right:16px;margin-bottom:16px}.gform_wrapper .right_label .gfield_label{text-align:right}.gform_wrapper .left_label .gfield_description,.gform_wrapper .right_label .gfield_description{width:70%}.gform_wrapper form ul.left_label li ul.gfield_checkbox li,.gform_wrapper form ul.left_label li ul.gfield_radio li,.gform_wrapper form ul.right_label li ul.gfield_checkbox li,.gform_wrapper form ul.right_label li ul.gfield_radio li,.gform_wrapper ul.left_label li ul.gfield_checkbox li,.gform_wrapper ul.left_label li ul.gfield_radio li,.gform_wrapper ul.right_label li ul.gfield_checkbox li,.gform_wrapper ul.right_label li ul.gfield_radio li{margin-bottom:10px}.gform_wrapper .left_label .gfield_description,.gform_wrapper .left_label .instruction,.gform_wrapper .right_label .gfield_description,.gform_wrapper .right_label .instruction{margin-left:29%}.gform_wrapper ul.gform_fields:not(.top_label) .gsection .gsection_description{margin-left:0;padding-top:4px;padding-left:0;line-height:1.5}.gform_wrapper form ul.gform_fields:not(.top_label) li.gfield_html_formatted{margin-left:29%!important;width:70%}.gform_wrapper ul.gform_fields:not(.top_label) ul.gfield_checkbox,.gform_wrapper ul.gform_fields:not(.top_label) ul.gfield_radio{overflow:hidden}.gform_wrapper .left_label div.ginput_complex,.gform_wrapper .right_label div.ginput_complex{width:70%;margin-left:29%}.gform_wrapper .left_label input.small,.gform_wrapper .left_label select.small,.gform_wrapper .right_label input.small,.gform_wrapper .right_label select.small{width:15%}.gform_wrapper .left_label input.medium,.gform_wrapper .left_label select.medium,.gform_wrapper .right_label input.medium,.gform_wrapper .right_label select.medium{width:calc(35% - 8px)}.gform_wrapper .left_label input.large,.gform_wrapper .left_label select.large,.gform_wrapper .right_label input.large,.gform_wrapper .right_label select.large{width:70%}.gform_wrapper .left_label textarea.large,.gform_wrapper .left_label textarea.medium,.gform_wrapper .left_label textarea.small,.gform_wrapper .right_label textarea.large,.gform_wrapper .right_label textarea.medium,.gform_wrapper .right_label textarea.small{width:70%}.gform_wrapper ul.gform_fields:not(.top_label) .ginput_list{width:70%;margin-left:29%!important}.gform_wrapper .top_label .gfield_list{width:100%}.gform_wrapper .left_label .gf_list_one_column,.gform_wrapper .right_label .gf_list_one_column{width:45%}.gform_wrapper .top_label .gf_list_one_column{width:46%}.gform_wrapper .left_label li.hidden_label input,.gform_wrapper .right_label li.hidden_label input{margin-left:3.7%}.gform_wrapper .left_label li.gfield .gfield_password_strength,.gform_wrapper .right_label li.gfield .gfield_password_strength{margin-left:29%}.gform_wrapper .top_label input.small,.gform_wrapper .top_label select.small{width:25%}.gform_wrapper .top_label input.medium,.gform_wrapper .top_label select.medium{width:calc(50% - 8px)}.gform_wrapper.gform_validation_error .top_label input.medium,.gform_wrapper.gform_validation_error .top_label select.medium{width:50%}.gform_wrapper .hidden_label input.large,.gform_wrapper .hidden_label select.large,.gform_wrapper .top_label input.large,.gform_wrapper .top_label select.large{width:100%}.gform_wrapper .top_label input.large.datepicker,.gform_wrapper .top_label input.medium.datepicker,.gform_wrapper .top_label input.small.datepicker{width:auto}.gform_wrapper textarea.small{height:80px;width:100%}.gform_wrapper textarea.medium{height:160px;width:100%}.gform_wrapper textarea.large{height:320px;width:100%}.gform_wrapper .ginput_complex .ginput_left,.gform_wrapper .ginput_complex .ginput_right{width:50%;display:-moz-inline-stack;display:inline-block;vertical-align:top;margin:0 -4px 0 0}.gform_wrapper .ginput_container_password .ginput_right{padding-left:8px}.gform_wrapper .gfield_error .ginput_complex .ginput_left,.gform_wrapper .gfield_error .ginput_complex .ginput_right{width:50%}.gform_wrapper .ginput_complex .ginput_cardinfo_left,.gform_wrapper .ginput_complex .ginput_cardinfo_right{min-height:43px;position:relative;float:left}.gform_wrapper .ginput_complex .ginput_cardinfo_left{width:50%}.gform_wrapper .ginput_complex select.ginput_card_expiration.ginput_card_expiration_month,.gform_wrapper .ginput_complex select.ginput_card_expiration.ginput_card_expiration_year{width:47%!important;display:-moz-inline-stack;display:inline-block}.gform_wrapper .ginput_complex .ginput_cardinfo_left select.ginput_card_expiration.ginput_card_expiration_month{margin-right:4px}.gform_wrapper .gf_step{width:auto;display:-moz-inline-stack;display:inline-block;margin:16px 32px 16px 0}.gform_wrapper .gform_footer input.button,.gform_wrapper .gform_footer input[type=image],.gform_wrapper .gform_footer input[type=submit]{display:-moz-inline-stack;display:inline-block}.gform_wrapper .gform_footer input[type=image]{vertical-align:middle}.gform_wrapper .gform_footer a.gform_save_link,.gform_wrapper .gform_page_footer a.gform_save_link{font-size:1em;margin-left:16px;display:-moz-inline-stack;display:inline-block}.gform_wrapper .gform_footer input.button,.gform_wrapper .gform_footer input[type=submit],.gform_wrapper .gform_page_footer input.button,.gform_wrapper .gform_page_footer input[type=submit]{font-size:1em;width:auto;margin:0 16px 0 0}.gform_wrapper ul.gform_fields li.gfield{padding-right:16px}.gform_wrapper .ginput_complex .ginput_left{padding-right:8px}.gform_wrapper .left_label .ginput_complex.ginput_container_address:after{content:"";display:block}.gform_wrapper .ginput_complex.ginput_container_address .ginput_left{margin-right:8px}.gform_wrapper .ginput_complex.ginput_container_address .ginput_right{margin-right:-8px;padding-right:8px}.gform_wrapper .ginput_complex.ginput_container_address span.ginput_full+span.ginput_right{padding-right:8px!important;margin-right:8px}.gform_wrapper .ginput_complex.ginput_container_address span.ginput_right+span.ginput_left{padding-right:8px!important;margin-right:-8px}.gform_wrapper .ginput_complex.ginput_container_address span.ginput_right+span.ginput_left.address_zip{margin-right:8px}.gform_wrapper .gfield_error .ginput_container{padding-right:0}.gform_wrapper ul.top_label li.gfield.gfield_error.gfield_contains_required .gfield_password_strength{margin:18px 0 18px 0}.gform_wrapper .gform_footer:not(.top_label){padding:16px 0 10px 0;margin-left:29%;width:70%}.top_label div.ginput_complex.ginput_container.gf_name_has_1,.top_label div.ginput_complex.ginput_container.gf_name_has_2,.top_label div.ginput_complex.ginput_container.gf_name_has_3{width:calc(100% + 15px)}.top_label div.ginput_complex.ginput_container.gf_name_has_4{width:calc(100% + 13px)}.top_label div.ginput_complex.ginput_container.gf_name_has_5{width:calc(100% + 14px)}ul.gform_fields:not(.top_label) div.ginput_complex.ginput_container.gf_name_has_1,ul.gform_fields:not(.top_label) div.ginput_complex.ginput_container.gf_name_has_2,ul.gform_fields:not(.top_label) div.ginput_complex.ginput_container.gf_name_has_3{width:calc(70% + 15px);margin-left:29%}ul.gform_fields:not(.top_label) li.gfield.gfield_error div.ginput_complex.ginput_container.gf_name_has_1,ul.gform_fields:not(.top_label) li.gfield.gfield_error div.ginput_complex.ginput_container.gf_name_has_2,ul.gform_fields:not(.top_label) li.gfield.gfield_error div.ginput_complex.ginput_container.gf_name_has_3{width:calc(70% + 24px)}ul.gform_fields:not(.top_label) div.ginput_complex.ginput_container.gf_name_has_4{width:calc(70% + 13px);margin-left:29%}ul.gform_fields:not(.top_label) div.ginput_complex.ginput_container.gf_name_has_5{width:calc(70% + 14px);margin-left:29%}div.ginput_container_name span{display:-moz-inline-stack;display:inline-block;vertical-align:top;padding-right:16px;margin-right:-4px}div.ginput_complex.ginput_container.gf_name_has_1 span{width:100%}div.ginput_complex.ginput_container.gf_name_has_2 span{width:50%}div.ginput_complex.ginput_container.gf_name_has_3 span{width:33.3%}div.ginput_complex.ginput_container.gf_name_has_4 span{width:25%}div.ginput_complex.ginput_container.gf_name_has_5 span{width:19.95%}.gform_wrapper ul.gform_fields:not(.top_label) li.gfield.gfield_error div.ginput_complex.ginput_container.gf_name_has_1 span{width:99.75%!important}.gform_wrapper ul.gform_fields:not(.top_label) li.gfield.gfield_error div.ginput_complex.ginput_container.gf_name_has_2 span{width:49.75%!important}.gform_wrapper ul.gform_fields:not(.top_label) li.gfield.gfield_error div.ginput_complex.ginput_container.gf_name_has_3 span{width:33%!important}.gform_wrapper ul.gform_fields:not(.top_label) li.gfield.gfield_error div.ginput_complex.ginput_container.gf_name_has_4 span{width:24.75%!important}.gform_wrapper ul.gform_fields:not(.top_label) li.gfield.gfield_error div.ginput_complex.ginput_container.gf_name_has_5 span{width:19.75%!important}html div.ginput_complex.ginput_container.gf_name_has_2 span:first-child,html div.ginput_complex.ginput_container.gf_name_has_3 span:first-child,html div.ginput_complex.ginput_container.gf_name_has_4 span:first-child,html div.ginput_complex.ginput_container.gf_name_has_5 span:first-child{margin-left:0!important}.gform_wrapper .top_label .ginput_complex.ginput_container.ginput_container_email{width:calc(100% + 15px)}.gform_wrapper ul.gform_fields:not(.top_label) div.ginput_complex.ginput_container.ginput_container_email{width:calc(70% + 16px);margin-left:29%}.gform_wrapper ul.gform_fields:not(.top_label) li.gfield.gfield_error div.ginput_complex.ginput_container.ginput_container_email{width:calc(70% + 17px)}li.gfield.gfield_error .gform_wrapper ul.gform_fields:not(.top_label) li.gfield.gfield_error .ginput_complex.ginput_container.ginput_container_email{width:calc(70% + 8px)!important}.gform_wrapper .ginput_complex.ginput_container.ginput_container_email .ginput_left,.gform_wrapper .ginput_complex.ginput_container.ginput_container_email .ginput_right{padding-right:16px}.gform_wrapper ul.left_label li.gfield .gfield_password_strength,.gform_wrapper ul.right_label li.gfield .gfield_password_strength{width:70%}.gform_wrapper .ginput_complex span.ginput_left+input.gform_hidden+span.ginput_left{padding-right:0}.gform_wrapper .ginput_complex span.ginput_left.address_country{margin-right:0}html:not([dir=rtl]) .gform_wrapper ul.gform_fields:not(.top_label) .clear-multi,html:not([dir=rtl]) .gform_wrapper ul.gform_fields:not(.top_label) .gfield_description,html:not([dir=rtl]) .gform_wrapper ul.gform_fields:not(.top_label) .ginput_container:not(.ginput_container_time):not(.ginput_container_date){width:70%;margin-left:29%}.gform_wrapper .gf_progressbar{width:calc(100% - 16px)}.gform_wrapper ul.gform_fields:not(.top_label) .gform_fileupload_multifile .gform_drop_area{margin-left:29%;width:70%}body .gform_wrapper span.ginput_left.address_city+input.gform_hidden+span.ginput_left.address_country{width:calc(50% - 8px);margin-right:0}.gform_wrapper ul.gform_fields:not(.top_label) .ginput_container.ginput_recaptcha{margin-left:29%!important}.gform_wrapper .gform_page_footer .button.gform_previous_button{margin-bottom:0}.gform_wrapper .gform_page_footer .button.gform_button,.gform_wrapper .gform_page_footer .button.gform_next_button{margin-right:10px}body .gform_wrapper select.medium.gfield_select+div.chosen-container-multi[style],body .gform_wrapper select.medium.gfield_select+div.chosen-container-single[style]{width:calc(50% - 8px)!important}body .gform_wrapper select.large.gfield_select+div.chosen-container-multi[style],body .gform_wrapper select.large.gfield_select+div.chosen-container-single[style]{width:100%!important}body .gform_wrapper select.small.gfield_select+div.chosen-container-multi[style],body .gform_wrapper select.small.gfield_select+div.chosen-container-single[style]{width:25%!important}}.gfield_repeater_cell>.gfield_repeater_wrapper{border-left:8px solid rgba(54,86,102,.1);background-color:rgba(1,1,1,.02);padding:10px 20px;border-radius:8px;border-bottom:1px solid #eee}.gfield_repeater_wrapper input{border:1px solid #c5c6c5;border-radius:4px}.gfield_repeater_wrapper .gfield_repeater_wrapper{margin-top:10px}.gfield_repeater_buttons .add_repeater_item_text,.gfield_repeater_buttons .remove_repeater_item_text{min-width:100px;height:30px;background:rgba(242,242,242,.5);transition:all .3s cubic-bezier(.67,.17,.4,.83);font-size:12px;color:#757575;border-radius:20px;margin-right:10px;margin-bottom:5px;border:1px solid rgba(117,117,117,.4);font-weight:400}.gfield_repeater_buttons .add_repeater_item_plus,.gfield_repeater_buttons .remove_repeater_item_minus{width:22px;height:22px;background:rgba(242,242,242,.5);transition:all .3s cubic-bezier(.67,.17,.4,.83);font-size:16px;color:#757575;border-radius:50%;margin:10px 5px 0 5px;border:1px solid rgba(117,117,117,.4);font-weight:700;padding:0;padding-bottom:5px}.gfield_repeater_buttons button.gfield_icon_disabled{cursor:default;-moz-opacity:.3;-khtml-opacity:.3;opacity:.3}.gfield_repeater_buttons button.gfield_icon_disabled:hover{background:rgba(242,242,242,.5);color:#757575;border:1px solid rgba(117,117,117,.4)}.gfield_repeater_buttons button:hover{background:#fafafa;color:#374750;border:1px solid #757575}.gfield_repeater .gfield_repeater_items .gfield_repeater_item:not(:last-child){border-bottom:2px solid #e0e0e6;padding-bottom:20px}.gfield_repeater_cell>.gfield_repeater_wrapper{border-left:8px solid #f1f1f1;box-shadow:0 1px 1px 0 rgba(0,0,0,.06),0 2px 1px -1px rgba(0,0,0,.06),0 1px 5px 0 rgba(0,0,0,.06)}.gfield_repeater_buttons .add_repeater_item_text:focus,.gfield_repeater_buttons .remove_repeater_item_text:focus{outline:0}.gfield_repeater_item .gfield_repeater_cell .gfield_required{color:#c32121}.gform_wrapper .gfield_repeater_cell label{color:#9b9a9a;font-weight:400;font-size:14px;padding-top:8px}.gfield_repeater_value .gfield_repeater_value .gfield_repeater_cell{padding-bottom:20px;padding-top:0}div .gfield_repeater_cell{margin-top:5px}.gfield_repeater .gfield_repeater_items .gfield_repeater_item:not(:last-child){border-bottom:2px solid #e0e0e6;padding-bottom:20px;margin-bottom:20px;margin-right:10px}.gfield_repeater_value>.gfield_repeater{border-left:8px solid rgba(54,86,102,.1);background-color:rgba(1,1,1,.02);padding:10px 20px;border-radius:8px;border-bottom:1px solid #eee;margin:10px}.gfield_repeater_cell .gfield_repeater_value:not(:first-child){color:rgba(117,117,117,.7);border:1px solid #c5c6c5;border-radius:4px;margin-right:10px;padding-left:10px;background-color:#f0f0f0}.gfield_repeater .gfield_repeater_items,.gfield_repeater_items .gfield_repeater_cell:not(:first-child){padding-top:5px}.gfield_repeater .gfield_label{color:#23282d;font-size:16px;font-weight:600}.gfield_repeater_value .gfield_label{padding-bottom:0}.gfield_repeater_value .gfield_repeater_value .gfield_repeater_item:first-child{padding-bottom:0} @media only screen and (min-width:641px){.gform_wrapper .top_label li.gfield.gf_inline{vertical-align:top;width:auto!important;margin:0;padding-right:16px;float:none!important;display:-moz-inline-stack;display:inline-block}.gform_wrapper .top_label li.gfield.gf_inline input[type=email].large,.gform_wrapper .top_label li.gfield.gf_inline input[type=email].medium,.gform_wrapper .top_label li.gfield.gf_inline input[type=email].small,.gform_wrapper .top_label li.gfield.gf_inline input[type=number].large,.gform_wrapper .top_label li.gfield.gf_inline input[type=number].medium,.gform_wrapper .top_label li.gfield.gf_inline input[type=number].small,.gform_wrapper .top_label li.gfield.gf_inline input[type=password].large,.gform_wrapper .top_label li.gfield.gf_inline input[type=password].medium,.gform_wrapper .top_label li.gfield.gf_inline input[type=password].small,.gform_wrapper .top_label li.gfield.gf_inline input[type=tel].large,.gform_wrapper .top_label li.gfield.gf_inline input[type=tel].medium,.gform_wrapper .top_label li.gfield.gf_inline input[type=tel].small,.gform_wrapper .top_label li.gfield.gf_inline input[type=text].large,.gform_wrapper .top_label li.gfield.gf_inline input[type=text].medium,.gform_wrapper .top_label li.gfield.gf_inline input[type=text].small,.gform_wrapper .top_label li.gfield.gf_inline input[type=url].large,.gform_wrapper .top_label li.gfield.gf_inline input[type=url].medium,.gform_wrapper .top_label li.gfield.gf_inline input[type=url].small{width:100%}.gform_wrapper .top_label li.gfield.gf_inline input[type=text].datepicker.medium{width:96px!important}.gform_wrapper .top_label li.gfield.gf_inline select{width:100%}.gform_wrapper .top_label li.gfield.gf_inline textarea{width:100%}.gform_wrapper .top_label li.gfield.gf_inline div.gfield_time_hour input[type=text],.gform_wrapper .top_label li.gfield.gf_inline div.gfield_time_minute input[type=text]{width:70%!important}.gform_wrapper .top_label li.gfield.gf_inline div.gfield_date_day,.gform_wrapper .top_label li.gfield.gf_inline div.gfield_date_month,.gform_wrapper .top_label li.gfield.gf_inline div.gfield_date_year,.gform_wrapper .top_label li.gfield.gf_inline div.gfield_time_hour,.gform_wrapper .top_label li.gfield.gf_inline div.gfield_time_minute{width:50px}.gform_wrapper .top_label li.gfield.gf_inline div.gfield_time_ampm{width:auto}.gform_wrapper li.gf_inline div.ginput_container{white-space:nowrap!important}.gform_wrapper li.gf_inline div.ginput_container.ginput_container_date label{display:block!important}.gform_wrapper li.gfield.gfield_error.gf_inline{margin-right:16px;padding-right:0}.gform_wrapper .top_label li.gfield.gf_left_half,.gform_wrapper .top_label li.gfield.gf_right_half{display:-moz-inline-stack;display:inline-block;vertical-align:top;width:50%;padding-right:16px;float:none}.gform_wrapper .top_label li.gfield.gf_left_half .ginput_container:not(.gfield_time_hour):not(.gfield_time_minute):not(.gfield_time_ampm):not(.ginput_container_date):not(.ginput_quantity):not(.datepicker):not(.gfield_signature_container),.gform_wrapper .top_label li.gfield.gf_right_half .ginput_container:not(.gfield_time_hour):not(.gfield_time_minute):not(.gfield_time_ampm):not(.ginput_container_date):not(.ginput_quantity):not(.datepicker):not(.gfield_signature_container){width:100%!important;margin:8px 0 0 0;padding-left:0;padding-right:0}.gform_wrapper .top_label li.gfield.gf_left_half:before{content:"";display:block;clear:both}.gform_wrapper .top_label li.gfield.gf_right_half:after{content:"";display:table;clear:both}.gform_wrapper.gform_validation_error .top_label li.gfield.gfield_error.gf_left_half,.gform_wrapper.gform_validation_error .top_label li.gfield.gfield_error.gf_right_half{max-width:calc(50% - 16px);padding-right:0}.gform_wrapper .top_label li.gfield.gfield_error.gf_left_half{margin-right:16px}.gform_wrapper .top_label li.gfield.gf_left_half div:not(.ginput_container_date) input.large,.gform_wrapper .top_label li.gfield.gf_left_half div:not(.ginput_container_date) input.medium,.gform_wrapper .top_label li.gfield.gf_left_half div:not(.ginput_container_date) select.large,.gform_wrapper .top_label li.gfield.gf_left_half div:not(.ginput_container_date) select.medium,.gform_wrapper .top_label li.gfield.gf_right_half div:not(.ginput_container_date) input.large,.gform_wrapper .top_label li.gfield.gf_right_half div:not(.ginput_container_date) input.medium,.gform_wrapper .top_label li.gfield.gf_right_half div:not(.ginput_container_date) select.large,.gform_wrapper .top_label li.gfield.gf_right_half div:not(.ginput_container_date) select.medium{width:100%}.gform_wrapper .top_label li.gfield.gf_left_half textarea,.gform_wrapper .top_label li.gfield.gf_right_half textarea{width:98%}.gform_wrapper .top_label li.gfield.gf_left_half input.small,.gform_wrapper .top_label li.gfield.gf_right_half input.small{width:35%}.gform_wrapper .top_label li.gfield.gf_left_half+li.gsection,.gform_wrapper .top_label li.gfield.gf_right_half+li.gsection{padding:16px 0 8px 0}.gform_wrapper .top_label li.gfield.gf_left_half+li.gfield.gsection.gf_left_half,.gform_wrapper .top_label li.gfield.gf_left_half+li.gfield.gsection.gf_right_half,.gform_wrapper .top_label li.gfield.gf_right_half+li.gfield.gsection.gf_left_half,.gform_wrapper .top_label li.gfield.gf_right_half+li.gfield.gsection.gf_right_half,.gform_wrapper .top_label li.gfield.gsection.gf_left_half+li.gfield.gsection.gf_left_half,.gform_wrapper .top_label li.gfield.gsection.gf_right_half+li.gfield.gsection.gf_left_half,.gform_wrapper .top_label li.gfield.gsection.gf_right_half+li.gfield.gsection.gf_right_half{padding:16px 0 8px 0}.gform_wrapper .top_label li.gfield.gsection.gf_left_half+li.gfield.gsection.gf_right_half{padding:0 0 8px 0}.gform_wrapper .top_label li.gfield.gsection.gf_left_half+li.gfield.gsection.gf_right_half+li.gfield.gsection.gf_left_half+li.gfield.gsection.gf_right_half{padding:16px 0 8px 0}.gform_wrapper .top_label li.gfield.gf_left_half+.gform_footer,.gform_wrapper .top_label li.gfield.gf_left_half+li.gfield,.gform_wrapper .top_label li.gfield.gf_right_half+.gform_footer,.gform_wrapper .top_label li.gfield.gf_right_half+li.gfield{clear:both}.gform_wrapper .top_label li.gfield.gf_left_third,.gform_wrapper .top_label li.gfield.gf_middle_third,.gform_wrapper .top_label li.gfield.gf_right_third{display:-moz-inline-stack;display:inline-block;vertical-align:top;float:none}.gform_wrapper .top_label li.gfield.gf_left_third:not(.gfield_time_hour):not(.gfield_time_minute):not(.gfield_time_ampm),.gform_wrapper .top_label li.gfield.gf_middle_third:not(.gfield_time_hour):not(.gfield_time_minute):not(.gfield_time_ampm){width:33.3%}.gform_wrapper .top_label li.gfield.gf_right_third:not(.gfield_time_hour):not(.gfield_time_minute):not(.gfield_time_ampm){width:33.4%}.gform_wrapper .top_label li.gfield.gf_left_third,.gform_wrapper .top_label li.gfield.gf_middle_third,.gform_wrapper .top_label li.gfield.gf_right_third{margin-bottom:8px}.gform_wrapper .top_label li.gfield.gf_left_third div:not(.ginput_container_date) input.large,.gform_wrapper .top_label li.gfield.gf_left_third div:not(.ginput_container_date) input.medium,.gform_wrapper .top_label li.gfield.gf_left_third div:not(.ginput_container_date) select.large,.gform_wrapper .top_label li.gfield.gf_left_third div:not(.ginput_container_date) select.medium,.gform_wrapper .top_label li.gfield.gf_middle_third div:not(.ginput_container_date) input.large,.gform_wrapper .top_label li.gfield.gf_middle_third div:not(.ginput_container_date) input.medium,.gform_wrapper .top_label li.gfield.gf_middle_third div:not(.ginput_container_date) select.large,.gform_wrapper .top_label li.gfield.gf_middle_third div:not(.ginput_container_date) select.medium,.gform_wrapper .top_label li.gfield.gf_right_third div:not(.ginput_container_date) input.large,.gform_wrapper .top_label li.gfield.gf_right_third div:not(.ginput_container_date) input.medium,.gform_wrapper .top_label li.gfield.gf_right_third div:not(.ginput_container_date) select.large,.gform_wrapper .top_label li.gfield.gf_right_third div:not(.ginput_container_date) select.medium{width:100%}.gform_wrapper .top_label li.gfield.gf_left_third div:not(.ginput_container_date) input:not([type=radio]):not([type=checkbox]):not(.ginput_quantity),.gform_wrapper .top_label li.gfield.gf_left_third div:not(.ginput_container_date) select,.gform_wrapper .top_label li.gfield.gf_middle_third div:not(.ginput_container_date) input:not([type=radio]):not([type=checkbox]):not(.ginput_quantity),.gform_wrapper .top_label li.gfield.gf_middle_third div:not(.ginput_container_date) select,.gform_wrapper .top_label li.gfield.gf_right_third div:not(.ginput_container_date) input:not([type=radio]):not([type=checkbox]):not(.ginput_quantity),.gform_wrapper .top_label li.gfield.gf_right_third div:not(.ginput_container_date) select{width:100%!important}.gform_wrapper .top_label li.gfield.gfield_error.gf_left_third,.gform_wrapper .top_label li.gfield.gfield_error.gf_middle_third{width:calc(33.3% - 24px)!important;margin-right:16px}.gform_wrapper .top_label li.gfield.gfield_error.gf_right_third{width:33.4%}.gform_wrapper .top_label li.gfield.gf_right_third:after{content:"";display:table;clear:both}.gform_wrapper .top_label li.gfield.gf_left_third+li.gsection,.gform_wrapper .top_label li.gfield.gf_right_third+li.gsection{padding:16px 0 8px 0}.gform_wrapper .top_label li.gfield.gf_left_third+.gform_footer,.gform_wrapper .top_label li.gfield.gf_left_third+li.gfield,.gform_wrapper .top_label li.gfield.gf_middle_third+.gform_footer,.gform_wrapper .top_label li.gfield.gf_middle_third+li.gfield,.gform_wrapper .top_label li.gfield.gf_right_third+.gform_footer,.gform_wrapper .top_label li.gfield.gf_right_third+li.gfield{clear:both}.gform_wrapper .top_label li.gfield.gf_first_quarter:not(.gfield_time_hour):not(.gfield_time_minute):not(.gfield_time_ampm),.gform_wrapper .top_label li.gfield.gf_fourth_quarter:not(.gfield_time_hour):not(.gfield_time_minute):not(.gfield_time_ampm),.gform_wrapper .top_label li.gfield.gf_second_quarter:not(.gfield_time_hour):not(.gfield_time_minute):not(.gfield_time_ampm),.gform_wrapper .top_label li.gfield.gf_third_quarter:not(.gfield_time_hour):not(.gfield_time_minute):not(.gfield_time_ampm){width:25%;display:-moz-inline-stack;display:inline-block;vertical-align:top;float:none}.gform_wrapper .top_label li.gfield.gf_first_quarter,.gform_wrapper .top_label li.gfield.gf_fourth_quarter,.gform_wrapper .top_label li.gfield.gf_second_quarter,.gform_wrapper .top_label li.gfield.gf_third_quarter{margin-bottom:8px}.gform_wrapper .top_label li.gfield.gf_first_quarter div:not(.ginput_container_date) input:not([type=radio]):not([type=checkbox]),.gform_wrapper .top_label li.gfield.gf_first_quarter div:not(.ginput_container_date) select,.gform_wrapper .top_label li.gfield.gf_fourth_quarter div:not(.ginput_container_date) input:not([type=radio]):not([type=checkbox]),.gform_wrapper .top_label li.gfield.gf_fourth_quarter div:not(.ginput_container_date) select,.gform_wrapper .top_label li.gfield.gf_second_quarter div:not(.ginput_container_date) input:not([type=radio]):not([type=checkbox]),.gform_wrapper .top_label li.gfield.gf_second_quarter div:not(.ginput_container_date) select,.gform_wrapper .top_label li.gfield.gf_third_quarter div:not(.ginput_container_date) input:not([type=radio]):not([type=checkbox]),.gform_wrapper .top_label li.gfield.gf_third_quarter div:not(.ginput_container_date) select{width:100%!important}.gform_wrapper .top_label li.gfield.gfield_error.gf_first_quarter,.gform_wrapper .top_label li.gfield.gfield_error.gf_fourth_quarter,.gform_wrapper .top_label li.gfield.gfield_error.gf_second_quarter,.gform_wrapper .top_label li.gfield.gfield_error.gf_third_quarter{width:24.5%}.gform_wrapper .top_label li.gfield.gf_fourth_quarter:after{content:"";display:table;clear:both}.gform_wrapper .top_label li.gfield.gf_first_quarter input.large,.gform_wrapper .top_label li.gfield.gf_first_quarter input.medium,.gform_wrapper .top_label li.gfield.gf_first_quarter select.large,.gform_wrapper .top_label li.gfield.gf_first_quarter select.medium,.gform_wrapper .top_label li.gfield.gf_fourth_quarter input.large,.gform_wrapper .top_label li.gfield.gf_fourth_quarter input.medium,.gform_wrapper .top_label li.gfield.gf_fourth_quarter select.large,.gform_wrapper .top_label li.gfield.gf_fourth_quarter select.medium,.gform_wrapper .top_label li.gfield.gf_second_quarter input.large,.gform_wrapper .top_label li.gfield.gf_second_quarter input.medium,.gform_wrapper .top_label li.gfield.gf_second_quarter select.large,.gform_wrapper .top_label li.gfield.gf_second_quarter select.medium,.gform_wrapper .top_label li.gfield.gf_third_quarter input.large,.gform_wrapper .top_label li.gfield.gf_third_quarter input.medium,.gform_wrapper .top_label li.gfield.gf_third_quarter select.large,.gform_wrapper .top_label li.gfield.gf_third_quarter select.medium{width:97.5%}.gform_wrapper .top_label li.gfield.gf_first_quarter+li.gsection,.gform_wrapper .top_label li.gfield.gf_fourth_quarter+li.gsection{padding:16px 0 8px 0}.gform_wrapper .top_label li.gfield.gf_first_quarter+.gform_footer,.gform_wrapper .top_label li.gfield.gf_first_quarter+li.gfield,.gform_wrapper .top_label li.gfield.gf_fourth_quarter+.gform_footer,.gform_wrapper .top_label li.gfield.gf_fourth_quarter+li.gfield,.gform_wrapper .top_label li.gfield.gf_second_quarter+.gform_footer,.gform_wrapper .top_label li.gfield.gf_second_quarter+li.gfield,.gform_wrapper .top_label li.gfield.gf_third_quarter+.gform_footer,.gform_wrapper .top_label li.gfield.gf_third_quarter+li.gfield{clear:both}.gform_wrapper .top_label li ul.gfield_checkbox,.gform_wrapper .top_label li ul.gfield_radio{width:calc(100% + 16px)}.gform_wrapper ul.gform_fields:not(.top_label) li ul.gfield_checkbox,.gform_wrapper ul.gform_fields:not(.top_label) li ul.gfield_radio{width:calc(70% + 16px)}.gform_wrapper li.gfield.gf_list_2col ul.gfield_checkbox li,.gform_wrapper li.gfield.gf_list_2col ul.gfield_radio li{width:50%;display:-moz-inline-stack;display:inline-block;margin:0;padding-right:16px;min-height:28px;vertical-align:top;font-size:90%}.gform_wrapper li.gfield.gf_list_3col ul.gfield_checkbox li,.gform_wrapper li.gfield.gf_list_3col ul.gfield_radio li{width:33.3%;display:-moz-inline-stack;display:inline-block;margin:0 0 2px 0;padding-right:16px;min-height:28px;vertical-align:top;font-size:90%}.gform_wrapper li.gfield.gf_list_2col ul.gfield_checkbox li label,.gform_wrapper li.gfield.gf_list_2col ul.gfield_radio li label,.gform_wrapper li.gfield.gf_list_3col ul.gfield_checkbox li label,.gform_wrapper li.gfield.gf_list_3col ul.gfield_radio li label,.gform_wrapper li.gfield.gf_list_4col ul.gfield_checkbox li label,.gform_wrapper li.gfield.gf_list_4col ul.gfield_radio li label{max-width:75%;white-space:nowrap;overflow:hidden;text-overflow:ellipsis;vertical-align:middle}.gform_wrapper li.gfield.gf_list_4col ul.gfield_checkbox li,.gform_wrapper li.gfield.gf_list_4col ul.gfield_radio li{width:25%;display:-moz-inline-stack;display:inline-block;margin:0;padding-right:16px;min-height:28px;vertical-align:top;font-size:90%}.gform_wrapper li.gfield.gf_list_5col ul.gfield_checkbox li,.gform_wrapper li.gfield.gf_list_5col ul.gfield_radio li{width:20%;display:-moz-inline-stack;display:inline-block;margin:0;padding-right:16px;min-height:28px;vertical-align:top;font-size:90%}.gform_wrapper li.gfield.gf_list_2col ul.gfield_checkbox,.gform_wrapper li.gfield.gf_list_2col ul.gfield_radio,.gform_wrapper li.gfield.gf_list_3col ul.gfield_checkbox,.gform_wrapper li.gfield.gf_list_3col ul.gfield_radio,.gform_wrapper li.gfield.gf_list_4col ul.gfield_checkbox,.gform_wrapper li.gfield.gf_list_4col ul.gfield_radio,.gform_wrapper li.gfield.gf_list_5col ul.gfield_checkbox,.gform_wrapper li.gfield.gf_list_5col ul.gfield_radio{overflow:hidden}.gform_wrapper ul.gform_fields:not(.top_label) li.gfield.gf_list_2col label.gfield_label,.gform_wrapper ul.gform_fields:not(.top_label) li.gfield.gf_list_3col label.gfield_label,.gform_wrapper ul.gform_fields:not(.top_label) li.gfield.gf_list_4col label.gfield_label,.gform_wrapper ul.gform_fields:not(.top_label) li.gfield.gf_list_5col label.gfield_label,.gform_wrapper ul.gform_fields:not(.top_label) li.gfield.gf_list_inline label.gfield_label{margin:0 0 10px 0}.gform_wrapper li.gf_list_2col_vertical .ginput_container_checkbox ul.gfield_checkbox,.gform_wrapper li.gf_list_3col_vertical .ginput_container_checkbox ul.gfield_checkbox,.gform_wrapper li.gf_list_4col_vertical .ginput_container_checkbox ul.gfield_checkbox,.gform_wrapper li.gf_list_5col_vertical .ginput_container_checkbox ul.gfield_checkbox{-webkit-column-gap:16px;-moz-column-gap:16px;column-gap:16px}.gform_wrapper ul.gform_fields:not(.top_label) li.gf_list_2col_vertical label.gfield_label{margin:0 0 10px 0}.gform_wrapper li.gf_list_2col_vertical .ginput_container_checkbox ul.gfield_checkbox,.gform_wrapper li.gf_list_2col_vertical .ginput_container_radio ul.gfield_radio{width:calc(100% - 16px);-webkit-column-count:2;-moz-column-count:2;column-count:2}.gform_wrapper li.gf_list_3col_vertical .ginput_container_checkbox ul.gfield_checkbox,.gform_wrapper li.gf_list_3col_vertical .ginput_container_radio ul.gfield_radio{width:calc(100% - 8px);-webkit-column-count:3;-moz-column-count:3;column-count:3}.gform_wrapper li.gf_list_4col_vertical .ginput_container_checkbox ul.gfield_checkbox,.gform_wrapper li.gf_list_4col_vertical .ginput_container_radio ul.gfield_radio{width:calc(100% - 8px);-webkit-column-count:4;-moz-column-count:4;column-count:4}.gform_wrapper li.gf_list_5col_vertical .ginput_container_checkbox ul.gfield_checkbox,.gform_wrapper li.gf_list_5col_vertical .ginput_container_radio ul.gfield_radio{width:calc(100% - 8px);-webkit-column-count:5;-moz-column-count:5;column-count:5}.gform_wrapper li.gf_list_2col_vertical .ginput_container_checkbox ul.gfield_checkbox li label,.gform_wrapper li.gf_list_2col_vertical .ginput_container_radio ul.gfield_radio li label,.gform_wrapper li.gf_list_3col_vertical .ginput_container_checkbox ul.gfield_checkbox li label,.gform_wrapper li.gf_list_3col_vertical .ginput_container_radio ul.gfield_radio li label,.gform_wrapper li.gf_list_4col_vertical .ginput_container_checkbox ul.gfield_checkbox li label,.gform_wrapper li.gf_list_4col_vertical .ginput_container_radio ul.gfield_radio li label,.gform_wrapper li.gf_list_5col_vertical .ginput_container_checkbox ul.gfield_checkbox li label,.gform_wrapper li.gf_list_5col_vertical .ginput_container_radio ul.gfield_radio li label{max-width:75%;white-space:nowrap;overflow:hidden;text-overflow:ellipsis}.gform_wrapper li.gfield.gf_list_height_25 ul.gfield_checkbox li,.gform_wrapper li.gfield.gf_list_height_25 ul.gfield_radio li{height:25px}.gform_wrapper li.gfield.gf_list_height_50 ul.gfield_checkbox li,.gform_wrapper li.gfield.gf_list_height_50 ul.gfield_radio li{height:50px}.gform_wrapper li.gfield.gf_list_height_75 ul.gfield_checkbox li,.gform_wrapper li.gfield.gf_list_height_75 ul.gfield_radio li{height:75px}.gform_wrapper li.gfield.gf_list_height_100 ul.gfield_checkbox li,.gform_wrapper li.gfield.gf_list_height_100 ul.gfield_radio li{height:100px}.gform_wrapper li.gfield.gf_list_height_125 ul.gfield_checkbox li,.gform_wrapper li.gfield.gf_list_height_125 ul.gfield_radio li{height:125px}.gform_wrapper li.gfield.gf_list_height_150 ul.gfield_checkbox li,.gform_wrapper li.gfield.gf_list_height_150 ul.gfield_radio li{height:150px}.gform_wrapper li.gf_list_inline ul.gfield_checkbox li,.gform_wrapper li.gf_list_inline ul.gfield_radio li{width:auto!important;float:none!important;margin:0 8px 10px 0;display:-moz-inline-stack;display:inline-block}html[dir=rtl] .gform_wrapper li.gf_list_inline ul.gfield_checkbox li,html[dir=rtl] .gform_wrapper li.gf_list_inline ul.gfield_radio li{padding-left:16px!important;padding-right:0!important}.gform_wrapper li.gf_hide_ampm div.gfield_time_ampm{display:none!important}.gform_wrapper li.gsection.gf_scroll_text{height:240px;width:calc(100% - 16px);padding:16px;background-color:#fff;overflow-y:scroll;overflow-x:hidden;border:1px solid #ccc;border-bottom:1px solid #ccc!important}.gform_wrapper .top_label li.gsection.gf_scroll_text h2.gsection_title{margin:10px 10px 0 8px!important}.gform_wrapper.gf_browser_chrome .top_label li.gsection.gf_scroll_text h2.gsection_title,.gform_wrapper.gf_browser_gecko .top_label li.gsection.gf_scroll_text h2.gsection_title{margin:0 10px 0 8px!important}.gform_wrapper .top_label li.gsection.gf_scroll_text .gsection_description{margin:10px;font-size:12px}.gform_wrapper div.gform_ul.gform_fields .top_label li.gfield.gsection.gf_scroll_text div.gsection_description ul li,.gform_wrapper form div.gform_ul.gform_fields .top_label li.gfield.gsection.gf_scroll_text div.gsection_description ul li{list-style-type:disc!important;margin:0 0 8px;overflow:visible;padding-left:0}.gform_wrapper div.gform_ul.gform_fields .top_label li.gfield.gsection.gf_scroll_text div.gsection_description ul,.gform_wrapper form div.gform_ul.gform_fields .top_label li.gfield.gsection.gf_scroll_text div.gsection_description ul{list-style-type:disc!important;margin:16px 0 16px 18px;padding-left:0}.gform_wrapper div.gform_ul.gform_fields .top_label li.gfield.gsection.gf_scroll_text div.gsection_description ol li,.gform_wrapper form div.gform_ul.gform_fields .top_label li.gfield.gsection.gf_scroll_text div.gsection_description ol li{list-style-type:decimal!important;overflow:visible;margin:0 0 8px;padding-left:0}.gform_wrapper div.gform_ul.gform_fields .top_label li.gfield.gsection.gf_scroll_text div.gsection_description ol,.gform_wrapper form div.gform_ul.gform_fields .top_label li.gfield.gsection.gf_scroll_text div.gsection_description ol{list-style-type:decimal!important;margin:16px 0 18px 32px;padding-left:0}.gform_wrapper div.gform_ul.gform_fields .top_label li.gfield.gsection.gf_scroll_text div.gsection_description ol li ul,.gform_wrapper form div.gform_ul.gform_fields .top_label li.gfield.gsection.gf_scroll_text div.gsection_description ol li ul li{list-style-type:disc!important;padding-left:0}.gform_wrapper div.gform_ul.gform_fields .top_label li.gfield.gsection.gf_scroll_text div.gsection_description ol li ul{margin:16px 0 16px 18px}.gform_wrapper form div.gform_ul.gform_fields .top_label li.gfield.gsection.gf_scroll_text div.gsection_description ol li ul li{margin:0 0 8px}.gform_wrapper div.gform_ul.gform_fields .top_label li.gfield.gsection.gf_scroll_text div.gsection_description dl{margin:0 0 18px 0;padding-left:0}.gform_wrapper div.gform_ul.gform_fields .top_label li.gfield.gsection.gf_scroll_text div.gsection_description dl dt{font-weight:700}.gform_wrapper div.gform_ul.gform_fields .top_label li.gfield.gsection.gf_scroll_text div.gsection_description dl dd{margin:0 0 16px 18px}.gform_wrapper li.gfield.gfield_html.gf_alert_blue,.gform_wrapper li.gfield.gfield_html.gf_alert_gray,.gform_wrapper li.gfield.gfield_html.gf_alert_green,.gform_wrapper li.gfield.gfield_html.gf_alert_red,.gform_wrapper li.gfield.gfield_html.gf_alert_yellow{-webkit-border-radius:3px;-moz-border-radius:3px;border-radius:3px;margin:20px 0!important;padding:20px!important}.gform_wrapper li.gfield.gfield_html.gf_alert_green{border:1px solid #97b48a;background-color:#cbeca0;text-shadow:#dfb 1px 1px;color:#030}.gform_wrapper li.gfield.gfield_html.gf_alert_red{border:1px solid #cfadb3;background-color:#faf2f5;text-shadow:#fff 1px 1px;color:#832525}.gform_wrapper li.gfield.gfield_html.gf_alert_yellow{border:1px solid #e6db55;background-color:#fffbcc;text-shadow:#fcfaea 1px 1px;color:#222}.gform_wrapper li.gfield.gfield_html.gf_alert_gray{border:1px solid #ccc;background-color:#eee;text-shadow:#fff 1px 1px;color:#424242}.gform_wrapper li.gfield.gfield_html.gf_alert_blue{border:1px solid #a7c2e7;background-color:#d1e4f3;text-shadow:#e0f1ff 1px 1px;color:#314475}div.gform_confirmation_wrapper.gf_confirmation_simple_yellow{margin:30px 0;max-width:99%;border-top:1px solid #e6db55;border-bottom:1px solid #e6db55;padding:32px;background-color:#fffbcc;color:#424242;font-size:25px}div.gform_confirmation_wrapper.gf_confirmation_simple_gray{margin:30px 0;max-width:99%;border-top:1px solid #ccc;border-bottom:1px solid #ccc;padding:32px;background-color:#eaeaea;color:#424242;font-size:25px}div.gform_confirmation_wrapper.gf_confirmation_yellow_gradient{position:relative;background-color:#fffbd2;margin:30px 0;border:1px solid #e6db55;-webkit-box-shadow:0 0 5px rgba(221,215,131,.75);-moz-box-shadow:0 0 5px rgba(221,215,131,.75);box-shadow:0 0 5px rgba(221,215,131,.75)}div.gform_confirmation_wrapper.gf_confirmation_yellow_gradient div.gforms_confirmation_message{margin:0;padding:40px;max-width:99%;font-size:28px;border-top:2px solid #fff;border-bottom:1px solid #e6db55;background-color:#fffbcc;color:#424242;background:#fffce5;background:-moz-linear-gradient(top,#fffce5 0,#fff9bf 100%);background:-webkit-gradient(linear,left top,left bottom,color-stop(0,#fffce5),color-stop(100%,#fff9bf));background:-webkit-linear-gradient(top,#fffce5 0,#fff9bf 100%);background:-o-linear-gradient(top,#fffce5 0,#fff9bf 100%);background:-ms-linear-gradient(top,#fffce5 0,#fff9bf 100%);background:linear-gradient(to bottom,#fffce5 0,#fff9bf 100%)}div.gform_confirmation_wrapper.gf_confirmation_green_gradient{position:relative;background-color:#f1fcdf;margin:30px 0;border:1px solid #a7c37c;-webkit-box-shadow:0 0 5px rgba(86,122,86,.4);-moz-box-shadow:0 0 5px rgba(86,122,86,.4);box-shadow:0 0 5px rgba(86,122,86,.4)}div.gform_confirmation_wrapper.gf_confirmation_green_gradient div.gforms_confirmation_message{margin:0;padding:40px;max-width:99%;font-size:28px;border-top:2px solid #effade;border-bottom:1px solid #a7c37c;background-color:#fffbcc;text-shadow:#dfb 1px 1px;color:#030;background:#dbf2b7;background:-moz-linear-gradient(top,#dbf2b7 0,#b4d088 100%);background:-webkit-gradient(linear,left top,left bottom,color-stop(0,#dbf2b7),color-stop(100%,#b4d088));background:-webkit-linear-gradient(top,#dbf2b7 0,#b4d088 100%);background:-o-linear-gradient(top,#dbf2b7 0,#b4d088 100%);background:-ms-linear-gradient(top,#dbf2b7 0,#b4d088 100%);background:linear-gradient(to bottom,#dbf2b7 0,#b4d088 100%)}div.gform_confirmation_wrapper.gf_confirmation_green_gradient:after,div.gform_confirmation_wrapper.gf_confirmation_green_gradient:before,div.gform_confirmation_wrapper.gf_confirmation_yellow_gradient:after,div.gform_confirmation_wrapper.gf_confirmation_yellow_gradient:before{z-index:-1;position:absolute;content:"";bottom:15px;left:10px;width:50%;top:80%;max-width:40%;background:rgba(0,0,0,.2);-webkit-box-shadow:0 15px 10px rgba(0,0,0,.2);-moz-box-shadow:0 15px 10px rgba(0,0,0,.2);box-shadow:0 15px 10px rgba(0,0,0,.2);-webkit-transform:rotate(-3deg);-moz-transform:rotate(-3deg);-o-transform:rotate(-3deg);-ms-transform:rotate(-3deg);transform:rotate(-3deg)}div.gform_confirmation_wrapper.gf_confirmation_green_gradient:after,div.gform_confirmation_wrapper.gf_confirmation_yellow_gradient:after{-webkit-transform:rotate(3deg);-moz-transform:rotate(3deg);-o-transform:rotate(3deg);-ms-transform:rotate(3deg);transform:rotate(3deg);right:10px;left:auto}.gform_wrapper.gf_simple_horizontal_wrapper.centered_wrapper{width:auto;margin:0 auto;display:table}.gform_wrapper form.gf_simple_horizontal{width:calc(100% - 16px);margin:0 auto}.gform_wrapper form.gf_simple_horizontal div.gform_body,.gform_wrapper form.gf_simple_horizontal div.gform_footer.top_label{display:table-cell;vertical-align:middle;margin:0;padding:0;position:relative}.gform_wrapper form.gf_simple_horizontal div.gform_body{width:auto;max-width:75%}.gform_wrapper form.gf_simple_horizontal div.ginput_container,.gform_wrapper form.gf_simple_horizontal ul li.gfield{margin-top:0!important}.gform_wrapper form.gf_simple_horizontal div.gform_footer.top_label{width:auto;max-width:25%;padding:0;margin:0}body:not(rtl) .gform_wrapper form.gf_simple_horizontal div.gform_footer.top_label{text-align:left}.gform_wrapper form.gf_simple_horizontal div.gform_body ul.top_label{display:table;width:100%}.gform_wrapper form.gf_simple_horizontal div.gform_body ul.top_label li.gfield{display:table-cell;padding-right:1em;height:auto}.gform_wrapper form.gf_simple_horizontal .gfield_description:not(.validation_message),.gform_wrapper form.gf_simple_horizontal .ginput_complex label,.gform_wrapper form.gf_simple_horizontal label.gfield_label{display:block;height:1px;width:1px;overflow:hidden;position:absolute;top:0;left:-9000px}.gform_wrapper form.gf_simple_horizontal div.gform_body ul.top_label.form_sublabel_below li.gfield{vertical-align:middle}.gform_wrapper form.gf_simple_horizontal div.gform_body ul.top_label.form_sublabel_above li.gfield{vertical-align:middle}.gform_wrapper form.gf_simple_horizontal div.gform_body ul.top_label li.gfield input.large,.gform_wrapper form.gf_simple_horizontal div.gform_body ul.top_label li.gfield input.medium,.gform_wrapper form.gf_simple_horizontal div.gform_body ul.top_label li.gfield input.small{width:100%}.gform_wrapper form.gf_simple_horizontal div.gform_body ul.top_label li.gfield select.large,.gform_wrapper form.gf_simple_horizontal div.gform_body ul.top_label li.gfield select.medium,.gform_wrapper form.gf_simple_horizontal div.gform_body ul.top_label li.gfield select.small{width:100%}.gform_wrapper form.gf_simple_horizontal div.gform_footer.top_label input[type=button],.gform_wrapper form.gf_simple_horizontal div.gform_footer.top_label input[type=image],.gform_wrapper form.gf_simple_horizontal div.gform_footer.top_label input[type=submit]{height:auto}.gform_wrapper form.gf_simple_horizontal .top_label .gfield_error{margin-bottom:0}.gform_wrapper form.gf_simple_horizontal ul li.gfield .ginput_container_checkbox ul li,.gform_wrapper form.gf_simple_horizontal ul li.gfield .ginput_container_radio ul li{display:inline-block;margin-right:.5em}html[dir=rtl] .gform_wrapper form.gf_simple_horizontal div.ginput_complex.ginput_container.gf_name_has_2 span{width:48.5%}html[dir=rtl] .gform_wrapper form.gf_simple_horizontal div.ginput_complex.ginput_container.gf_name_has_3 span{width:33%}html[dir=rtl] .gform_wrapper form.gf_simple_horizontal div.ginput_complex.ginput_container.gf_name_has_4 span{width:24.5%}html[dir=rtl] .gform_wrapper form.gf_simple_horizontal div.ginput_complex.ginput_container.gf_name_has_5 span{width:19.5%}}body .gform_wrapper.gf_form_center_wrapper{padding:16px 0 16px 16px} .entry .gform_wrapper.gf_browser_safari ul li:after,.entry .gform_wrapper.gf_browser_safari ul li:before{content:""}.gform_wrapper.gf_browser_safari .gform_body ul.gform_fields li.gfield .ginput_container #recaptcha_widget_div #recaptcha_area{width:99%!important}.gform_wrapper.gf_browser_safari .left_label #recaptcha_area #recaptcha_table,.gform_wrapper.gf_browser_safari .right_label #recaptcha_area #recaptcha_table{margin-left:32%}.gform_wrapper.gf_browser_safari .gfield_checkbox li input,.gform_wrapper.gf_browser_safari .gfield_checkbox li input[type=checkbox],.gform_wrapper.gf_browser_safari .gfield_radio li input[type=radio]{margin-top:4px}.gform_wrapper.gf_browser_safari select[multiple=multiple]{height:auto!important}.gform_wrapper.gf_browser_safari input.button.gform_button_select_files{padding:6px 12px!important}.gform_wrapper.gf_browser_safari .gfield_time_ampm select{max-width:5rem!important;width:calc(2rem + 20px)}.gform_wrapper.gf_browser_chrome select{padding:2px 0 2px 3px}.gform_wrapper.gf_browser_chrome .gfield_time_ampm select{max-width:5rem!important;width:calc(3rem + 20px)}.entry .gform_wrapper.gf_browser_chrome ul li:after,.entry .gform_wrapper.gf_browser_chrome ul li:before,.gform_wrapper.gf_browser_chrome ul li:after,.gform_wrapper.gf_browser_chrome ul li:before{content:none}.gform_wrapper.gf_browser_chrome .gform_body ul.gform_fields li.gfield .ginput_container #recaptcha_widget_div #recaptcha_area{width:99%!important}.gform_wrapper.gf_browser_chrome .left_label #recaptcha_area #recaptcha_table,.gform_wrapper.gf_browser_chrome .right_label #recaptcha_area #recaptcha_table{margin-left:32%}.gform_wrapper.gf_browser_chrome .ginput_complex .ginput_right select,.gform_wrapper.gf_browser_chrome .ginput_complex select{text-indent:2px;line-height:1.5em;margin-bottom:5px;margin-top:2px}.gform_wrapper.gf_browser_chrome .gfield_checkbox li input,.gform_wrapper.gf_browser_chrome .gfield_checkbox li input[type=checkbox],.gform_wrapper.gf_browser_chrome .gfield_radio li input[type=radio]{margin-top:6px}.gform_wrapper.gf_browser_chrome ul.gform_fields li.gfield div.ginput_complex span.ginput_left select,.gform_wrapper.gf_browser_chrome ul.gform_fields li.gfield div.ginput_complex span.ginput_right select,.gform_wrapper.gf_browser_chrome ul.gform_fields li.gfield select{margin-left:1px}.gform_wrapper.gf_browser_chrome ul.gform_fields li.gfield input[type=radio]{margin-left:1px}.gform_wrapper.gf_browser_chrome ul.gform_fields li.gfield span.name_first,.gform_wrapper.gf_browser_chrome ul.gform_fields li.gfield span.name_last,.gform_wrapper.gf_browser_chrome ul.gform_fields li.gfield span.name_middle{padding-top:2px}.gform_wrapper.gf_browser_chrome select[multiple=multiple]{height:auto!important}.gform_wrapper.gf_browser_chrome .gfield_error .ginput_complex.ginput_container.has_first_name.has_middle_name.has_last_name span.name_last,.gform_wrapper.gf_browser_chrome .gfield_error .ginput_complex.ginput_container.has_first_name.has_middle_name.has_last_name span.name_middle{margin-left:1.1%}.gform_wrapper.gf_browser_chrome .gfield_error input[type=email],.gform_wrapper.gf_browser_chrome .gfield_error input[type=number],.gform_wrapper.gf_browser_chrome .gfield_error input[type=password],.gform_wrapper.gf_browser_chrome .gfield_error input[type=tel],.gform_wrapper.gf_browser_chrome .gfield_error input[type=text],.gform_wrapper.gf_browser_chrome .gfield_error input[type=url],.gform_wrapper.gf_browser_chrome .gfield_error select,.gform_wrapper.gf_browser_chrome .gfield_error textarea,.gform_wrapper.gf_browser_chrome li.gfield_error.field_sublabel_above .ginput_complex input[type=text]{margin-bottom:2px}.gform_wrapper.gf_browser_chrome input.button.gform_button_select_files{padding:6px 12px!important}.gform_wrapper.gf_browser_chrome span.address_country{margin-top:-2px}.gform_wrapper.gf_browser_gecko select{padding:2px 12px 2px 2px}.gform_wrapper.gf_browser_gecko .gfield_time_ampm select{max-width:5rem!important;width:calc(4rem + 25px)}.entry .gform_wrapper.gf_browser_gecko ul li:after,.entry .gform_wrapper.gf_browser_gecko ul li:before,.gform_wrapper.gf_browser_gecko ul li:after,.gform_wrapper.gf_browser_gecko ul li:before{content:none}.gform_wrapper.gf_browser_gecko .ginput_complex .ginput_cardinfo_left select.ginput_card_expiration.ginput_card_expiration_month{margin-right:1px}.gform_wrappergf_browser_gecko .chosen-container-single .chosen-single{height:32px;line-height:2.4}.gform_wrappergf_browser_gecko .chosen-container-single .chosen-single div b{position:relative;top:5px}.entry .gform_wrapper.gf_browser_ie ul li:after,.entry .gform_wrapper.gf_browser_ie ul li:before,.gform_wrapper.gf_browser_ie ul li:after,.gform_wrapper.gf_browser_ie ul li:before{content:none}.gform_wrapper.gf_browser_ie .gfield_time_hour{width:80px}.gform_wrapper.gf_browser_ie .gfield_time_minute{width:70px}.gform_wrapper.gf_browser_ie .gfield_time_ampm{padding-top:2px}.gform_wrapper.gf_browser_ie .gfield_time_hour input,.gform_wrapper.gf_browser_ie .gfield_time_minute input{margin-left:0}.gform_wrapper.gf_browser_ie .ginput_complex .ginput_left label,.gform_wrapper.gf_browser_ie .ginput_complex .ginput_right label{margin:3px 0 5px 0}.gform_wrapper.gf_browser_ie .gform_footer input.button{padding:3px}.gform_wrapper.gf_browser_ie ul.top_label .clear-multi{overflow:hidden;clear:both}.gform_wrapper.gf_browser_ie .gfield_radio li{line-height:20px!important}.gform_wrapper.gf_browser_ie .gfield_checkbox li input,.gform_wrapper.gf_browser_ie .gfield_checkbox li input[type=checkbox],.gform_wrapper.gf_browser_ie .gfield_radio li input[type=radio]{margin-top:0}.gform_wrapper.gf_browser_ie .ginput_complex .ginput_left select,.gform_wrapper.gf_browser_ie .ginput_complex .ginput_right select{padding:2px 0 2px 0}.gform_wrapper.gf_browser_ie .gform_body ul.gform_fields li.gfield .ginput_container #recaptcha_widget_div #recaptcha_area{width:99%!important}.gform_wrapper.gf_browser_ie .gform_body ul.gform_fields li.gfield .ginput_container #recaptcha_widget_div #recaptcha_area{width:99%!important}.gform_wrapper.gf_browser_ie .left_label #recaptcha_area #recaptcha_table,.gform_wrapper.gf_browser_ie .right_label #recaptcha_area #recaptcha_table{margin-left:32%}.gform_wrapper.gf_browser_ie .ginput_complex .ginput_cardinfo_right span.ginput_card_security_code_icon{position:relative;top:-1px;left:4px}.gform_wrapper.gf_browser_ie img.add_list_item,.gform_wrapper.gf_browser_ie img.delete_list_item{width:16px!important;height:16px!important;background-size:16px 16px!important}.entry .gform_wrapper.gf_browser_iphone ul li:after,.entry .gform_wrapper.gf_browser_iphone ul li:before,.gform_wrapper.gf_browser_iphone ul li:after,.gform_wrapper.gf_browser_iphone ul li:before{content:none}.entry .gform_wrapper.gf_browser_unknown ul li:after,.entry .gform_wrapper.gf_browser_unknown ul li:before,.gform_wrapper.gf_browser_unknown ul li:after,.gform_wrapper.gf_browser_unknown ul li:before{content:none}@media only screen and (max-width:641px){.gform_wrapper.gf_browser_chrome .chosen-container-single .chosen-single,.gform_wrapper.gf_browser_gecko .chosen-container-single .chosen-single,.gform_wrapper.gf_browser_safari .chosen-container-single .chosen-single{height:44px;line-height:3.2}.gform_wrapper.gf_browser_chrome .chosen-container-single .chosen-single div b,.gform_wrapper.gf_browser_gecko .chosen-container-single .chosen-single div b,.gform_wrapper.gf_browser_safari .chosen-container-single .chosen-single div b{position:relative;top:50%;transform:translateY(-25%)}}
Brand Building for an
International Launch
Posh Mobile was introducing a new brand of mobile devices, phones, and tablets, into the marketplace. With an initial emphasis on the Latin American market, they wished to create a brand that was elegant and luxurious to match the sleek and sophisticated design of their devices.
The Challenge
Posh Mobile needed every element of their marketing, from the wake-up animations and wallpaper on their products to their website, product packaging, and print advertising all to match the desired look and feel.
The Solution
Mercury developed a logo for the POSH Mobile brand that introduced elements reminiscent of British Royalty and London lifestyle to imbue a sense of luxury that was in line with the brand name. Once we created a full brand ecosystem and usage guidelines, we designed and developed their launch website, as well as product packaging, dealer support materials, print advertisements and more.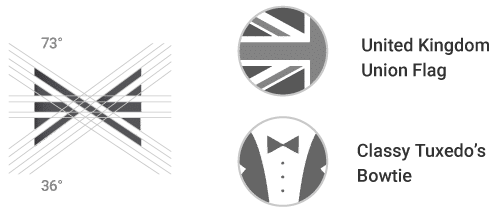 Consistent Branding
The design team at Mercury developed a library of images, icons, and branding elements that reinforce the POSH Mobile brand in a variety of places. An abstracted diamond pattern is used on the devices, print advertising, website imagery, store signage, packaging, and even conference booths to create a unified look and feel across mediums.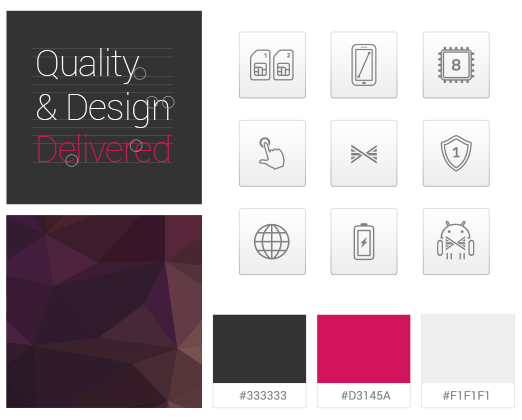 Posh…James Posh
Smooth, refined, polished. Meet James Posh. We introduced the character of James Posh to promote the brand on marketing pieces and industry trade shows. James Posh was the physical embodiment of the brand for the initial launch. The ever-popular Mr. Posh even had his own presence on social media networks such as LinkedIn and Facebook, wholly apart from the main Posh company pages.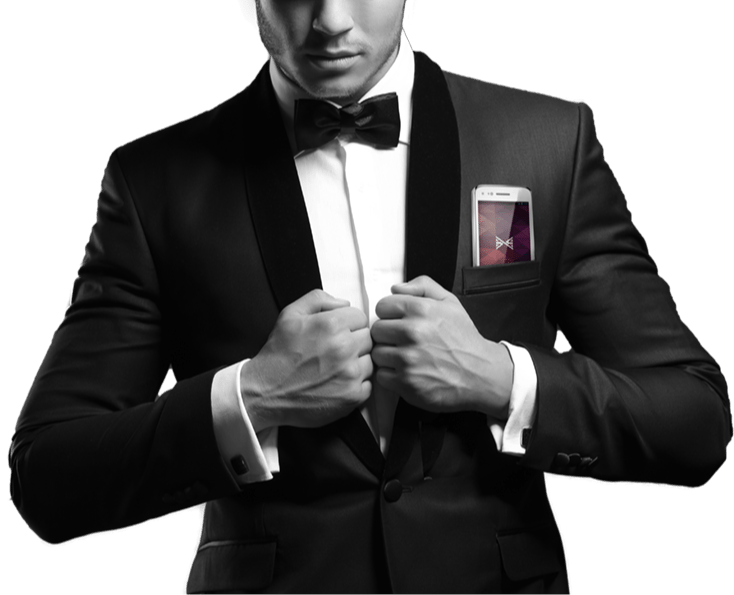 units moved on launch campaign
Results
POSH Mobile has enjoyed great success, meeting and surpassing sales targets, engaging large and critical clients and getting great reviews from industry experts.
The website traffic has done nothing but grow since launch and the company is expanding its portfolio. The brand will continue to evolve and we are constantly expanding their marketing programs and support to introduce new elements and reach new audiences.